Sterling K. Brown This Is Us and Black Panther Interview
Is Randall Going to Die on This Is Us? Sterling K. Brown Sets the Record Straight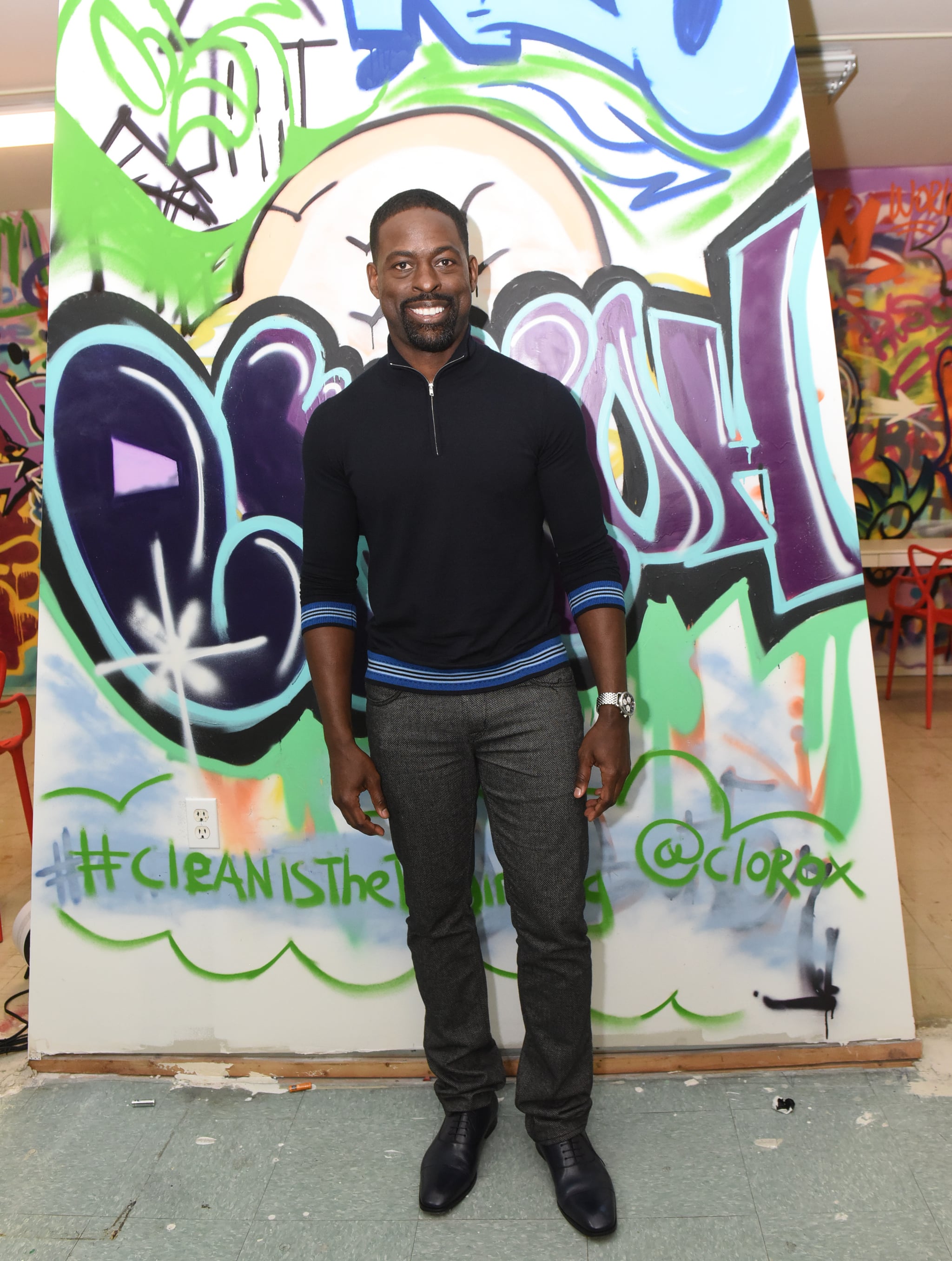 Sterling K. Brown is riding high on success. This year alone, the This Is Us actor has racked up a Golden Globe, Screen Actors Guild award, and a Critics' Choice award. You know, casual. To top it all off, the St. Louis native somehow found time to star in this year's biggest film, Black Panther, and at this point, we can't help but marvel — pun intended — at his craftsmanship.
With his career at an all-time high, we were more than a little worried when rumors began circulating that his beloved This Is Us character, Randall Pearson, might be in danger. We recently caught up with Brown, who's partnering with Clorox and the nonprofit organization Thrive Collective to launch a new arts and crafts hub for at-risk kids in Harlem, NY. There, we got the full scoop on Randall's fate once and for all.
"Randall's not going anywhere. We're good," Brown told POPSUGAR. "I can put those fears to bed. Randall should be around for the duration of our show." While his words were reassuring, he did reveal which of the Big Three siblings would be devastated if something did happen to Randall in the future. "Kevin, because of their history. Things have not always been simpatico between them. I think he would feel bad for the way that he treated them when they were younger."
Shifting the subject to Black Panther, Brown couldn't help but gush over the overwhelming support of the blockbuster movie. "To see people showing up to the theater wearing their African garb, and then come out of the theater, [and] the fact that they had a chance to see themselves as royalty on screen, as fierce, as bold, as beautiful . . . I don't know if there's ever been a moment as an actor in which I've been more proud to be a part of a project; to be black and to own my blackness."
Brown continued, "Not only did black folks come out in droves to see it, but the world has come out in droves to see it because it's a story that's well told. What you learn is that not only do black folks come out feeling emboldened by virtue of seeing themselves on screen, folks from other communities say, 'This story is dope, and I see myself in it.' Humanity is universal."
So what does he think about the current debate over whether or not Michael B. Jordan, who plays Erik Killmonger, should be viewed as a villain? His answer might surprise you. "He's a villain," Brown admitted. "But he has a valid point of view. While it may be a bit misguided, it's something that needed to be paid attention to." Brown praised director Ryan Coogler for allowing the protagonist, T'Challa, played by Chadwick Boseman, to see Killmonger's view in the end.
"T'Challa [realizes] 'I need to do something as the leader of this country' and 'it's no longer OK for us to inoculate ourselves from a global community.' We have a responsibility to our brothers and sisters throughout the world to improve their conditions, right?"
Excuse us while we mark this down as reason number 2,489,752 why we love Sterling K. Brown.
Image Source: Diane Bondareff / Invision for Clorox / AP Images