This Is Us Season 2 "Number One" Episode Reactions
Even the This Is Us Cast Couldn't Handle Kevin's Heartbreaking Episode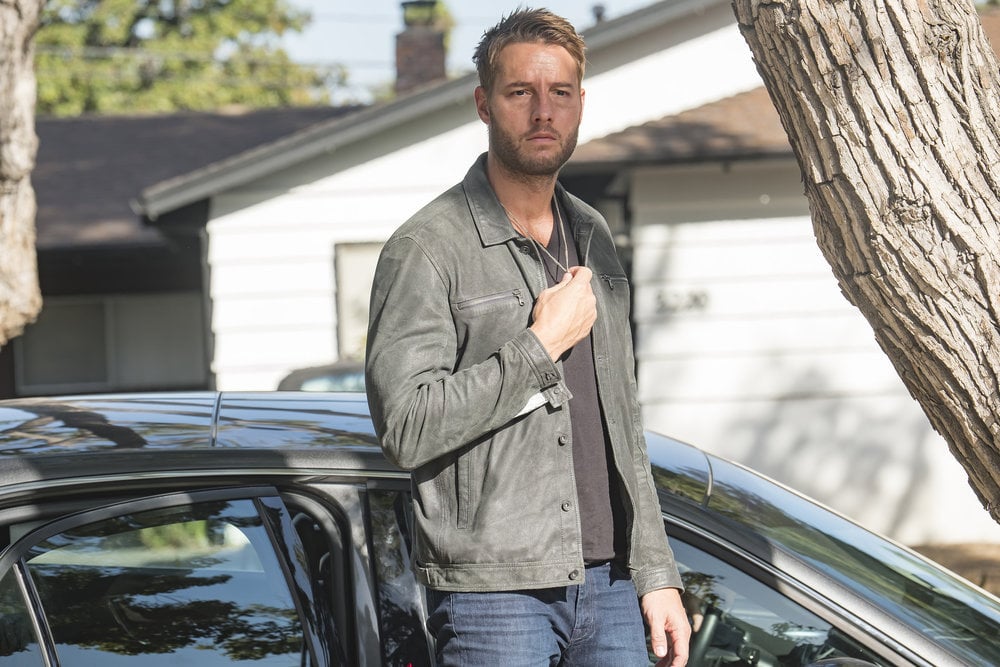 Warning: spoilers for This Is Us ahead.
This Is Us warned fans that the next three episodes would be absolutely devastating, and they weren't kidding. During Tuesday night's "Number One," the first in a trilogy about the Big Three, Kevin Pearson goes to his darkest place yet as he battles with his addiction to painkillers. While it's hard to watch such a beloved character spin out of control, the emotional scenes bring out some of Justin Hartley's best acting as he delivers a heartbreaking speech on Kevin's high school football field.
Just when we think Kevin has finally hit rock bottom, he hits a new low as he steals prescription notes from a doctor he hooked up with to buy more painkillers. He almost goes through with it when he realizes he actually left the necklace his father gave him at her house. While he breaks down on her front porch, begging her to return the necklace, we couldn't help but break down crying, too. As if that scene isn't devastating enough, This Is Us then hit us with another gut-wrenching twist during the final five minutes: Kate lost her baby.
As we wait to learn more about Kate's story next week, see all the reactions people had to that emotional episode below, including the cast.
That #ThisIsUs Number One episode was so good huhu. Badly bawled my eyes out. 😭😭😭

— Pɪʟ0sᴏPᴏN9_ᴊ3ᴊE+ (@PILOSOPOZ) November 15, 2017
A masterful performance by @justinhartley and @logan_shroyer!!! Bravo 👏🏿 👏🏿 #ThisIsUs pic.twitter.com/3PMeJ3EYo8

— Sterling K Brown (@SterlingKBrown) November 15, 2017
Justin Hartley is not just a pretty face .. That's world class award worthy acting right there .. i have no words *cries* #ThisIsUs pic.twitter.com/zxbhFOdv9h

— Basma AlMuhanna (@BessoMJ) November 15, 2017
Just give @justinhartley all the awards! That performance was so emotional and powerful I haven't seen anything like it😭@NBCThisisUs #ThisIsUs pic.twitter.com/L7BjvjWbv8

— Laura (@LauraJwilliam) November 15, 2017
@justinhartley just put on one of the best performances yet for @NBCThisisUs. That whole cast is over the top talented.

— Darrell Queen (@wylde_DQ) November 15, 2017
OMG the ep of #ThisIsUs destoyed me😭 😭
The speech where Kevin imagined Jack presenting💔
Kevin on the football feild reliving that nigh💔
Young Kevin and Jack in the hospital 💔
Pleading for help after loosing the necklace💔
outstanding performance by @justinhartley 👏

— Simona❤ #KaramelForever (@simy124) November 15, 2017
Was anyone else yelling at their TV "Someone just please help Kevin!!!!!" After he broke down crying in last nights episode... @justinhartley #ThisIsUs

— Tanya Jane (@TanyaJaneMUA) November 15, 2017
@justinhartley @justinhartley @justinhartley @justinhartley
I. Can't. With. You. #Thisisus

— Chrissy Metz (@ChrissyMetz) November 15, 2017
The scene when Kevin was in the lawn last night on This Is Us almost took me there. #ThisIsUs pic.twitter.com/nwVh2S4EHX

— Jackie Hill Perry (@JackieHillPerry) November 15, 2017
Justin....freaking....Hartley @NBCThisisUs #ThisIsUs pic.twitter.com/y07dlKM2Cy

— Eye-sis Earth (@QueenfromBklyn) November 15, 2017
The game that changed his life..... and that scene. Geeez louise, @JustinHartley. #ThisIsUs

— Mandy Moore (@TheMandyMoore) November 15, 2017
"Will he get up?! He will! Ladies and gentlemen he will get up! Kevin Pearson will walk again just in time to bury his beloved father." 😭😭💔 #ThisIsUs

— Lea ⚓ (@fohlen11) November 15, 2017
If you've ever underestimated @justinhartley because he's a dreamboat, that stops tonight. Dude acts his face off and deserves to be in all the conversations. #ThisIsUs

— Dan Fogelman (@Dan_Fogelman) November 14, 2017
I think Justin Hartley may have just guaranteed himself an Emmy nomination! Wow. #ThisIsUs

— Holly (@hollyilyne) November 15, 2017
That first act....my God@justinhartley @kenolin1 @KJSteinberg2 @Logan_Shroyer you guys a killin me. Already heartbroken and cryin...MV

— Milo Ventimiglia (@MiloVentimiglia) November 15, 2017
Justin, Justin...oh my Justin...@justinhartley #ThisIsUs pic.twitter.com/cEbUZcjRek

— Susan Kelechi Watson (@skelechiwatson) November 15, 2017