Is Westworld Going to Show Samurai World in Season 2?
Westworld Season 2 Is Almost Definitely Taking Us to Samurai World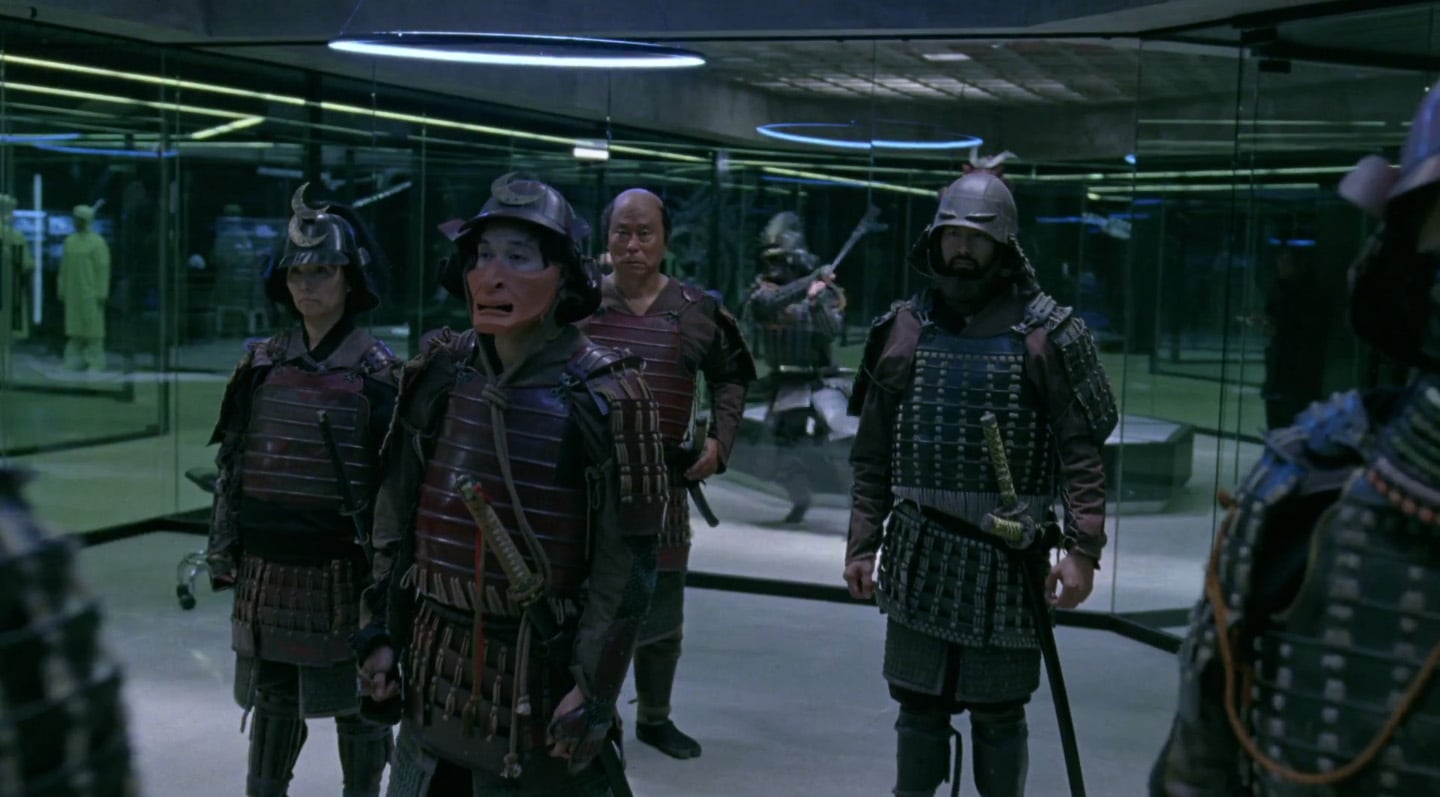 Update: HBO's immersive Westworld experience at San Diego Comic-Con provided yet another hint that we'll be visiting Samurai World. At one point in the tour of Delos Incorporated, your guide pauses at a door marked "SW" and tells you not to listen to the sounds of clashing swords coming from behind it. The logo is the exact same one that we glimpse in the season one finale. Hmmm!
Original post: The end of March marked the annual Paleyfest in LA, and Westworld was among the many shows that took part. During the panel for the HBO series, we were desperate for any and all new season two details, but we more or less came up empty handed. Even so, that didn't stop us from reading between the lines. In fact, two off-hand comments from Ed Harris and one of the cocreators may have tipped us off to a major component of the next installment. We think we're actually going to see a Samurai World (or, perhaps more aptly, an "Eastworld").
Granted, this supposed Eastworld isn't exactly a secret. After all, we catch a glimpse of hosts dressed as samurai warriors in the season one finale as Maeve stumbles through the various floors of the Westworld headquarters in her attempt to escape. Plus, there are a good handful of alternate worlds in the original movie. That said, the show has diverged quite dramatically, in certain ways, from the source material. Additionally, for all we know, that samurai glimpse may have just been a nod to the original film or a fun Easter egg for eagle-eyed viewers. Taking all this into account, though, there's one moment from the Paleyfest panel that gives us hope.
At one point during the moderated Q&A, Ed Harris talked about how quickly his character, The Man in Black, drew him in. At the end of his sentiment, he dished out a few funny "demands" for his character going forward. "I just don't want to be naked or wearing a samurai suit," he quipped. "I'm saying that publicly. I'm the Man in Black, not the Man in the Samurai Suit." Shortly thereafter, cocreator Lisa Joy offered her own comment, saying, "We won't see him in a samurai suit."
It may seem pretty light and off the cuff, but the exchange makes us think this Eastworld may really be on the brain for both the cast and the creators. As tight-lipped as everyone has been, it's worth noting the actors may be just the slightest bit more clued in than we are. And the creators, well, that's going right to the source. We'll have to wait (until 2018!) to know for sure, but we have a very strong feeling we're seeing new worlds in season two.