What Is a Gimp?
American Horror Story: All You Need to Know About Gimps (It Went There)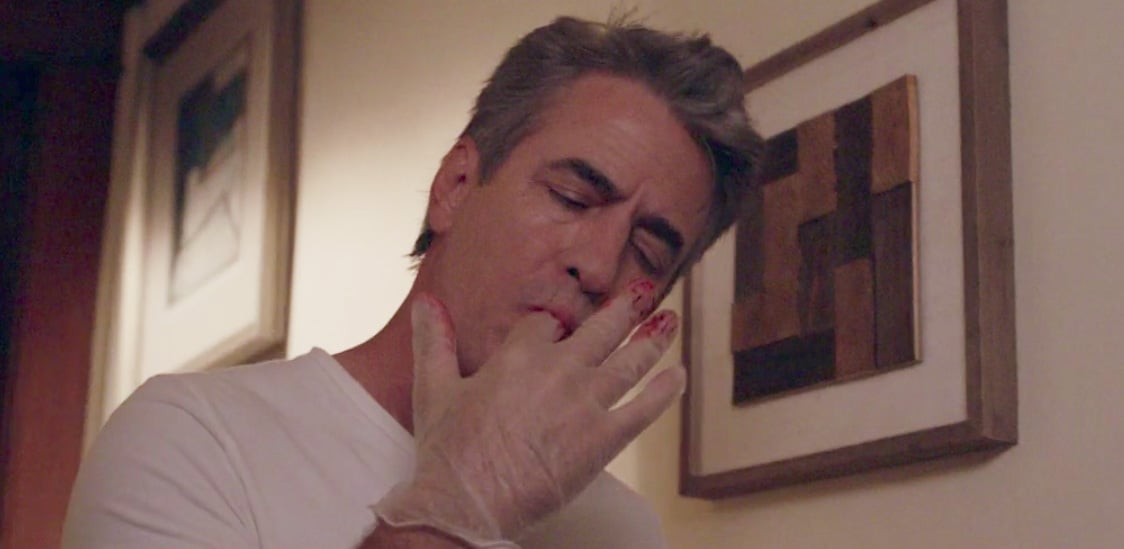 American Horror Story takes a couple different left turns in its most recent episode, "Holes." Not only do viewers finally know for sure who is in Kai's cult (and what his crazy backstory is), but the cult takes things to a whole new level when it goes after anchor Bob Thompson . . . and gets a little more than it bargained for when it finds out what he's hiding in his attic.
Turns out Bob isn't only into young on-camera talent. He's also into a little BDSM (bondage, dominance, sadism, and masochism), which he takes part in with the help of an unknown gimp.
For those of you who aren't familiar, a gimp refers to someone whose sexual fetish is to dress in a rubber mask or bodysuit and then be restrained and dominated. While once used as a slang term, the Dictionary has now included it to mean "a sexual fetishist who likes to be dominated and who dresses in a leather or rubber bodysuit with mask, zips, and chains." Bob's particular gimp appears to enjoy being suspended by giant hooks running through his skin . . . and Bob weirdly wears latex gloves as part of this ritual but then licks the blood off of them. That cannot be sanitary.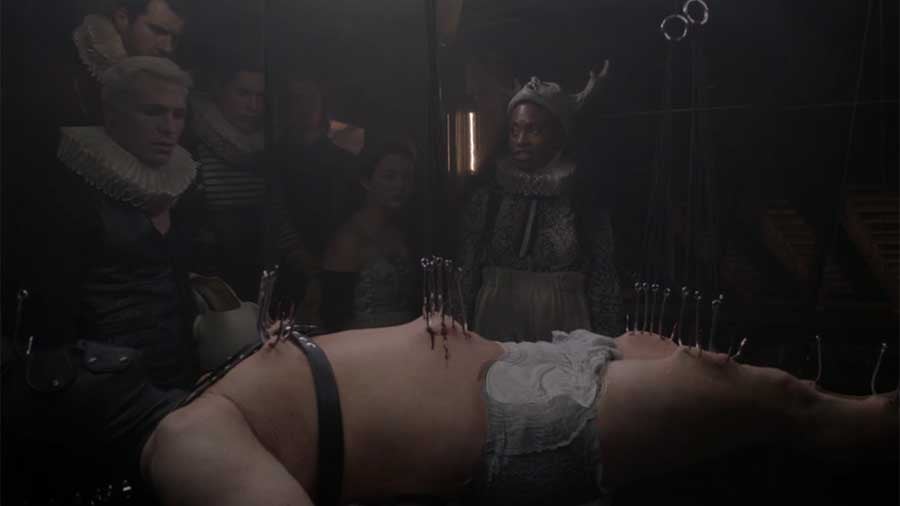 When the cult members come upon Bob's little friend hanging in the attic, cameraman R.J. suggests they just cut him down and let him go, since the gimp hasn't seen or heard them yet due to his mask. But Kai never misses an opportunity for murder, so he stabs the gimp, which sends the man writhing in pain enough to rip out all the giant hooks as he tumbles to the ground.
Later, for deigning to suggest that they let the gimp go, R.J. is killed by taking a nail to the head a dozen times. The cult members take turns, because it's nice to share.
This isn't the first time a gimp of sorts has made an appearance on American Horror Story. Last time it was Evan Peters wearing the rubber suit (though not really). In "Murder House," Rubber Man is one of the demons haunting the Harmons. In fact, he impregnates Vivien, who has sex with him, thinking it's her husband, Ben.
We don't expect the gimp in Cult to play much of a role. After all, he's dead, plus he's not even credited for the episode, so the poor gimp looks to go bloodily into that goodnight as a nameless one-off . . . unless it's someone we already know?