What Will Happen to Brianna and Roger in Outlander Season 3?
Outlander Stars Hint at the Big Changes Ahead For Brianna and Roger in Season 3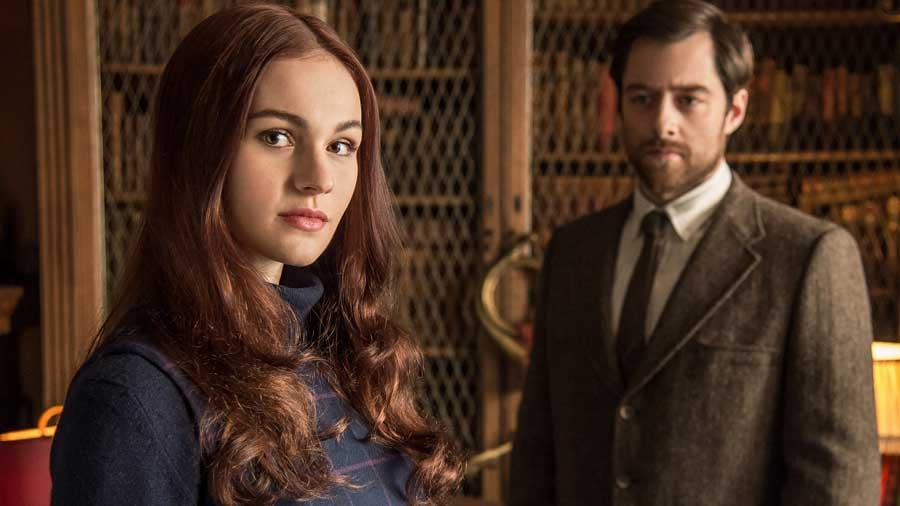 The Droughtlander is almost over, Outlander fans. To prepare for the upcoming third season, I sat down with stars Sophie Skelton and Richard Rankin, who joined the Starz drama at the end of season two as Brianna Randall and Roger Wakefield, respectively. In speaking with me, the two actors definitely wanted to convey how incredible it has been to join a show with such a devoted fan base — a fan base they want to honor with their performances.
"The fans are crazy vocal, crazy passionate, they're so committed to the show," Rankin said. "It's their baby for a lot of them, especially those who have been reading it for the last 20 years. I think it's important to respect their idea of the show, of these characters."
For Skelton, getting to meet fans in person at San Diego Comic-Con this year was a particularly special treat, especially since she's been getting to chat with them online since being cast. "That's the beautiful thing about social media, we interact with them a lot, don't we?" she said. "It was so nice and so rewarding, because they really are invested in the characters. As an actor, you're so defensive of your character, because you're really in their head, so you love them no matter, but it's lovely to see the fans have the same feeling for them."
"They're a very intelligent and articulate fan base as well," Rankin added. "You can really get a good debate going with them if you want to."
When it comes to Outlander, there are definitely plenty of things to debate, especially among book readers. So we had to ask — have Skelton and Rankin read the books, or as actors, did they prefer not to?
"Wait, there's books?" Rankin deadpanned, holding his poker face so long that we actually thought he might be serious for a second. But yes, there are nine books in Diana Gabaldon's bestselling series, and Rankin and Skelton have both read it . . . up to a point. They told us that the books were immensely helpful in getting a feel for their characters.
"Getting into the casting process, we were really fortunate to have hard access to such rich resource materials, so I stated reading them once I got involved in casting for Roger," Rankin revealed. "I read through The Fiery Cross, which is book five, to get an idea of what he's all about, get an idea of the essence of this guy. I wanted to really know what Roger is about, what makes him tick, try and discover more about what he is like as a person. It's really lucky to have that."
However, the actors have chosen not to read too far ahead in the series for a very important reason.
"You don't want to read too far ahead because the image of that person in, say, book seven is a very different person than they were in book two, so if you go too far ahead, you're going to subconsciously let bits of personality they haven't gotten yet seep into the performance and you don't want that," Skelton explained. "It's reading just enough to get a proper essence of the character, but not reading so far that you start to look at a completely different person than they are in that moment [on the show]."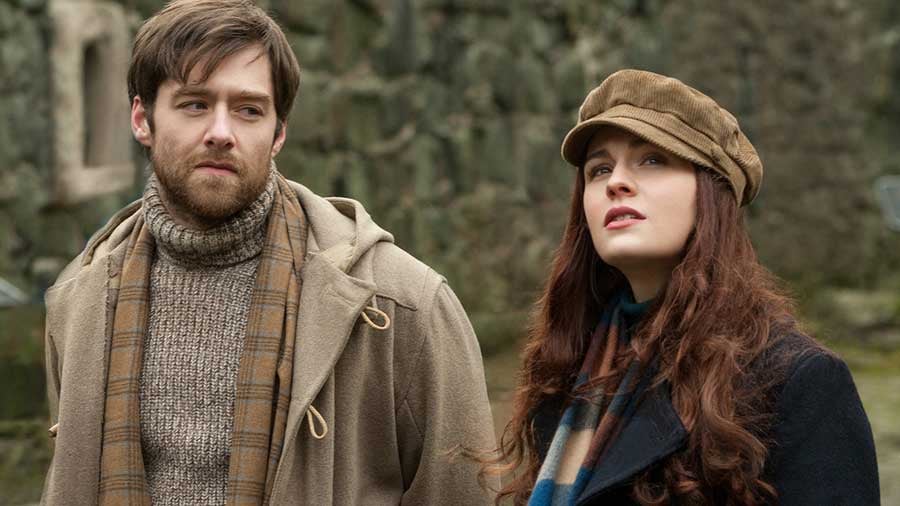 While both actors come into play in book three, Voyager, in a much bigger way than in book two, the actors say they can't wait to get to books four and five.
"There's about a million different things I can't wait to get to," Rankin said with a laugh. "Drums of Autumn is amazing, it's an epic adventure story and what these characters get to do and where they go and the evolution of the story and the relationships and the things that happen to them, I really can't wait. I'm really excited to get started on that."
Skelton is similarly champing at the bit for fans to see her character evolve, since the new story will take Brianna to new places both physically and mentally.
"For Bree, in season three, we start to peel another layer of her and you see more of her personality. Then going forward in four, so much happens to her and you see such an emotional range put on her that you haven't seen yet," she explained. "The story really starts to open up, starts to really broaden, and you have many more dynamics. You have Roger and Brianna, which I think is a fresh, different relationship to that of Jamie and Claire's, so I think it just all bounces off each other. The pace really picks up for Roger and Brianna, so that's going to be exciting to play."
Suffice it to say, when Outlander's third season kicks off, we're going to be seeing something really special from Brianna and Roger. Watching them develop and interact with Claire and Jaime will not only be exciting for longtime fans but also the actors themselves.
"It's everything you want in a part," Rankin concluded.