When Does Men in Black: International Take Place?
Here's How Men in Black: International Fits Into the Rest of the MIB Universe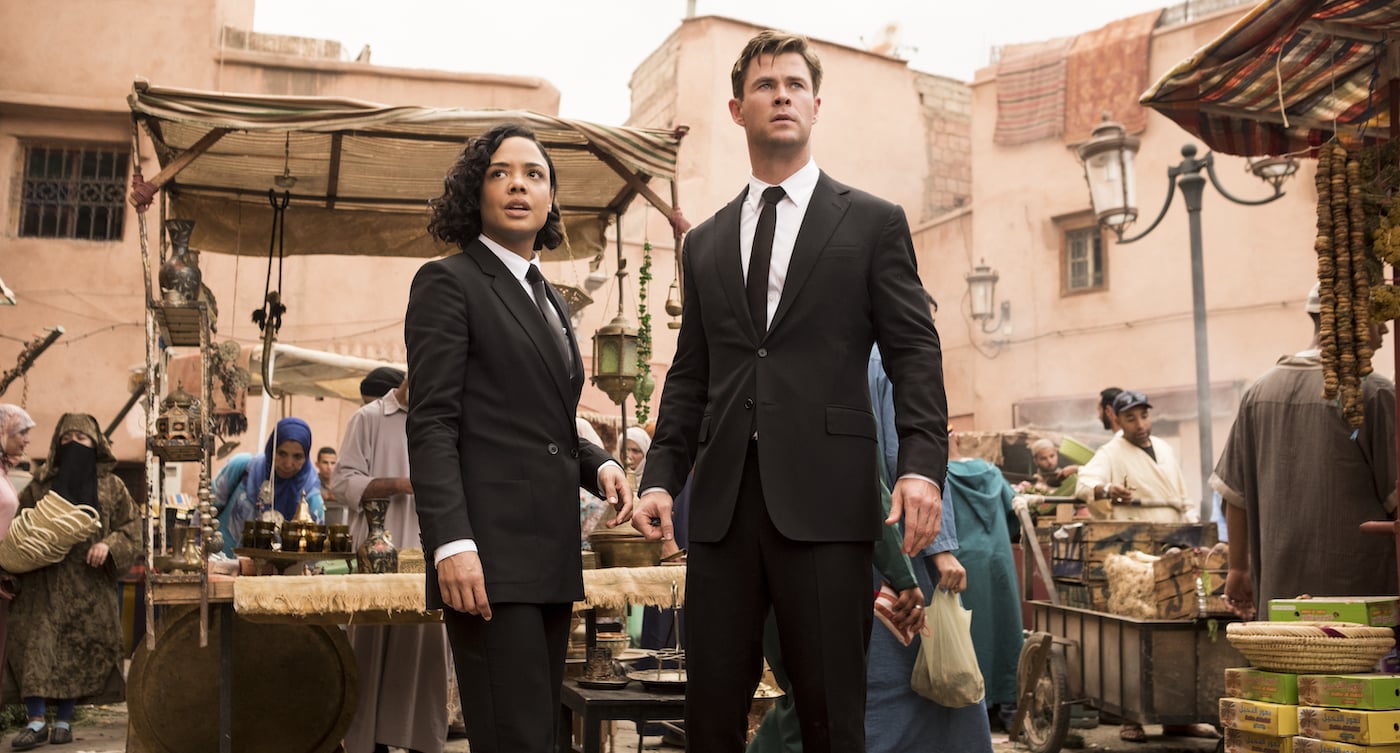 We're finally getting a fourth Men in Black movie, Men in Black: International, and we're feeling all kinds of excited about it. This spinoff will reunite Thor: Ragnarok stars Chris Hemsworth and Tessa Thompson as Agent H and Agent M, respectively, with Hemsworth playing a top agent in MIB's UK branch and Thompson playing a new MIB recruit assigned to the branch. Taken star Liam Neeson also appears as High T, the head of MIB's UK branch, and the legendary Emma Thompson will reprise her role from Men in Black 3 (and reunite with her fellow Love Actually alum Neeson) as Agent O, who becomes chief of the MIB after Chief Zed dies. Where exactly does this forthcoming film fit into the rest of the franchise, you ask? Allow us to explain.
The spinoff takes place in the same universe as the previous Men in Black movies, only it trades in the famous New York City base of the original trilogy for MIB's London headquarters. The movie takes place more than 20 years after the original Men in Black movie, which premiered in 1997, though from the trailers, it doesn't look like Agent J and Agent K (played by Will Smith and Tommy Lee Jones) will be making any appearances in the relaunch of the franchise. The first trailer does, however, reveal a painting in the MIB headquarters of Agents J and K battling a giant cockroach, so we know that MIB hasn't forgotten its original alien-fighting agent duo.
While largely based in London, filming also took place in Morocco, Italy, and even NYC, according to a tweet from Hemsworth. The film takes place after the events of the original movies, beginning with a young girl who will eventually become Agent M. In the first trailer, we see Tessa Thompson's character in NYC boasting to Agent O about having discovered the MIB. "It took me 20 years to find you," she says. "How many people can say that? You are the best-kept secret in the universe and I found you, which makes me perfect for this job." Soon enough, she becomes Agent M and is sent across the pond on a probational trial period to partner with the established Agent H (thanks to a hyperloop transportation system that conveniently connects the two MIB headquarters).
The creators of the new film hope audiences appreciate that this latest movie isn't a continuation of the original trilogy, but rather an entirely new story set within the universe. As executive producer E. Bennett Walsh said of the forthcoming spinoff, "We just treat it as, this is where we left off and now we're going on a new adventure." Franchise producer Walter Parkes also added, ". . . the first three movies tell a story and culminates with this realization that there's no random occurrences in the universe, even this relationship [between Agents J and K] had a reason at the end. I think we all felt we told that story in a very full way."
We've always been under the impression that MIB was founded here in the USA, but as Hemsworth teasingly tweeted, "You thought MIB started in NYC? Guess again, there's a whole international branch. The world is bigger than you thought!!" Apparently! We can't wait to see Thor and Valkyrie — we mean, Agents H and M take on all of those extraterrestrial baddies on June 14.