Who Plays Archmaester Marwyn on Game of Thrones?
Game of Thrones: Of Course You Know Who Plays Archmaester Marwyn!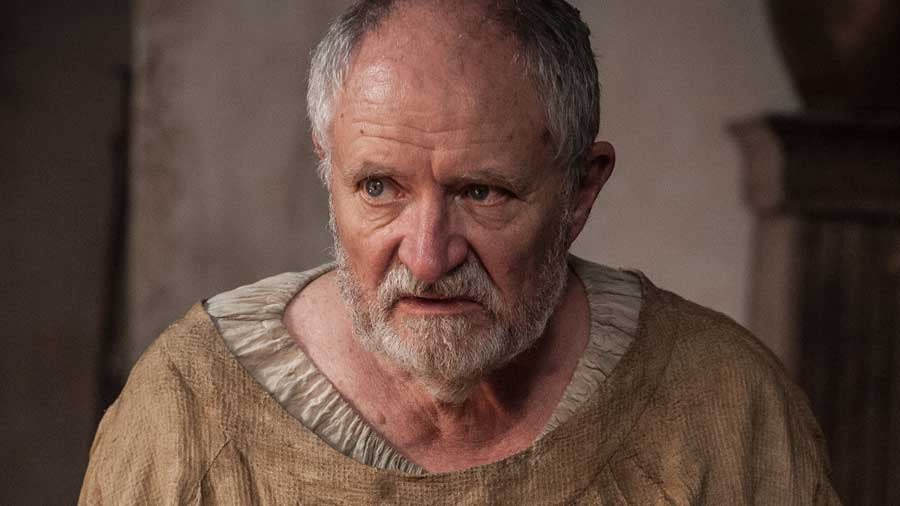 Game of Thrones added a new face to its already very large cast of characters with Sunday's season seven premiere. At the Citadel, Samwell Tarly is training to be a maester, learning at the hand of Archmaester Marwyn, played by award-winning star of stage and screen Jim Broadbent.
Broadbent got his start over 40 years ago, but his first big role came in the 1985 sci-fi classic Brazil, where he played plastic surgeon to Katherine Helmond's vain Mrs. Ida Lowry in the fictional dystopian urban setting.
The 68-year-old actor would go on to appear in some of the biggest films of the 1990s, including Enchanted April, The Crying Game, and Bullets Over Broadway, before his critically acclaimed turn as W.S. Gilbert (of the famed musical theater pair Gilbert and Sullivan) in Topsy-Turvy, a role that earned Broadbent a BAFTA nomination.
On the heels of Topsy-Turvy, Broadbent had a big year in 2001, appearing in Bridget Jones' Diary as the title character's father, Moulin Rouge!, and Iris, for which he won the Oscar and the Golden Globe for best supporting actor. He would go on to reprise his Bridget Jones role in both sequels.
But to Game of Thrones fans, Broadbent may be best known for his roles in a couple of other epic fantasy series. He appeared as Professor Kirke in Chronicles of Narnia: The Lion, the Witch, and the Wardrobe and then as Professor Horace Slughorn in Harry Potter and the Half-Blood Prince and Harry Potter and the Deathly Hallows — Part 2. He also notably starred as Margaret Thatcher's husband Denis in 2011's The Iron Lady opposite Meryl Streep, and then played the British Prime Minister himself in 2016's The Legend of Tarzan.
As for Broadbent's Game of Thrones character, the archmaester is the only one at the Citadel who believes Sam's warnings about White Walkers and the Night's King — and he'll be sticking around most of the season. Broadbent told Screencrush of his character arc, "I did five episodes. I did sort of one major scene in each episode."
While Broadbent is credited as Archmaester Marwyn, it sounds like he is playing a hybrid of Ebrose and another Citadel maester, Marwyn. In the books, Marwyn believes Sam's stories from the Wall and ends up rushing off to meet up with Daenerys Targaryen, ordering Sam to return to the Wall as soon as he can.
It remains to be seen whether Broadbent's maester will interact with Daenerys and her dragons, but that sounds pretty likely.