Why Did Warren Beatty Announce Wrong Winner at the Oscars?
Yikes: Moonlight Wins Best Picture After La La Land Is Mistakenly Awarded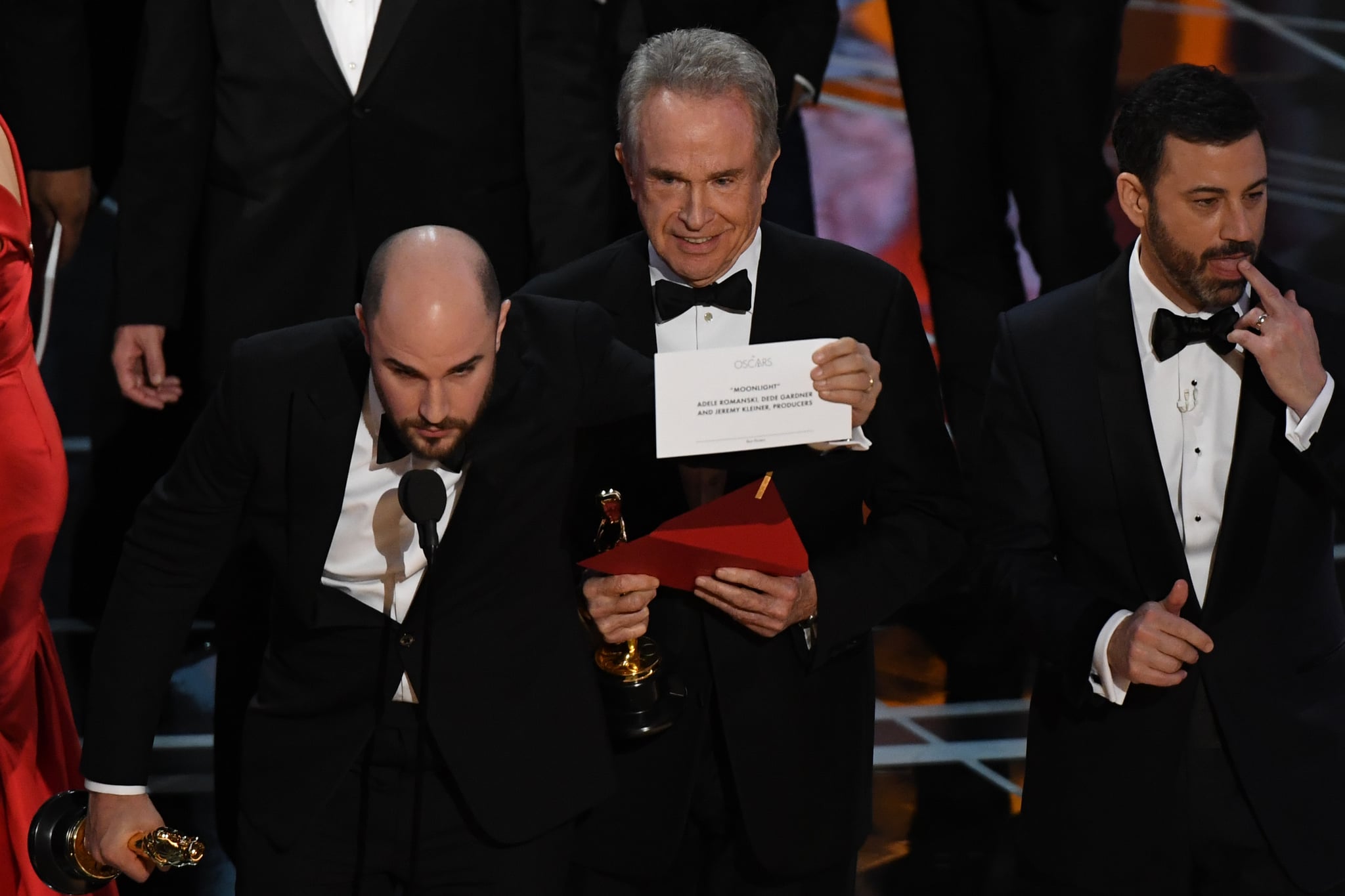 Update: PricewaterhouseCoopers, the accounting firm that oversees Oscars votes, released an apologetic statement addressing the incident.
Warren Beatty and Faye Dunaway pulled a Steve Harvey when they announced the wrong winner at the Oscars on Sunday night, the first time a mistake like this has happened in the 89-year history of the show. After presenting the best picture nominees, Beatty appeared to have some trouble reading the card before showing Dunaway, who announced La La Land as the winner. The cast and crew took the stage and began saying their thank yous before an Oscars producer ran to the stage and gave the card a second look. La La Land's Jordan Horowitz stopped everything: "There's a mistake," he said, "Moonlight, you guys won best picture. This is not a joke. Moonlight has won best picture." He held up the card for the cameras, which did indeed say Moonlight.
Host Jimmy Kimmel apologized and hilariously blamed Steve Harvey before Horowitz graciously handed his trophy to the cast and crew of Moonlight. Beatty also approached the mic again to explain what happened:
"I opened the envelope and it said Emma Stone, La La Land. That's why I took such a long look at Faye and at you. I wasn't trying to be funny."
The snafu had us asking all kinds of questions: was Beatty handed a duplicate card from Emma Stone's best actress win? We know Stone had her own card. Like, who do we blame here? Oscars producers? Warren Beatty? Jimmy Kimmel? Matt Damon?! All we know for sure is that this is one Oscars moment nobody will ever forget.