Why Moonlight Deserved to Win Best Picture at 2017 Oscars
That Oscars Snafu Was Unfortunate, but I'm Glad La La Land Didn't Win Best Picture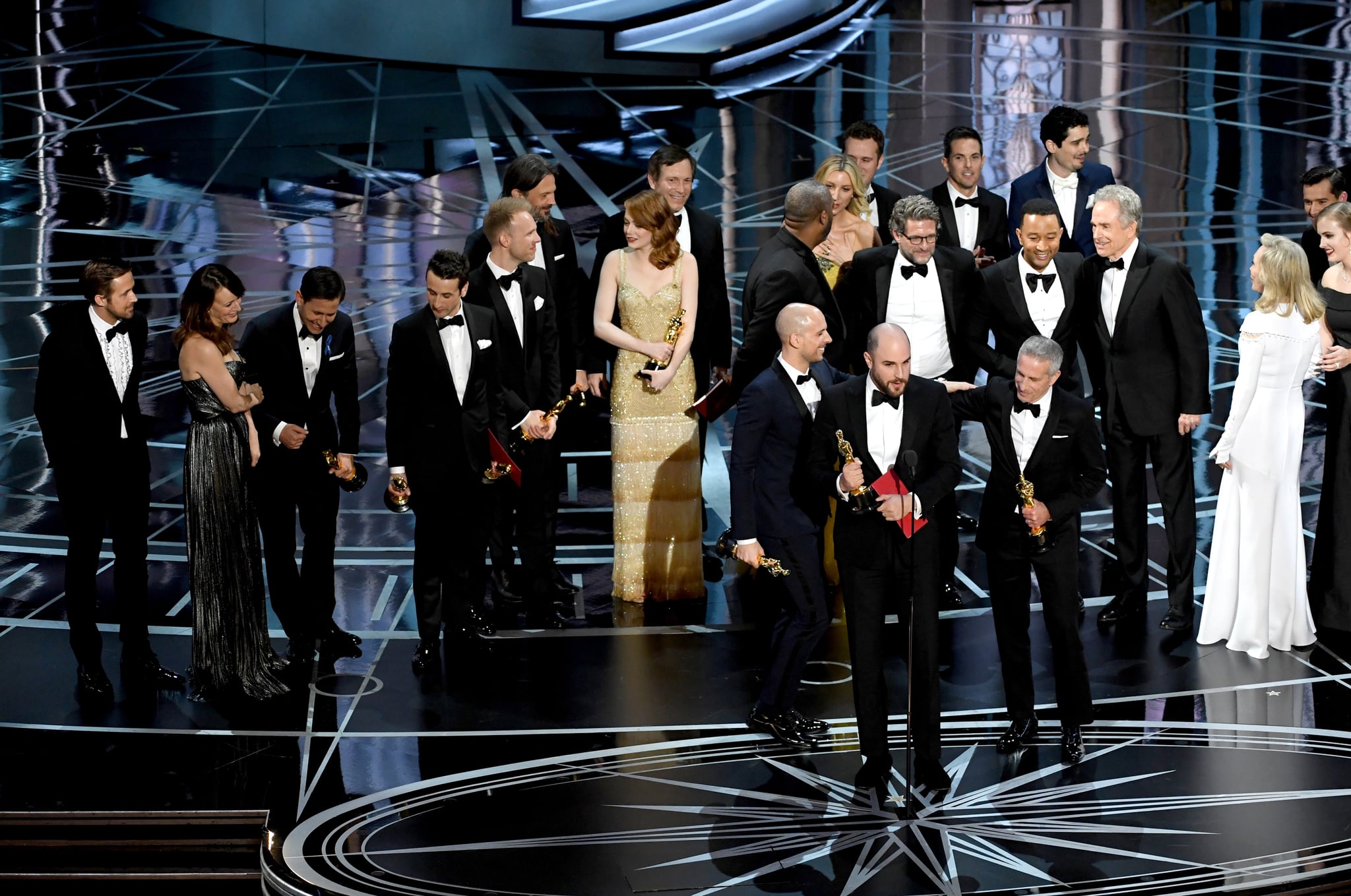 La La Land was a nice way to spend an afternoon, I'll give it that. The singing is nice, the bright colors are cheery. Ryan Gosling's face is pleasant to look at. But please, niceties aside, we need to call a spade a spade. La La Land is a fluffy, overly romantic piece that idolizes a time that no longer exists. In isolation it's a fine piece of cinematic work, but put in the context of best picture, it just isn't quite right. Though embarrassing for the Academy, I'm exceedingly glad that La La Land didn't win the award of the night. I'm mostly disappointed that the horrible snafu slightly overshadowed Moonlight's win.
First, let's unpack La La Land. I was apprehensive about the film from the get-go. I'm not much of a musical fan, and Emma Stone is a love-her-or-hate-her kind of actress (no surprise which side I fall on there). Even still, I went in with an open mind to see what all the fuss was about. Again, La La Land isn't egregiously bad by any means, it's just rather indulgent and vapid. I was pleased to find that many critics agreed. Something about it felt out of touch with today's world. I wasn't particularly moved or changed by the plot or the main characters, and the whole thing was a bit vanilla. As Richard Brody so aptly summed it up in his review in The New Yorker, the film is full of "strenuous emptiness, forced whimsy, and programmed emotion," whereas the other nominees for best picture packed a serious punch.
Compared with films like Moonlight, Lion, and Fences, La La Land falls extremely short in complexity department. It lacks the emotional depth to move and change people's perspectives. We live in turbulent times, and we should be celebrating the films that were hard to make and that were hard to watch.
Some might argue part of the reason for La La Land's runaway success was that people need a break from the increasingly depressing news cycle filling our screens of late. And I agree, it's nice to watch YouTube videos of puppies or play Candy Crush for a few minutes every time President Donald Trump does something awful, but we mustn't reward a shallow film for taking our minds off of things with a B+ musical number.
Next, let's talk about the real winner, Moonlight. Here is a film for 2017 America. Critics and audiences alike fell in love with the difficult and devastatingly beautiful portrayal of a black boy in three different stages of life. The coming-of-age film tackles enormous subject content but still remains entirely poetic to watch. From drug abuse to poverty and questioning sexuality, Moonlight smashes a barrier by portraying the America so many know exists but rarely have to see.
It is not only the superb end result that makes Moonlight such a worthy winner, but also under what circumstances it was made. The film only cost $1.5 million to make vs. La La Land's $30 million budget. As Moonlight actress Janelle Monáe pointed out emotionally in her Instagram post, the film broke barriers in more ways than one. "The First all black cast to win best picture . . . The First African American Muslim to win best supporting actor . . . The First LGBTQ film to win best picture." The film is truly groundbreaking and deserved to be recognized as such.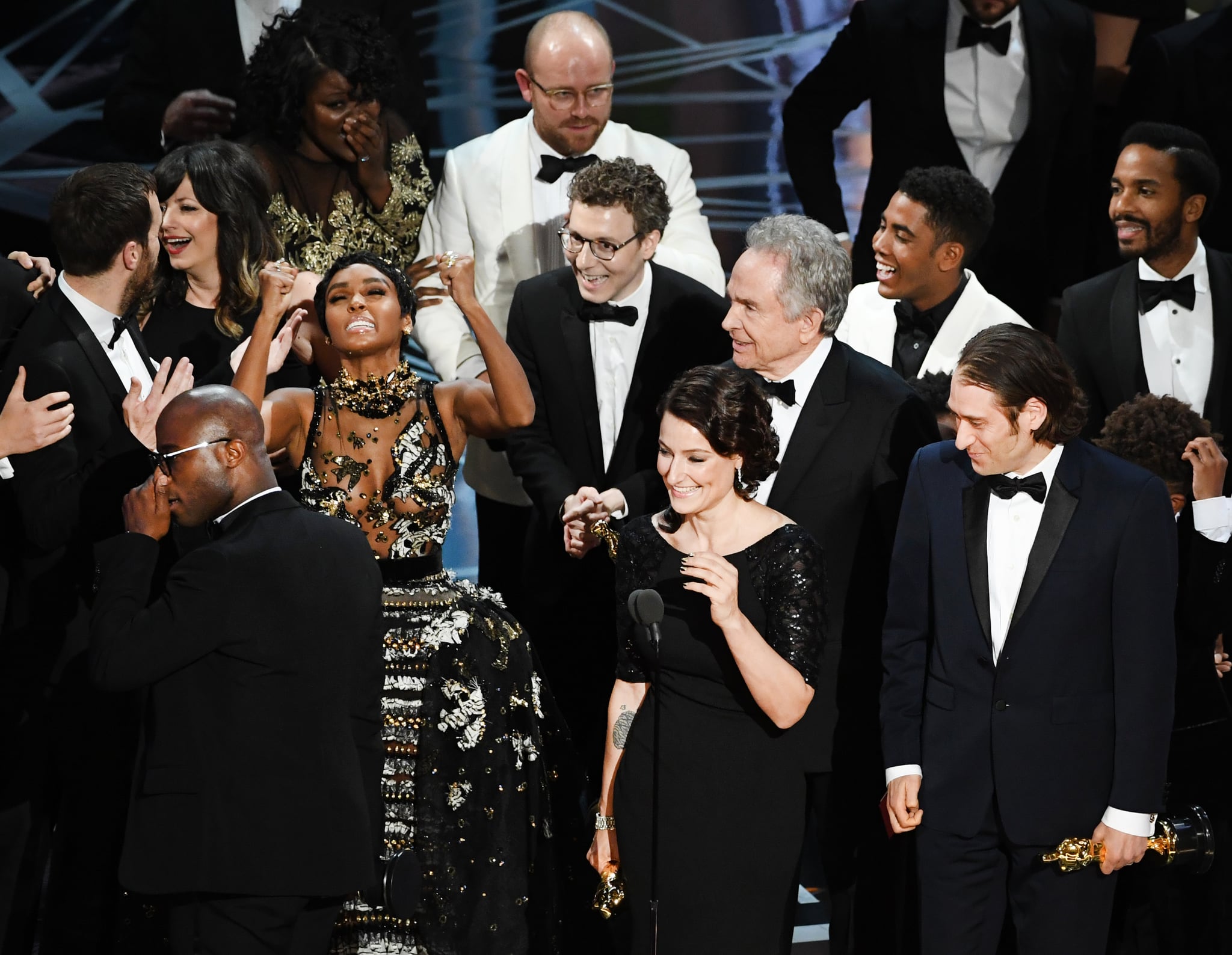 In their utterly moving acceptance speech for best adapted screenplay, which the film also won, Barry Jenkins and Tarell Alvin McCraney perfectly summed up why Moonlight is such an important film. Jenkins emotionally reminded those who feel forgotten that they are not: "All you people who feel like there's no mirror for you, the Academy has your back, the ACLU has your back, we have your back, and for the next four years, we will not forget you." Moonlight is exactly that — a mirror that we must all take a hard look in.
So yes, I'm disappointed that an envelope-hander-outer screwed up their one job, but not because I feel badly for Ryan Gosling and co. I'm sad because it momentarily overshadowed a momentous day in Oscars history and, truthfully, American history. Moonlight's win is an acknowledgment of a type of suffering that rarely gets the limelight. In truth, the La La Land crew was gracious when the mix-up happened, as they should have been. Hopefully they realize how important it is to give credit where credit is due.