Q&A: Get to Know Pop, R&B Singer Amir Kelly
Amir Kelly, Pop Singer and "Self-Crowned Blindian," Is Ready to Take the Musical Throne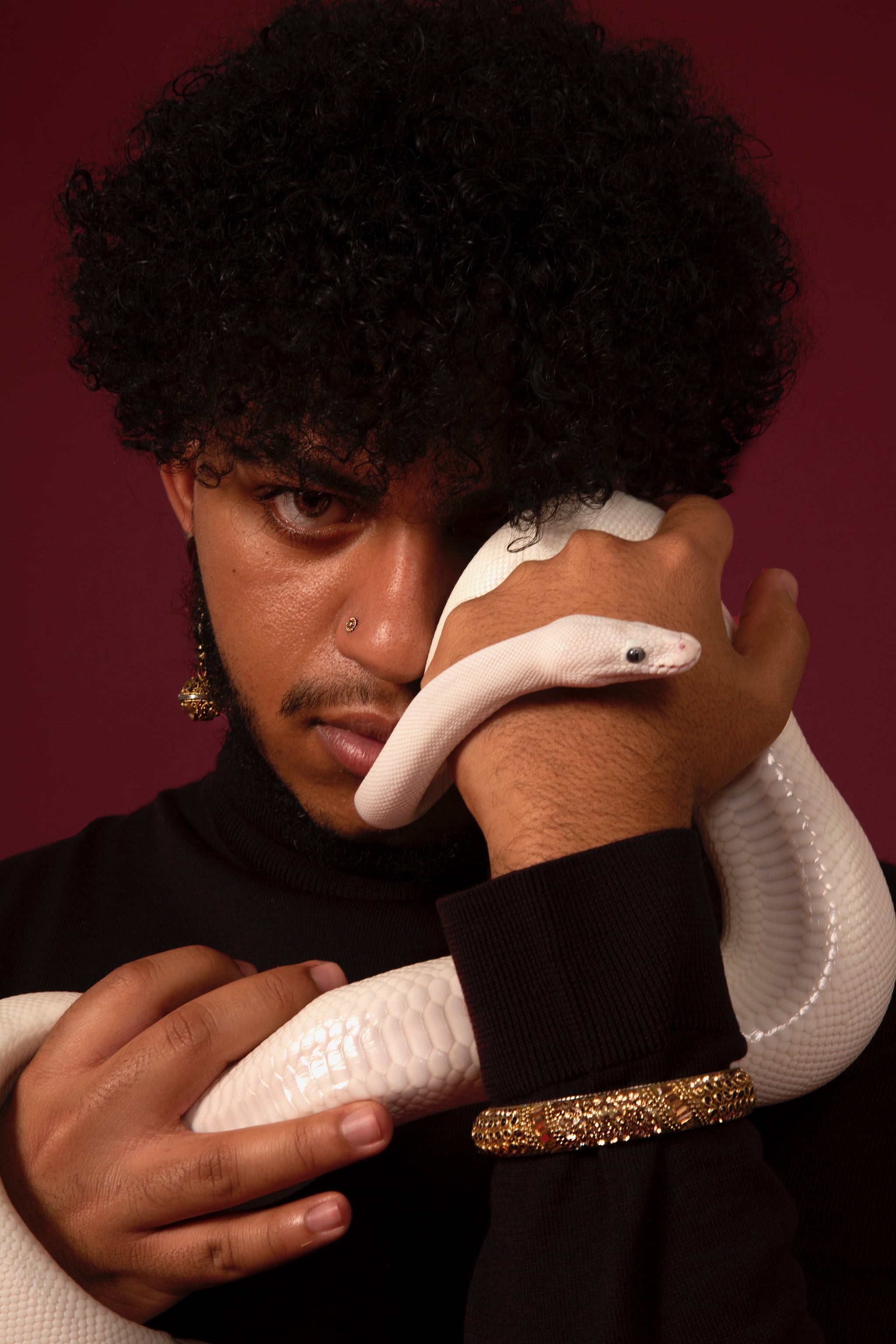 Image Source: Caleb Griffin
When 22-year-old singer Amir Kelly was younger, his grandmother always told him that he was royalty. In fact, as Kelly stated, his name directly translates to "a few things in Hindi and Arabic," including "king," "prince," and "ruler." For the rising Los Angeles-based pop and R&B crooner — and "self-crowned Blindian," as his Instagram bio says, referring to his half-Black, half-Indian identity — that's been a major driving force behind his musical career. And it's motivated him to help intersectional communities embrace every part of themselves.
Pursuing a métier in music was never just a path for Kelly; it was the path. He's always found solace in songs and compositions. As of late, it seems like those dreams of creating impactful melodies are coming to fruition. But the ride has been anything but smooth, as I — Kelly's former middle school and high school classmate — recently learned when we reconnected by happenstance for this very article.
In May 2014, Kelly and I graduated from John W. North High School in Riverside, CA, and prepared to embark on new adventures. His goal was to study music at the University of Southern California, but that didn't exactly pan out the way he hoped, and he wasn't admitted. Instead, he went to Chapman University that Fall.
His time at Chapman proved to be trying. Not only did he feel disconnected from the school's music program, but he also faced a new battle after being diagnosed with Stage 3 Burkitt's lymphoma in Summer 2015. "That changed a lot for me," he told me during our Nov. 8 phone call. "It really centered me and helped me realize that tomorrow isn't promised." That epiphany motivated him to audition for USC's Popular Music Program again, which worked out in his favor. The following year, he enrolled in his dream school, and things began to fall into place.
Throughout his experience at USC, which will wrap when he graduates in May 2020, Kelly formed a handful of friendships with other inspiring creatives, including Barbadian singer Ayoni and neo-soul and R&B songstress UMI. He's even worked under Grammy-nominated singer-songwriter Patrice Rushen, who has produced music for Prince, Stevie Wonder, and Dianne Reeves, among other legendary artists.
Kelly — now cancer-free — has been able to find himself through the winding road to success. He's explored his intersectional identity and is continuing to cultivate his sound after releasing the 2018 single "Maui" and this year's "Eden." I had the honor of catching up with Kelly to hear more about his creative direction since we set out on our respective paths.
Brea Cubit: Talk to me about your experience at USC.
Amir Kelly: When I first came to USC, I saw so many people doing the things I wanted to do. It wasn't even in a competitive way, but in a really inspiring way. It felt like nothing was impossible. I could do any video and any song, so at first, I started doing covers, and I did a cover of "Love Galore" by SZA.
BC: Yes, that cover was so stunning.
AK: Thank you! I just wanted to prove to myself that I could make a piece of work that I liked. After that, I wanted to work on original music, so I wrote "Maui." It was the first song I ever wrote. I really liked it, and it was pretty successful, but I didn't have an emotional connection to it. Patrice Rushen and a lot of my teachers were saying "Maui" was too expected. They wanted me to make music that felt like me.
So I went on a journey to find myself. I was going through some emotional issues, so I started therapy. Through that, I learned that the parts of myself that I was scared to claim were the parts of myself that I wanted to express through my artistry. Like growing up half-Black, half-Indian, I barely identified with either side. It wasn't until college when I felt like a part of the Black community. And in high school, I really didn't have much of an Indian connection, either. I was just selling samosas at school.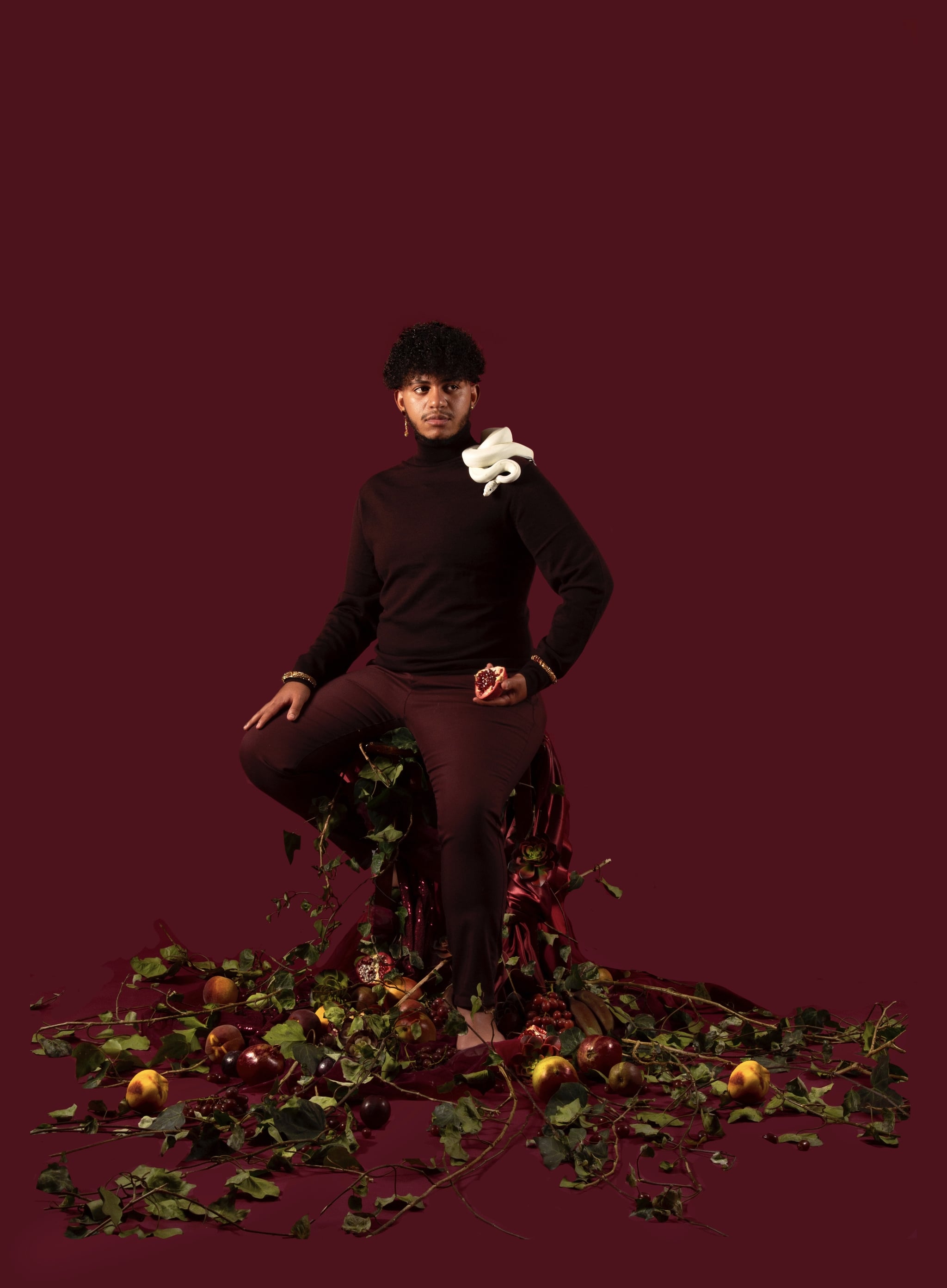 Image Source: Caleb Griffin
BC: Oh, my gosh. I remember that!
AK: You remember that? I would sell that sh*t in class. That was the most Indian thing that I did. And it was hard to fully accept myself because there's a lot of anti-Blackness in the Indian community, but I began this journey of embracing my identity.
BC: What has that journey looked like for you?
AK: It's a combination of a lot of things. I lean on family and friends for support. Going to therapy is a huge thing for me because my therapist is well-versed in the music industry. I believe all artists should go to therapy. It's really important for us to know what kind of message we're trying to send, and it's hard to do that if you don't know who you are.
"When you live an intersectional experience, you have to figure out, how do you want to express your culture? How do you want to feel it? What makes you feel good?"
My therapist lives next door to my Indian grandpa, so I go to therapy every week and then I learn Hindi with my grandfather. It's me figuring out how to be open and honest and vulnerable about what makes me unique. Growing up, I lived an experience that was equally Black and Indian. I was just never taught to holistically embrace it.
BC: But now, it sounds like you're really beginning to walk in your own experience by simultaneously living in the cultures that you're part of and finding that balance.
AK: Absolutely. When you live an intersectional experience, you have to figure out, how do you want to express your culture? How do you want to feel it? What makes you feel good? Growing up, I never looked Indian enough or felt Black enough. That sense of ownership was removed from me. But now, I'm standing in the center of it. Anti-Blackness in the Indian community is something that I'm going to have to deal with my entire life. But I'm proud to champion against that and let it fuel my art and expression.
BC: Do you have a reference point for converging the two cultures?
AK: I always use this example, but "Baby Boy" by Beyoncé. That song came out when I was 6 years old, and it was such a big deal for me. I was hearing music that both my mom and my dad played. It was Bollywood-inspired and also has R&B and hip-hop elements. It was my favorite song.
BC: Going off of that, I'd love to hear more about your latest single, "Eden."
AK: "Eden" is about my ownership of intimacy. Virginity is a concept that typically places a lot of pressure on women. For men, it's the opposite, and it can be really frustrating to live in that experience. So for me, "Eden" is a reclamation of my body's sacredness and my right to intimacy.
BC: Is this single going to be a part of a larger project?
AK: I'm going to be dropping a few singles, hopefully leading up to my debut, self-titled project, Amir. My next single is called "Eyes," and it comes out in January. I'm very excited about it.
The biggest inspiration for me is the destiny that I feel has been placed over my life. My name directly translates to a few things in Hindi and Arabic, like "king," "prince," and "ruler." And for me, my crown is empowering people to embrace the parts of themselves that they were told to contain.
Marginalized and intersectional communities are taught to suppress so many things. But when we actually embrace that sh*t, that's going to be our crown. That's going to be the thing that allows us to rule our own lives and step into royalty. That's my biggest inspiration going forward. I want to empower myself, empower others, and create songs that make people feel confident and secure in themselves, even on days when it's hard to feel that way. And I want to stand in my truth so that I can hopefully inspire others to stand in their truths.