"The Bear" Star Ayo Edebiri on Cooking, Grief, and Chopping All Those Onions
When you watch "The Bear," the new FX show now streaming on Hulu, you might wonder if it was really Ayo Edebiri, who plays Sydney, chopping all those onions. It's a lot of onions.
"Yes it was. It really was," she tells POPSUGAR. "What you did not see was also me crying and being like 'Why are my eyes rebelling against me?'" Before that day of shooting, Edebiri had thought she'd cut enough onions that her eyes were permanently immune to their tear-jerking effects. "Maybe because of the ventilation in the studio where we were shooting or something, my eyes were just suffering that day."
"I'm a person who plans. I color-coordinate. I've got a scrapbook. I've got stickers. I write a lot of stuff down, and Sydney does, too."
"The Bear" follows Carmine, aka Carmy ("Shameless" alum Jeremy Allen White), a classically trained chef who comes home to Chicago to take over the family restaurant after his brother, who ran it and never allowed him to be involved, dies by suicide. Edebiri's Sydney is also a chef — one who deeply admires Carmine's work — and convinces him to take her on as his sous chef. But the two are adrift in the restaurant's staff, which includes a group of old-school employees, plus Ebon Moss-Bachrach's Richie, Carmy's brother's best friend with a combative streak. For Edebiri, who many might recognize from "Dickinson" or as the voice of Misty on "Big Mouth," "The Bear" is a more dramatic direction (though the show is definitely still funny).
Sydney is a Type-A workaholic in a sea of chaos. "She does not stop going," Edebiri says of Sydney. One of her favorite aspects of the character is the little notebook Sydney carries and writes in all the time with her matching tiny pen. Edebiri can relate. "I'm a person who plans. I color-coordinate. I've got a scrapbook. I've got stickers. I write a lot of stuff down, and Sydney does, too," she says. "She'll show up on day five with a laminated presentation. I don't know if I would show up with that, but I would definitely make it."
Edebiri wasn't a pro-chef when she signed on to "The Bear," but she wasn't a complete novice either. "I actually really like to cook," she says. "I come from a big family where I think cooking is how we express a lot of love."
She used to give herself small cooking challenges to work through. She's practiced making pasta over and over. For a couple of months, she tried making homemade versions of alternative milks (pistachio milk is not good in coffee, she warns, and brazil nut milk remains on her to-do list). She's also worked front of house at restaurants before, so she's familiar with the fast-paced energy, but working on the show gave her "great appreciation" for how a restaurant runs and the work chefs do behind the scenes.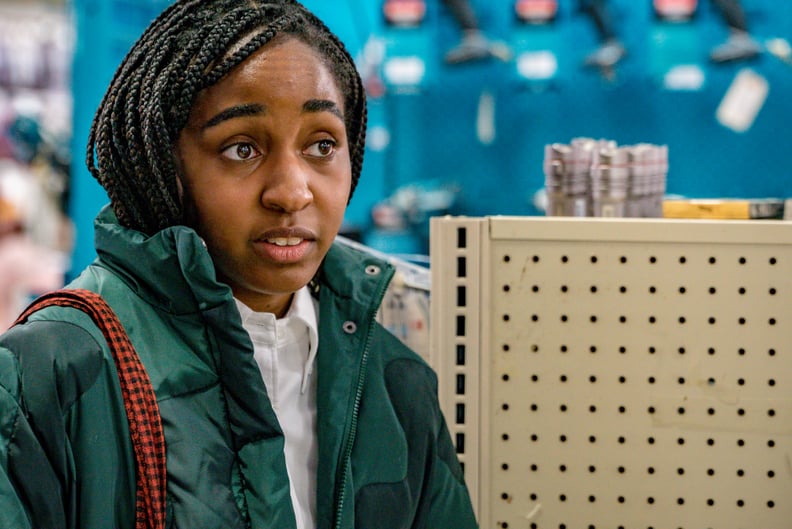 "It was really fun to learn things from a more technical standpoint," she explains. She and White went through a cooking bootcamp before shooting began, starting with training at the Institute of Culinary Education. "After that, Jeremy and I kind of went off on our own," she explains. They met with chefs in California, New York, and Chicago. "I'm very grateful for them," she says of all the chefs that opened their doors. "Elske in Chicago saved my life [and] made me look not completely fake."
Sydney and Carmine's relationship is central to "The Bear"; they butt heads constantly, but they come together over their deep love of and appreciation for food. Edebiri says they started to work on the strange alchemy of their dynamic during training. "We had this little, mini competitive thing going on," she explains. "We were cooking together, and I kind of had more experience than him, just in terms of the kitchen."
"But also I didn't drive at the time. So then he would drive me home sometimes," she explains with a laugh. "There were just a lot of dynamics, and then we got to kind of build them together, and it felt really fun and very special. Jeremy has so much experience, and I felt like Sydney where I was like, 'I want to learn from this guy how to be on set, how he approaches character.'"
"We've experienced also two years that have caused such monumental change. I don't think we can process it because we're still in it."
"The Bear" isn't exactly a soothing show — the characters exist in a high-stress environment. Edebiri thinks one reason why that intense feeling comes across to viewers is because they didn't film too many scene takes. "It kind of kept us present, I think, but in a way that was exciting," she says.
And all the cooking viewers see on screen? "When we were cooking, we were cooking for real," she explains. "If there were mistakes that were made, then we embraced them, which was really exciting." Some of those mistakes even made it into the episodes. They also filmed in a real working kitchen, which kept things tight and tense on screen.
For viewers, the food looks delicious, and Edebiri says it smelled even better in person. "[It] was so hard being surrounded by beef all day," she admits. "I hate red meat, and I was like, 'This is smelling good and tasting good though.'"
In the show, Sydney finds herself in a male-dominated environment — something Edebiri was able to draw parallels to with her own experience in comedy. "There were a lot of things about the culinary industry that reminded me of just the creative industries in general," she explains. "I think a lot of people can probably find parallels in . . . trying to make your workplace more equitable."
"Sydney says something to that effect to Richie in an episode, but where it's like, this doesn't have to be bad. This can be good," she says. "But in training [at restaurants], it was really cool to see, because I think, just like in the entertainment industry, people are becoming more aware of these things, and they want to speak out about them more, and they want to make spaces for themselves and for the people who they're feeding. They want to make them more equitable."
"The Bear" is also about grief — grief for lost loved ones, grief for lost dreams, grief for life not fulfilling expectations. Richie even mentions the COVID-19 pandemic at a point.
"We've experienced also two years that have caused such monumental change. I don't think we can process it because we're still in it," Edebiri says. "This show kind of speaks to that in an honest way." It's not just grief for things we know we've lost, but for things that could have happened that we never could have predicted and will never find out. "The world is just so different," she says.
But "The Bear" says we have to find new ways in this new world, keeping the old one in our hearts, even if we have to fight to make a path.
All eight episodes of "The Bear" are streaming now on Hulu.