So you resolved that 2021 would be the year you finally reach your reading goals [1], eh? How's it going? You've got plenty of time left, and the amount of great new books you could be cracking into is practically endless. We've compiled our favorite new releases of the year so far, and we'll be adding to it every month. So whether you're into thrillers [2], romance [3], YA novels [4], or anything in between — you'll find something great in here.
And hey, if you don't see your favorite new book of 2021 in here, let us know! We're always in search of a good new title, too.
— Additional reporting by Sabienna Bowman
Better Luck Next Time by Julia Claiborne Johnson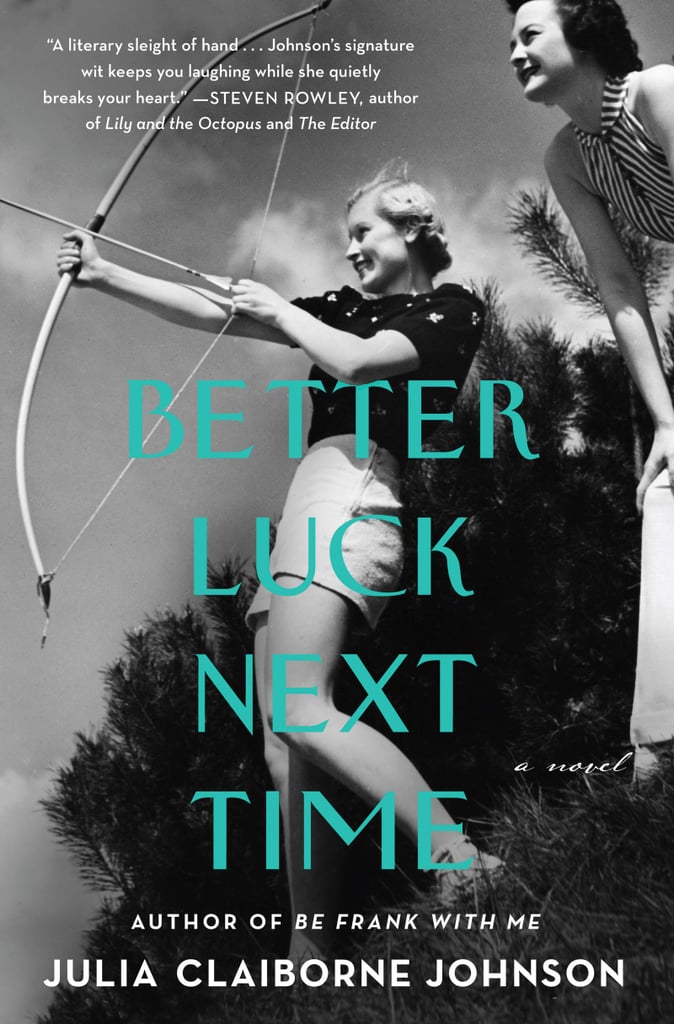 Set at a 1930s dude ranch in the so-called "divorce capital of the world" — Reno, NV, Better Luck Next Time [5] by Julia Claiborne Johnson is a funny tale of friendship and second chances. In 1938, women seeking a quick divorce head to the ranch in Reno where they spend six weeks to fulfill Nevada's resident requirement before they can secure their independence, and while the ranch's resident cowboy thinks he knows exactly how all of the guests operate, two women are about to upturn all of his expectations.
Black Buck by Mateo Askaripour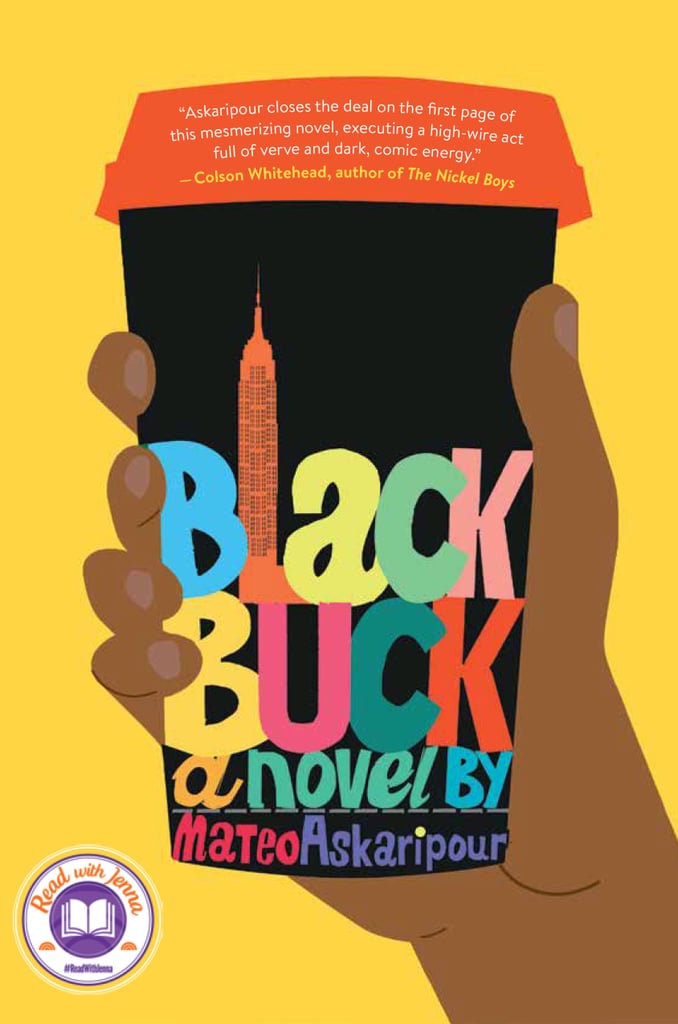 When 22-year-old Darren becomes the only Black person at a cult-like tech startup, he quickly rises through the ranks to become one of the most ruthless salesmen around. However, Black Buck [6] by Mateo Askaripour is anything but predictable, and it's not long before Darren is using his talents to help other young people of color enter the upper echelons of corporate America.
Nick by Michael Farris Smith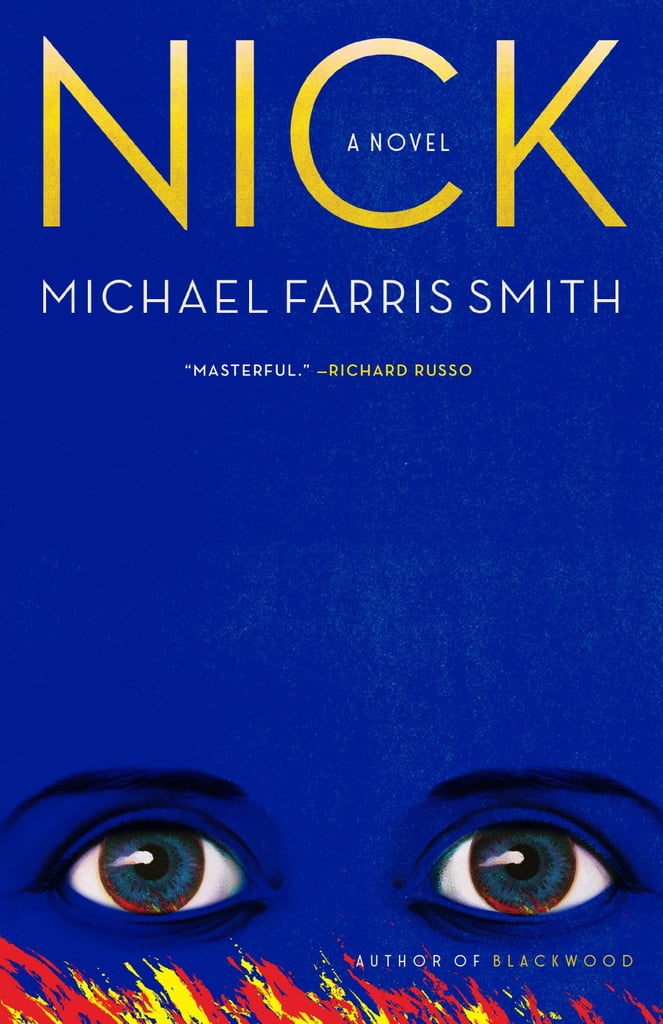 The Great Gatsby narrator Nick Carraway finally becomes the star of his own story in Michael Farris Smith's Nick [7]. The book follows Nick as he avoids returning home in the wake of World War I and instead travels to Paris where he embarks on his own doomed love story.
Outlawed by Anna North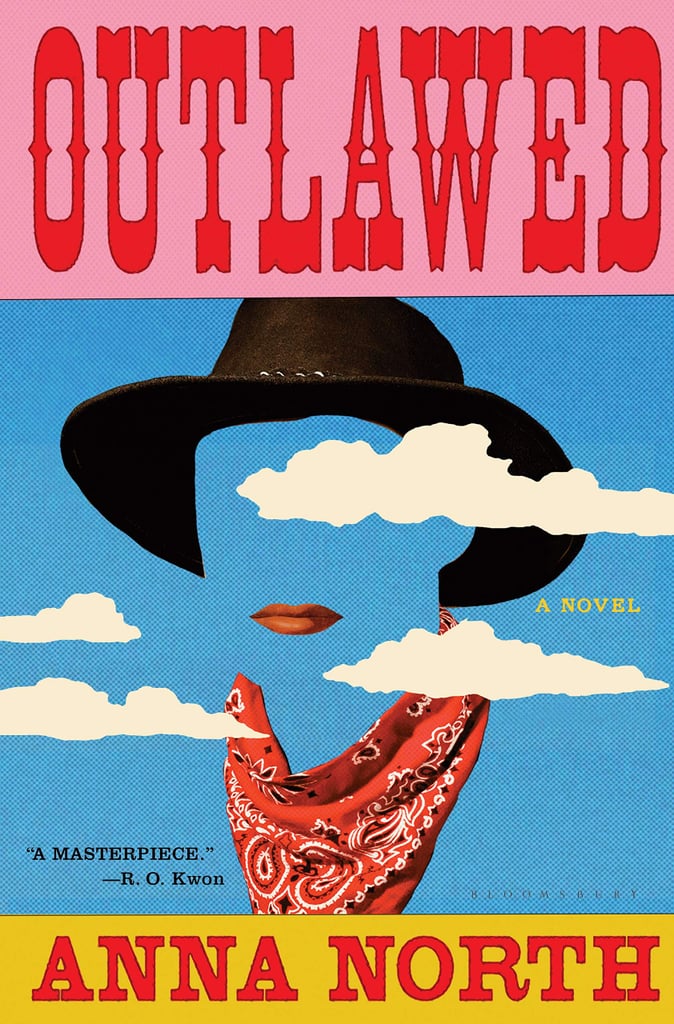 Outlawed [8] by Anna North is a new kind of western that puts women right at the center of the narrative. At the age of 17, Ada flees her home in fear of being declared a witch after she's unable to become pregnant within her first year of marriage. Now on the run, she joins up with a group of women outcasts and outlaws who are hatching a wild plan that might end in bloodshed.
Persephone Station by Stina Leicht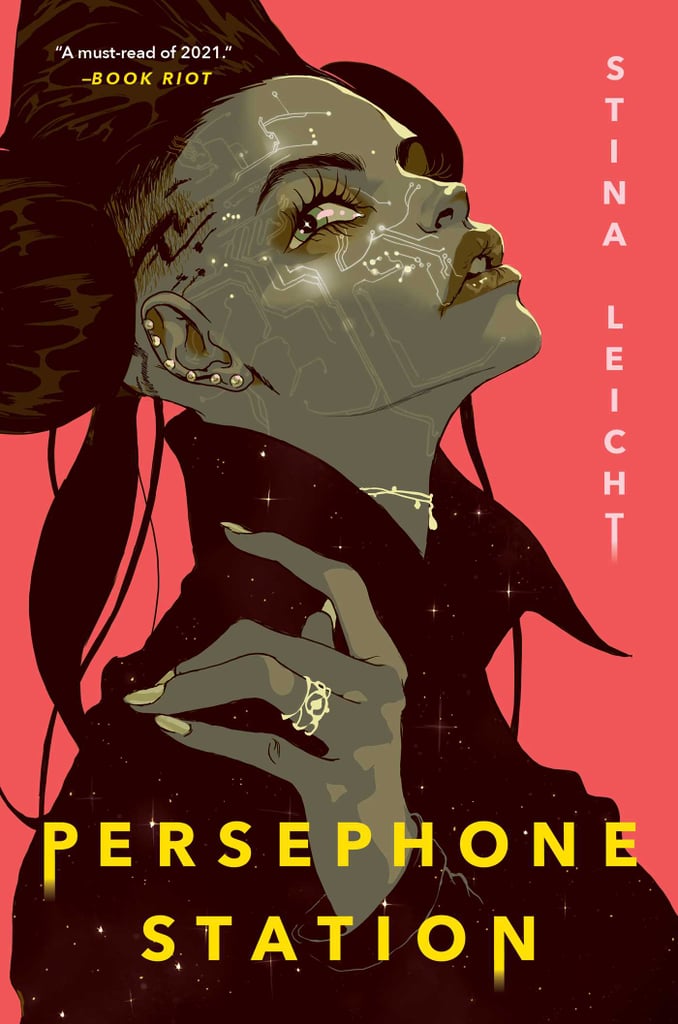 Listen up The Mandalorian [9] fans, because Persephone Station [10] by Stina Leicht might just get you through the long wait for season three. Persephone Station isn't the kind of planet respectable folks inhabit, and its local watering hole, Monk's Bar, is even less hospitable. But it's there that the bar's owner, Rosie, hires ex-marine Angel to do a dangerous job for her that could kick off a deadly dispute with the Serrao-Orlov Corporation.
The Prophets by Robert Jones, Jr.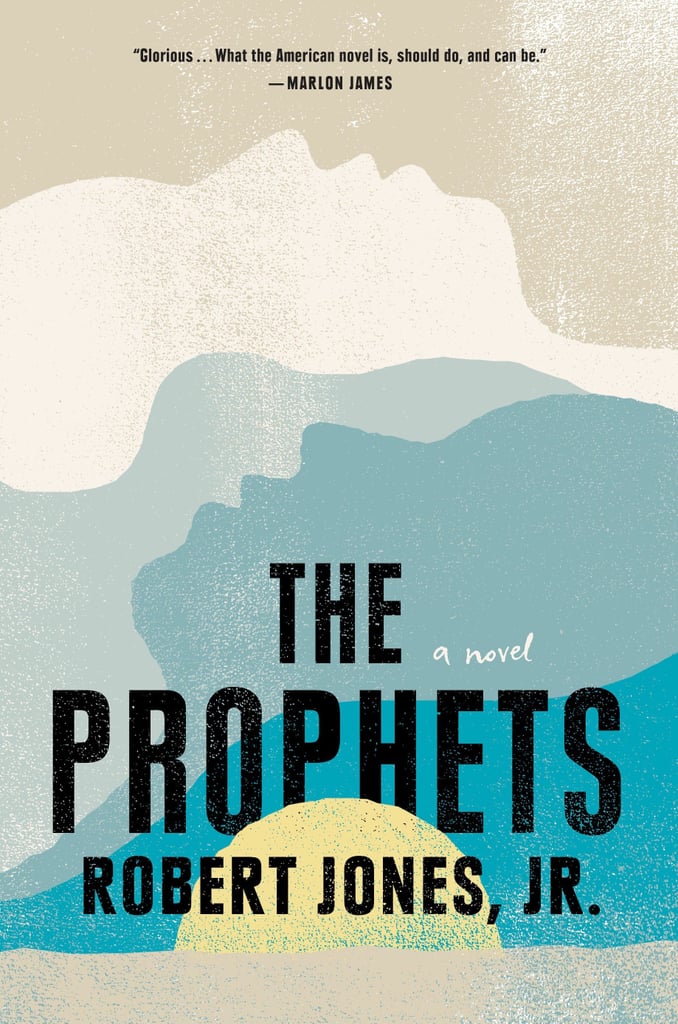 The Prophets [11] by Robert Jones, Jr. is a searing love story set against the backdrop of a southern plantation where two young slaves, Isaiah and Samuel, find love and comfort together. However, when one of their fellow slaves begins preaching on the plantation, the others begin to see Isaiah and Samuel's relationship as a sinful threat.
The Wife Upstairs by Rachel Hawkins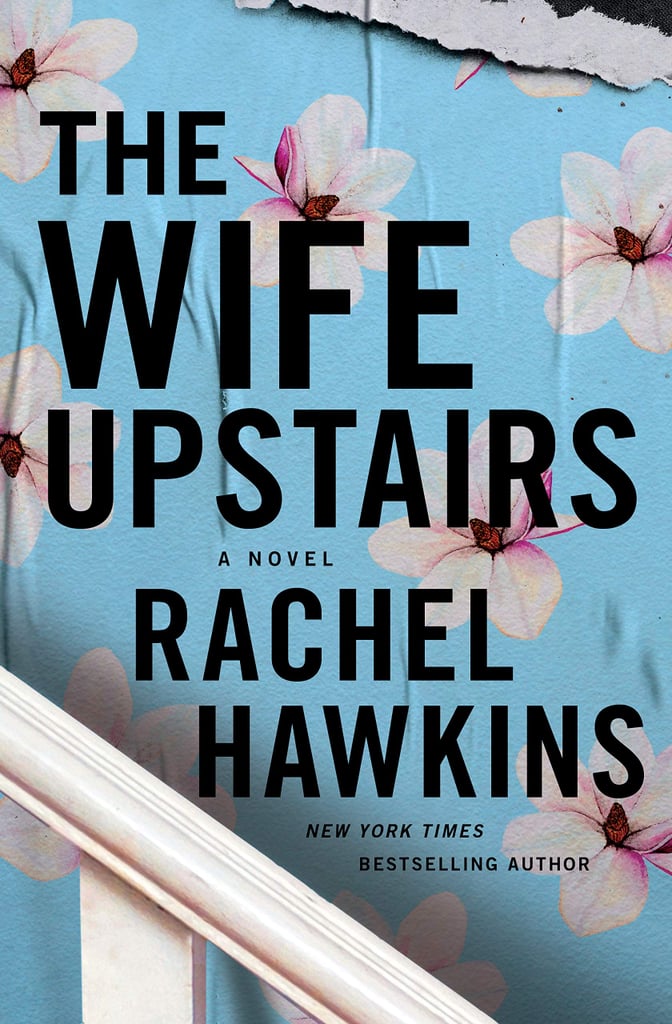 Jane Eyre gets a 21st Century update in The Wife Upstairs [12] by Rachel Hawkins. In this reimagining, Jane is a dog walker who falls in love with the broody and incredibly wealthy Eddie Rochester. The only trouble is Eddie's first wife died under mysterious circumstances, and no matter how hard Jane tries, she can't seem to escape the woman's shadow.
Aftershocks by Nadia Owusu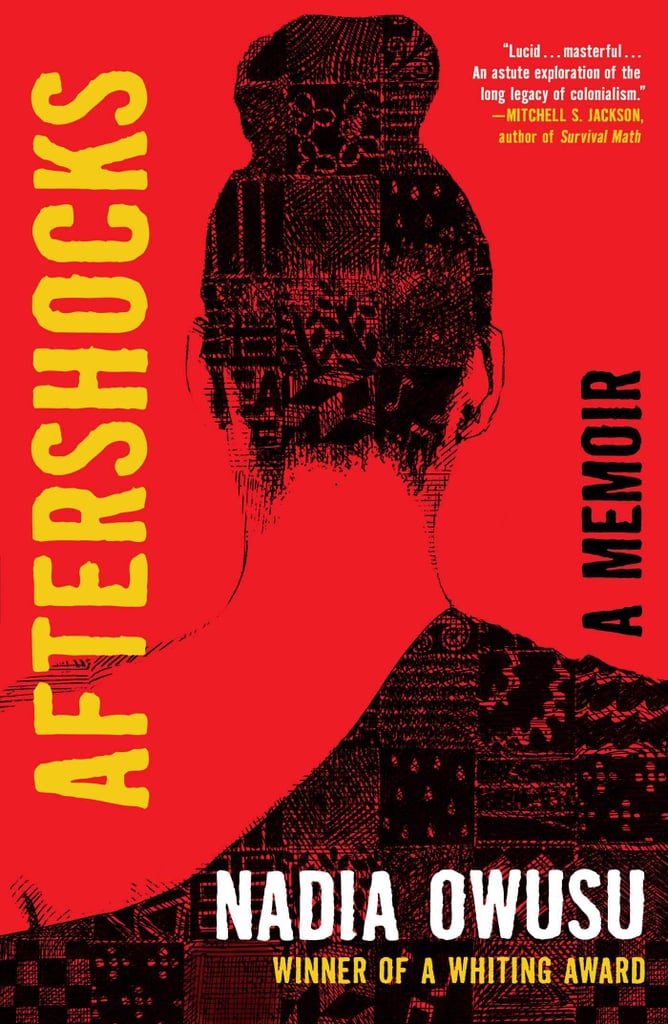 Nadia Owusu's memoir Aftershocks [13] is an exploration of the author's turbulent childhood, as well as her search to establish her own identity in New York City as a young adult. From the loss of her father to her struggle to care for her siblings, Owusu's book is a powerful tale of racial identity and finding her voice through writing.
Bravey by Alexi Pappas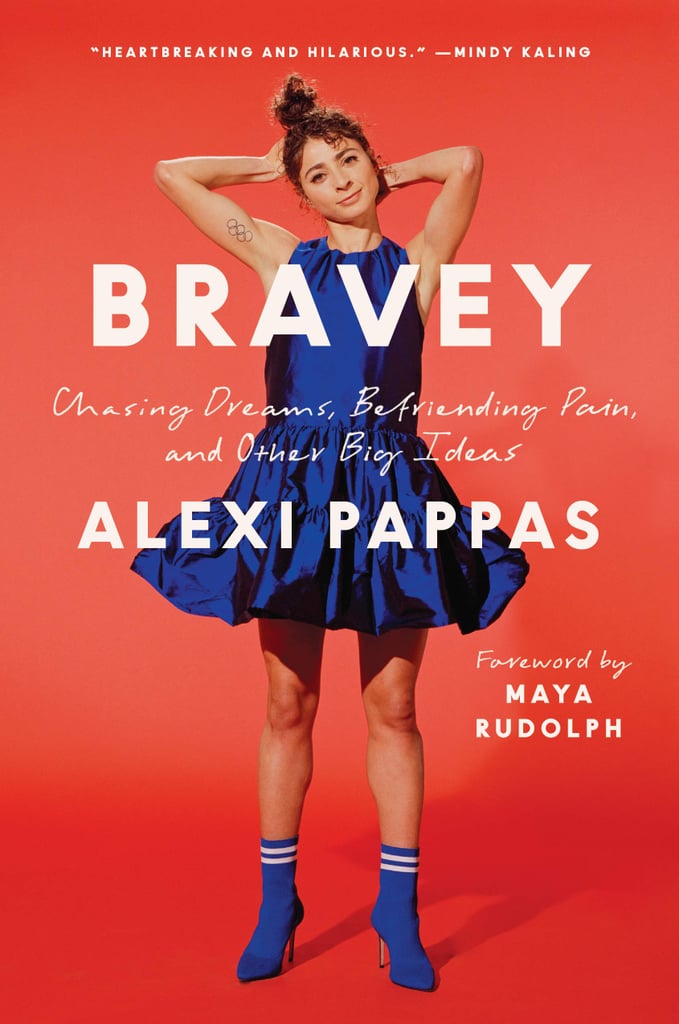 Olympian, filmmaker, and actress Alexi Pappas shares everything from her struggle with depression to her drive to pursue a multitude of dreams in her stirring memoir Bravey [14]. Despite its sometimes heavy subject matter, Pappas's Bravey will make you laugh, while also inspiring readers to reject the limitations society seeks to impose on us.
The Charmed Wife by Olga Grushin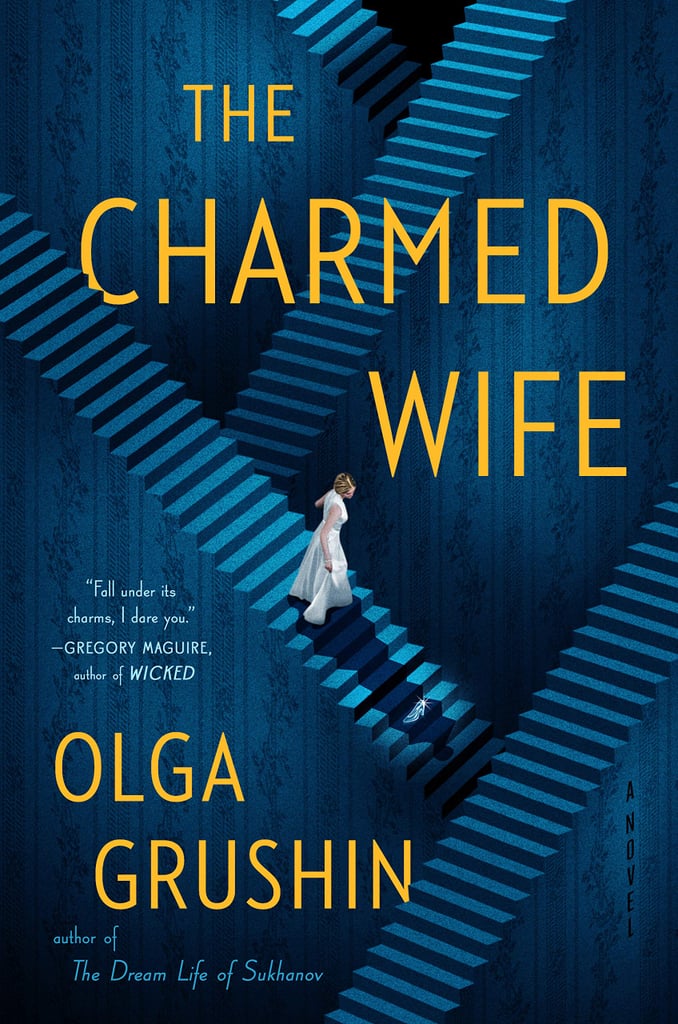 Ever wanted to read a book where Cinderella asks a witch to make a potion that will kill Prince Charming 13 years into their supposedly fairytale marriage? Then The Charmed Wife [15] by Olga Grushin is the wickedly inventive story you've been waiting for.
The Frozen Crown by Greta Kelly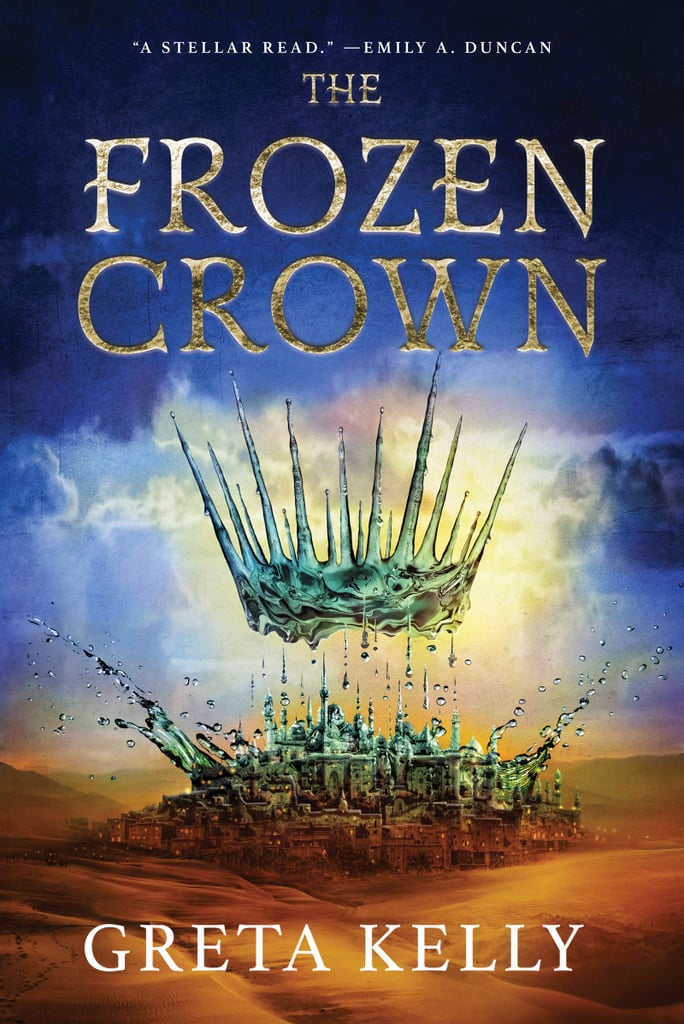 The Frozen Crown [16] by Greta Kelly is the first book in an epic fantasy duology about a princess who heads to a foreign court to seek help for her country. But Askia's arrival in the opulent land of Vishir only highlights how ill-equipped she is to navigate a world of treacherous court politics and tenuous political alliances.
The House on Vesper Sands by Paraic O'Donnell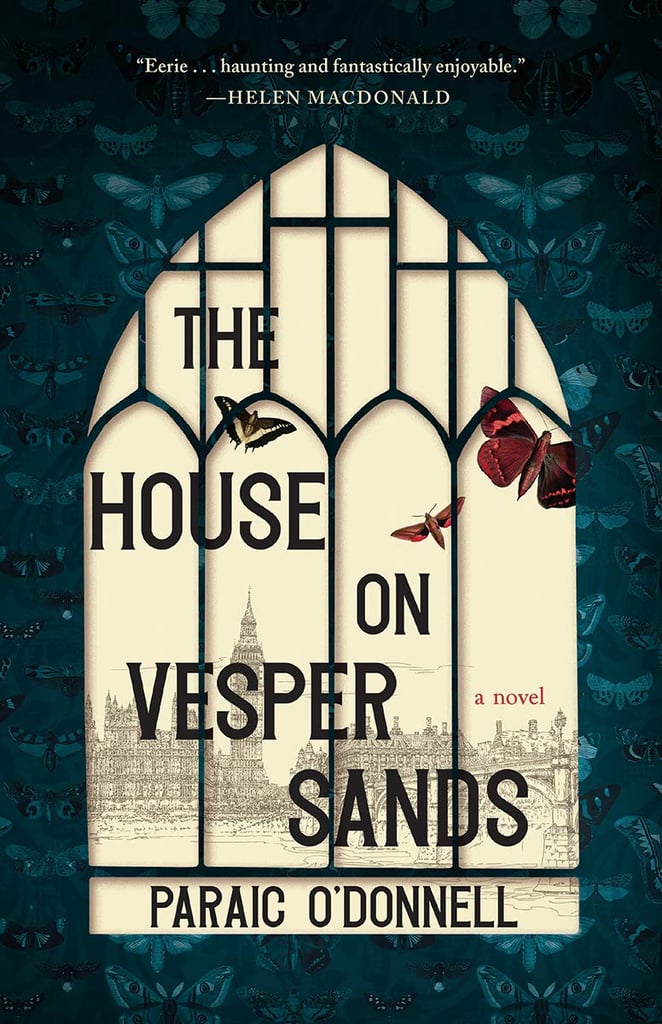 Victorian London roars to life in Paraic O'Donnell's The House on Vesper Sands [17]. This twisty mystery begins with a seamstress jumping out of a window, which in turn sparks an inspector, a journalist, and a lovelorn student to embark on an investigation that will take them into the city's darkest corners.
The Last Garden in England by Julia Kelly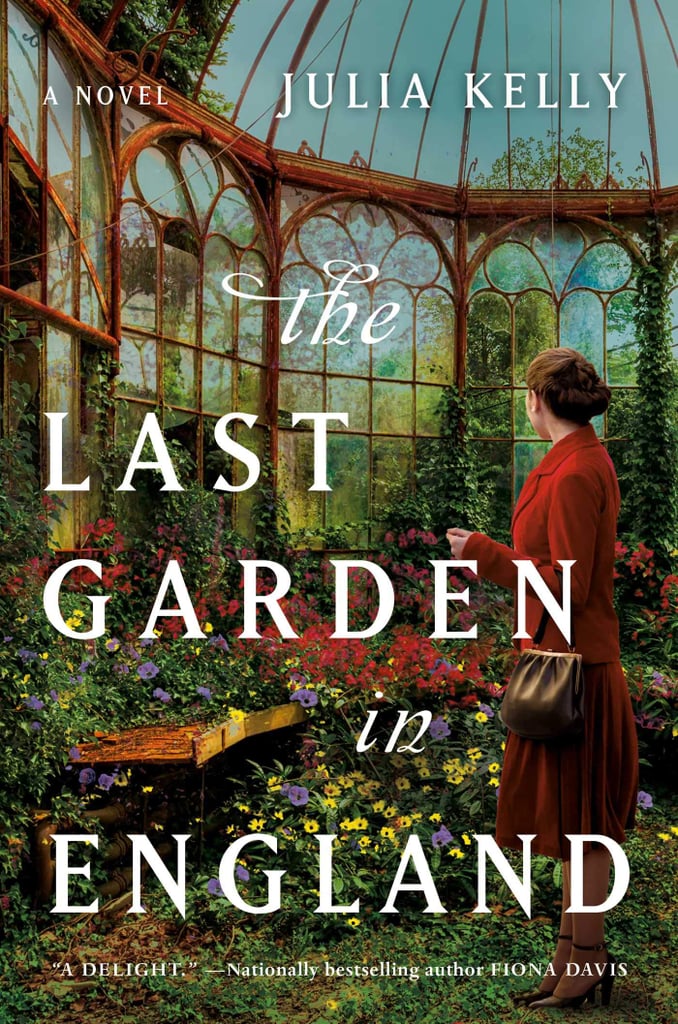 Spanning three eras and the stories of five different women, The Last Garden in England [18] by Julia Kelly tells the remarkable story of the gardens at Highbury House estate. Despite being separated by time itself, each woman in the story is connected to the others through the gardens and the secrets that lie within them.
The Ruthless Lady's Guide to Wizardry by C.M. Waggoner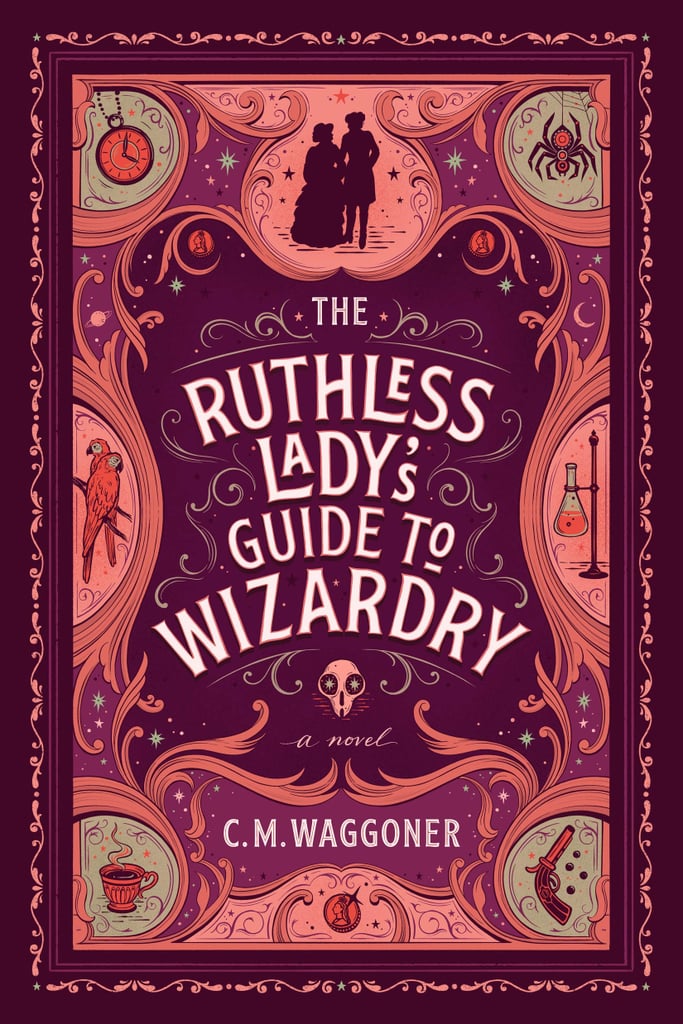 Sharply funny and endlessly creative, The Ruthless Lady's Guide to Wizardry [19] by C.M. Waggoner is a fantasy romp with romance, adventure, and even a conspiracy to unravel. Dellaria Wells is a down-on-her-luck fire witch who takes on what she believes will be the easy job of protecting a wealthy client from assassins. However, her no-sweat gig quickly turns dangerous, but on the upside she finds herself smitten with one of her fellow protectors, Winn Cynallum.
Siri, Who Am I? by Sam Tschida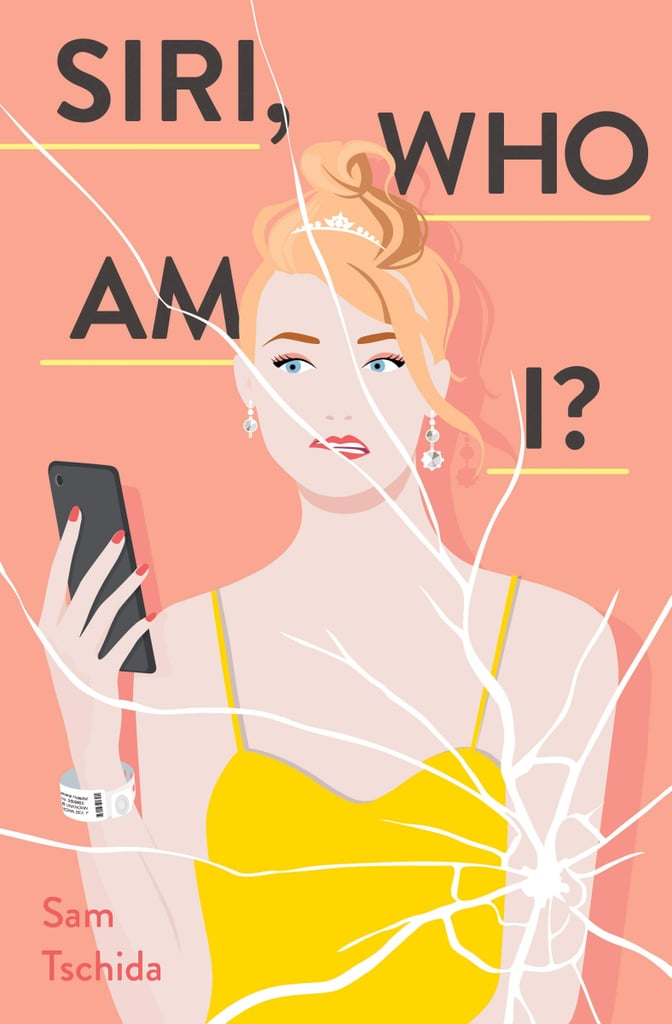 What would your life look like if you had to piece together your story using nothing but your social media accounts? That's the horrifying predicament Mia finds herself in after an accident leaves her suffering from amnesia in Sam Tschida's biting satire for the internet age Siri, Who Am I? [20].
Waiting For the Night Song by Julie Carrick Dalton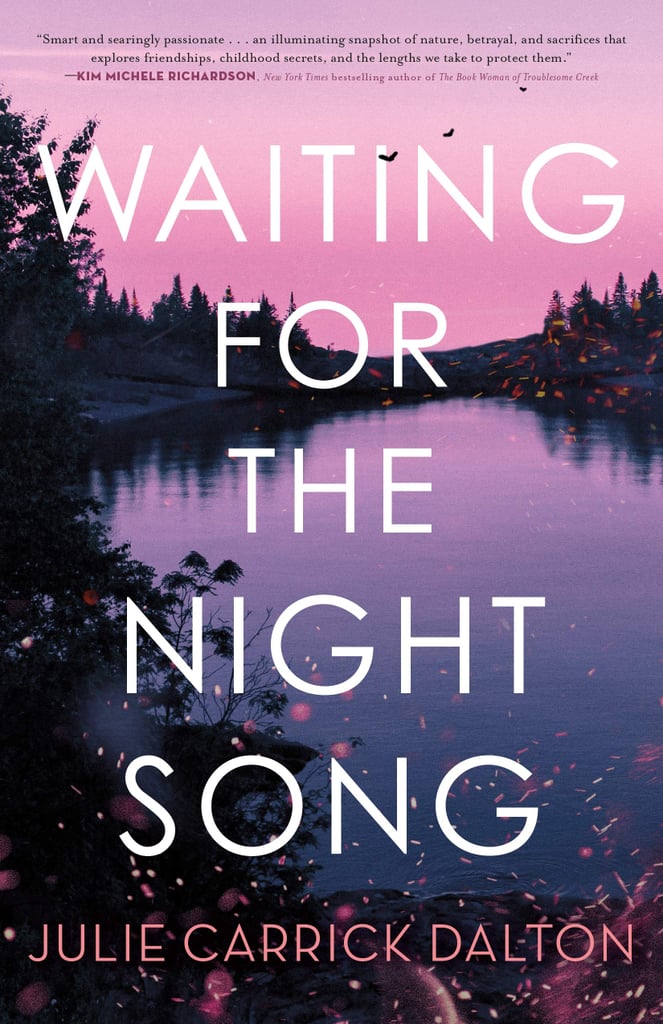 Forestry researcher Cadie Kessler is called home to face a long-buried secret in Waiting For the Night Song [21] by Julie Carrick Dalton. For decades, Cadie has been trying to forget the events of one night that left the innocence of her childhood shattered and brought her friendship with Daniela Garcia to an end. Now, she has no choice but to return home to save the land she loves and finally deal with the ghosts of her past.
The Divines by Ellie Eaton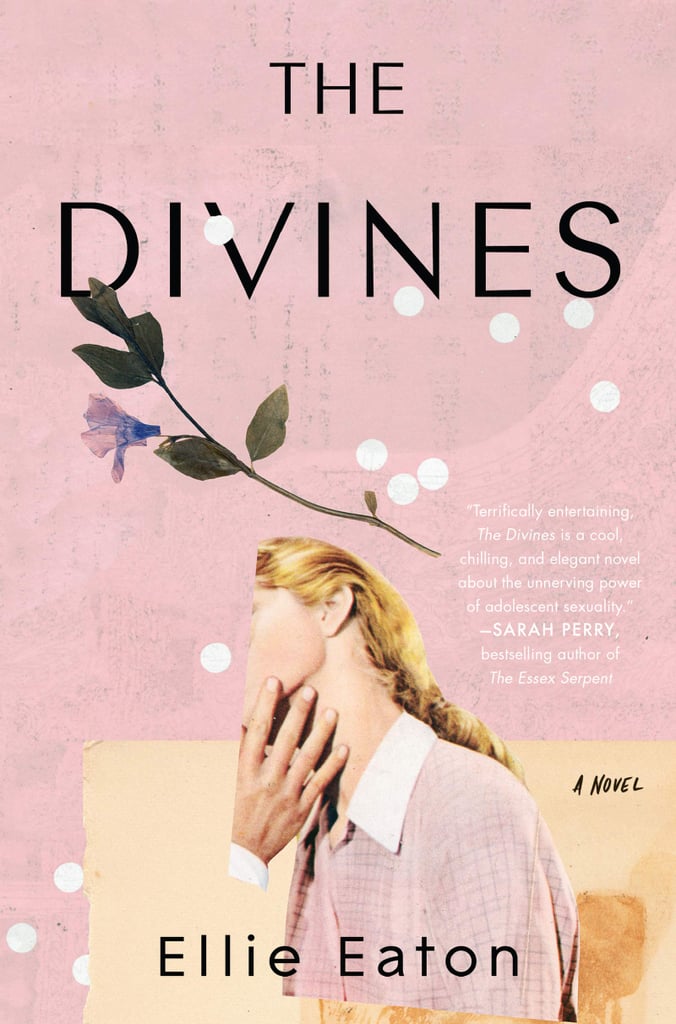 The Divines [22] by Ellie Eaton explores the dark side of adolescence as a woman named Josephine delves into her past at an all-girls boarding school in England. Now in her 30s, Josephine hasn't spoken to any of her classmates since the school closed after a shocking act of violence. But after she returns to the school, she begins to remember the chain of events that led to it shutting its doors — and the role she played in the tragedy she would rather forget.
The Rib King by Ladee Hubbard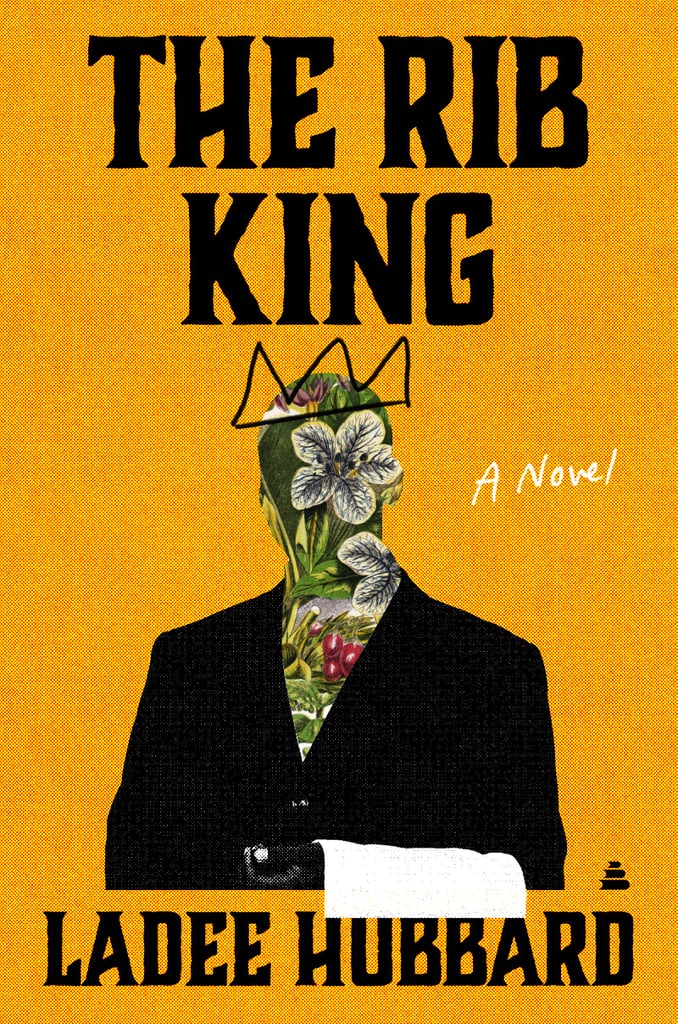 Ladee Hubbard's The Rib King [23] is a historical novel that boldly explores America's exploitation of Black culture and the use of Black stereotypes to sell products to white America. The story follows the Black servants of the Barclays, a white family whose wealth is fading fast. In an attempt to revive their fortunes, the family sells their talented cook's barbeque sauce to a local store with an exaggerated portrait of groundskeeper August Sitwell on the bottle. However, neither August nor the cook will see a dime of the money, a reality that sets in motion a tragic course of events.
Bride of the Sea by Eman Quotah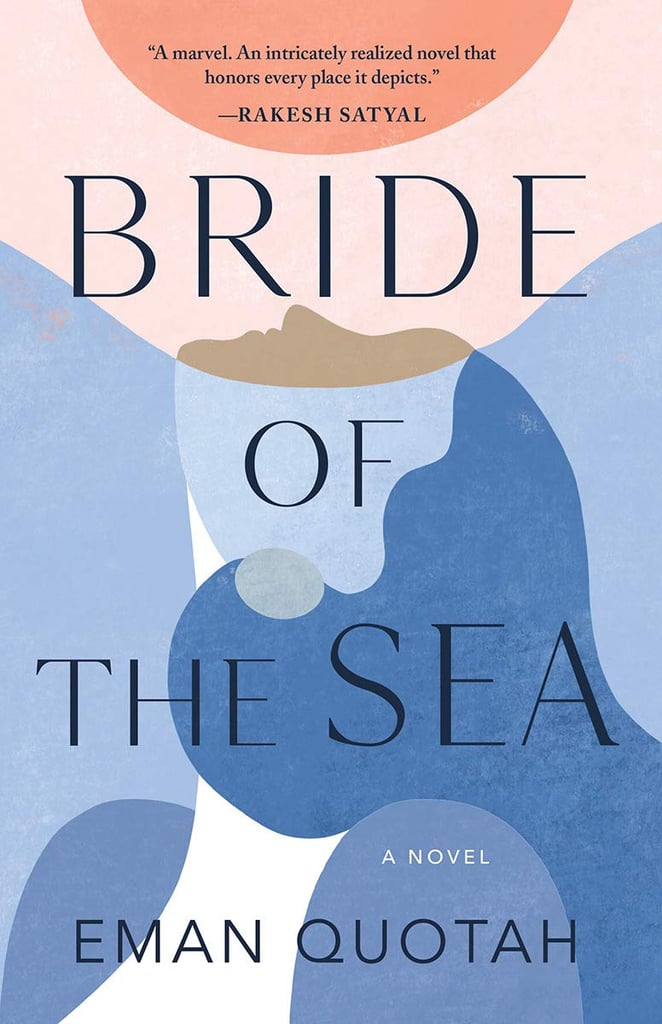 Eman Quotah's Bride of the Sea [24] is the story of a young woman caught between cultures and her parents. After her parents' divorce, Hanadi's mother disappears with her, leaving her father to search for his missing child for years. Once Hanadi is old enough to know the truth, she must reckon not only with the choices her parents made, but what they mean for her and her future.
Chatter by Ethan Kross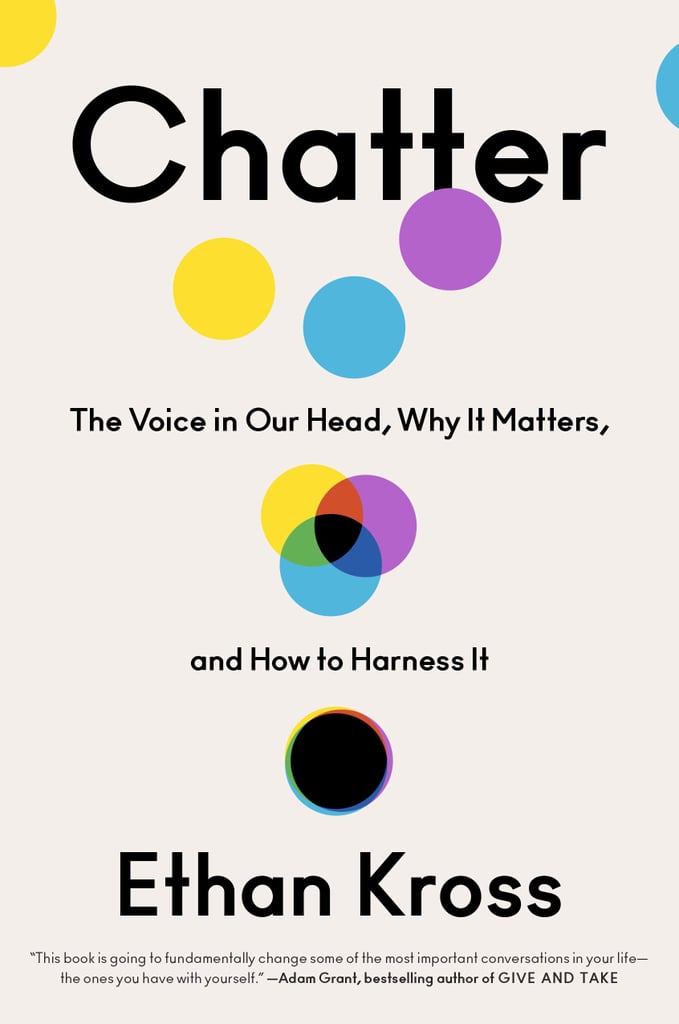 Through meticulous research, psychologist Ethan Kross has written Chatter [25], a book that tackles the science behind negative self-talk and teaches readers how to harness their inner voice for good. This nonfiction ode to not only listening to your inner voice, but also training it to stop being so hypercritical is the perfect read to kick off a new year.
Everybody Else Is Perfect by Gabrielle Korn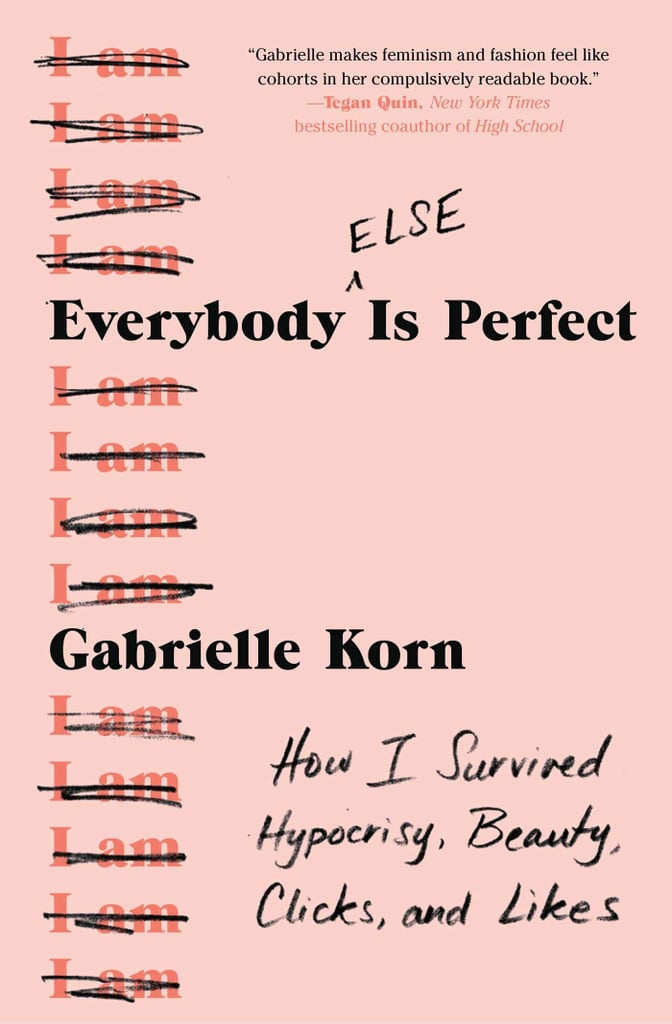 No topic is off limits in Gabrielle Korn's collection of essays Everybody Else Is Perfect [26]. From her experience coming out in the age of The L Word to her struggles with anorexia, the former editor-in-chief of Nylon's essays are an honest exploration of what it's like to be a successful woman in a world driven by the desire to attain social media perfection.
100 Boyfriends by Brontez Purnell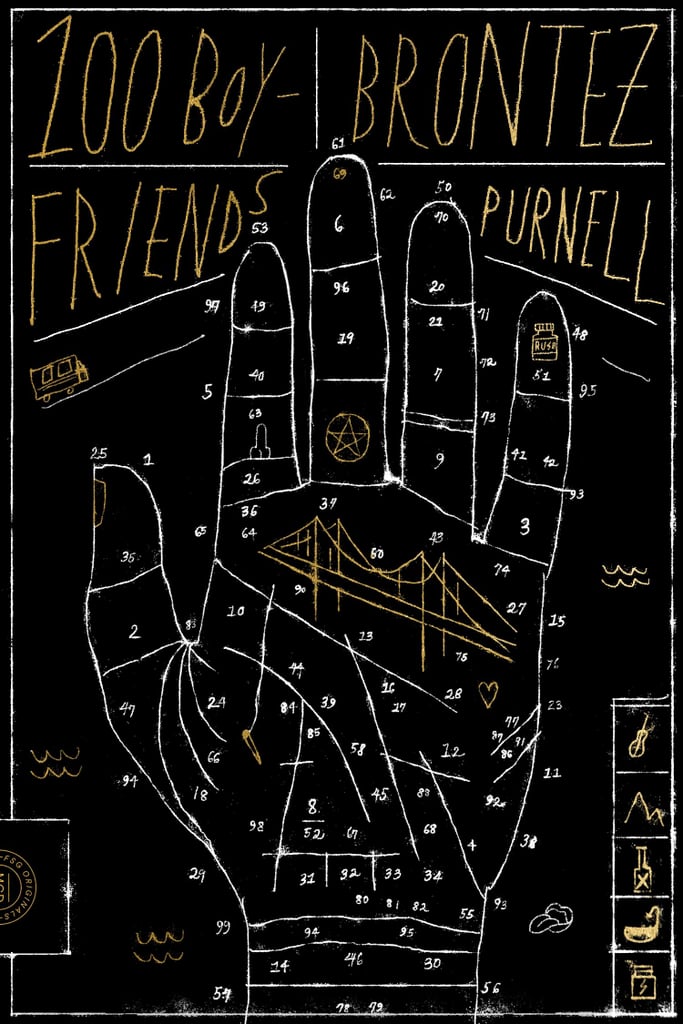 100 Boyfriends [27] by Brontez Purnell is an astonishing collection of short stories that explore the varied experiences of Black queer men with a unique mix of electrifying humor and aching humanity. Expect to devour this one in a single sitting — it's just that good.
Annie and the Wolves by Andromeda Romano-Lax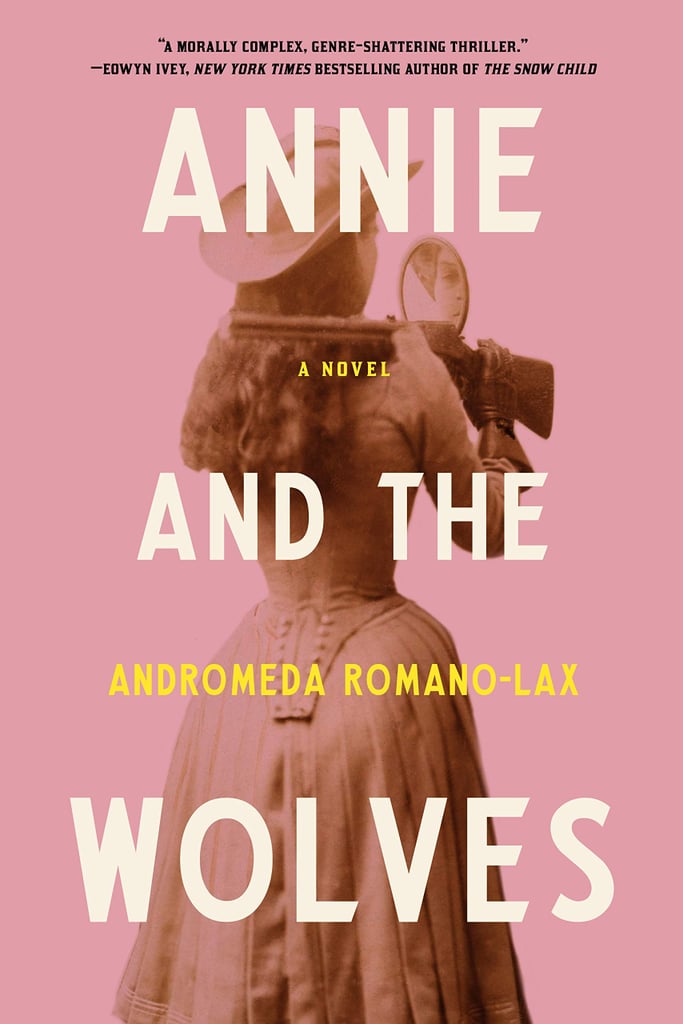 A historian's obsession with Annie Oakley could cost her everything in Andromeda Romano-Lax's Annie and the Wolves [28]. Ruth McClintock devotes her career to delving into the secrets of Oakley's past, but the deeper she digs, the more the line between her life and the sharpshooter's begins to blur.
Dear Kamala: Women Write to the New Vice President edited by Peggy Brooks-Bertram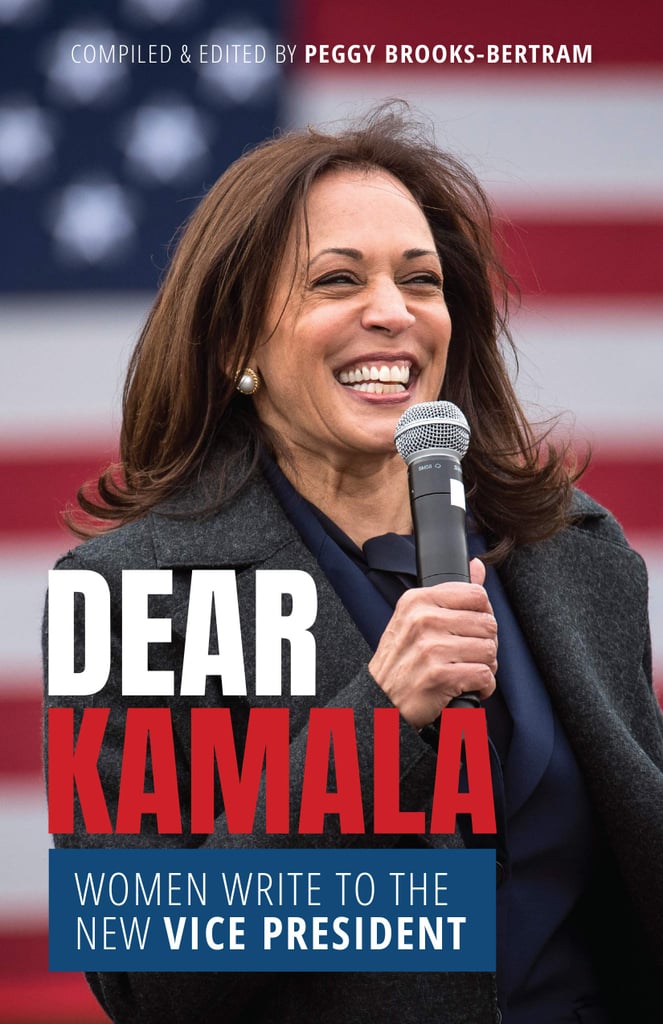 As the first woman of color elected as Vice President, Kamala Harris [29] has already made history, and in the process, she's inspiring women the world over. Now Peggy Brooks-Bertram has edited together Dear Kamala: Women Write to the New Vice President [30], a collection of letters from women congratulating Harris and sharing their own stories and struggles with the VP.
Do Better: Spiritual Activism for Fighting and Healing from White Supremacy by Rachel Ricketts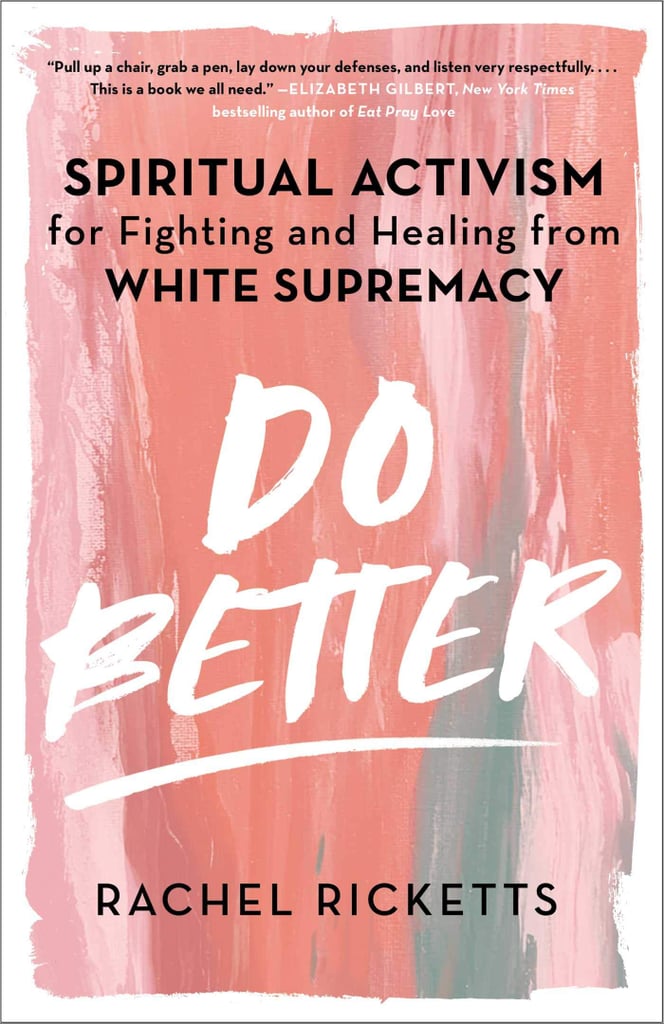 Rachel Ricketts's Do Better: Spiritual Activism for Fighting and Healing from White Supremacy [31] is an invaluable book for anyone looking to further their antiracist education. The author not only addresses the intersection between secular spiritualism and antiracism, she offers practical exercises designed to help readers do the soul-searching necessary to tackle internalized racism head on.
Finlay Donovan Is Killing It by Elle Cosimano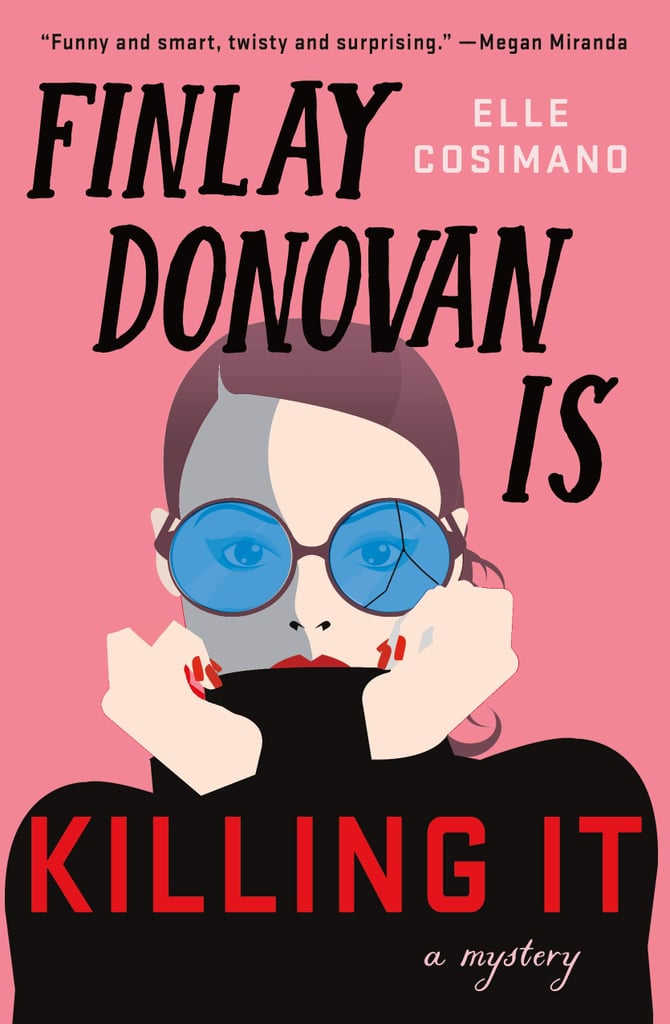 If you love thrillers, but wish the genre would lighten up a little then you absolutely must read Finlay Donovan Is Killing It [32] by Elle Cosimano. Finley is a single mother who is struggling to turn her latest book in on time when a misunderstanding leads to her being mistaken for a contract killer. Now, she has to balance her deadline with motherhood and her confusing new life of crime.
The Four Winds by Kristin Hannah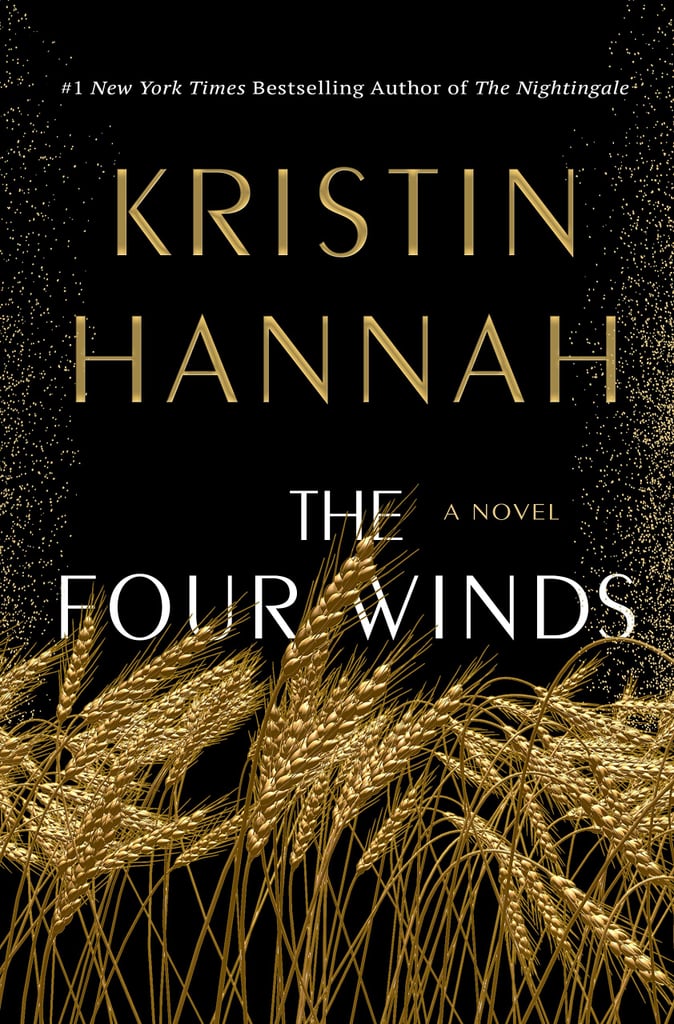 Bestselling author Kristin Hannah is back with a new emotional epic, The Four Winds [33]. This time, Hannah is transporting readers to the Dust Bowl era, where a woman named Elsa Wolcott struggles to keep her family afloat as the United States spirals into a devastating depression.
I am The Rage by Dr. Martina McGowan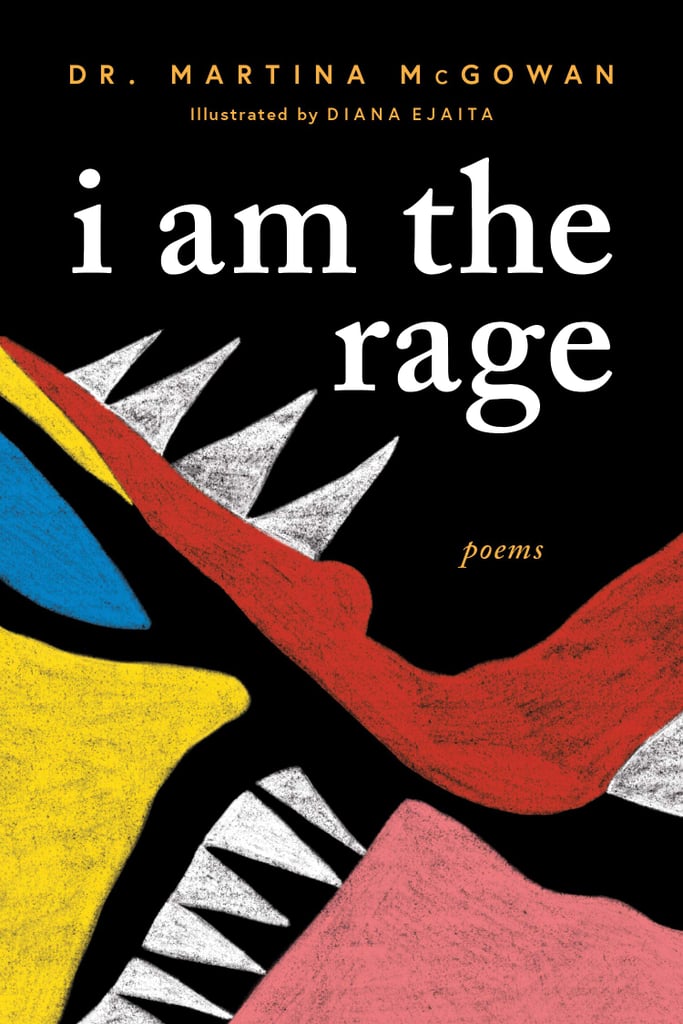 Dr. Martina McGowan wrote the entirety of I Am The Rage [34] during 2020. As a result, her poems are a raw and searing examination of America's reckoning with racism. Each one of her poems challenges readers to reflect on the events of not only this past year, but on America's shameful and destructive legacy of white supremacy.
The Kindest Lie by Nancy Johnson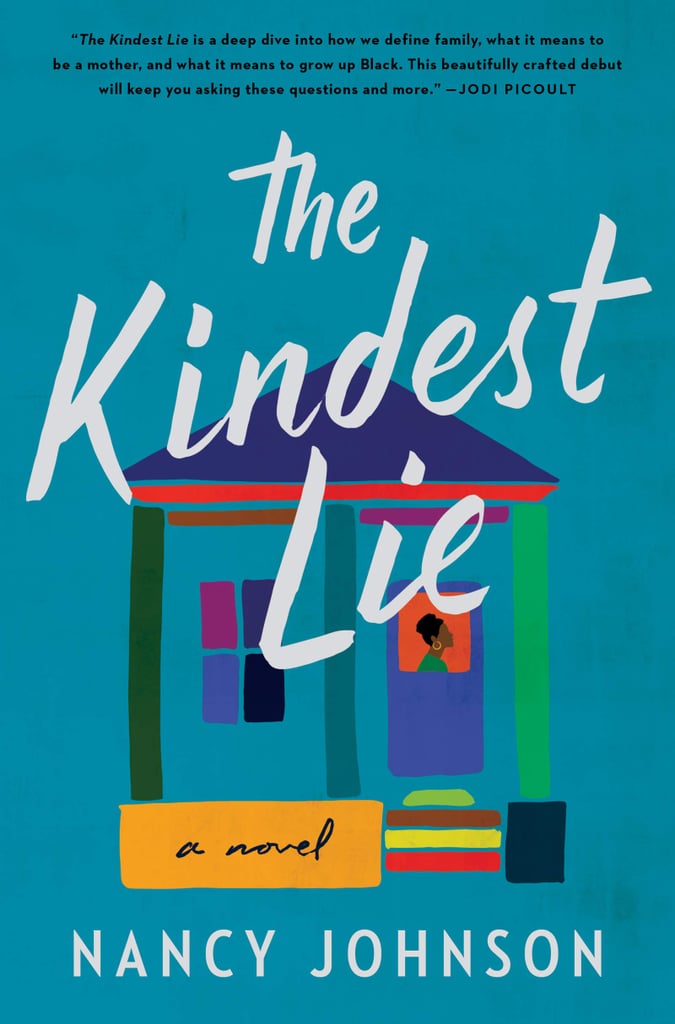 Racial tensions in a small Indiana town come to a head in Nancy Johnson's The Kindest Lie [35]. The story follows Ruth, a woman who can't fully move forward with her life until she confronts her past, as she returns home and befriends a young white boy who feels just as lost as she does. Read our full review of the book here [36].
Milk Fed by Melissa Broder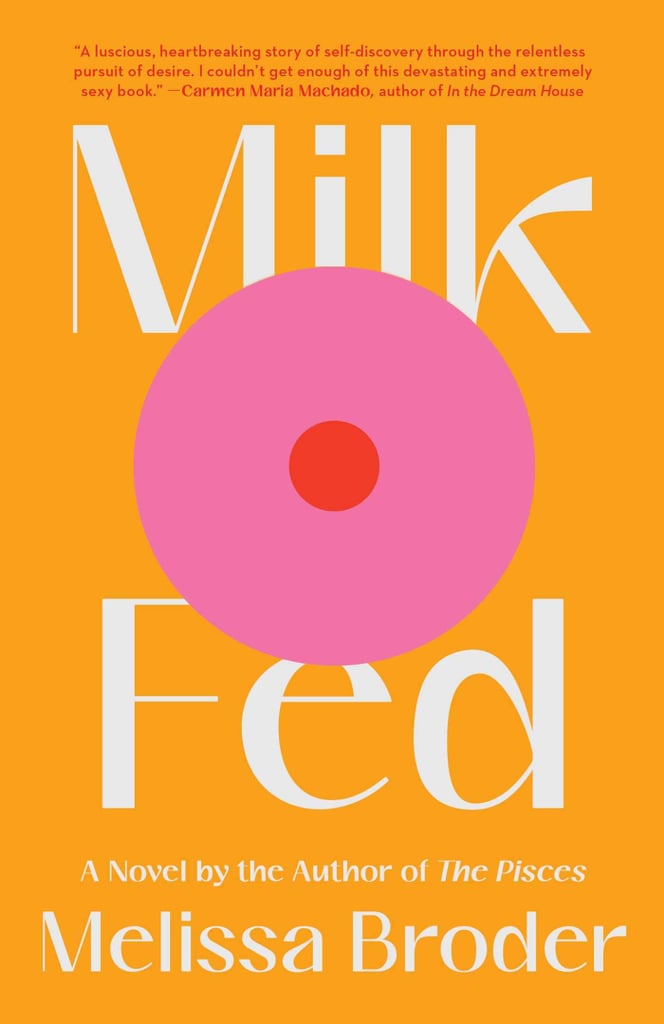 A 24-year-old woman named Ruth is following in her mother's dangerous calorie-counting footsteps at the start of Milk Fed [37] by Melissa Broder. But when Ruth's therapist suggests she take a break from communicating with her mother, she finds solace in a frozen yogurt shop owner who wants to feed not only her body, but also her soul.
My Year Abroad by Chang-rae Lee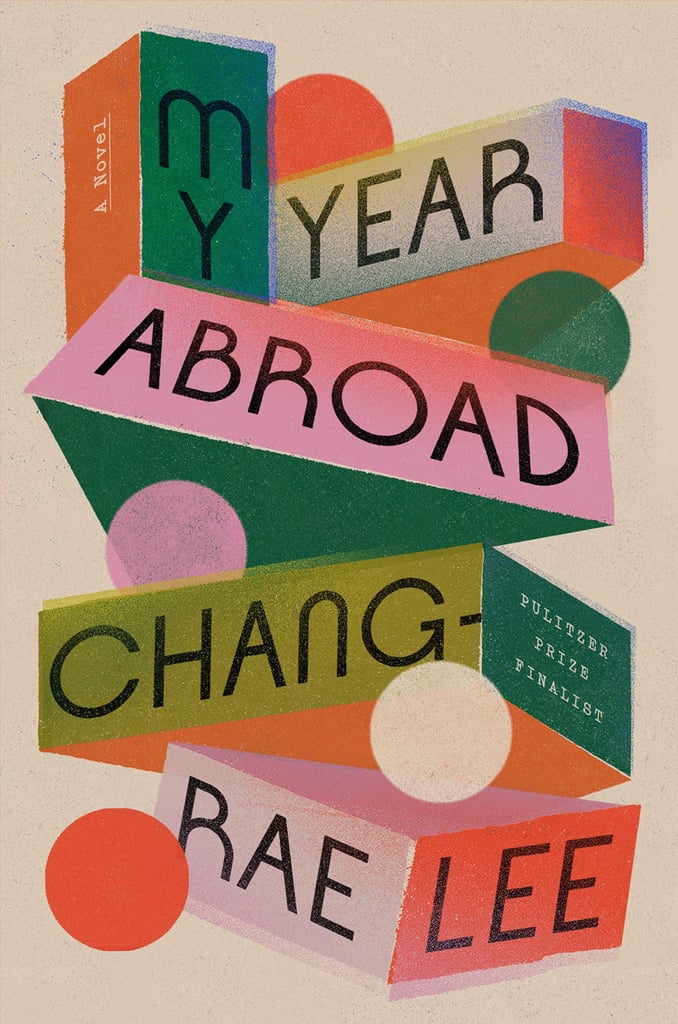 Chang-rae Lee's latest novel, My Year Abroad [38], may also be his best to date. The story follows Tiller, a young American with little ambition, whose entire life is changed by a Chinese American entrepreneur named Pong Lou. Not long after they meet, Pong and Tiller embark on a tour across Asia that opens Tiller's eyes to the world around him.
The Removed by Brandon Hobson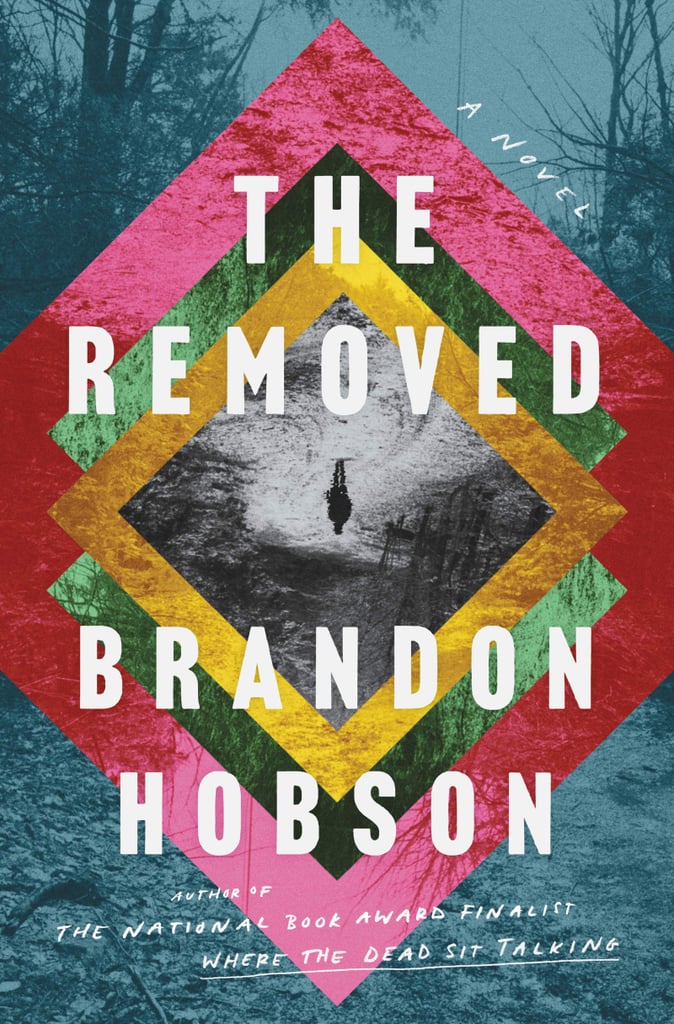 The Removed [39] by Brandon Hobson is a story grounded in Cherokee history that zeroes in on the emotional journey of a family left reeling after the death of their son, Ray-Ray. As the anniversary of Ray-Ray's death approaches, the family's matriarch Maria becomes determined to bring her family together once more, but as the day approaches, Ray-Ray's parents and siblings begin to feel torn between the real world and the spiritual one.
Winter's Orbit by Everina Maxwell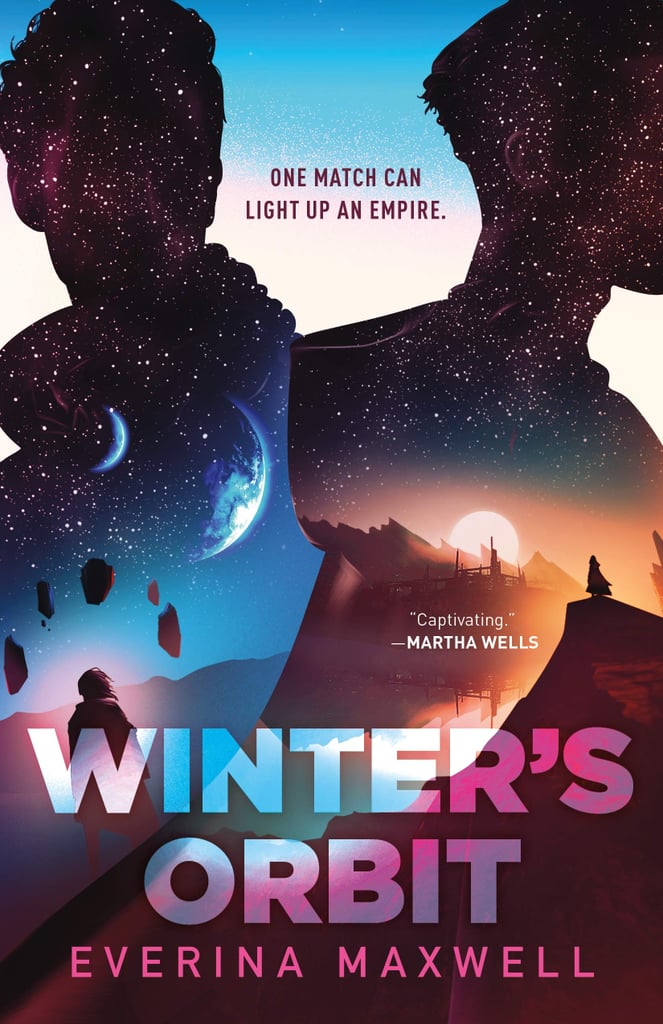 Everina Maxwell's space opera Winter's Orbit [40] is as romantic as it is suspenseful. When Prince Kiem's grandfather forces him to marry Count Jainan, who recently lost his husband in a suspected political murder, he finds himself in the middle of a dangerous conspiracy with a man he can't help but fall for.
Ladies of the House by Lauren Edmondson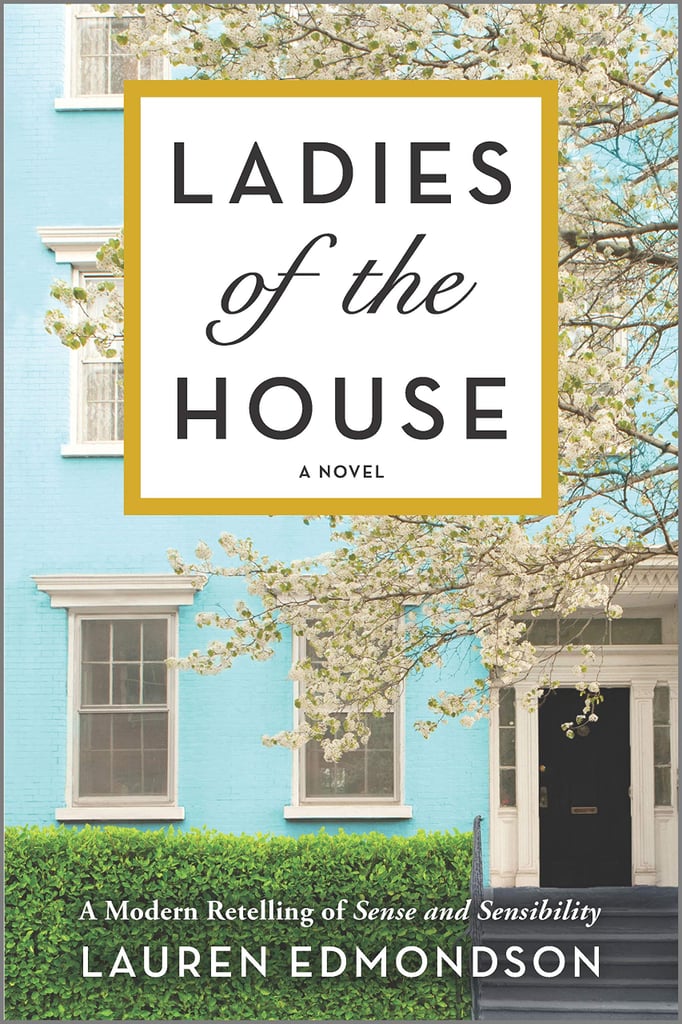 Lauren Edmondson's delightful debut Ladies of the House [41] is a modern retelling of Jane Austen's Sense and Sensibility that transports the action to Georgetown. After her father's unexpected death in the midst of a scandal, Daisy struggles to keep her family together even as her oldest friend prepares an exposé on her father's life.
The Love Proof by Madeleine Henry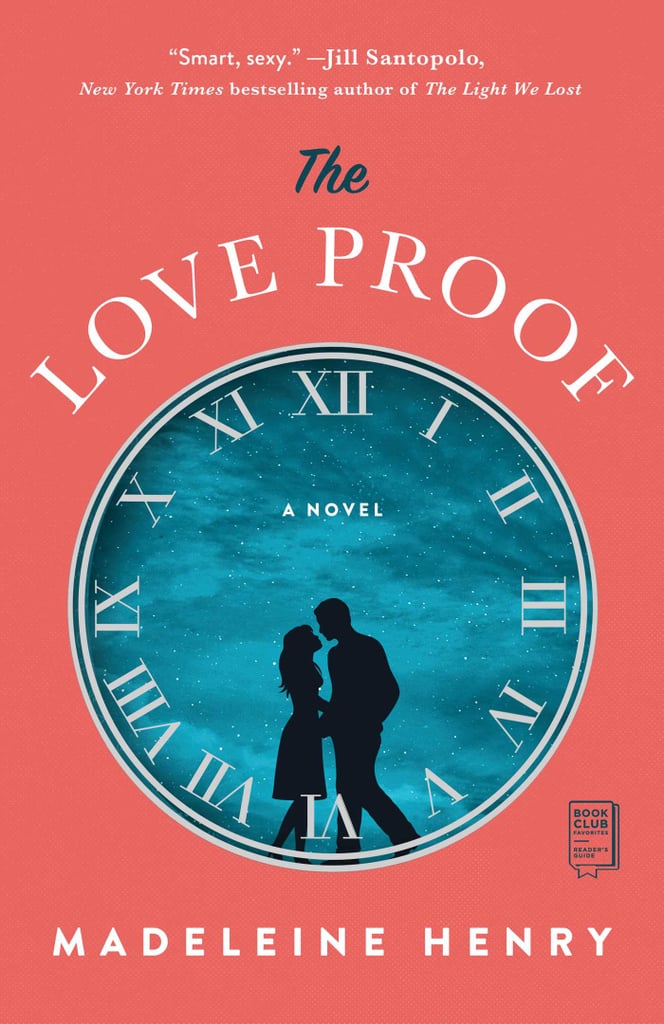 Fans of The Time Traveler's Wife will be blown away by Madeleine Henry's The Love Proof [42]. Told across decades, the book tells the story of physicist Sophie Jones's quest to prove true love not only exists, but that soulmates will find each other in every iteration of reality.
Unfinished by Priyanka Chopra Jonas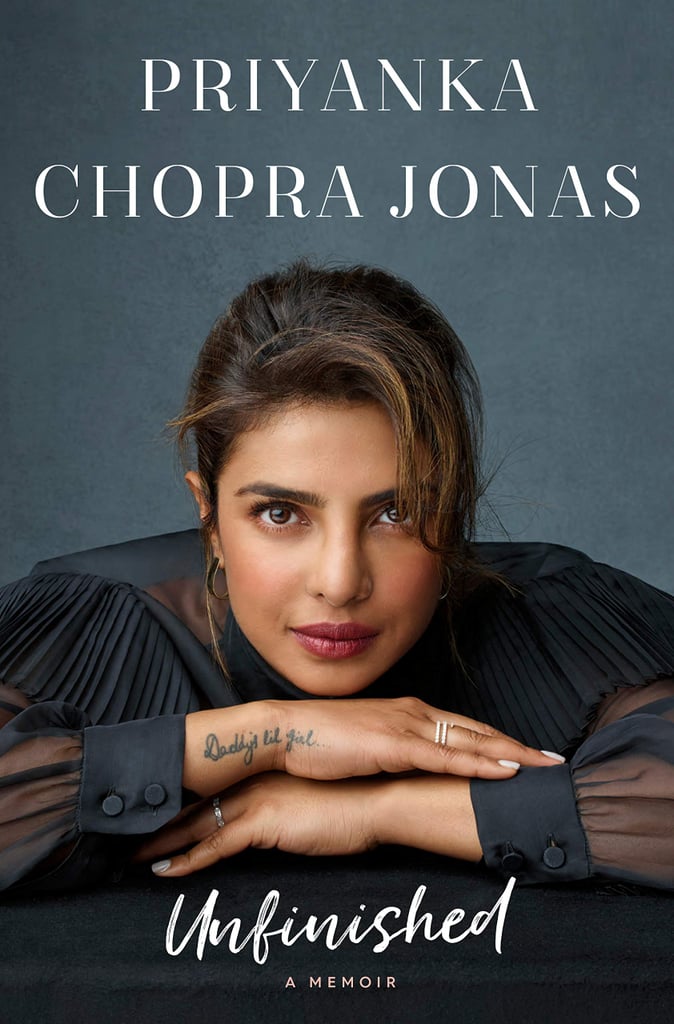 Priyanka Chopra Jonas shares the remarkable story of her life so far in the aptly named memoir Unfinished [43]. From her childhood in India to her career as a Bollywood star, Chopra Jonas leaves no stone unturned in this moving examination of her personal life and the strange realities of being famous.
The Witch's Heart by Genevieve Gornichec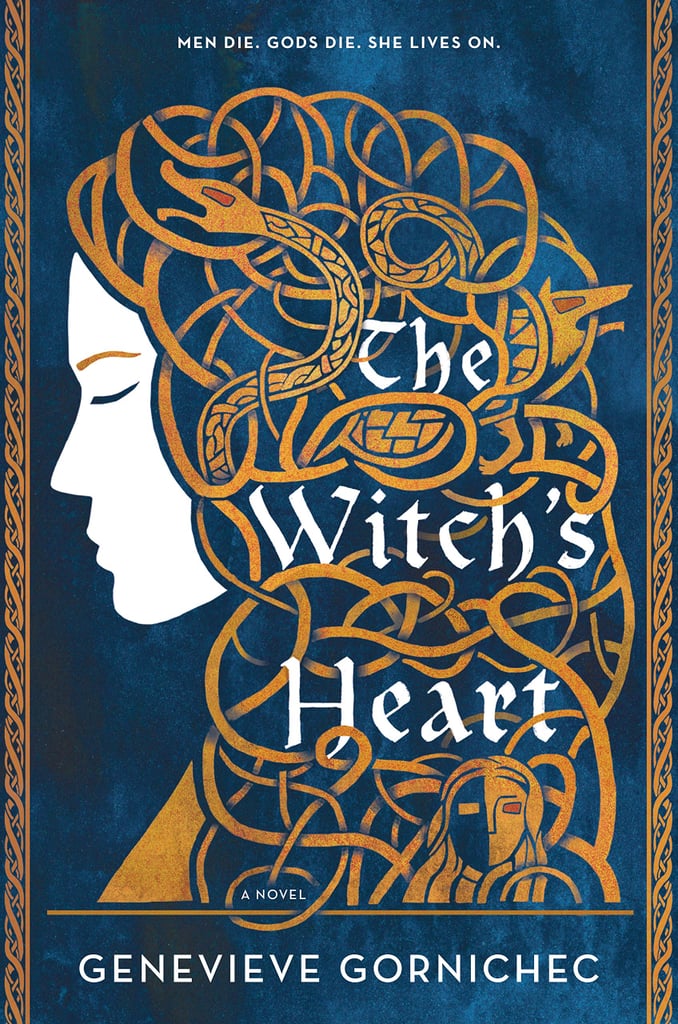 Norse mythology gets a progressive update in Genevieve Gornichec's debut The Witch's Heart [44]. This grand tale focuses on a witch who angers the gods when she falls in love with Loki, only to discover that the fates of her three children are entangled with the future of the world itself.
A Court of Silver Flames by Sarah J. Maas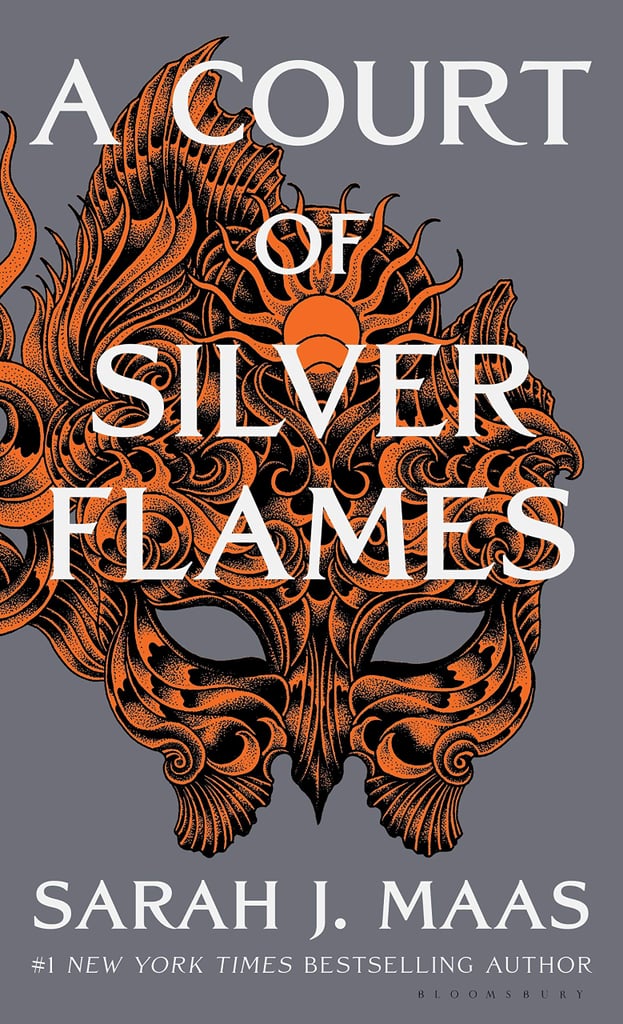 Sarah J. Maas's bestselling A Court of Thorns and Roses series continues with A Court of Silver Flames [45]. In the latest installment in the fantasy series, High Fae Nesta Archeron is struggling to process her dark memories of the war when the hardened soldier Cassian inserts himself into her life and her heart. Now the two must learn to fight alongside each other in order to preserve the uneasy peace their world has found.
First Comes Like by Alisha Rai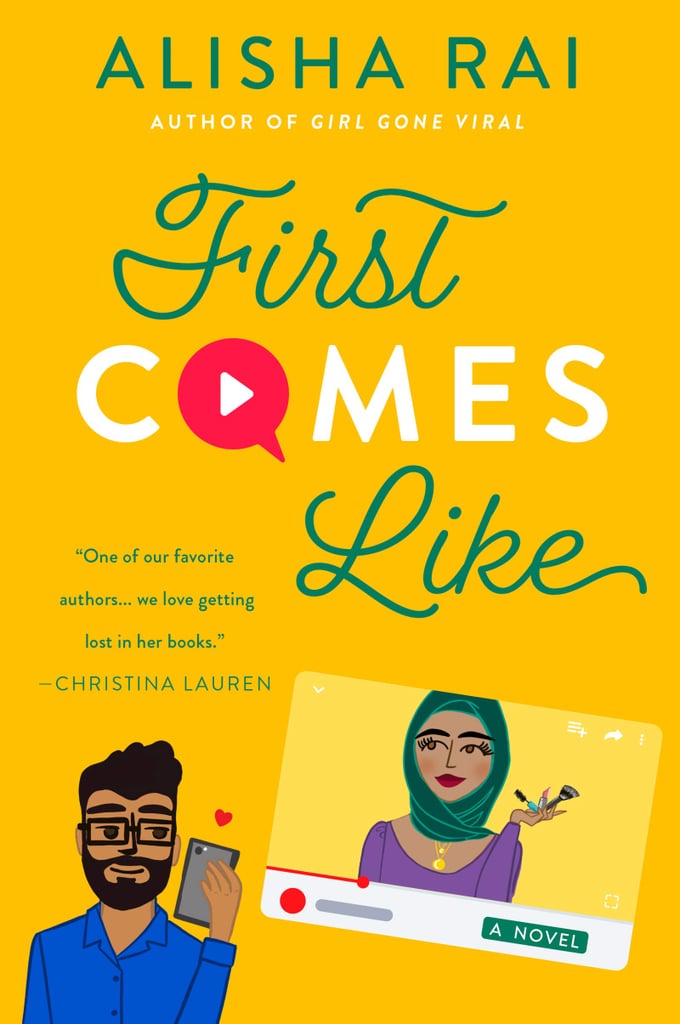 If you read just one rom-com this February, make sure it's Alisha Rai's hilarious and warmhearted First Comes Like [46]. Influencer Jia Ahmed wants nothing more than to carve out a career in the beauty sphere, but when an actual superstar slides into her DMs, she can't help but be tempted. Unfortunately for Jia, Bollywood star Dev Dixit never actually sent her any messages, leading to them both becoming embroiled in tabloid drama that could lead to something real.
How to Order the Universe by María José Ferrada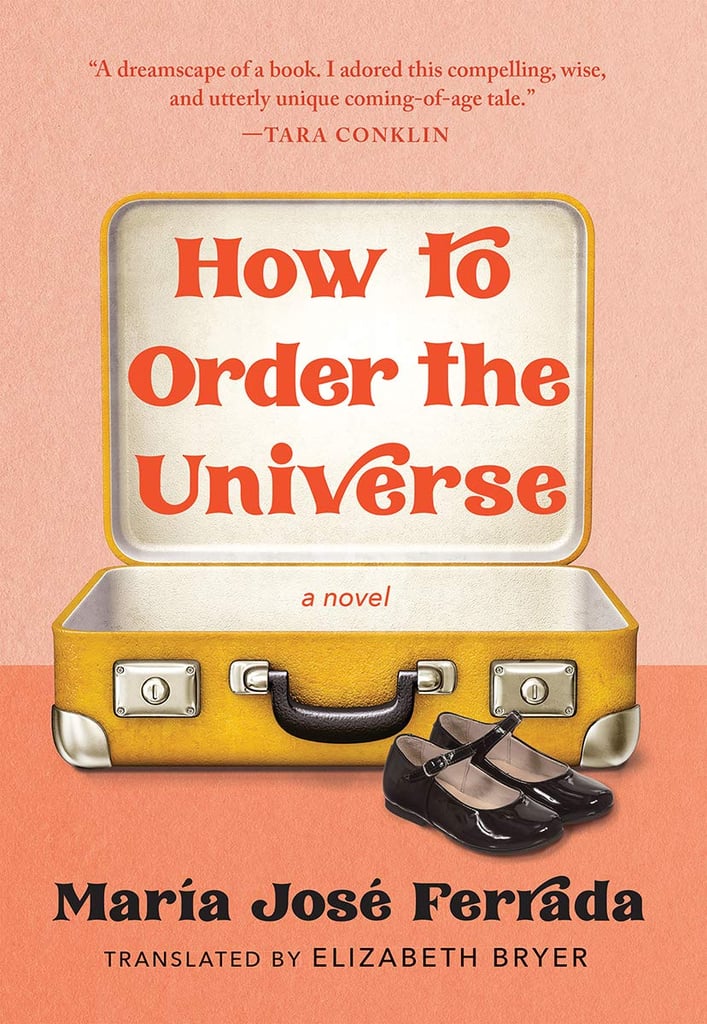 Set during Chile's Pinochet era, How to Order the Universe [47] by María José Ferrada is a vivid story of a father and daughter who live life on the road. From an early age, M learns to speak the language of the salesman from her father, D, as they travel across the country selling their wares to the locals. But as Chile's situation becomes more unstable, so does their idyllic life.
No One Is Talking About This by Patricia Lockwood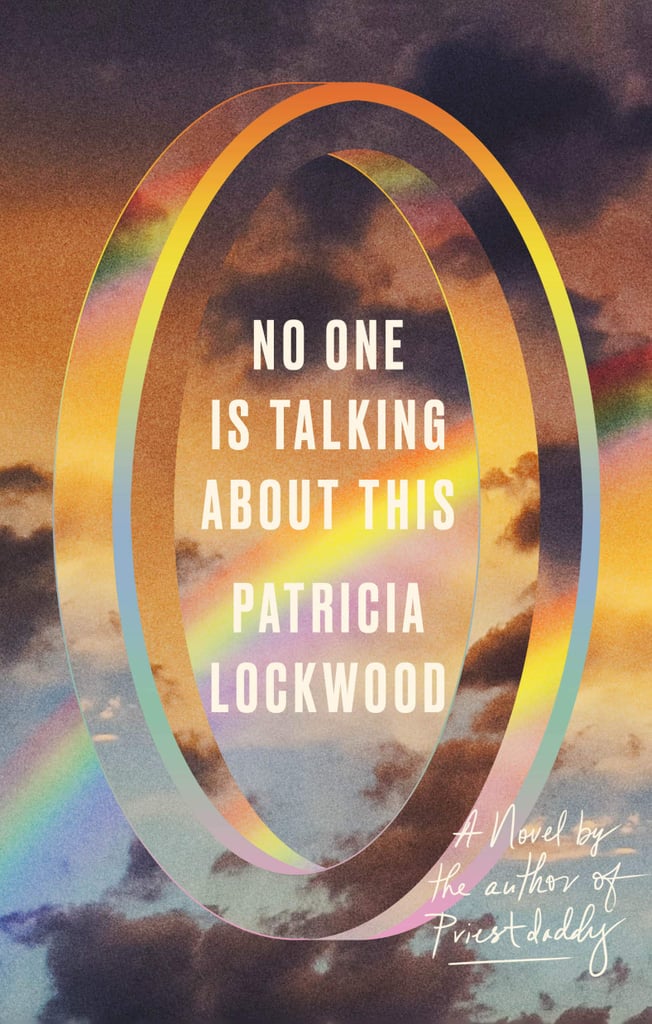 Patricia Lockwood's No One Is Talking About This [48] is an intricate, unexpected story for the internet age. When a social media star finds herself sucked into the portal, a place of boundless voices and images, only texts from her mother can pull her back toward reality in this wonderfully strange novel that defies classification.
Serena Singh Flips the Script by Sonya Lalli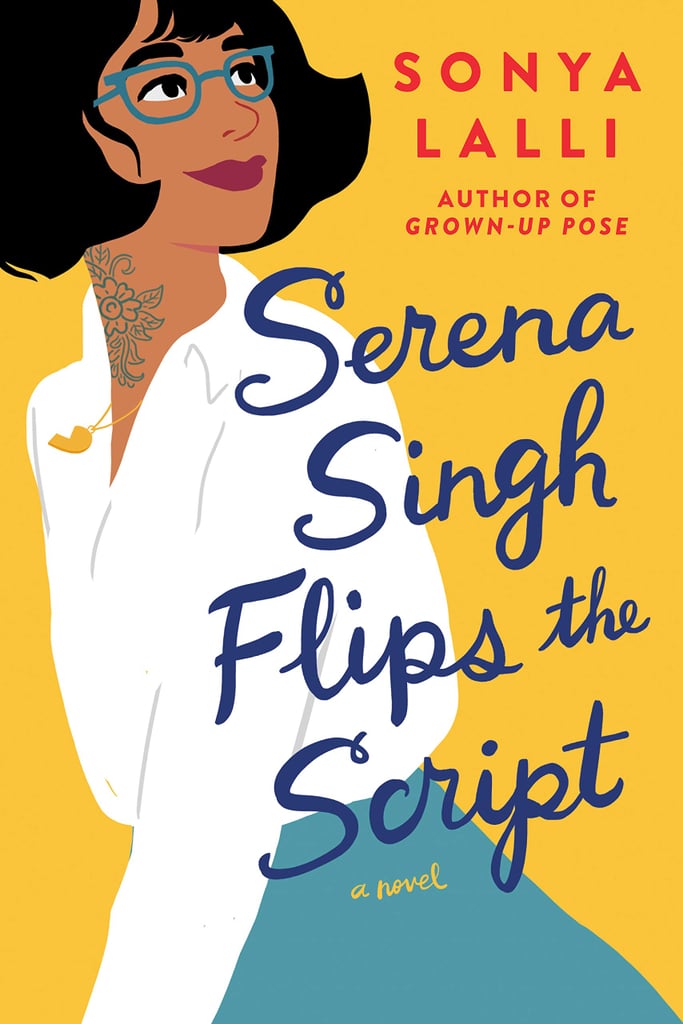 Serena Singh Flips the Script [49] by Sonya Lalli is a surprisingly emotional story about a woman who discovers that putting everything on hold in the name of her career isn't nearly as satisfying as she thought it would be. While Serena thinks her life is perfect thanks to her amazing job in DC, a new friendship shows her just how much she's been missing out on during her quest for success.
The Marriage Pass by Briana Cole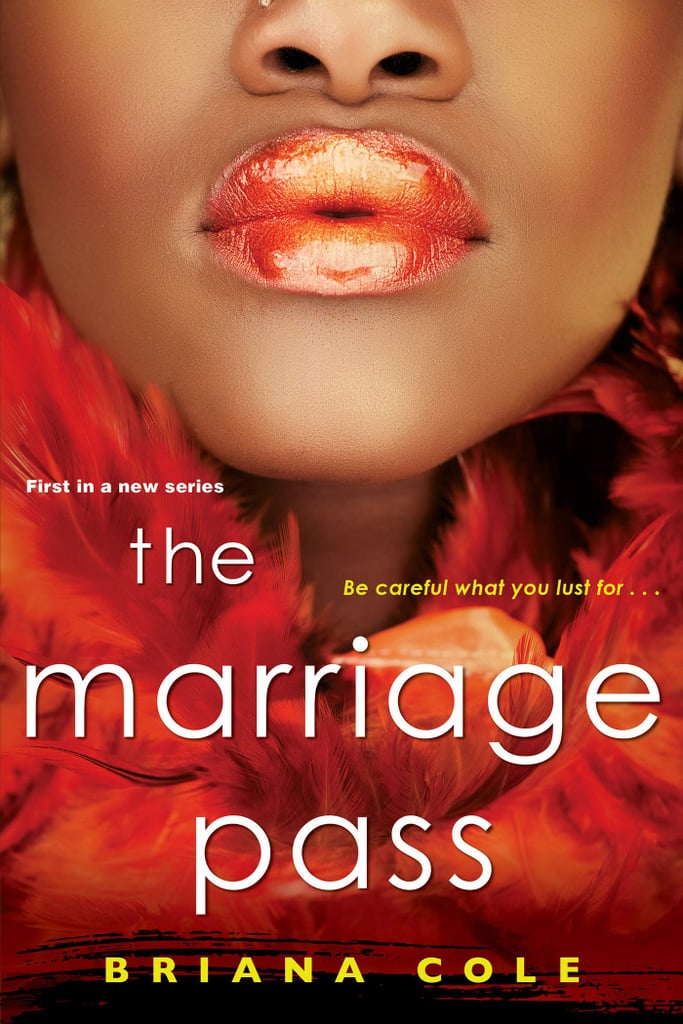 If you're looking for a read that's as thrilling as it is sexy then The Marriage Pass [50] by Briana Cole should be at the top of your list this month. When Dr. Dorian Graham's wife suggests they celebrate their wedding [51] anniversary by spending the night with other people, he jumps at the chance to make a play for her sister. But when his dalliance turns into an unexpected game of cat and mouse, Dorian has no choice but to play along.
The Upstairs House by Julia Fine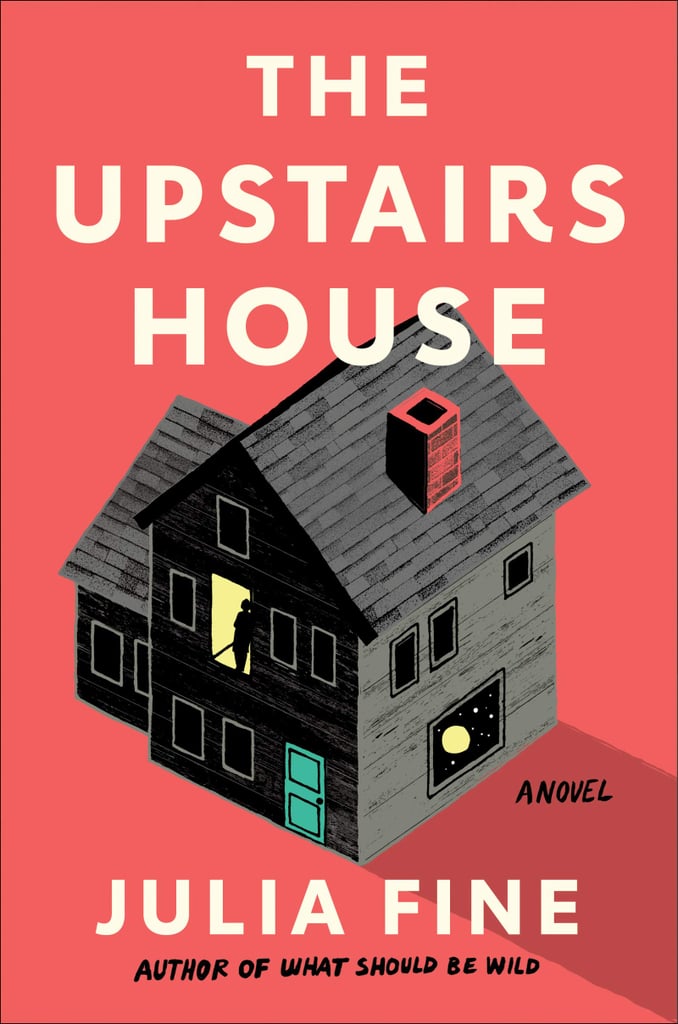 The Upstairs House [52] by Julia Fine is at once a literary thriller and an examination of young motherhood. Shortly after the birth of her daughter, Megan Weiler discovers her house is haunted by the ghosts of famed children's book author Margaret Wise Brown and her lover. Now, Megan must try to calm these unpredictable spirits for the sake of her sanity and the safety of her child.
How to Not Die Alone: The Surprising Science That Will Help You Find Love by Logan Ury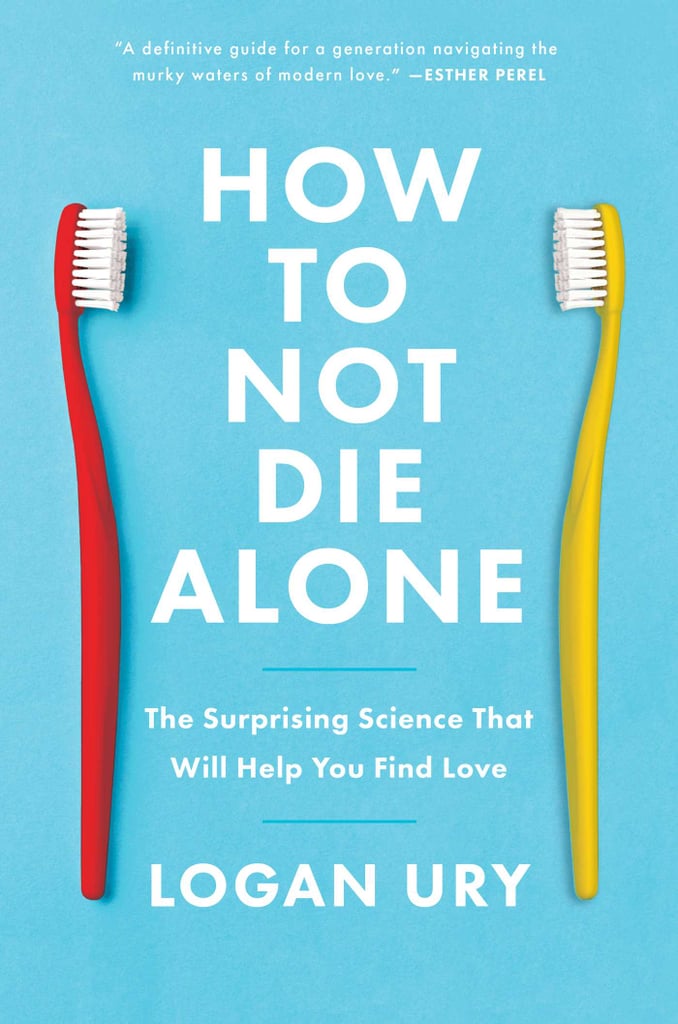 Tied of seeing all your friends coupled up around you? Dive into How to Not Die Alone: The Surprising Science That Will Help You Find Love [53], the debut title from behavioral scientist Logan Ury. While you don't need someone to complete you, she'll provide some insight and tips on how to find a partner if you're looking.
But You're Still So Young by Kayleen Schaefer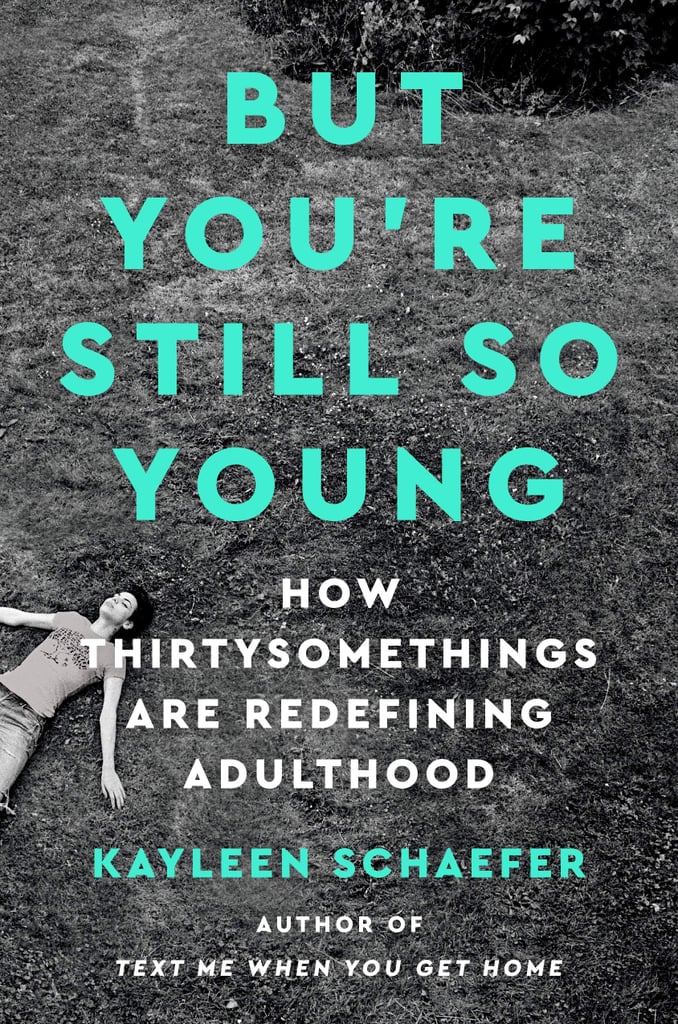 Kayleen Schaefer's But You're Still So Young [54] challenges outdated ideas about the traditional markers of adulthood with a potent combination of wit and a keen observational eye. Each section of the book focuses on one of sociologists' five markers of adulthood: completing school, moving out, getting married, becoming financially independent, and having children. But Schaefer then uses real-life stories of modern-day 30-somethings to prove there's no right way to be an adult.
Good Eggs by Rebecca Hardiman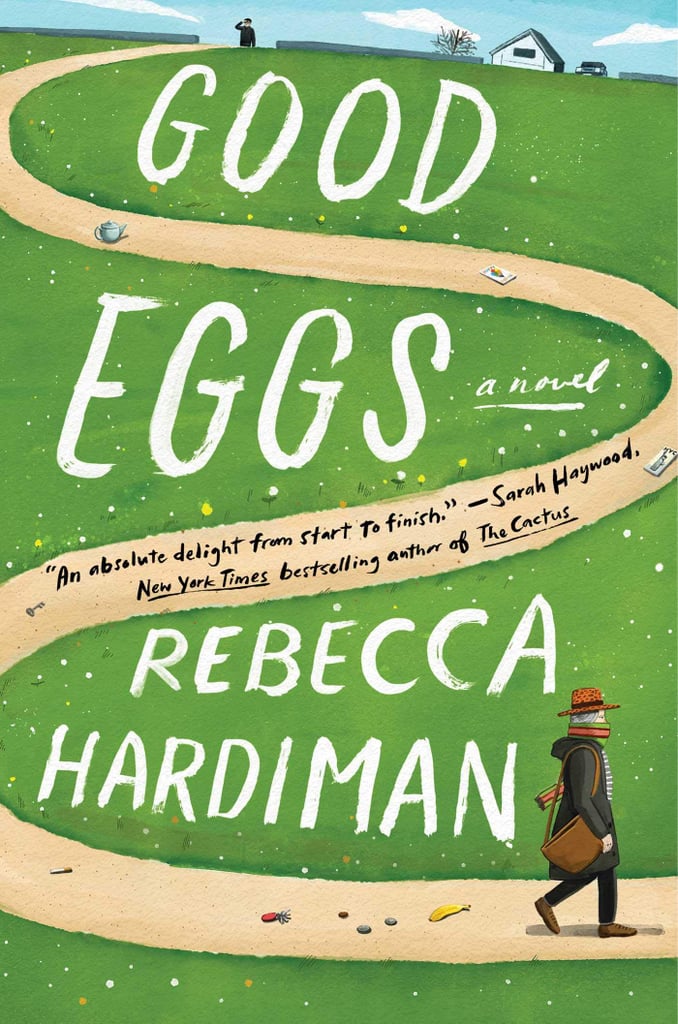 Good Eggs [55] by Rebecca Hardiman is a warm and funny novel about three generations of a family who are forced to confront their issues when a home aide comes to care for the clan's mischievous grandmother. At 83, Kevin Gogarty's mother, Millie, is still getting into all kinds of trouble. And since his wife always seems to be away and his teenage daughter has her own troubles, Kevin decides to hire a home aide to care for Millie. What he doesn't expect is for the newcomer to force his entire family to face their problems head on.
In the Quick by Kate Hope Day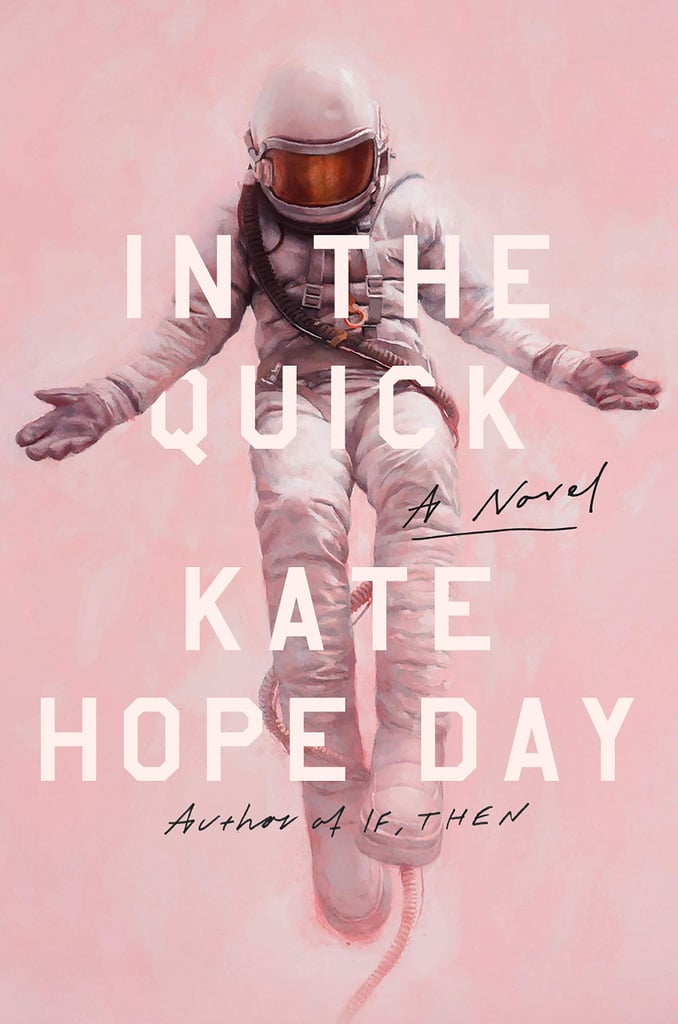 A determined astronaut fights to bring home a crew that's been missing for years in Kate Hope Day's imaginative sci-fi adventure In the Quick [56]. When June was 12, the Inquiry — which was fueled by cells that her late uncle invented — went missing. Now a trained astronaut herself, June is determined to rescue the Inquiry's crew in her uncle's honor, even though the rest of the world seems to have given up on them.
Klara and the Sun by Kazuo Ishiguro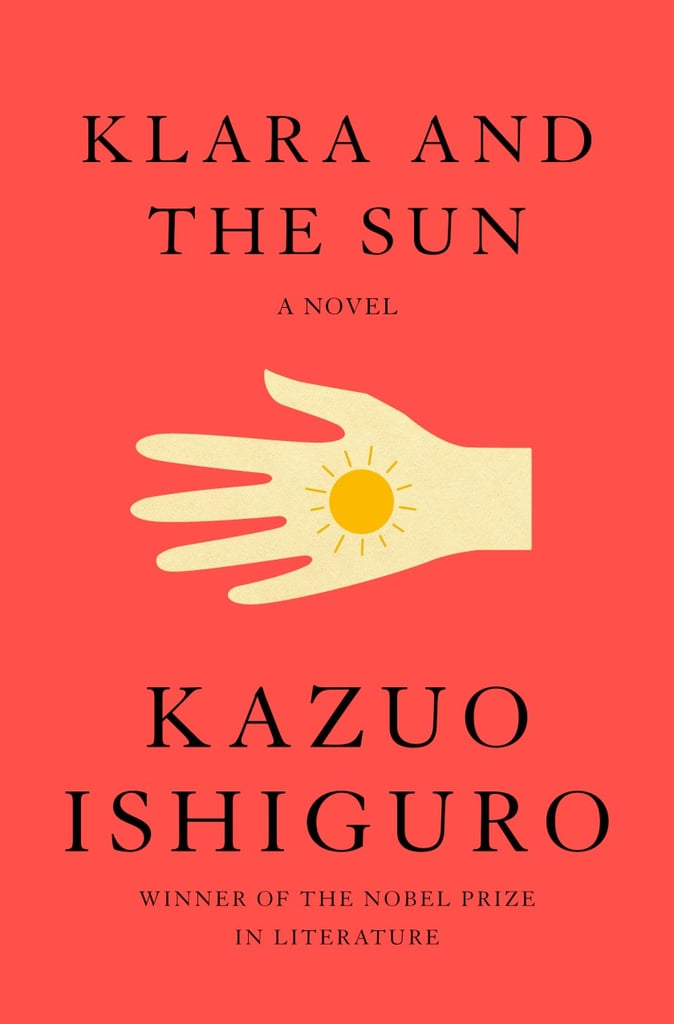 Nobel Laureate Kazuo Ishiguro's first novel since he took home the Nobel Prize in Literature is finally here. In Klara and the Sun [57], the acclaimed writer turns his attention to Klara, an Artificial Friend, who sits in a shop window observing the world and waiting for someone to take her home.
The Lost Apothecary by Sarah Penner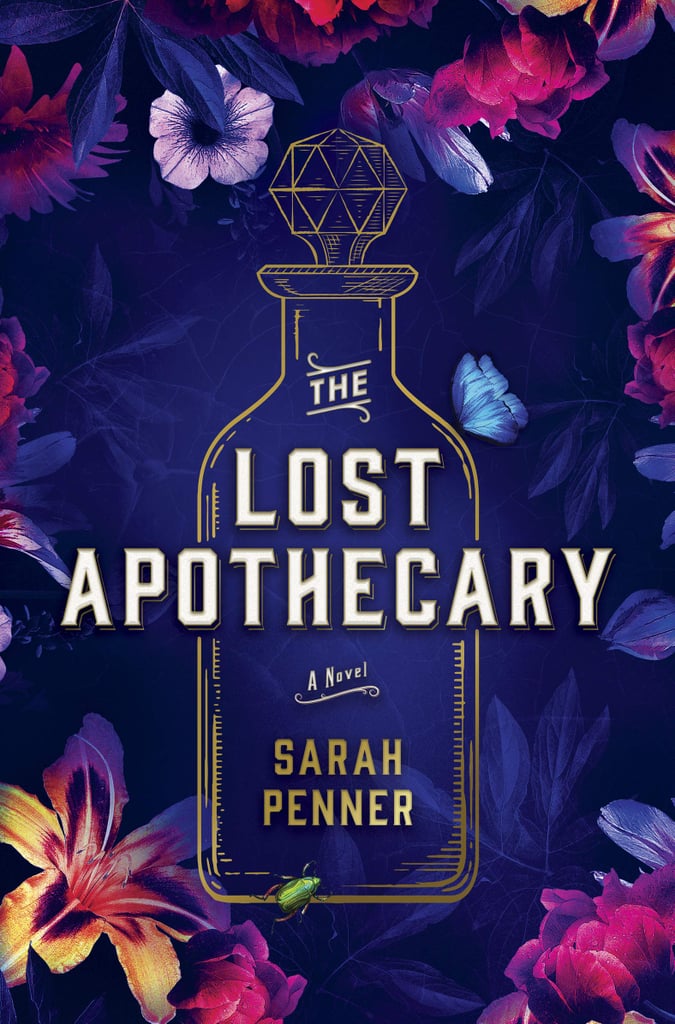 Sarah Penner's astonishing debut, The Lost Apothecary [58], spans centuries as the mystery of London's apothecary murders is unraveled by Caroline, a historian whose dissatisfaction in her own marriage connects her to the case in a unique way. Caroline's research uncovers the story of a woman named Nella, who once sold poisons to women desperate to rid themselves of the terrible men in their lives. But what the historian could never expect is how her own story will intersect with the past.
Professional Troublemaker: The Fear-Fighter Manual by Luvvie Ajayi Jones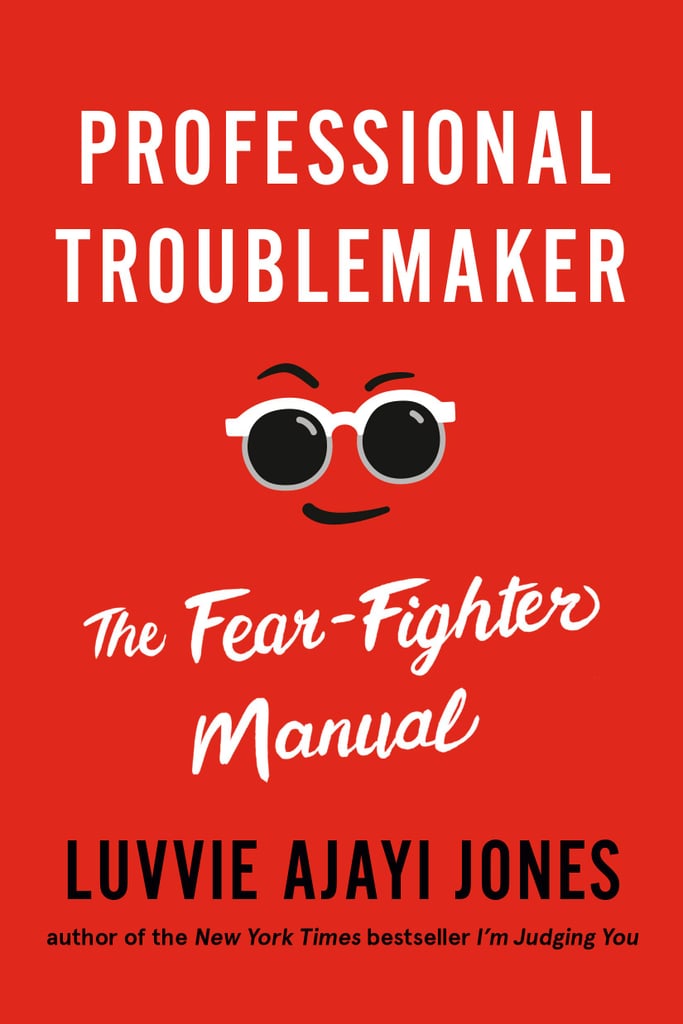 Professional Troublemaker: The Fear-Fighter Manual [59] by Luvvie Ajayi Jones serves up life-changing tips on how to conquer fear and live your best life. With her uniquely funny and bright style, Jones delves into the topic of fear in order to embolden readers to confront imposter syndrome, engage in truth telling, and embrace your inner troublemaker in order to become your most authentic self.
The Soul of a Woman by Isabel Allende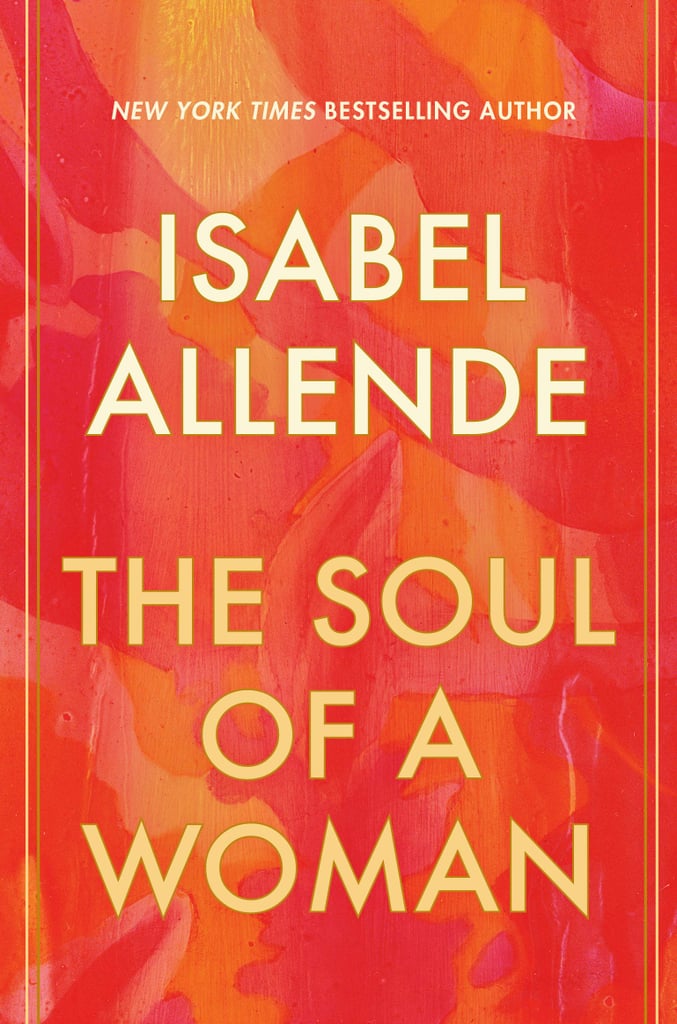 A Long Petal of the Sea author Isabel Allende turns her attention to nonfiction in the meditative The Soul of a Woman [60]. Allende, who writes that she first called herself a feminist in kindergarten, offers readers an inside look at her time as a journalist during the second-wave feminist movement of the '60s, while also sharing the insights she's gathered as she's watched the movement evolve and change over decades.
Sparks Like Stars by Nadia Hashimi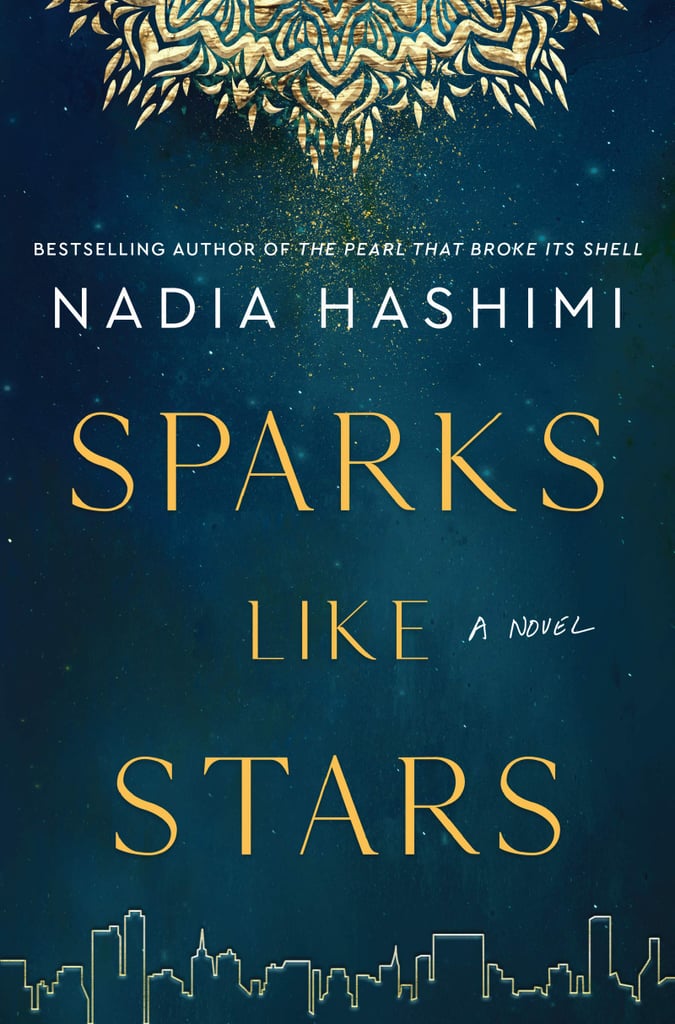 Sparks Like Stars [61] by Nadia Hashimi follows an Afghan American woman as she seeks answers about the deadly coup that left her entire family dead. Decades after an American diplomat adopted her, a face from Sitara Zamani's past prompts her to return to Kabul in hopes of discovering the truth about the murder of her family when she was just a child.
What's Mine and Yours by Naima Coster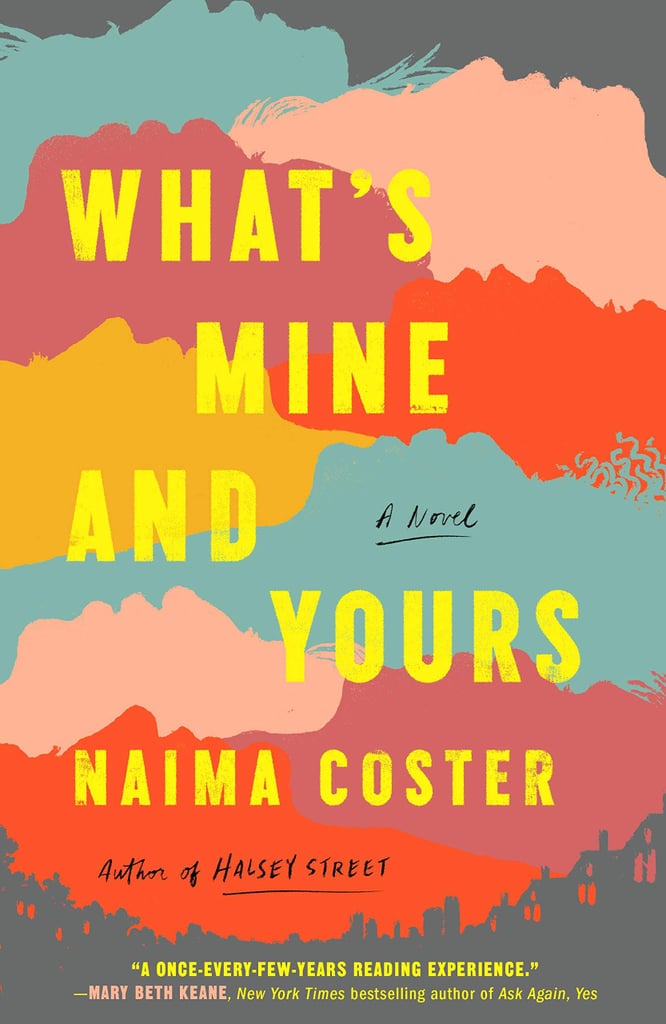 Spanning decades, What's Mine and Yours [62] by Naima Coster is the story of two families who are intrinsically linked after the integration of a North Carolina school. When Gee and Noelle join the school play, they inadvertently set their families on a collision course that will affect them all for the rest of their lives.
Black Girl, Call Home by Jasmine Mans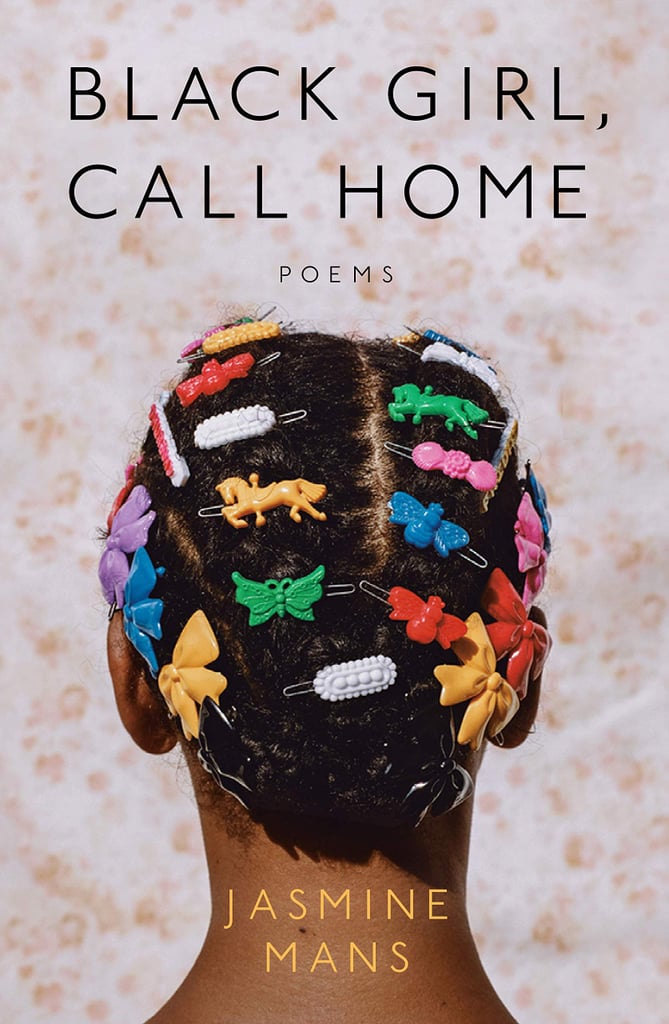 Jasmine Mans's Black Girl, Call Home [63] is a powerful collection of poetry devoted to Mans exploring her identity as a Black, queer woman in America. Through her poems, Mans writes about coming of age and searching for a sense of home and belonging.
The Fourth Child by Jessica Winter
The Fourth Child [64] by Jessica Winter is first and foremost a book about mothers and daughters. In the early '90s, the devoutly Catholic Jane is drawn into the pro-life movement and ends up adopting a fourth child, a little girl who struggles to form a bond with her new family. Meanwhile, Jane's eldest daughter begins to pull away from her mother, forging a new path for herself in high school that echoes her mother's more than she could possibly realize.
The Rose Code by Kate Quinn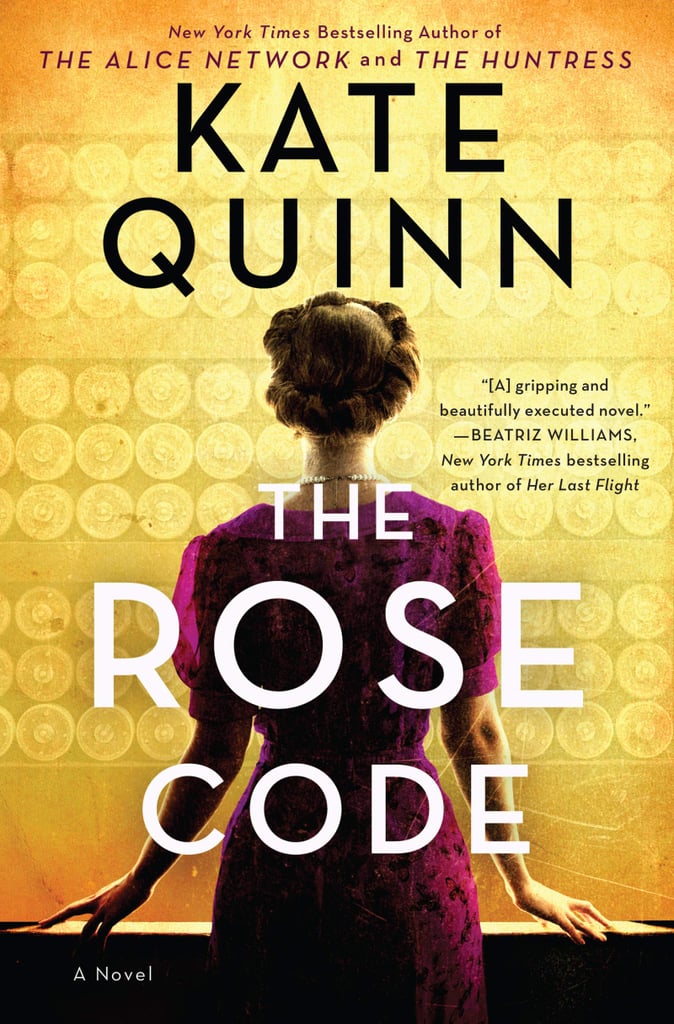 A trio of friends and World War II codebreakers reluctantly reunite to root out a spy in Kate Quinn's twisty and evocative The Rose Code [65]. In 1940, Osla, Mab, and Beth become fast friends as they work together to decipher German military codes for Great Britain. But by 1947, their friendship has been torn apart by a terrible betrayal. Still, the trio must set aside their differences when they receive a cryptic letter hinting at a traitor in their midst.
Surviving Savannah by Patti Callahan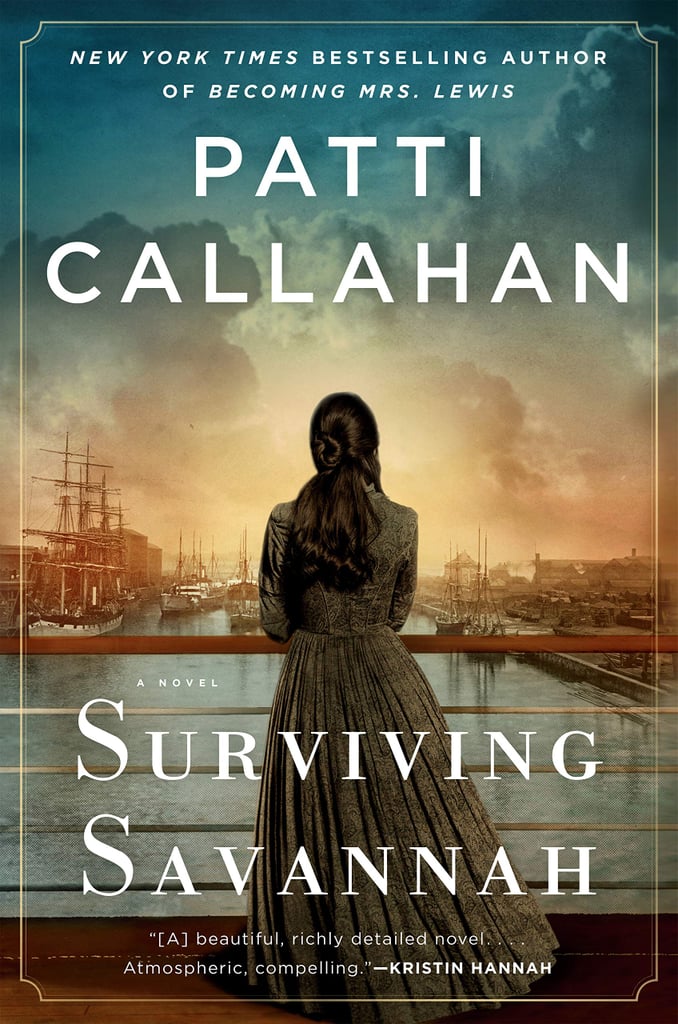 Surviving Savannah [66] by Patti Callahan is a historical-fiction novel that explores the forgotten sinking of "The Titanic of the South." In 1838, the steamship Pulaski sank with many of Savannah's elite residents onboard. Callahan explores the tragedy from the point of view of two women, Augusta Longstreet and her niece, Lilly Forsyth, who each must make an unthinkable choice when the ship explodes.
Are We There Yet? by Kathleen West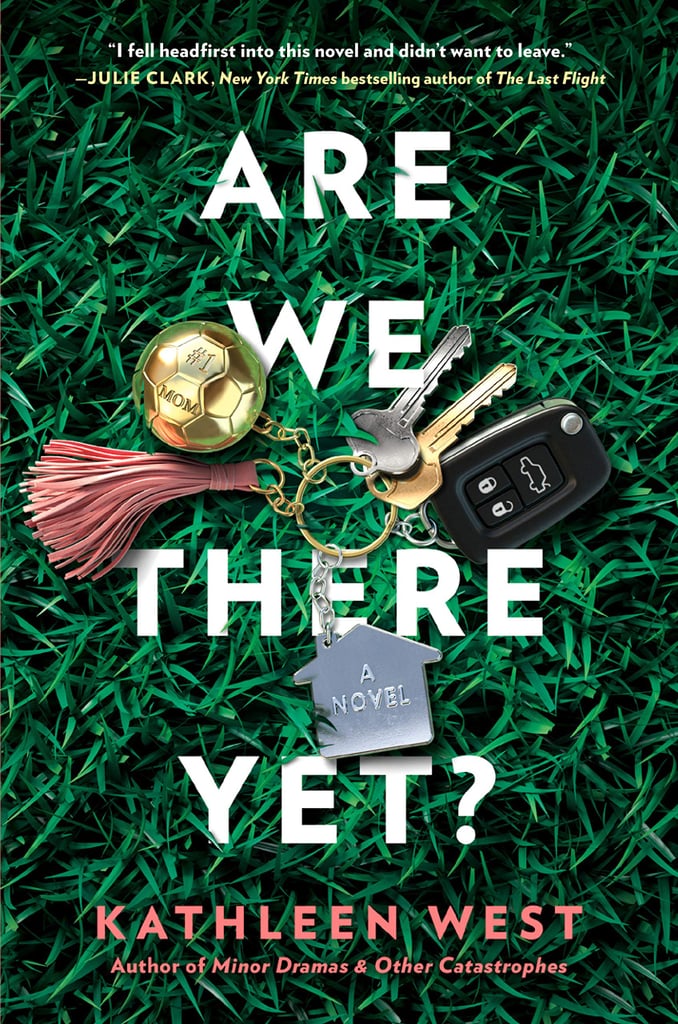 Kathleen West's latest novel, Are We There Yet? [67], tackles the struggles of parenting with unflinching honesty. Alice Sullivan thinks she finally has her life figured out when she discovers her daughter is struggling through second grade and her son is using social media to bully his peers. Add in a startling bombshell dropped by her own mother, and Alice's picture-perfect life seems to disappear overnight, leaving her with no choice but to embrace the mess.
The House Uptown by Melissa Ginsburg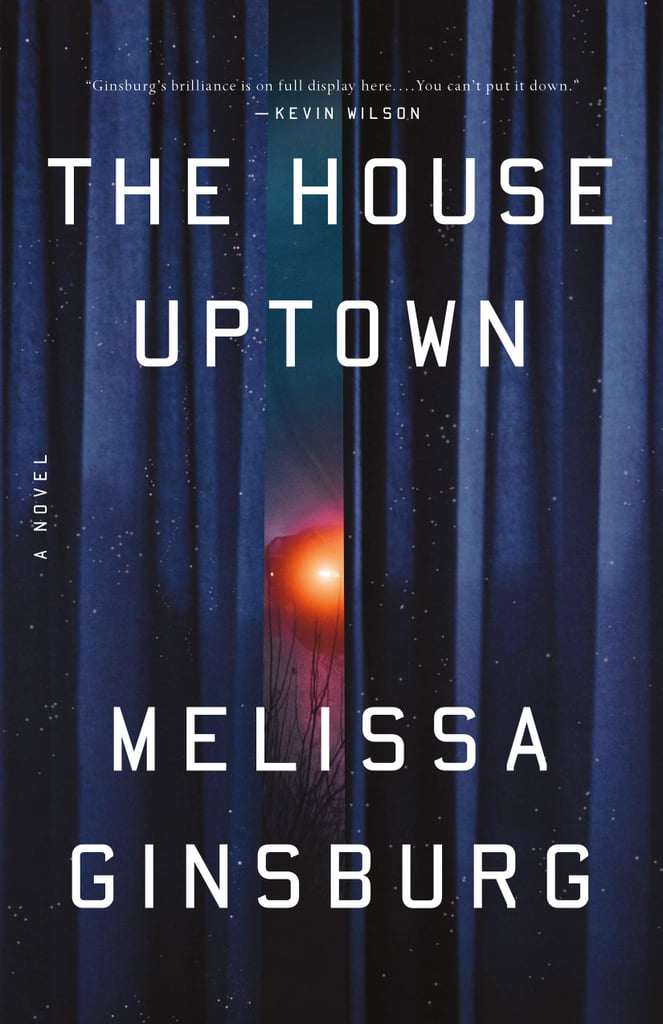 New Orleans is a character unto itself in Melissa Ginsburg's The House Uptown [68]. After her mother's death, 14-year-old Ava is sent to live with Lane, the grandmother she barely knows. But for Lane, Ava's arrival is even more fraught as it brings back long-buried memories she's spent years trying to forget.
The Memory Collectors by Kim Neville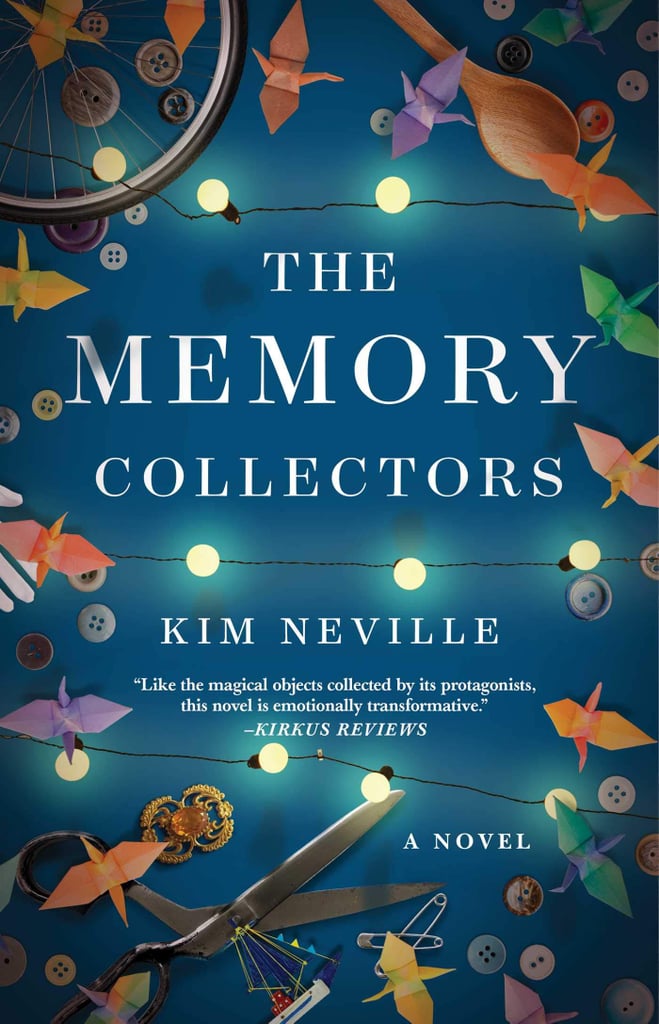 Every object tells a story in The Memory Collectors [69] by Kim Neville. This magical debut follows Ev and Harriet, two women who can feel the emotions people leave behind on objects. But while they hope to harness their powers for good, there's a third person like them out there who is slowly succumbing to the darker side of their gift.
The Performance by Claire Thomas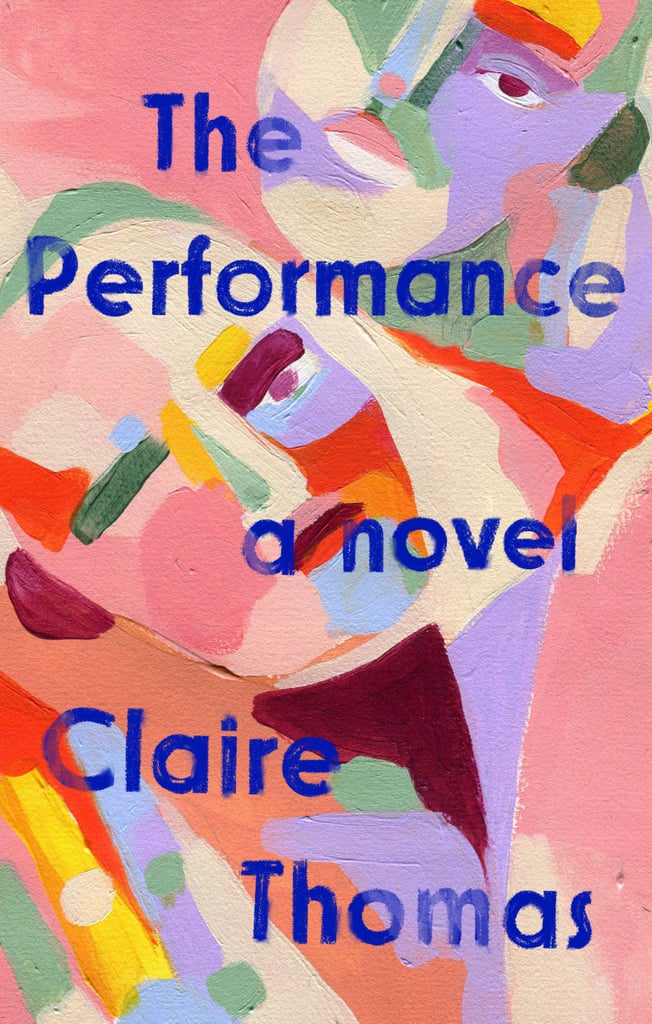 A night at the theater leads to the lives of three women intersecting in unexpected ways in Claire Thomas's The Performance [70]. This creative novel not only examines the power art has to bring people together, but it also explores the rich interior lives of three very different women as their lives intertwine over the course of a single night out.
Meet Me in Paradise by Libby Hubscher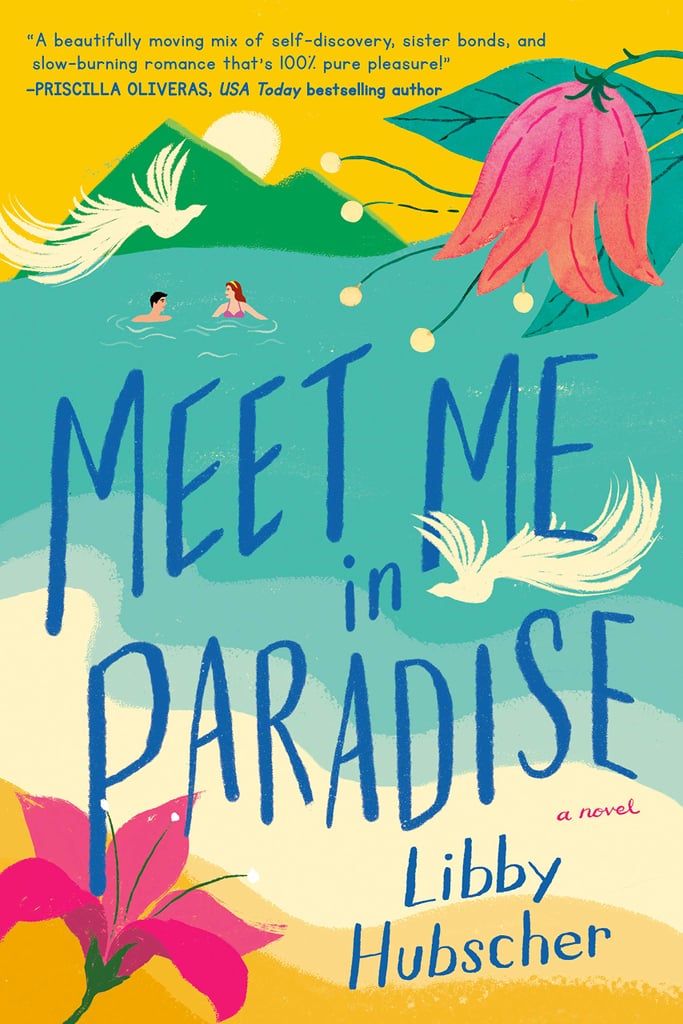 Ready for a beach read that comes with an emotional wallop? Meet Me in Paradise [71] by Libby Hubscher is the book you've been waiting for. Ever since her journalist mother died on assignment, Marin has avoided all risks, and that includes leaving the state of Tennessee. But when her younger sister convinces her to visit a tropical island for a spa weekend, Marin will be forced to leave her comfort zone in the dust and finally confront the trauma that has been holding her back from enjoying life for so long.
Red Island House by Andrea Lee
Set in Madagascar, Red Island House [72] by Andrea Lee tells the story of Shay, a Black American professor whose marriage to an Italian businessman leads to her running the large household of her vacation villa. Over the course of 20 years of marriage, Shay watches stories unspool around her, but she can't stay a passive observer when life quite literally comes knocking at her door.
You'll Thank Me For This by Nina Siegal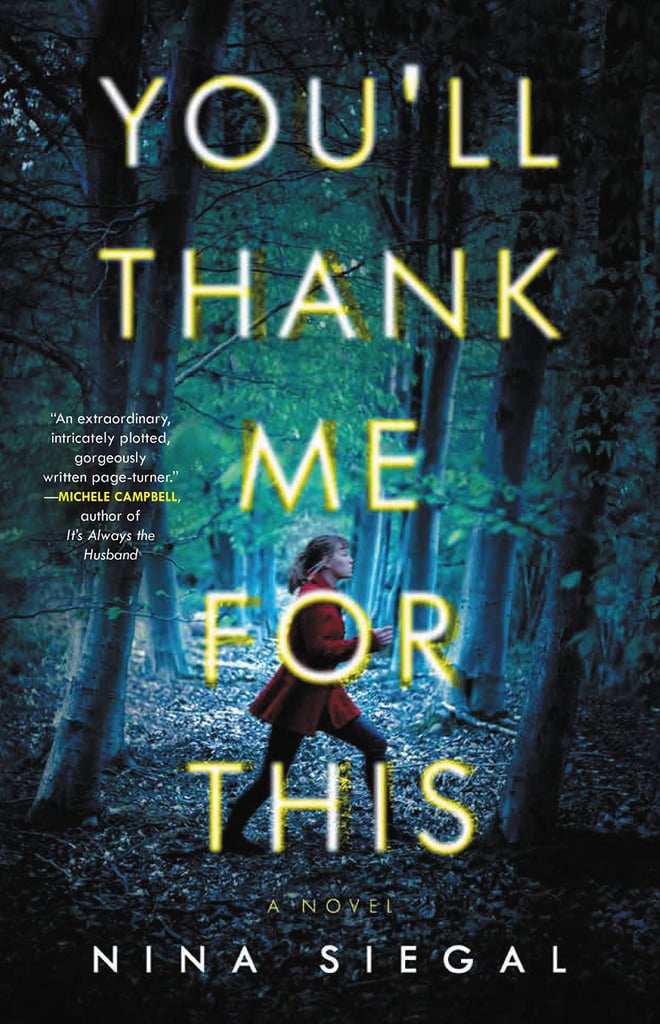 The Dutch tradition of blindfolding teens and leaving them in the woods to find their way home is at the center of Nina Siegal's engrossing thriller You'll Thank Me For This [73]. Karin is one of four young teens dropped off in Hoge Veluwe National Forest by their parents, but when she clashes with the older teens, Karin is left to find her own way home as something sinister lurks in the woods.
The Final Revival of Opal & Nev by Dawnie Walton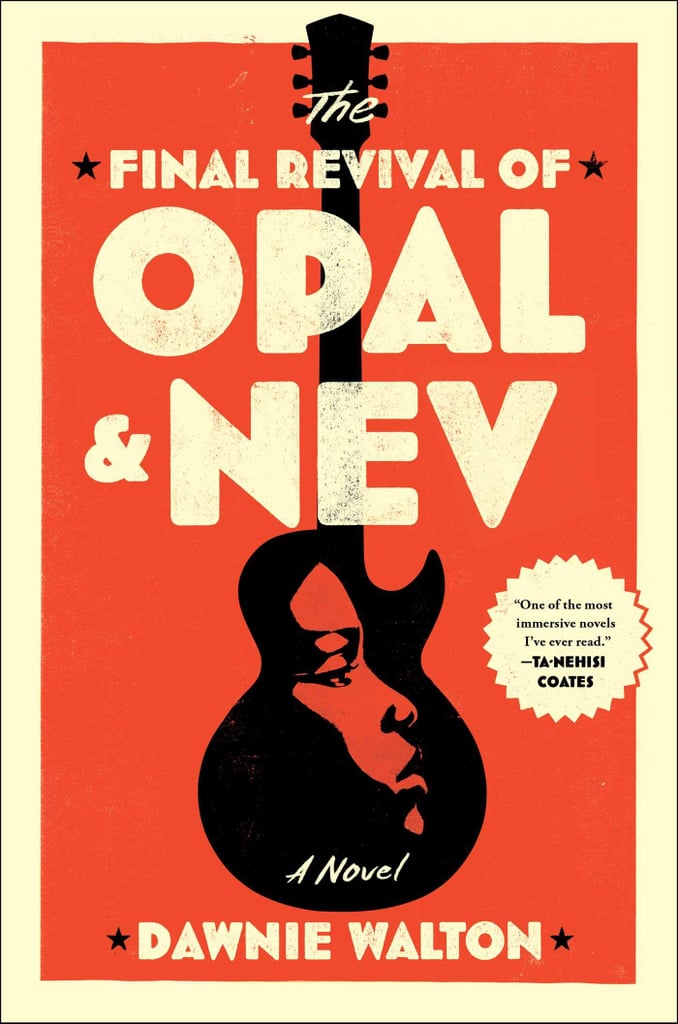 Fans of Daisy Jones and the Six will love The Final Revival of Opal & Nev [74] by Dawnie Walton. Told in an oral-history style, the book chronicles the rise and fall of Afro-punk trailblazer Opal and British singer/songwriter Nev. Just as their career is taking off in the '70s, Opal protests when their label signs a band that flies a Confederate flag at a concert. Nearly four decades later, a journalist reaches out to Opal in hopes of finally telling her story and ends up uncovering a long-buried secret in the process.
The Hill We Climb by Amanda Gorman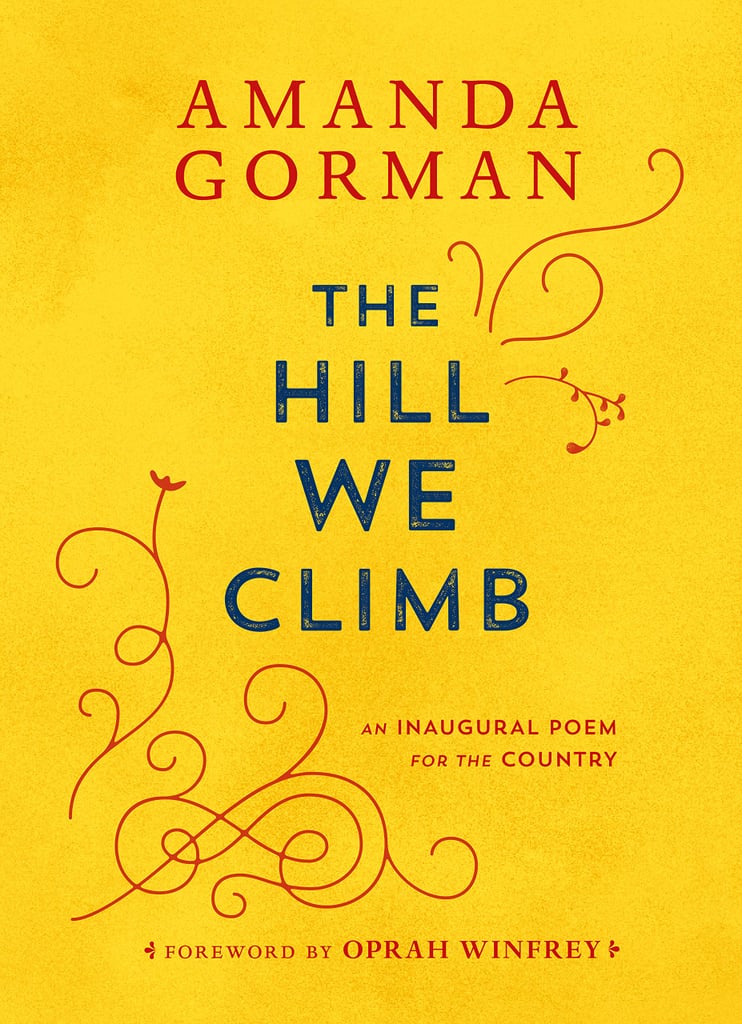 On Jan. 20, Amanda Gorman [75] became the youngest poet to ever read their work at a presidential inauguration. Now, her stirring and hopeful poem The Hill We Climb [76] is being released with a new foreword from none other than Oprah Winfrey [77].
Libertie by Kaitlyn Greenidge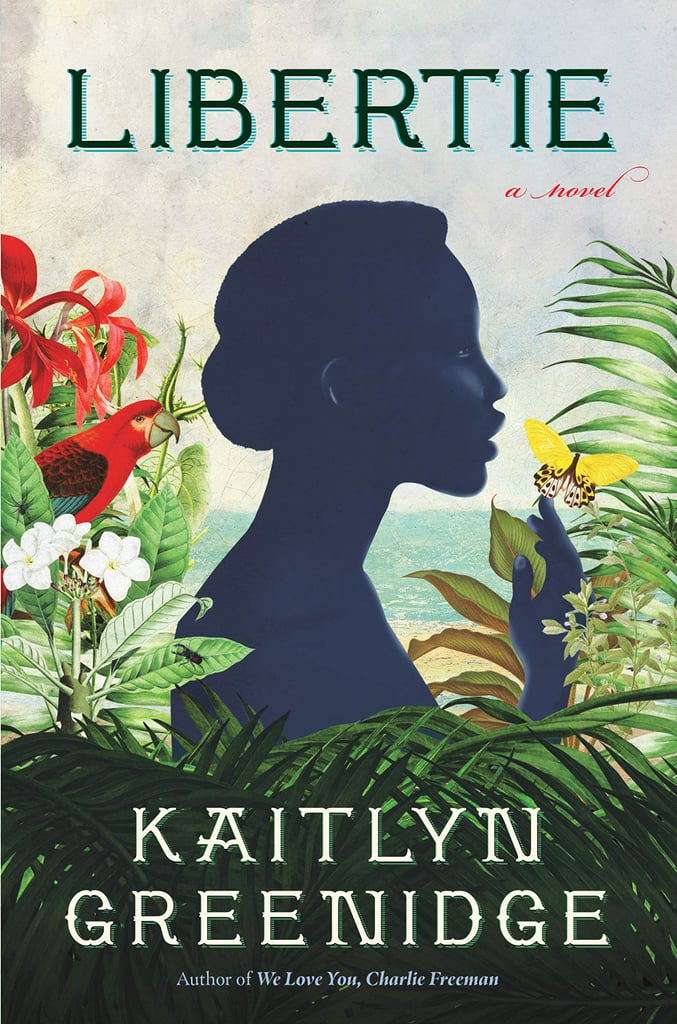 Libertie [78] by Kaitlyn Greenidge is the story of one young Black woman's quest for autonomy. Libertie Sampsona comes of age in Reconstruction-era Brooklyn, where her mother plans for them to one day practice medicine side by side. But Libertie has her own dreams for the future, which lead to her marrying a man from Haiti as she searches for a place where she can be fully and freely herself.
Of Women and Salt by Gabriela Garcia
A woman in search of details about her family's history takes in the daughter of her neighbor after the woman is detained by ICE in Gabriela Garcia's Of Women and Salt [79]. However, Carmen's decision to care for Jeanette only makes her complicated life all the more complex, which leads her to visit her grandmother in Cuba as she searches for the truth about her family's story.
The Women of Chateau Lafayette by Stephanie Dray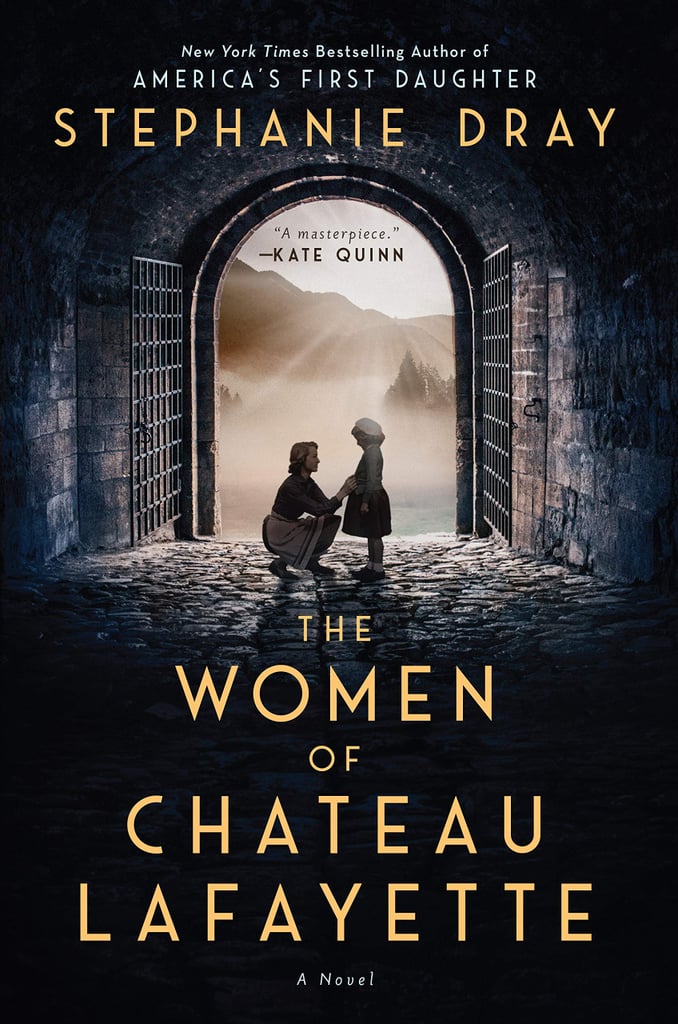 The Women of Chateau Lafayette [80] by Stephanie Dray is set in one castle across three different eras. Throughout history, the Chateau Lafayette is defended by women: Adrienne Lafayette, who fights for American independence from her home in France in 1774; Beatrice Chanler, a socialite who urges her fellow Americans to join the fight during World War I; and Marthe Simone, a reclusive artist who must take a stand on the eve of World War II. These history-making women are bound together by their bravery and their beautiful home, which stands strong across the decades.
After Happily Ever After by Leslie A. Rasmussen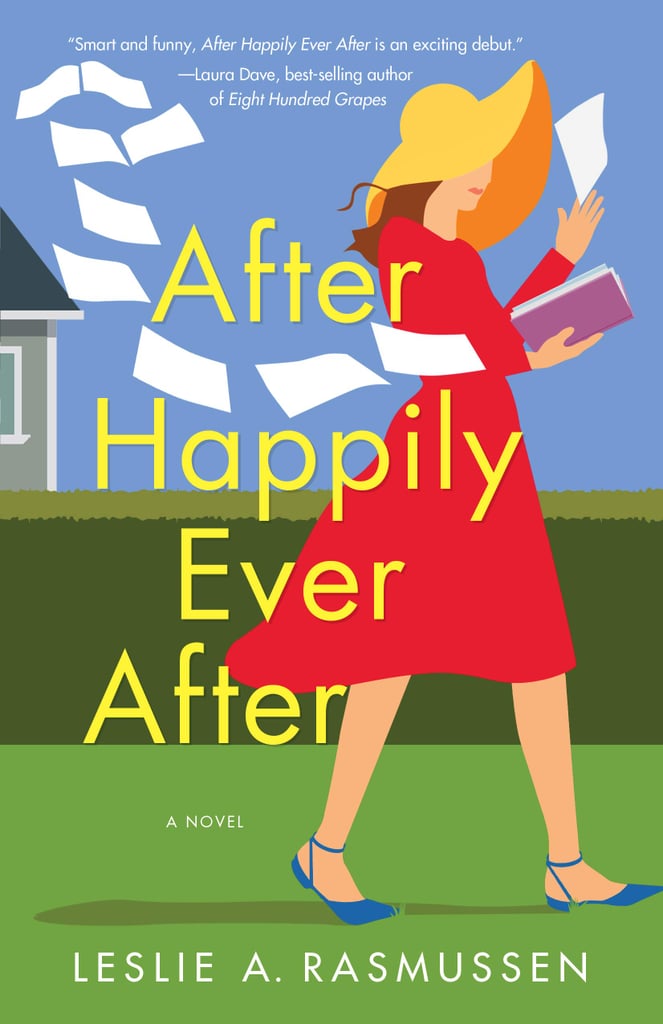 After Happily Ever After [81] by Leslie A. Rasmussen is a refreshing story about a 45-year-old protagonist who is ready for her second act in life. After giving up her publishing job to raise her daughter, Maggie is ready to restart her career and focus on herself for a change, but first she's going to have to make her family realize she's not just the person who takes care of them.
Astrid Sees All by Natalie Standiford
Natalie Standiford transports readers to the vibrant club scene of 1980s New York in Astrid Sees All [82]. Set in 1984, a young woman named Phoebe is ignoring processing her grief over the death of her father in favor of getting lost in the culture of the East Village. But when Phoebe ends up betraying one of her closest friends, she'll have to face her past in order to help her friend and move forward.
The Bohemians by Jasmin Darznik
The Bohemians [83] by Jasmin Darznik is a luscious historical fiction novel about the acclaimed Depression-era photographer Dorothea Lange. Lange's story begins when she arrives in 1918 San Francisco where she gets swept up in the art scene alongside her friend Caroline Lee, before spinning into an all-too relevant tale of a woman dealing with a pandemic, rising anti-immigration sentiment, and a tumultuous political climate.
Caul Baby by Morgan Jerkins
In her first fiction book, Caul Baby [84], Morgan Jerkins weaves a tale of family, betrayal, and the desire to find your place in the world. Laila wants to be a mother so badly that she reaches out to the powerful Melancons family for help. However, when her daughter is stillborn, Laila develops a grudge against the family with surprising results.
The Dictionary of Lost Words by Pip Williams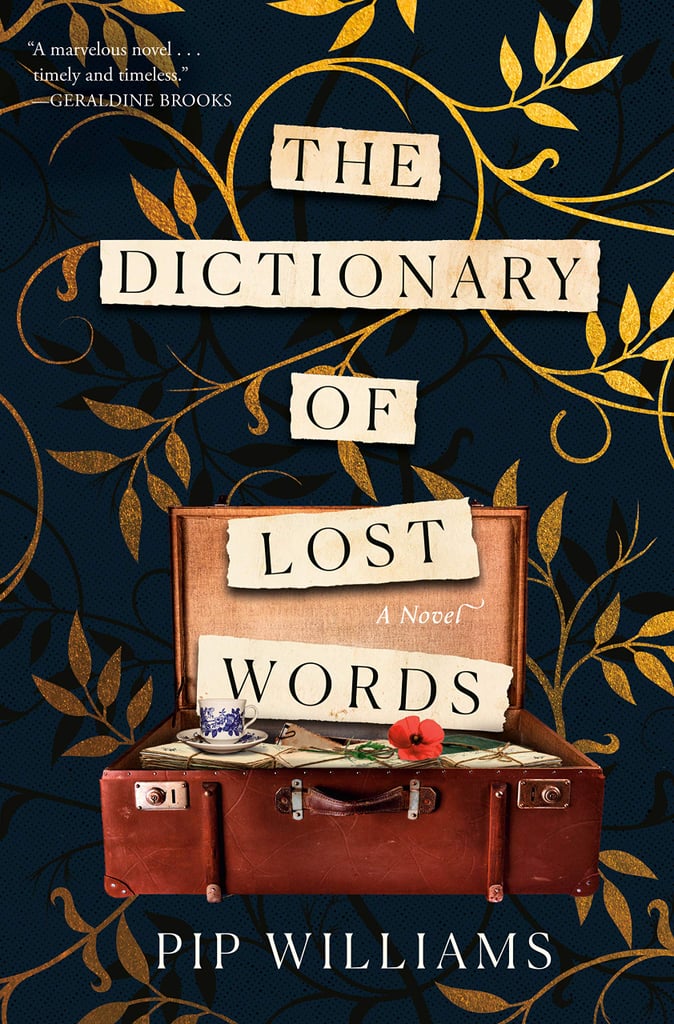 The Dictionary of Lost Words [85] by Pip Williams is a book for anyone who loves words. Based on actual events, the story centers on Esme, the daughter of a male scholar who is helping to compile the Oxford English Dictionary. Esme soon notices her father and the other men are leaving out words related to women and common people, which prompts her to create a dictionary featuring all of the so-called objectionable words the scholars plan to omit.
Gold Diggers by Sanjena Sathian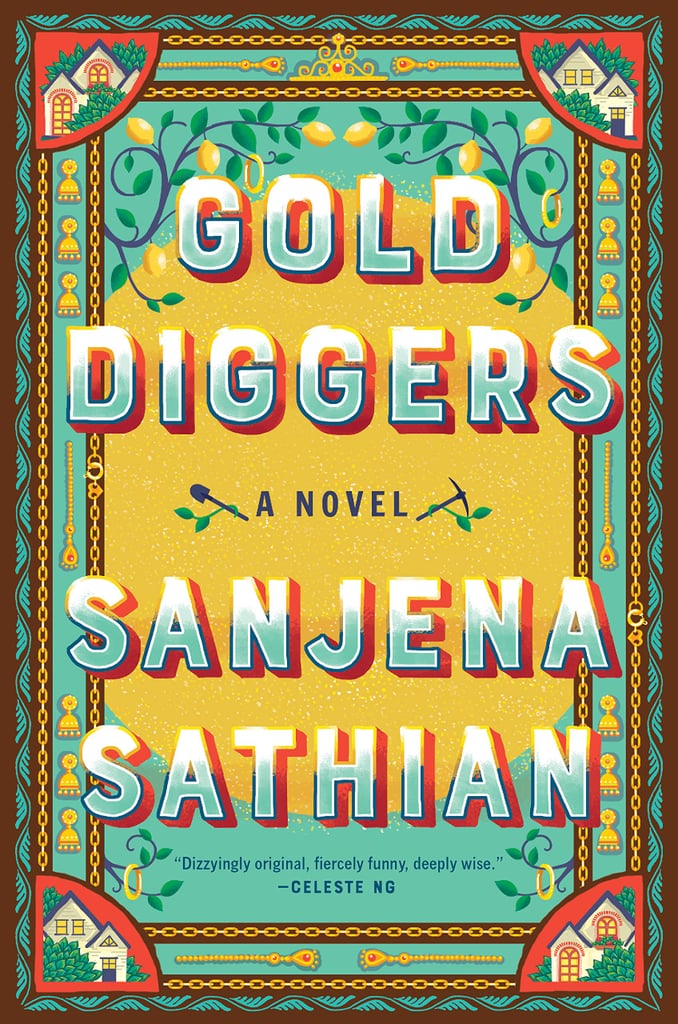 Gold Diggers [86] by Sanjena Sathian is a sprawling tale of magical realism, gold heists, and the quest to attain the American dream. Second-generation teen Neil Narayan doesn't have the same drive as the rest of his family — he mostly just wants his neighbor Anita to notice him. But Anita is harboring a secret that will change Neil's life forever: she and her mother can harness ambition from stolen gold jewelry.
I'll Be Strong for You by Nasim Marashi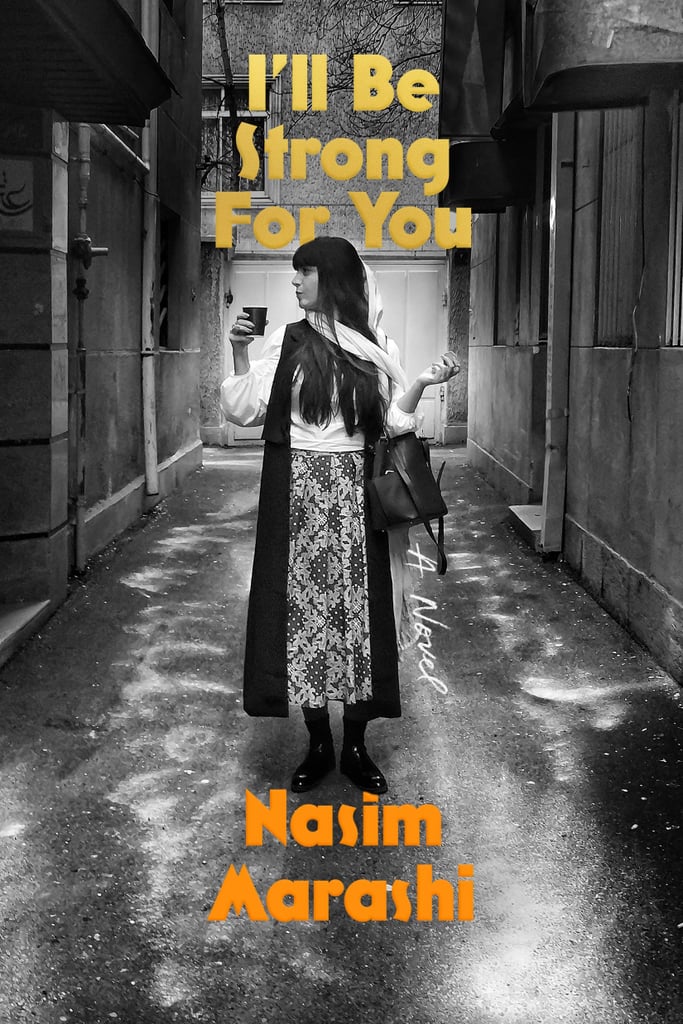 Nasim Marashi's debut novel I'll Be Strong for You [87] is a story of three female friends in Tehran. Over the course of one summer and fall, three friends — Roja, Shabaneh and Leyla — support each other as they face family drama, career moves, and their own conflicts as they each embark on new chapters in their lives.
I'm Waiting for You and Other Stories by Kim Bo-Young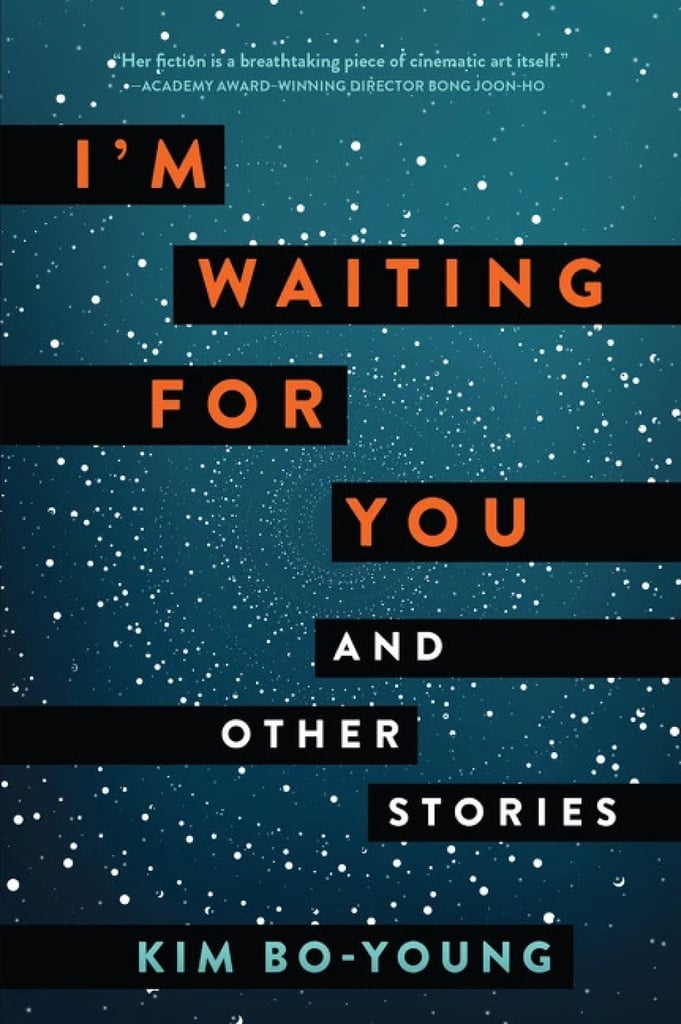 South Korean author Kim Bo-Young's lyrical collection of four interconnected stories is available in English for the first time this month. I'm Waiting for You and Other Stories [88] includes two stories about a couple attempting to coordinate a wedding [89] from opposite ends of the galaxy, and two stories about Earth's creators and their changing attitudes toward their creations. Bold, inventive, and utterly unforgettable, Bo-Young's stories are designed to take your breath away.
The Last Bookshop in London by Madeline Martin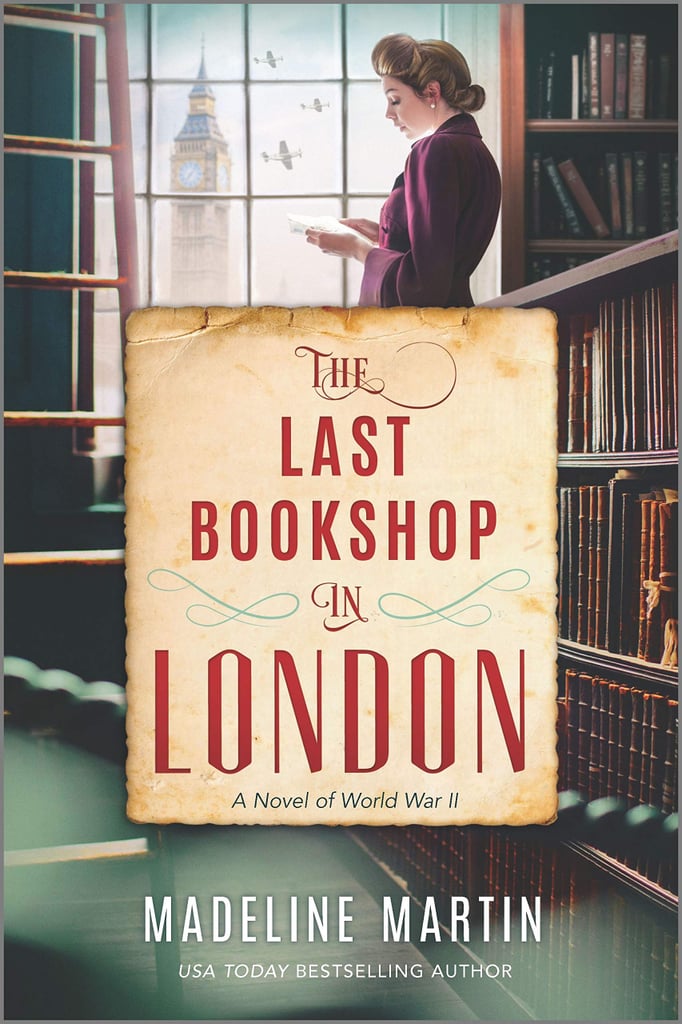 Grace Bennett arrives in London at the start of World War II in Madeline Martin's The Last Bookshop in London [90]. The city she finds is one under the constant threat of air raids and blackouts, but through her job at a bookshop right at the center of London, Grace discovers books can bring a community together even in the darkest of times.
Love in Case of Emergency by Daniela Krien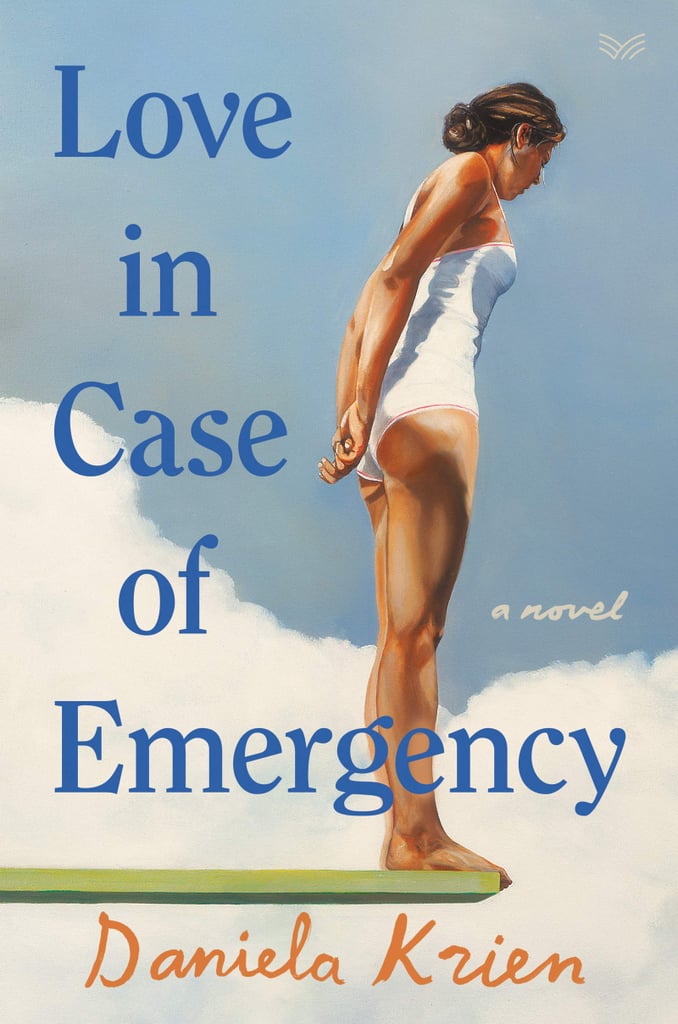 Love in Case of Emergency [91] by Daniela Krien focuses on what happens to five women when they face monumental changes in their lives. Tackling everything from infidelity to childlessness, Krien challenges readers to look beyond women's roles as mothers, wives, friends, sisters, and daughters, and to see them as people containing multitudes instead.
The Nine Lives of Rose Napolitano by Donna Freitas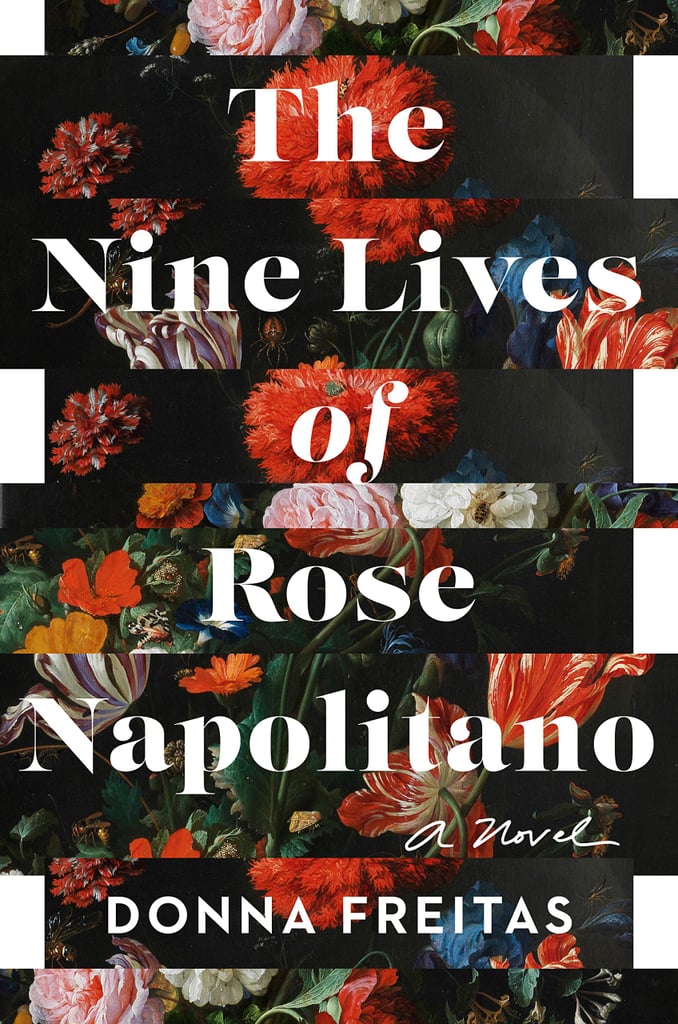 One choice changes a woman's life in surprising ways in Donna Freitas's The Nine Lives of Rose Napolitano [92]. Told across nine different timelines, the book explores what happens to Rose when her fight with her husband over his sudden desire to have children leads to a variety of different choices for the academic.
Peaces by Helen Oyeyemi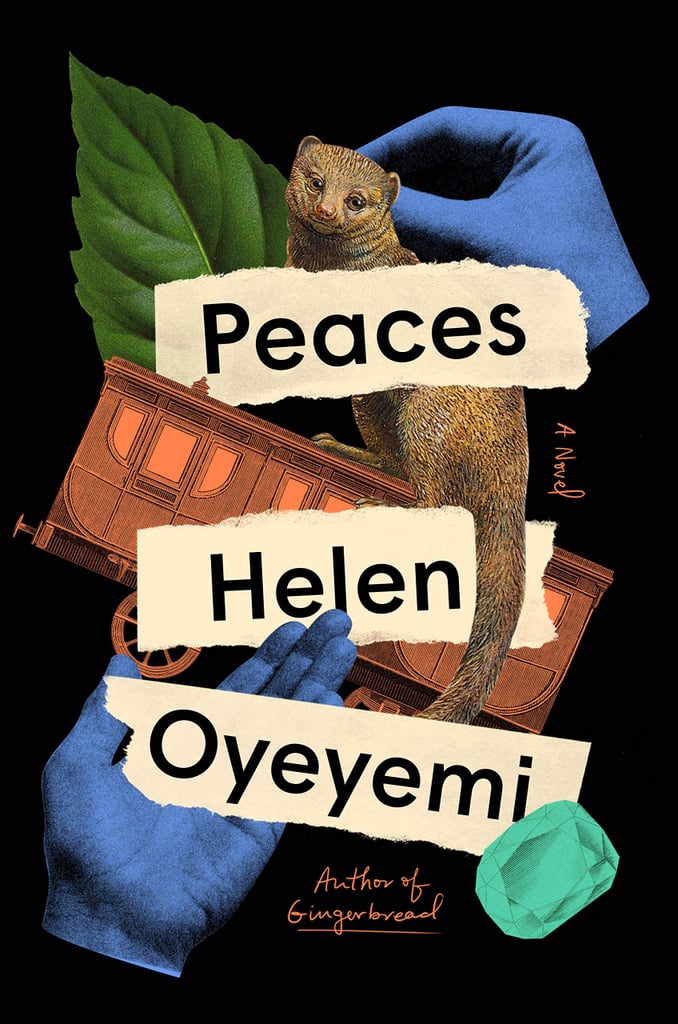 A train journey completely upends the lives of a couple in Helen Oyeyemi's magical Peaces [93]. When Otto and Xavier Shin declare their love for each other they receive a trip on a sleeper train from a family member. However, the train isn't exactly what it seems. Not only do they appear to be the only passengers, the trip has been designed specifically for them right down to their favorite breakfasts, but what they don't know is what it all means.
Early Morning Riser by Katherine Heiny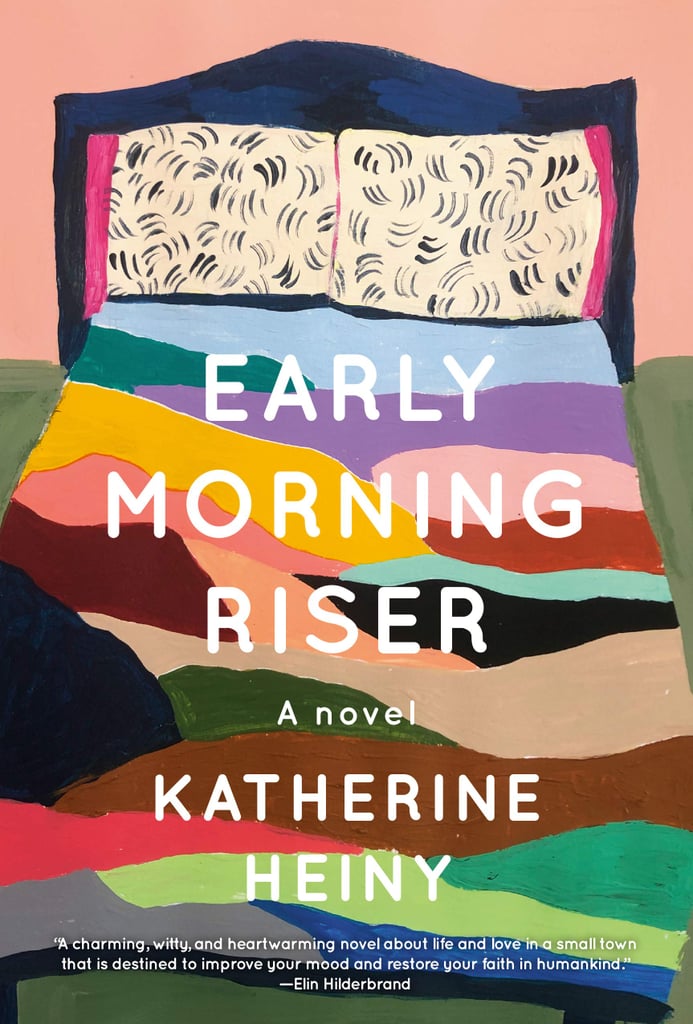 Early Morning Riser [94] by Katherine Heiny will challenge everything you think you know about what it means to be in a relationship. Sometimes it feels like Jane has to share Duncan with everyone — the man she loves still mows his ex-wife's lawn, lets his coworker visit whenever he likes, and even maintains a friendship with his ex-wife's current husband. But when Duncan is involved in a terrible accident, Jane begins to realize there are benefits to not having Duncan all to herself.
I Want to Thank You by Gina Hamadey
In I Want to Thank You [95] author Gina Hamadey chronicles her gratitude journey one thank-you note at a time. After experiencing major burnout and social media fatigue, Hamadey decided to write one thank-you note to people who impact her life each day for 365 days. The practice left her feeling more connected to the world than ever before, and now she's sharing her inspiring lessons in gratitude with others.
Leaving Isn't the Hardest Thing by Lauren Hough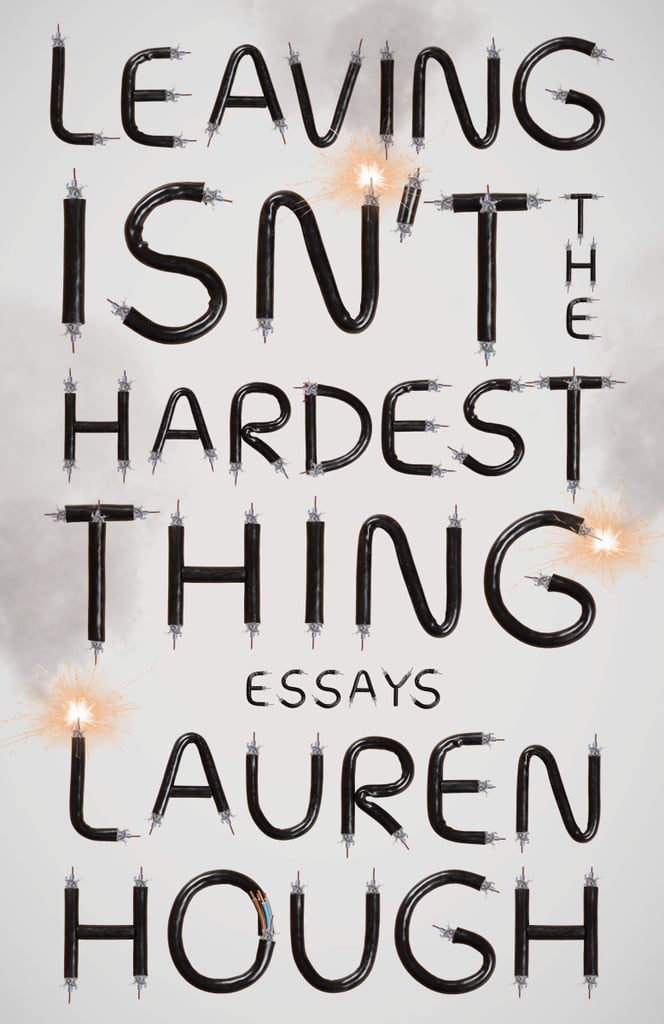 Leaving Isn't the Hardest Thing [96] by Lauren Hough is a thought-provoking and intimate collection of essays chronicling the author's journey of self-discovery. From growing up in The Children of God cult to joining the military and working as a bouncer at a gay club, Hough approaches her fascinating life with humor and wisdom as she traces the many twists and turns of her story so far.
Love in Color by Bolu Babalola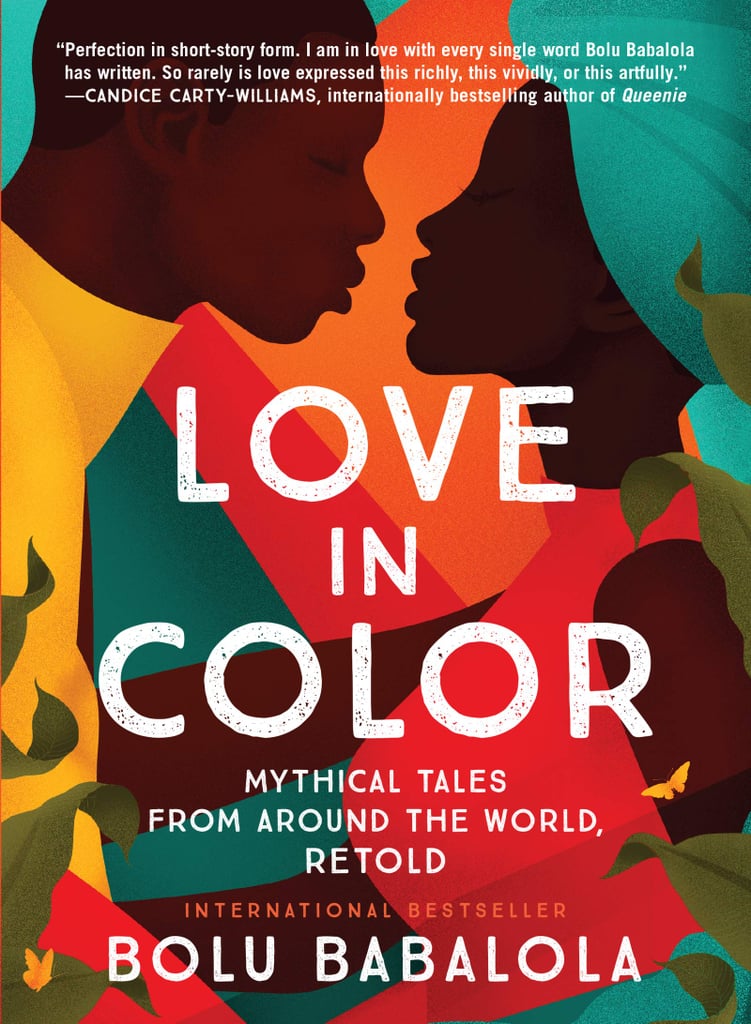 Love in Color [97] by Bolu Babalola might just be the year's most beautiful ode to the romance genre. This short story collection retells love stories from mythologies around the world with a focus on the folklore of West Africa and the Middle East, as well as the fairy tales of other countries that are often left out of the romance narrative.
Near the Bone by Christina Henry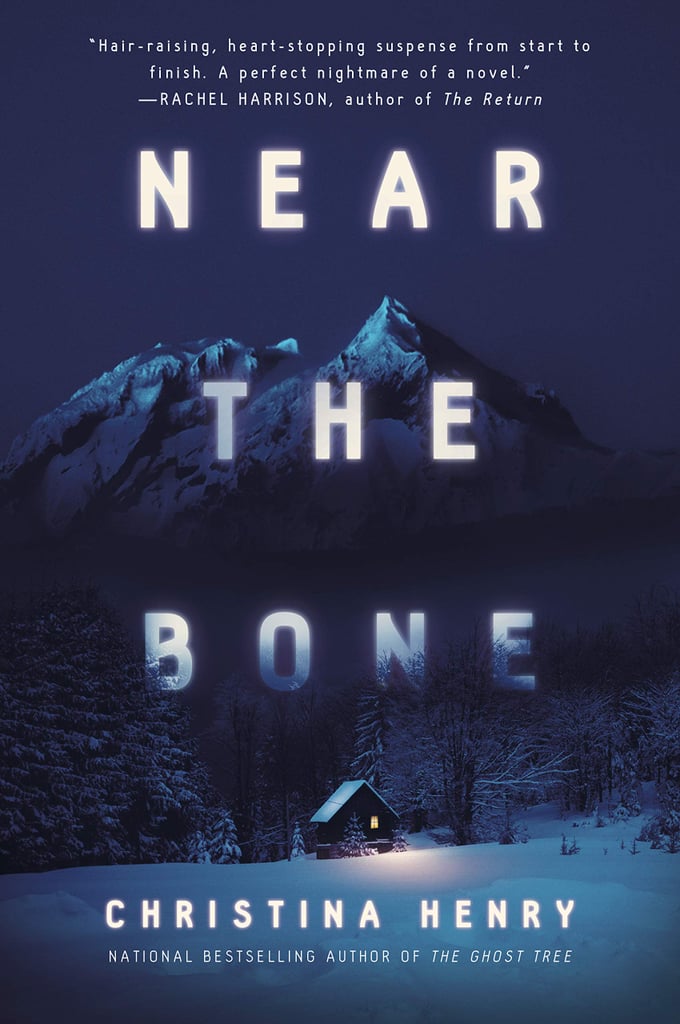 Christina Henry's Near the Bone [98] is a chilling horror novel about a woman named Mattie who lives alone on a mountaintop with a dangerous man named William. Mattie knows nothing good ever happens when William is angry, but when she finds a mangled fox in the woods, she realizes she has more than just one monster to contend with.
What Comes After by Joanne Tompkins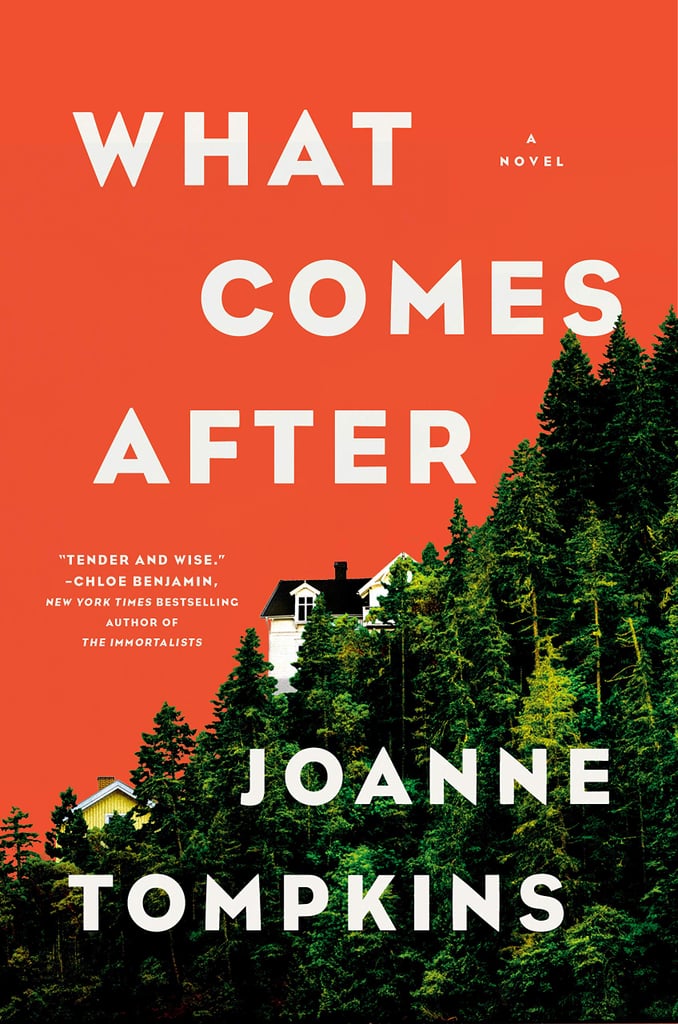 At once a mystery and a meditation on how to move forward in the wake of a tragedy, What Comes After [99] by Joanne Tompkins is a moving tale of two parents grappling after the sudden deaths of their teenage sons. Neighbors Isaac and Lorrie are struggling to come to terms with their tragic losses when a pregnant girl arrives in town with a secret that could bind the unlikely trio together forever.
The Kindred Spirits Supper Club by Amy E. Reichert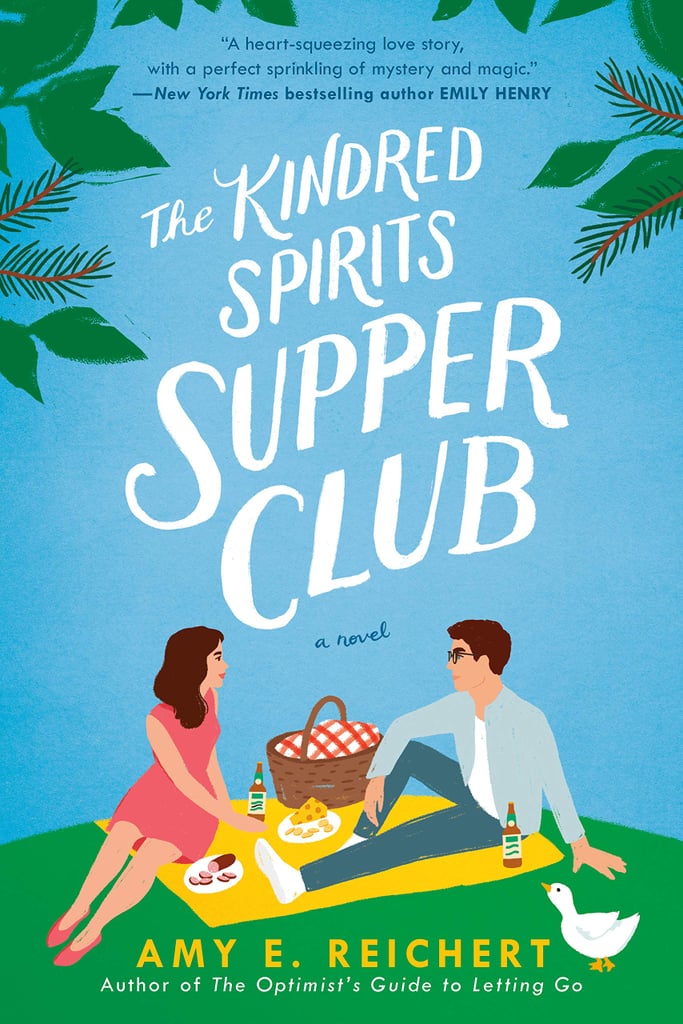 The Kindred Spirits Supper Club [100] by Amy E. Reichert is a sweet romance with just the right amount of supernatural intrigue thrown in for good measure. When Sabrina Monroe returns to her childhood home, she also has to face her special gift: the ability to help spirits with unfinished business. While she's spent her whole life running from her ability, a new romance with a local restaurateur might just inspire her to embrace her ability to help people move on.
Witches Steeped in Gold by Ciannon Smart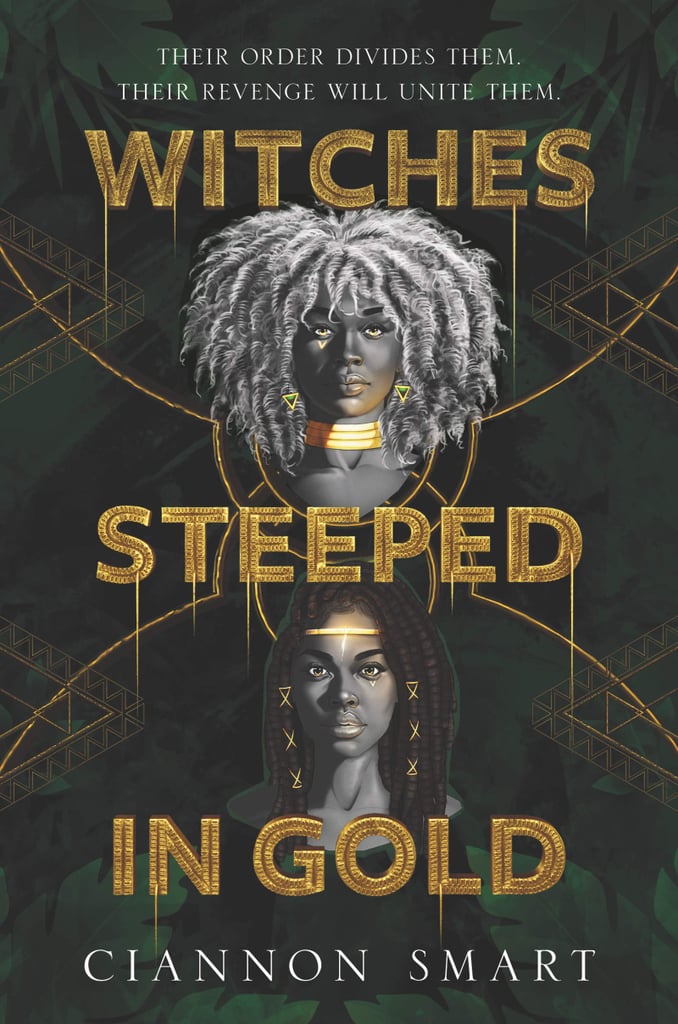 Inspired by Jamaican folklore, Witches Steeped in Gold [101] by Ciannon Smart is a fantasy debut about sworn enemies who must work together to seek revenge on a common enemy: Jazmyne's mother. Witches Iraya and Jazmyne may be divided by their order, but they both want to stop the queen, even if it means working together.
Crying in H Mart by Michelle Zauner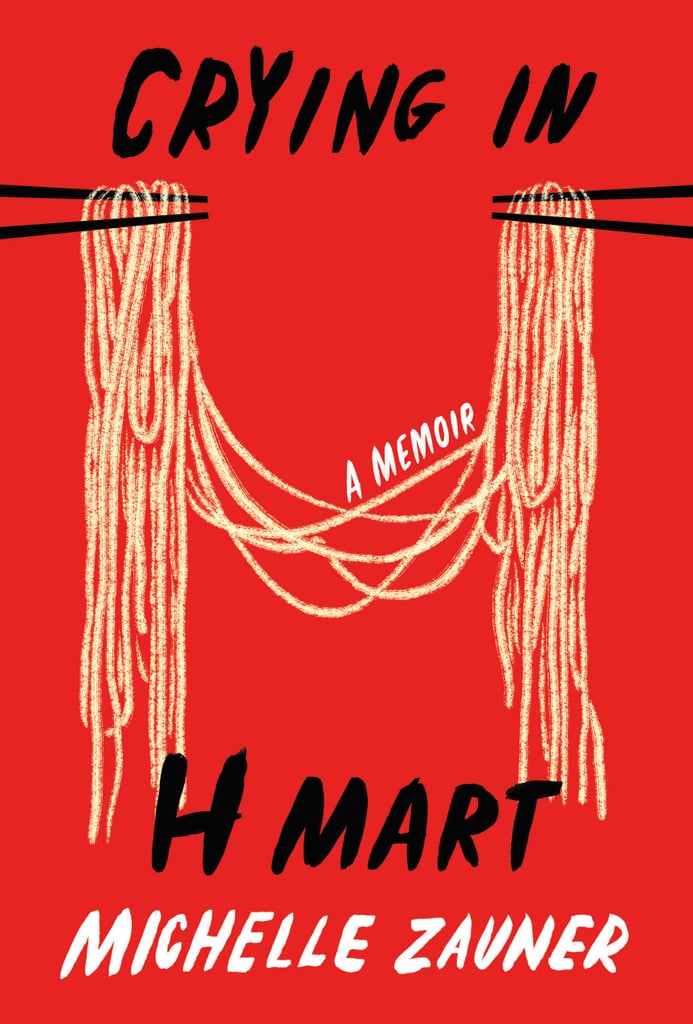 Indie rock star Michelle Zauner proves she's also an accomplished writer in her funny and heartfelt memoir Crying in H Mart [102]. Whether she's delving into her childhood in Eugene, OR, or candidly opening up about the loss of her mother, Zauner grounds her memoir in her experiences as a Korean American woman seeking to reconnect with the culture her mother instilled in her.
Dial A for Aunties by Jesse Q. Sutanto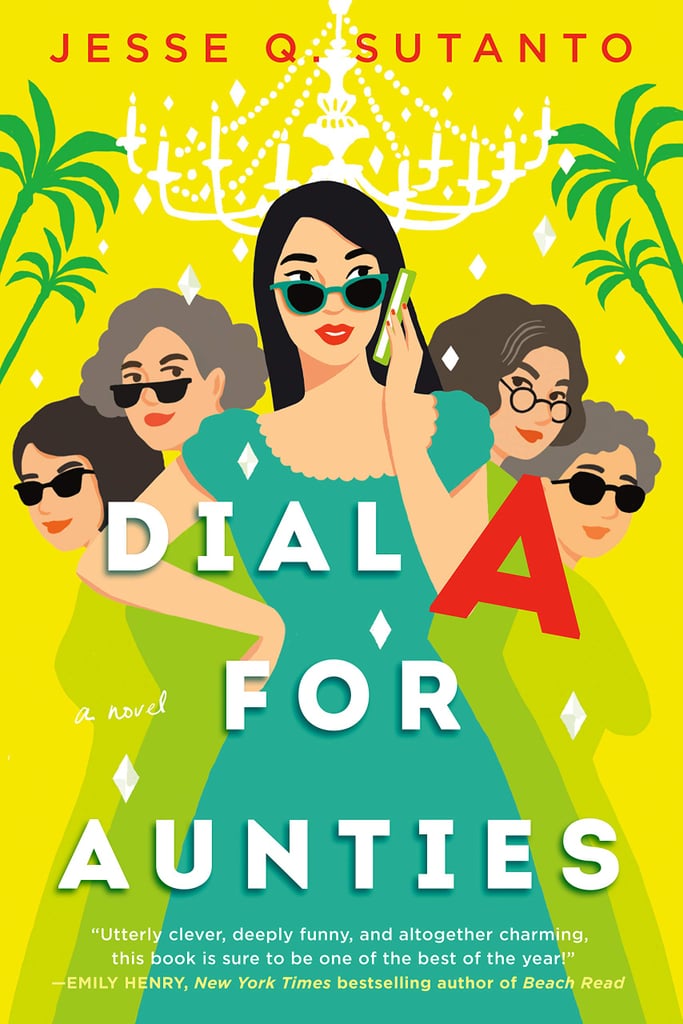 Dial A for Aunties [103] is a warm, hilarious book that deftly straddles genres to tell a story of romance, murder, and the joys of having a family full of strong women. When Meddelin Chan accidentally kills her blind date, her mother and aunts come together to help her hide the body, but, as usual, the Chan women's bad luck strikes when the body ends up being shipped to the wedding [104] venue of a billionaire.
Little and Often by Trent Preszler
In his memoir Little and Often [105], Trent Preszler takes readers along on his journey to build a canoe with the inheritance his estranged father left him: his toolbox. While his father was alive, Preszler and his dad struggled to find any common ground, but after his passing, the author dedicated himself to working with his hands for a year to better understand who his father truly was.
Meet Me in Another Life by Catriona Silvey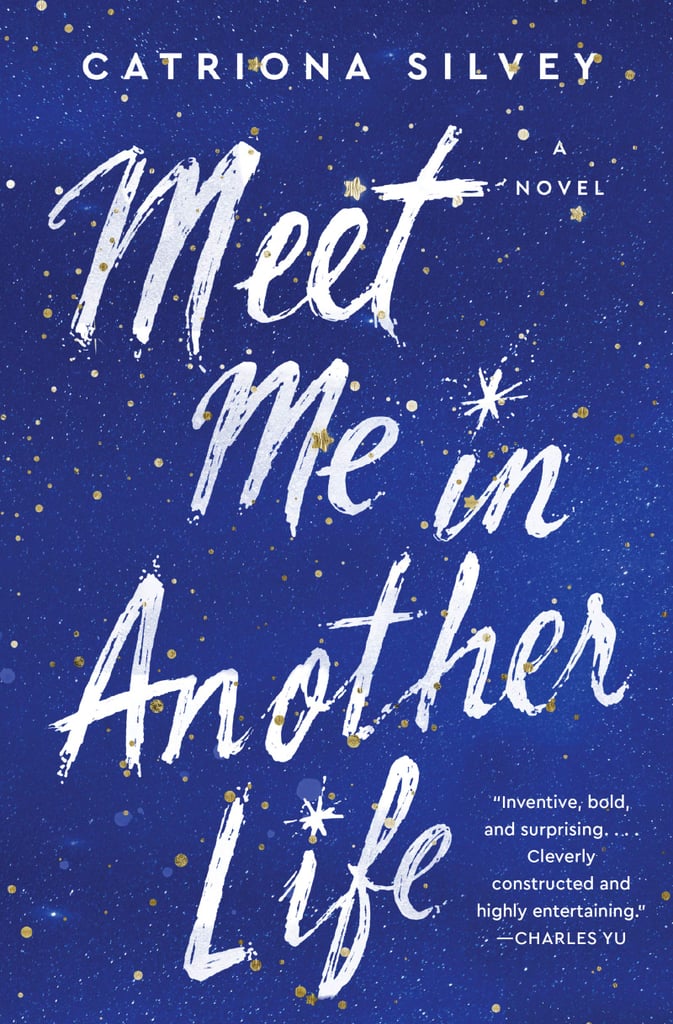 Meet Me in Another Life [106] by Catriona Silvey will break your heart in the best possible way. The book spans the many lives of Thora and Santi, two people who are connected across time and space. In every lifetime they meet, and their story is always different. The one thing that endures is the profound impact they have on each other's many lives.
Whereabouts by Jhumpa Lahiri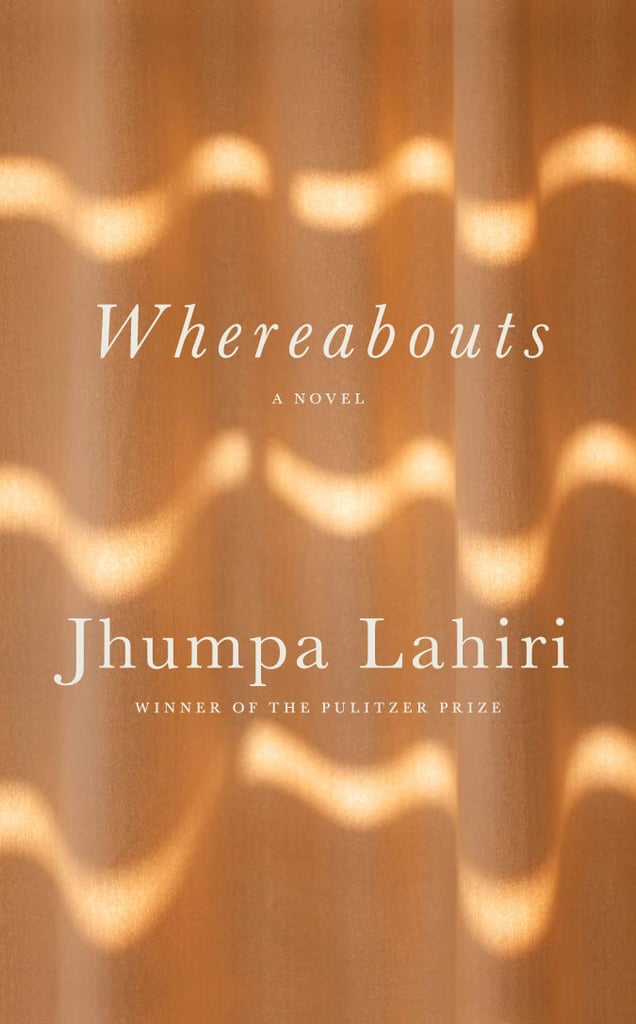 Pulitzer Prize-winning author Jhumpa Lahiri's latest novel Whereabouts [107] has a deceptively simple premise: the story follows a woman as she moves through her city encountering strangers and acquaintances. However, the woman's life is about to change forever, thanks to a sunny day at the ocean.
Ariadne by Jennifer Saint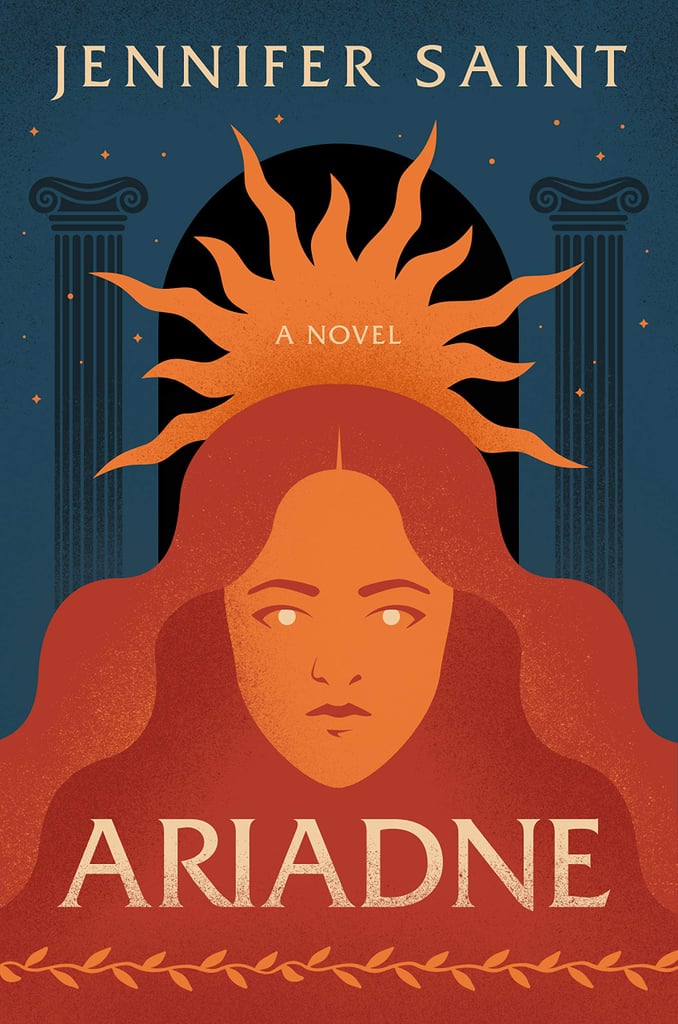 If you loved Madeline Miller's Circe, then you have to check out Ariadne [108] by Jennifer Saint. This buzzy debut is a Greek-mythology retelling that puts women at the center of the story. When Ariadne helps Theseus kill her brother, The Minotaur, her life is forever changed as she grapples with her decision to defy not only the gods but also her family.
The Girl With Stars in Her Eyes by Xio Axelrod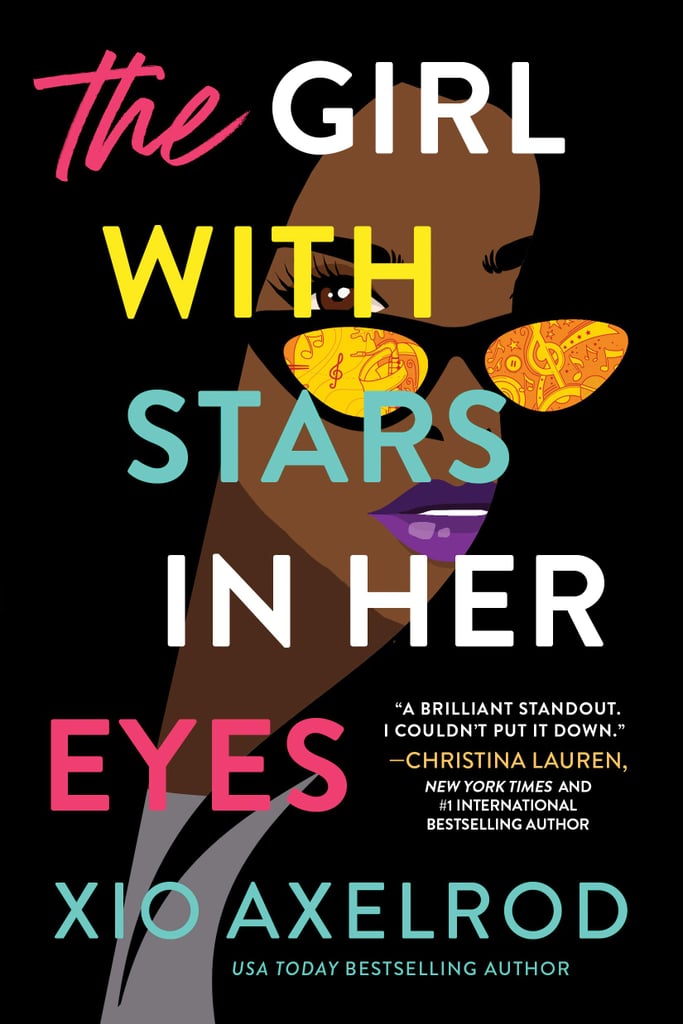 The Girl With Stars in Her Eyes [109] by Xio Axelrod is a rock-and-roll romance that's just begging you to slip it in your beach bag. Antonia "Toni" Bennette is a guitarist on the verge of her big break. All she needs to do is join the up-and-coming band The Lillys, and all of her career dreams will come true. Unfortunately for Toni, The Lillys' new manager also happens to be her small-town ex who left her without looking back.
Great Circle by Maggie Shipstead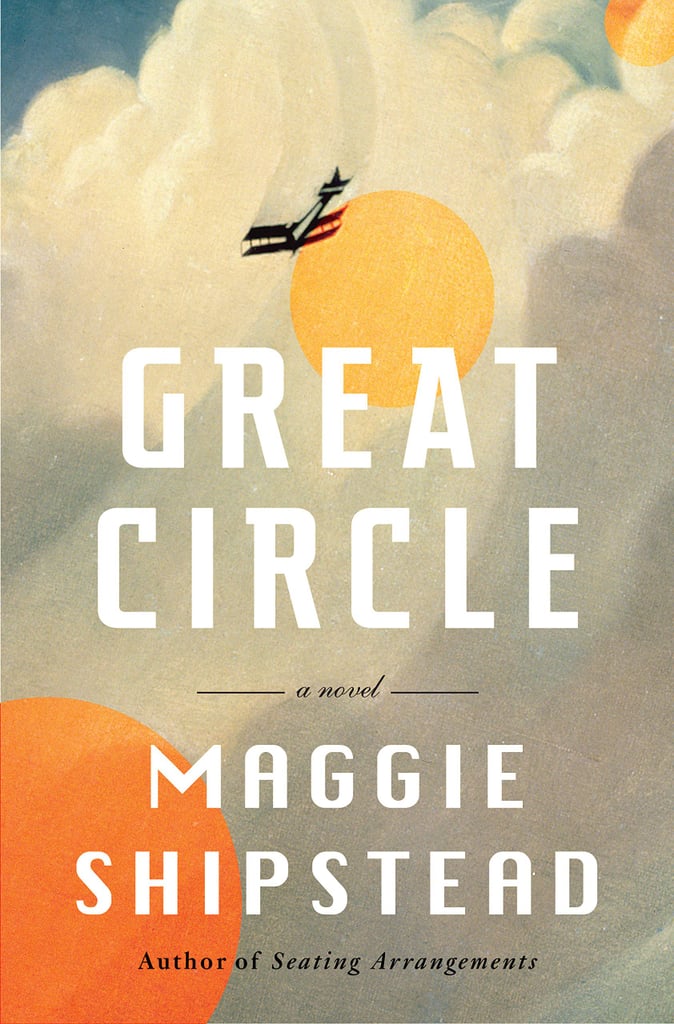 Great Circle [110] by Maggie Shipstead is a decades-spanning tale of a trailblazing woman pilot and the modern-day actress who is preparing to play her in a Hollywood blockbuster. Marian devotes her entire life to becoming the best possible pilot she can be, but her attempt to circumnavigate the North and South Poles ends in tragedy. A century later, Hadley Baxter immerses herself in Marian's story in preparation for the role of a lifetime only to discover she has more in common with Marian than she could have ever imagined.
Hail Mary by Andy Weir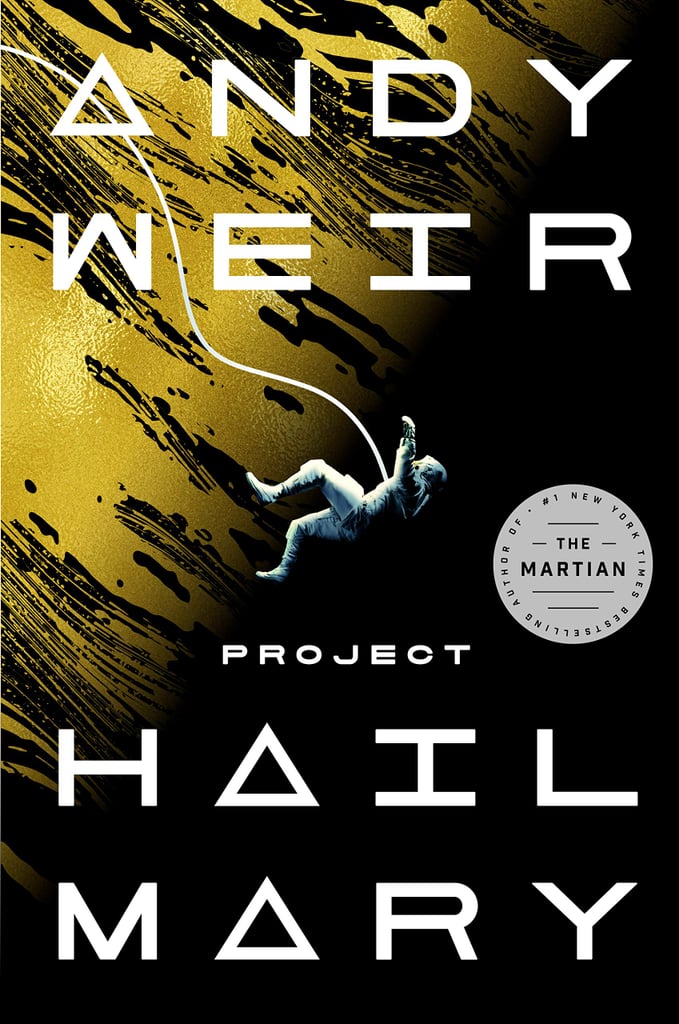 The Martian author Andy Weir is back with another space adventure in Hail Mary [111]. This time around, the focus is on an astronaut named Ryland Grace, who awakens to discover the rest of his crew is dead and he's alone in the farthest reaches of space on a mission to save the world.
How to Deal by Grace Miceli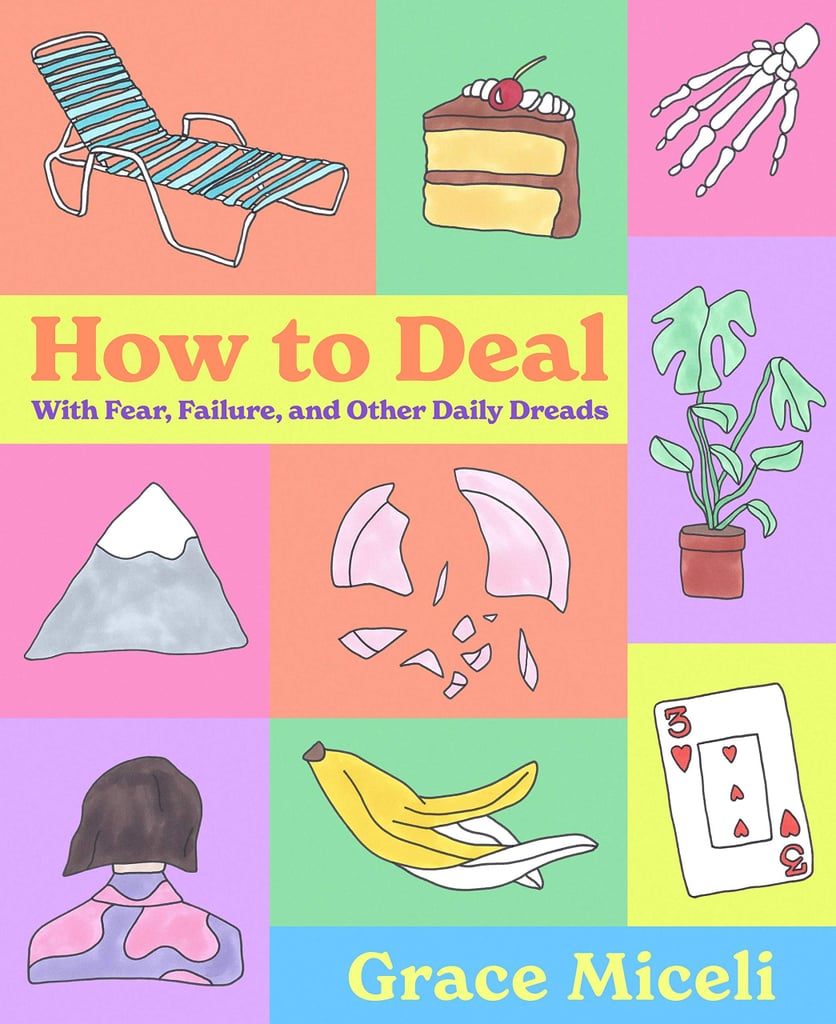 Illustrator Grace Miceli has created a funny and beautifully illustrated manual to help readers deal with life's day-to-day stressors. How to Deal [112] mixes hilarious comic strips with real-life diary entries from the author in order to offer up insight on how to handle fear, failure, and everything in between with an open heart and a sense of humor.
Hurricane Summer by Asha Bromfield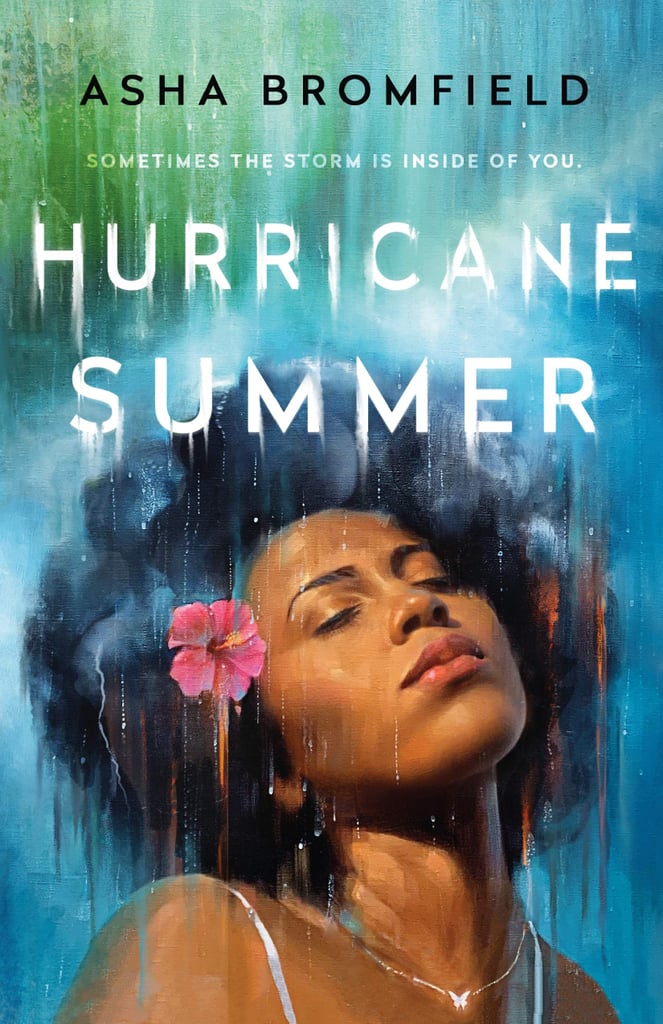 Riverdale [113] actor Asha Bromfield's first novel is already receiving rave reviews — and for good reason. Hurricane Summer [114] is a moving and insightful portrait of modern issues surrounding race and classism, as well as an emotional story about a fractured father-daughter relationship. For years, Tilla has wondered what her father's life in Jamaica is like, and now she'll have the entire summer to find out. What she doesn't expect is to find herself caught in a hurricane that will change her life and her relationship with her dad forever.
The Last Green Valley by Mark Sullivan
Set during the final days of World War II, The Last Green Valley [115] by Mark Sullivan follows Emil and Adeline Martel as they make the impossible decision to wait for Russia to take over their Ukrainian village or join the hated German Nazis who swear they'll protect them due to their status as "pure-blood" Germans. Ultimately, they opt to go with the Germans, leaving them trapped between two powerful and dangerous forces as they search for a safe place to call home.
The Last Thing He Told Me by Laura Dave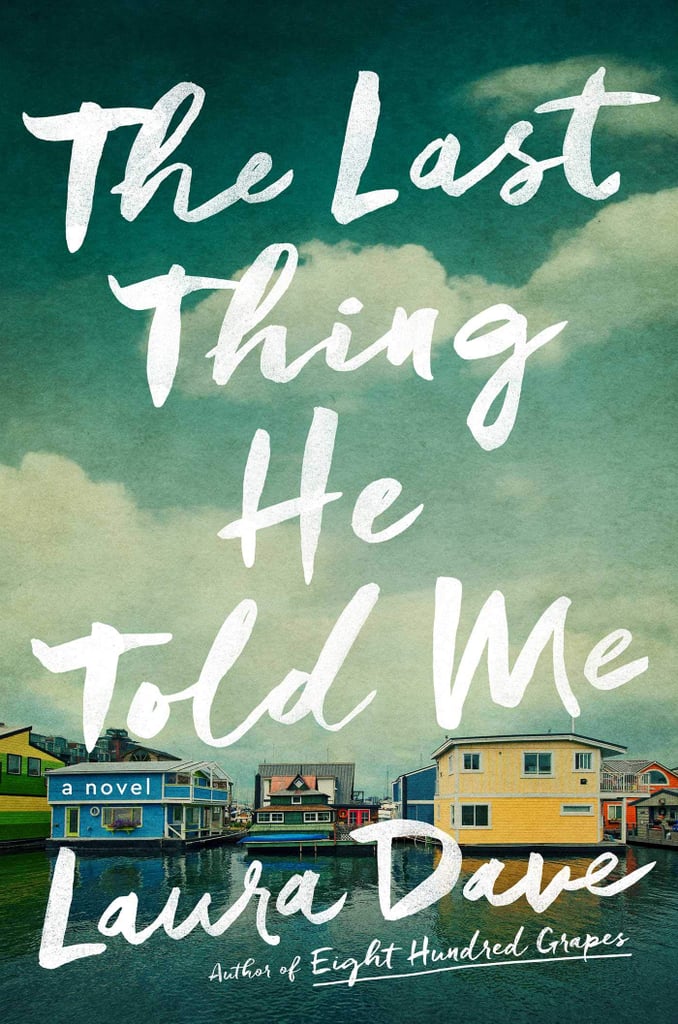 Part mystery, part family drama, The Last Thing He Told Me [116] by Laura Dave is impossible to put down. When Hannah Hall's husband of just one year disappears, he leaves a note begging his wife to "protect her." Hannah quickly surmises the her in question is her husband's 16-year-old daughter, who may hold the key to unraveling his secret past. (This one is set to become a miniseries starring Julia Roberts [117] soon, so you're going to want to read it ASAP.)
Mergers and Acquisitions by Cate Doty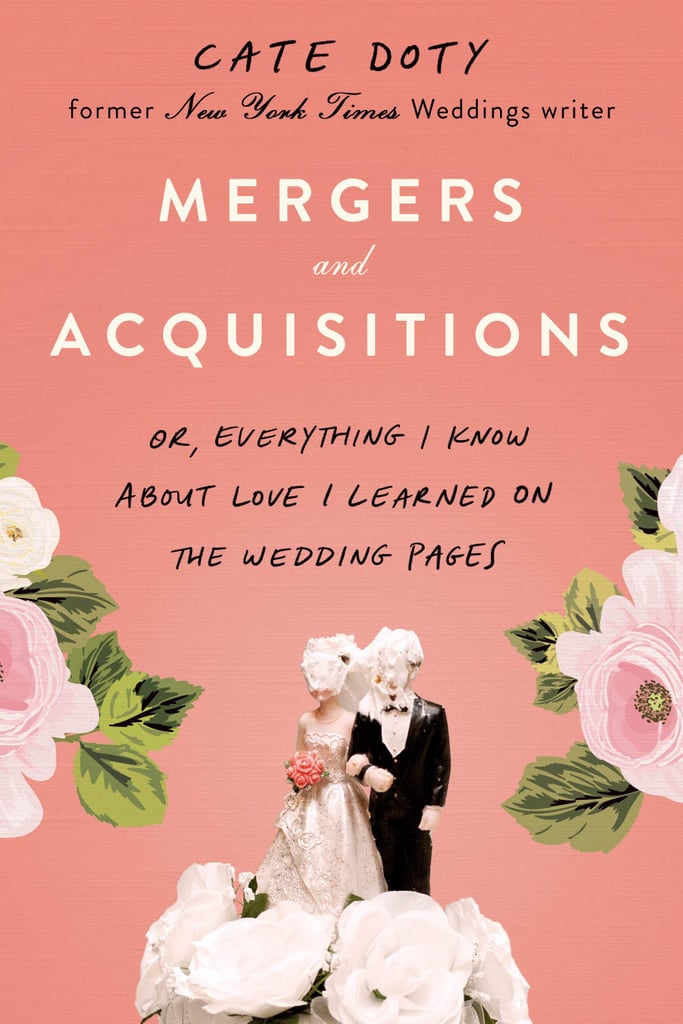 Cate Doty's dishy memoir Mergers and Acquisitions [118] is a deep dive into New York City's high society, as well as the wedding [119] industry at large. As a former writer for The New York Times's wedding [120] section, Doty has seen it all — from the lengths couples will go to in order to land an engagement announcement in the paper to what it's like to fact-check someone's love story — and yet, she's not cynical about romance, as evidenced by her own story of finding love, which is interwoven in between all of those juicy anecdotes.
The Most Beautiful Girl in Cuba by Chanel Cleeton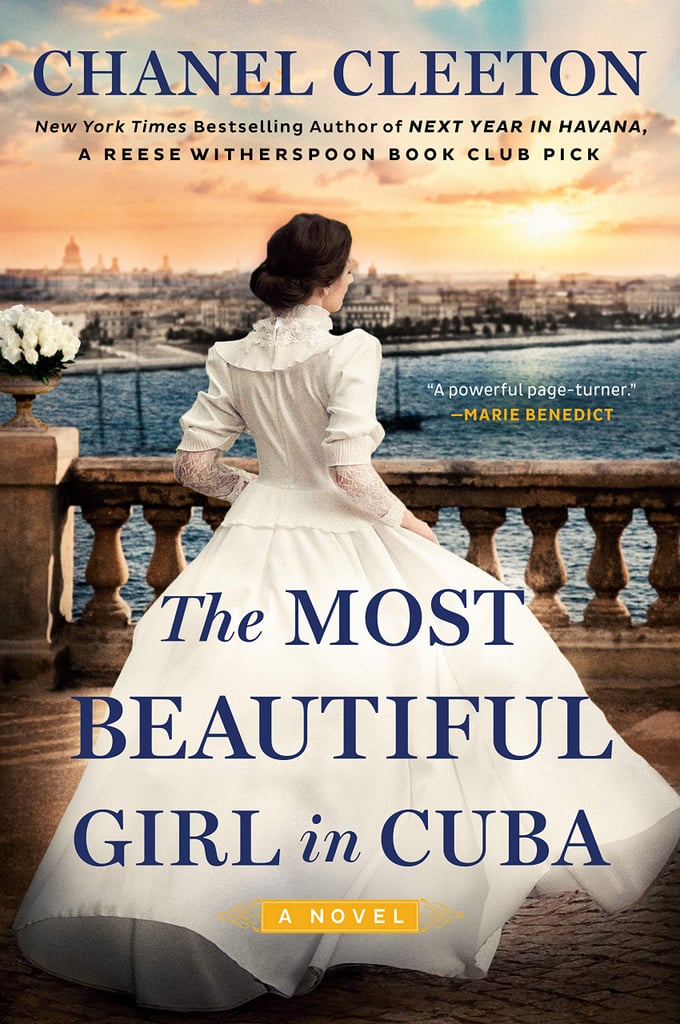 The Most Beautiful Girl in Cuba [121] is another riveting historical-fiction novel by Chanel Cleeton. In 1896, Grace Harrington's job at William Randolph Hearst's newspaper leads to her becoming embroiled in Cuba's quest for independence when she writes a story about Evangelina Cisneros, an 18-year-old who is imprisoned for fighting for Cuban independence. Soon, Grace's story becomes more than just a scoop for the paper; it becomes a quest to free Evangelina and encourage America to help Cuba in its war with Spain.
The Newcomer by Mary Kay Andrews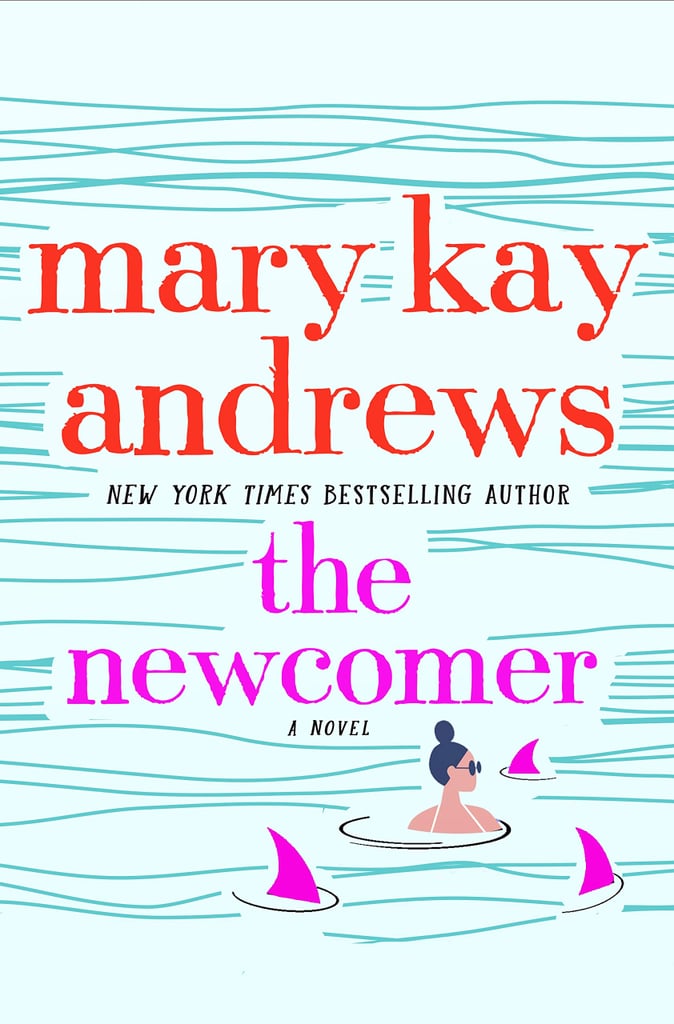 If you want your next read to have a dash of mystery, suspense, romance, and family drama, then The Newcomer [122] by Mary Kay Andrews is the book for you. After discovering her sister, Tanya, dead, Letty hits the road with her niece, Maya, in hopes of evading her sister's dangerous ex. Due to a mysterious magazine story left behind by Tanya, Letty and Maya end up reinventing themselves at a rundown motel, where getting too close to anyone could mean blowing their cover.
Olympus, Texas by Stacey Swann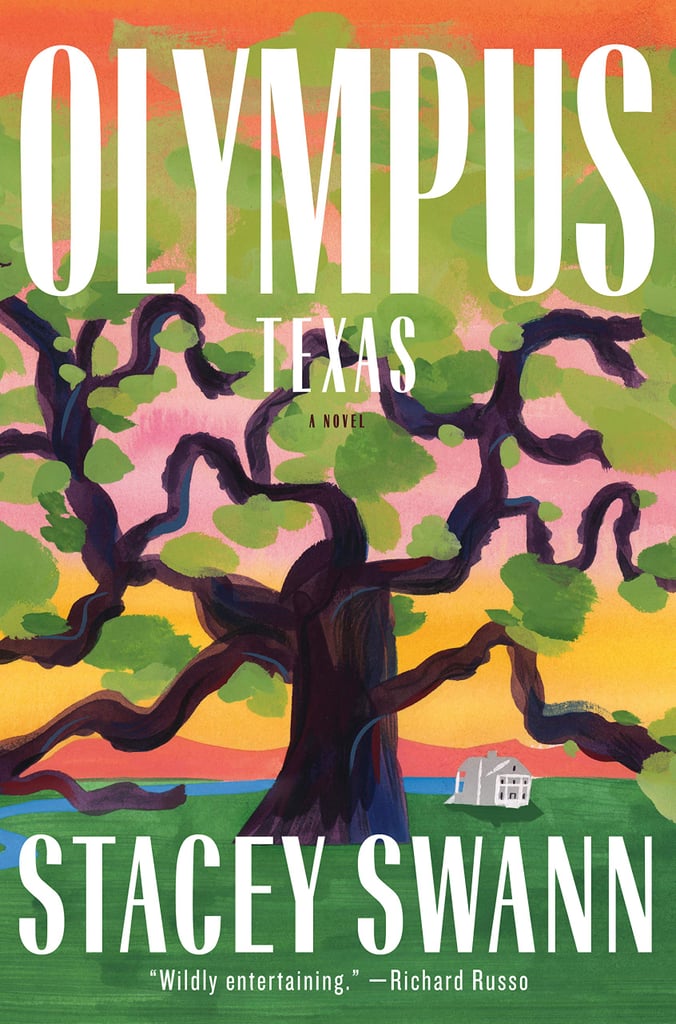 At once a story rooted in classical mythology and a good old-fashioned family drama, Olympus, Texas [123] by Stacey Swann is an epic story about a prodigal son's return — and the havoc he wreaks on his family. Two years after it was discovered he was having an affair with his brother's wife, March returns home, and it's a mere matter of days before the Briscoe family's lives are completely upended by marital woes and at least one dead body.
The Siren by Katherine St. John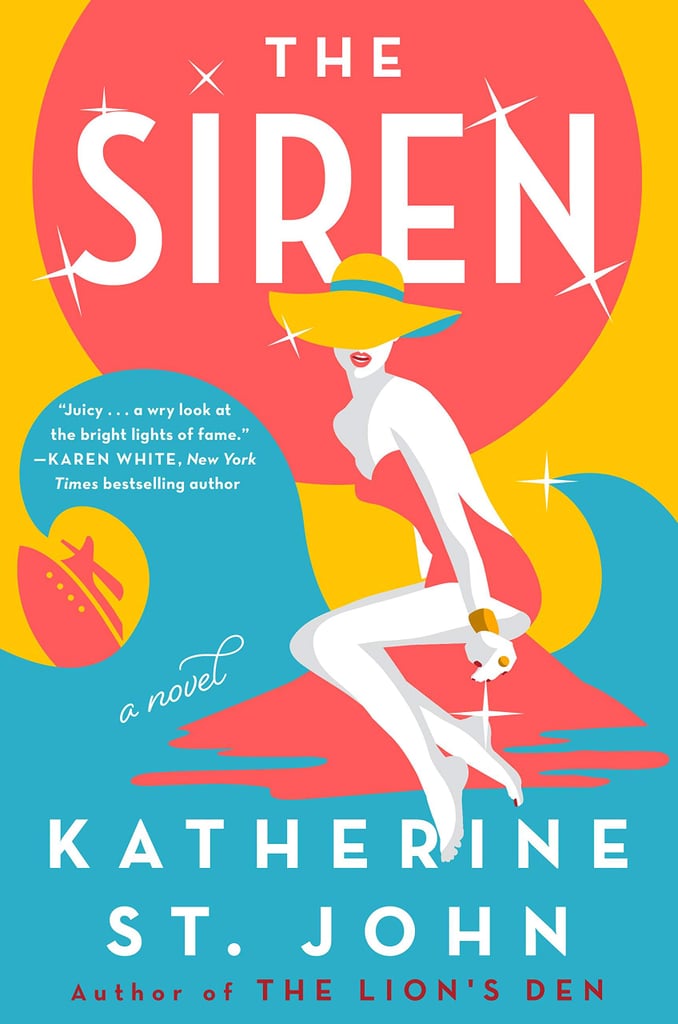 The Siren [124] by Katherine St. John brings Old Hollywood to life as stars descend on the Caribbean island of St. Genesius to film a blockbuster. The only trouble is the movie's leading lady, Stella Rivers, is the ex-wife of the leading man, Cole Power — and she's just one of three women on the island with big plans and secrets to hide. With a hurricane on the horizon, you can bet at least some of those secrets are bound to come to light.
Summer on the Bluffs by Sunny Hostin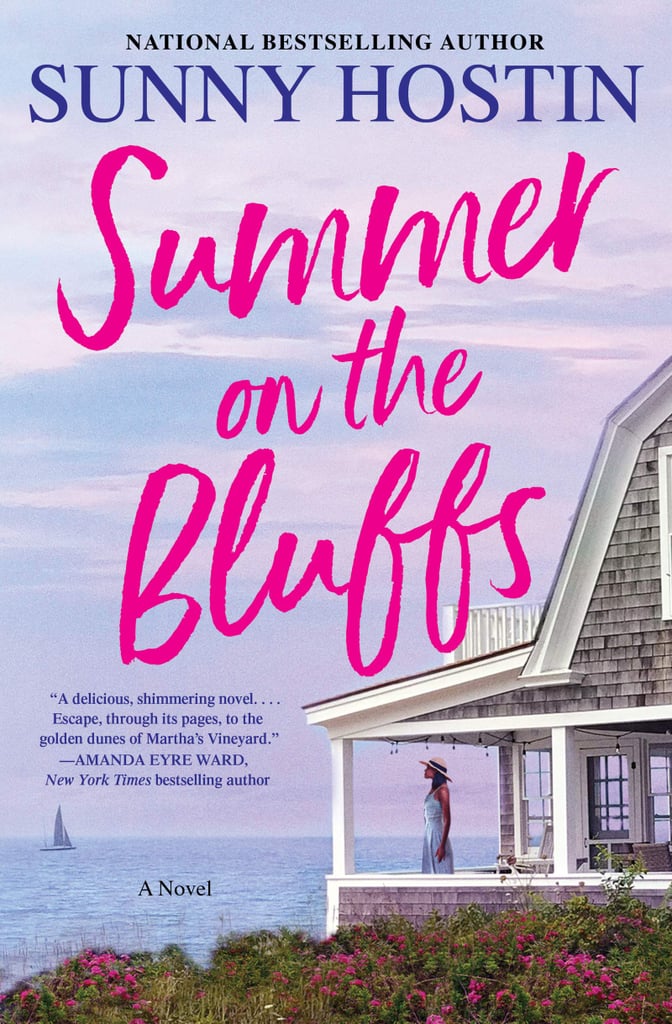 Bestselling author and The View cohost Sunny Hostin has penned the ultimate beach read in Summer on the Bluffs [125]. The novel follows three successful women as they spend one last summer with their godmother, Amelia Vaux Tanner, at her famed Chateau Laveau in the exclusive Black beach community of Oak Bluffs. At the end of the summer, Amelia will gift one of the women with the house, but not before she spills some secrets her goddaughters need to know about her life.
Angel & Hannah by Ishle Yi Park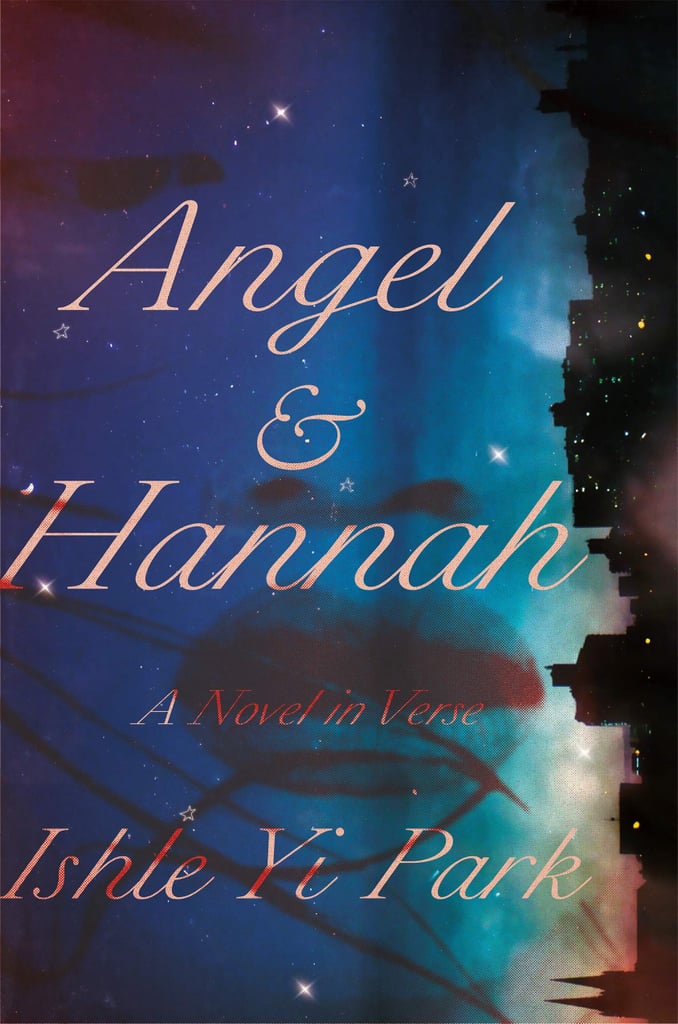 Angel & Hannah [126] by Ishle Yi Park is a stirring novel told in verse about an interracial couple in '90s New York City. In the spring of 1993, Hannah, a Korean American girl from Queens, and Angel, a Puerto Rican boy from Brooklyn, fall madly in love. And even though their two families don't understand their relationship, the duo will stop at nothing to protect their burgeoning relationship.
Black Water Sister by Zen Cho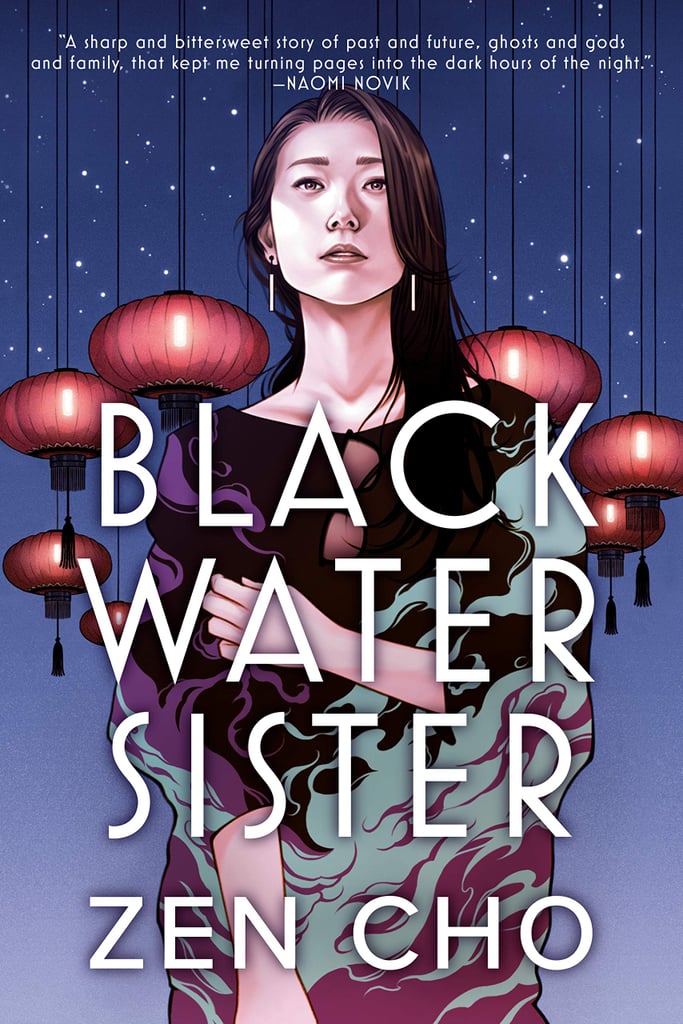 A modern-day fantasy novel set in Malaysia, Black Water Sister [127] by Zen Cho is, at its heart, a story of family ties. Jessamyn Teoh, who has no job and hasn't come out to her family, begins hearing a voice in her head when she moves back to Malaysia with her parents. The voice in question belongs to her deceased grandmother Ah Ma, who was a medium in life. Now, Ah Ma is determined to exact revenge on a business magnate with Jessamyn's help — no matter how reluctant her granddaughter may be to involve herself in a world of gods and ghosts.
Brat: An '80s Story by Andrew McCarthy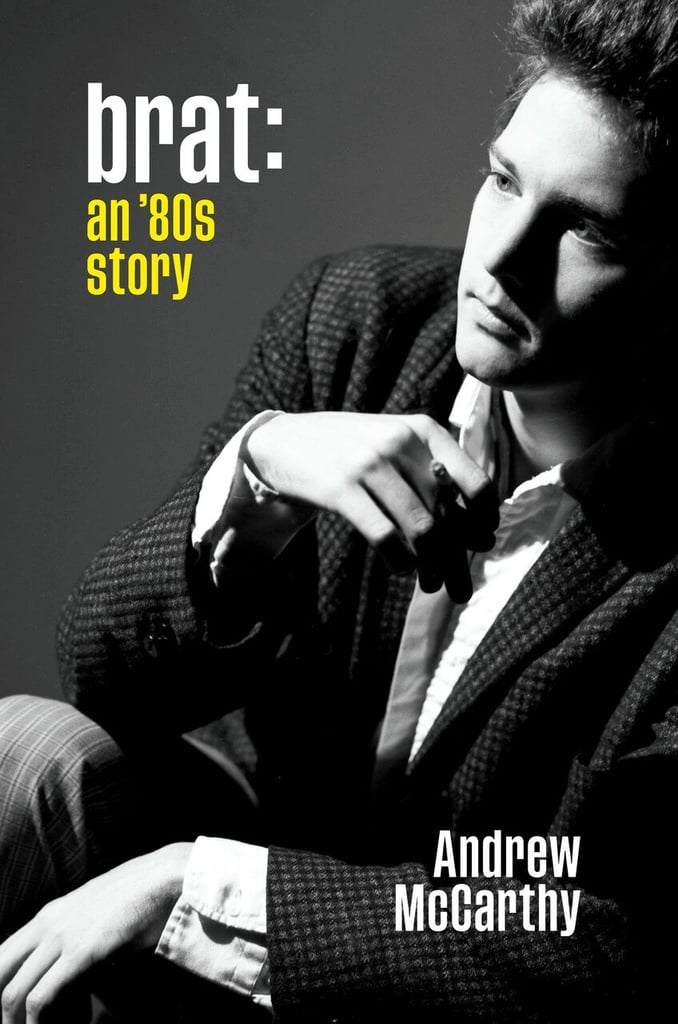 Andrew McCarthy is giving readers an inside look at what life as a member of Hollywood's Brat Pack was really like in Brat: An '80s Story [128]. His memoir focuses on what it was like for the Pretty in Pink star to come of age during one of the most significant eras in Hollywood's pop culture history.
The Mothers by Genevieve Gannon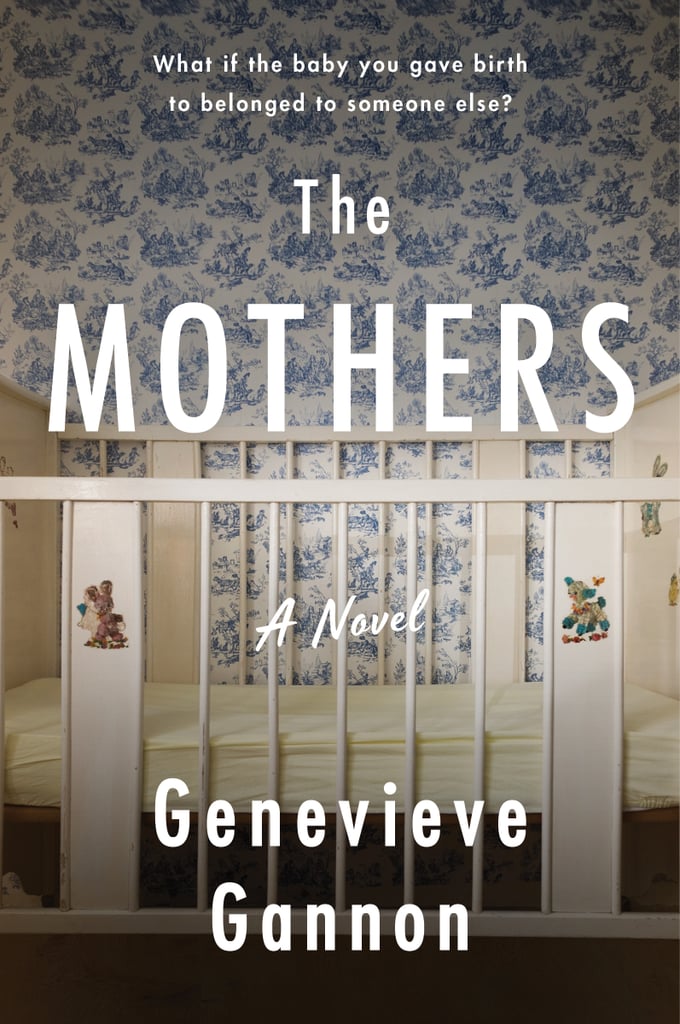 Inspired by a real-life incident, The Mothers [129] by Genevieve Gannon is a heartbreaking story about two mothers caught in an unthinkable situation. Due to a mix-up at an IVF lab, one woman ends up impregnated with the other's embryo and gives birth to a healthy baby boy. When the mistake comes to light one year later, the baby's biological mother is faced with the terrible choice between suing for custody or allowing her son to remain with the only parents he has ever known.
A Special Place For Women by Laura Hankin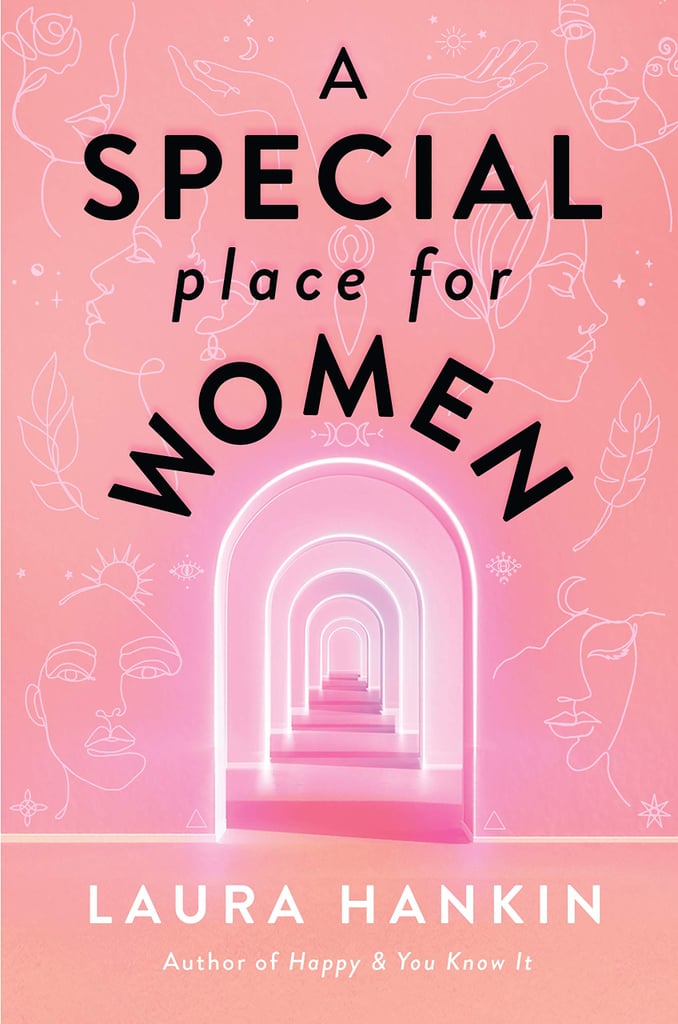 Rumors of an elite women-only social club prove to be all too true in Laura Hankin's wickedly smart A Special Place For Women [130]. When journalist Jillian Beckley infiltrates New York City's secretive club of powerful women, she expects to write a fluff piece at best. What she doesn't expect is for the club's members to be every bit as dangerous as they are elusive.
That Summer by Jennifer Weiner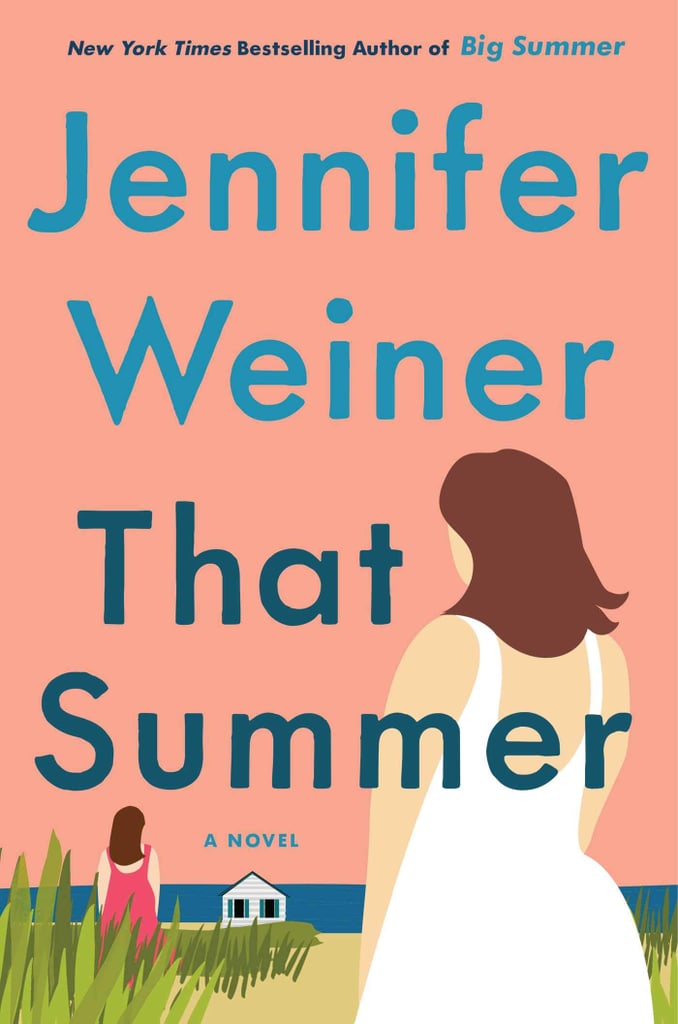 In That Summer [131] by Jennifer Weiner, a woman named Daisy Shoemaker becomes fascinated by the life of a woman whose emails she begins receiving by mistake. Diana Starling's life as a high-powered businesswoman seems exciting and foreign compared to Daisy's life as a suburban mom. However, there's more to Diana than meets the eye, and Daisy soon realizes their connection has nothing to do with fate.
The Betrayals by Bridget Collins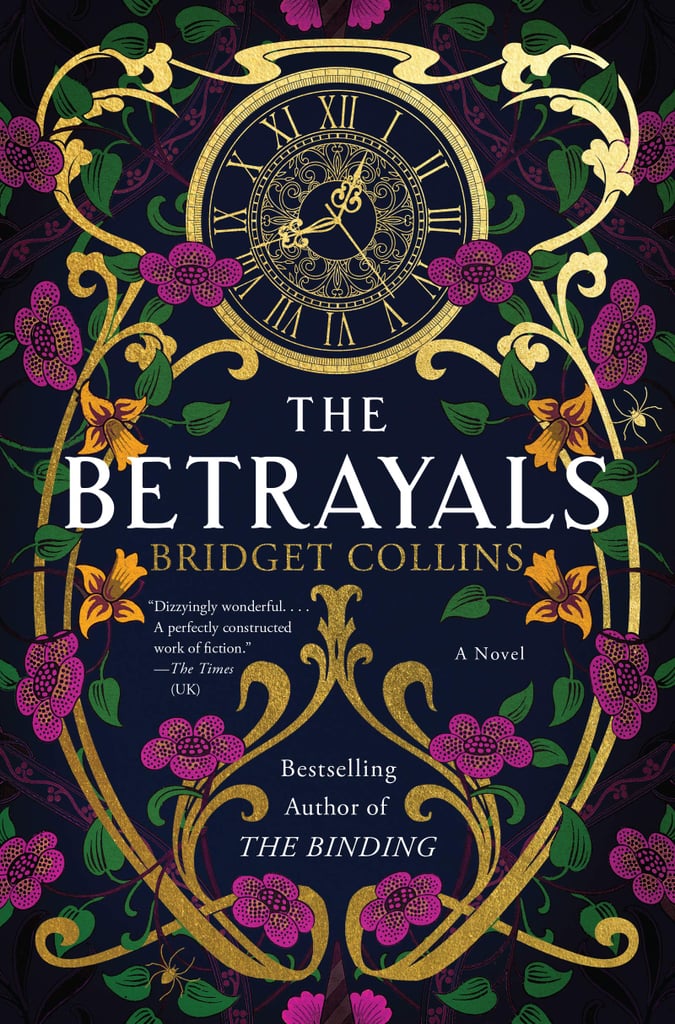 The Betrayals [132] by Bridget Collins is a surreal epic set in the ancient academy of Montverre. Tucked away high in the mountaintops, only society's brightest minds are admitted to Montverre, and that includes Léo Martin, a disgraced politician who returns to keep tabs on the school's new leader, Claire Dryden, on the eve of the school's most prestigious event: the Midsummer Game.
Burn It All Down by Nicolas DiDomizio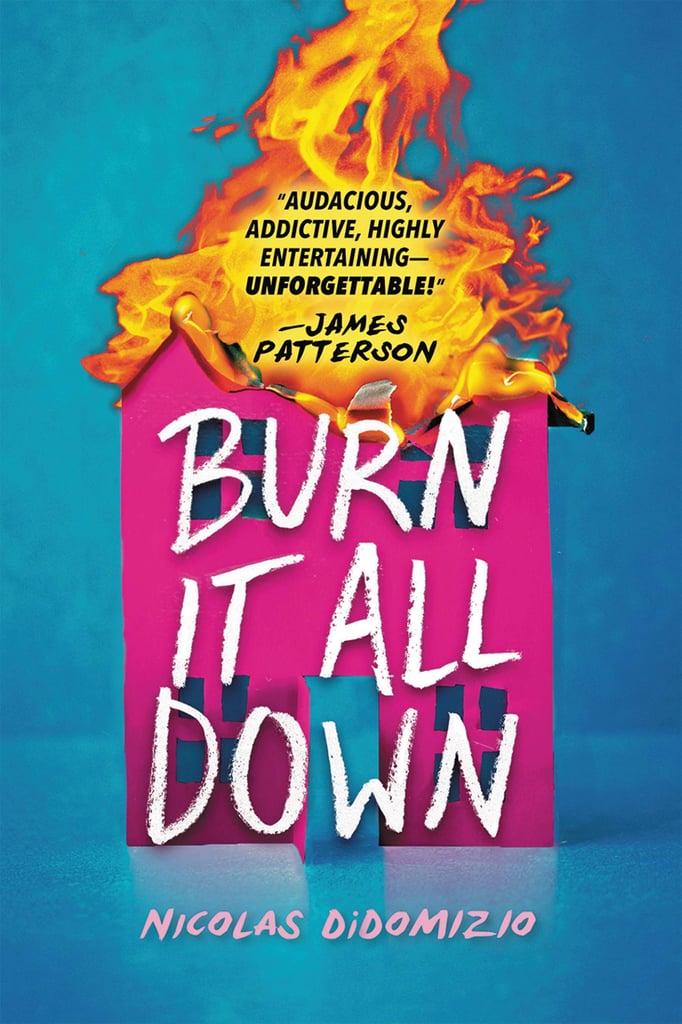 Nicolas DiDomizio's Burn It All Down [133] is a wild, delightful revenge thriller about a mother and son who both have some serious growing up to do. After 18-year-old Joey Rossi discovers his boyfriend has been cheating on him for 10 months, he's consumed by rage. Unfortunately, so is his 34-year-old mom, Gia, who is dealing with romance troubles of her own. When Gia and Joey redirect their anger into actual criminal activities, they're left with no place to turn but to Gia's ex Marco.
The Guncle by Steven Rowley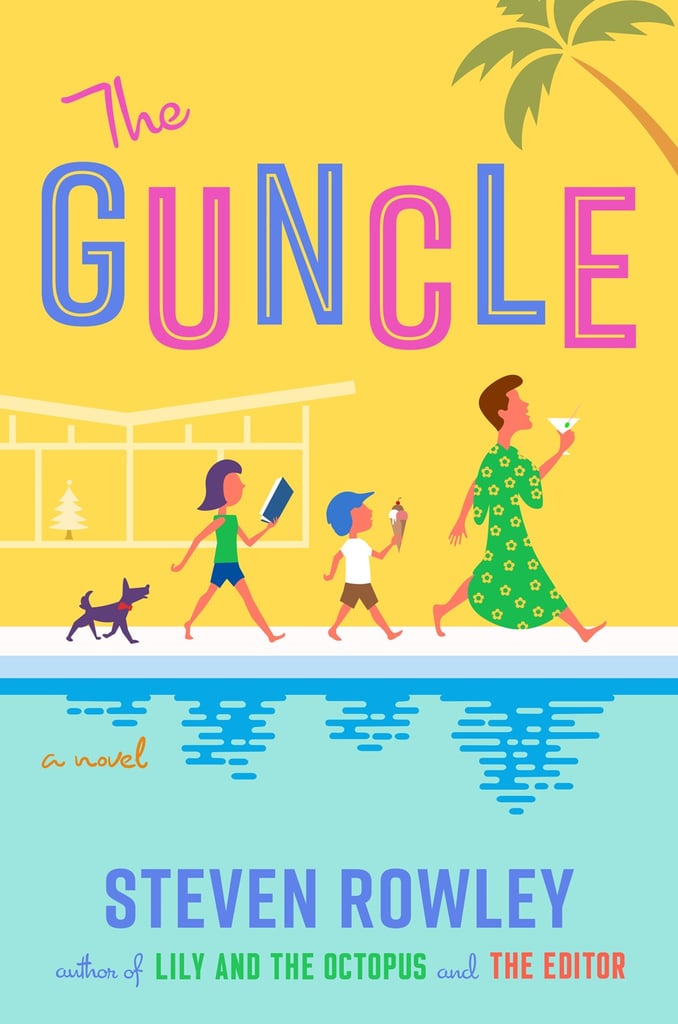 The Guncle [134] by Steven Rowley is a big-hearted, laugh-out-loud-funny kind of book that's sure to stay with you long after you turn the final page. The novel follows Patrick, a former sitcom star and the fun-loving guy known as GUP (Gay Uncle Patrick) to his little niece and nephew. However, when a family tragedy sends his niece and nephew to his Palm Springs home for an extended stay, Patrick is going to have to learn how to be more than just the fun uncle — even if doling out snacks is so much easier than trying to understand two tiny humans.
Imposter Syndrome by Kathy Wang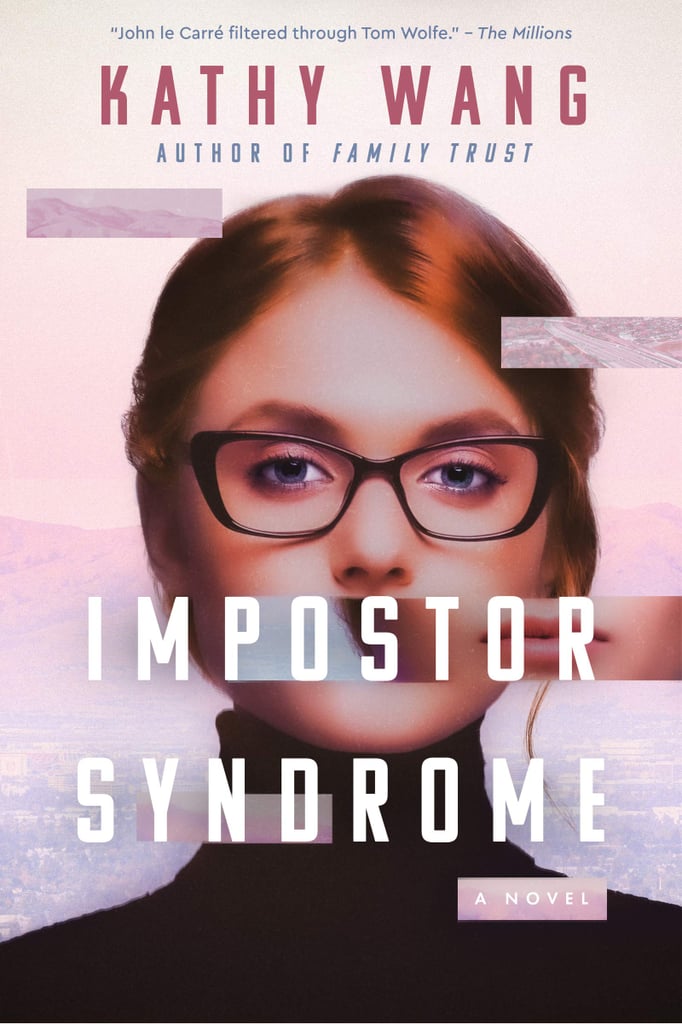 Imposter Syndrome [135] by Kathy Wang manages to be both an enticing thriller about two women playing a high-powered game of cat-and-mouse and a searing satire about the world of big tech companies. As the COO of the tech company Tangerine, Julia Lerner is one of the most powerful women in America, but she's also living a double life as a spy for Russia. Meanwhile, Alice Lu just realized there's a backdoor in Tangerine's security and the COO might just be the one exploiting it.
The Invisible Husband of Frick Island by Colleen Oakley
Colleen Oakley's The Invisible Husband of Frick Island [136] is the sort of book you want to live in thanks to its eccentric and lovable cast of characters. When Piper Parrish's husband died in a boating accident, her grief was so overwhelming, she continued on with her life as if her husband had never died. And the people of Frick Island followed suit. But with an ambitious journalist nosing around their small community, Piper's life, as well as the town's commitment to caring for the widow, may very well be upended.
The 2000s Made Me Gay by Grace Perry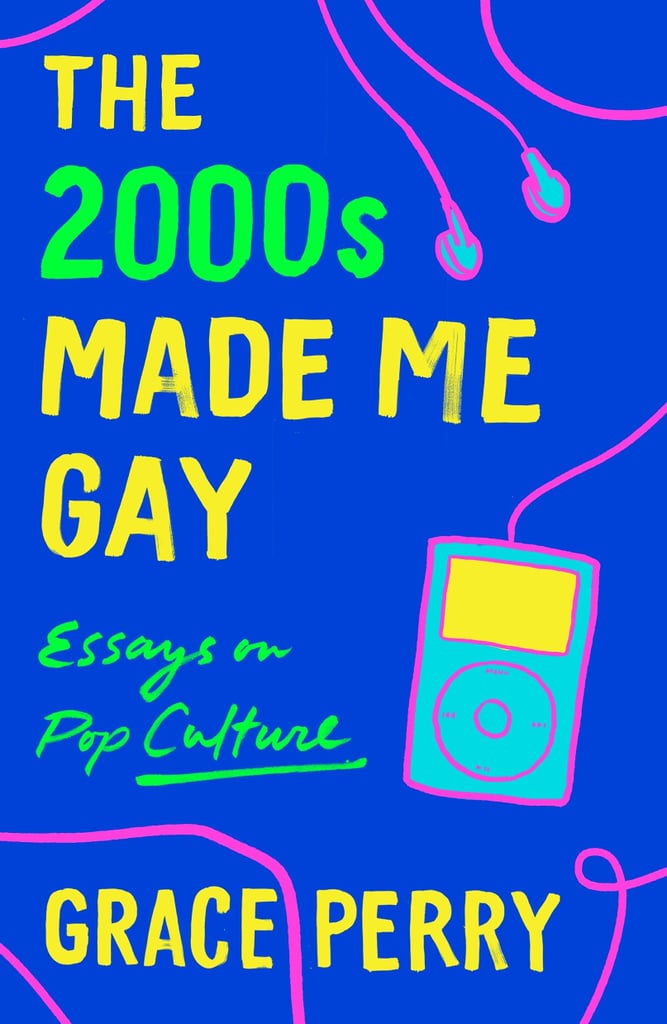 Grace Perry's The 2000s Made Me Gay [137] will instantly transport you back to the aughts via all of the most unforgettable pop culture moments from the decade, including the premiere of Gossip Girl [138] and the rise and fall of Lindsay Lohan [139]. Through a series of hilarious and insightful essays, Perry shares how the pop culture of her teen years helped her come out and become the witty writer she is today.
Ace of Spades by Faridah Àbíké-Íyímídé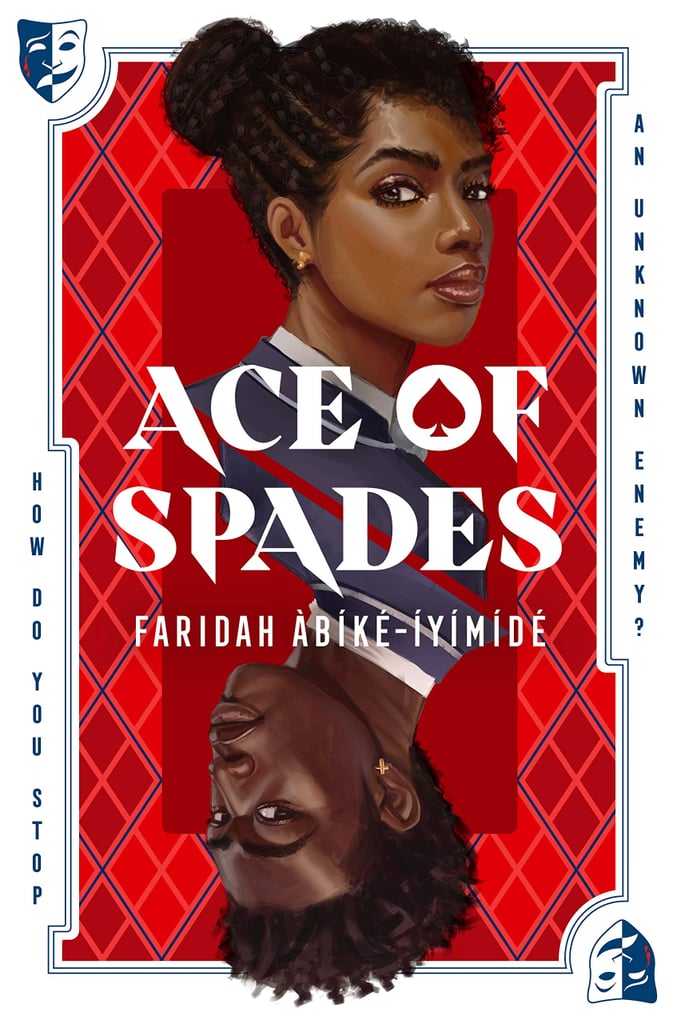 Faridah Àbíké-Íyímídé's debut Ace of Spades [140] is part nail-biting thriller, part Gossip Girl [141] homage. Set at Niveus Private Academy, the book centers on Devon Richards and Chiamaka Adebayo, who are both chosen to be class prefects. Unfortunately for them, someone who goes by the name of Aces is determined to expose all of their secrets to the world, and bring their plans for their futures crashing down around them in the process.
Anne of Manhattan by Brina Starler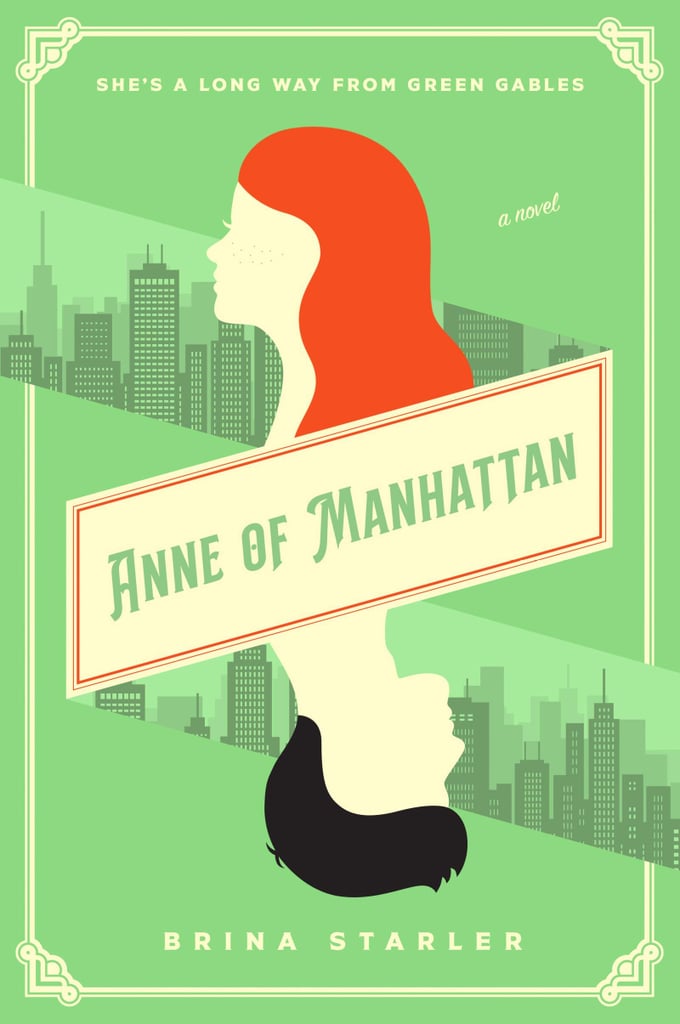 Anne of Green Gables gets a modern update in Brina Starler's Anne of Manhattan [142]. In this reimagining of L.M. Montgomery's beloved classic, Anne and her dearest friend Diana are headed to New York City for college. But what Anne doesn't expect is her former arch nemesis and sort-of-crush Gilbert to be attending the same school.
Beneath Devil's Bridge by Loreth Anne White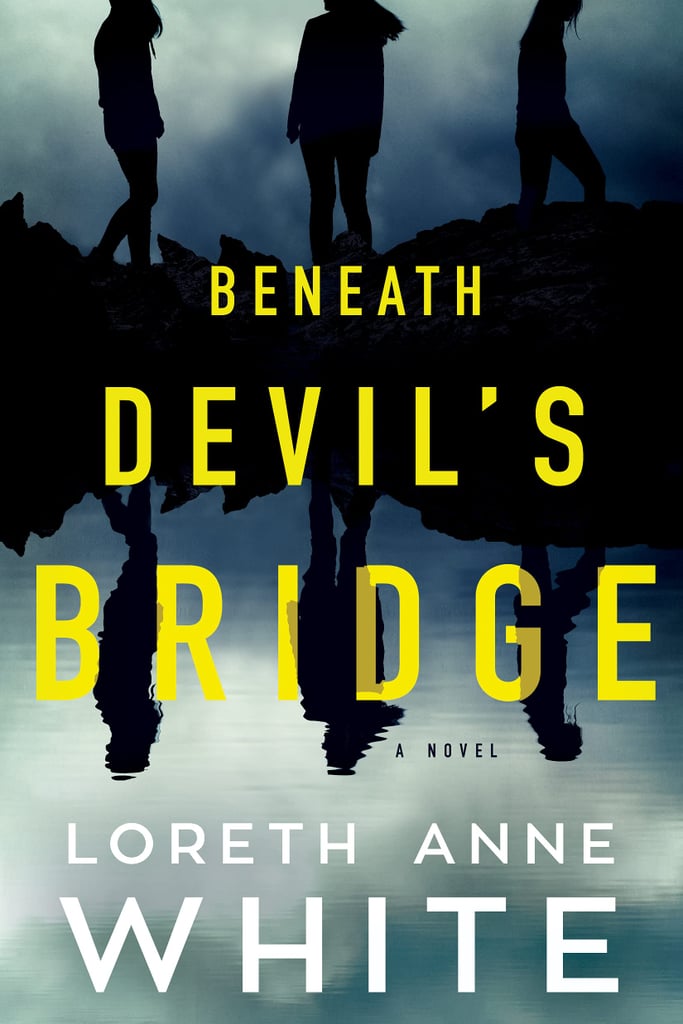 True crime fans, Beneath Devil's Bridge [143] by Loreth Anne White is the one thriller you need to read this month. True crime podcaster Trinity Scott is on the verge of major success when she decides to delve into the case of Clayton Jay Pelley, a former guidance counselor who confessed to murdering one of his students. Now, two decades later, Clayton is recanting his story, and putting Trinity in a dangerous situation in the process.
The Checklist by Addie Woolridge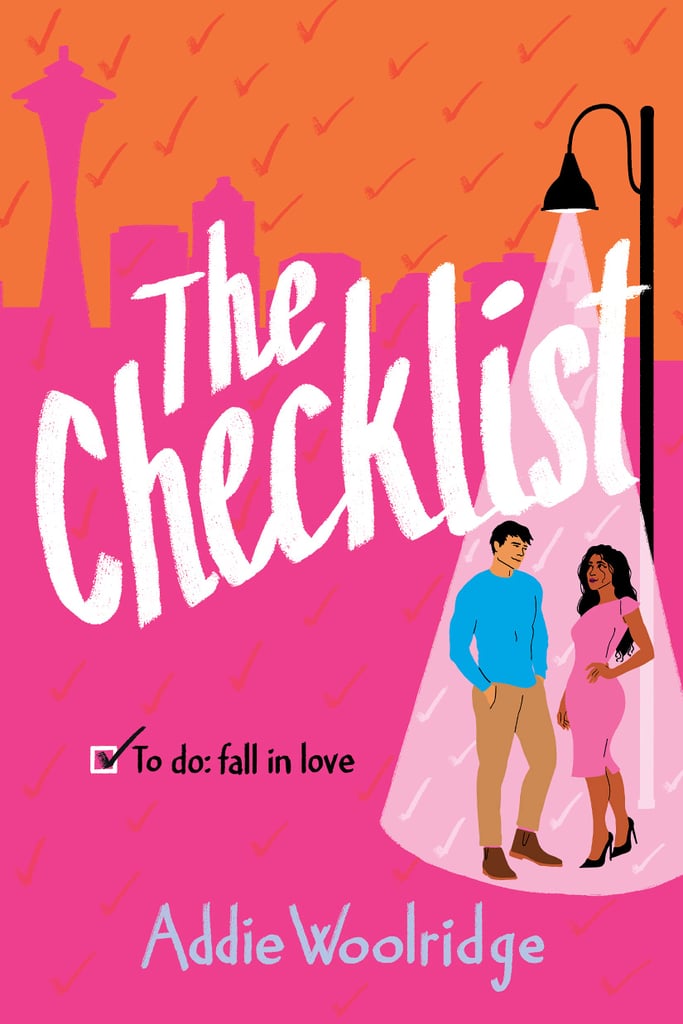 After showing up her boss, Dylan Delacroix is exiled to her hometown of Seattle in Addie Woolridge's charming rom-com The Checklist [144]. Despite her less than ideal situation, Dylan has a plan to come out on top — unfortunately, she forgot to factor in her incredibly hot and distracting new neighbor.
Dead Dead Girls by Nekesa Afia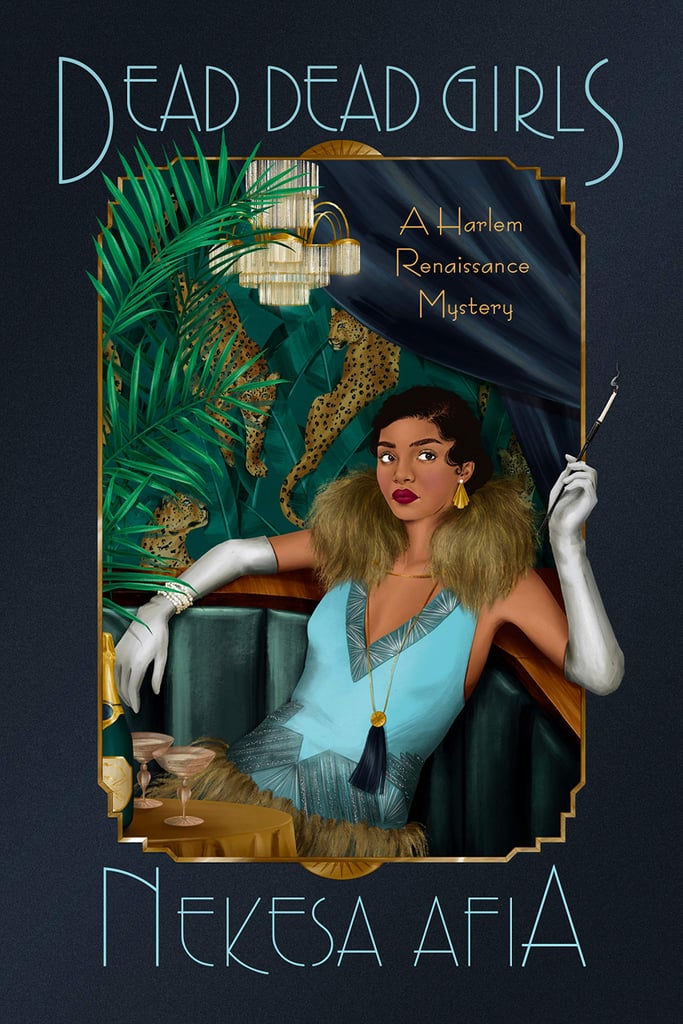 Dead Dead Girls [145] by Nekesa Afia is an engrossing noir novel set against the backdrop of the Harlem Renaissance. It's 1926 and Louise Lloyd is doing an excellent job of escaping her past, even though her girlfriend wishes she would confront her demons head on. However, when a girl ends up dead in front of the café where she works, Louise will have no choice but to confront her past if she has any hope of solving the mystery she's stumbled upon.
An Emotion of Great Delight by Tahereh Mafi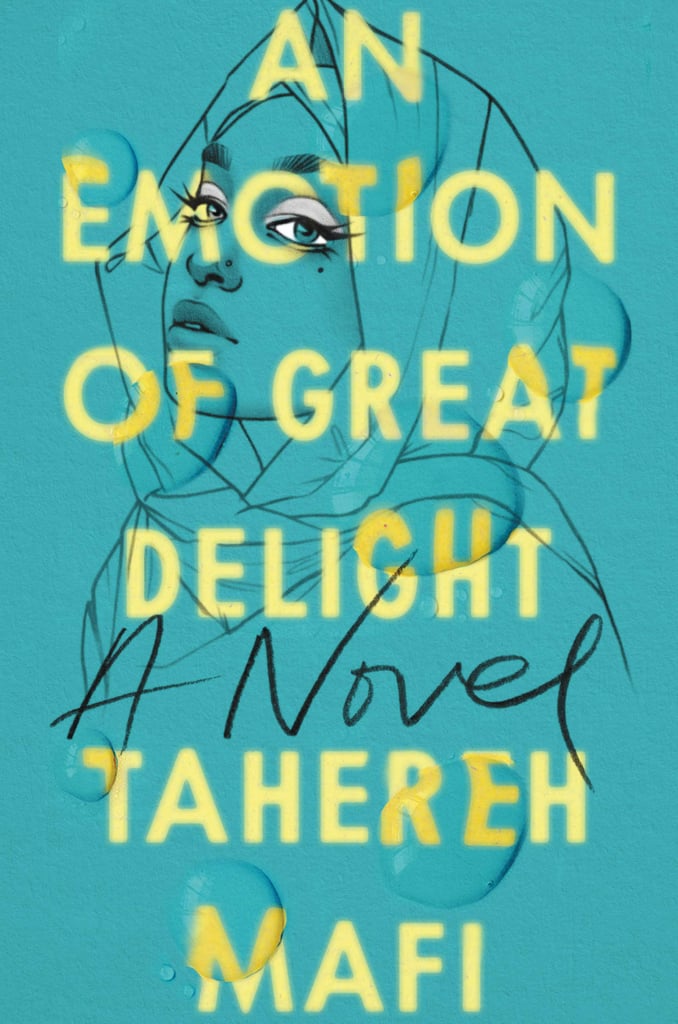 An Emotion of Great Delight [146] by Tahereh Mafi is a searing story about everyday life for a Muslim family in 2003. With the Muslim community facing more harassment than ever before, Shadi is trying her best to avoid the spotlight. But with her family falling apart around her and the world proving to be a hostile place, she won't be able to keep her emotions bottled up forever.
For the Wolf by Hannah Whitten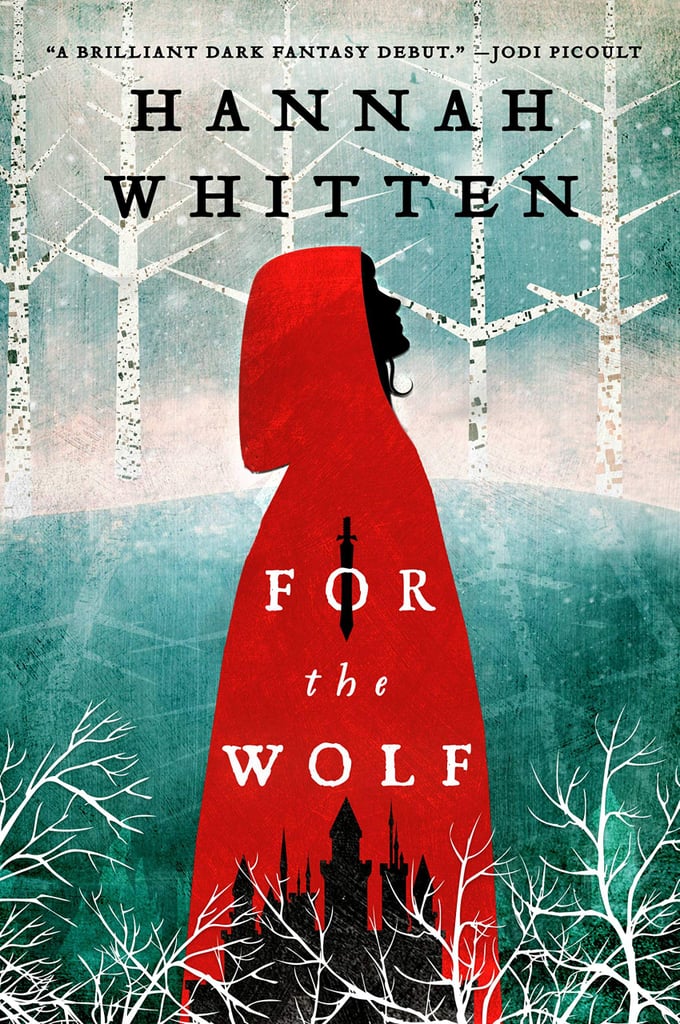 Hannah Whitten weaves a wonderfully eerie dark fantasy tale in For the Wolf [147]. As the first second daughter born in centuries, Red's only purpose in life is to be sacrificed to the Wolf in exchange for him freeing her community's gods. But something strange happens when she's left in the Wilderwood: Red discovers the Wolf is just a normal man, and it's up to her to save the world.
Freed by E L James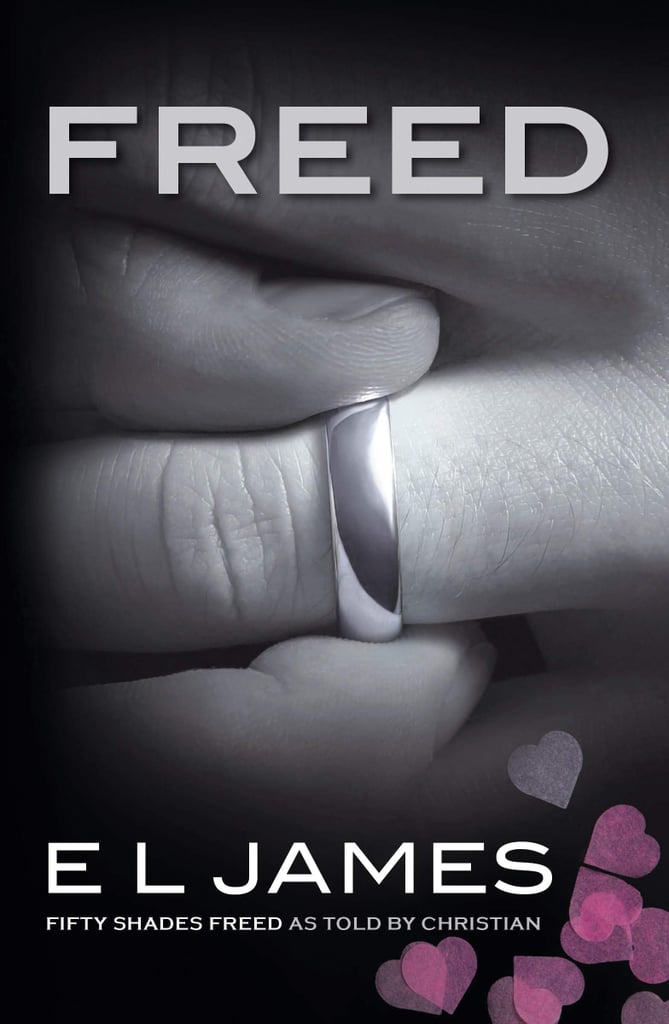 Can't get enough of 50 Shades of Grey? Then E L James has you covered. In Freed [148], she's retelling every steamy moment from Fifty Shades Freed from the perspective of Mr. Christian Grey himself — and yes, that includes the couple's long-awaited and unforgettable wedding [149] night.
Girl One by Sara Flannery Murphy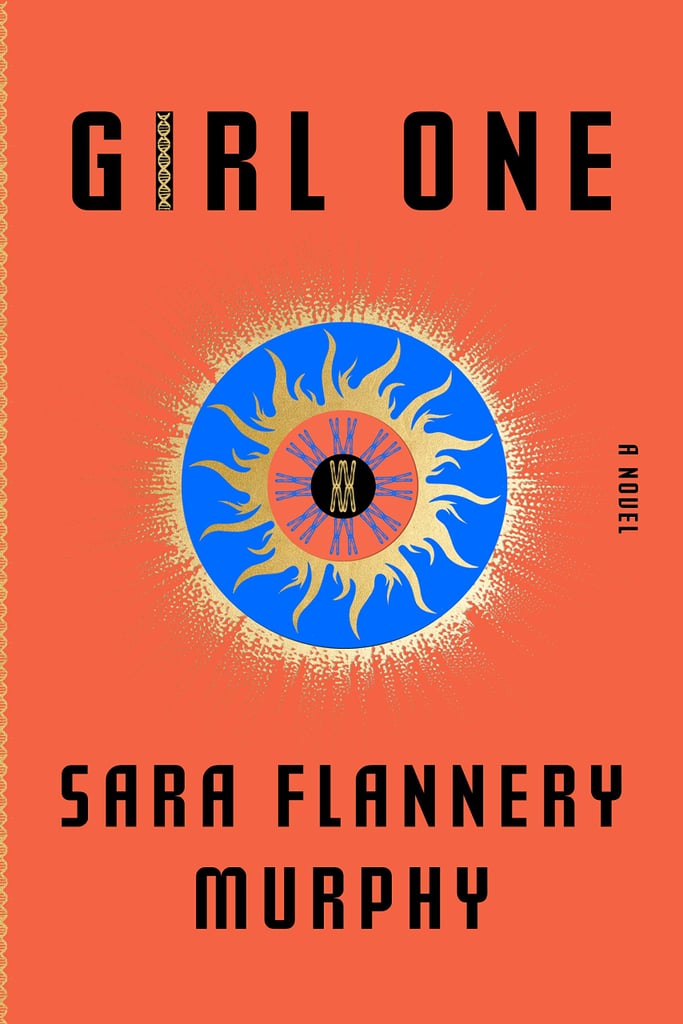 Girl One [150] by Sara Flannery Murphy is a supernatural thriller about nine women who hold the distinction of being the first babies conceived without male DNA. At first, the girls and their mothers lived together on a commune, but when a fire destroyed their home they were all separated. Now, Josephine Morrow, the firstborn of the group, is on a mission to reunite her family after one of the girls goes missing.
Instructions For Dancing by Nicola Yoon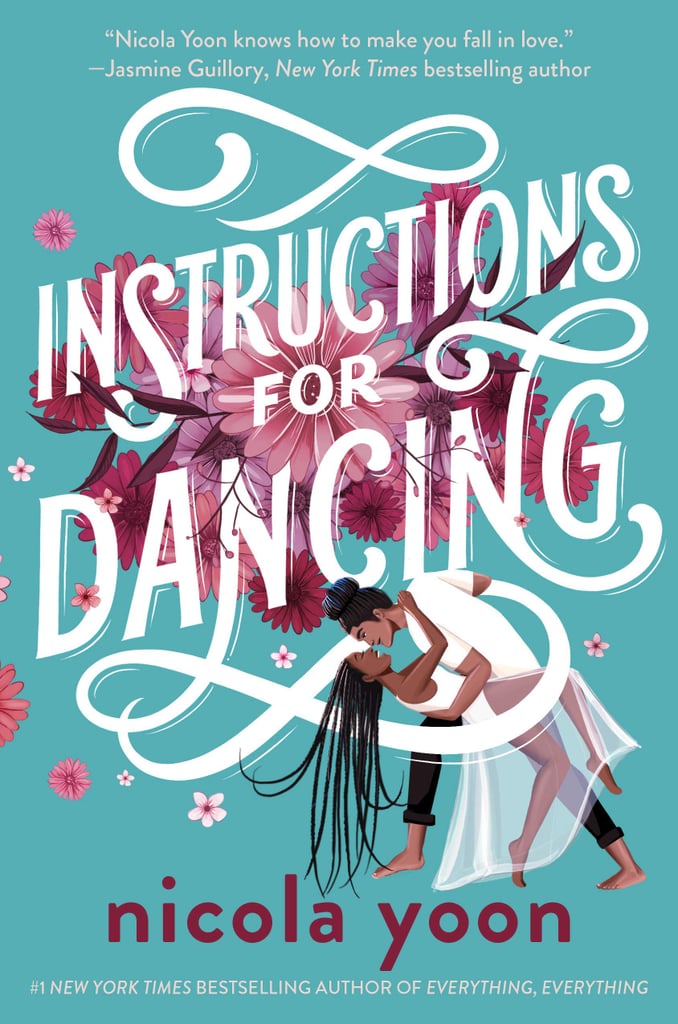 Bestselling author Nicola Yoon is back with another stunning YA romance. Instructions For Dancing [151] follows Evie Thomas, who loses her faith in love when she discovers she can tell how people's relationships will end just by looking at them. Still, even though her faith in love has been rattled, she can't stop herself from falling for her dance partner, X, at the La Brea Dance Studio.
A Lowcountry Bride by Preslaysa Williams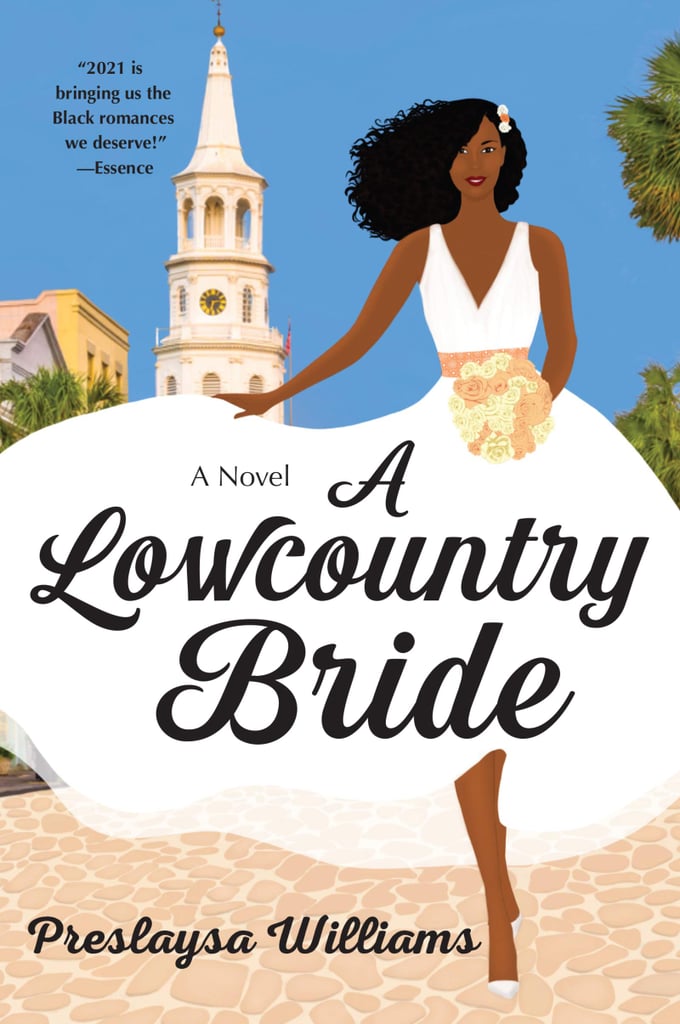 A Lowcountry Bride [152] by Preslaysa Williams is a perfect summer read. Maya Jackson is delighted to find work at a local bridal gown shop when she returns home to Charleston to help out her father after an injury, but the last thing on her mind is romance. The same is true for the shop's owner, a veteran and single dad who definitely doesn't have time to fall for a woman who won't be sticking around.
The Lucky List by Rachael Lippincott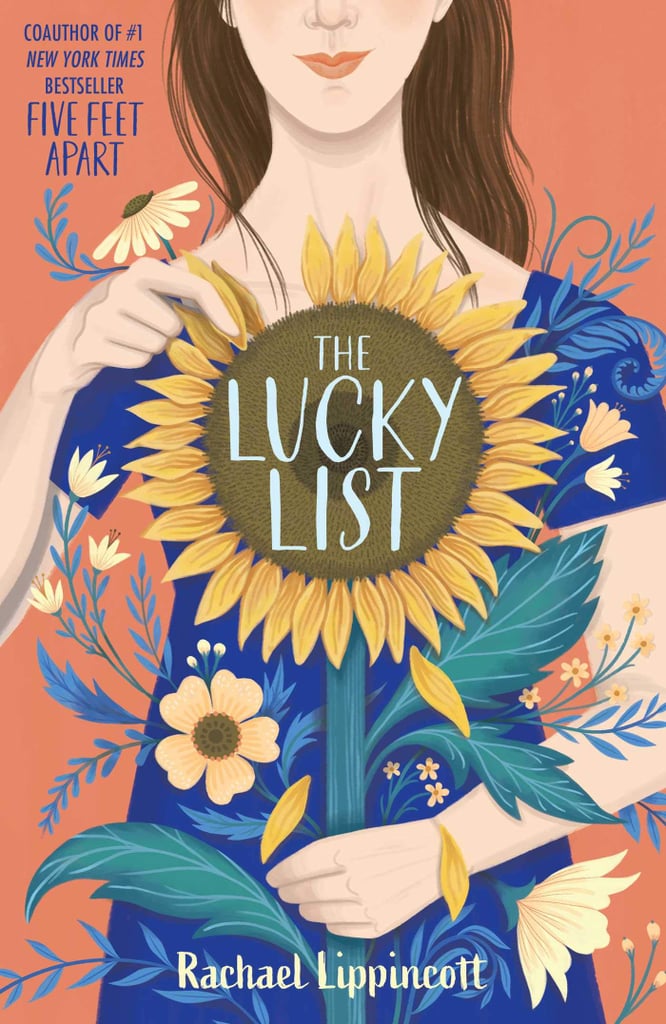 Rachael Lippincott's The Lucky List [153] is a coming of age story that deftly balances heartbreak and grief with the thrill of a new beginning. Emily and her mom were always lucky, especially when it came to bingo. But since her mother's death, Emily's world has been in a tailspin, and the only thing that could possibly pull her out of her spiral is completing her mom's summer bucket list. Luckily for her, she'll have a little help from a girl who might just show Emily how to be happy again.
Malibu Rising by Taylor Jenkins Reid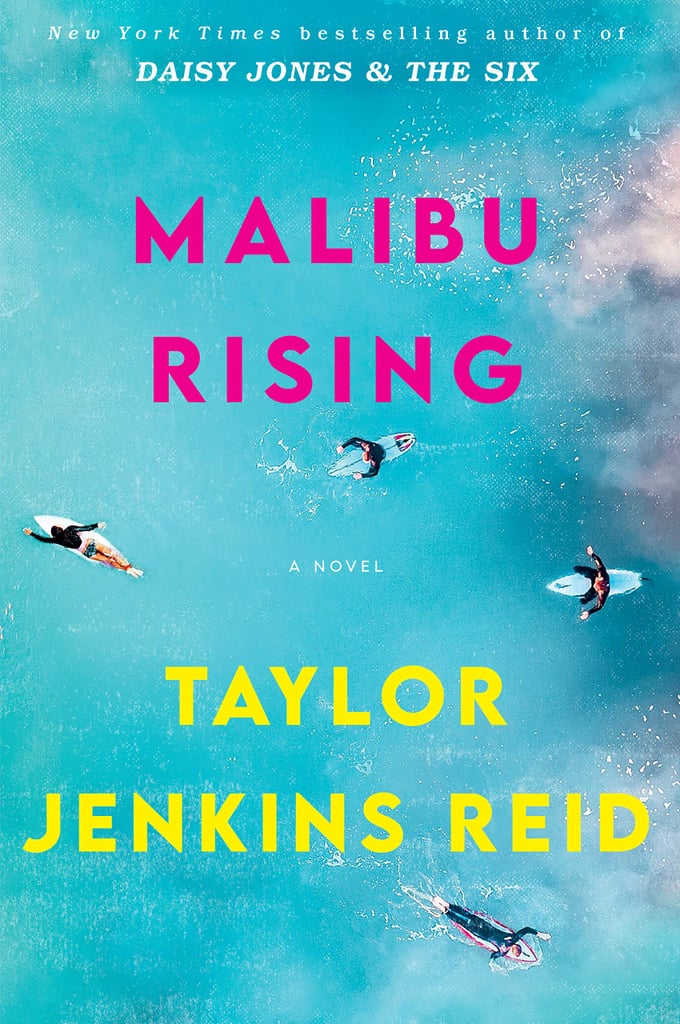 New York Times bestselling author Taylor Jenkins Reid is back with a new novel that's perfect to take along on your next trip to the beach. In Malibu Rising [154], four children of a famous rock star prepare for their annual summer blowout, but what they don't know is by the end of the night family secrets will be spilled while their house goes up in flames.
The Nature of Witches by Rachel Griffin
There's a powerful parable at the heart of Rachel Griffin's lyrical novel The Nature of Witches [155]: If we don't take care of our planet, we're going to lose it. No one knows that better than Clara, an Everwitch whose powers are tied to the changing seasons, for better or worse.
One Last Stop by Casey McQuiston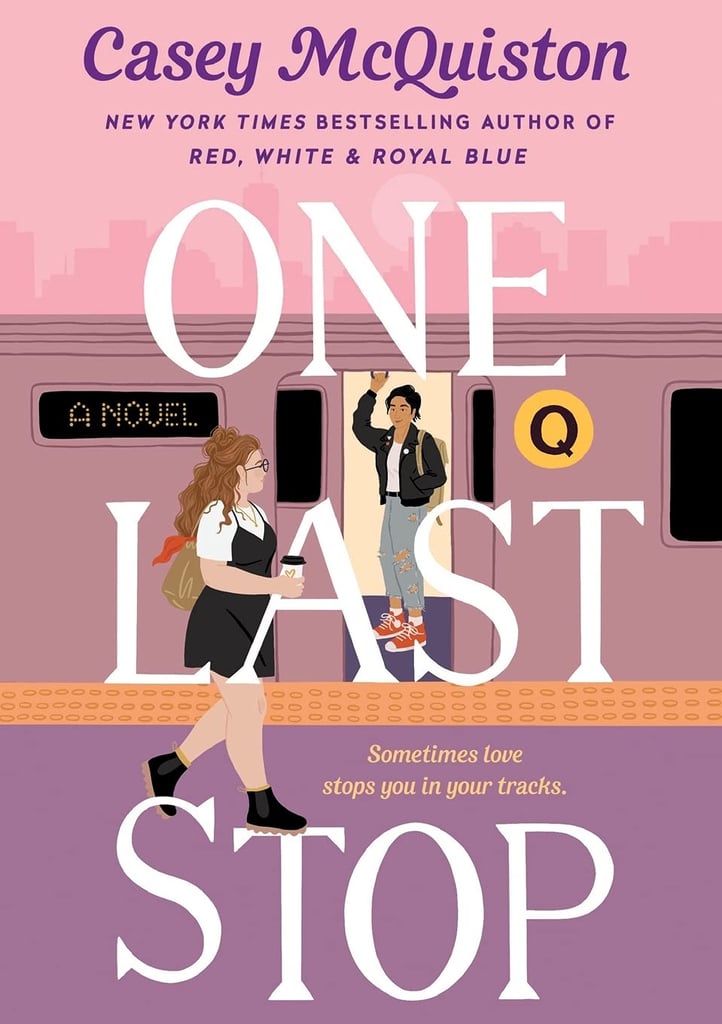 After the blockbuster success of Red, White and Royal Blue, Casey McQuiston's highly anticipated second novel, One Last Stop [156], is finally here. This dazzling romance centers on the cynical August who doesn't believe in love until she falls for a time traveler from the '70s who's stuck riding her train in New York City.
The Other Black Girl by Zakiya Dalila Harris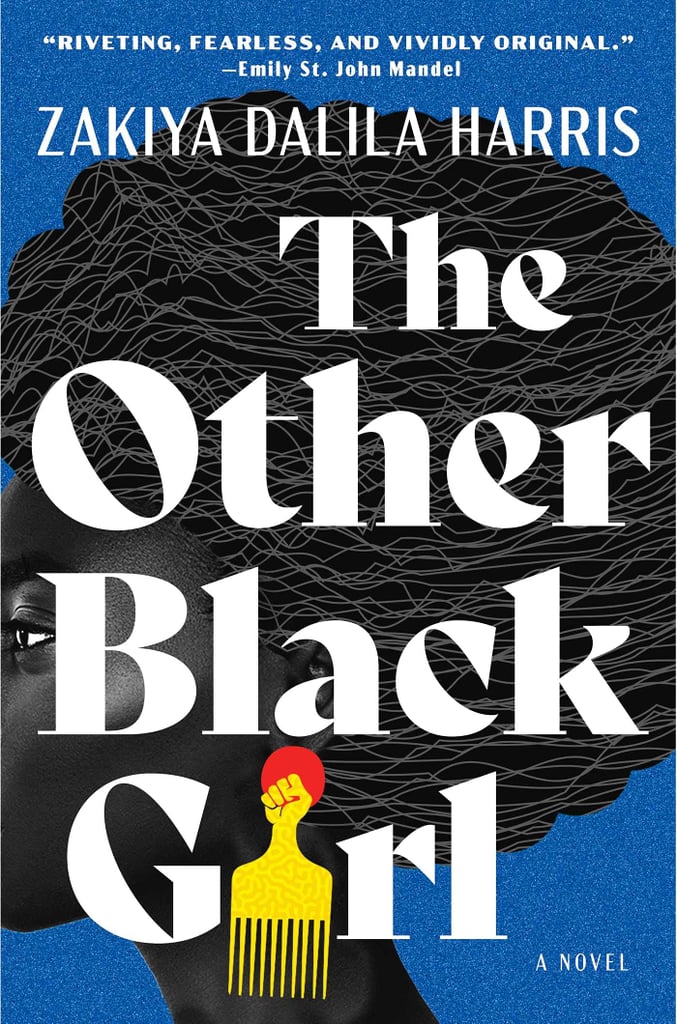 Zakiya Dalila Harris's debut The Other Black Girl [157] is a razor sharp thriller that speaks directly to the current social climate. As the only Black employee at a New York City publishing house, Nella Rogers is tired of dealing with the microaggressions and loneliness that come with her job. As a result, she's delighted when Harlem resident Hazel joins the company — at least she is until a series of frightening occurrences suggest someone is determined to make her leave her job behind.
The Road Trip by Beth O'Leary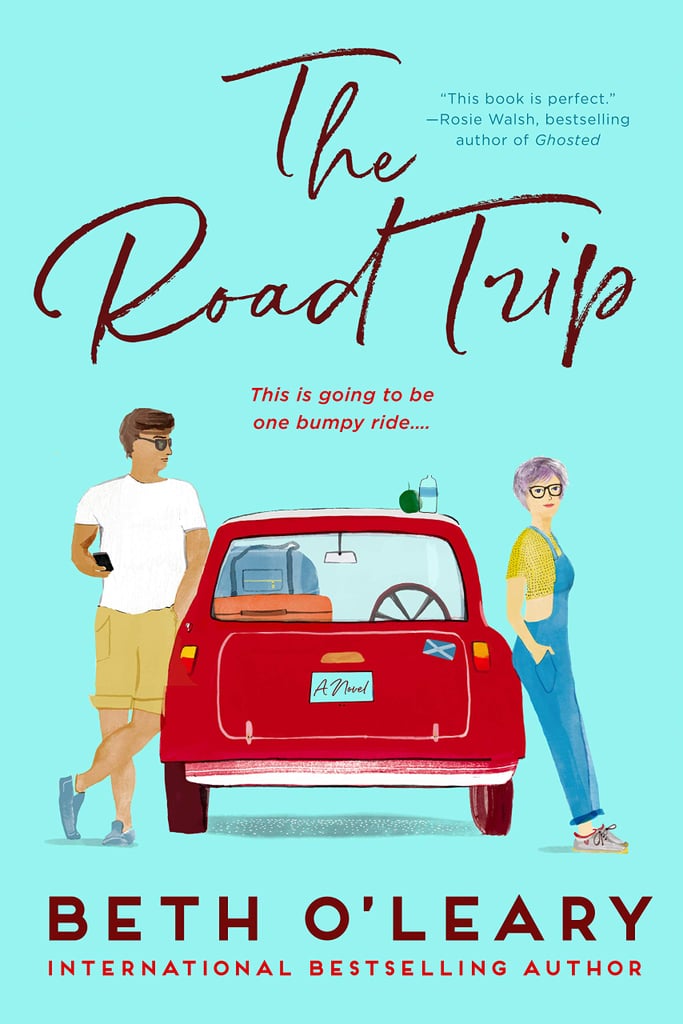 The Road Trip [158] by Beth O'Leary is an enchanting ride across Great Britain that doubles as an ode to second chances. When exes Dylan and Addie literally crash into each other on the way to a wedding [159], they end up with no option but to cram themselves into an overcrowded car if they have any hope of making it to the event on time.
Seven Days in June by Tia Williams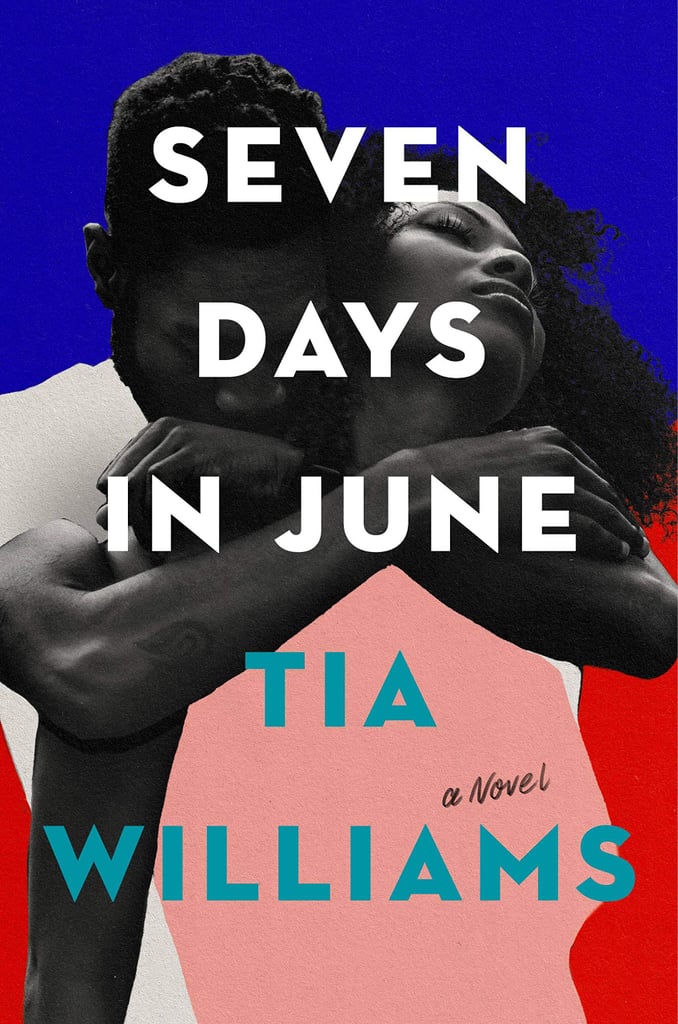 Tia Williams's sultry love story Seven Days in June [160] is a beautiful ode to Black joy. It's been 15 years since authors Shane and Eva fell in love across seven magical days, and now that circumstances have brought them together again, they might just have a second chance at making their romance last.
Somebody's Daughter by Ashley C. Ford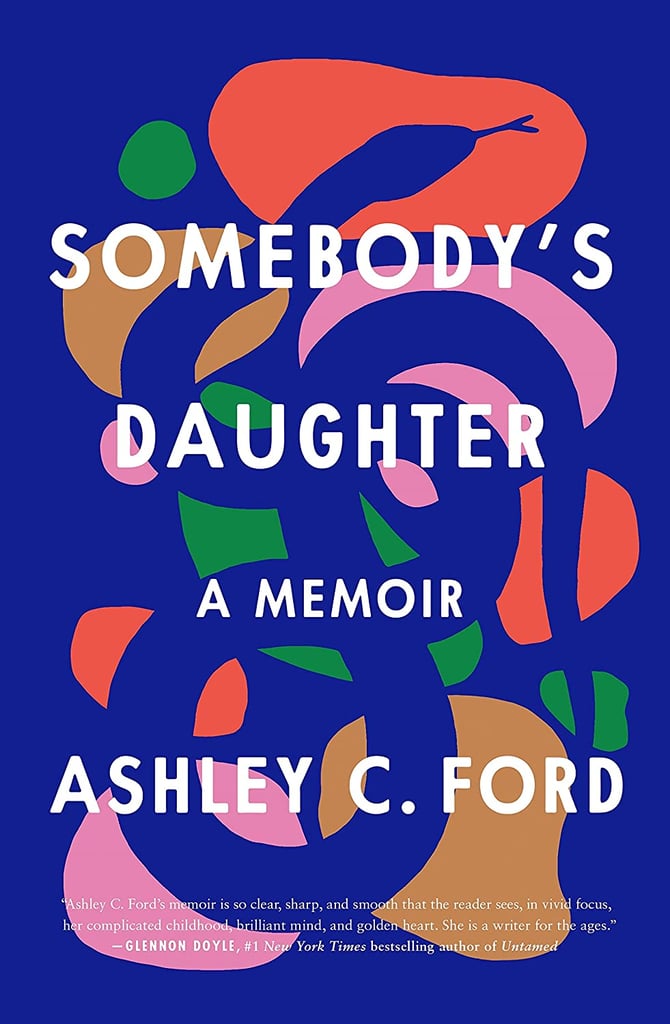 In her debut memoir, Somebody's Daughter [161], Ashley C. Ford shares the most intimate details of how her childhood and young adulthood were impacted by the incarceration of her father. From growing up in poverty to her complex relationship with her mother, Ford's memoir is an unflinching, heartbreaking look at the impact a family member's incarceration can have on the family left behind.
Sunny Song Will Never Be Famous by Suzanne Park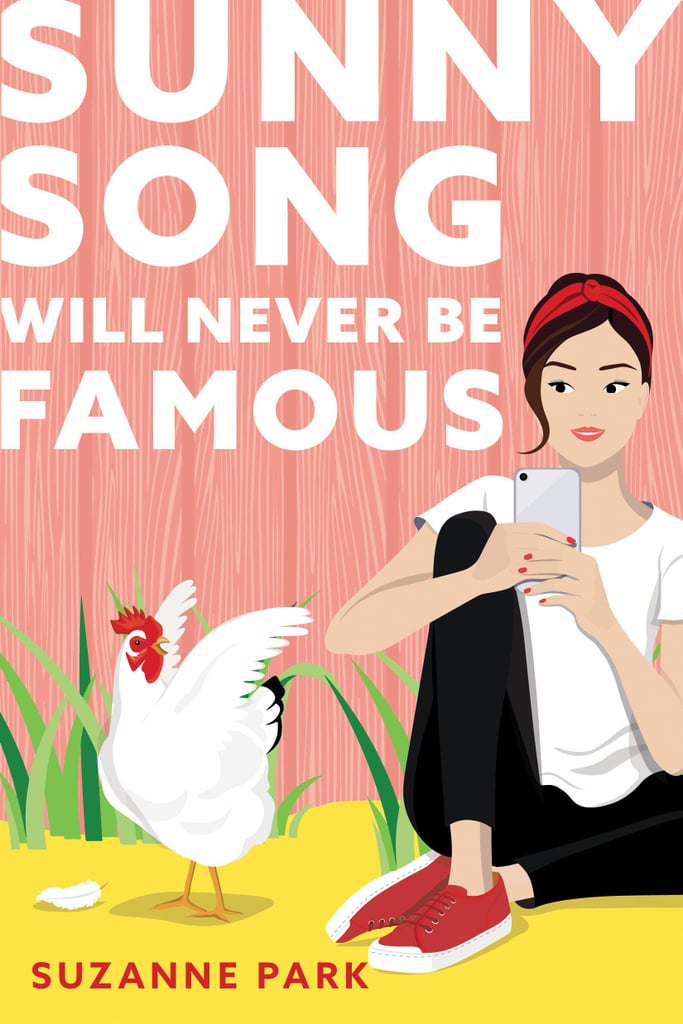 Sunny Song Will Never Be Famous [162] by Suzanne Park is a hilarious YA novel about a teen who is shipped off to a digital detox camp for the summer after she accidentally films a PG-13-rated cooking tutorial. Now Sunny's carefully crafted summer plans have all been tossed out of the window in favor of getting in touch with the real world beyond her phone's screen, whether she likes it or not.
Wake: The Hidden History of Women-Led Slave Revolts by Rebecca Hall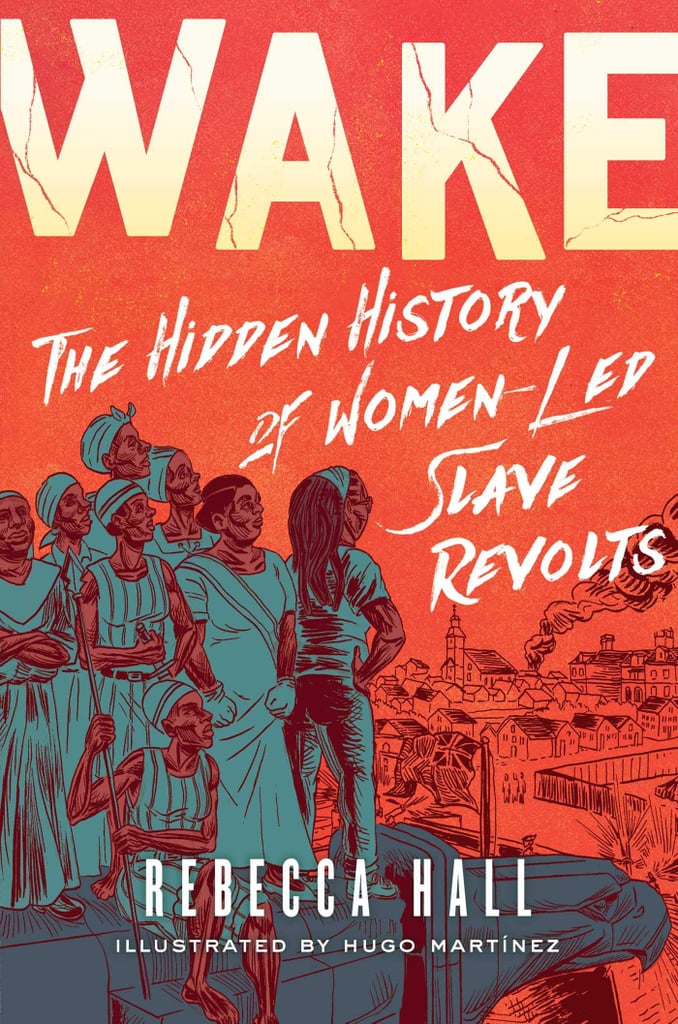 Wake: The Hidden History of Women-Led Slave Revolts [163] by Rebecca Hall [164] is a graphic-novel-memoir hybrid that uncovers the untold stories of the women who have been at the forefront of slave revolts across history. Through careful research, Hall is shining a spotlight on these unsung heroes, while also delving into her own family's past.
The Warsaw Orphan by Kelly Rimmer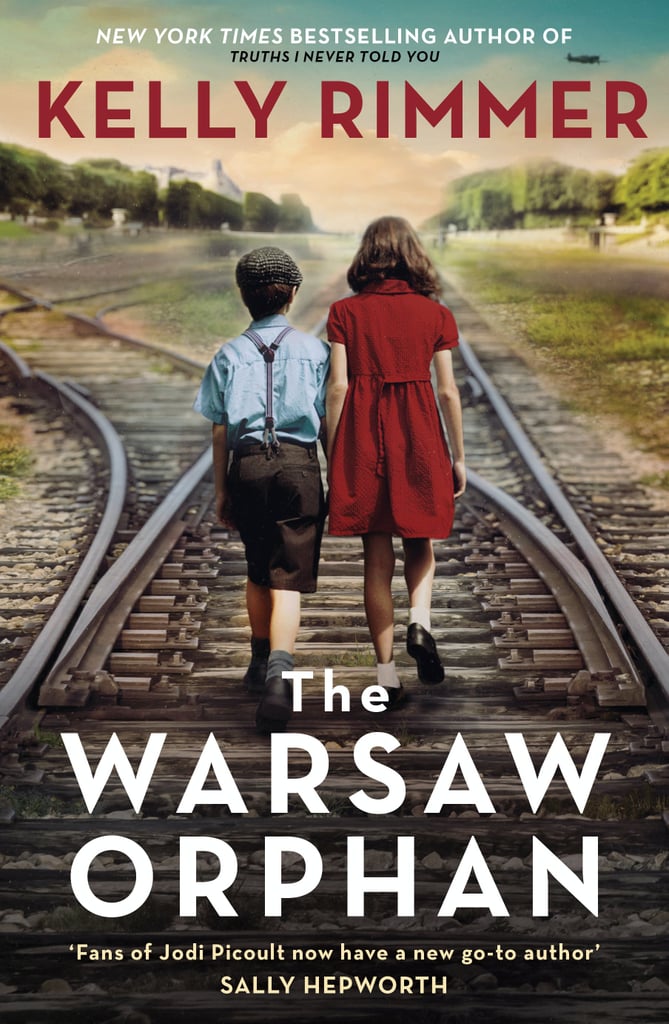 Inspired by a true story, The Warsaw Orphan [165] by Kelly Rimmer is an epic historical novel set in 1942 Warsaw. It's there that Elzbieta Rabinek is desperately trying to hide her true identity to avoid the attention of the Germans. However, when faced with atrocities beyond the walls of her home, she has no choice but to wade into the growing conflict.
With Teeth by Kristen Arnett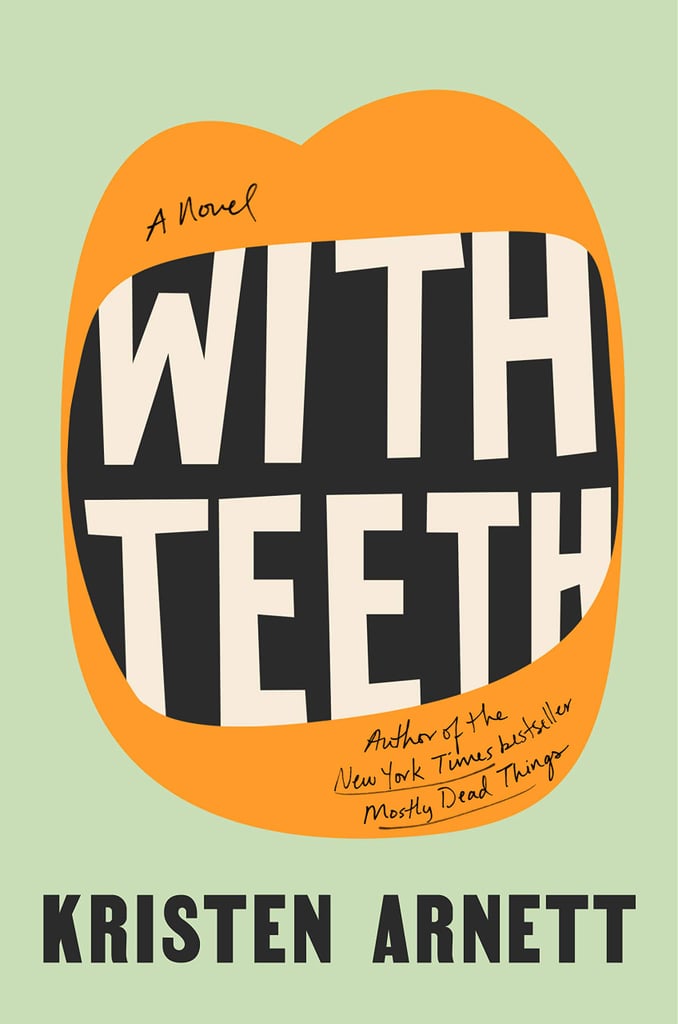 Kristen Arnett's With Teeth [166] delves into the dynamics of a queer family while shining a light on the complexities of motherhood. Sammie Lucas tries her best to give her son Samson everything he needs, but as he becomes more sullen and dangerous, she begins to resent her unflappable wife Monika and fears for her family's future.
A Dark and Secret Place by Jen Williams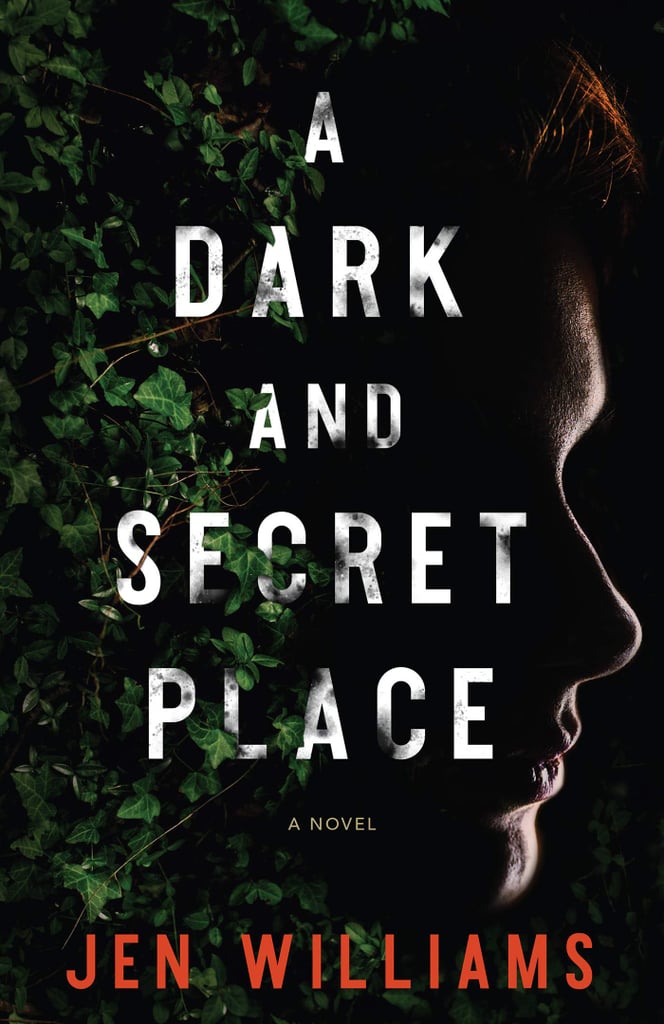 A Dark and Secret Place [167] by Jen Williams is a twisty thriller about mothers and daughters, and the secrets they keep. In the wake of her mother's suicide, Heather Evans returns home to discover her mom had been corresponding with a notorious serial killer for years. What's even more concerning is that even though the killer is still behind bars, someone seems to be copying his ritualistic murders.
Fifteen Hundred Miles From the Sun by Jonny Garza Villa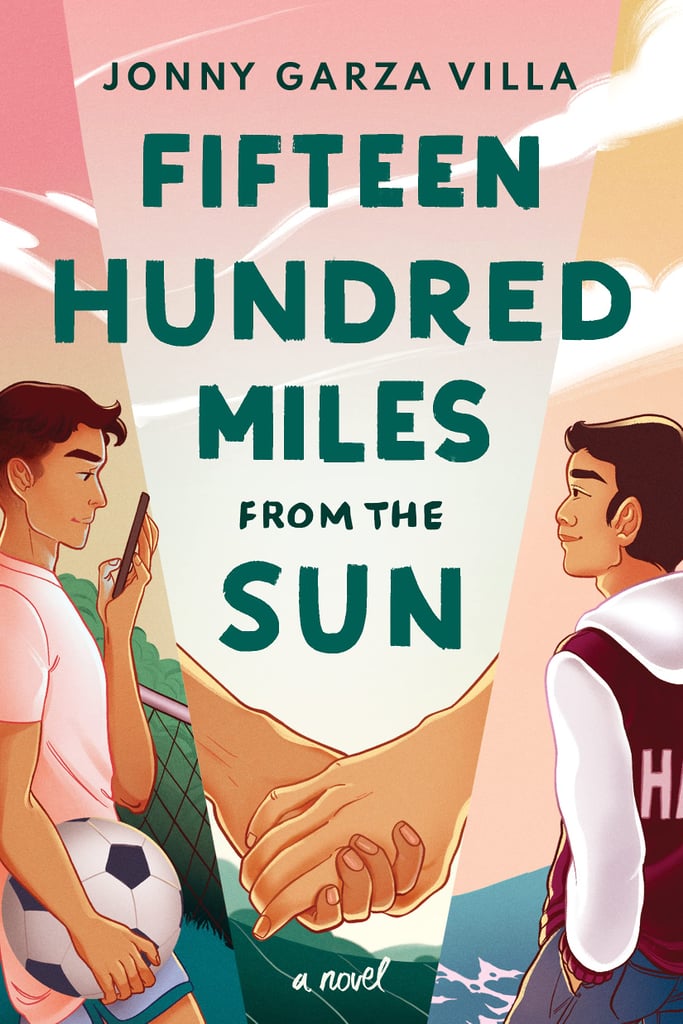 One tweet forces Julián Luna to come out before he's ready in Fifteen Hundred Miles From the Sun [168] by Jonny Garza Villa. And, heartbreakingly, his worst fears about his family's response come true. However, the one upside to Julián's situation is that he can now embrace his true self, which includes embarking on an epic journey to meet his Twitter crush.
Girls at the Edge of the World by Laura Brooke Robson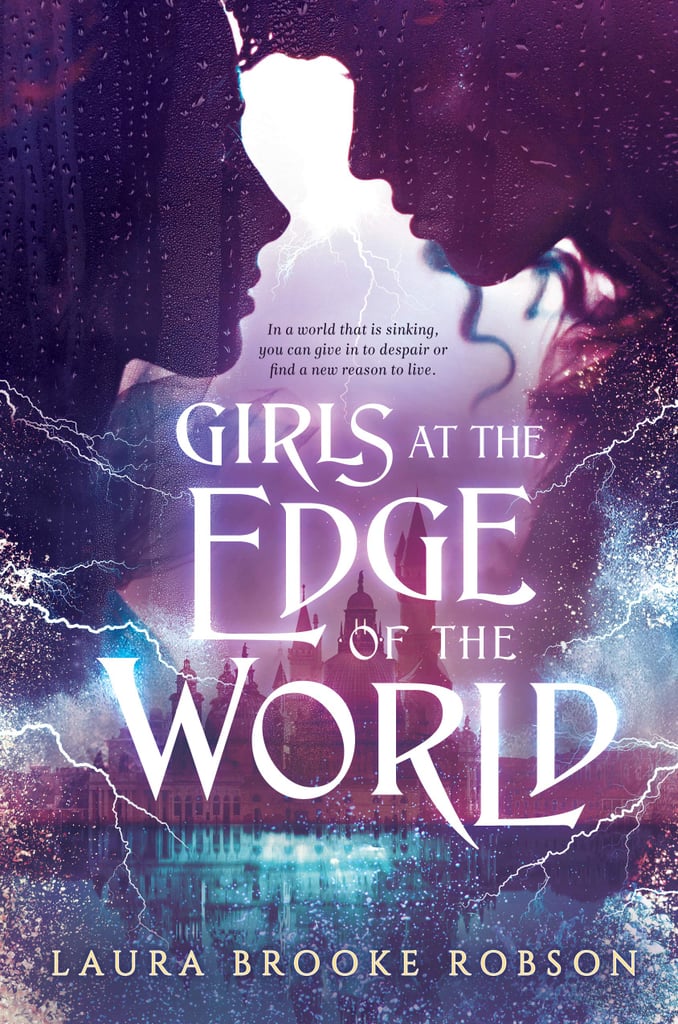 An apocalyptic flood forms the backdrop for Laura Brooke Robson's inventive fantasy novel Girls at the Edge of the World [169]. With the waters rising, Natasha Koskinen will do whatever it takes to save her troupe of aerial silk performers, including courting a royal. But when her newest recruit's quest for revenge threatens everyone's safety, Natasha will be forced to reevaluate her plan and everything she thought she knew about herself.
Haven Point by Virginia Hume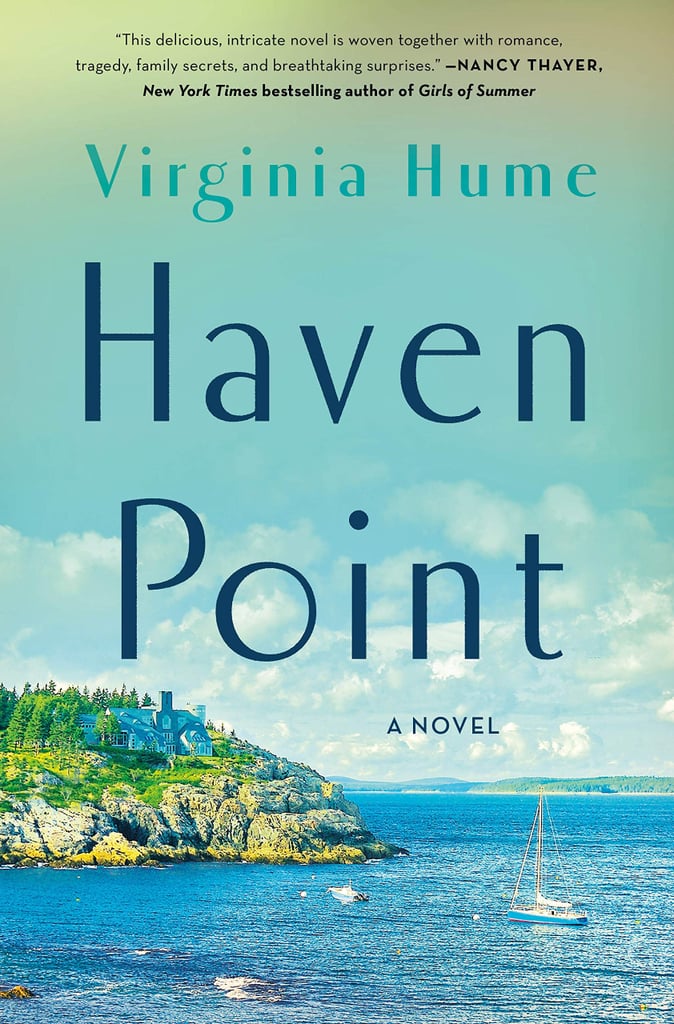 Virgina Hume's Haven Point [170] is the book equivalent of a beach getaway. Told across seven decades, this multigenerational novel follows one family's fraught relationship with the beautiful Maine seaside town where they have vacationed for generations, while also unpacking the years of baggage each member of the clan can't stop holding onto.
Love and Other Natural Disasters by Misa Sugiura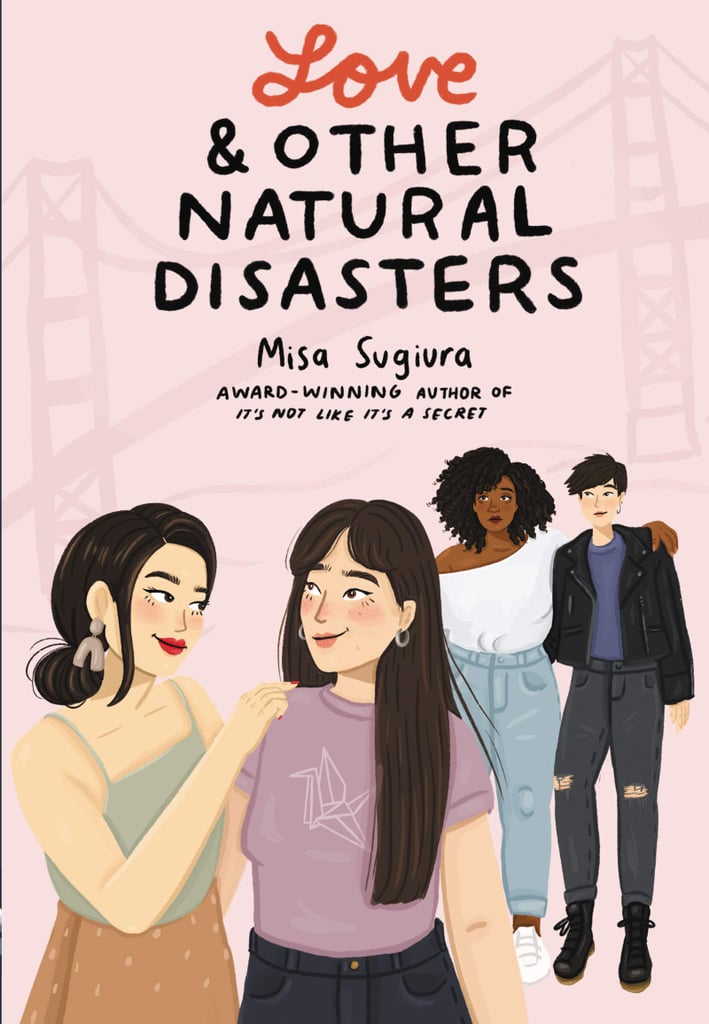 Love and Other Natural Disasters [171] by Misa Sugiura is a warmhearted queer rom-com with a fake dating plot line that will leave you grinning. Nozomi Nagai wasn't looking for a fake summer romance, but she embraces her role as Willow's new girlfriend in order to make Willow's ex jealous. But Nozomi might just have an ulterior motive in mind: to make Willow see that she's the perfect girl for her (for real).
The Missing Treasures of Amy Ashton by Eleanor Ray
The Missing Treasures of Amy Ashton [172] by Eleanor Ray is a bighearted novel about starting over after a tragedy. A heartbreaking event in her past left Amy more inclined to collect objects than to allow herself to open up to people. But when a little boy with his own passion for collecting moves in next door, Amy might finally find a way to open up her heart again.
The Queer Principles of Kit Webb by Cat Sebastian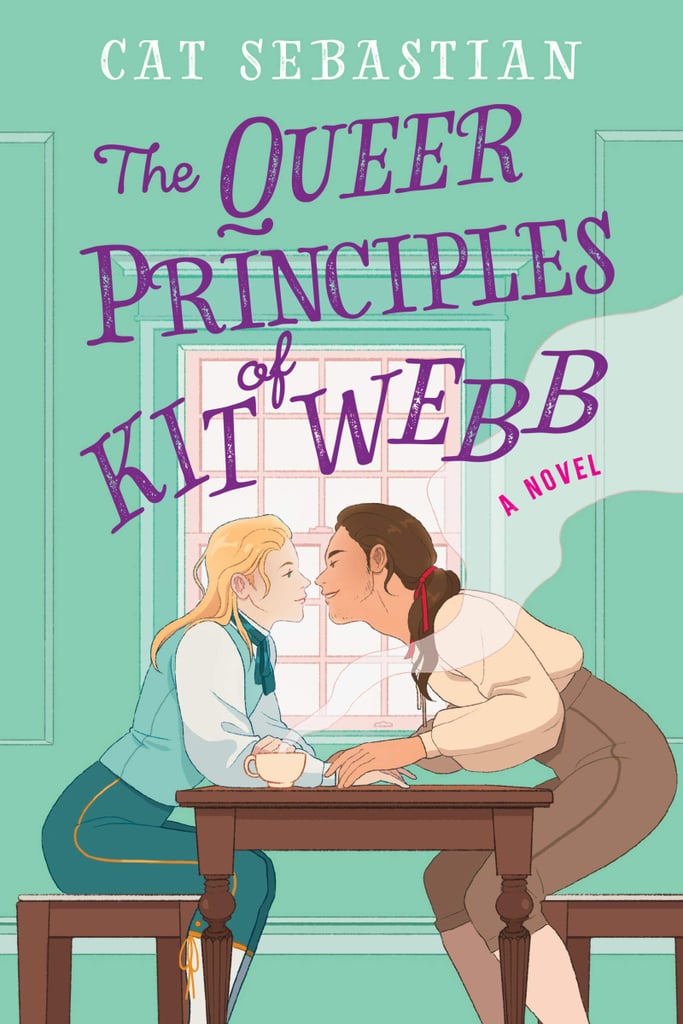 Cat Sebastian's The Queer Principles of Kit Webb [173] is a rollicking historical romance with plenty of adventure thrown in for good measure. Former thief Kit Webb owns a perfectly respectable coffee shop now, but when an entrancing nobleman walks in hoping for Kit's assistance with a crime, he finds it hard to say no.
Sisters of the Resistance by Christine Wells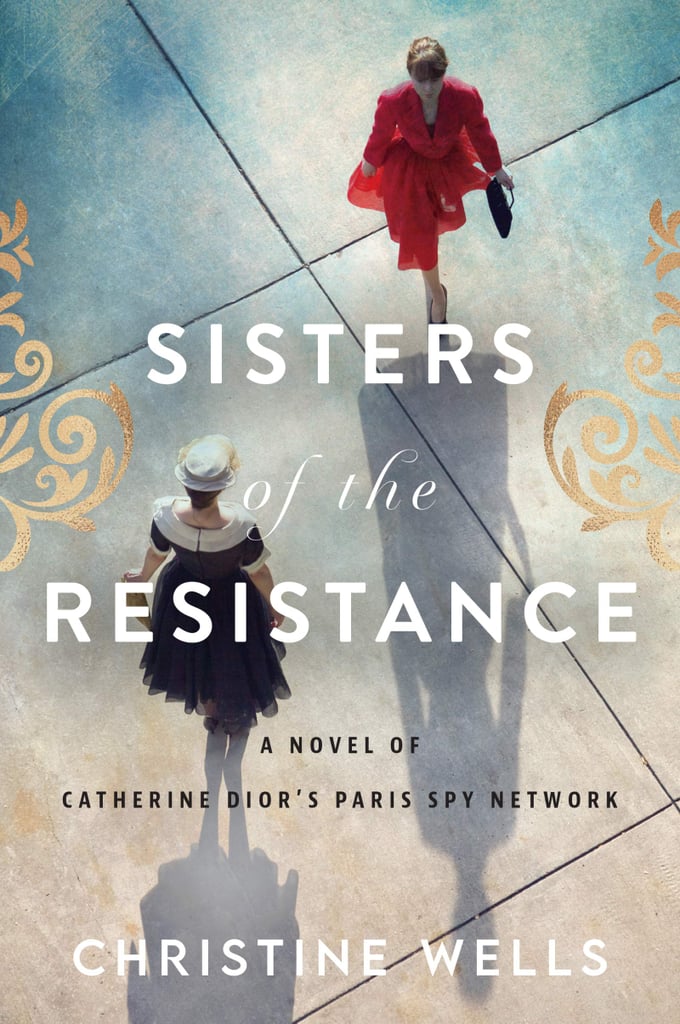 Inspired by the true story of Catherine Dior, Sisters of the Resistance [174] is the story of two sisters who are swept up in the French resistance movement in 1944 Paris. As the sisters are pulled deeper into this underground world of spies and deception, they'll risk everything to make a difference.
We Can't Keep Meeting Like This by Rachel Lynn Solomon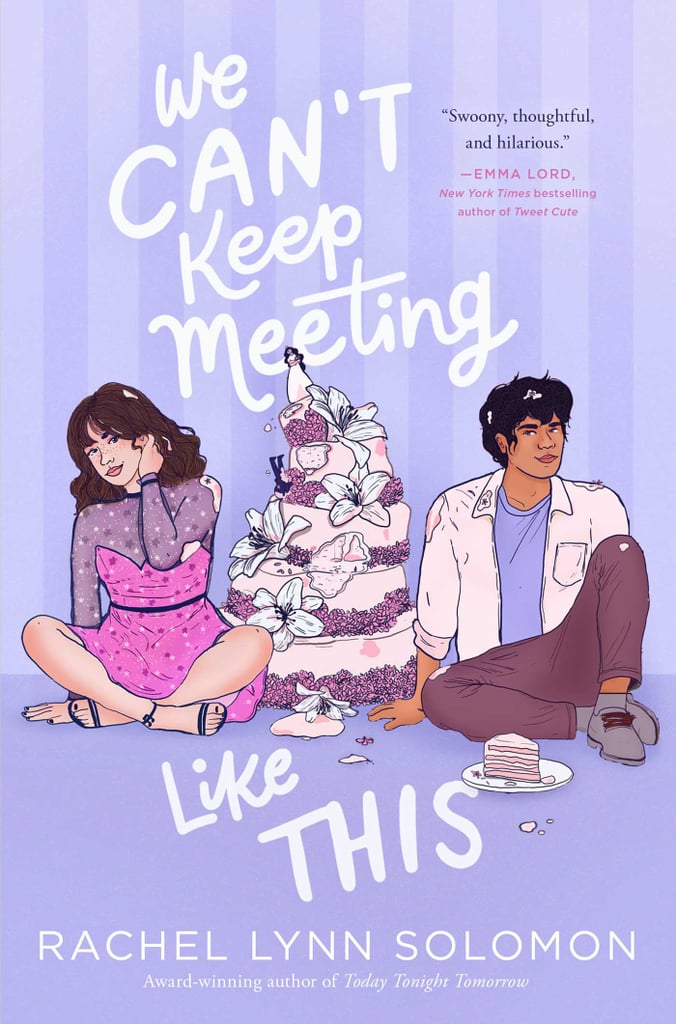 Rachel Lynn Solomon's adorable We Can't Keep Meeting Like This [175] is being released just in time for wedding [176] season. This confection of a rom-com follows Quinn Berkowitz and Tarek Mansour, whose families have been in the wedding business together for years. Last summer, Quinn finally revealed her feelings for Tarek in a long letter, and now that he's back home, she's bracing for awkwardness to go along with the usual stream of wedding mishaps.
Blood Like Magic by Liselle Sambury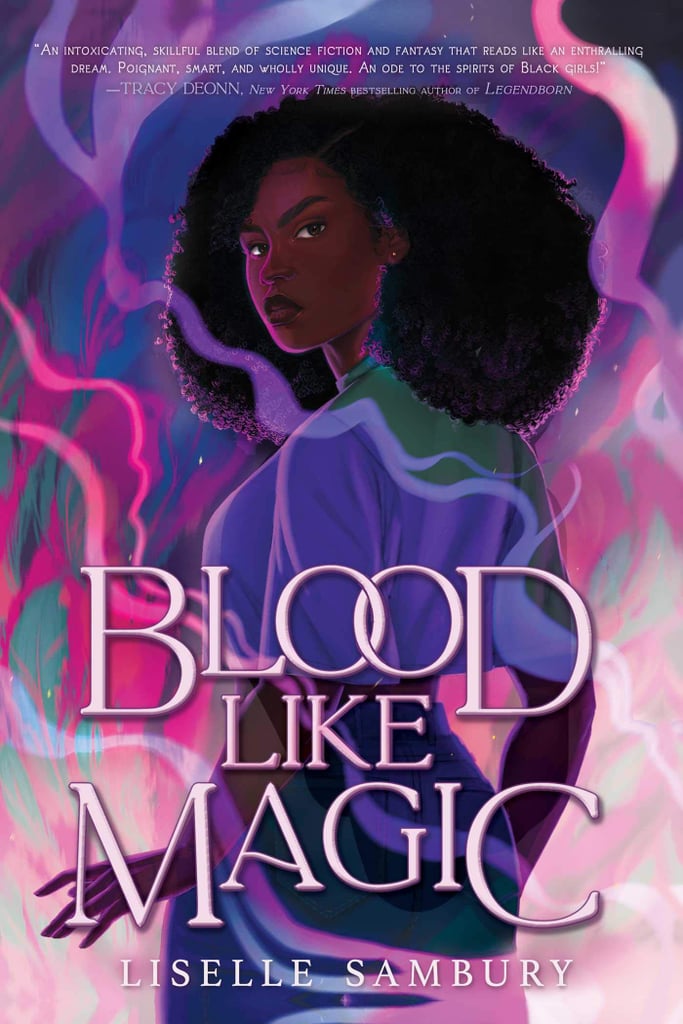 In Blood Like Magic [177] by Liselle Sambury, a modern-day witch must make the ultimate sacrifice in order to protect her family's magical bloodline. Voya Thomas only has one more shot at receiving her powers and protecting her family from losing theirs — she has to sacrifice her first love. There's just one problem: Voya has never been in love before.
Cultish: The Language of Fanaticism by Amanda Montell
Anyone who has ever fallen down a rabbit hole of Manson family documentaries has likely pondered the question of why people join cults, and Amanda Montell's Cultish: The Language of Fanaticism [178] offers up a surprising explanation: it's all about the language. Through careful research and compelling writing, Montell breaks down how the right words can draw people into cults, as well as how none of us are as immune to cult-like thinking as we'd like to believe.
The Layover by Lacie Waldon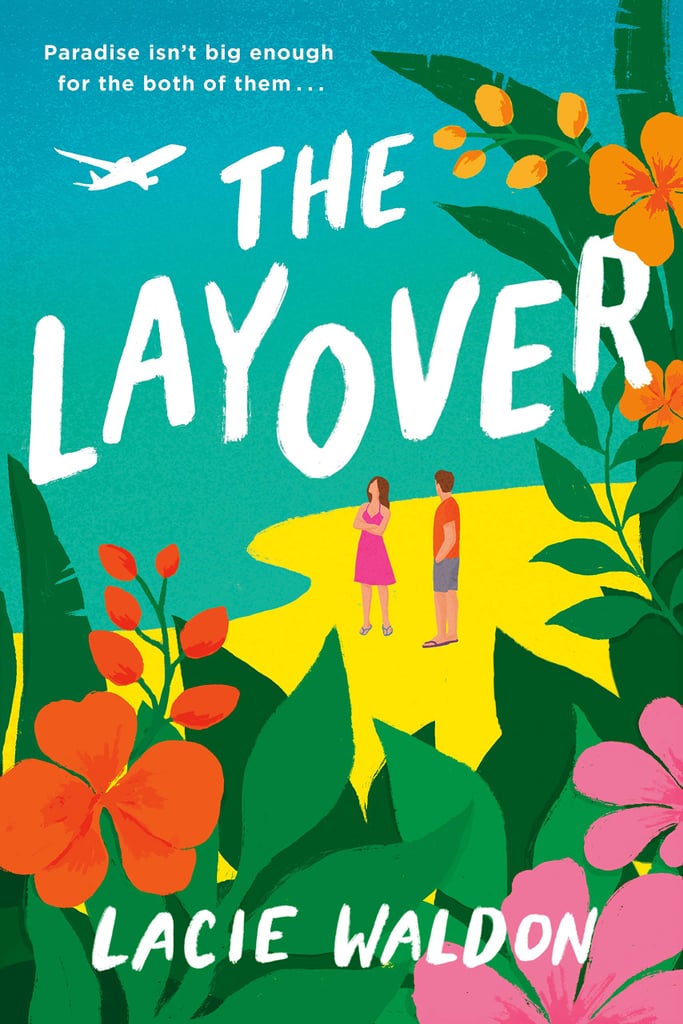 A mechanical malfunction strands a flight attendant in paradise with her worst enemy in The Layover [179] by Lacie Waldon. After 10 years of jet-setting as a flight attendant, Ava is ready for a fresh start, but she has to make it through one last flight first. Unfortunately for her, the cocky ex-pilot Jack Stone is also on her flight, and when the plane is forced to make an emergency landing, she'll be stuck with him for the entire weekend.
The Maidens by Alex Michaelides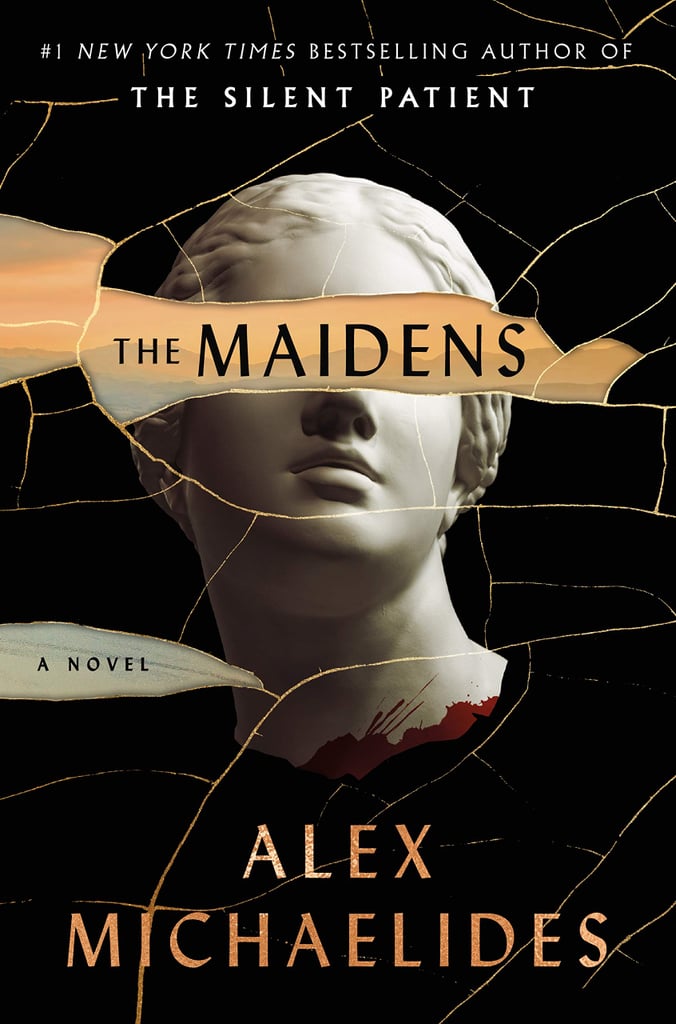 Alex Michaelides's latest thriller The Maidens [180] will draw you into the world of a university secret society and a charming professor who might also be a killer. At least that's what group therapist Mariana believes, and she's prepared to do whatever it takes to bring him down.
She Memes Well by Quinta Brunson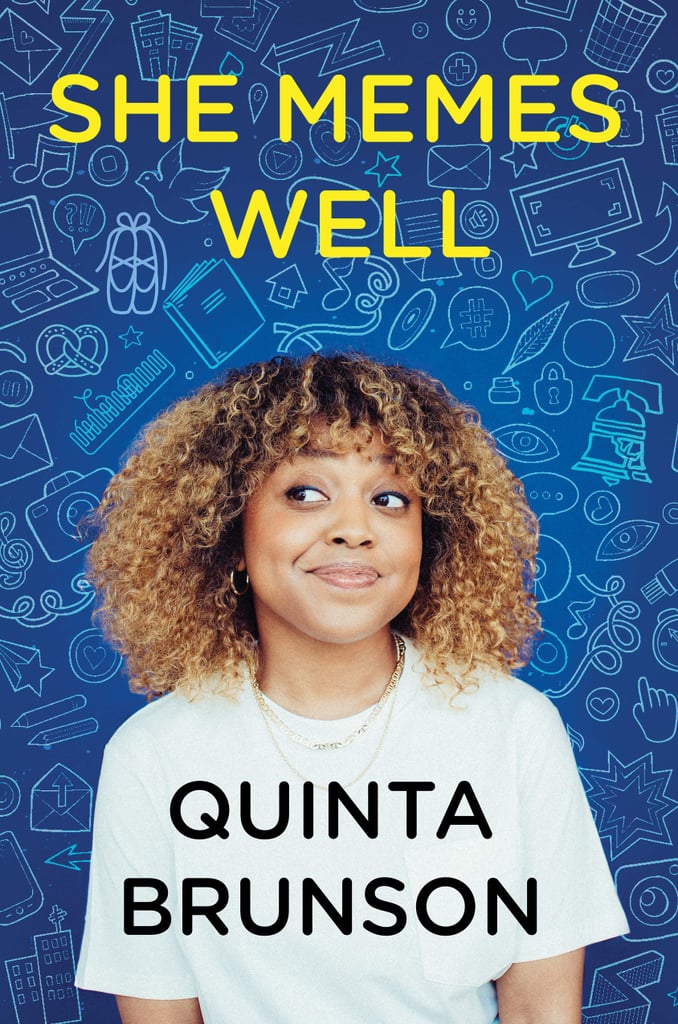 Comedy queen Quinta Brunson's first collection of essays, She Memes Well [181], is every bit as vibrant and hilarious as the acclaimed writer/actress herself. From diving into the experience of going viral on Instagram to getting candid about dealing with depression, no topic is off limits in Brunson's must-read collection.
Shutter by Melissa Larsen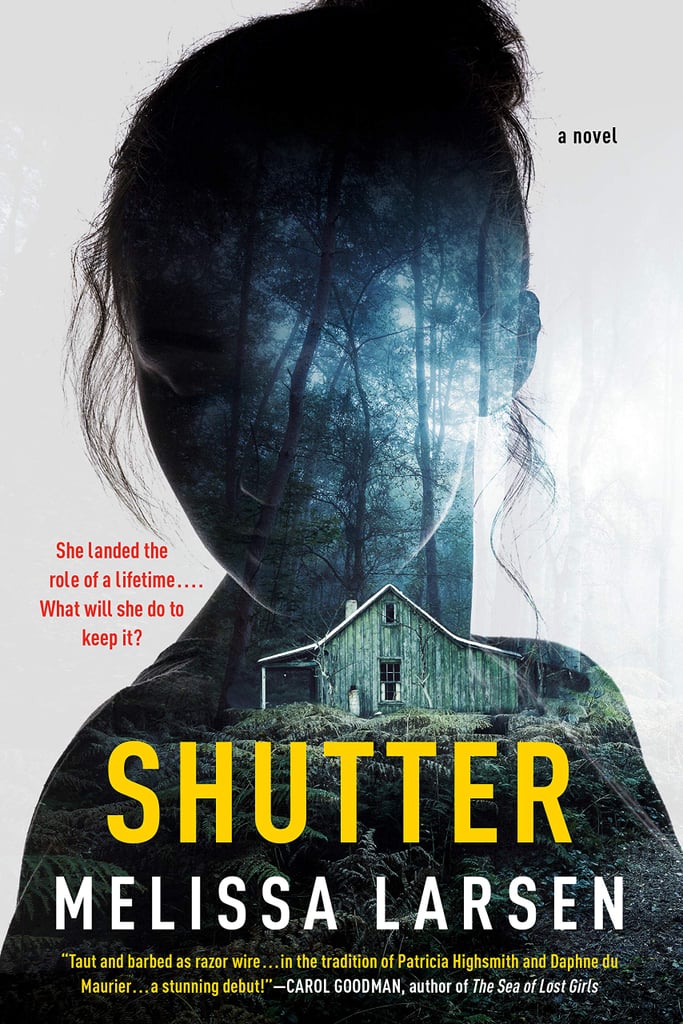 Shutter [182] by Melissa Larsen makes an excellent case for not accompanying a mysterious filmmaker into the woods. After losing her father, Betty Roux packs up her whole life and moves to New York, where she lands the lead role in indie director Anthony Marino's latest project. For one month, Betty is supposed to live in an isolated cabin on a remote island with just the small crew, but it doesn't take long for her to realize Anthony isn't telling her everything about her role.
Very Sincerely Yours by Kerry Winfrey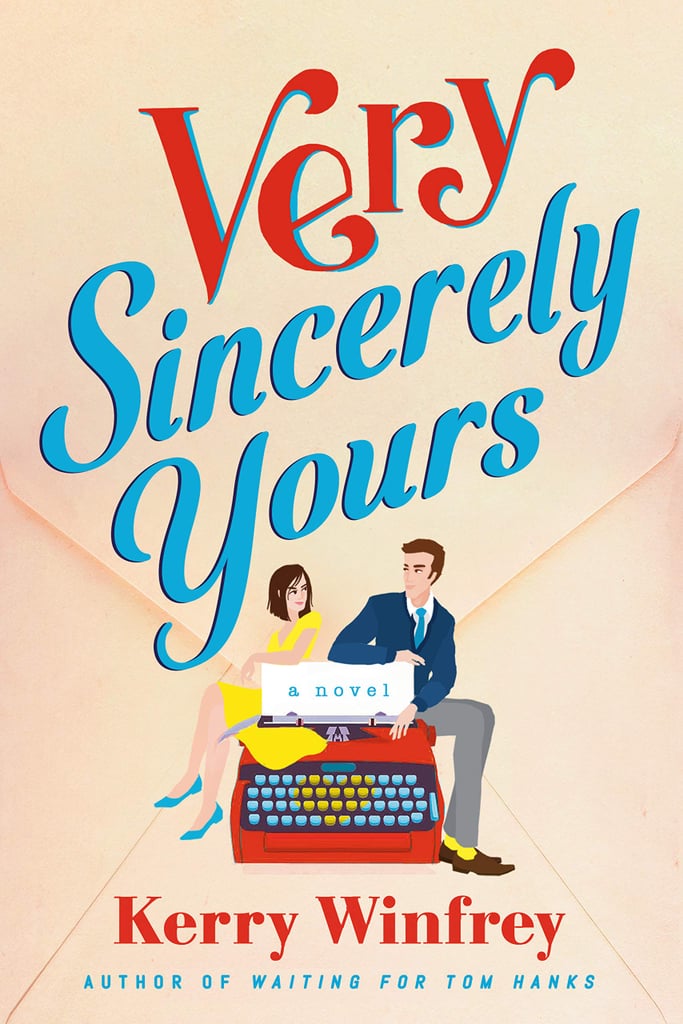 Very Sincerely Yours [183] by Kerry Winfrey is a cozy rom-com about a woman who runs a vintage toy shop and can't stop crushing on a children's TV presenter. When Teddy finally works up the nerve to write her crush a letter, the duo begin a correspondence that will change both of their lives forever.
Dream Girl by Laura Lippman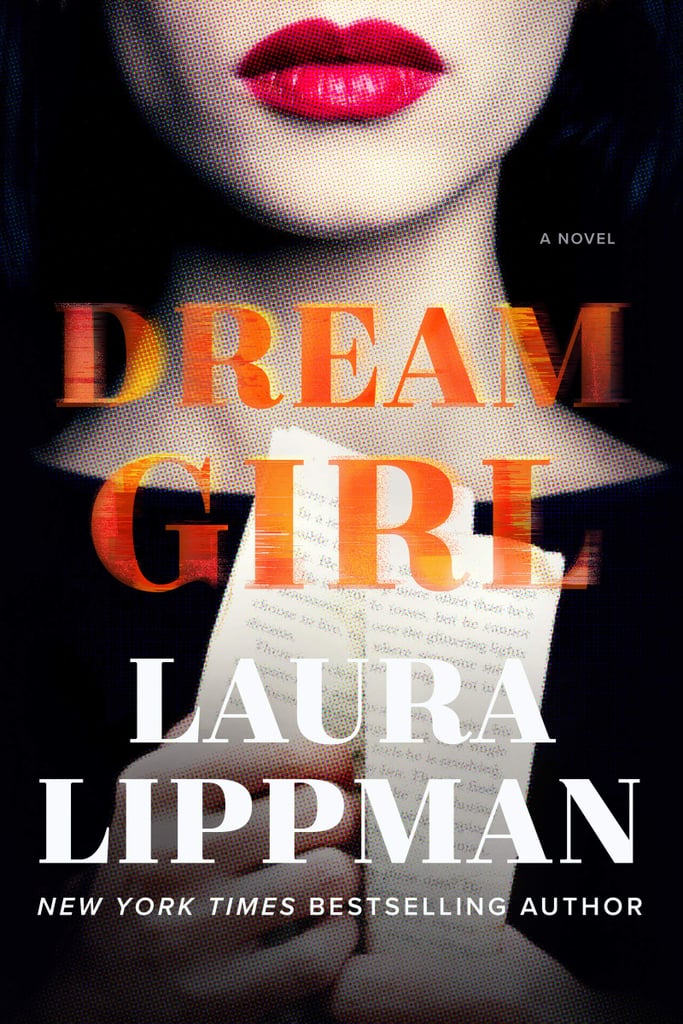 Laura Lippman's Dream Girl [184] is a chilling novel that will make you question everything. After an accident leaves author Gerry Andersen housebound with no one for company but his assistant and his nurse, he finds himself rattled by a call from a woman who claims to be the lead character in his book. But that character isn't real, and when he tries to get to the truth behind who made the eerie call, he quickly discovers his sanity may depend on him unraveling this mystery.
A Hand to Hold in Deep Water by Shawn Nocher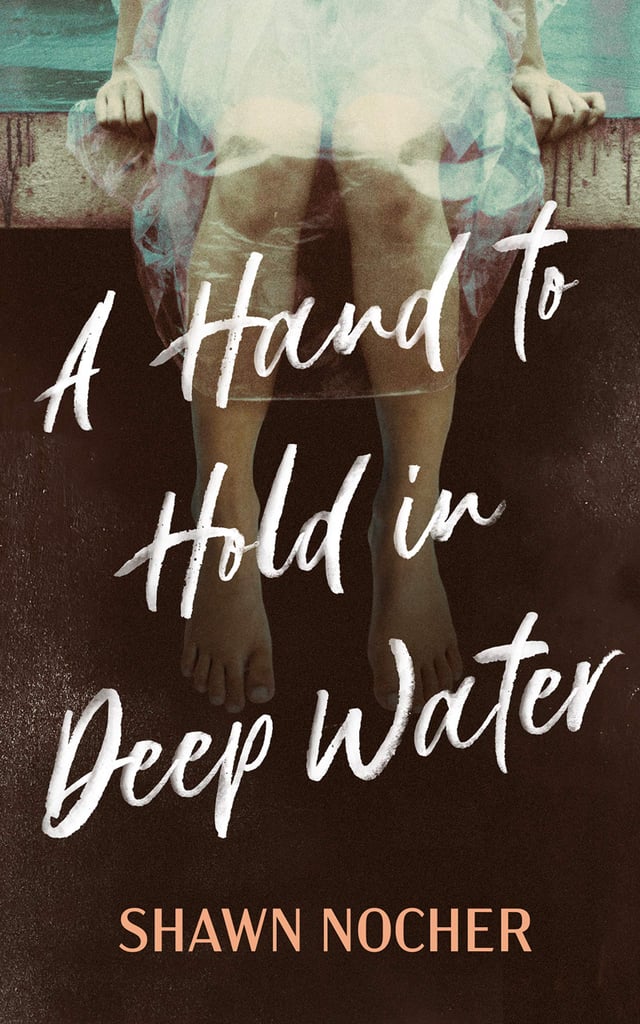 Shawn Nocher's A Hand to Hold in Deep Water [185] is an insightful story about what it takes to make a family. It's been 30 years since Lacey's mother abandoned her and her stepfather, and she's now a single mother herself. When her daughter is diagnosed with a terrible illness, Lacey heads home to be near her stepdad and finally reckon with the pain her mother caused them both.
Hostage by Clare Mackintosh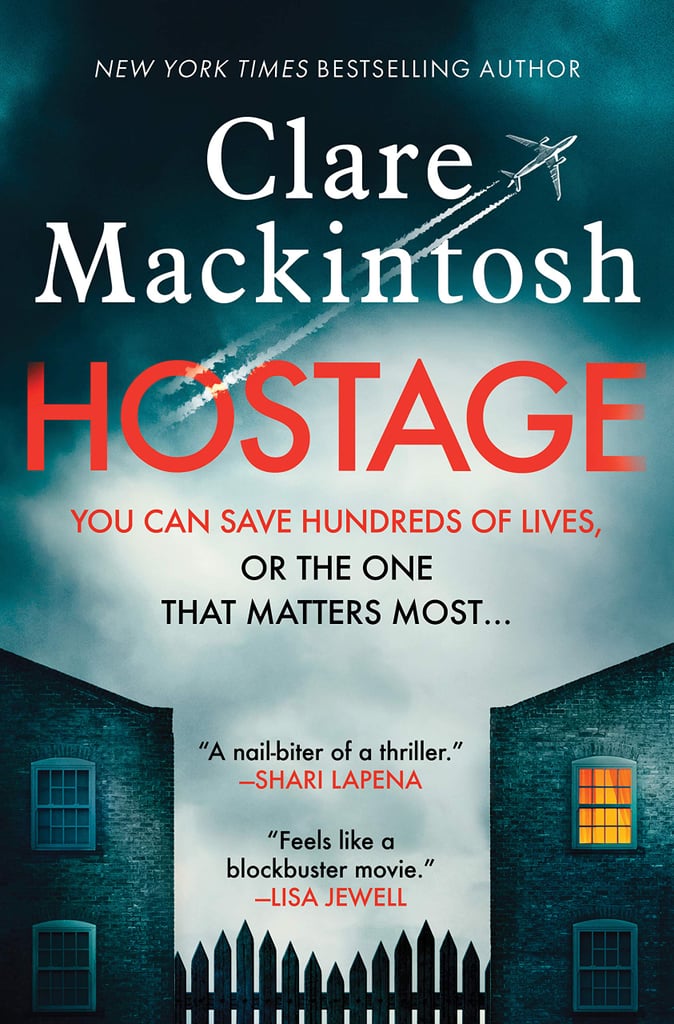 If you're looking for a thriller that never lets up on the tension, then look no further than Hostage [186] by Clare Mackintosh. Set entirely on a 20-hour nonstop flight from London to Sydney, the story follows a flight attendant named Mina who is faced with an impossible choice: comply with the demands of an anonymous passenger who doesn't want the plane to make it to its final destination or let her daughter and husband die in order to save a plane full of strangers.
Love Scenes by Bridget Morrissey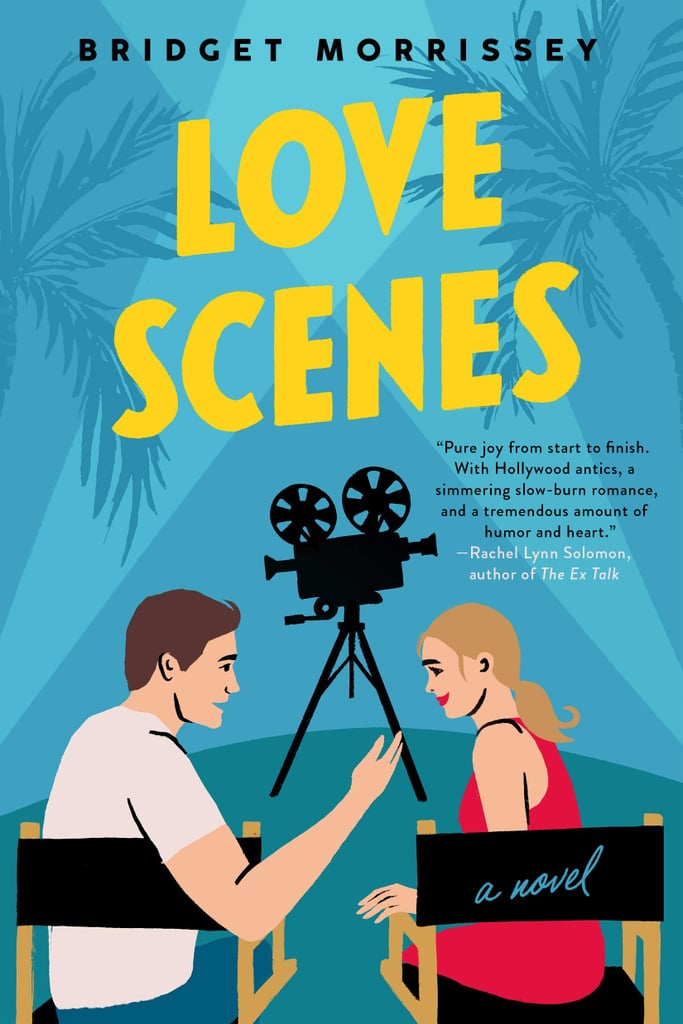 After losing her TV gig, actress Sloane Ford agrees to step in as a producer on her family's World War II epic in Love Scenes [187] by Bridget Morrissey. What her family doesn't tell her is the movie stars her former roguish co-star Joseph Donovan, who Sloane had hoped to never see again.
The Road to Roses by Desiree Hartsock Siegfried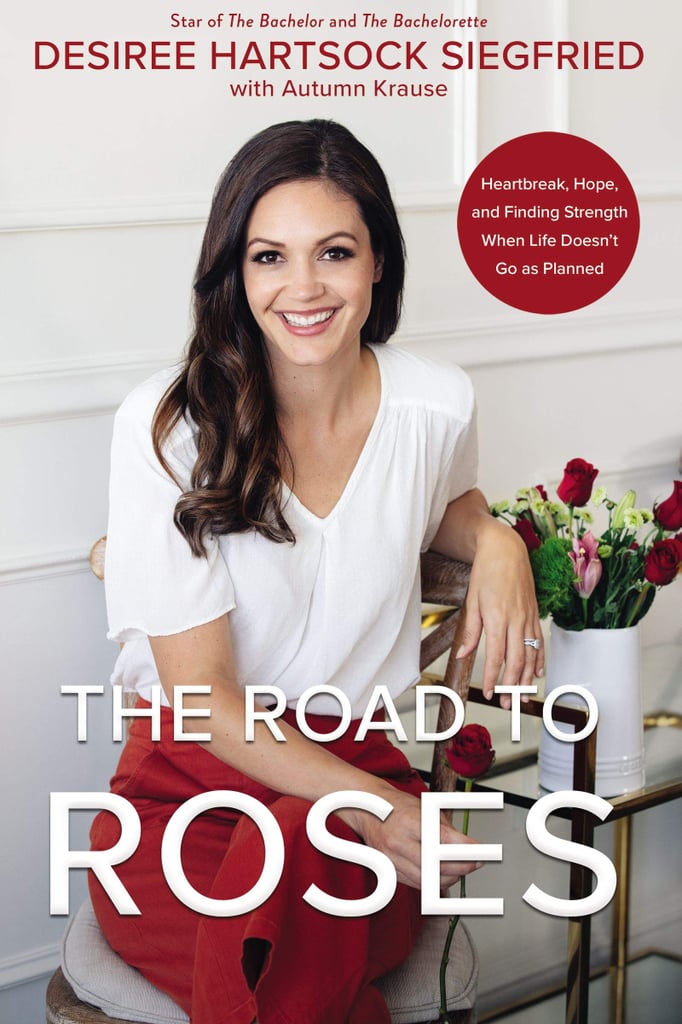 Fans of The Bachelor [188] have to read Desiree Hartsock Siegfried's The Road to Roses [189], which offers up a behind-the-scenes look at her time in Bachelor Nation. From the heartbreak of being broken up with on national TV to her journey after the cameras stopped rolling, Hartsock Siegfried tells all in this page-turning summer read.
Suburban Dicks by Fabian Nicieza
Fabian Nicieza, the co-creator of Deadpool, has written a darkly comedic and timely detective novel with some serious grit. Suburban Dicks [190] follows Andie Stern, a very pregnant former FBI profiler, and a down-on-his-luck journalist named Kenneth Lee, and they are the only two people who can track down a killer terrorizing the small town of West Windsor, New Jersey.
Yoke by Jessamyn Stanley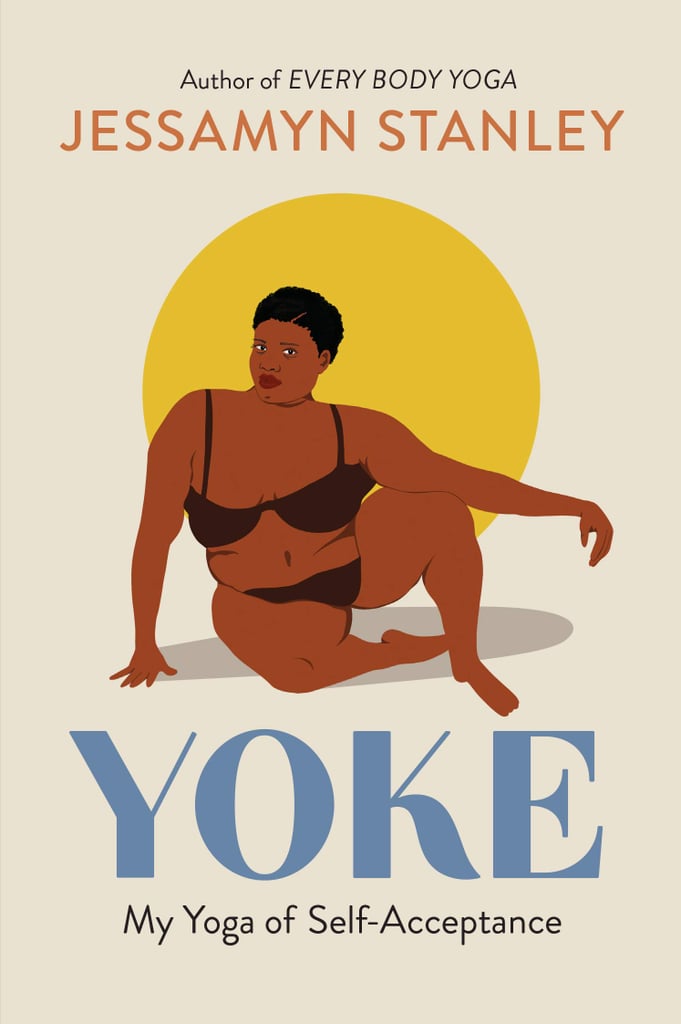 Jessamyn Stanley's Yoke [191] is a thought-provoking collection of essays about the author's pursuit to find "yoga in the everyday." From taking on the whiteness of Western yoga practices to sharing the hard work that goes into fostering self-acceptance, Stanley's essays are eye-opening, informative, and always a joy to read.
Disquiet by Zülfü Livaneli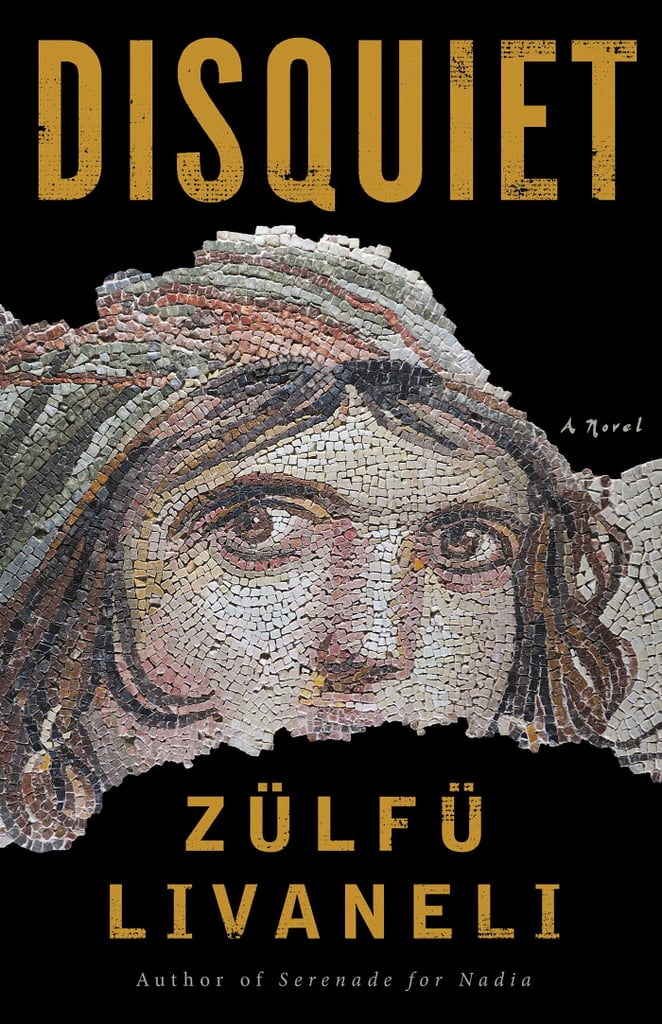 Disquiet [192] by Zülfü Livaneli is a moving novel set entirely in the modern-day Middle East. The story focuses on Meleknaz, a Yazidi Syrian refugee, and Hussein, whose passion for helping others leads to him falling in love with Meleknaz, much to his family's disapproval.
Eat Your Heart Out by Kelly deVos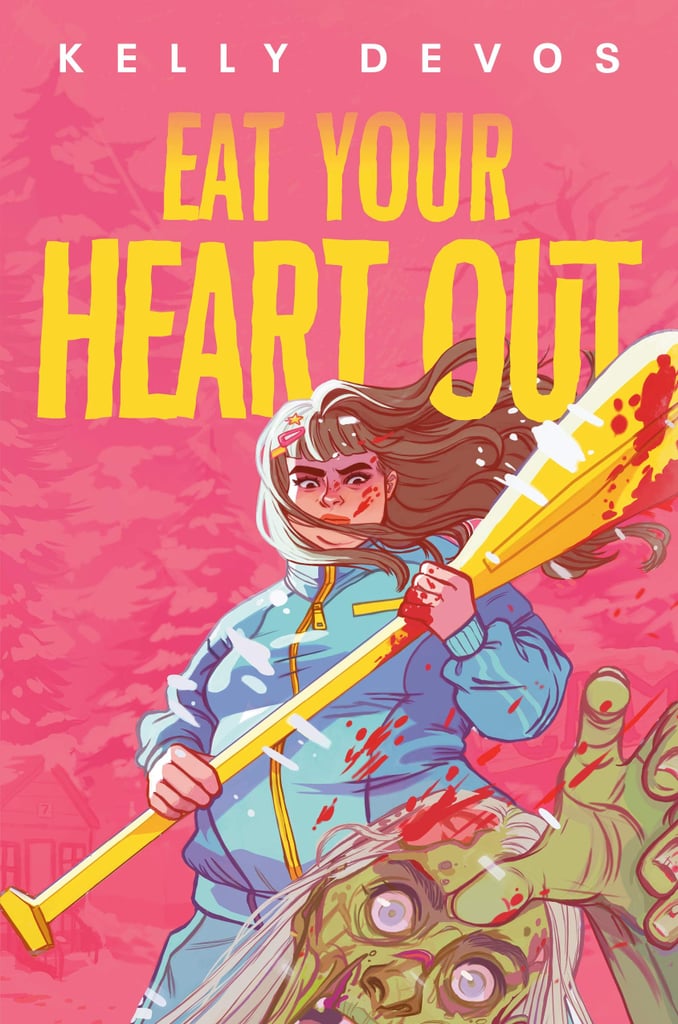 Why yes, you do need a body positive YA zombie apocalypse novel in your life, especially if it's Eat Your Heart Out [193] by Kelly deVos. This darkly hilarious tale of a young woman whose trip to a weight-loss camp becomes even more nightmarish with the addition of zombies is a sharply observed slice of social commentary mixed with edge-of-your-seat apocalyptic action.
Gearbreakers by Zoe Hana Mikuta
Gearbreakers [194] by Zoe Hana Mikuta is even more entertaining than a big summer blockbuster. The story follows two girls on opposites sides of an ongoing war involving mechanized weapons know as Windups. When the unlikely duo is forced to work together, they quickly realize they have more in common than they first thought.
The House Guests by Emilie Richards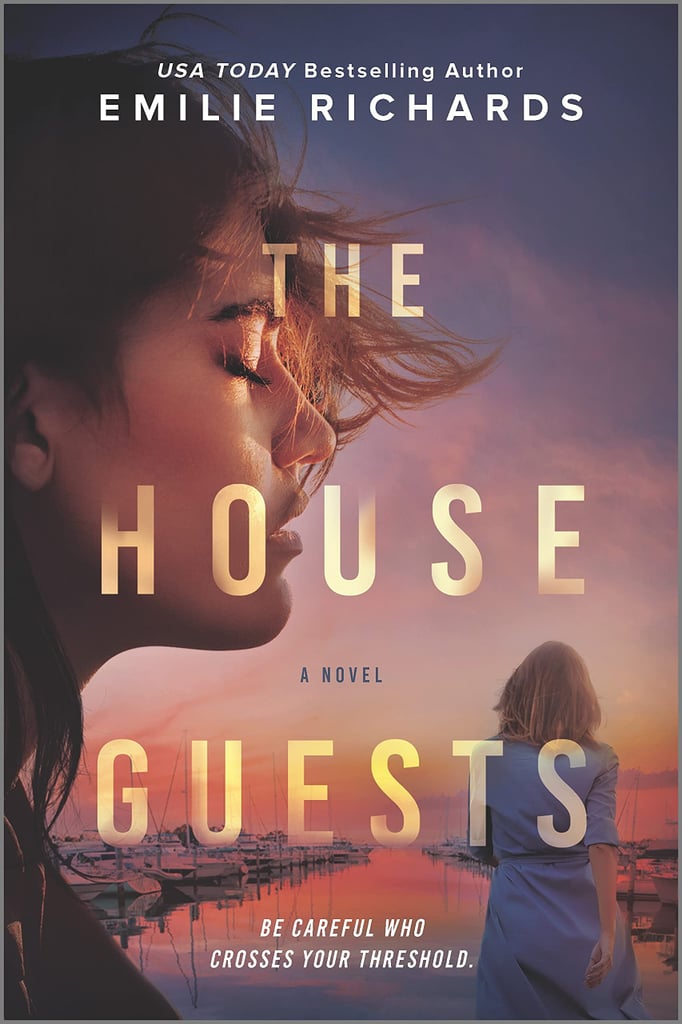 The lives of two women grappling with their pasts intersect in The House Guests [195] by Emilie Richards. After her stepdaughter's reckless actions leave a mother, Amber, and her son homeless, Cassie invites them to move into her home. However, it doesn't take long for her to realize Amber has secrets she's trying to hide.
Nobody Knows the Trouble I've Seen by Inger Burnett-Zeigler, PhD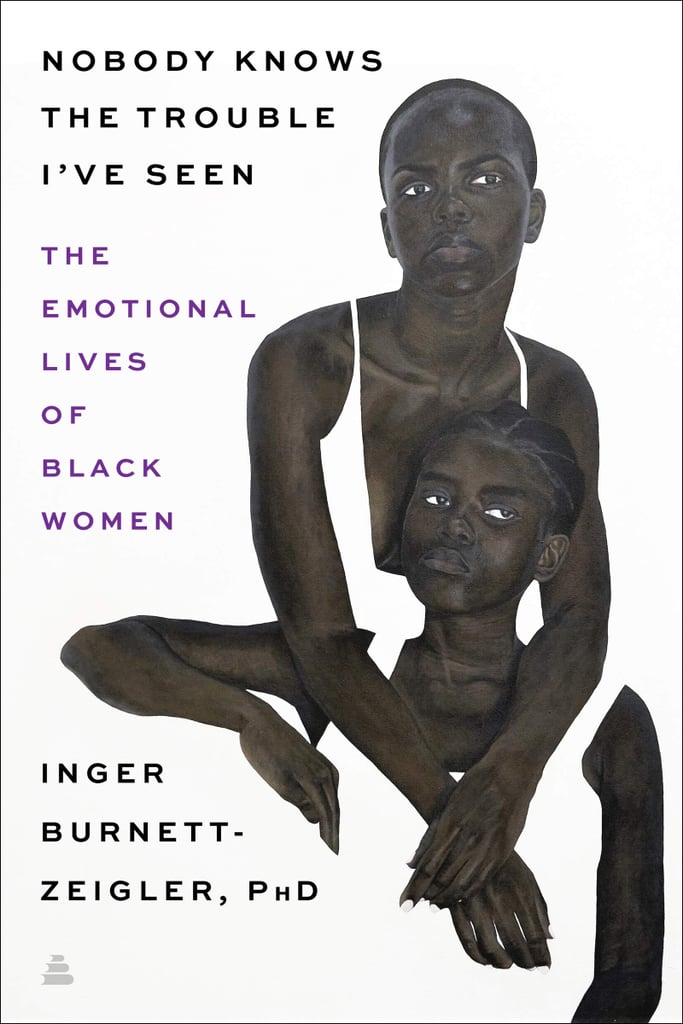 Clinical psychologist Dr. Inger Burnett-Zeigler's Nobody Knows the Trouble I've Seen [196] is a potentially life-saving book that candidly discusses the emotional and physical struggles many Black women face. At the heart of this powerful book is a message about addressing the needs of Black women, and the importance of discussing topics like self-care and mental health.
Pug Actually by Matt Dunn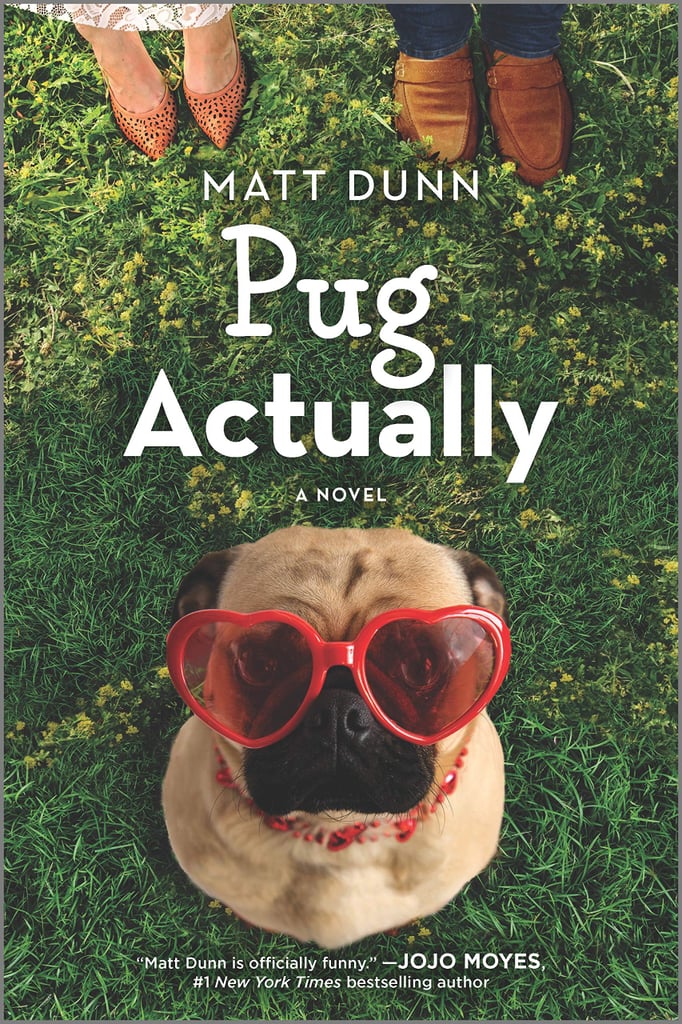 A love story told from the perspective of a pug? Yes, please! In the sweetly funny Pug Actually [197] by Matt Dunn, the wise Doug plays matchmaker for Julie, his beloved rescuer who keeps making terrible romantic decisions. Doug is determined to steer Julie away from her married boss and into the arms of the recently divorced Tom.
To Sir, With Love by Lauren Layne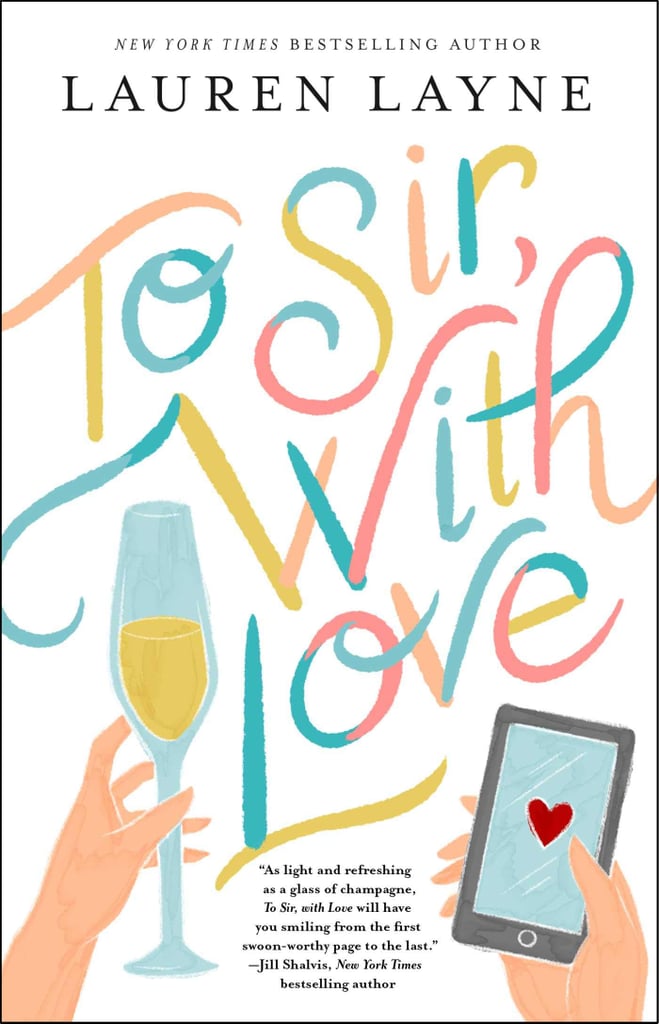 To Sir, With Love [198] by Lauren Layne will give you You've Got Mail vibes in the best possible way. By day, Gracie is trying to keep her father's Champagne shop afloat while avoiding the annoying Sebastian Andrews's attempts to buy her out. But by night, she's spilling all of her problems to a man known only as Sir, who she meets on a blind dating app. What she doesn't know is she has already met Sir in real life, and it was loathe at first sight.
Something Wild by Hanna Halperin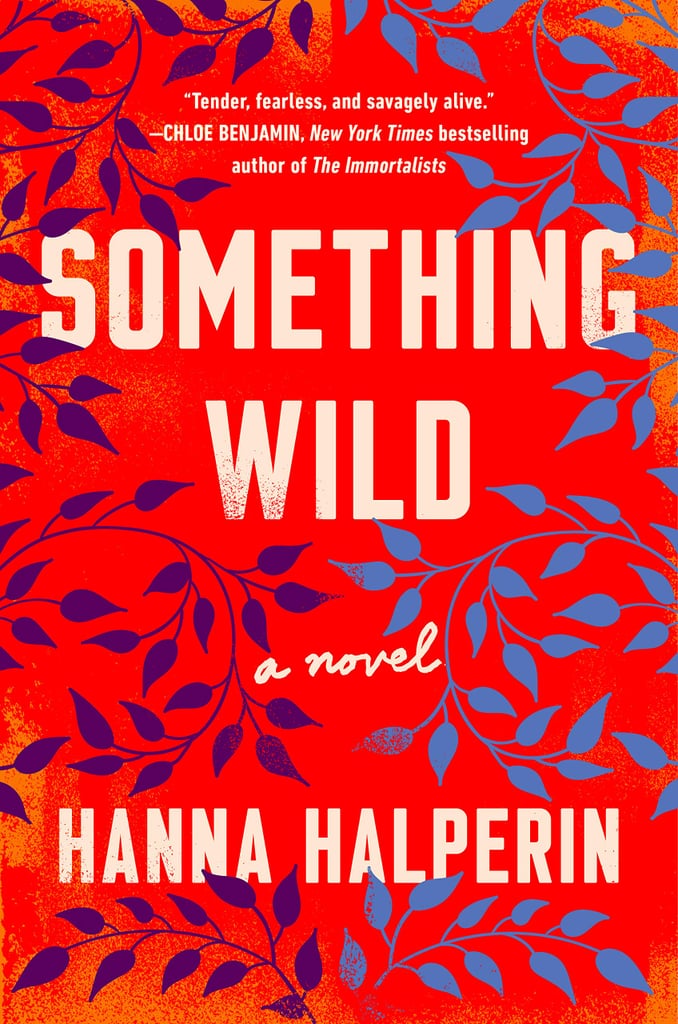 Something Wild [199] by Hanna Halperin is a story of sisters and mothers, and the secrets they keep. When they return home to help their mother move, Tanya and Nessa discover their mom is in an abusive relationship. As they try to convince their mother to leave, each woman will be forced to confront memories they would rather forget.
Survive the Night by Riley Sager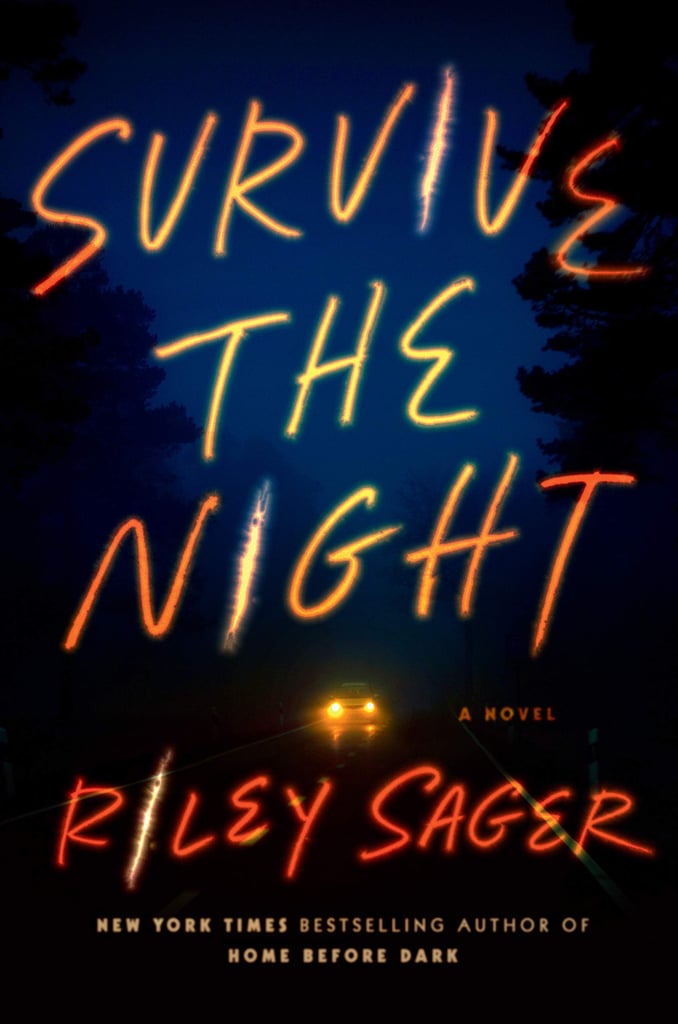 Riley Sager's new thriller Survive the Night [200] is a claustrophobic story about a woman who might be trapped in a car with a serial killer. Set in 1991, horror-movie fan Charlie Jordan agrees to ride home from college with a guy she barely knows. But as their trip gets underway, she begins to wonder if the man sitting next to her is the campus killer who murdered her best friend.
When Stars Collide by Susan Elizabeth Phillips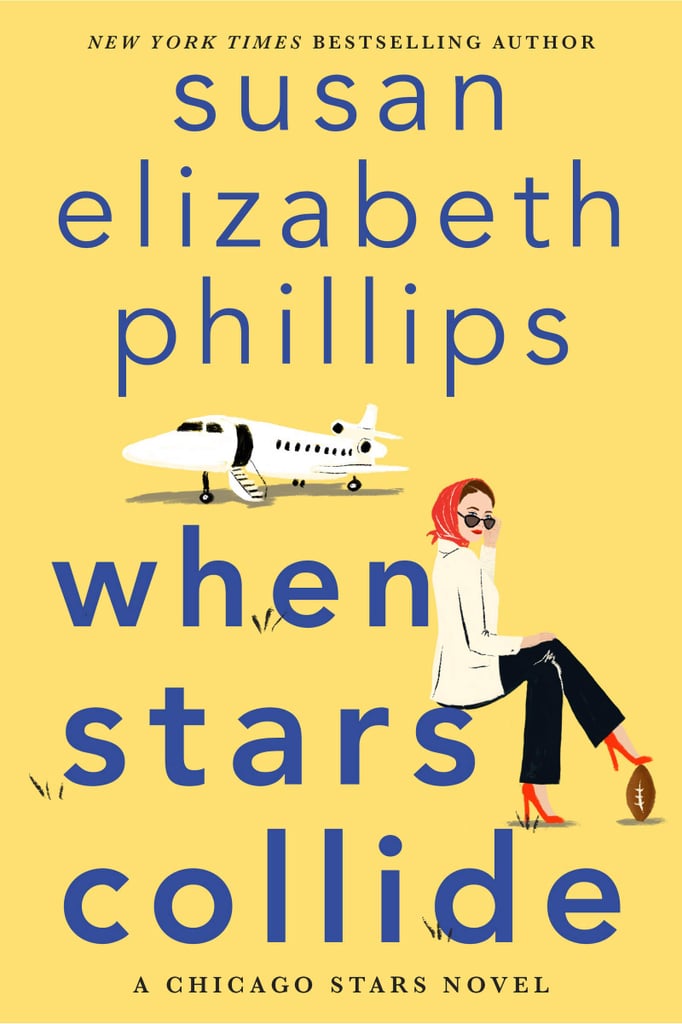 An opera singer and a football player are forced to go on a promotional tour together in Susan Elizabeth Phillips's hilarious When Stars Collide [201]. Thaddeus and Olivia are opposites in every way, and they're determined to make each other miserable on their trip. However, it doesn't take them long to realize that deep down they might just have something in common after all.
Mona at Sea by Elizabeth Gonzalez James
Set during the Great Recession, Mona at Sea [202] by Elizabeth Gonzalez James is a warts-and-all depiction of what it was like for millennials searching for work post-college during that difficult era. When Mona's first real job ends up disappearing due to the recession, she heads home with no clue as to what she's supposed to do next. Luckily, her mom has a few ideas, including joining a job-seekers support group, which throws Mona a lifeline when she needs it the most.
Have We Met? by Camille Baker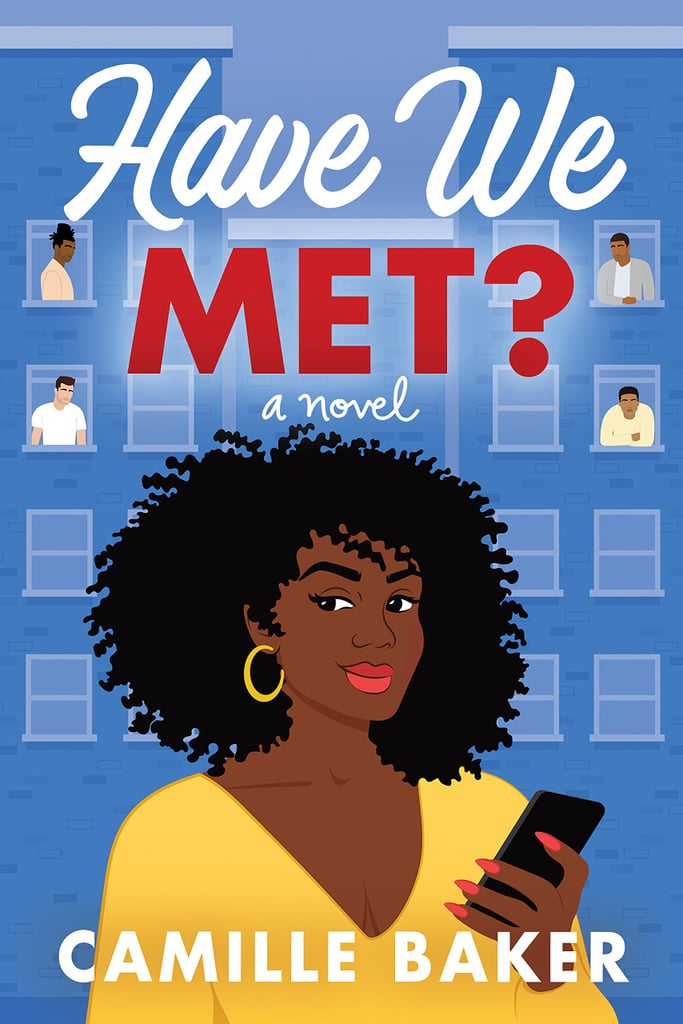 Have We Met? [203] by Camille Baker is as much a story about the lasting power of friendship as it is a charming rom-com. In the wake of her best friend's death, Corinne discovers a mysterious dating app called Met on her phone. The app claims she has already met her soulmate, which sends her on a journey through her past that might just lead to a new beginning.
The Mixtape by Brittainy Cherry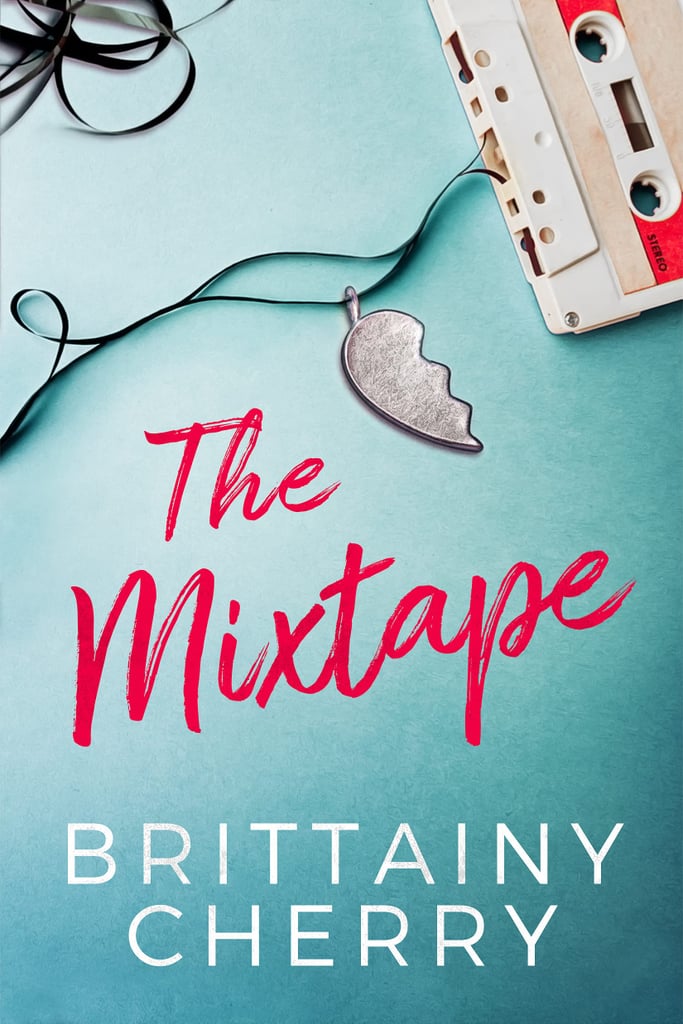 Brittainy Cherry's The Mixtape [204] is a rockstar romance with a whole lot of heart. At the center of the story are two lost souls: a struggling single mother named Emery, and a famous musician named Oliver who is trying to grieve the death of his twin in private. When the unlikely duo cross paths in the bar where Emery works, they quickly realize they're in a unique position to help one another.
The 22 Murders of Madison May by Max Barry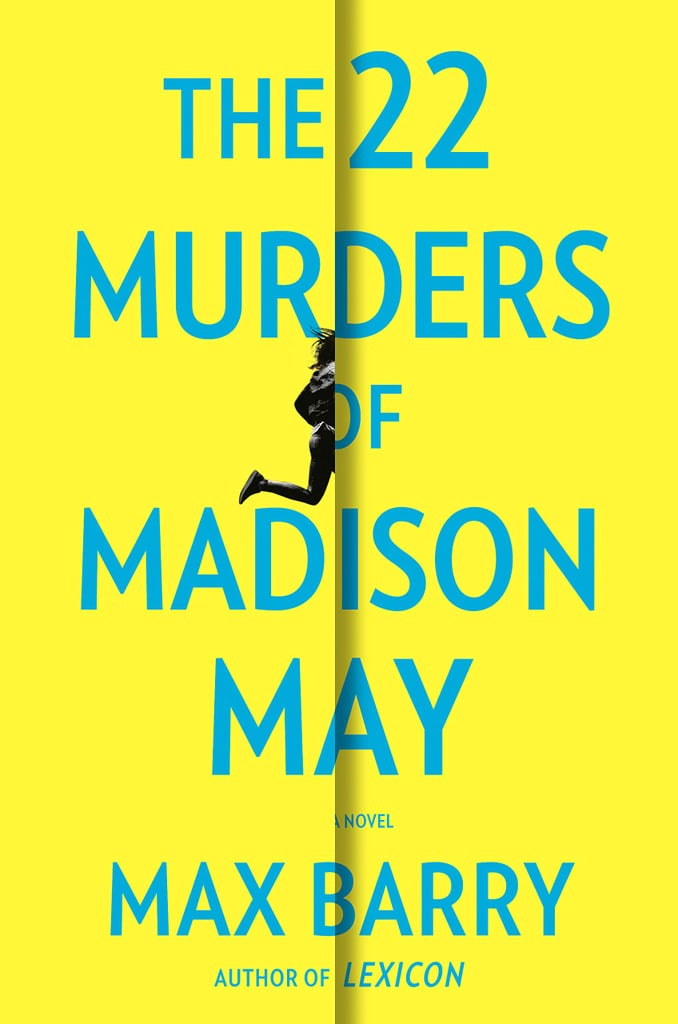 The 22 Murders of Madison May [205] by Max Barry is not your typical thriller. This fast-paced story tracks a serial killer across time and space as he kills the same women over and over again. However, what the killer hasn't realized yet is that an intrepid journalist named Felicity Staples is on his trail — even though pursuing the truth means leaving the only reality she's ever known behind.
Bolla by Pajtim Statovci
Tragedy, love, and war all collide in Pajtim Statovci's exquisite Bolla [206]. The novel begins in 1955 when newlywed Arsim meets a man named Miloš at a café in Kosovo. Soon, the men begin an affair that is swiftly complicated by a war that tears both of their worlds apart.
Build Your House Around My Body by Violet Kupersmith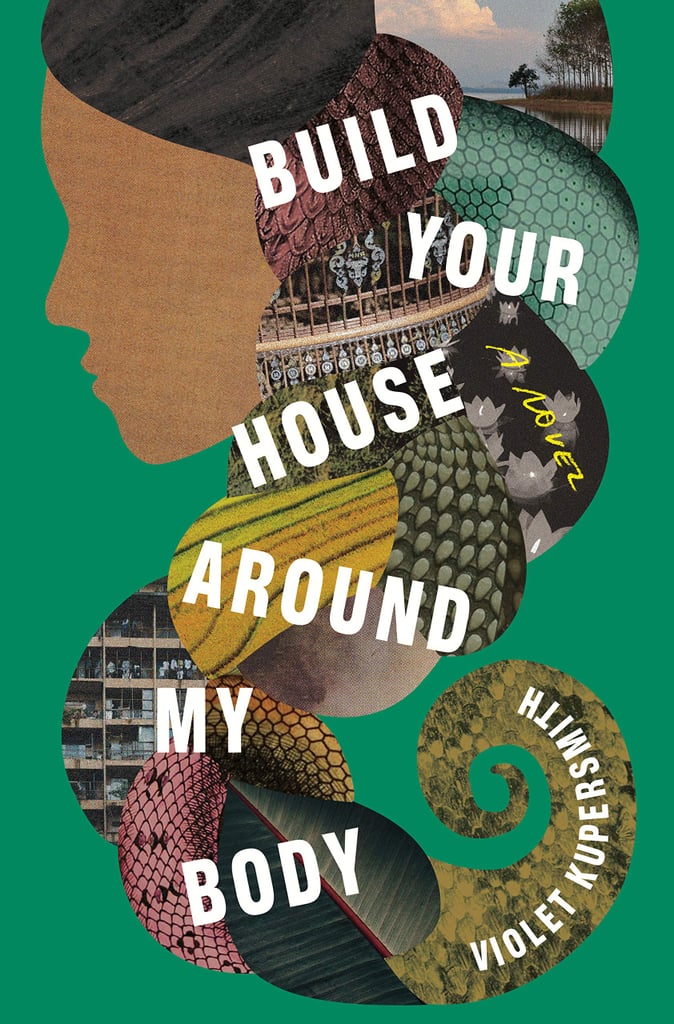 Spanning more than half a century, Build Your House Around My Body [207] by Violet Kupersmith mixes Vietnamese folklore with a time-bending narrative to reveal the connection between two women who disappeared decades apart. Along the way, the book introduces a vivid cast of characters who are all connected, even if they don't realize it yet.
Easy Crafts For the Insane by Kelly Williams Brown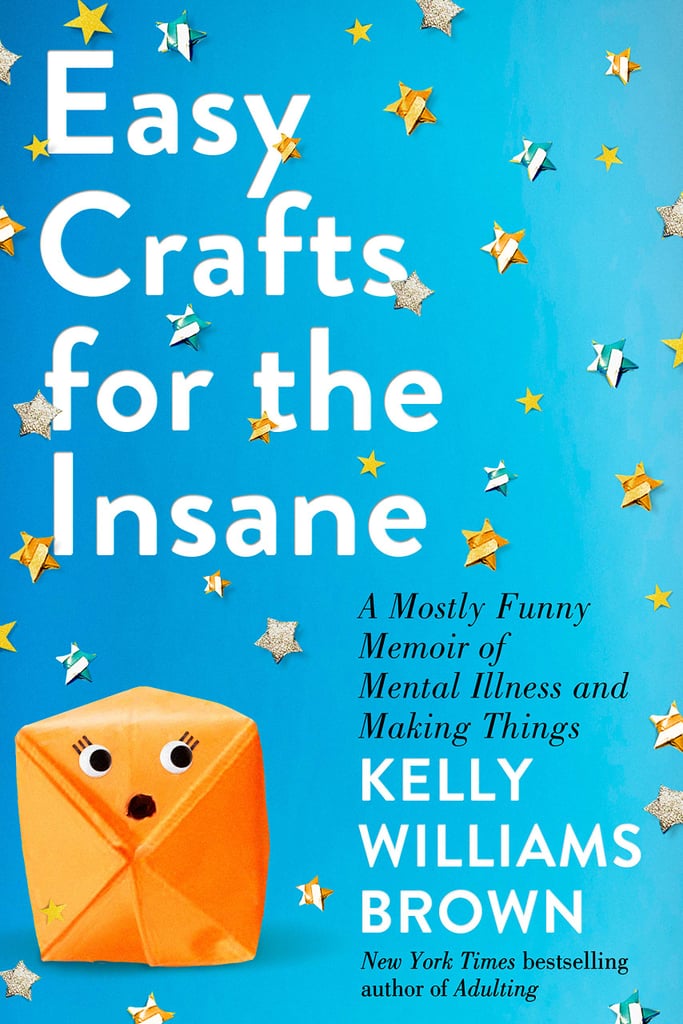 The bestselling author of Adulting is back with a new memoir about what happens when everything in your life seems to go horribly awry all at once. In Easy Crafts For the Insane [208], Kelly Williams Brown gets candid about her depression, feelings of imposter syndrome, and spending time at an inpatient facility. During this complicated time in her life, Brown turned to crafting to help piece her own life back together, one tiny project at a time.
Everyone in This Room Will Someday Be Dead by Emily Austin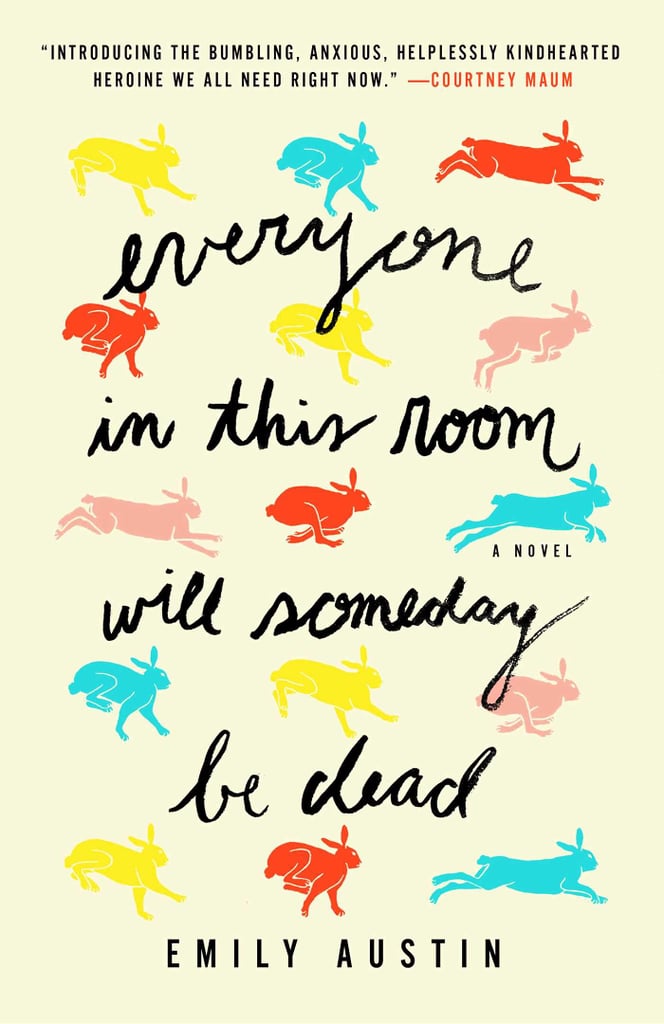 Emily Austin's darkly funny Everyone in This Room Will Someday Be Dead [209] is already a contender for the best book of 2021. That's thanks in large part to the story's wonderfully complex protagonist Gilda, a lesbian and atheist who inadvertently ends up working as a secretary for a Catholic church after showing up for a free counseling session. Soon, Gilda's perpetually anxious mind can't stop fixating on her deceased predecessor — which becomes even more troubling when she begins impersonating the woman via email.
Falling by T.J. Newman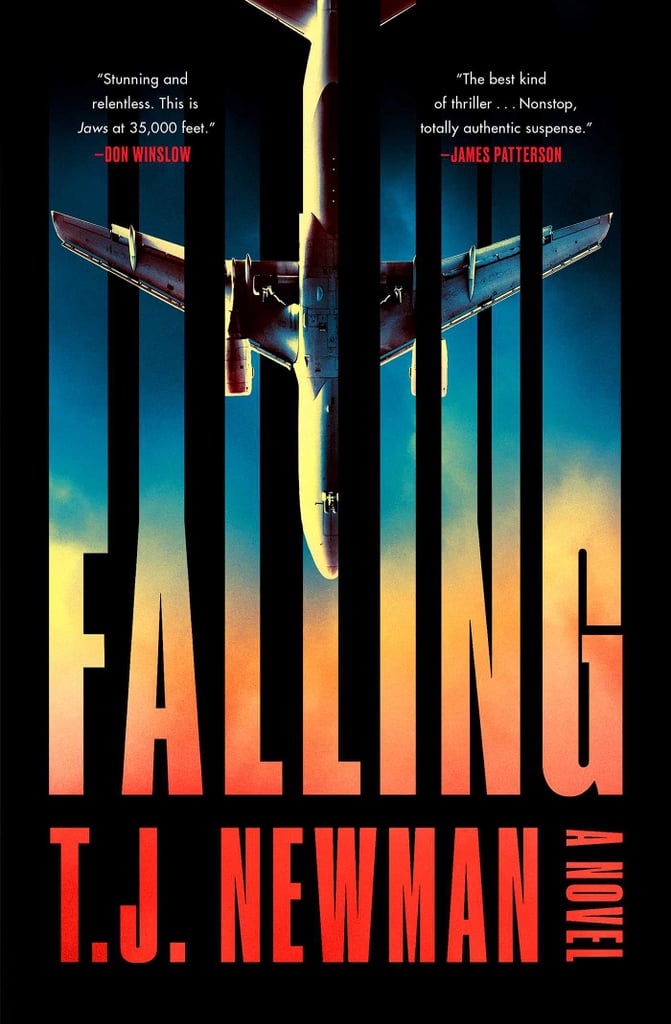 If you're looking for a summer thriller that will get your heart pounding, then Falling [210] by T.J. Newman is the book for you. Set aboard a plane piloted by a man whose family has been kidnapped, the lives of 144 passengers hang in the balance as the pilot must decide between crashing the plane to save his family, or landing it safely knowing his family will be murdered if he does so.
The Forest of Vanishing Stars by Kristin Harmel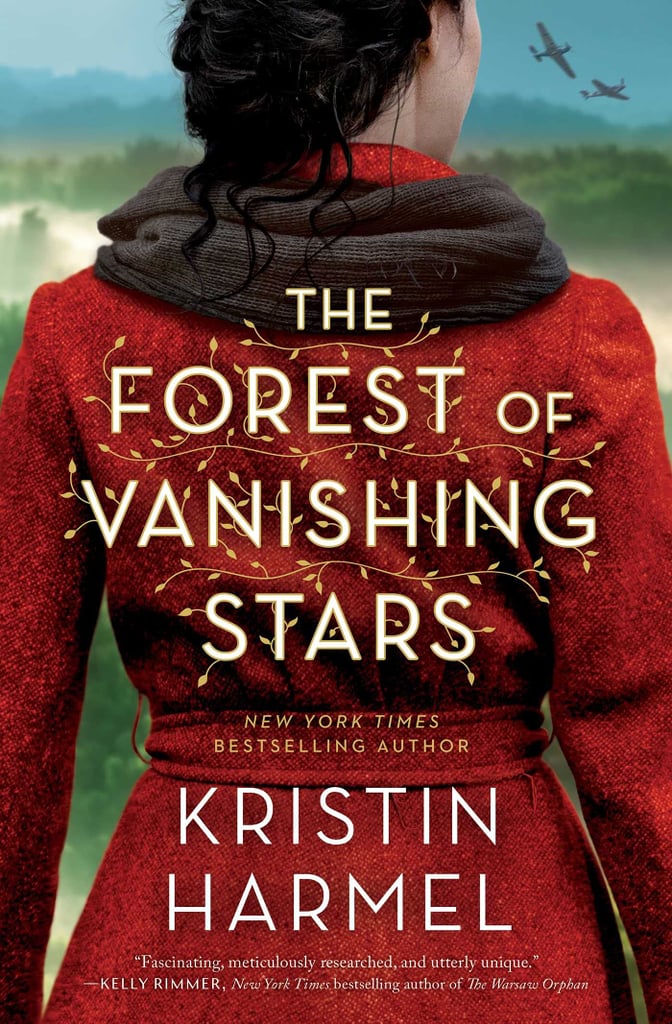 The Forest of Vanishing Stars [211] by Kristin Harmel is a unique World War II novel about a woman whose life spent in isolation puts her in a unique position to help a group of Jewish people fleeing the Nazis. However, when one of her new friends betrays her, she ends up escaping to a German-occupied village where she'll be forced to face her past.
The Grandmother Plot by Caroline B. Cooney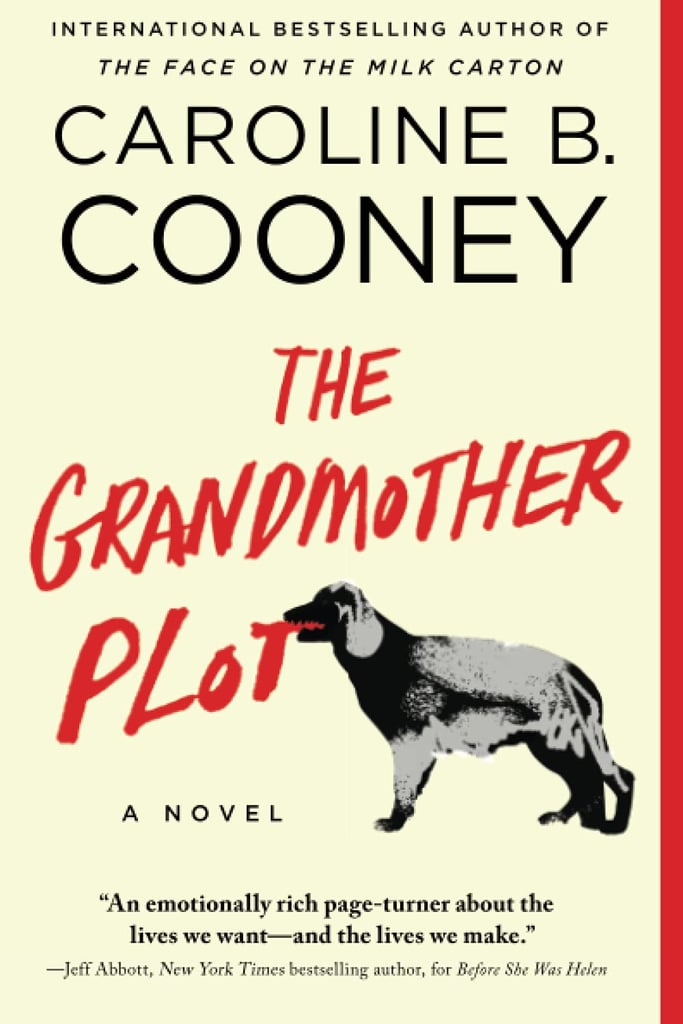 Bestselling author Caroline B. Cooney has been perfecting the fine art of thriller writing for decades now, and her latest novel, The Grandmother Plot [212], will grip you from page one. When a murder occurs in his grandmother's nursing home, a man named Freddy becomes frightened that his grandma could be next — which would result in his income being cut off and the police nosing around where they don't belong. And he simply can't have that.
If You, Then Me by Yvonne Woon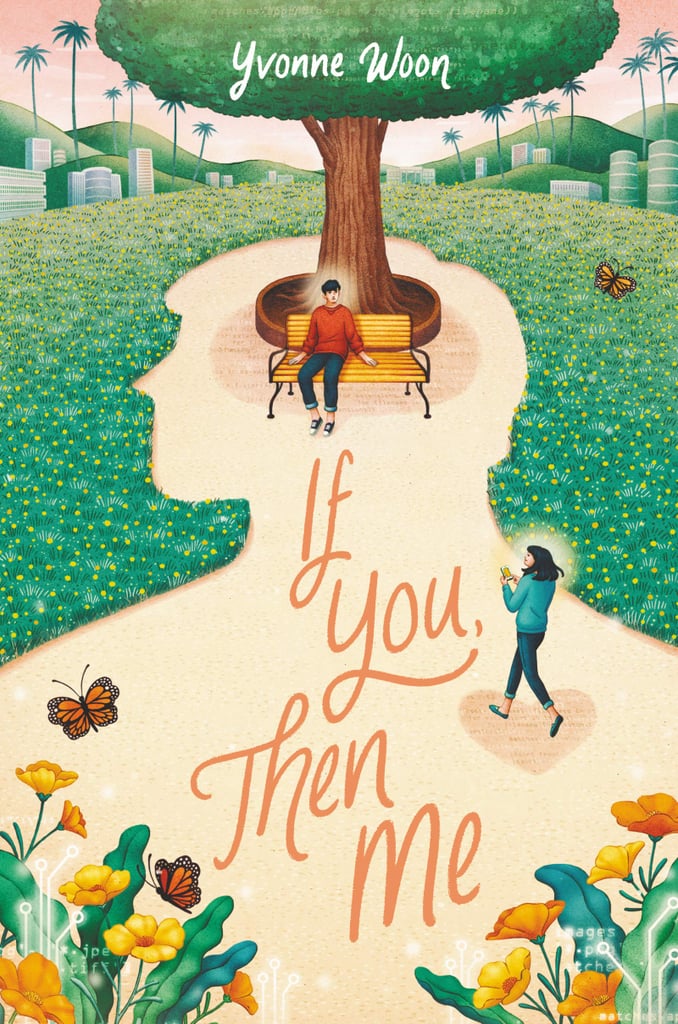 Young app designer Xia is terrific with technology, and unsure about pretty much everything else in Yvonne Woon's If You, Then Me [213]. But when Xia is accepted into a prestigious app incubator, her boring life suddenly becomes full of intrigue (and at least two new potential love interests).
Incense and Sensibility by Sonali Dev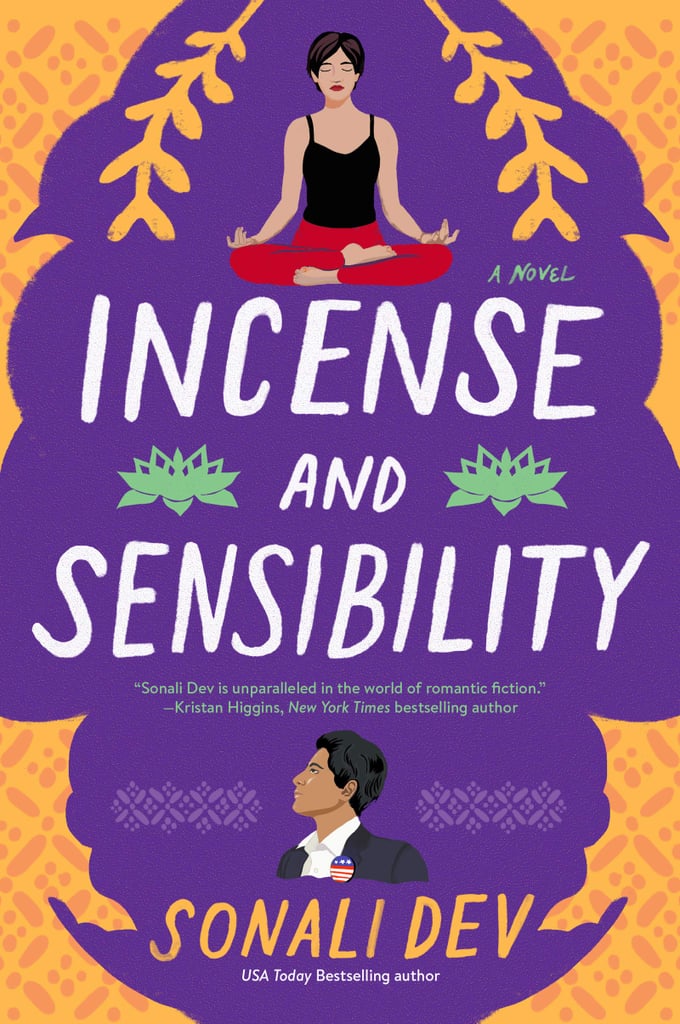 Sonali Dev's Jane Austen-inspired series continues with Incense and Sensibility [214]. This time around, the story focuses on Canada's first ever Indian-American gubernatorial candidate, Yash Raje, who needs help centering himself after a hate crime at one of his rallies. Enter India Dashwood, his sister's best friend and the best stress management coach in the state — and the woman Yash spent one perfect night with a decade ago.
Island Queen by Vanessa Riley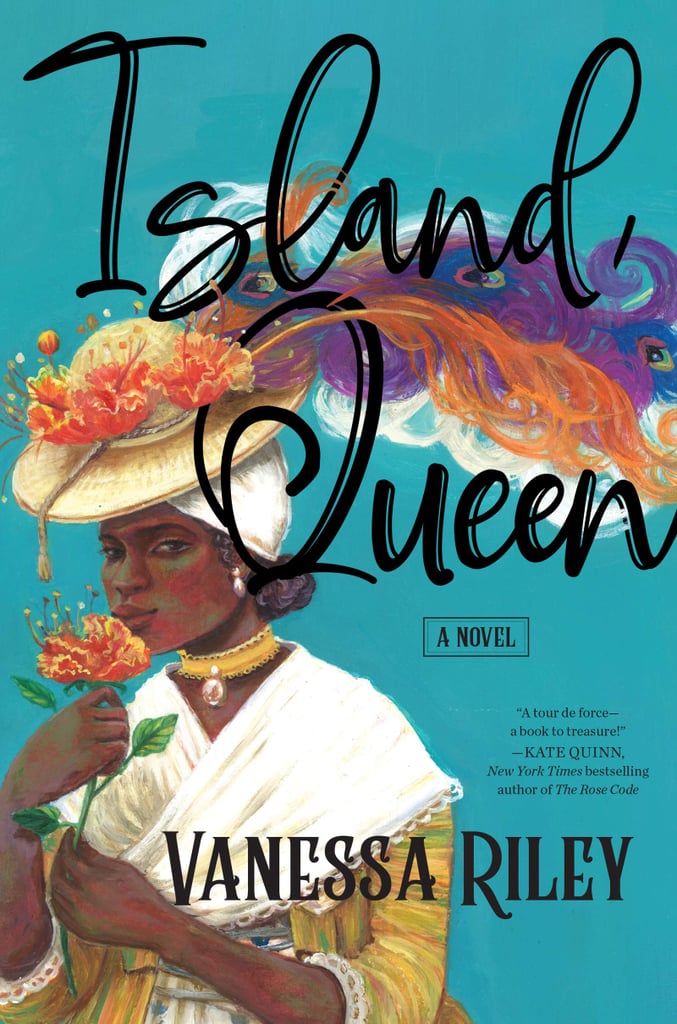 Island Queen [215] by Vanessa Riley is the must-read historical novel of the summer. Inspired by the real life of Dorothy Kirwan Thomas, the novel tracks the story of a woman named Doll who was born into slavery, but ultimately ends up as one of the wealthiest landowners in the West Indies.
The Lost Girls by Jessica Chiarella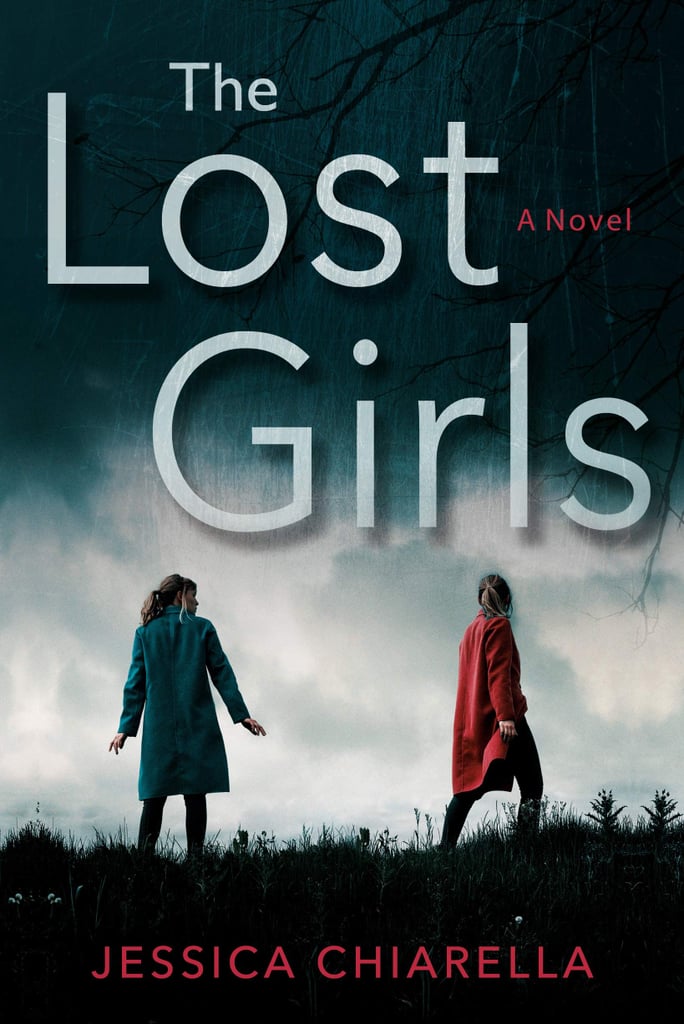 More than 20 years after her sister's mysterious disappearance, Marti's life is still devoted to finding her via her hit true crime podcast in Jessica Chiarella's twisty The Lost Girls [216]. But when a woman reaches out to Marti about a case that could be connected to her sister, she begins to fear the answers she might finally find.
Out of Character by Annabeth Albert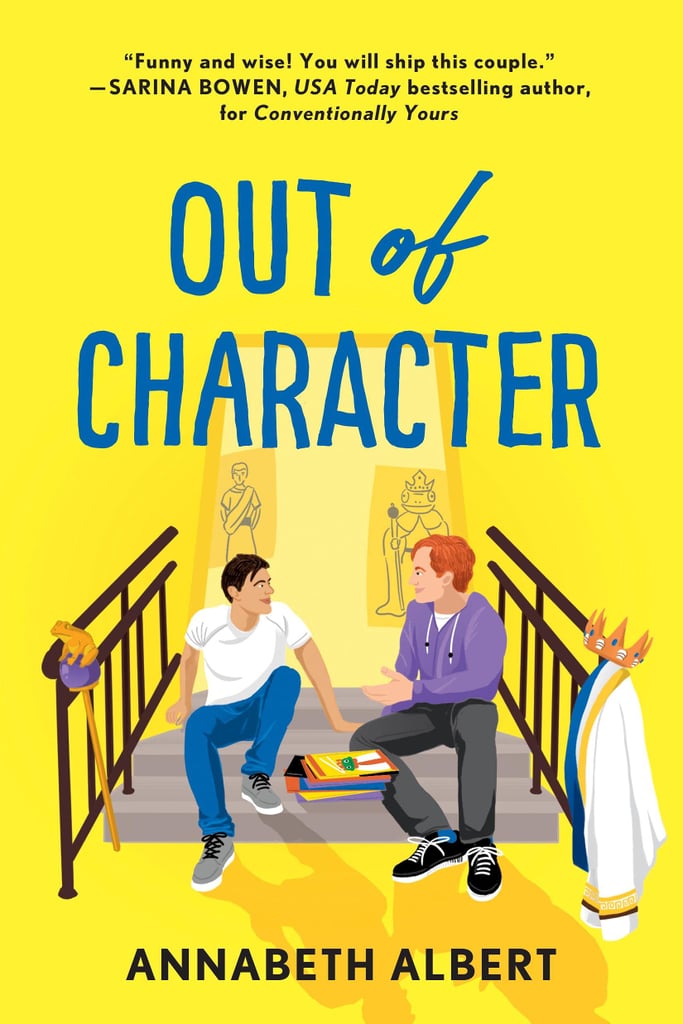 Nerd culture, a charity event for kids, and a whole lot of messy history bring former friends Jasper Quigley and Milo Lionetti together again in Annabeth Albert's swoony rom-com Out of Character [217]. When Milo turns to Jasper for help with a charity event, Jasper is initially reluctant, but as they work together to create a magical night for the kids, their true feelings for one another come bubbling to the surface.
The Paper Palace by Miranda Cowley Heller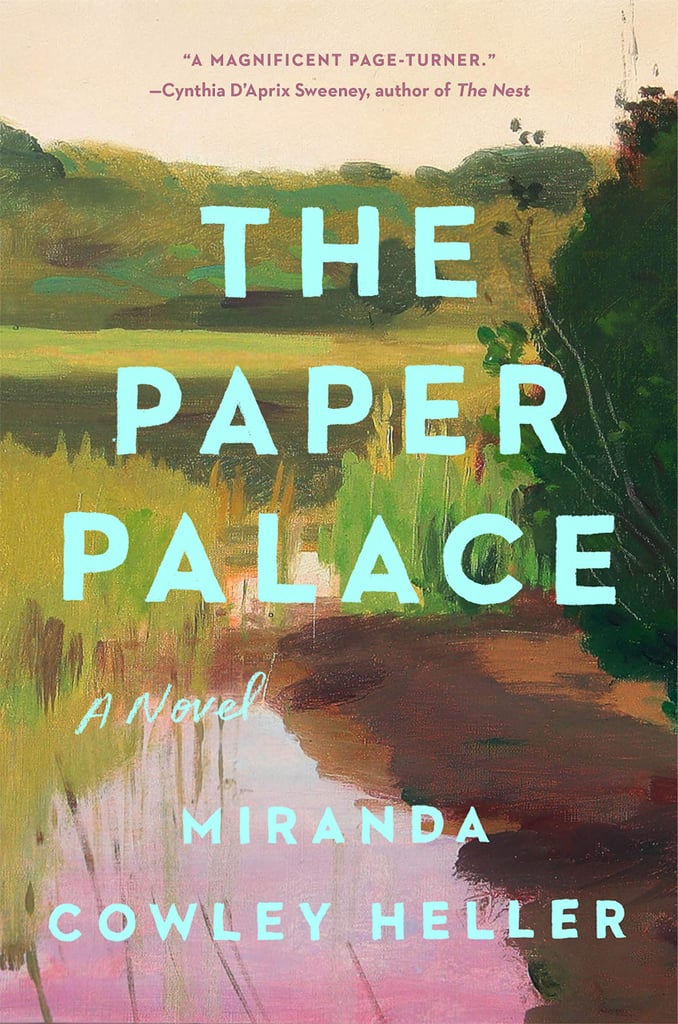 Set during one life-changing day in July, The Paper Palace [218] by Miranda Cowley Heller chronicles one woman's internal struggle as she reckons with her decision to sleep with her childhood sweetheart while her husband and family enjoy a quiet evening at their vacation home. As the day wears on, Elle contemplates the past and the future as she tries to decide whether or not to tell her husband the truth.
Razorblade Tears by S.A. Cosby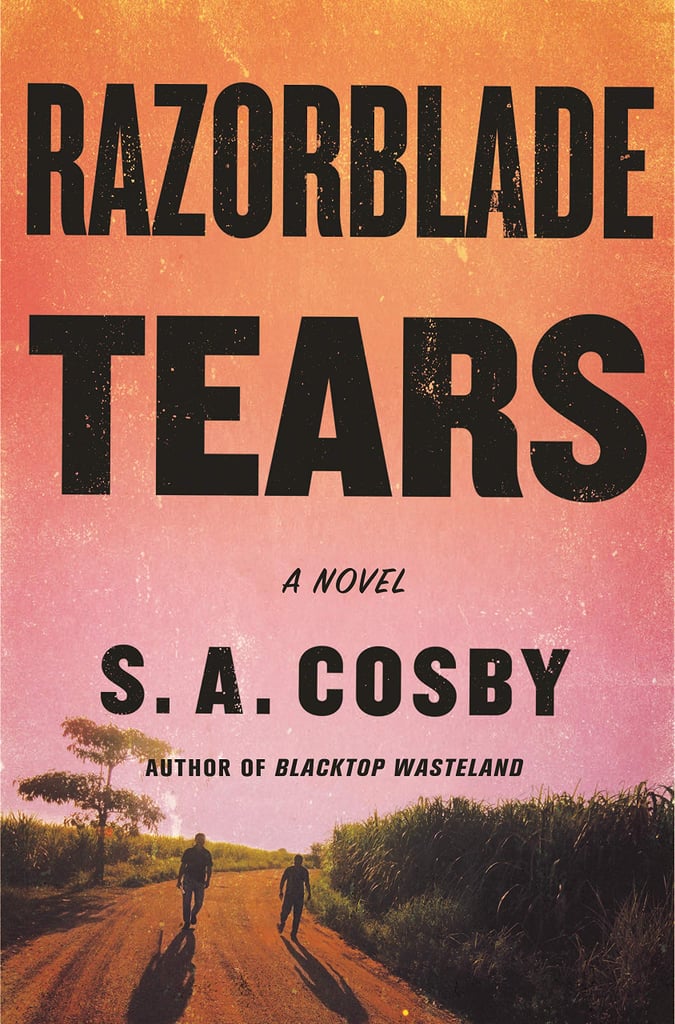 Razorblade Tears [219] by S.A. Cosby is a searing story of two fathers on a quest to enact justice on behalf of their slain sons. Ike and Buddy Lee both struggled to accept their sons' marriage when the young men were alive, but with such a monumental loss hanging over their heads, the ex-cons set out on a journey to bring down the people who murdered their boys.
Rise to the Sun by Leah Johnson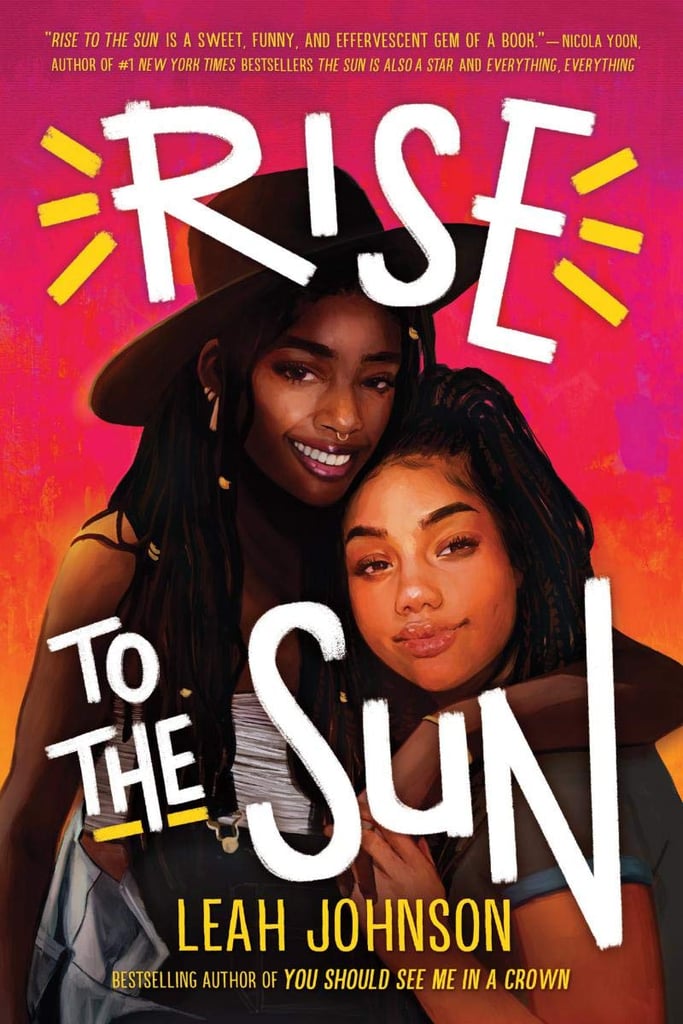 Leah Johnson's Rise to the Sun [220] is an ode to the healing power of music and love. Set against the backdrop of a music festival, the story follows Olivia, who is desperately trying to escape for one magical weekend before her senior year starts, and Toni, who is following in her late father's footsteps in hopes of processing her grief. Soon, these two young women realize they're in a unique position to help each other process the traumas of the past, and maybe even find the strength to forge a fresh start for themselves, too.
Shoulder Season by Christina Clancy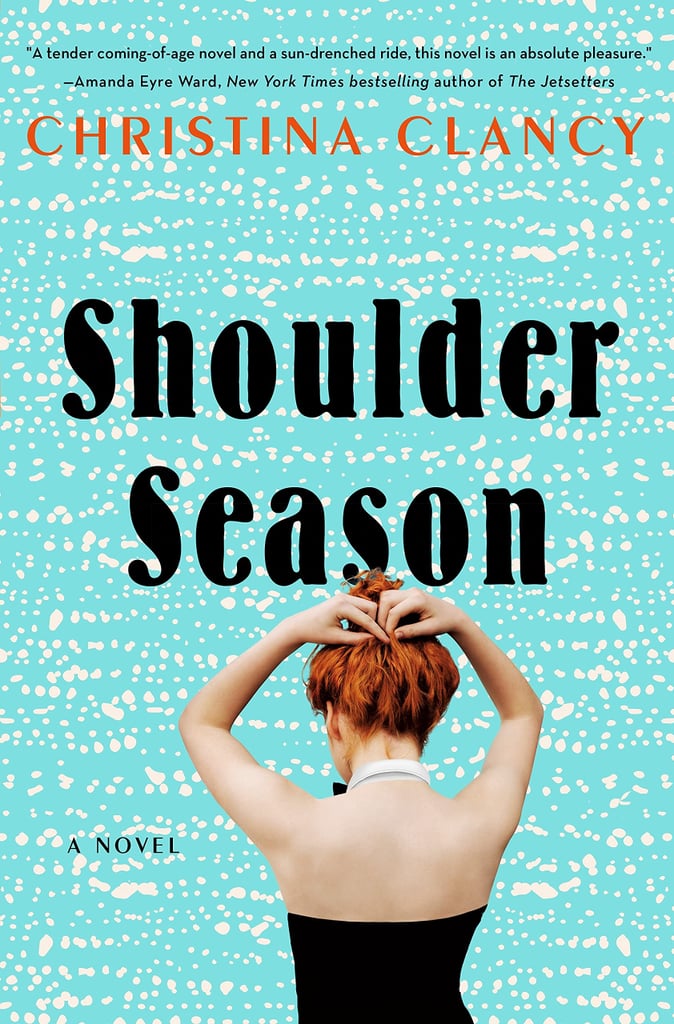 Shoulder Season [221] by Christina Clancy is an unusual, but mesmerizing coming of age tale about a young woman who leaves home to become a Playboy Bunny in Lake Geneva, WI. Her decision leads to sexual exploration, new friendships, and a love triangle that ends in tragedy in this story about one woman's journey of self-discovery.
Six Crimson Cranes by Elizabeth Lim
Inspired by East Asian folklore, Six Crimson Cranes [222] by Elizabeth Lim is a gripping fantasy novel about a princess with a stolen voice on a quest to save her brothers. After losing control of her magic during her betrothal ceremony, Shiori'anma's stepmother steals the young woman's voice and turns her brothers into cranes. Now, she'll have to form an alliance with a paper bird, a dragon, and her ex in order to rescue her brothers and bring her stepmother down.
Summer in the City of Roses by Michelle Ruiz Keil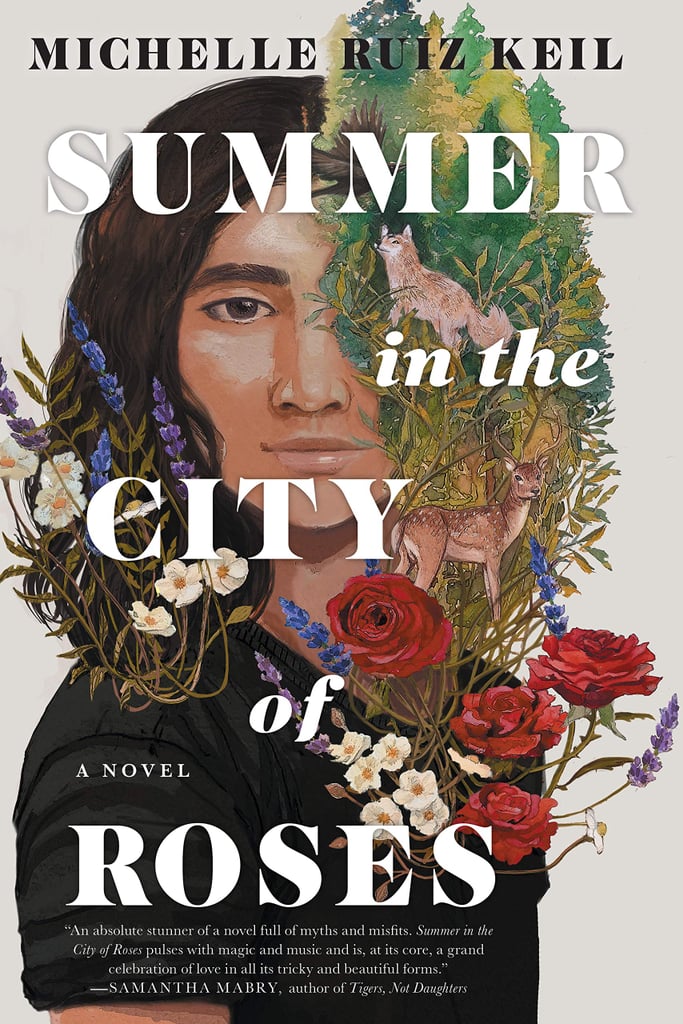 Summer in the City of Roses [223] by Michelle Ruiz Keil is a beautiful story steeped in magical realism and the heady reality of self-discovery. During their first summer apart, brother and sister Orr and Iph discover what they're passionate about as they go on a quest to find their way back to each other.
The Temple House Vanishing by Rachel Donohue
Rachel Donahue's Gothic-tinged mystery The Temple House Vanishing [224] will keep you guessing until the last page. Told through alternating viewpoints, the novel explores the disappearance of a student and teacher from an elite and remote boarding school. And yes, this one will leave you guessing right up until the last page.
Vessel by Cai Chongda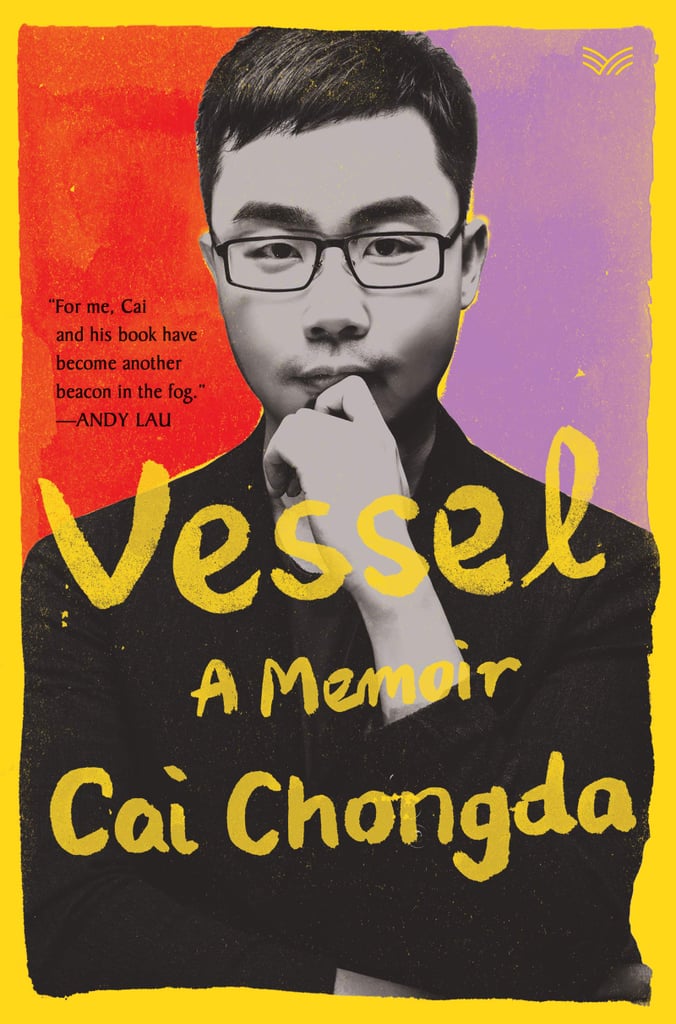 Cai Chongda's memoir Vessel [225] is a clear-eyed examination of the author's time spent keeping his father's gas station open, working his way through university, and eventually becoming the editorial director of GQ China. Along the way, he opens up about the chasm that develops between him and his family, whom he supports, and his attempts to bridge the gap between tradition and progress.
Where It All Lands by Jennie Wexler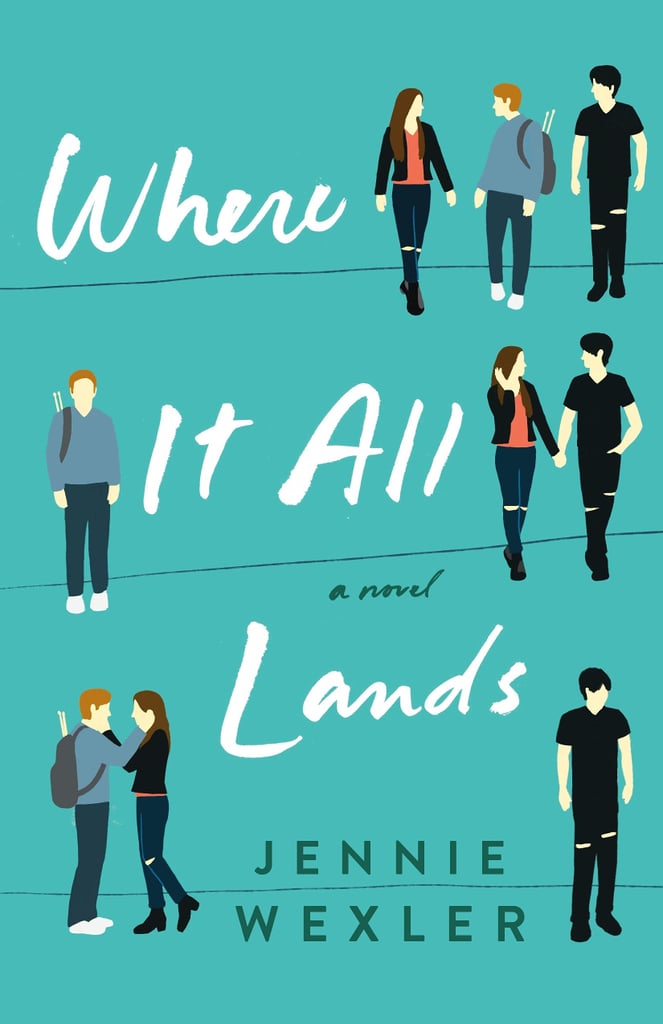 Where It All Lands [226] by Jennie Wexler is the teen version of Sliding Doors. Told in two different timelines, the story reveals how one coin toss could drastically change the course of three people's lives is this tantalizing story that asks what might happen if you could go barreling down the road not taken.
China Room by Sunjeev Sahota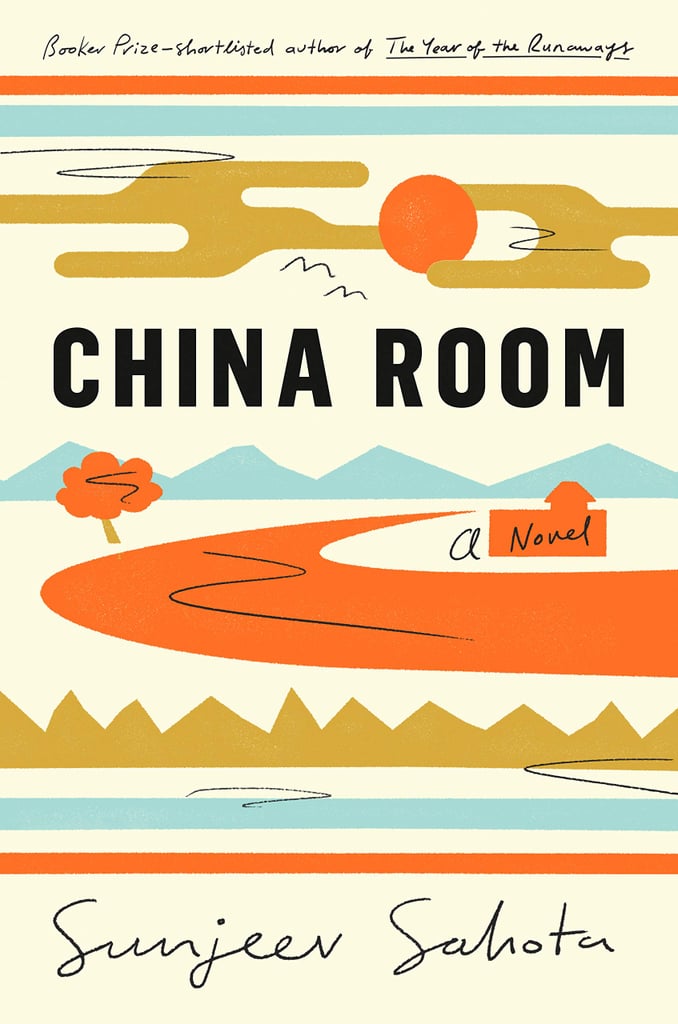 Told across two timelines, Sunjeev Sahota's China Room [227] is an epic story about family secrets and the struggle to break free from the people and systems who try to hold others back. In 1929 Punjab, Mehar is struggling to deduce who she's married to after she and two other women are married to three brothers in a single ceremony. Then, decades later in 1999, a young man moves in with his uncle as he works to get his addiction under control, only to find the home's china room has been locked for years.
The Final Girl Support Group by Grady Hendrix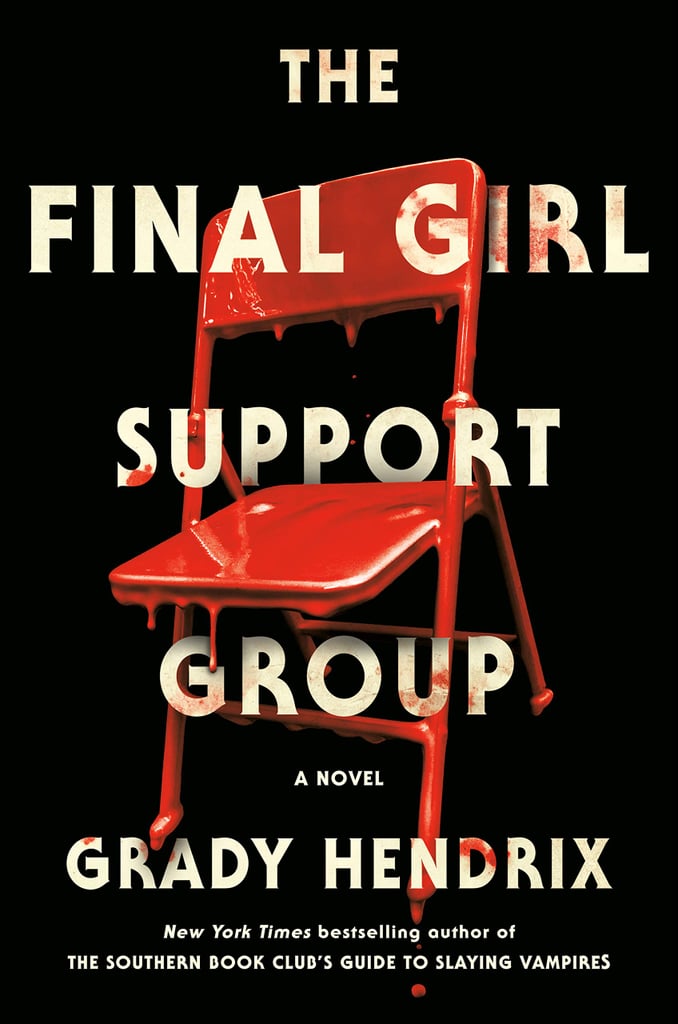 Grady Hendrix's latest deconstruction of the horror genre takes on the final girl trope in The Final Girl Support Group [228]. For over a decade, five women who survived unthinkable horrors have met with a therapist to piece their lives back together, but when one of them goes missing, the other four quickly realize they have yet another fight on their hands.
A House Full of Windsor by Kristin Contino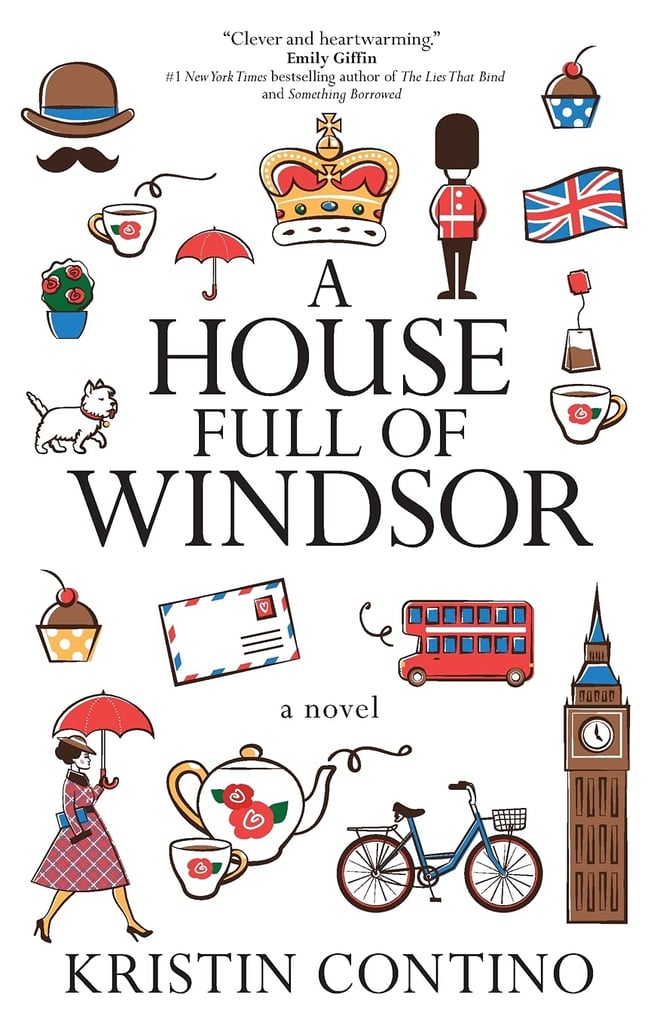 A royal obsession and a family's overstuffed closet full of secrets are at the center of Kristin Contino's smart and heartwarming novel A House Full of Windsor [229]. Sarah has long tried to keep her mother's obsessive hoarding of royal memorabilia a secret, but now that her brother has submitted their mom to take part in a reality show, Sarah and the rest of her family are going to finally have to confront the painful past they've been trying so hard to ignore — and on TV of all places.
How Sweet It Is by Dylan Newton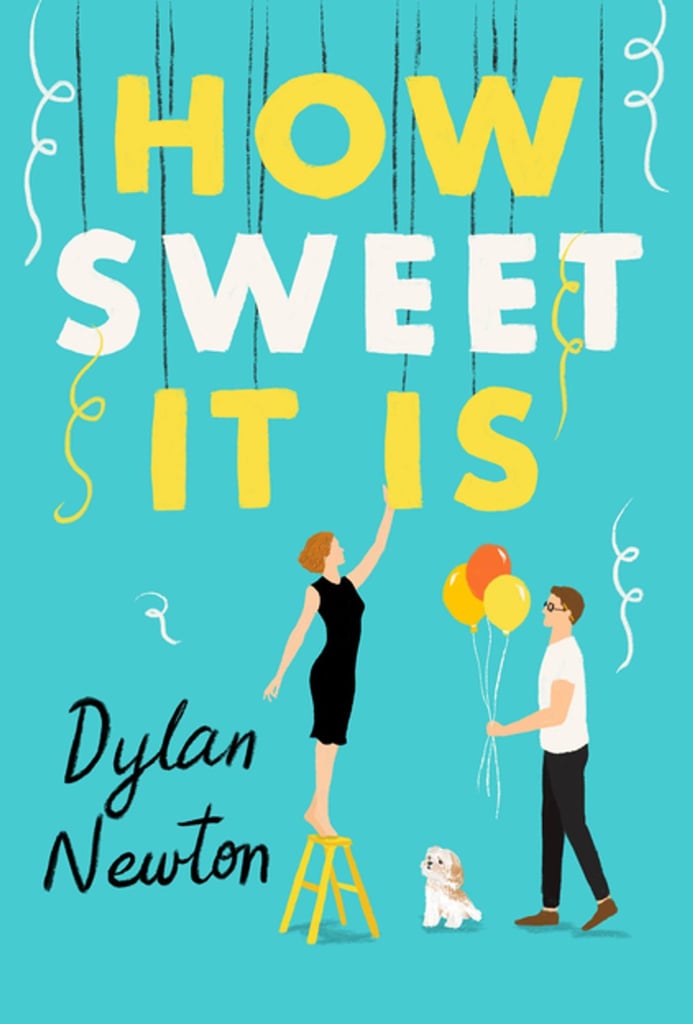 A horror novelist and a cheerful party planner have the weirdest meet cute ever in How Sweet It Is [230] by Dylan Newton. While Kate is known for planning ultra-romantic weddings, she can't say no when her best friend asks her to put together a famous horror writer's book launch party. But what she doesn't expect is to catch feelings for the so-called "Knight of Nightmares."
It Happened One Summer by Tessa Bailey
Schitt's Creek [231] fans, this is the romance read for you. It Happened One Summer [232] by Tessa Bailey follows a Hollywood darling who is cut off from the family fortune and exiled to a small town in hopes that she'll finally learn some responsibility. However, at least one sexy local is ready to send her back to Hollywood as soon as possible.
The Lost and Found Necklace by Louisa Leaman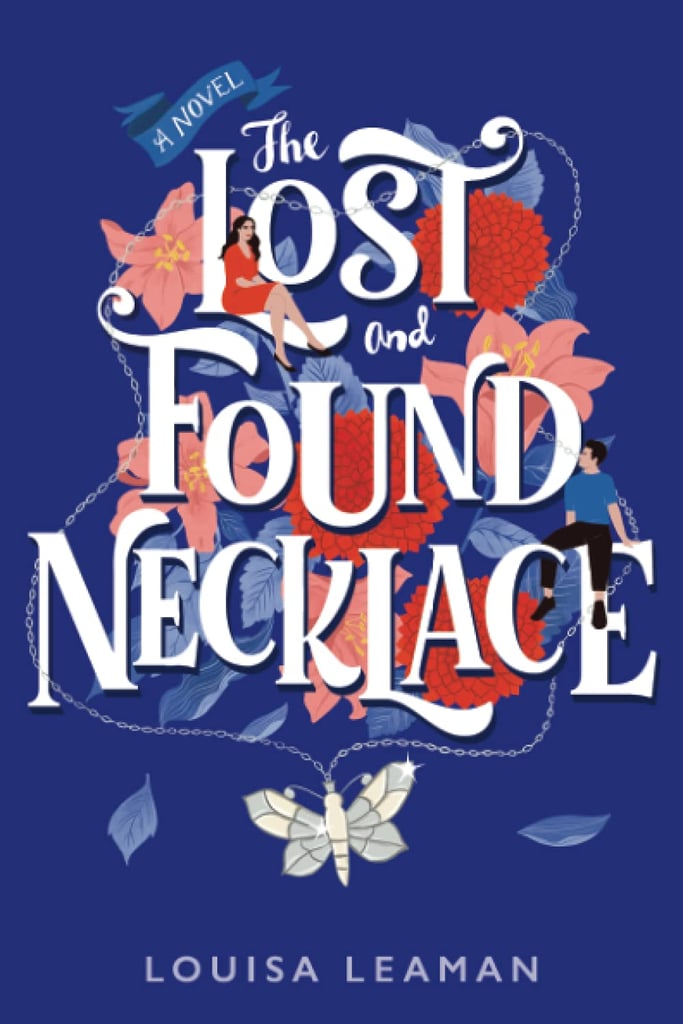 The search for a family heirloom is at the center of this gem of a rom-com. In The Lost and Found Necklace [233] by Louisa Leaman, a woman named Jess is ready to settle down with her boring, but sweet boyfriend when she's drawn into the hunt for a necklace that's been passed down from woman to woman throughout her family's history — and into the orbit of the man who's not quite ready to give the heirloom back to its rightful owners.
The Right Side of Reckless by Whitney Grandison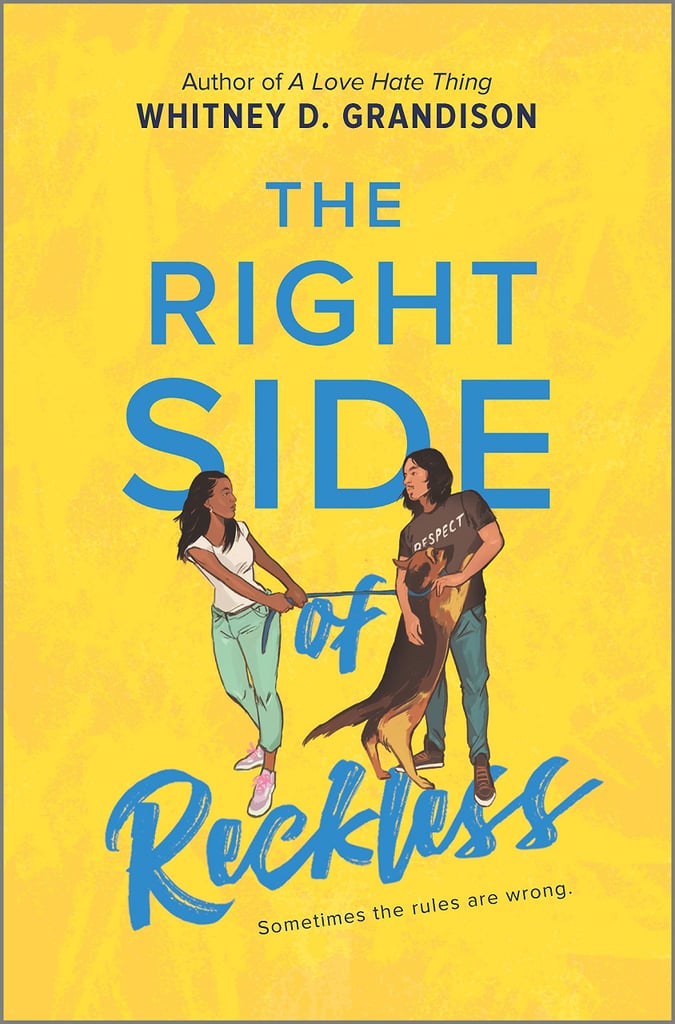 The Right Side of Reckless [234] by Whitney Grandison is a star-crossed teen romance about second chances and defying expectations. After making a series of bad choices, Guillermo Lozano is ready to stay on the straight and narrow, but when sparks fly between him and perpetual good girl Regan London, all bets are off.
The Startup Wife by Tahmima Anam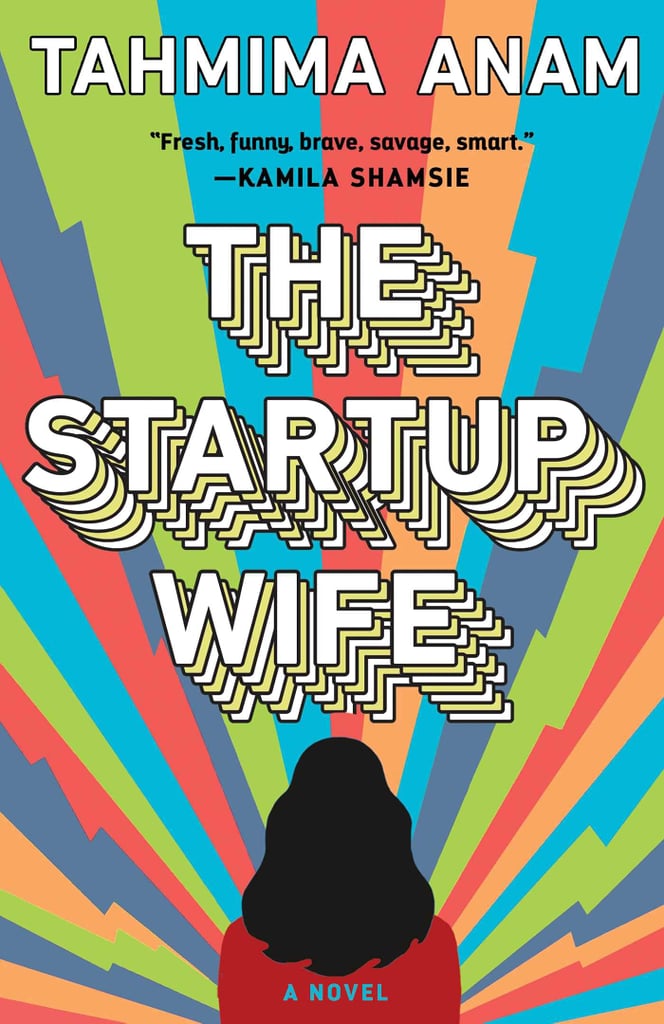 Tahmima Anam turns her keen eye toward skewering startup culture and exploring what the future of religion might look like in the digital age in her terrific new novel The Startup Wife [235]. When husband and wife team Asha and Cyrus create an app that replaces religion, they quickly become superstars. But as the adoration disproportionately falls on Cyrus, Asha begins to wonder if their relationship can survive when she's being pushed out of the narrative completely.
Such a Quiet Place by Megan Miranda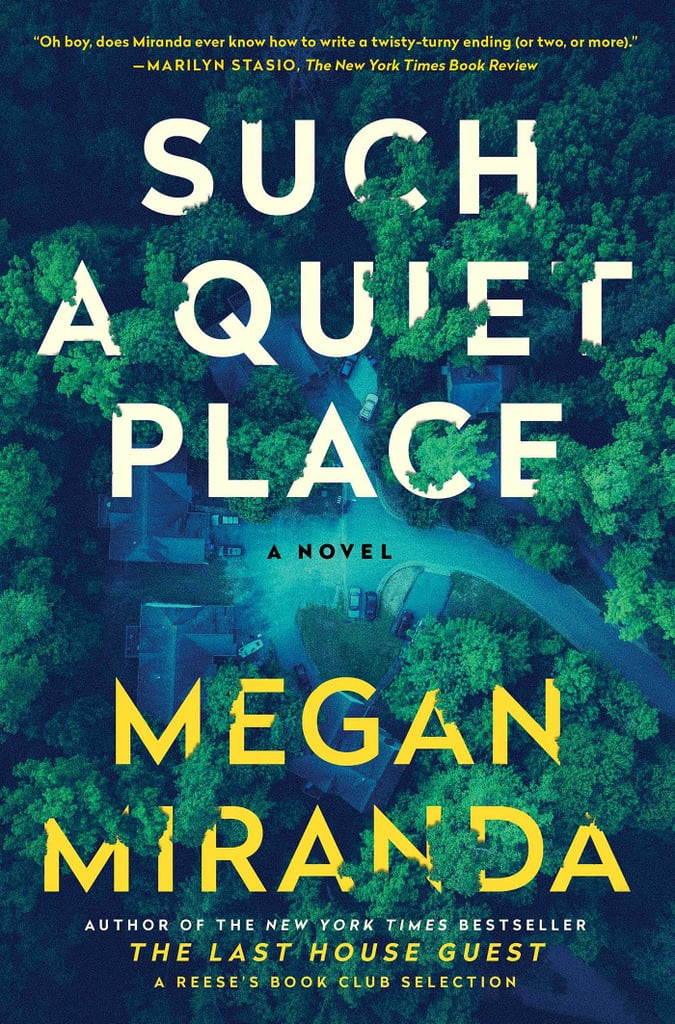 Megan Miranda's latest domestic thriller, Such a Quiet Place [236], takes place in a tight-knit community that's rocked by a murder. When the woman accused of the crime returns to Hollow's Edge as if nothing ever happened, neighbors begin turning on neighbors in this unsettling story of a neighborhood on the brink of chaos.
The Taking of Jake Livingston by Ryan Douglass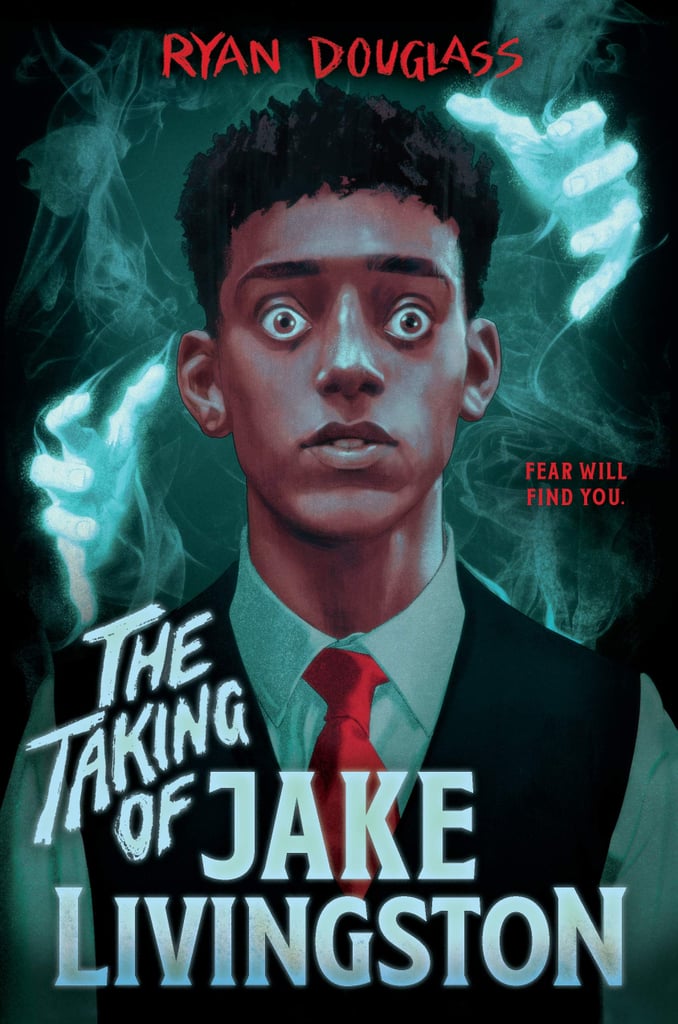 Between being a medium and dealing with the racist teachers at his school, Jake Livingston's life is more than a little bit complicated in The Taking of Jake Livingston [237] by Ryan Douglass. Jake thinks things might be getting better when Allister, a new student who catches Jake's eye, arrives at the school, but the presence of a vengeful ghost quickly makes crushing on the new boy the least of his problems.
The Therapist by B.A. Paris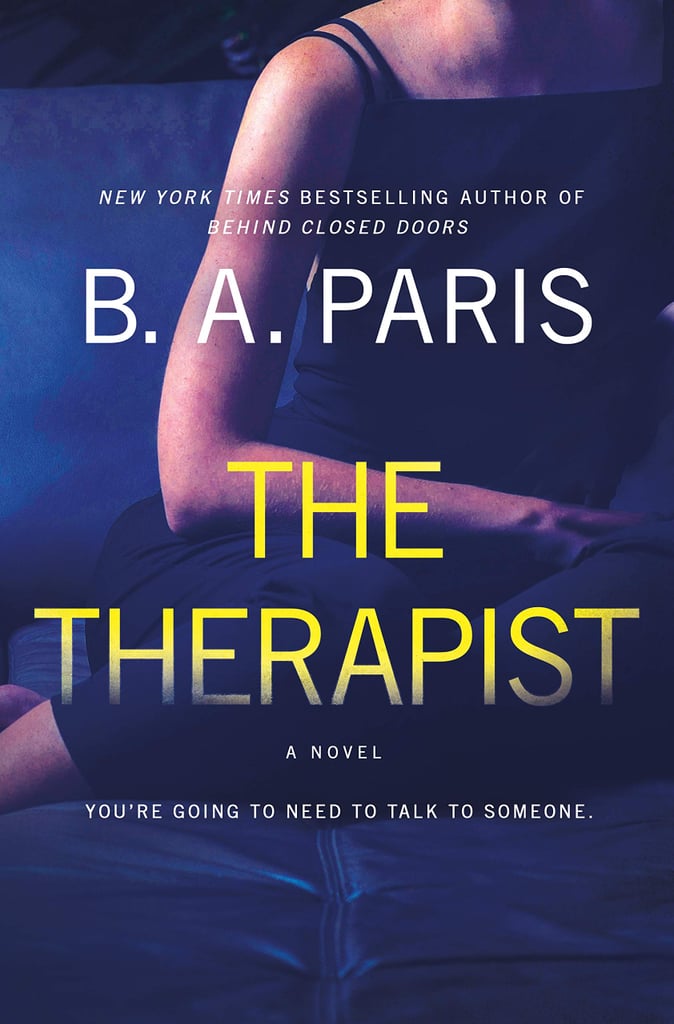 The Therapist [238] by B.A. Paris follows a young couple as they move into the perfect gated community only to discover that something terrible happened in their new house. Now, Alice can't quit digging into the life of the therapist who lived there before them, even though her neighbors would much rather forget the past.
A Touch of Jen by Beth Morgan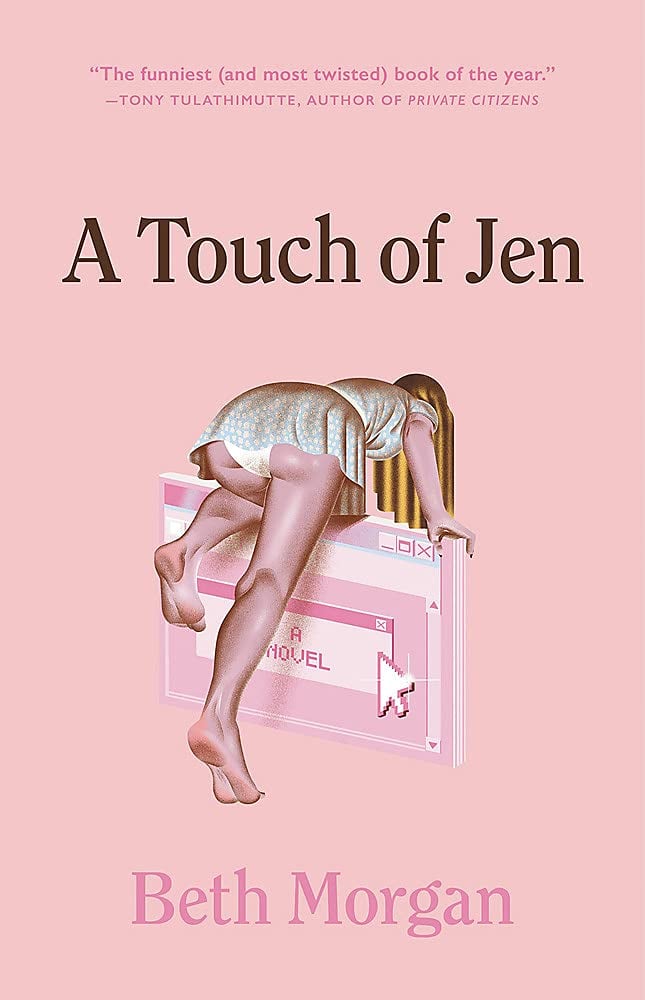 A Touch of Jen [239] by Beth Morgan is a bold, wild ride that takes on our collective dependence on social media head on. When unhappily married couple Remy and Alicia run into their Instagram obsession Jen in the flesh, the duo are elated when she invites them to the Hamptons. However, once they begin spending time with Jen in real life, resentment and jealousy bubble to the surface leading to a horrifying turn of events.
What Is a Dog? by Chloe Shaw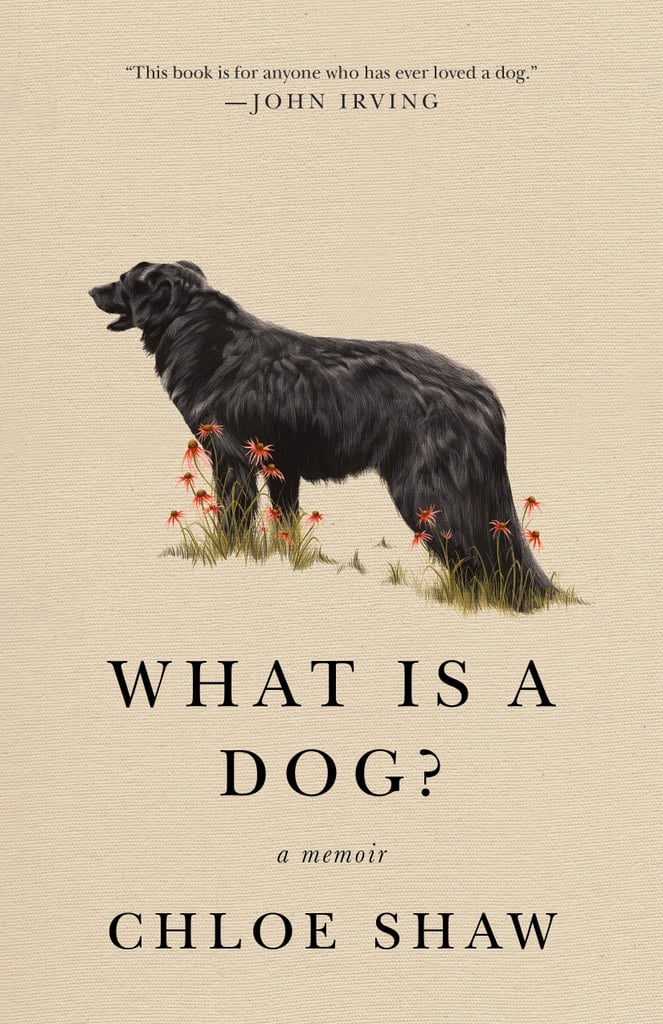 It's no secret that dogs can make us better people. But in her memoir What Is a Dog? [240], Chloe Shaw takes things a step further by pondering what lessons we can learn about striving to be our best selves by reflecting on all of the beloved pups who have touched our lives. In the wake of her dog's death, Shaw looks back on all of the canine companions she has had in her life so far, and reflects on how they've helped her grow as a human.
While We Were Dating by Jasmine Guillory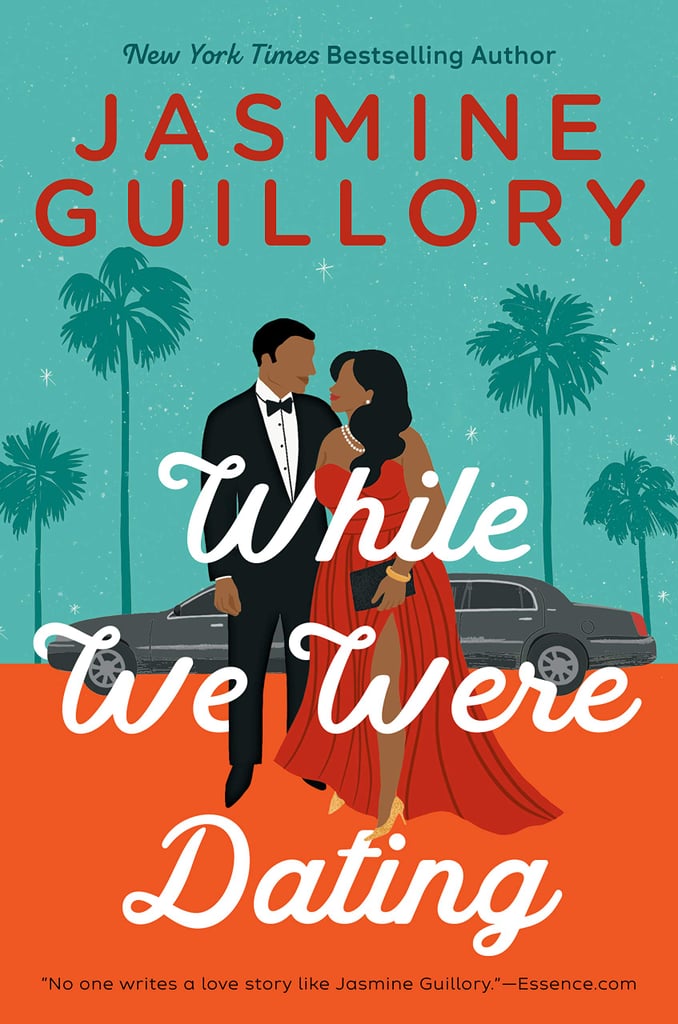 A Hollywood romance blossoms in Jasmine Guillory's steamy and swoon-worthy While We Were Dating [241]. At first, ad man Ben and movie star Anna's flirtation is just meant to be a bit of fun. But when a family emergency makes them realize their feelings are real, they'll have to decide if they're ready to let the rest of the world see that they're falling for one another.
XOXO by Axie Oh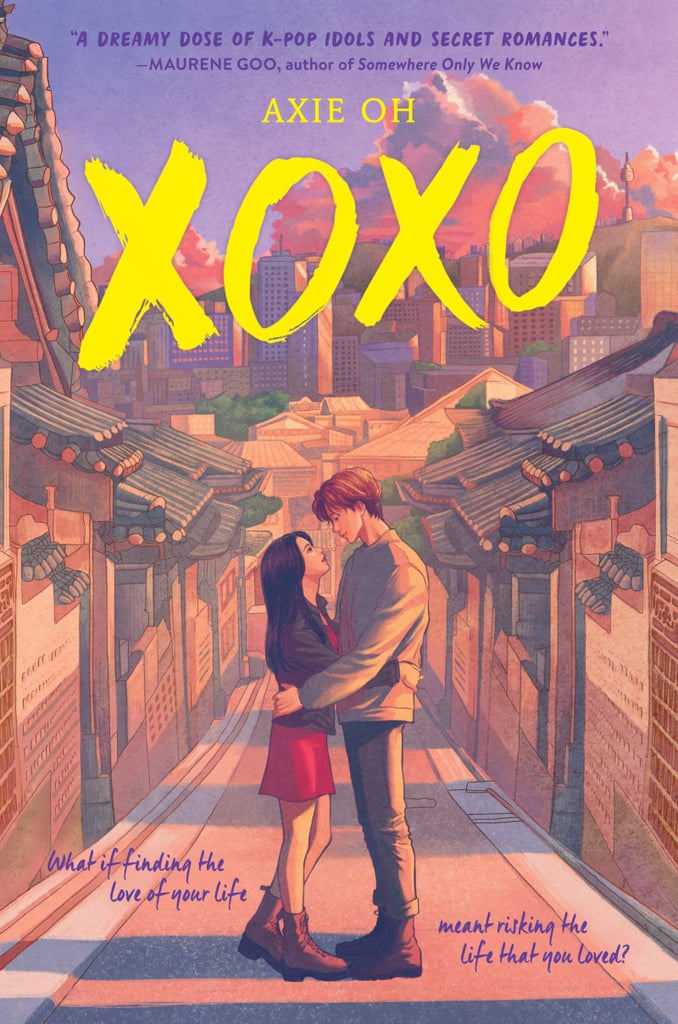 An aspiring cellist spends one magical night exploring Los Angeles with a boy from Korea in Axie Oh's XOXO [242]. But what Jenny doesn't realize until her mother moves her halfway around the world, is that the boy in question is actually an international K-pop star — which means their romance could jeopardize both of their careers if word gets out.
The Book of Accidents by Chuck Wendig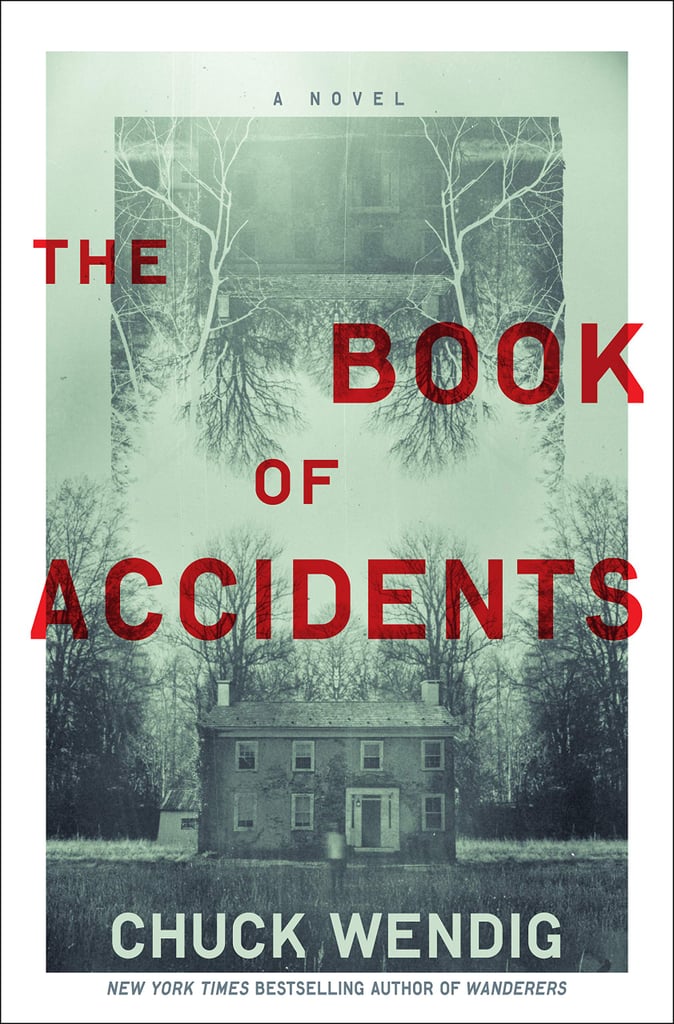 There's no way around it: The Book of Accidents [243] by Chuck Wendig is terrifying. But it's also a story about the power of a family's love. Set in a Pennsylvania mining town where something dark is always lurking, the story follows a little boy and his parents as they find themselves caught up in the ultimate battle of good versus evil.
False Witness by Karin Slaughter
Defense attorney Leigh's life seems to be perfect from the outside in Karin Slaughter's False Witness [244]. But there's a darkness in her past that's just waiting to be exposed by her new client — a man she has no choice but to defend if she wants to protect herself and her little sister.
For Your Own Good by Samantha Downing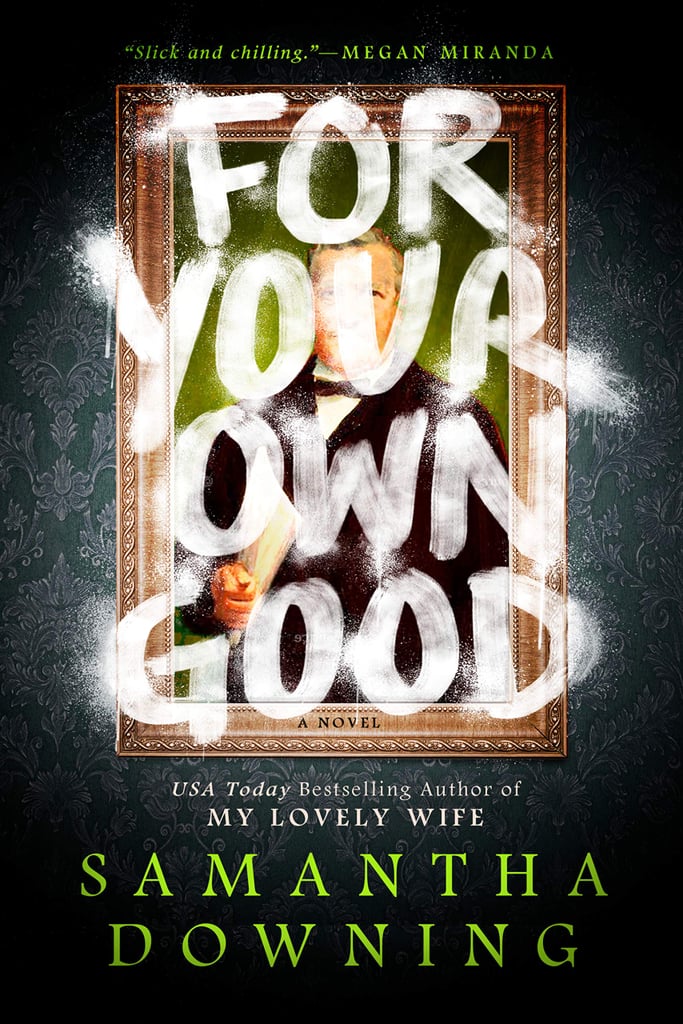 A teacher only wants what's best for his students in Samantha Downing's pitch black satirical thriller For Your Own Good [245]. As Teacher of the Year, Teddy believes it's his responsibility to guide his students through the world, even if that means defying their snobbish parents or teaching them a few hard life lessons along the way. Everything he does is for their own good, after all.
Isn't It Bromantic? by Lyssa Kay Adams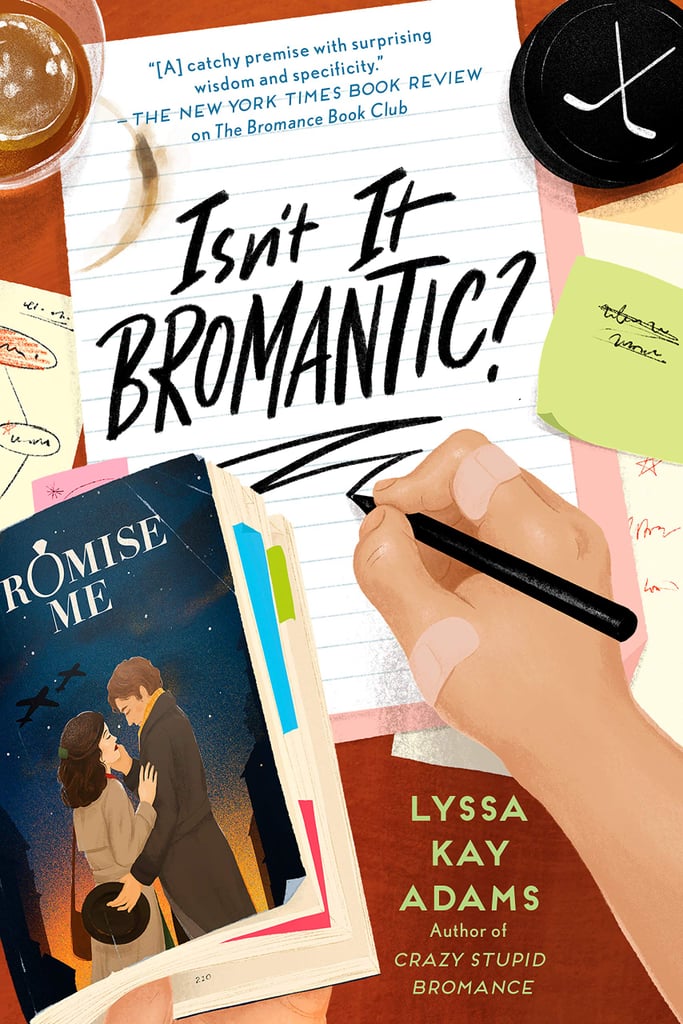 Lyssa Kay Adams's Bromance Book Club series continues with Isn't It Bromantic? [246]. This time around, it's Vlad's (better known as the Russian) turn to find his happily ever after, and for him that means wooing his wife and defying expectations by writing his very own romance novel.
She Who Became the Sun by Shelley Parker-Chan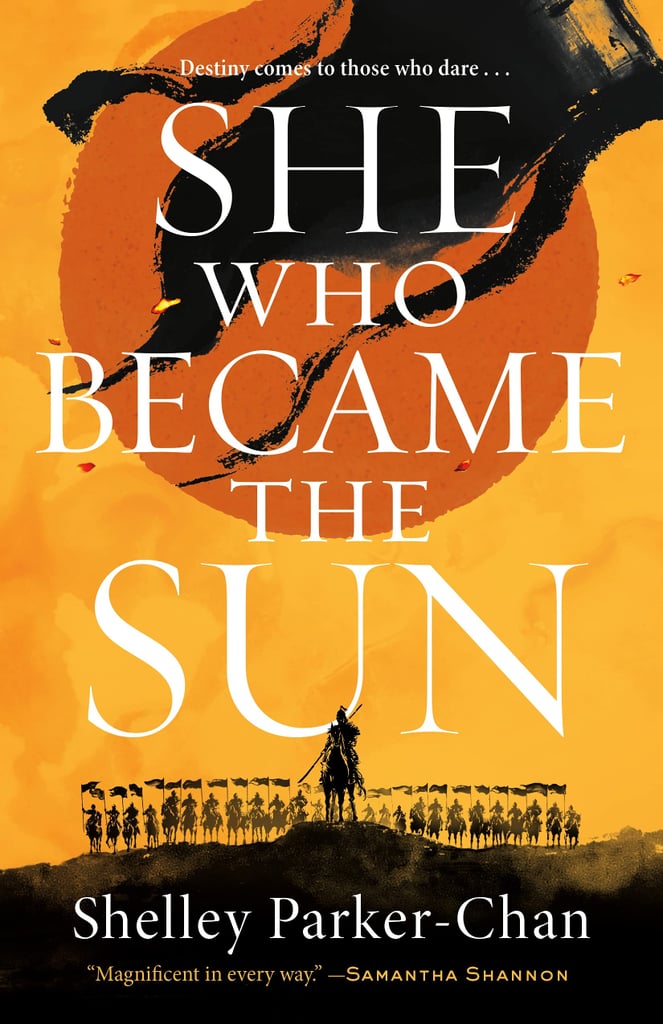 The rise of the Ming Dynasty's founding emperor is reimagined in the sprawling and striking epic She Who Became the Sun [247] by Shelley Parker-Chan. When it's foretold that Zhu Chongba has a fate of greatness, his sister is told she has a fate of nothingness. But everything changes when Zhu is killed, and his sister assumes his identity and his destiny.
A Woman of Intelligence by Karin Tanabe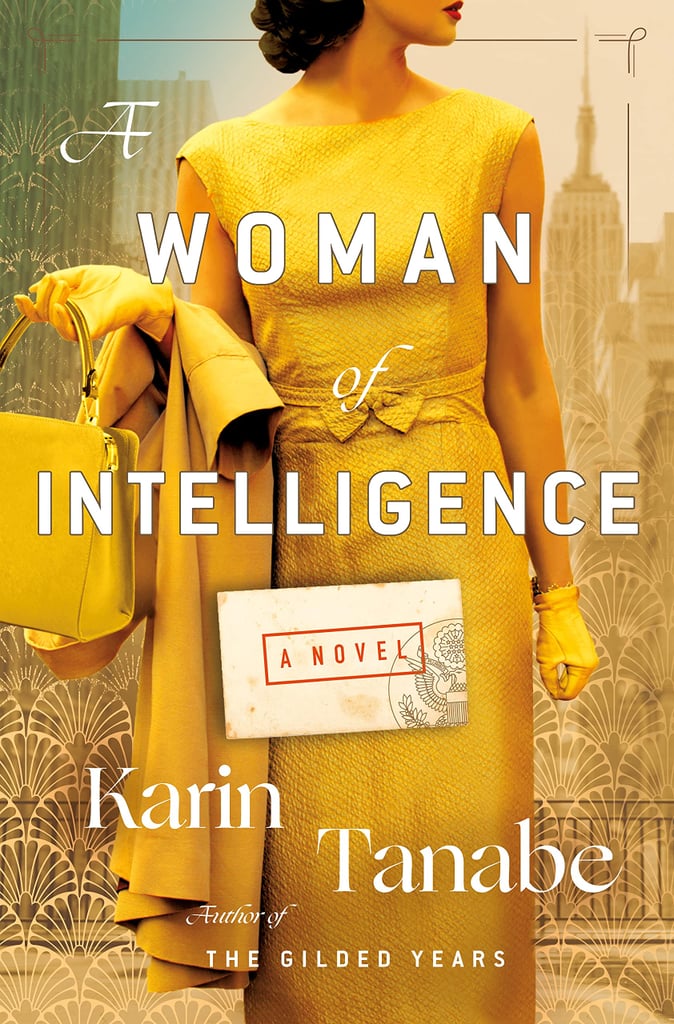 A Woman of Intelligence [248] by Karin Tanabe is the kind of historical fiction novel you can get lost in. Set in 1954, the story follows Katharina, a woman who seems to have it all: a gorgeous husband, healthy kids, and an apartment on Fifth Avenue. But Katharina yearns for more, which is how she ends up living a double life as an informant for the FBI.
Goldenrod by Maggie Smith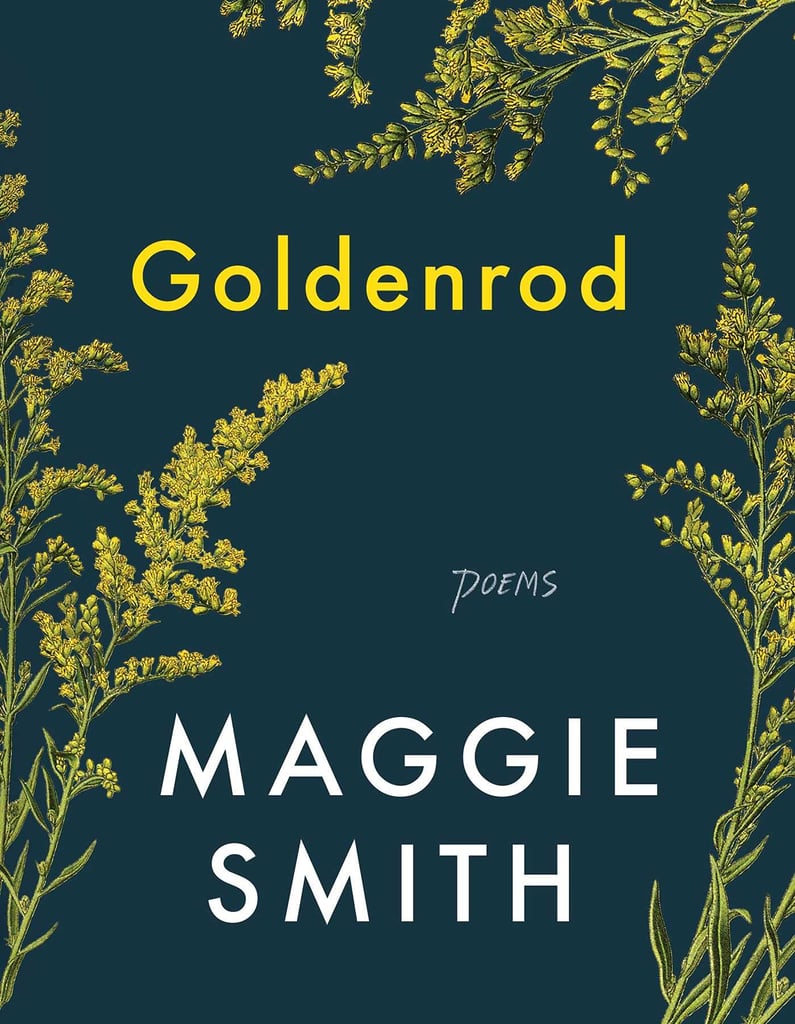 Even if you don't usually read poetry, the lyrical and touching poems in Goldenrod [249] by Maggie Smith are sure to capture your heart. Smith has a way of turning the mundane into the profound, and in the process, she'll astound you with her brilliant insights into modern life.
Heartbreak for Hire by Sonia Hartl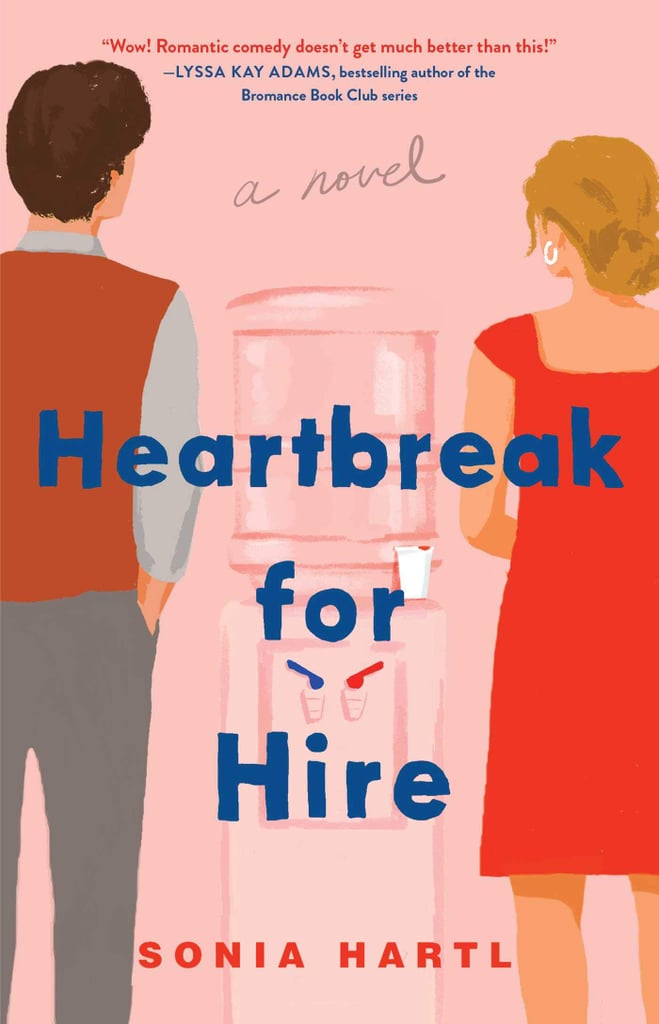 At the center of Heartbreak for Hire [250] by Sonia Hartl is an organization that specializes in taking entitled men down a few notches. Brinkley Saunders is one of the company's employees, and she has no regrets about the work she does . . . at least not until one of her former targets becomes the first male heartbreaker in the office.
Just One Look by Lindsay Cameron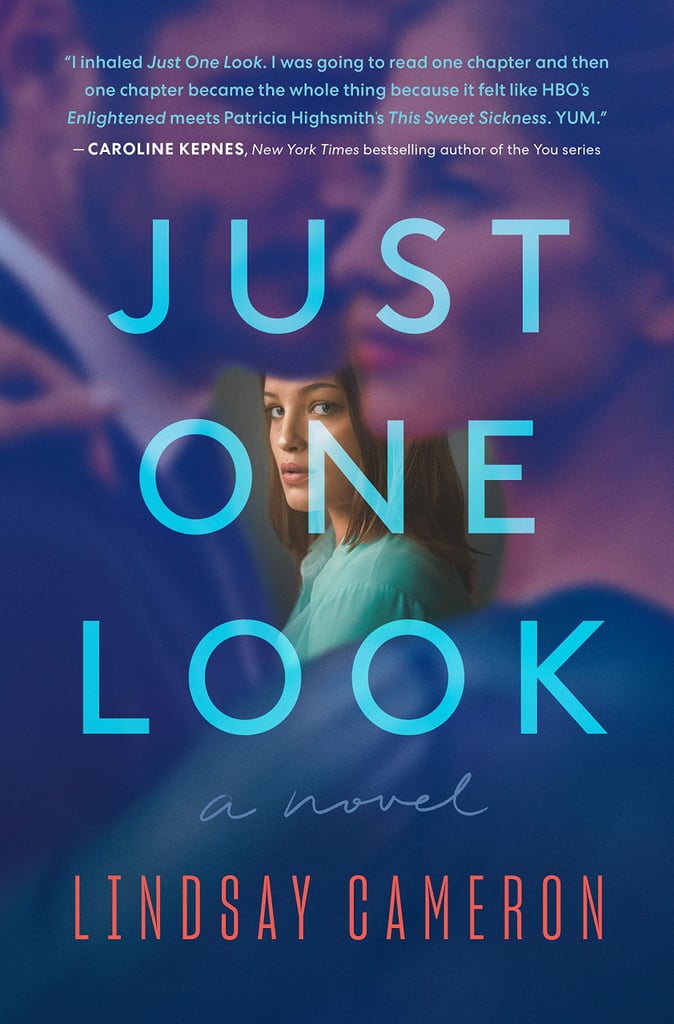 What begins as a bit of snooping turns into a dangerous obsession in Just One Look [251] by Lindsay Cameron. With her life falling apart around her, Cassie takes a temp job sorting through a large corporation's emails. Among the emails is a private correspondence between a seemingly perfect wife and husband, who Cassie can't stop herself from fixating on.
Love Next Door by Helena Hunting
Love Next Door [252] by Helena Hunting is a perfect beach read (or front porch swing read). The story follows Dillon, who returns to her small hometown to join the family business, and ends up falling for the infuriatingly handsome man who lives in the cottage next door.
The Man Ban by Nicola Marsh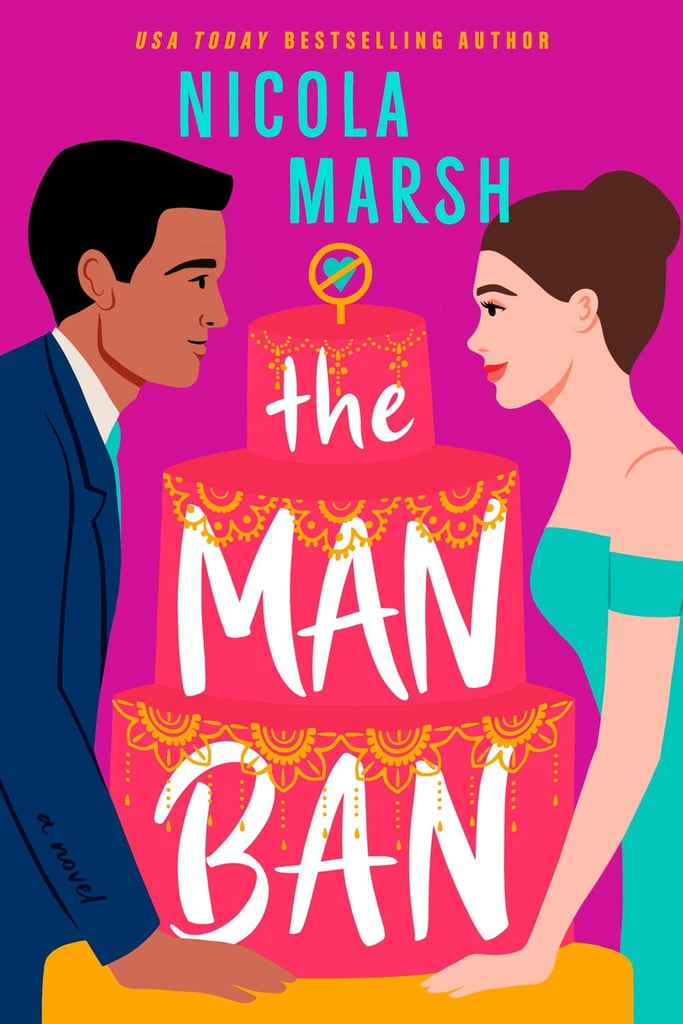 Swearing off men is easier said than done in The Man Ban [253] by Nicola Marsh. Food stylist Harper has spent the last 12 months focusing on herself, but when sparks fly between her and a frustratingly arrogant doctor, she decides a meaningless hookup isn't breaking the rules (although developing feelings for said hookup most definitely is).
Not a Happy Family by Shari Lapena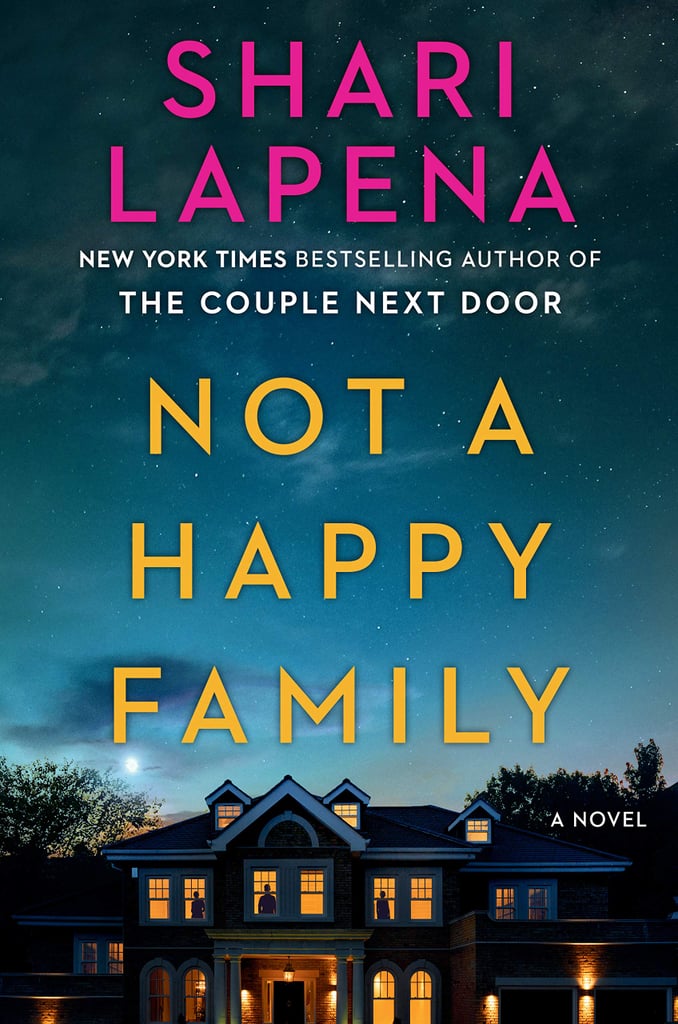 An Easter dinner turns deadly in Not a Happy Family [254] by Shari Lapena. When Fred and Sheila Merton are brutally murdered, their adult children appear to be heartbroken. But appearances can be deceiving, and it's entirely possible one of them is responsible for the death of their parents.
The Silver Blonde by Elizabeth Ross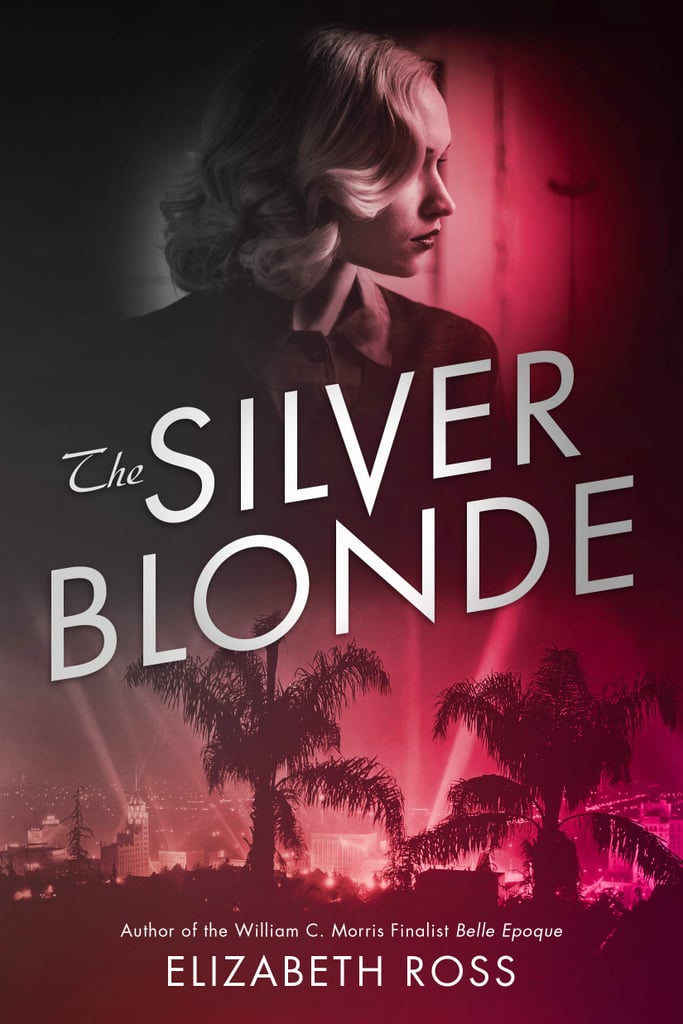 The Golden era of Hollywood provides the backdrop for Elizabeth Ross's lush YA historical fiction tale The Silver Blonde [255]. At 18, Clara wants nothing more than break into movie editing and score a date with the young screenwriter Gil, but life becomes complicated when she stumbles across a murder scene and becomes embroiled in a mystery.
Small Favors by Erin A. Craig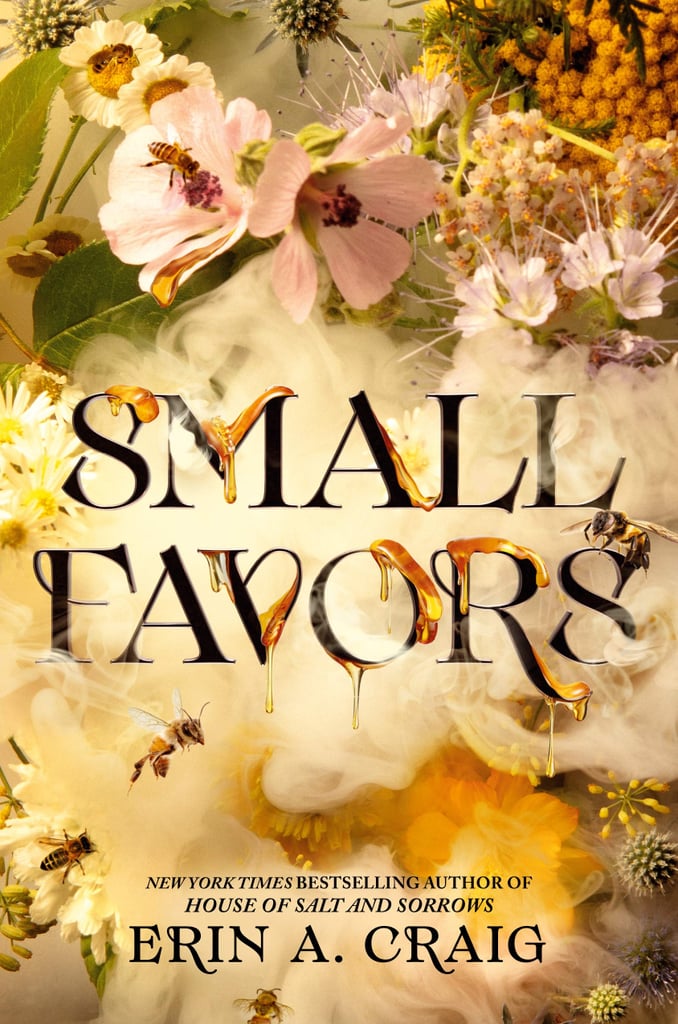 Small Favors [256] by Erin A. Craig will give you chills no matter how hot it is outside. The small town of Amity Falls is isolated from the outside world, which leads to quite a bit of boredom for Ellerie Downing. However, when the long-rumored creatures that lurk in the woods surrounding Amity Falls begin making their presence known to the residents, Ellerie will yearn for the quiet days of boredom she used to loathe.
When We Were Strangers by Alex Richards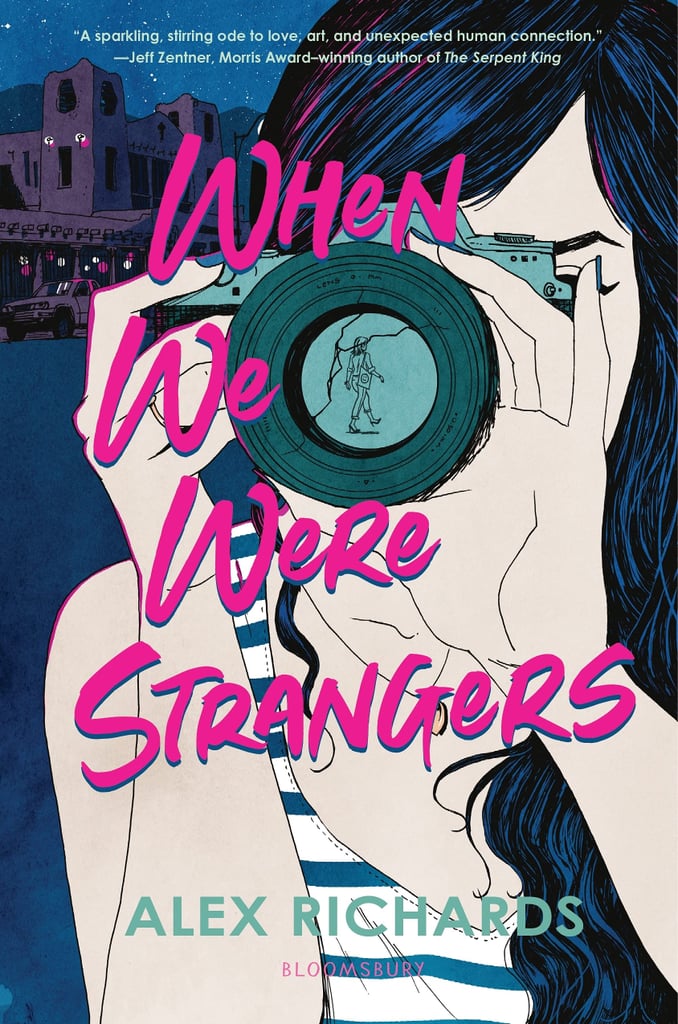 In When We Were Strangers [257] by Alex Richards, a young woman named Evie struggles to process her grief after her father's passing. Complicating matters further is her discovery that her father planned to leave her mother for his pregnant receptionist. In hopes of clearing her mind, Evie joins a photography class that leads her to confront her family's secrets so she can truly begin to heal.
Afterparties by Anthony Veasna So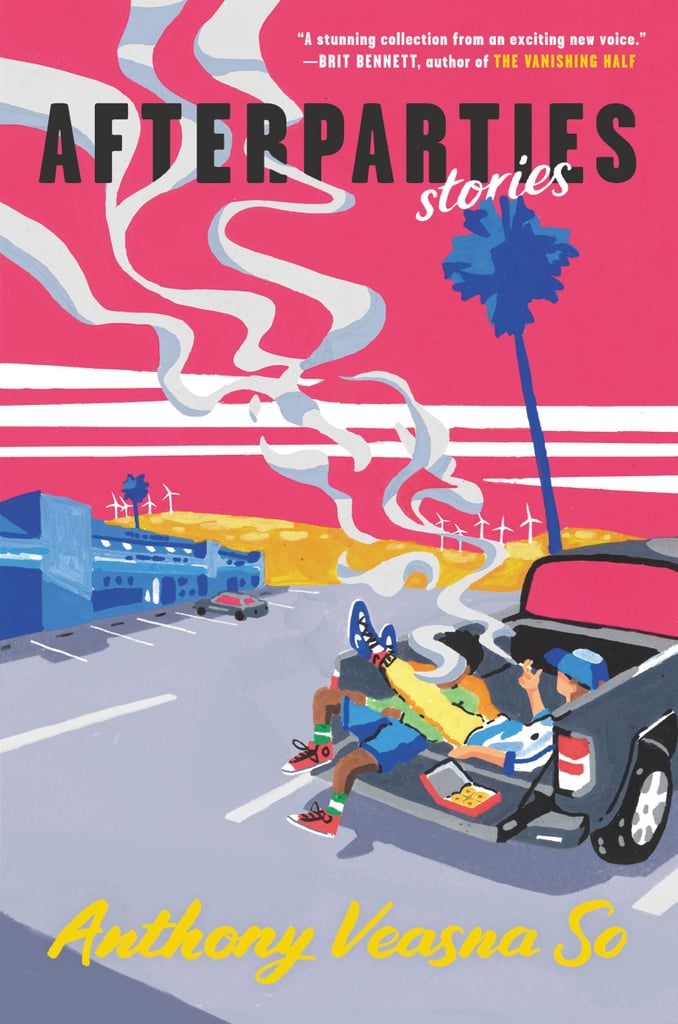 Afterparties [258] by Anthony Veasna So is a vibrant short-story collection focusing on the Cambodian American community in California. From a beautiful queer love story between a jaded teacher and an up-and-coming tech developer to a hilarious tale of two brothers on a mission to prove their uncle snubbed a bride and groom at their wedding [259], each story in this incredible collection is a must read.
The Dating Dare by Jayci Lee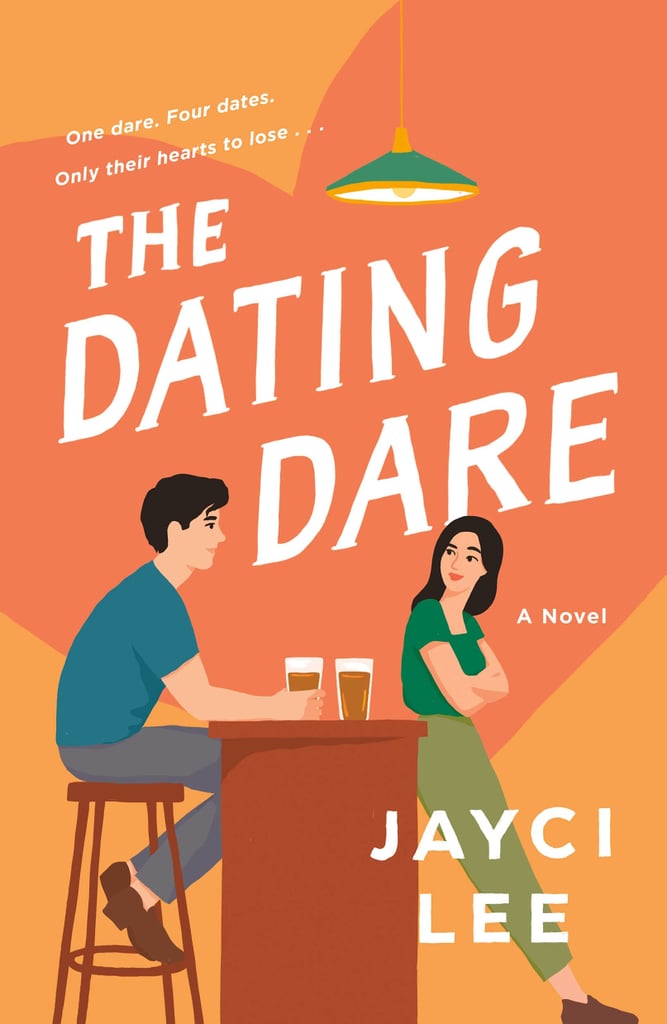 An alcohol-fueled game of truth or dare leads to an unexpected dating pact in Jayci Lee's sweet and sexy The Dating Dare [260]. Despite swearing off serious relationships for good, Tara Park accepts Seth Kim's proposal that they go out on four no-pressure dates before he leaves for Paris. Unfortunately for them both, keeping their hearts from getting involved won't be nearly as easy as they imagined.
The Dead and the Dark by Courtney Gould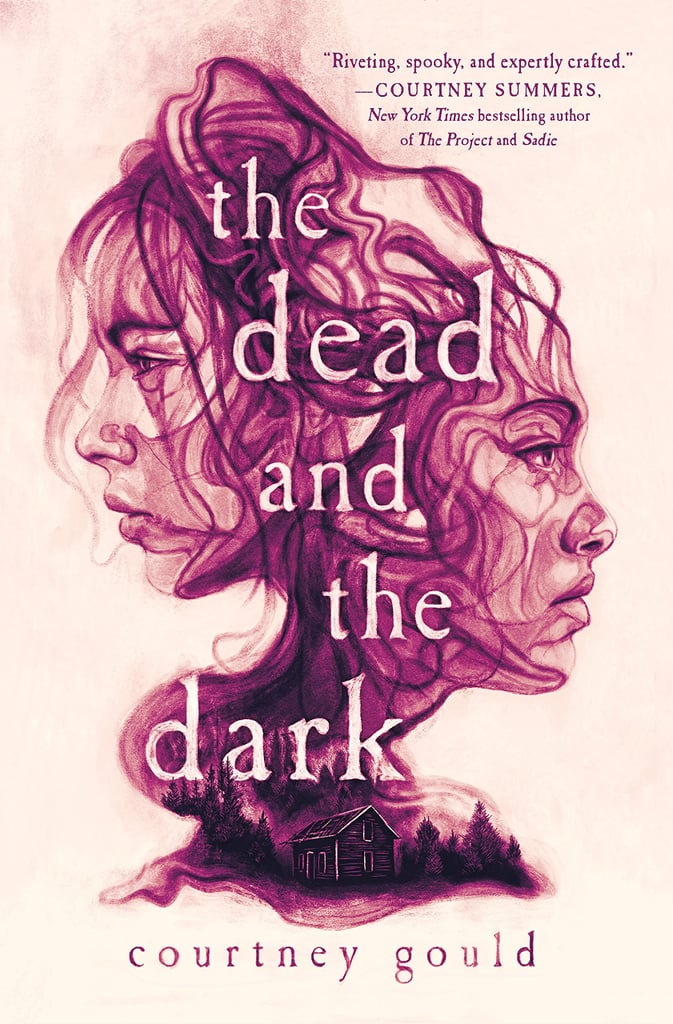 The Dead and the Dark [261] by Courtney Gould is an eerie supernatural tale of a small town plagued by strange events. After several teens disappear and reports of ghosts begin to spread, Logan Ortiz-Woodley and her dads — who are both paranormal TV hosts — show up in Snakebite, OR, to investigate. However, they quickly become embroiled in a darkness they never could have imagined.
Fresh by Margot Wood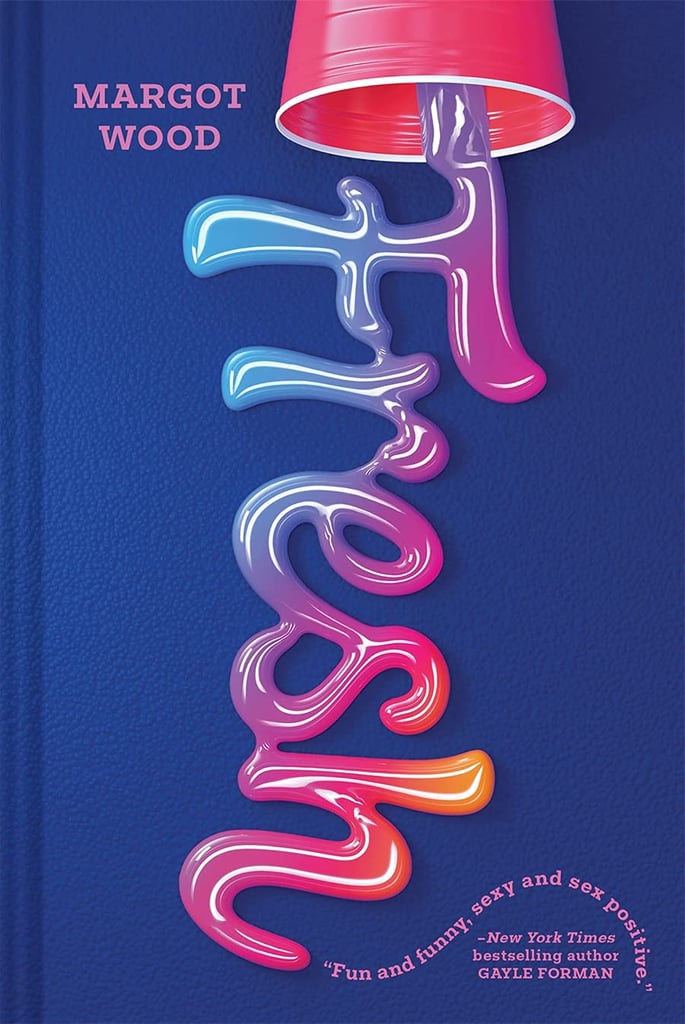 Margot Wood's Fresh [262] captures every cringeworthy, hilarious, and heartwarming moment of freshman life in college. As told through the eyes of the wonderfully imperfect Elliot McHugh, the college experience comes to life, and so do the numerous trials of self-discovery that are wrapped inside keggers, all-night study sessions, and ill-advised crushes.
The Guilt Trip by Sandie Jones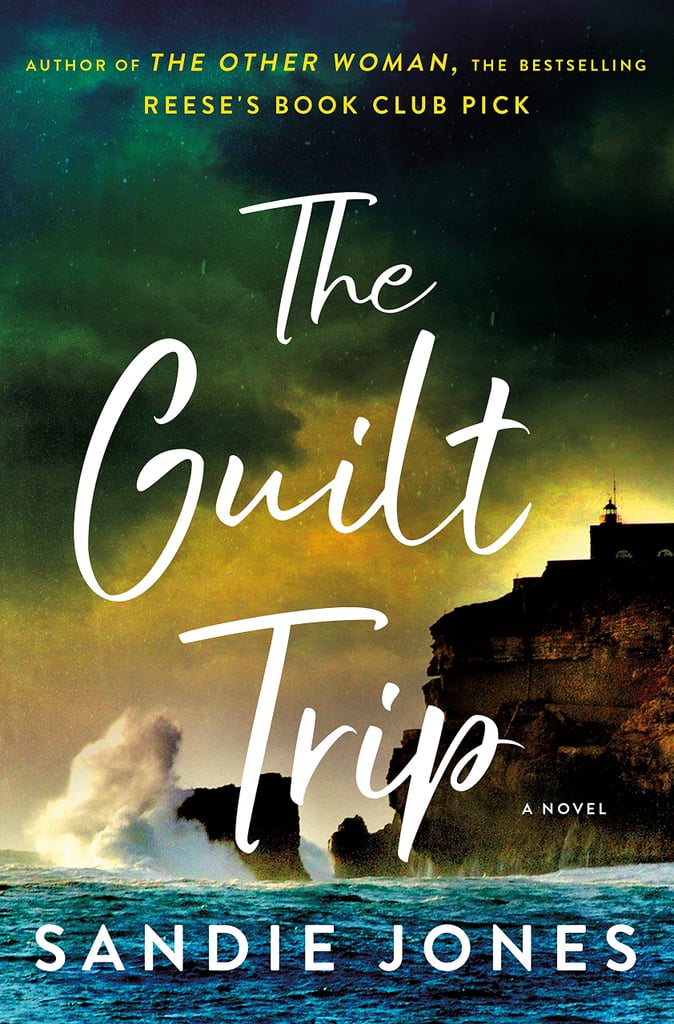 A wedding [263] weekend turns deadly in Sandie Jones's atmospheric thriller The Guilt Trip [264]. Old friends Rachel, Jack, Paige, and Noah are all invited to their pal Will's wedding in Portugal. However, Rachel uncovers a dark secret about Will's fiancée, Ali, that threatens the safety of everyone on the trip.
The Husbands by Chandler Baker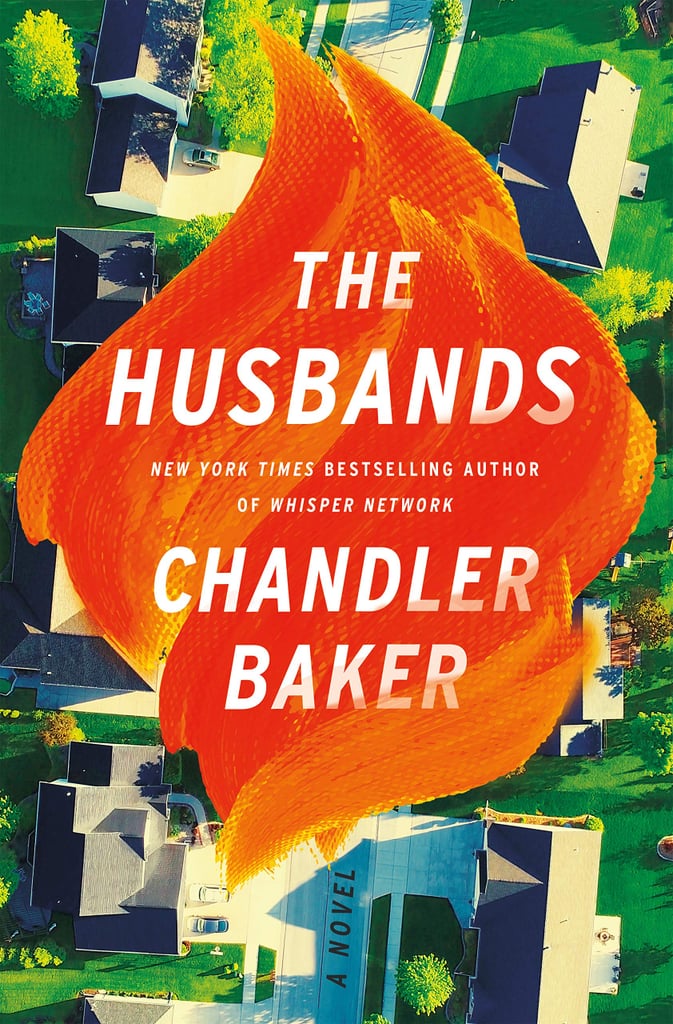 The Husbands [265] by Chandler Baker is the gender-swapped take on The Stepford Wives the world has been waiting for. Like so many women, Nora Spangler is fighting burnout as she balances her career as a lawyer with the never-ending domestic tasks that come with being a wife and a mother. So imagine her surprise when she moves to a seemingly perfect neighborhood where all of the husbands pitch in with the day-to-day running of their households without a single word of complaint.
If the Shoe Fits by Julie Murphy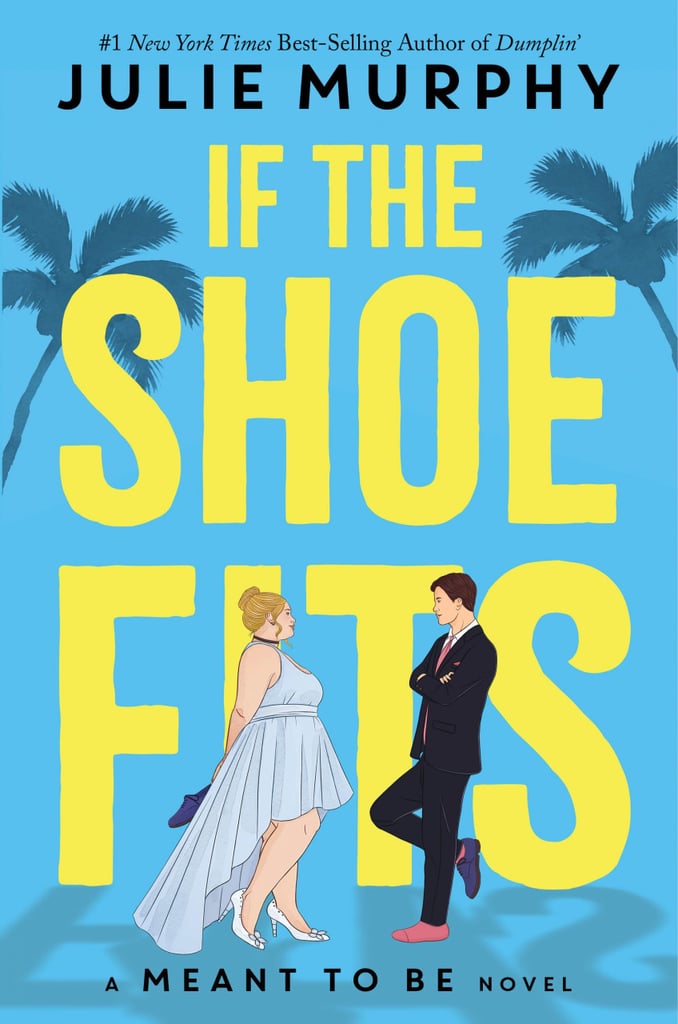 Cinderella gets a 21st-century update in If the Shoe Fits [266] by Julie Murphy. When her new design degree doesn't lead to job opportunities, plus-size fashionista Cindy moves back into her stepmother's house just in time to join the cast of her stepmom's reality TV show, Before Midnight. Overnight, Cindy becomes an icon, but now she'll have to navigate haters, the other contestants, and her growing feelings for the show's prince charming if she wants to make it out of the season with her heart intact.
Immediate Family by Ashley Nelson Levy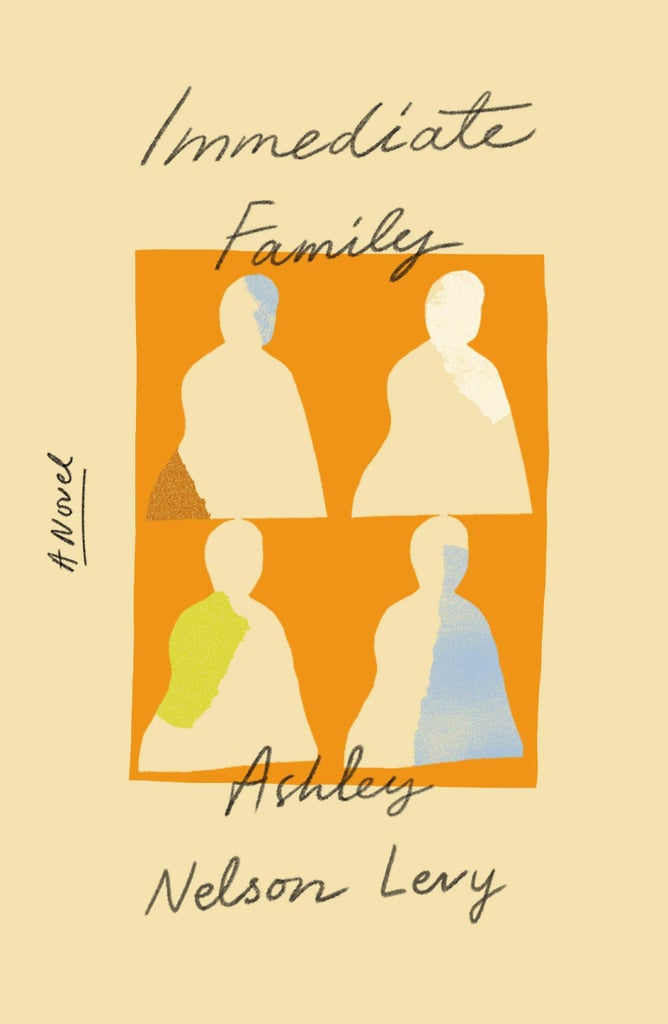 Ashley Nelson Levy's debut, Immediate Family [267], is a beautifully raw ode to the bond between siblings. Just hours before her little brother is set to get married, the book's narrator is still struggling to figure out what to say in her toast. To help get her thoughts in order, she focuses on a letter to her brother in which she pours out all of the things she could never say out loud. From her thoughts on their childhood to her ongoing struggle with infertility, the narrator reveals everything she's not quite ready to share with her family.
A Lesson in Vengeance by Victoria Lee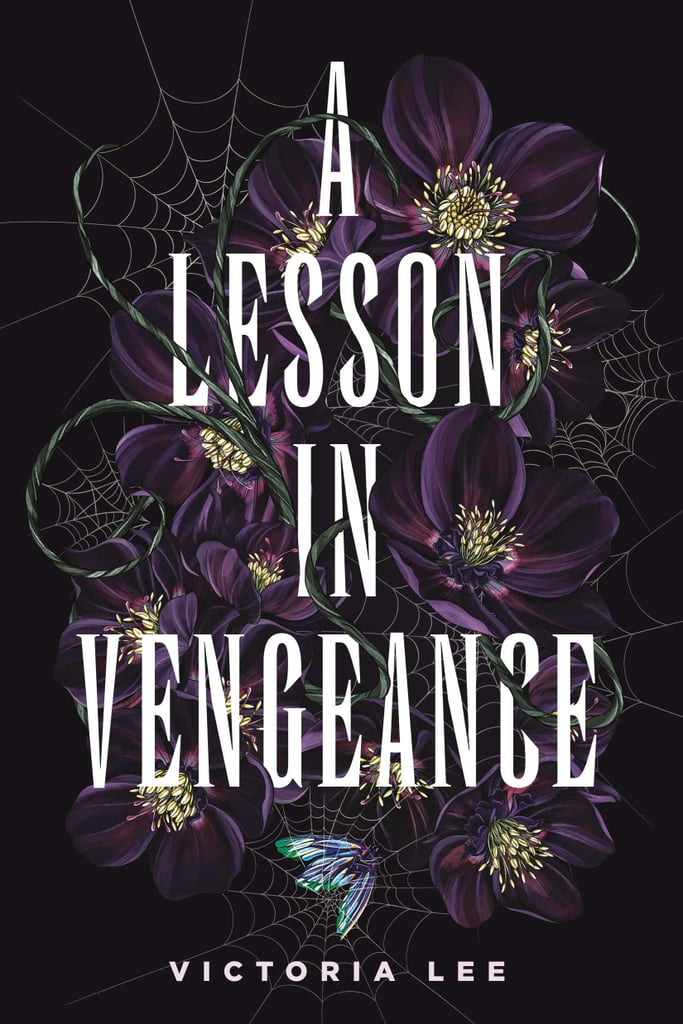 A Lesson in Vengeance [268] by Victoria Lee is the dark queer academia novel fans of the genre have been waiting for. Set in Dalloway, a boarding school plagued by rumors of witchcraft, the story follows a student named Felicity who returns to the school after the death of her girlfriend. Despite her grieving heart, she can't help but be attracted to a young novelist after they both decide to do a deep dive into the school's haunted past.
Mercury Boys by Chandra Prasad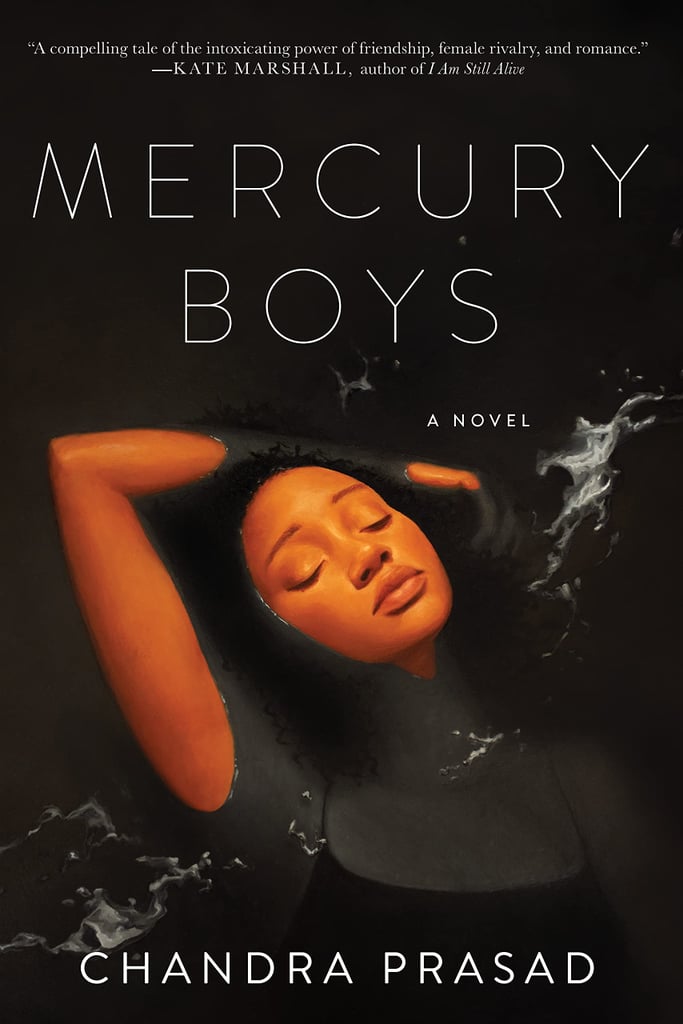 Chandra Prasad's Mercury Boys [269] is an inventive take on the time-travel novel. Saskia Brown feels out of place in her new, predominantly white school until she accidentally discovers an old vial of mercury that allows her to communicate with boys from the past. Other girls follow Saskia's lead, but what begins as a sisterhood quickly devolves into jealousy and violence that threaten to expose everyone's secrets to the rest of the school.
The Reading List by Sara Nisha Adams
The power of literature is on full display in Sara Nisha Adams's heartfelt debut, The Reading List [270]. Anxious teen Aleisha is spending her summer working at the library when she discovers a handwritten list of books and decides to read them all in order. Eager to share her discovery with someone else, she passes along the list to widower Mukesh, who is desperately looking for a way to connect with his reclusive granddaughter.
Savage Tongues by Azareen Van der Vliet Oloomi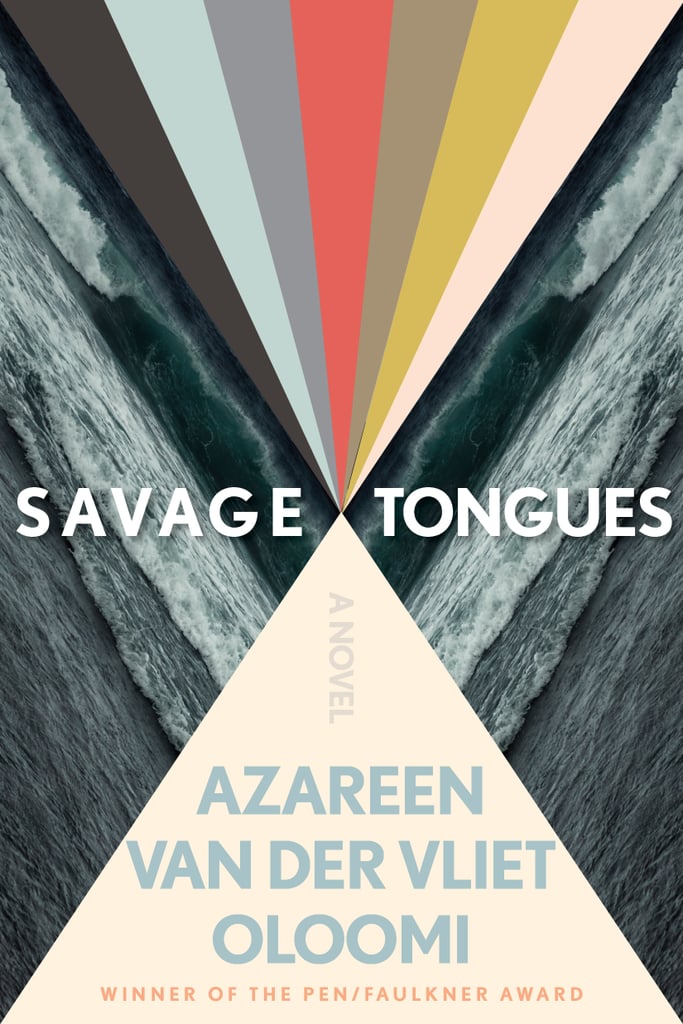 Savage Tongues [271] by Azareen Van der Vliet Oloomi is a searing examination of trauma. Arezu, an Iranian American, inherits her father's apartment after having an affair with her 40-year-old step-nephew, Omar. Now, 20 years later, she's finally ready to face the truth about the devastating summer that changed her life.
Sisters in Arms by Kaia Alderson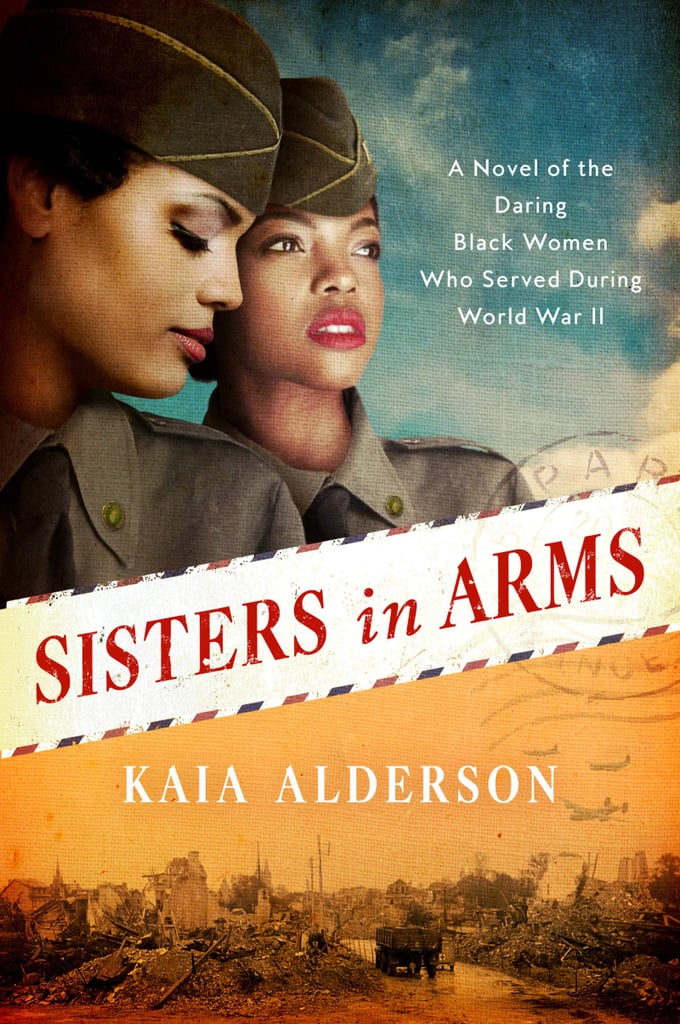 Sisters in Arms [272] by Kaia Alderson is a World War II novel that shines the spotlight on the 6888th Central Postal Directory Battalion, the Women's Army Corps' only all-Black battalion. This beautifully crafted historical-fiction debut focuses on Grace Steele and Eliza Jones, two women from completely different backgrounds who must put aside their differences to help ensure the soldiers' mail makes it from the front lines to their families back home.
So We Meet Again by Suzanne Park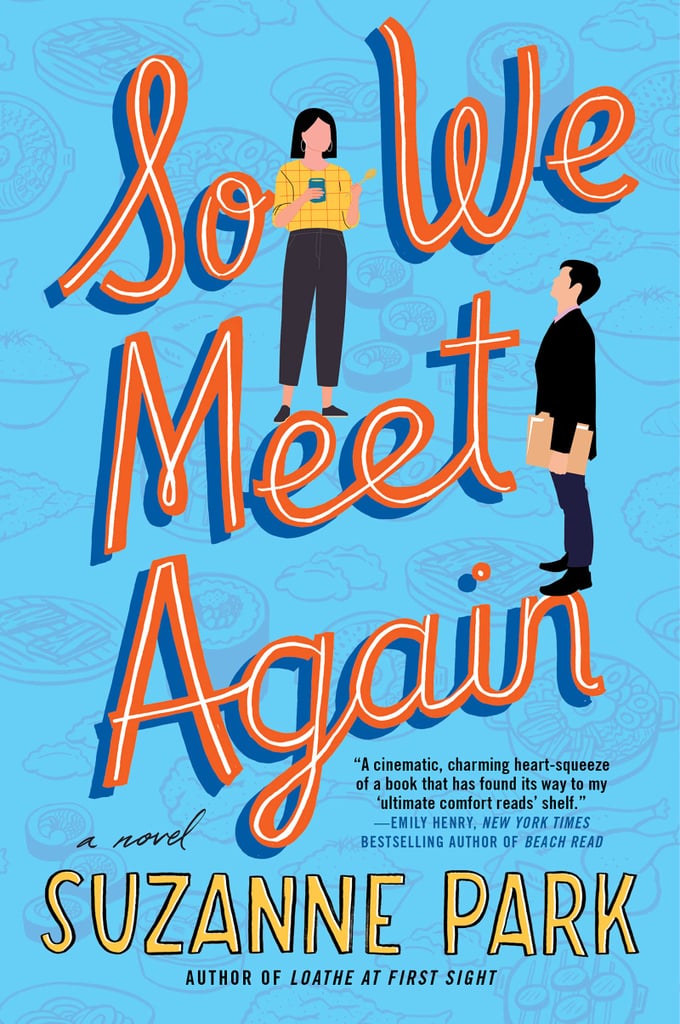 So We Meet Again [273] by Suzanne Park is a mood booster in book form. After Jessie Kim is laid off from her job as an investment banker, she moves back to her parents' home in Tennessee. Though the move isn't ideal, it does lead Jessie to restart her YouTube cooking channel and reconnect with her childhood nemesis, who isn't quite as terrible as she remembers.
Sugar Town Queens by Malla Nunn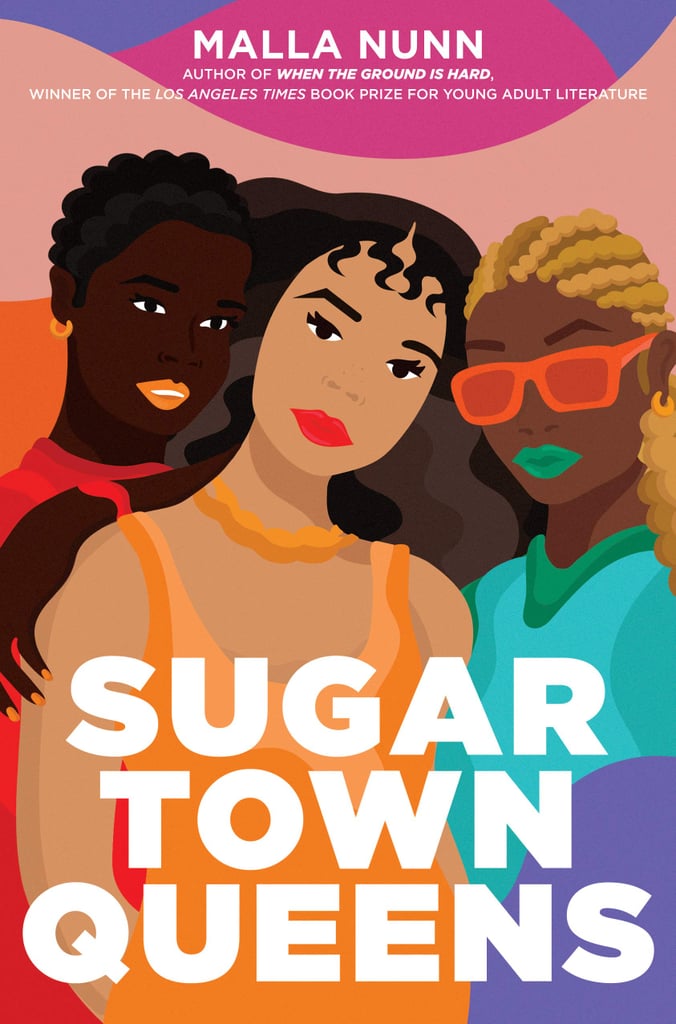 In Sugar Town Queens [274] by Malla Nunn, 15-year-old Amandla sets out to find answers about her mother's past, including who her mysterious father is and why no one seems to remember much from before the time she was born. And while she may not like the answers she finds, she will at least have the support of her best friends throughout her journey.
The Turnout by Megan Abbott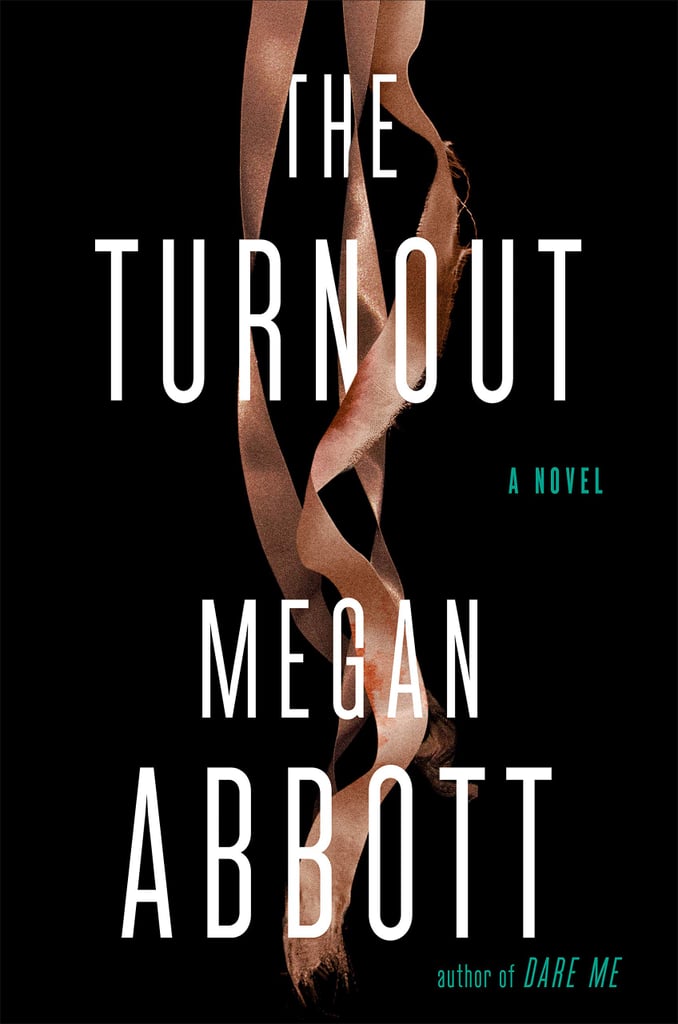 Fans of Black Swan are in for a deliciously dark treat with The Turnout [275] by Megan Abbott. Set in a dance studio run by Dara, her sister Marie, and her husband, Charlie, the story follows the trio as they begin to unravel thanks to a disastrous performance of The Nutcracker.
We Were Never Here by Andrea Bartz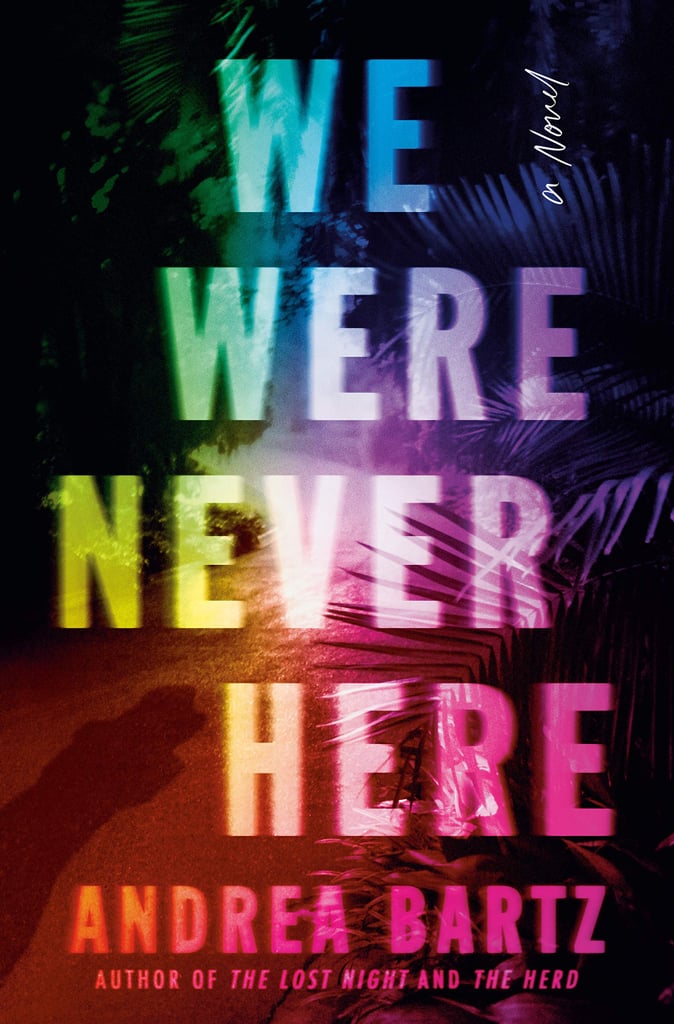 How well do you really know your friends? That's the question at the heart of Andrea Bartz's chilling We Were Never Here [276]. After two trips with her friend Kristen end with Emily helping her pal dispose of a dead body, Emily begins to wonder what secrets Kristen is keeping from her and whether or not their vacation indiscretions will end up ruining her life.
The Wild Ones by Nafiza Azad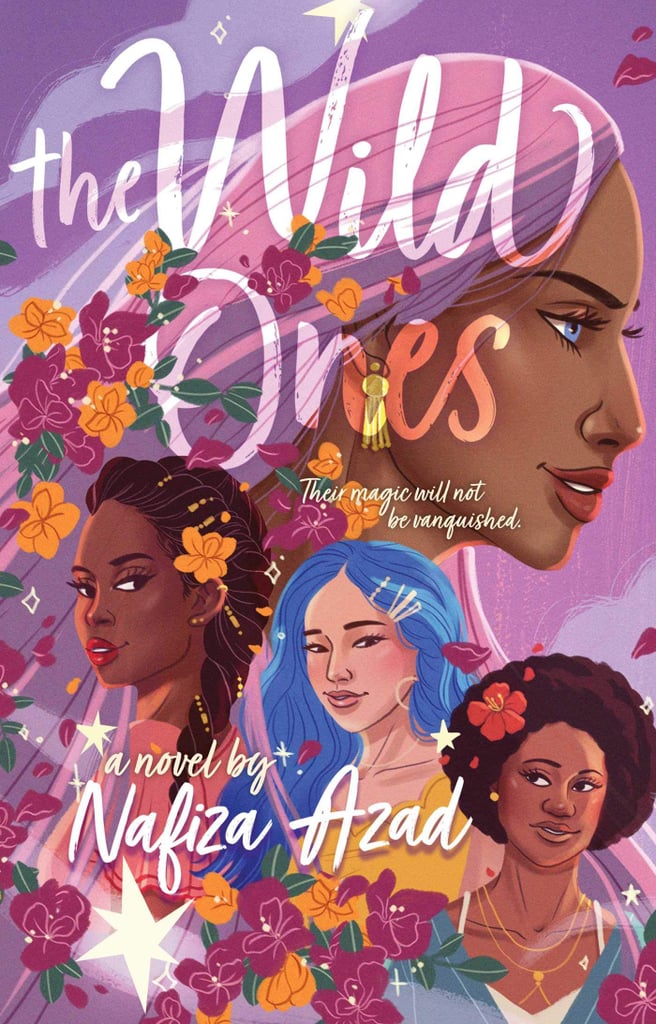 The Wild Ones [277] by Nafiza Azad is a lyrical fantasy about a group of girls with magical gifts who band together to save a boy who once helped them all. Now the girls will have to stave off the dark forces that threaten them and their old friends.
You've Got This! by Jessica MacLeish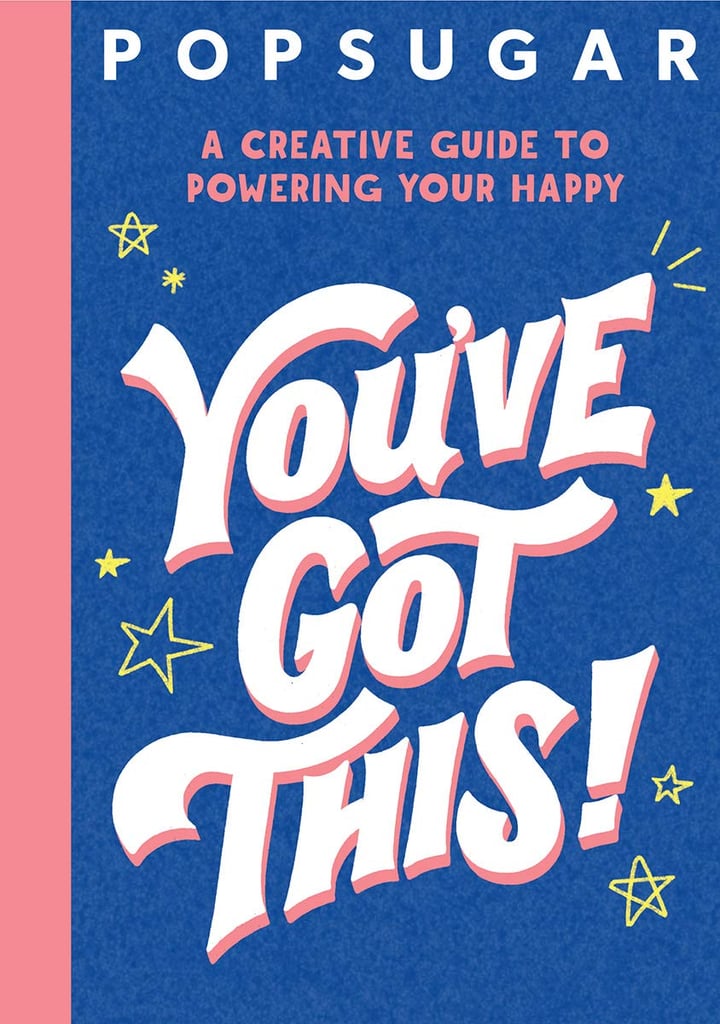 POPSUGAR's latest book, You've Got This! [278] by Jessica MacLeish, is the perfect gift to give to any young person struggling as they embark on a new school year. The book is filled with writing prompts, inspirational quotes, and mindfulness techniques to help the reader stay focused and channel their creativity in positive ways.
The Almost Legendary Morris Sisters by Julia Klam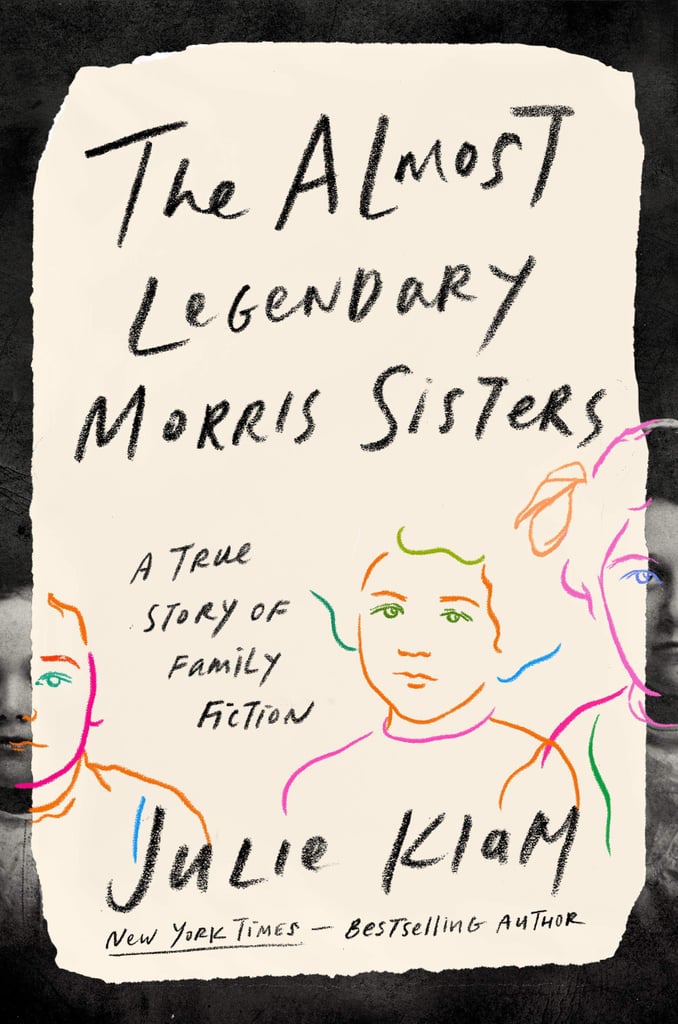 Julia Klam delved into her own past to write The Almost Legendary Morris Sisters [279], which turned out to be a memoir of sorts as she uncovered the truth about her distant cousins' life stories. For years, Klam and the rest of her family were told about the Morris sisters, a quartet of young girls who were abandoned at an orphanage while their father went to California in hopes of becoming a director. According to family lore, the girls grew up and became successful women — but the truth is far more complicated.
The Eternal Audience of One by Rémy Ngamije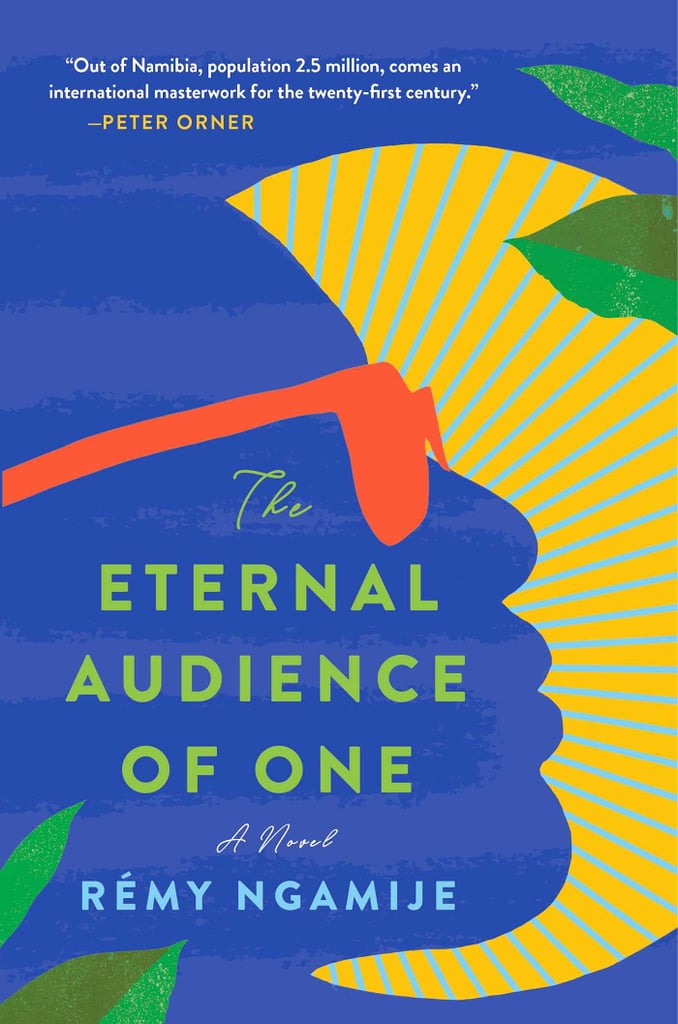 The Eternal Audience of One [280] by Rémy Ngamije follows Séraphin, a self-professed cool guy growing up in a time of war. The story's setting moves from Rwanda, Cape Town, and beyond as this epic coming-of-age novel explores various moments of Séraphin's past, present, and future.
How Moon Fuentez Fell in Love With the Universe by Raquel Vasquez Gilliland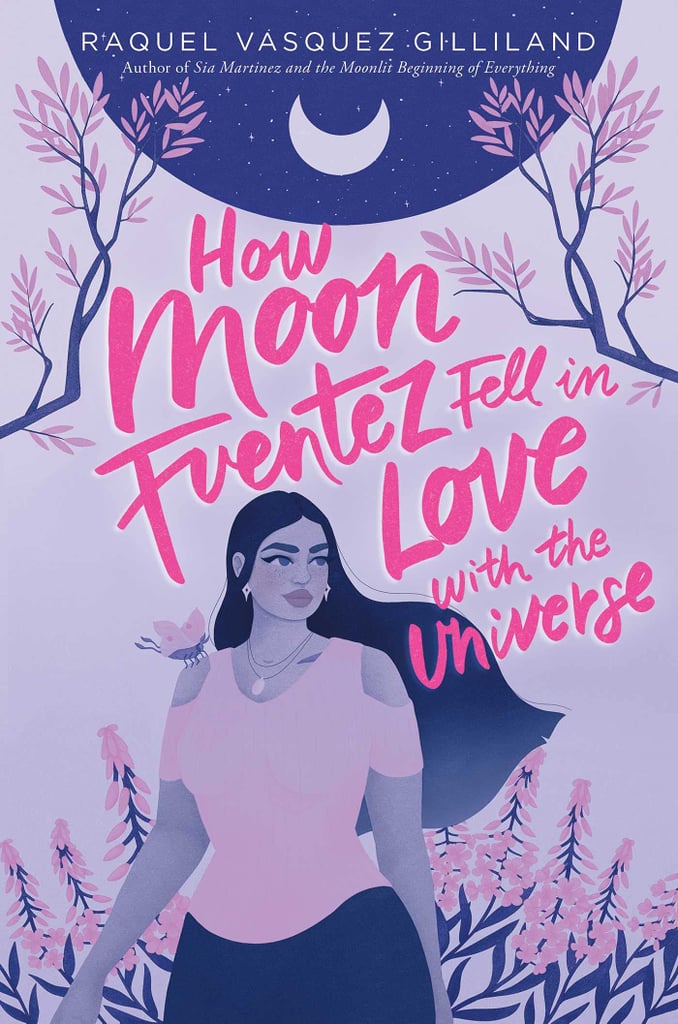 Anyone who has ever felt like an ugly duckling in a sea full of beautiful influencers will relate to Moon Fuentez. The young protagonist in How Moon Fuentez Fell in Love With the Universe [281] by Raquel Vasquez Gilliland is spending her summer on a tour bus full of beautiful people, which only confirms her belief that she's doomed to always go unnoticed. At least it feels that way until she begins a flirtation with a guy named Santiago and slowly begins to realize her future will be what she makes it.
Miss Lattimore's Letter by Suzanne Allain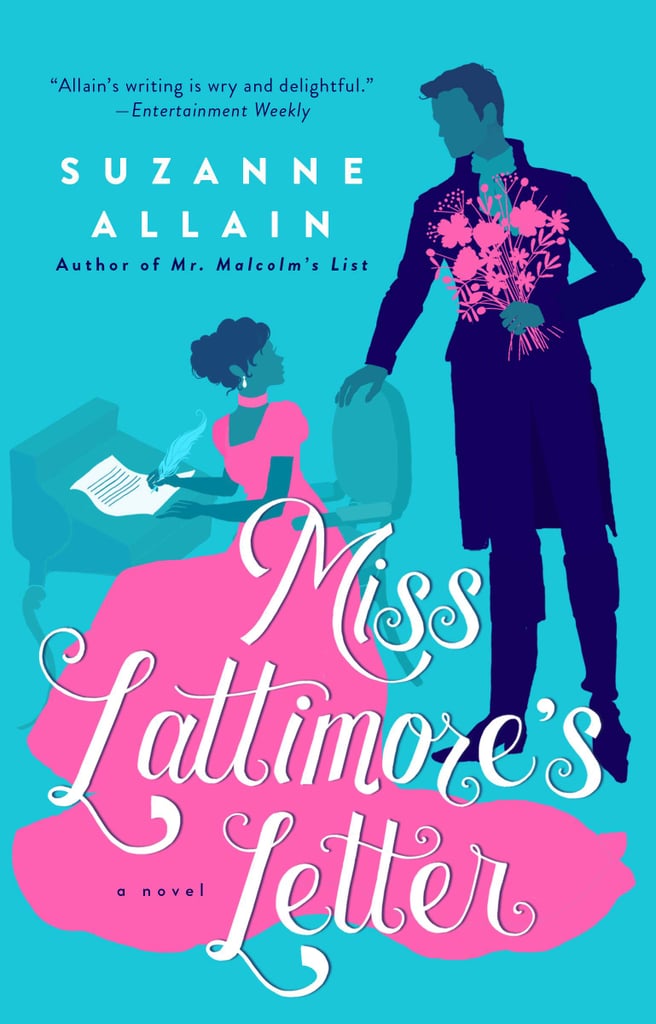 Bridgerton [282] fans will love Suzanne Allain's slyly funny Regency comedy of errors, Miss Lattimore's Letter [283]. As her cousin's chaperone in the social scene, Sophronia Lattimore sees everything — including when a gentleman is about to make a bad match. Still, she never imagined one letter would turn her into the talk of the town and put her on the path toward finding her own true love at long last.
Mrs. March by Virginia Feito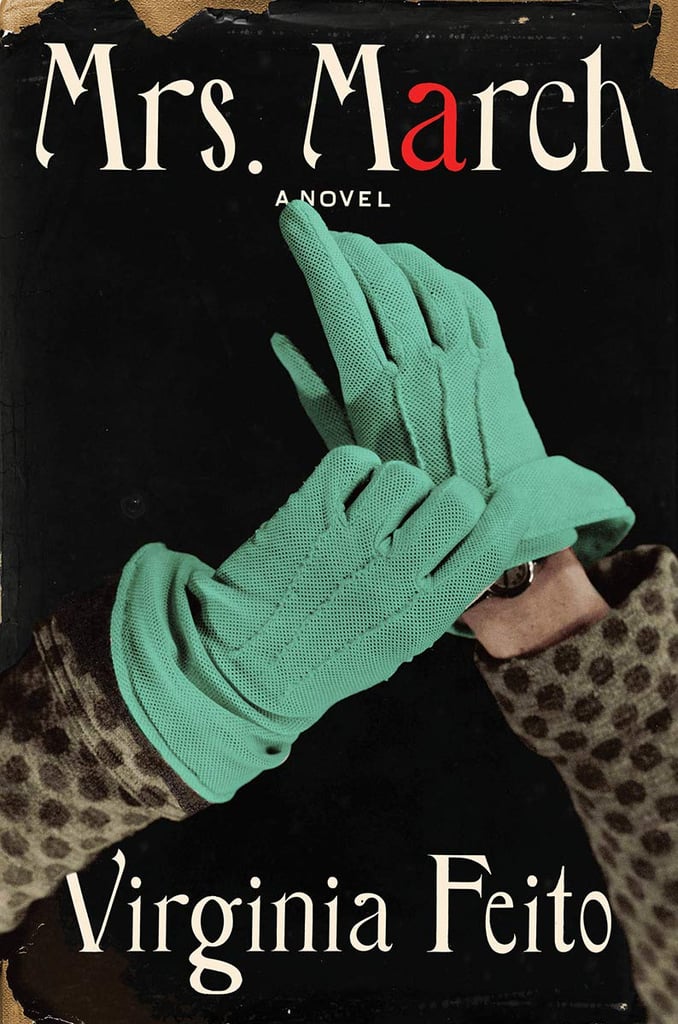 Soon to be a movie starring Elisabeth Moss [284], Mrs. March [285] by Virginia Feito is a psychological thriller with shades of Hitchcock. Always the devoted wife, Mrs. March is nothing but supportive of her writer husband — at least she is until a local shopkeeper suggests she was the inspiration for the loathsome character in his latest book. Now Mrs. March is questioning everything she thought she knew about her spouse, including whether or not her husband might be capable of murder.
The Other Me by Sarah Zachrich Jeng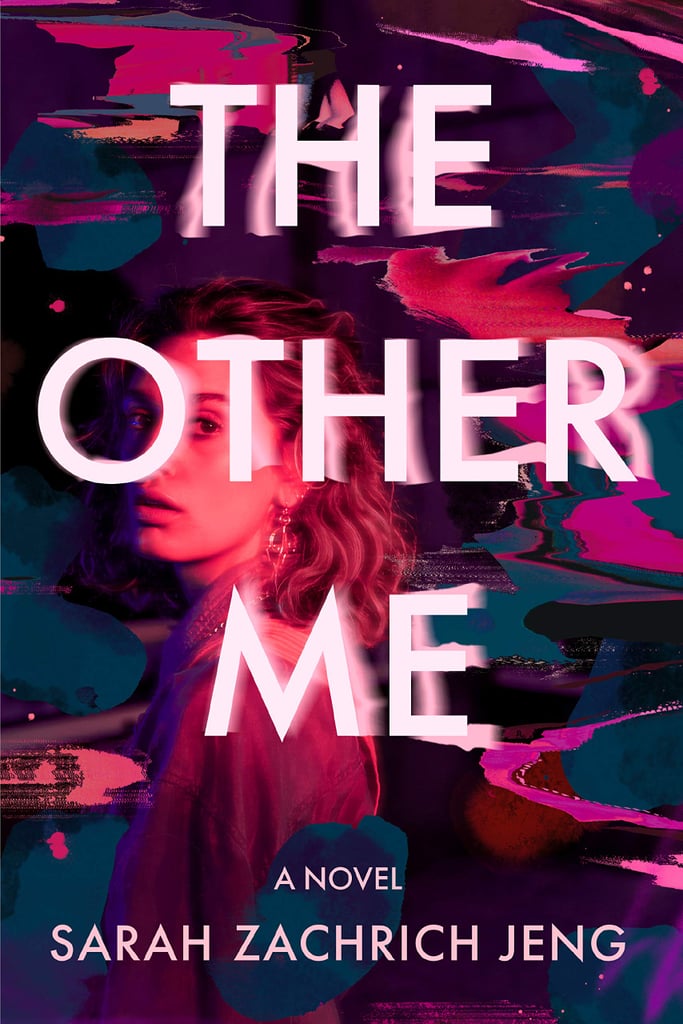 The Other Me [286] by Sarah Zachrich Jeng will make you question everything as the protagonist, Kelly, spirals down a Black Mirror-esque rabbit hole. One minute, Kelly is celebrating her birthday in Chicago, and the next, she opens a door to a different life, one where she's married to a man she barely knows. In order to get back to the life she loves, she'll first have to unravel how she ended up in this different reality in the first place.
Ramadan Ramsey by Louis Edwards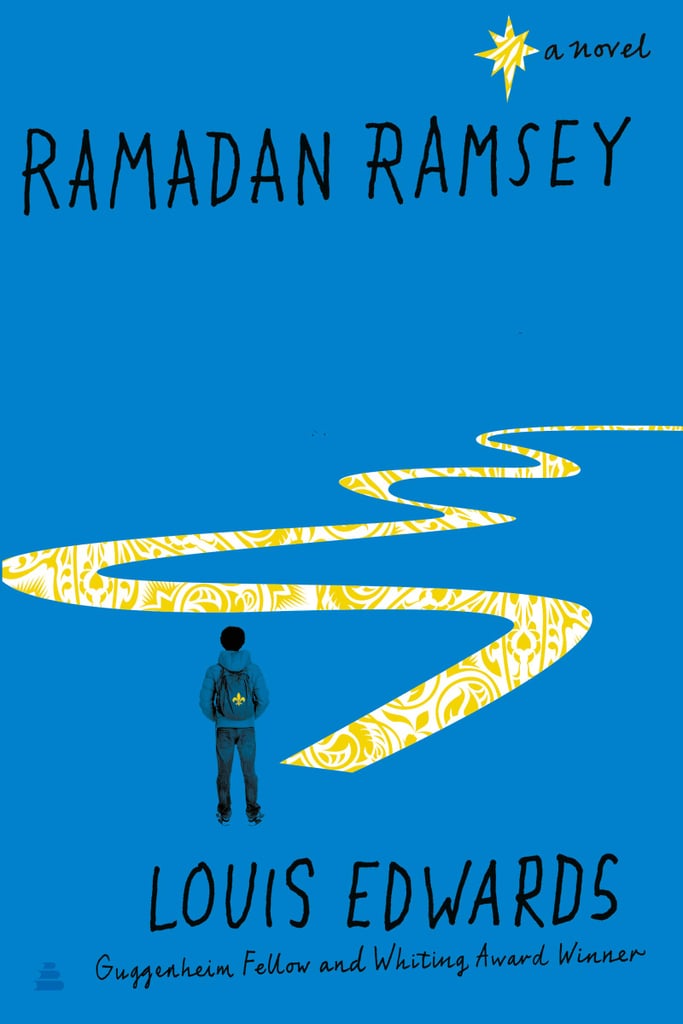 Beginning in New Orleans in 1999, Ramadan Ramsey [287] by Louis Edwards is a sweeping story of one young man's journey to find the father he has never met. In the aftermath of Katrina, Ramadan's life is left in tatters, so at the young age of 12, he sets out on a globetrotting journey to find Mustafa Totah, his Syrian father who has no idea he exists.
The Show Girl by Nicola Harrison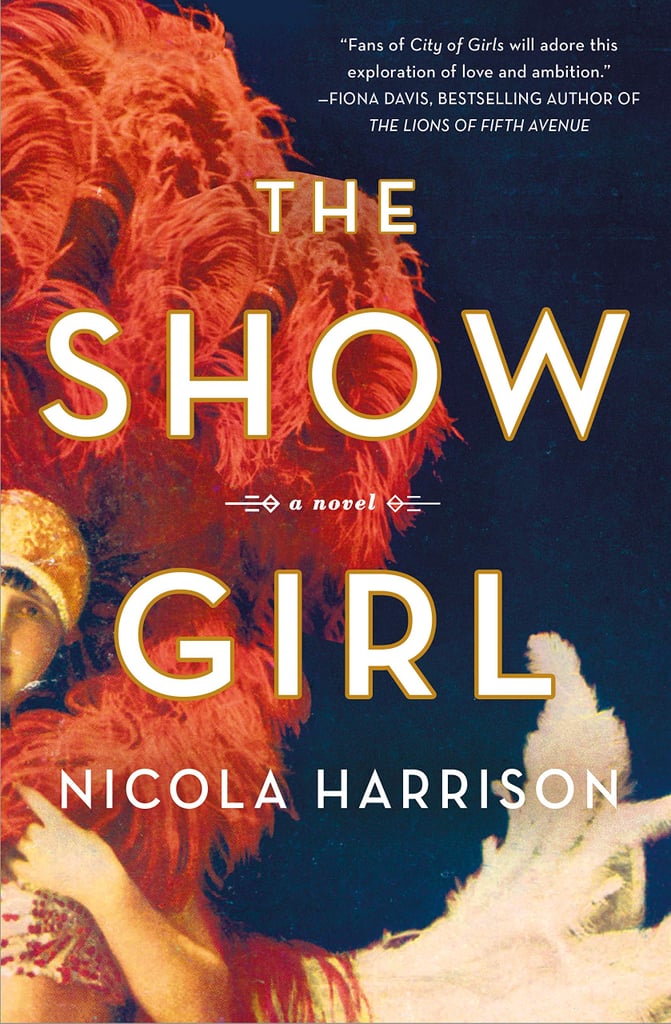 Nicole Harrison brings the exciting world of 1927 New York City to life in The Show Girl [288]. Olive's only goal in life has always been to join the Ziegfeld Follies theatre troupe, and thanks to her hard work, her dream has finally come true. However, when she meets Archie, a seemingly perfect man, their relationship threatens her beautiful new life.
The Sister-in-Law by Pamela Crane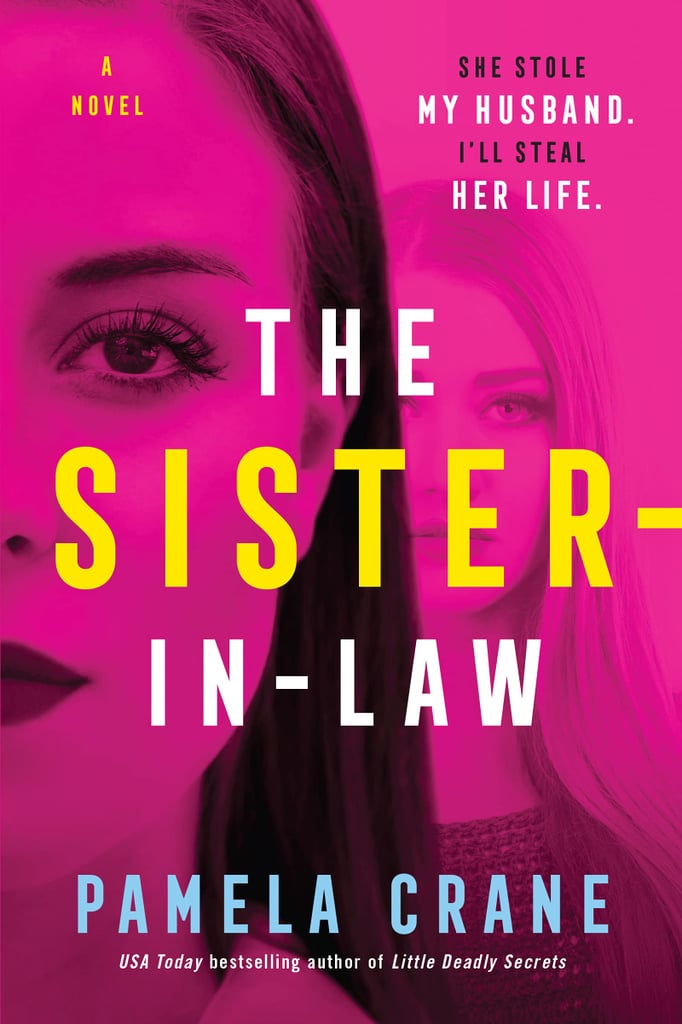 You are not prepared for the twists The Sister-in-Law [289] by Pamela Crane has in store for you. This domestic thriller centers around Candace, a woman who marries her dream guy, only to discover his live-in sister will do anything to get rid of her. The schemes that Candace's sister-in-law concocts are sure to have you at the edge of your seat.
Wait For It by Jenn McKinlay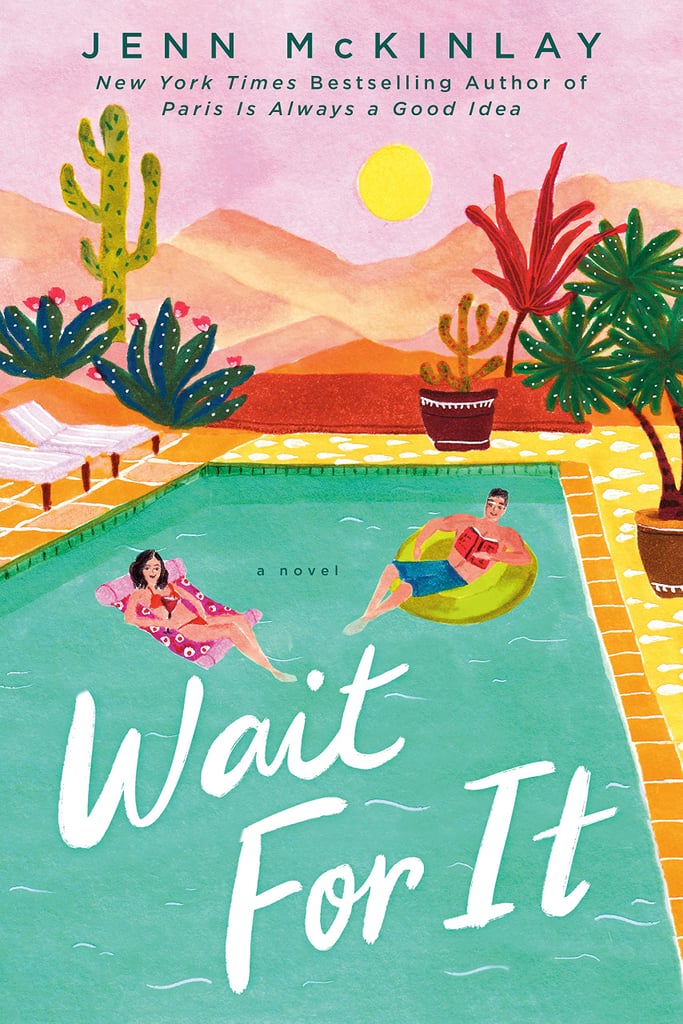 Wait For It [290] by Jenn McKinlay is a warm, moving story about new beginnings. When her dream job takes her to Arizona, Annabelle Martin is excited to have a fresh start, though she's curious about her new grumpy landlord. She's entirely unprepared to discover the landlord in question, Nick, is actually the same age as she is. Nick is in a wheelchair after a stroke, and although there's no medical reason he can't walk, he simply isn't ready to reenter the world. And although she knows she shouldn't get involved, Annabelle can't help but feel that she and Nick might just be perfect for each other if they can only process their respective baggage.
56 Days by Catherine Ryan Howard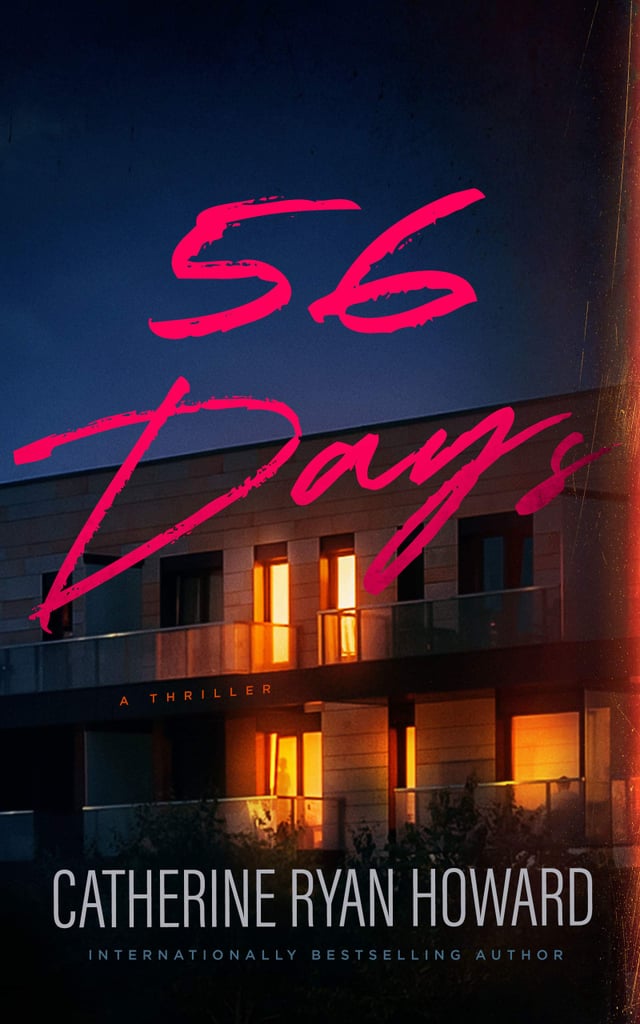 56 Days [291] by Catherine Ryan Howard is one of the first novels set during the pandemic, but don't let the novel's setting put you off. Howard uses lockdown as an excuse to force two virtual strangers to quarantine together in Dublin, Ireland. But while Ciara and Oliver happily enter lockdown together, one of them will be dead by the time the book ends.
Against White Feminism by Rafia Zakaria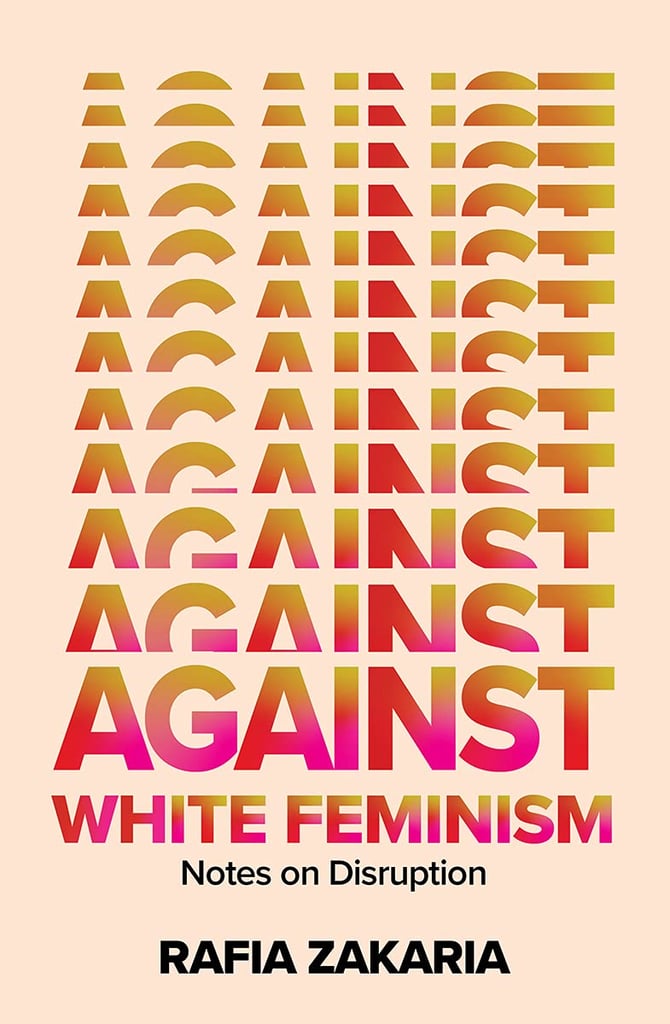 Attorney and political philosopher Rafia Zakaria proposes a total reconstruction of feminism in Against White Feminism [292]. Her powerful exploration of the movement's past, which has traditionally been shaped by white women, aims to inform readers, while also illustrating why it is past time to center Black and brown voices as feminism moves forward.
Battle Royal by Lucy Parker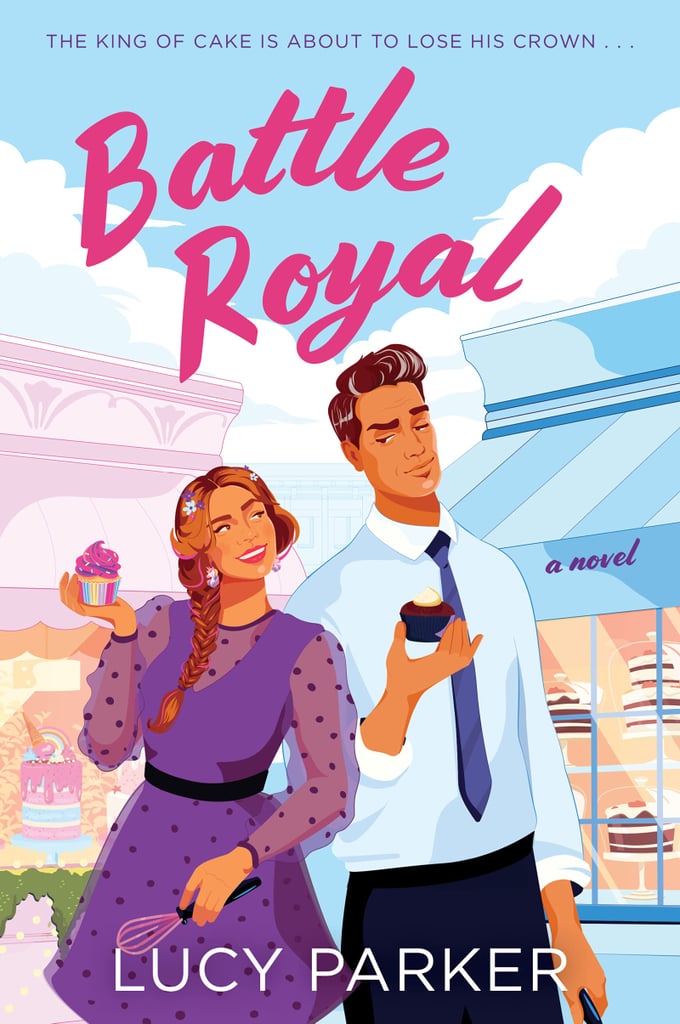 Missing The Great British Baking Show [293]? Then Battle Royal [294] by Lucy Parker is a must read. Four years ago, Sylvie became a star thanks to the reality competition series Operation Cake, where she charmed everyone except for the cranky judge Dominic De Vere. Now, Operation Cake wants her back on the show to compete for a chance to bake a cake for Princess Rose's wedding [295], but in order to win, she'll have to beat Dominic.
Center Center by James Whiteside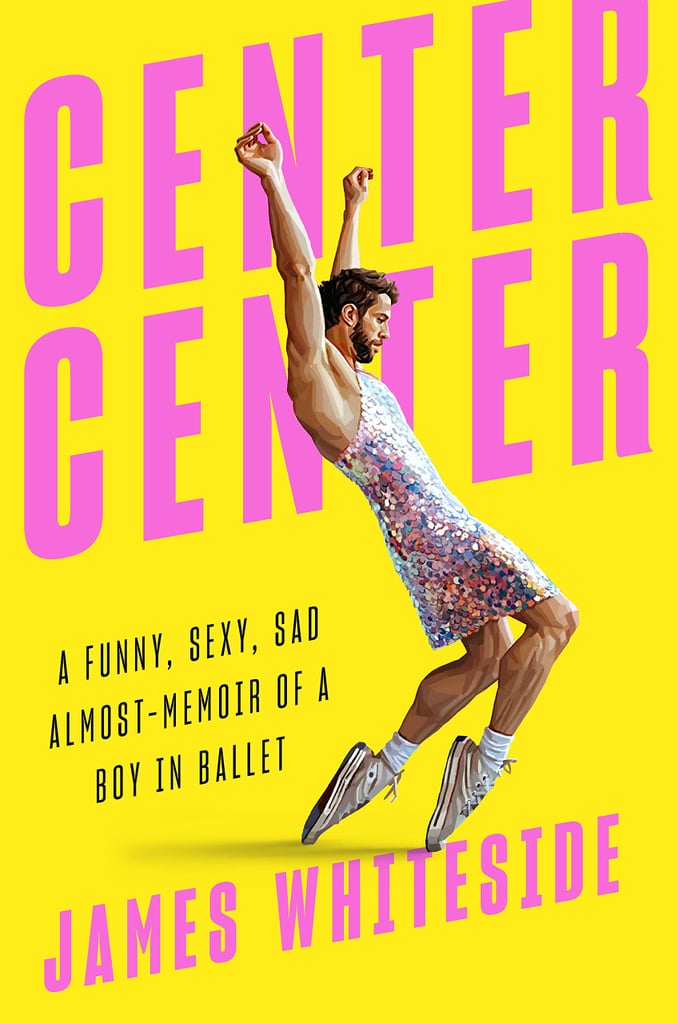 Center Center [296] by James Whiteside is a memoir told in essays that will leave you feeling inspired and laughing out loud. Whiteside is a principal dancer in the American Ballet Theatre, and his journey to the stage is full of dance-camp stories, tales of how he broke down barriers, and odes to the many pets he lost along the way. This witty and compelling memoir is a celebration of self-expression, queerness, and chasing your dreams.
The Dating Playbook by Farrah Rochon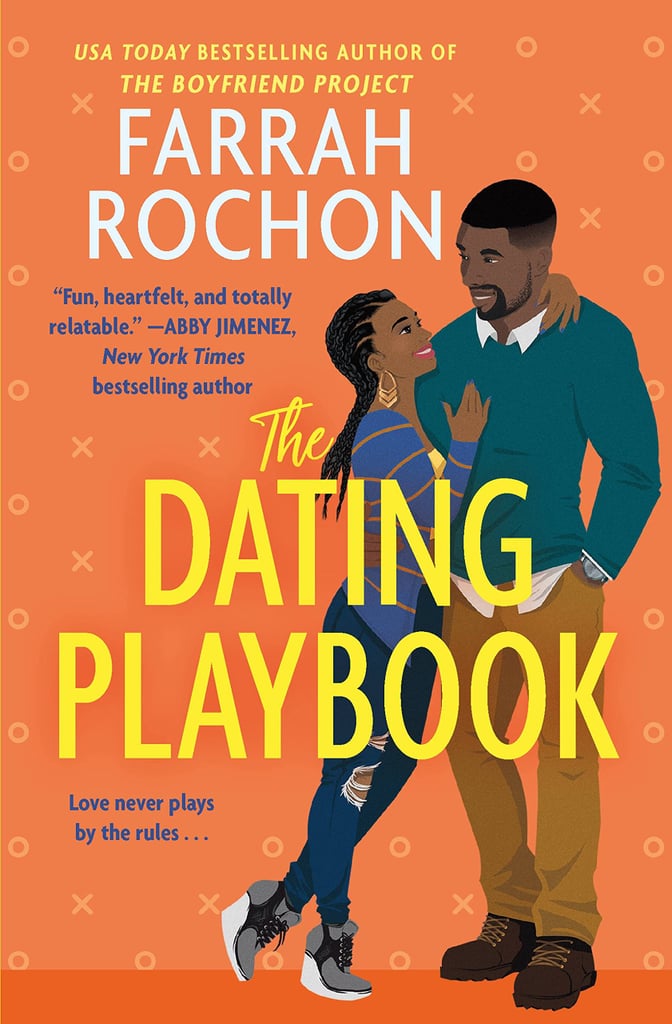 The Boyfriend Project [297] author Farrah Rochon is back with The Dating Playbook [298], a steamy fake-dating story that will leave you grinning. Taylor Powell is an excellent personal trainer, but she's still strapped for cash. That's why she simply can't say no when a former football player enlists her help to get him back in the NFL and pose as his girlfriend so no one will suspect what he's up to.
The Family Plot by Megan Collins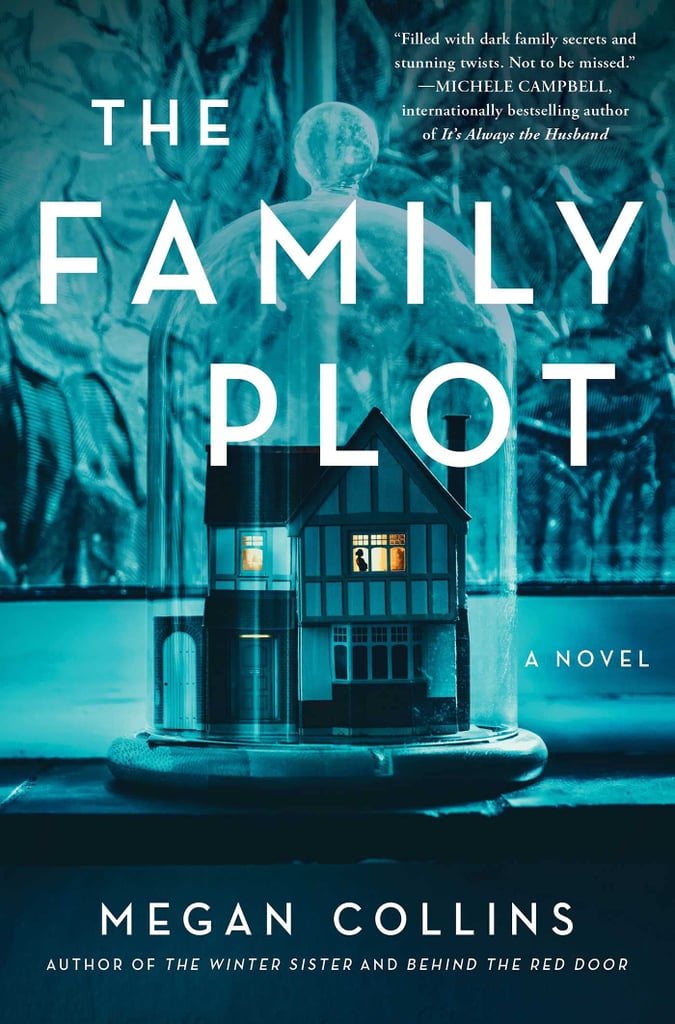 A true-crime-obsessed family is forced to unravel a murder that hits close to home in The Family Plot [299] by Megan Collins. Years after she left her eccentric family of true-crime devotees behind, Dahlia returns home after her father dies. However, things take an unexpected turn when the body of her long-missing twin brother shows up in her father's grave.
Getaway by Zoje Stage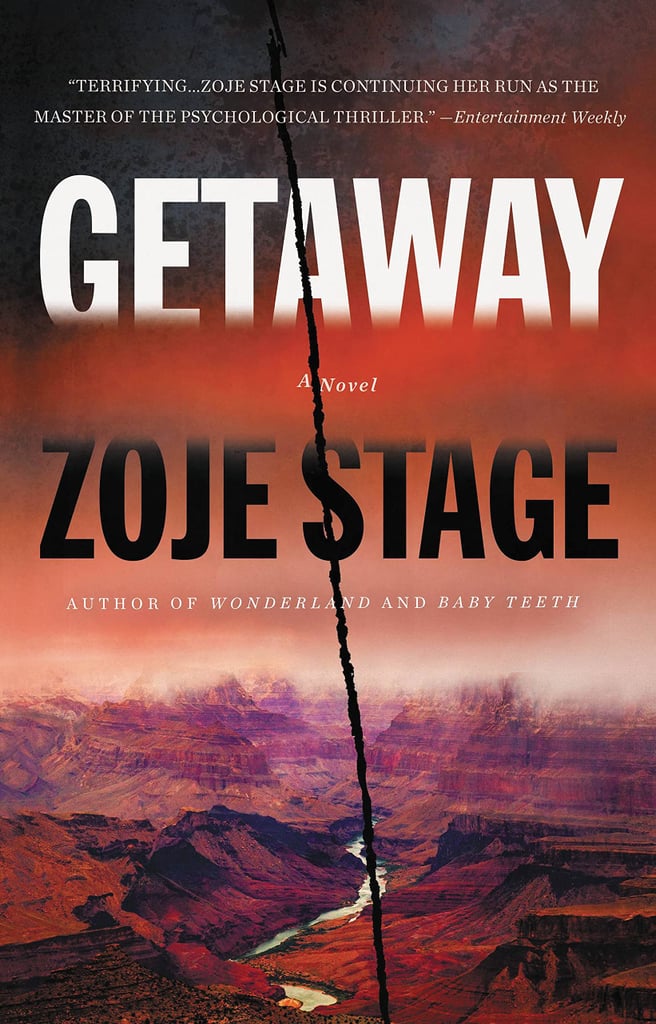 Zoje Stage, the author of Baby Teeth, returns with another chilling thriller that will definitely make you lose sleep at night. In Getaway [300], three friends leave the world behind as they set off on a hike through the Grand Canyon. But they don't get very far before secrets and long-simmering animosities bubble to the surface.
Ghosts by Dolly Alderton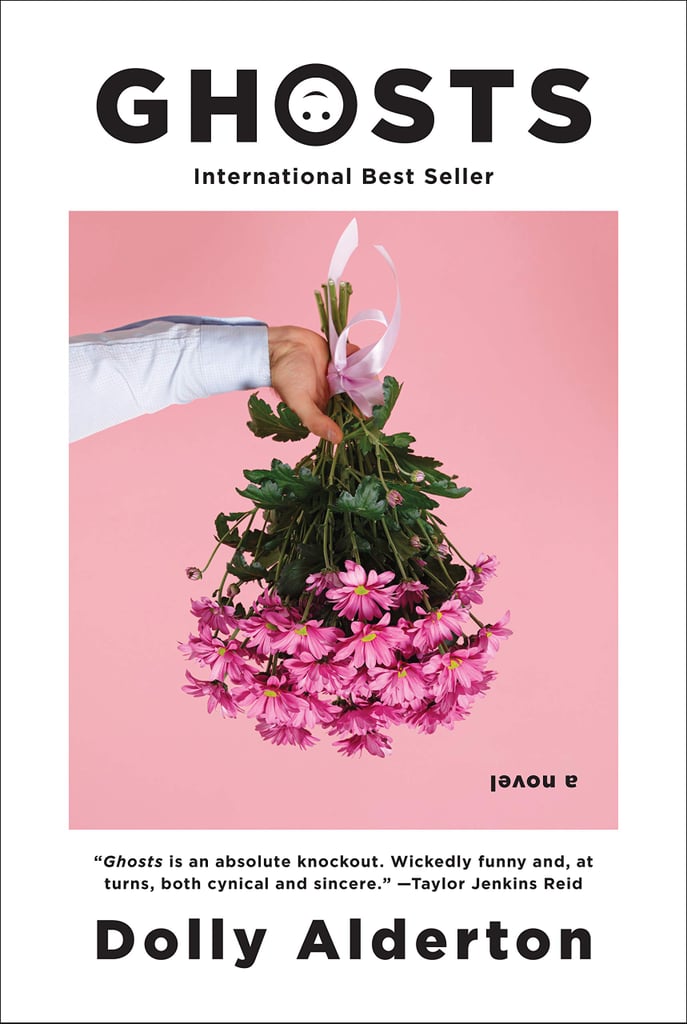 Nina Dean does the impossible in Ghosts [301] by Dolly Alderton: she finds her perfect match on a dating app. At first, Nina's new relationship is everything she could possibly want. But when her dream guy ghosts her, she's forced to confront all of the things in her life she's been trying to ignore, including her father's Alzheimer's diagnosis and her childhood best friend's disappearing act.
How to Kill Your Best Friend by Lexie Elliott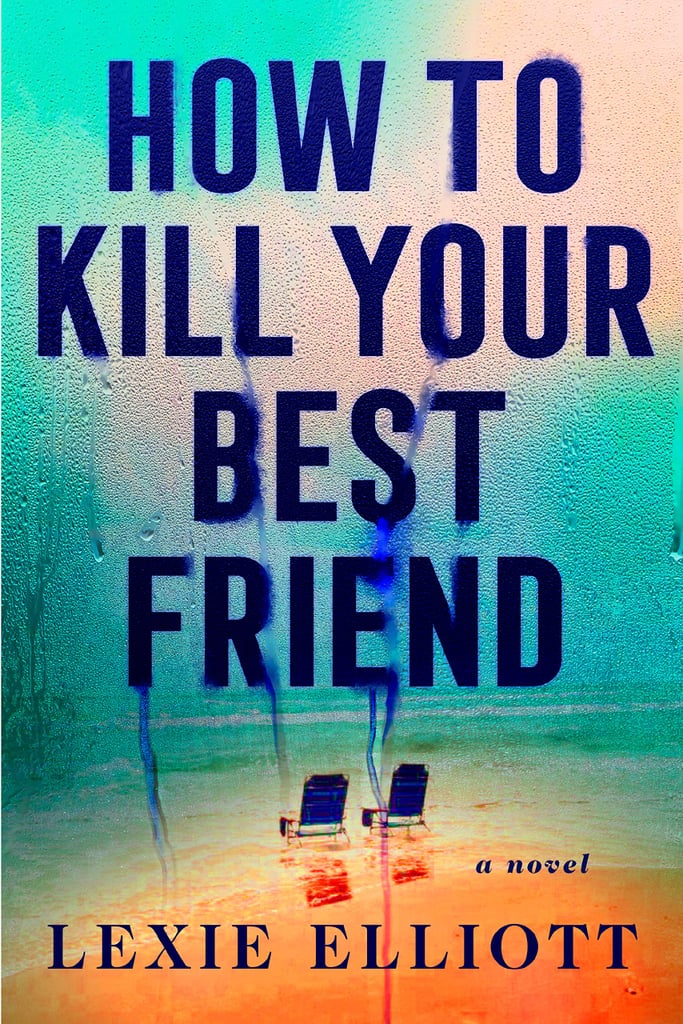 Utterly unnerving and completely engrossing, How to Kill Your Best Friend [302] by Lexie Elliott traps a group of funeral attendees on an island during a storm. Among them are Georgie and Bronwyn who can't quite figure out how their friend Lissa, who was a gifted swimmer, drowned while swimming in Kanu Cove. With the storm coming in and questions swirling, both women are certain there is more to the story.
How We Fall Apart by Katie Zhao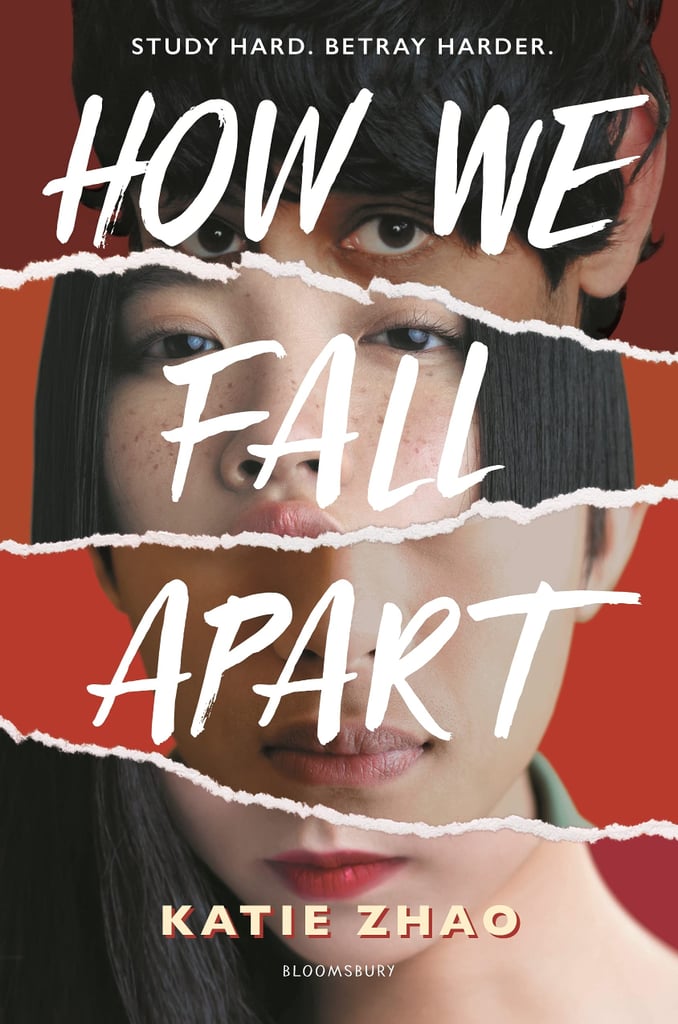 Sinclair Prep is rocked by the death of one of the school's brightest students in How We Fall Apart [303] by Katie Zhao. But as shocking as Jamie Ruan's death is, nothing can prepare Nancy Luo for what comes next. Shortly after Jamie's body is discovered, an anonymous student implicates Nancy and her friends Krystal, Akil, and Alexander in his death. Now, it's up to Nancy to unravel the truth before she loses everything.
The Last Mona Lisa by Jonathan Santlofer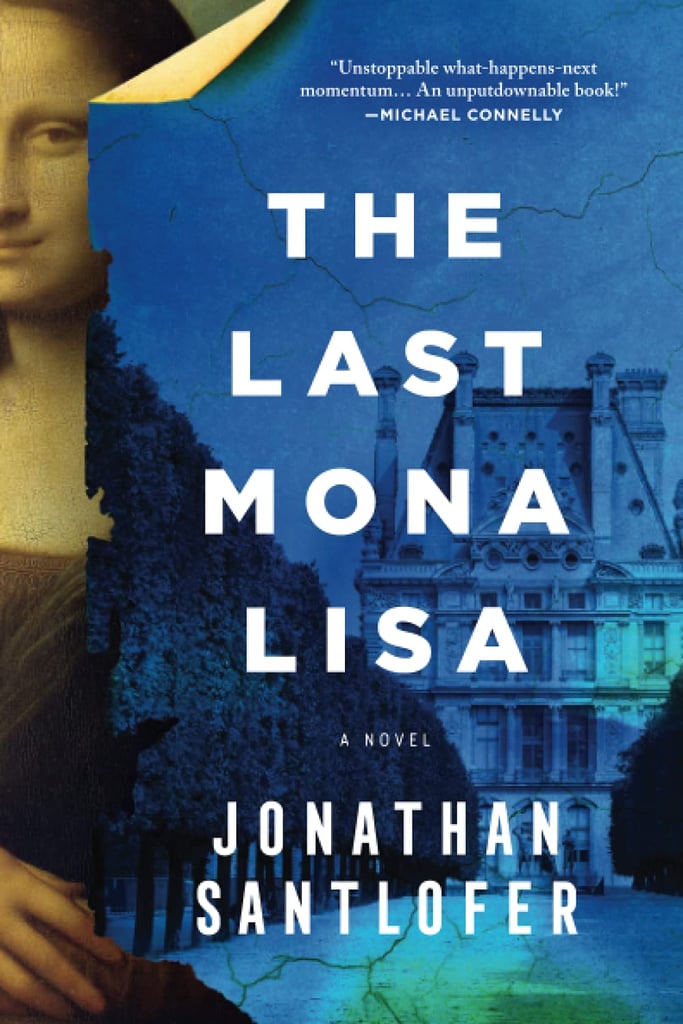 Inspired by the real theft of the "Mona Lisa" in 1911, The Last Mona Lisa [304] by Jonathan Santlofer is a thrilling mystery set against the backdrop of the world of fine art. Art professor Luke Perrone is in a unique position to discover what happened to the "Mona Lisa" during the two years the painting was missing. This is because he happens to be a descendant of the man who stole it! With the help of a detective, Luke is determined to uncover the truth, even if it means putting himself in danger.
Sometimes I Trip on How Happy We Could Be by Nichole Perkins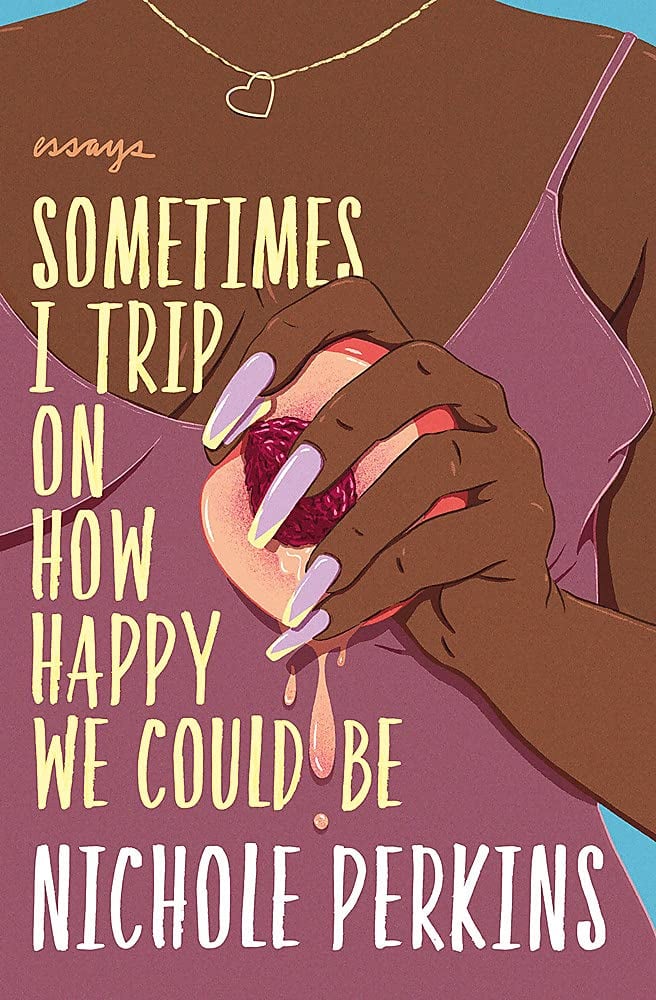 Nichole Perkins's collection of essays Sometimes I Trip on How Happy We Could Be [305] examines her life as a Black Southern woman through the prism of pop culture. From watching Frasier while processing her own experience with mental illness to the role Prince played in helping her understand desire, Perkins has a gift for crafting funny and insightful essays.
Velvet Was the Night by Silvia Moreno-Garcia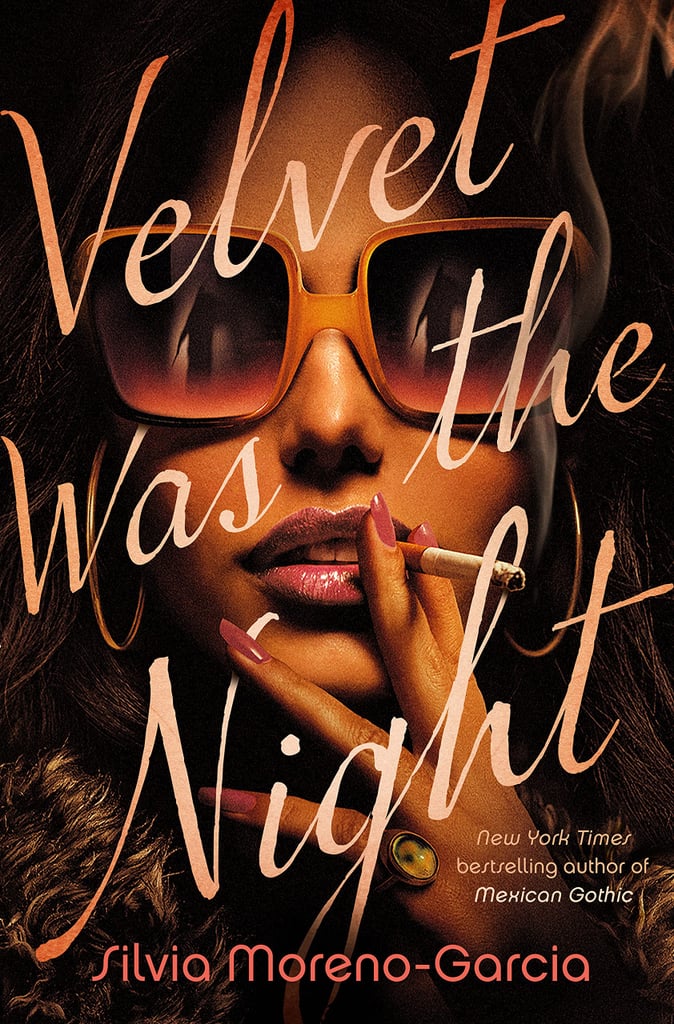 Mexican Gothic author Silvia Moreno-Garcia proves she's just as adept at writing thrilling noir novels as she is gothic horrors in Velvet Was the Night [306]. When her neighbor disappears, romance-obsessed Maite launches her own investigation, completely unaware that her neighbor has some very dangerous people looking for her as well.
Both Sides Now by Peyton Thomas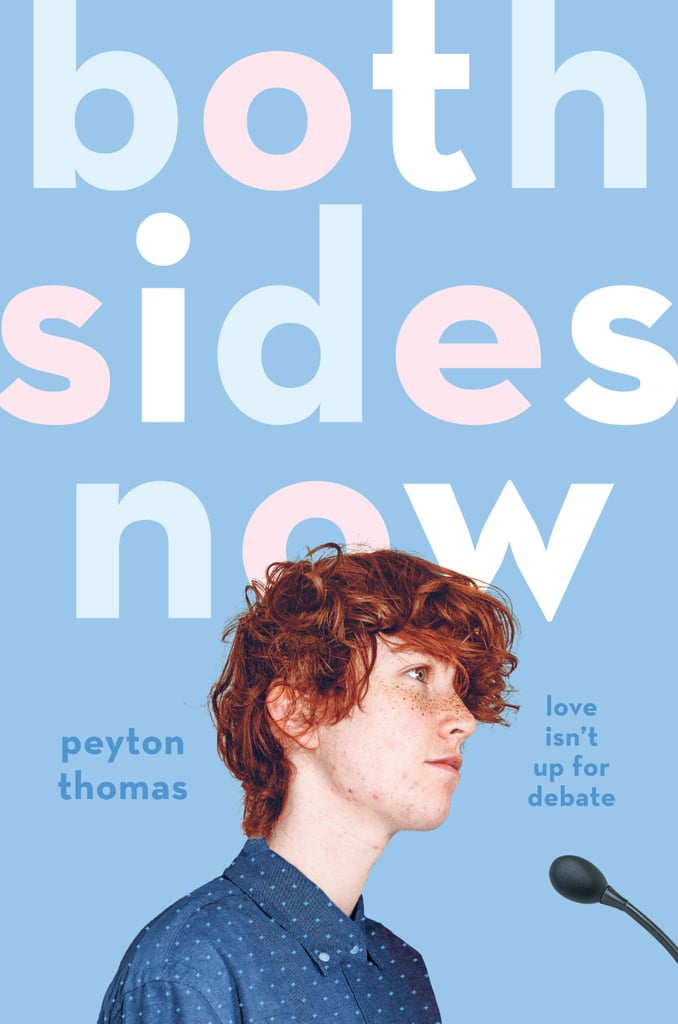 Both Sides Now [307] by Peyton Thomas is the story of trans teen Finch Kelly, who is determined to win the the National Speech and Debate Tournament. A win could mean a scholarship to his top-choice school in Washington DC and the start of his political career. However, this year's topic happens to be transgender rights, which could force Finch to argue against his very existence.
Burden Falls by Kat Ellis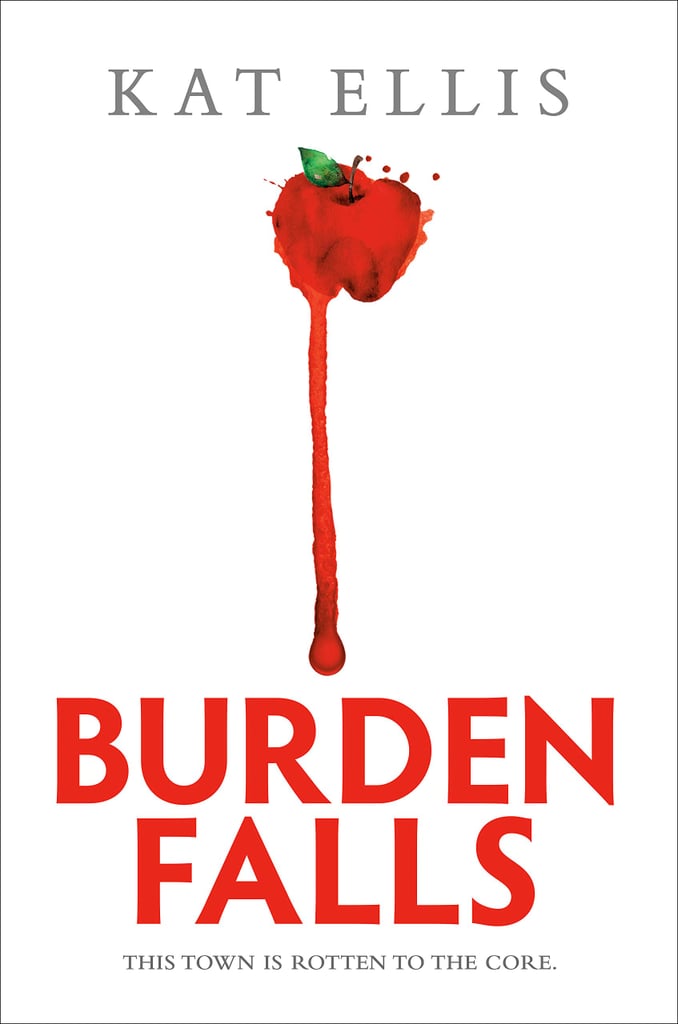 Burden Falls [308] by Kat Ellis reads like a horror blockbuster in the best way possible. Set in a town plagued by rumors of ghosts, Ava Thorn knows all too well the dangers of the falls. But when someone Ava knows is murdered, she begins to wonder if she should be worried about the supernatural or an actual killer.
Edie in Between by Laura Sibson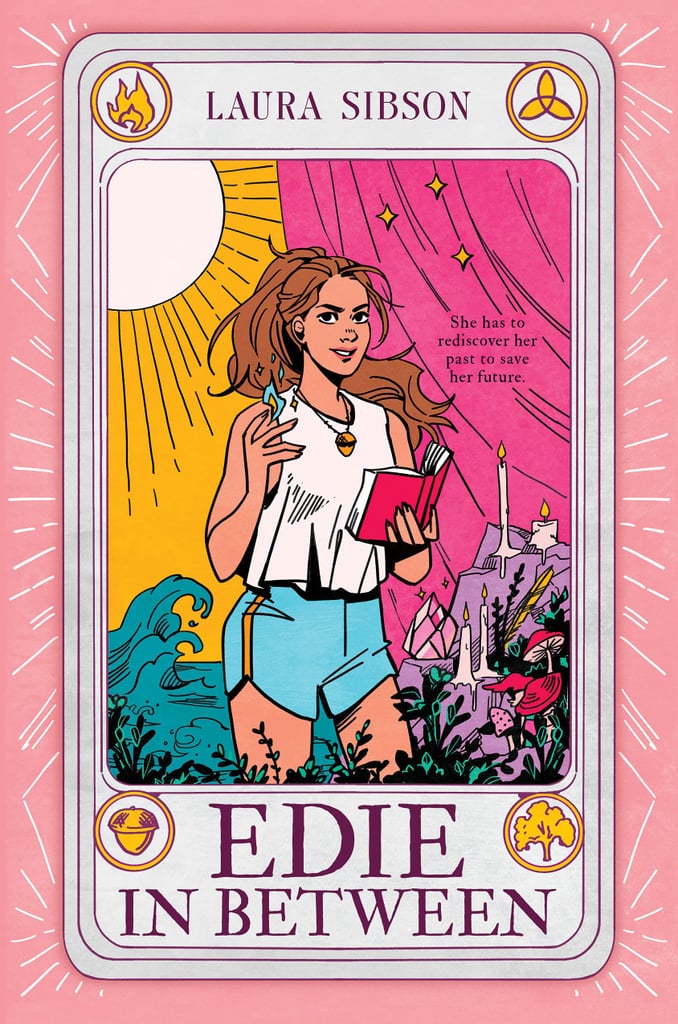 Edie in Between [309] by Laura Sibson is a story about mothers and daughters, growing up, and owning your power. One year after her mother's death, Edie is grappling with her family's legacy as witches after her mom's old journal shows up and begins showing her memories from the past. As she gains a better understanding of her mother, Edie needs to control her magical gifts in order to deal with a dark secret her family buried.
The Highland Fling by Meghan Quinn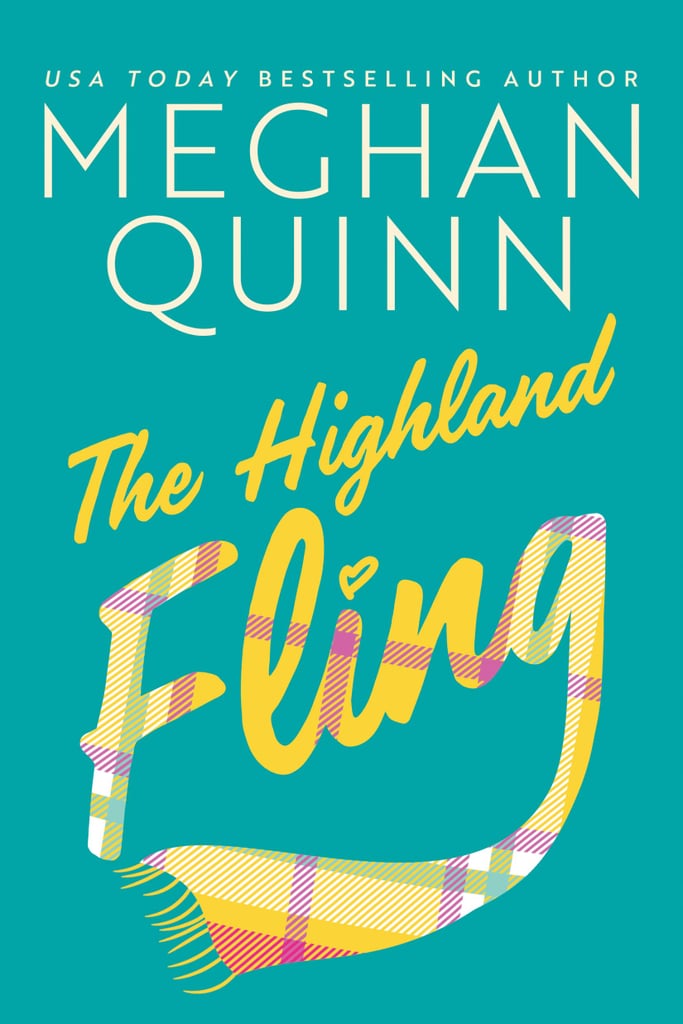 Let The Highland Fling [310] by Meghan Quinn whisk you away on an adventure in Scotland. After being fired from three jobs in a row, Bonnie St. James and her best friend apply to run a small-town coffee shop. When they land the jobs, Bonnie quickly discovers she loves everything about the town . . . except for the gorgeous but perpetually grumpy handyman.
Riding High in April by Jackie Townsend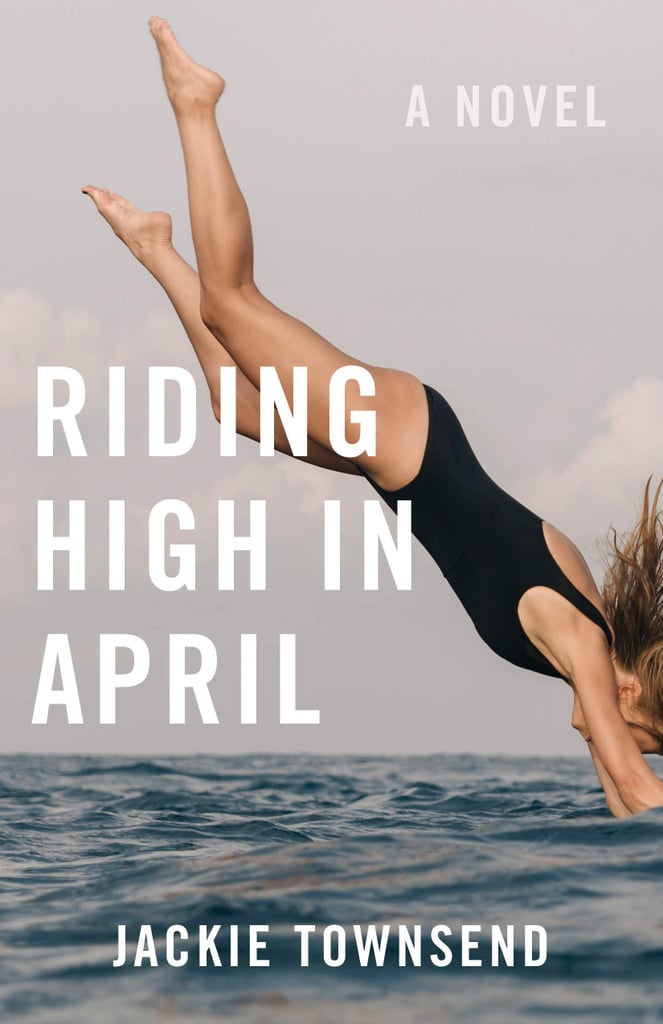 Both a love story and an examination of the tech industry, Riding High in April [311] by Jackie Townsend is a remarkable tale of the cost of innovation. When a man moves to Asia to fulfill his dreams of creating the ultimate open-source network platform, the woman he loves follows him, only to realize her life is entirely different on the other side of the world.
The Heart Principle by Helen Hoang
Helen Hoang fans, rejoice! The Heart Principle [312] is finally coming your way this month. In the book, Anna Sun is hit with a double whammy: she's dealing with serious burnout, and her boyfriend isn't sure he wants to commit solely to her. But if her boyfriend isn't ready to settle down, Anna isn't just going to wait around. Instead, she embarks on a series of one-night stands, which lead her to Quan Diep, the last guy she ever expected to steal her heart.
The Last Chance Library by Freya Sampson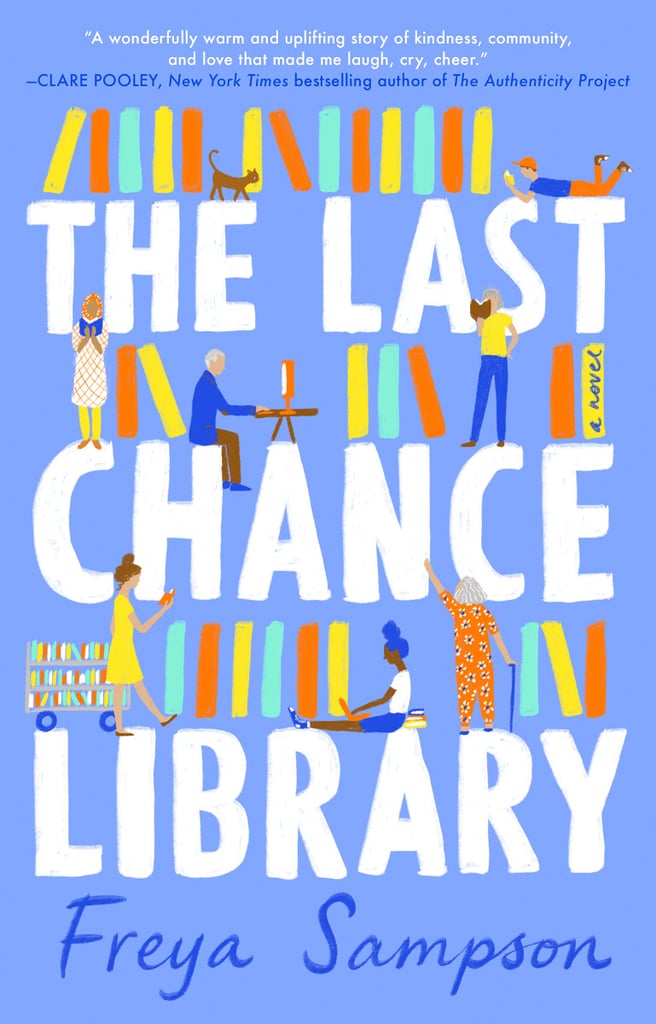 The Last Chance Library [313] by Freya Sampson is a warm tale of a 30-year-old, shy librarian who finds the strength to break out of her reclusive existence in hopes of saving the library she loves so much. With the help of an eclectic group of patrons and a charming lawyer, June is ready to face the world if it means keeping the library's doors open.
The Last Guests by J.P. Pomare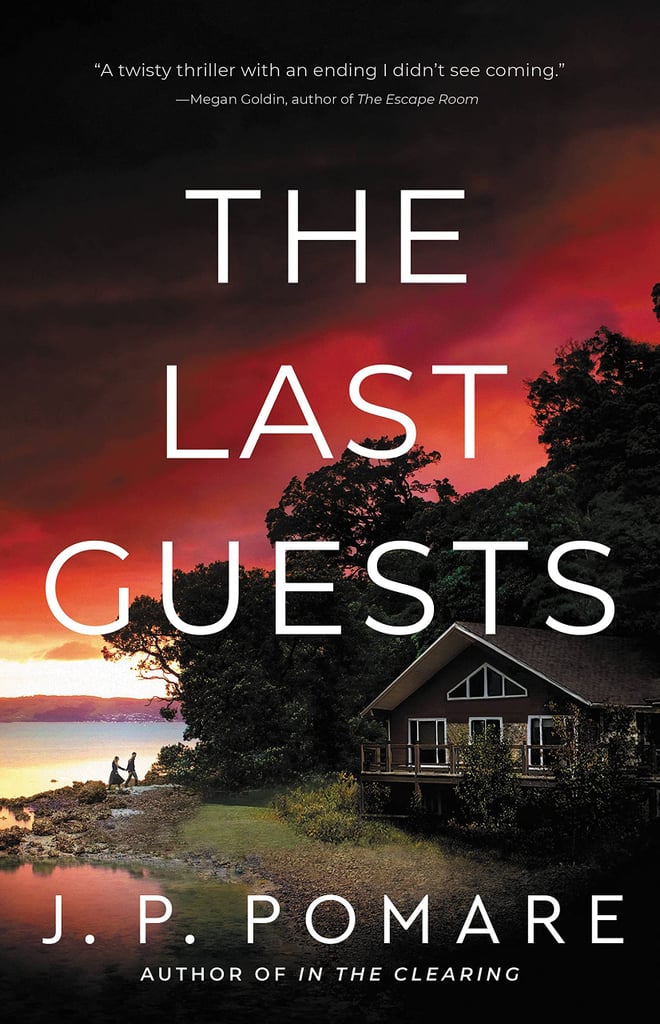 Prepare to get goosebumps when you read The Last Guests [314] by J.P. Pomare. When a newlywed couple decide to rent out their lake house for extra income, the last thing they expect is for someone to be watching their every move — which is especially inconvenient since Lina and Cain have secrets they're desperate to keep.
My Heart Is a Chainsaw by Stephen Graham Jones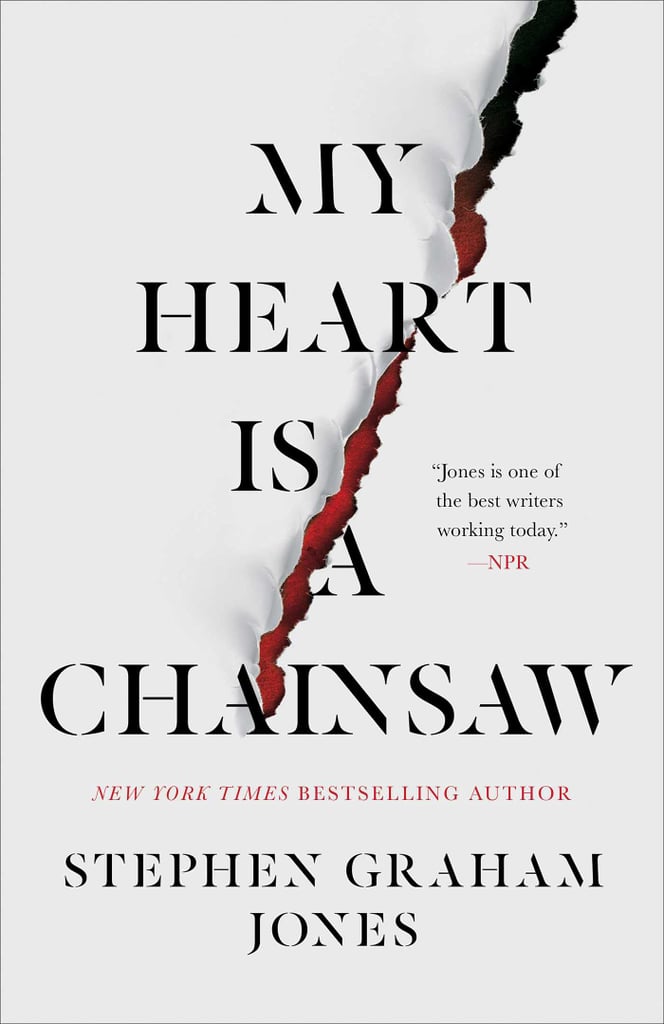 Stephen Graham Jones continues his reign as a horror maestro with My Heart Is a Chainsaw [315]. This brutal homage to slasher films focuses on Jade, a young half-Indian woman who finds comfort in horror movies after feeling abandoned by her family and her town.
The Name Curse by Brooke Burroughs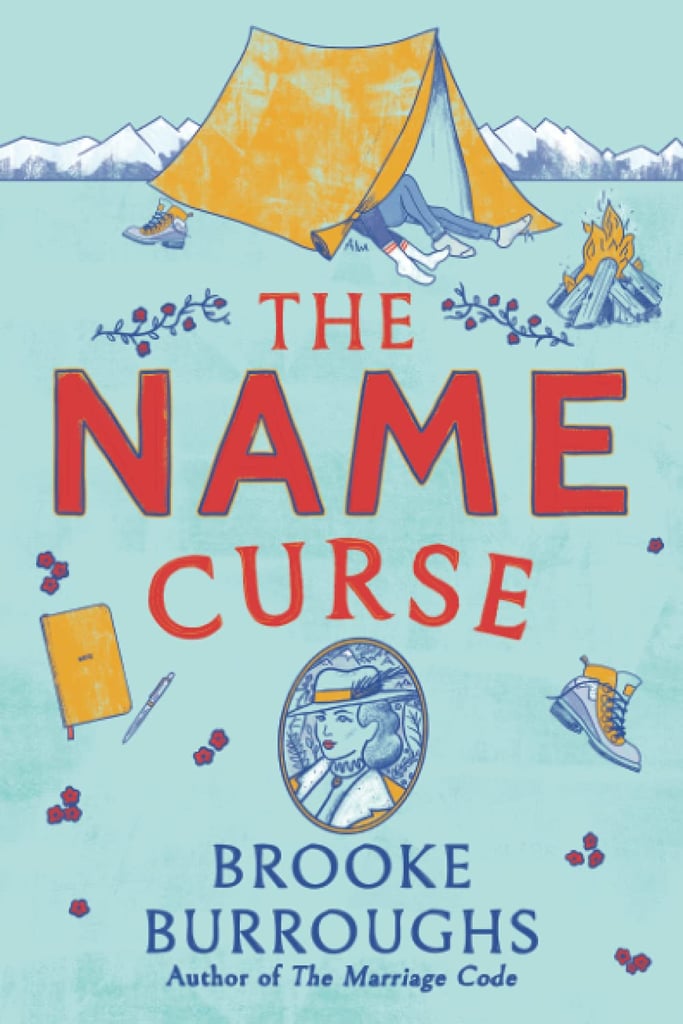 A wilderness adventure leads to hilarity and heartfelt moments in The Name Curse [316] by Brooke Burroughs. Since her father died, Bernie hasn't been sure what to do with herself, which leads her friends to suggest she go on an adventure in the wilds of Alaska. She agrees and ends up paired with a screenwriter who loves the idea of roughing it way more than she does.
The Royals Next Door by Karina Halle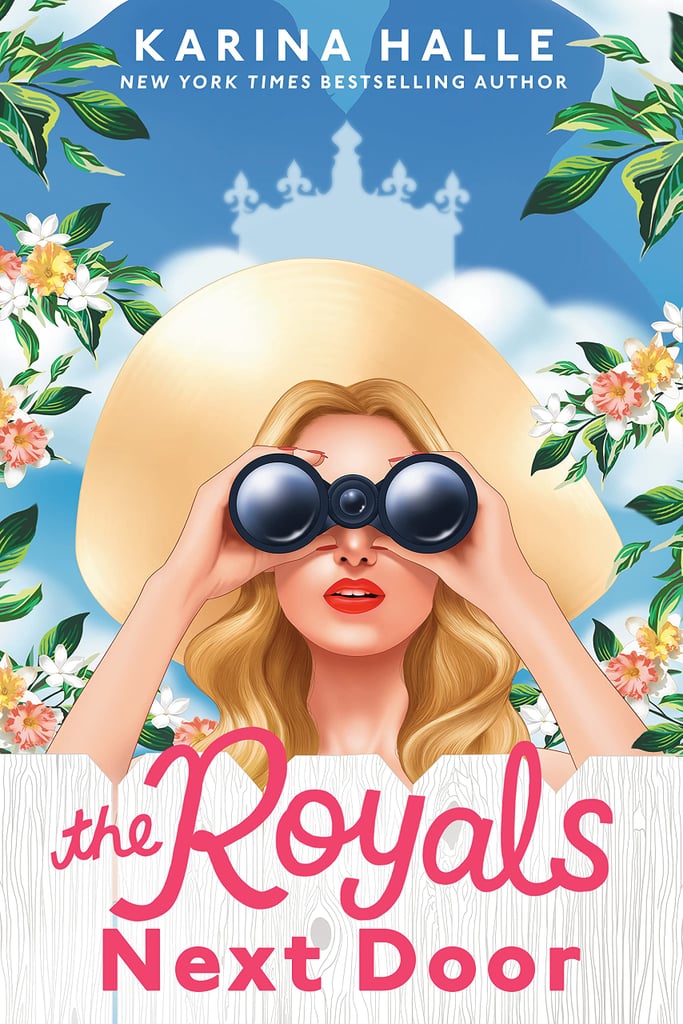 If you've ever fantasized about living next door to the royal family, then prepare to fall hard for The Royals Next Door [317] by Karina Halle. Piper leads a quiet life until actual royalty rent the house next to hers. When her new neighbors cause a stir, Piper has a run-in with their handsome bodyguard, ensuring her life won't be quiet for much longer.
A Slow Fire Burning by Paula Hawkins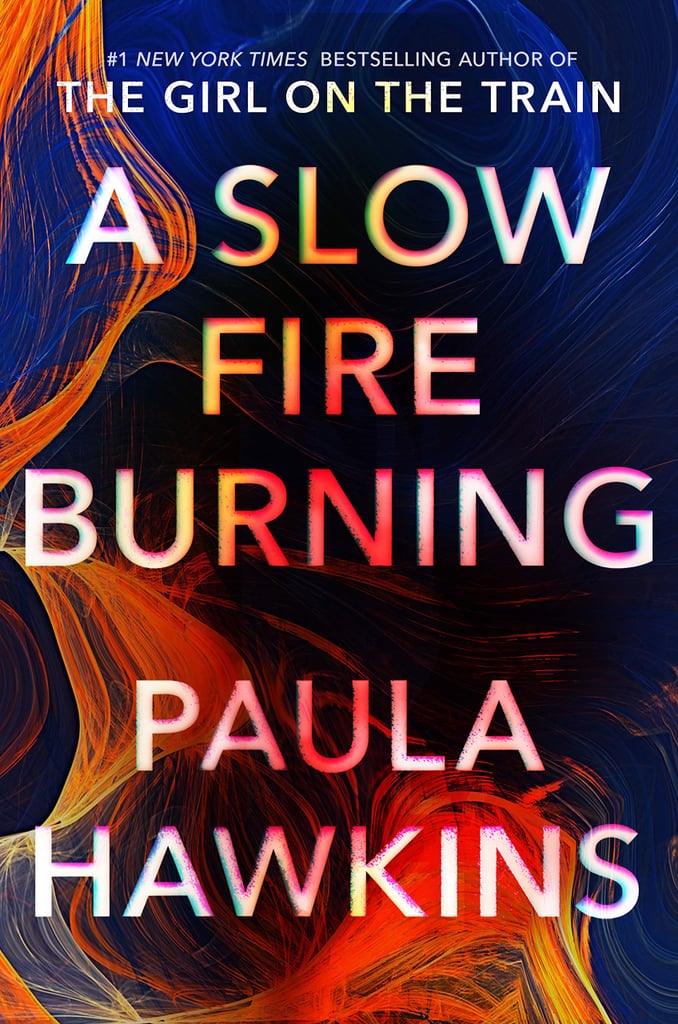 Bestselling author Paula Hawkins's latest thriller, A Slow Fire Burning [318], takes place during the aftermath of a man's death on his London houseboat. Three disparate women are all suspects, and they all have their own reasons for wanting the man dead. But would one of them really commit murder?
The Witch Haven by Sasha Peyton Smith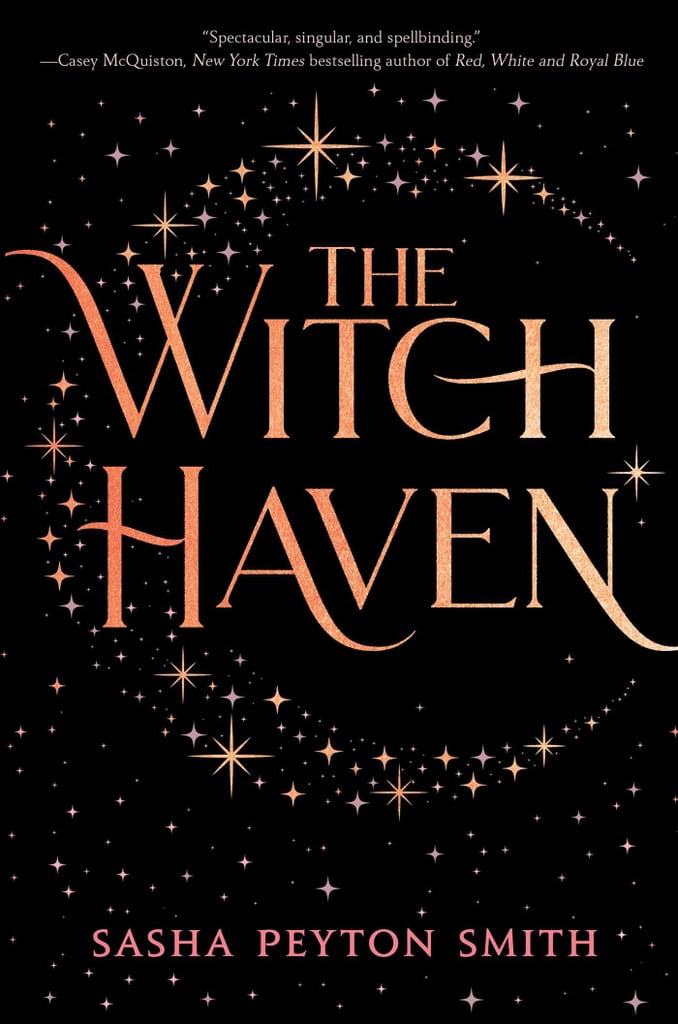 The Witch Haven [319] by Sasha Peyton Smith is a dazzling historical fantasy novel about a school for witches in 1911 New York City. The book follows Frances, a 17-year-old girl who is taken away to a magical school after a man who attacks her ends up dead at her feet. At first, her new life seems too good to be true, and she discovers soon enough that it is. Although she's found a place to call home, Frances winds up getting involved in a war between witches and wizards.
The Bennet Women by Eden Appiah-Kubi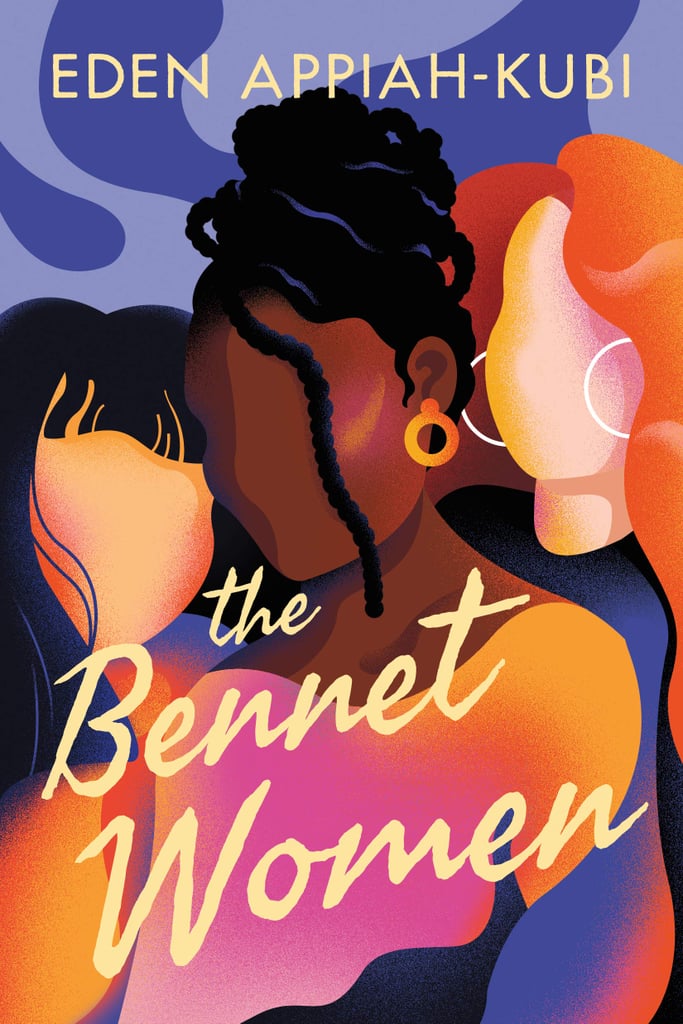 Eden Appiah-Kubi's The Bennet Women [320] is an inclusive reimagining of Pride and Prejudice that Jane Austen fans are sure to fall in love with. The story is set in Bennet House, an all-women's dorm where EJ, a Black engineering student, Jamie, a trans woman studying French and navigating the dating scene, and Tessa, a Filipina astronomy major, all live together. And while the trio of friends tend to focus on each other and their studies, the arrival of a Hollywood producer's son and his arrogant best friend shakes up their lives in unexpected ways.
Out Sept. 1
Constance by Matthew Fitzsimmons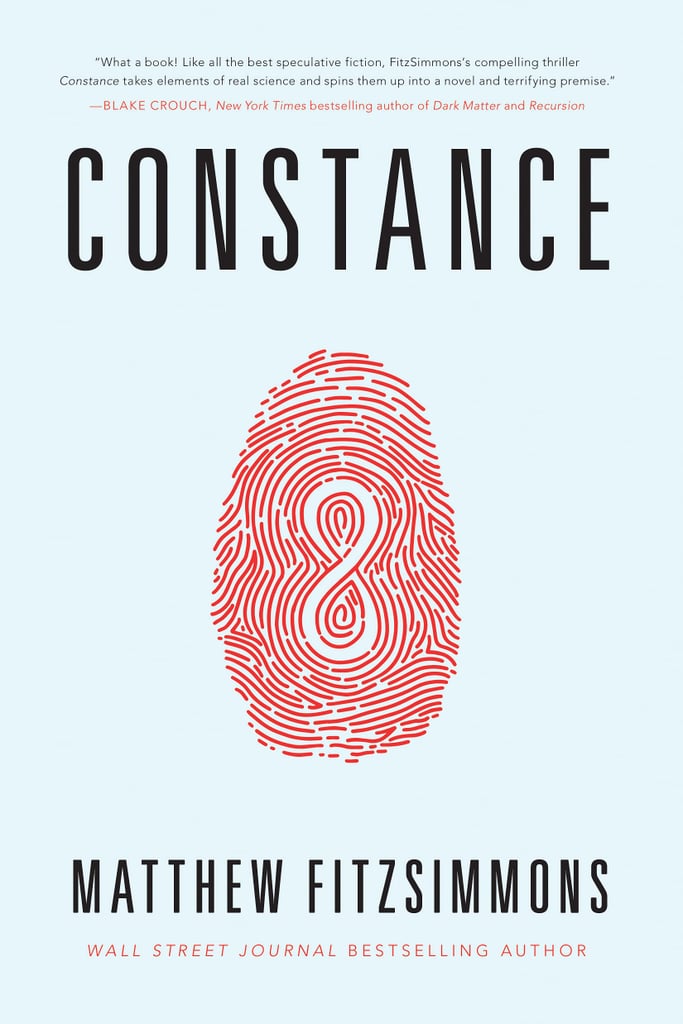 Constance [321] by Matthew Fitzsimmons is a propulsive sci-fi thriller that questions the very nature of what makes us human. In a not-so distant future where human cloning is a reality, a woman named Constance awakes to discover her consciousness has been uploaded into her clone after her death. The catch is, she has no recollection of her final moments, and she's determined not to rest until she discovers what happened to her original body.
Out Sept. 1
These Toxic Things by Rachel Howzell Hall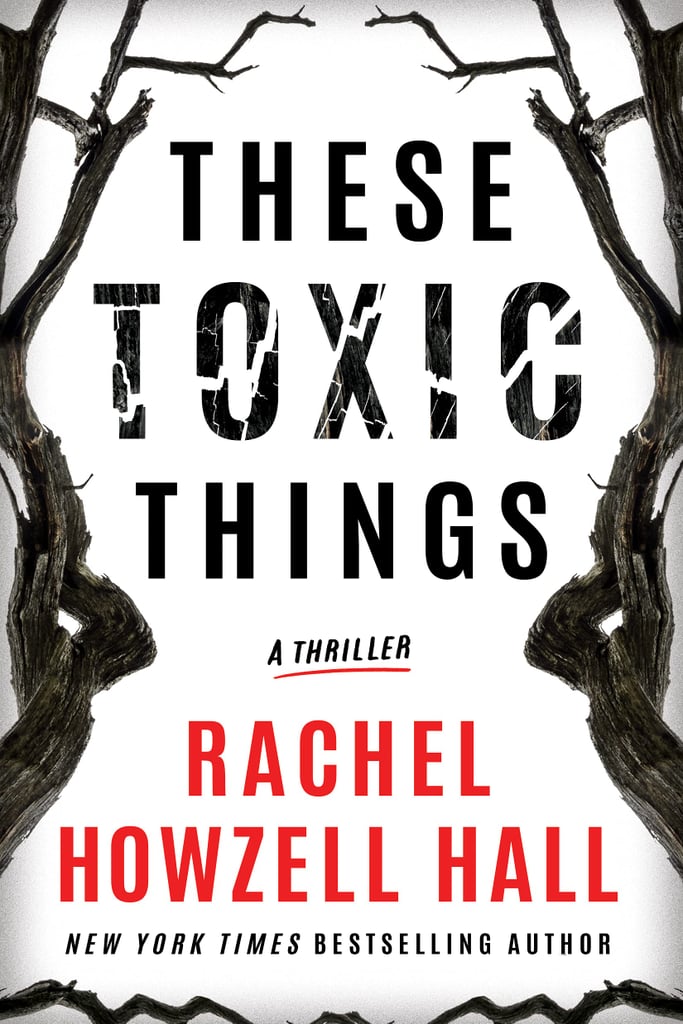 A deceased woman's beloved mementos lead to a whole lot of trouble in Rachel Howzell Hall's nail-biting These Toxic Things [322]. Mickie Lambert's job involves creating digital scrapbooks of people's beloved mementos, but her latest client's collection may put Mickie in the crosshairs of a serial killer who has been off the grid for years.
Out Sept. 1
Act Cool by Tobly McSmith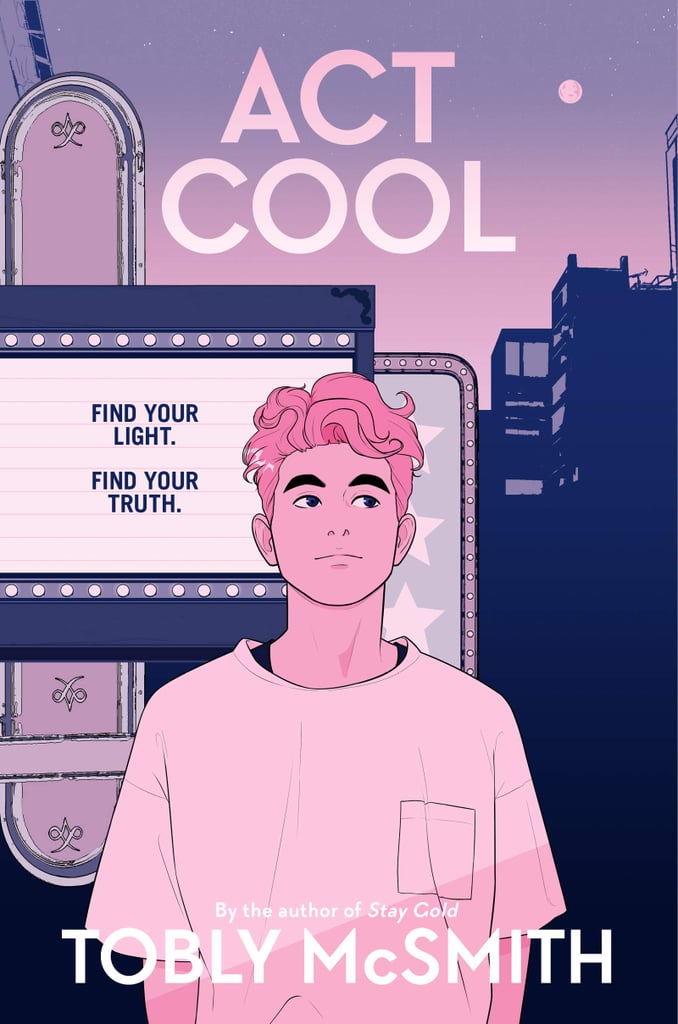 One of the most powerful YA books of the year, Act Cool [323] by Tobly McSmith follows trans teen and aspiring actor August Greene as he tries to navigate following his heart with his conservative parents' demands. When August's parents allow him to stay with his aunt in New York City to chase his dream of acting as long as he promises not to transition, he'll have to find the courage within himself to live his truth.
Out Sept. 7
Beautiful Country by Qian Julie Wang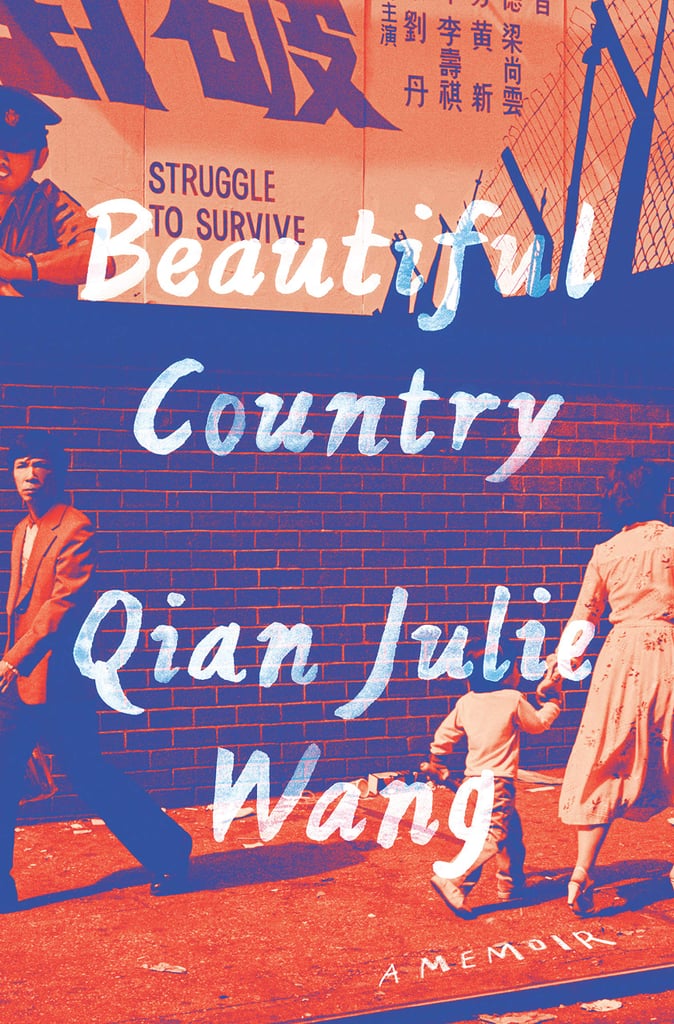 Beautiful Country [324] by Qian Julie Wang is an astounding memoir from a debut author that you're not going to want to miss. Within the pages of her intimate memoir, Wang shares the realities of growing up undocumented in America, how her mother's illness changed her family's dynamic, and all the ways she searched for beauty in a childhood that was so full of fear.
Out Sept. 7
Beautiful World, Where Are You by Sally Rooney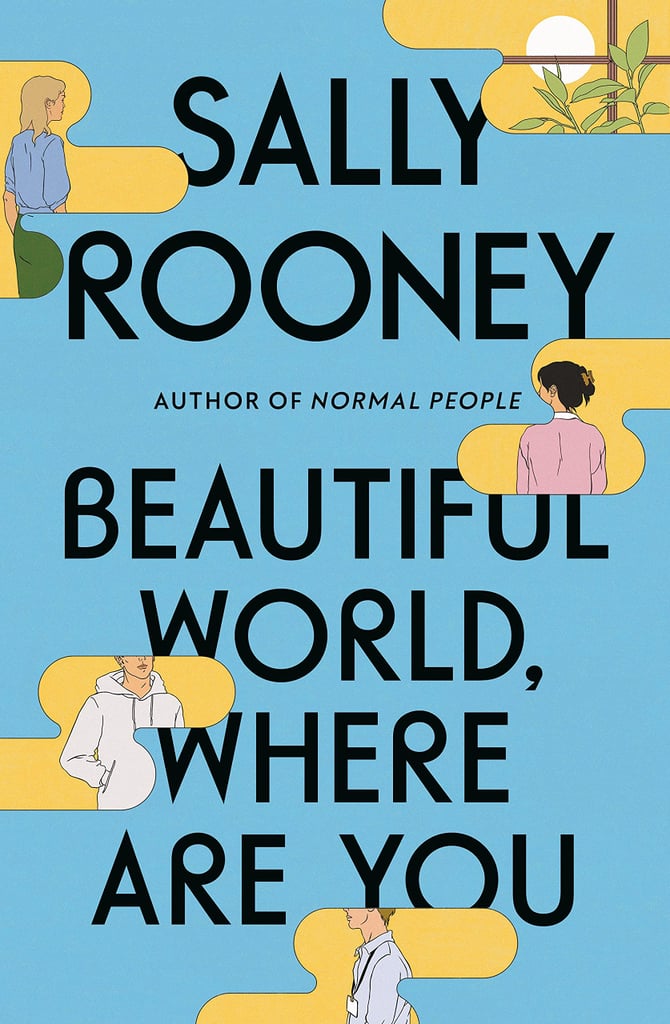 A new Sally Rooney novel is always worth celebrating, but Beautiful World, Where Are You [325] feels extra special. Like Normal People, Rooney's latest novel is concerned with the youthful worries of young adults, but this time she follows four friends as they fumble toward adulthood — and a hope for a brighter future — together.
Out Sept. 7
Brothers on Three by Abe Streep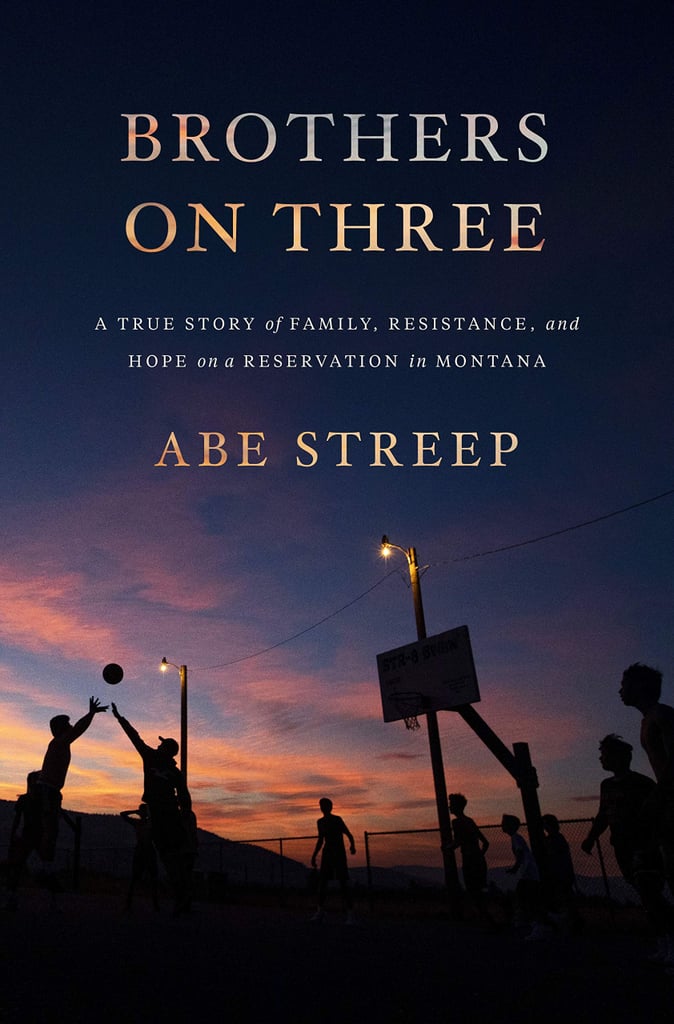 Journalist Abe Streep takes readers deep into the world of high school basketball stars Will Mesteth, Jr. and Phillip Malatare in Brothers on Three [326]. Beginning with the 2017 basketball season that saw the boys and their teammates take home the state championship for the Flathead Reservation in Montana, Streep delves deep into how the teens became champions, the pressures that accompanied their success, and what their win meant for their community and their individual futures.
Out Sept. 7
The Charm Offensive by Alison Cochrun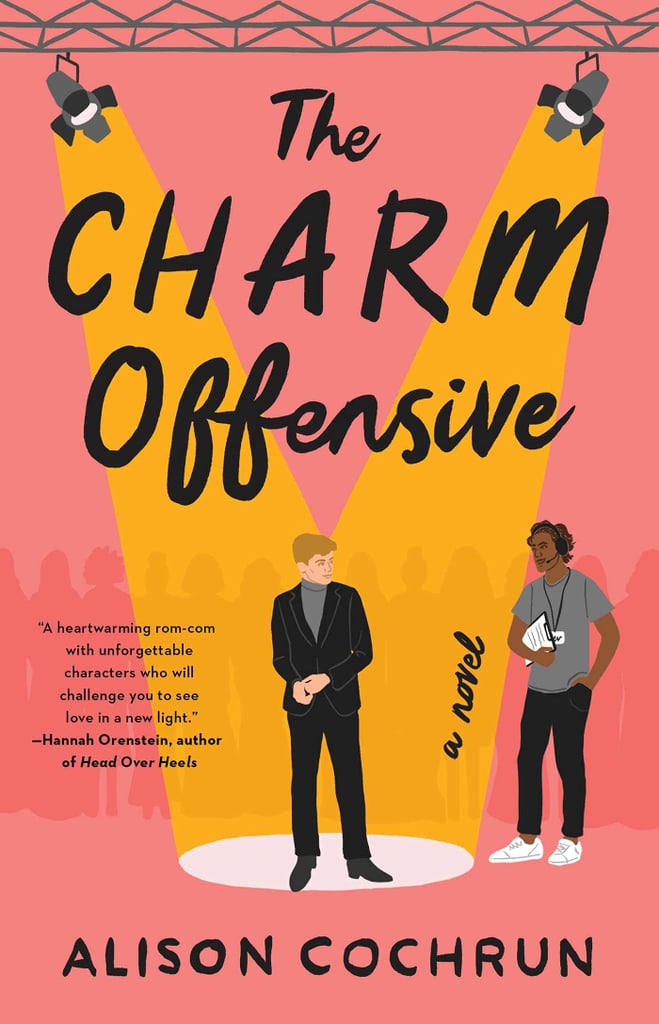 If you've ever dreamed of The Bachelor [327] being more inclusive, The Charm Offensive [328] by Alison Cochrun is the book for you. When tech whiz Charlie agrees to be the star of the popular dating reality show Ever After in hopes of rehabbing his image the last thing he expects is to fall for the show's producer, Dev Deshpande, instead of one of the women vying for his heart.
Out Sept. 7
Fault Lines by Emily Itami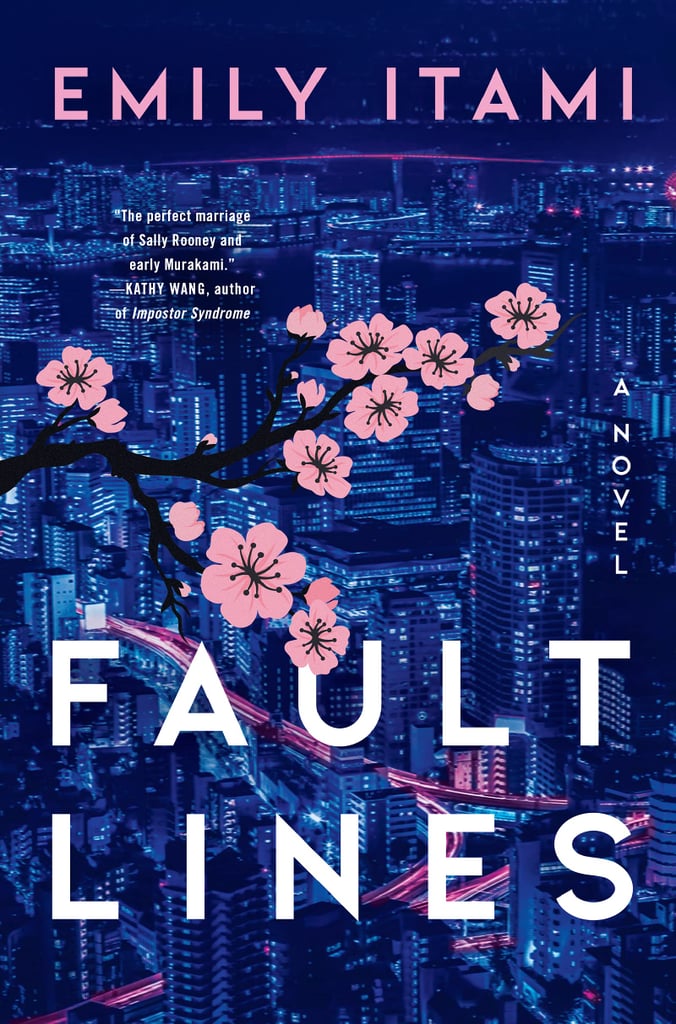 Emily Itami's debut novel Fault Lines [329] is a dazzling story of a woman rediscovering her identity beyond her roles as a wife and mother. Japanese housewife Mizuki knows she has a life other women envy, but she can't help but want more. Enter Kiyoshi, a restaurant owner who helps her fall in love with Tokyo, while also finding herself against the backdrop of the vibrant city.
Out Sept. 7
Hello (From Here) by Chandler Baker and Wesley King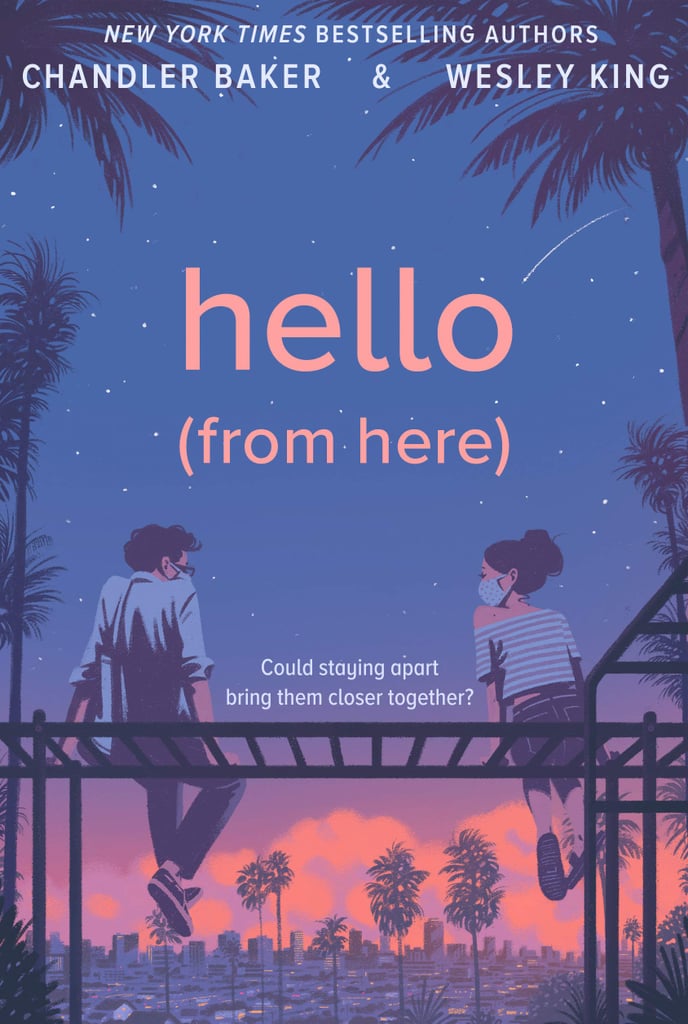 Hello (From Here) [330] isn't just a book about the pandemic. Chandler Baker and Wesley King have teamed up to tell a sweet love story between two teens that happens to unfold during these strange times we live in. Maxine and Jonah meet just as California goes into lockdown, but over the course of the next few months their relationship blossoms even as mental health issues, the toll of the pandemic, and social distancing threatens to keep them apart.
Out Sept. 7
The House of Ashes by Stuart Neville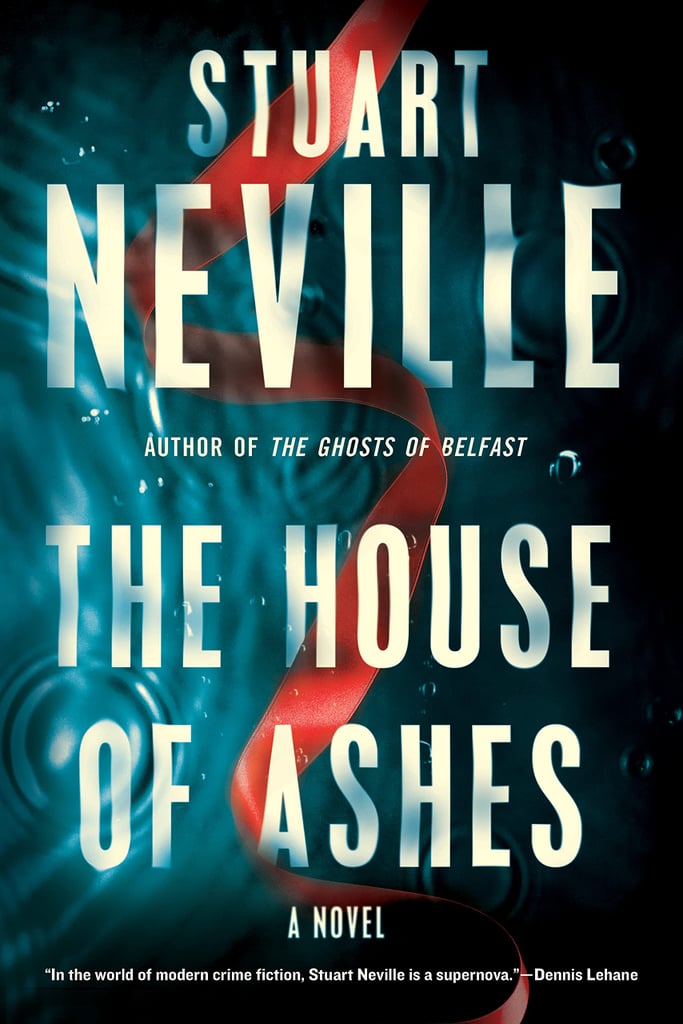 Told in alternating perspectives, The House of Ashes [331] by Stuart Neville is set in a house full of secrets in Northern Ireland. Shortly after she has a nervous breakdown, a woman named Sara finds herself uprooted by her husband as they move from England to Ireland, where he's from. Just as she's feeling particularly isolated, a woman shows up on her doorstep covered in blood and claiming the house is hers.
Out Sept. 7
The Inheritance of Orquídea Divina by Zoraida Córdova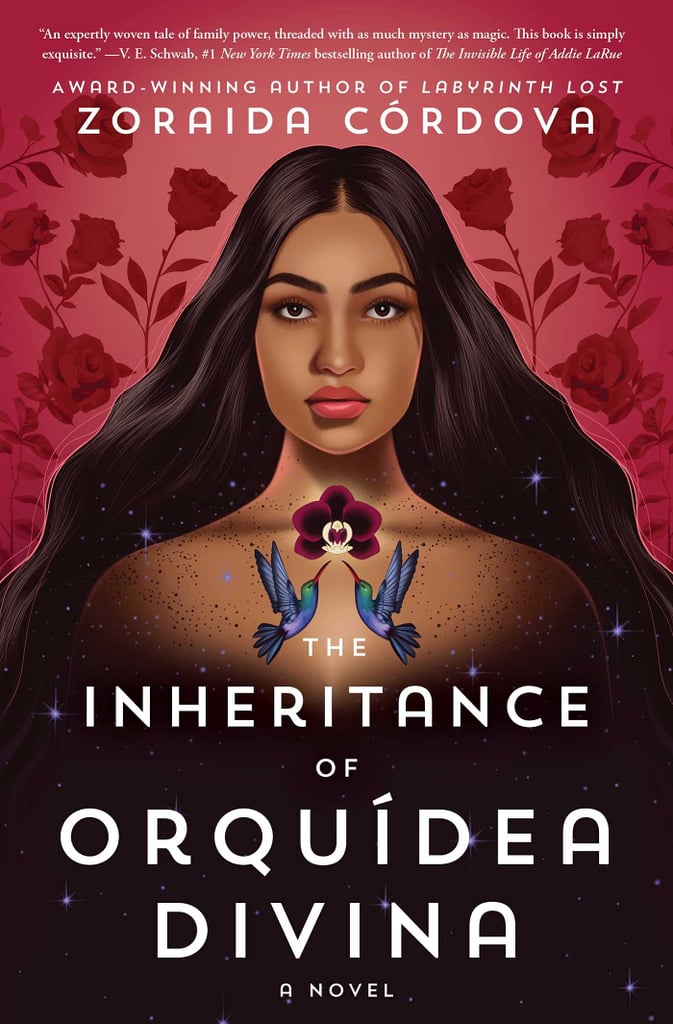 Trust us: You will fall in love with The Inheritance of Orquídea Divina [332] by Zoraida Córdova. This beautiful, magical book tells a story of ancestors and descendants, and the threads that hold them together across time. The story focuses on the Montoyas, a family who is used to not asking questions about their good fortune and mysterious matriarch until Orquídea's death leads to a magical transformation that leaves her descendants with a target on their backs.
Out Sept. 7
L.A. Weather by María Amparo Escandón
It's not just the weather that's threatening the tenuous bonds of the Alvarado family in L.A. Weather [333] by María Amparo Escandón. Despite their success, the Mexican-American family is crumbling as their patriarch obsesses over the weather, and the matriarch decides it's time to end her marriage. This darkly funny and insightful novel follows both the parents and their adult children as they attempt to navigate the emotional storm heading their way.
Out Sept. 7
The Last Beautiful Girl by Nina Laurin
Get an early start on the spooky season with The Last Beautiful Girl [334] by Nina Laurin. After her parents move the family from New York City to a small town in the middle of nowhere, Isabella finds a bright side to their decision when she begins to explore the rambling old mansion they now call home. Within its walls, she finds vintage clothes and jewels, which are perfect for Instagram photoshoots, but as her social media profile rises, it becomes impossible for Isabella to ignore the growing darkness in the house — and in herself.
Out Sept. 7
The Magician by Colm Tóibín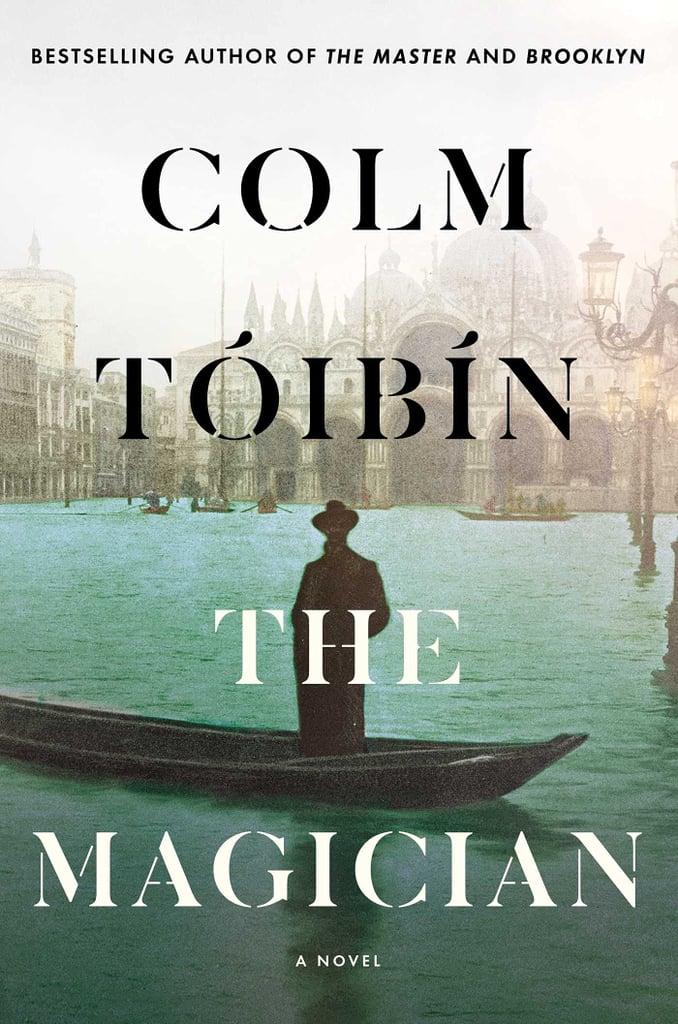 Famed author Thomas Mann's life is the inspiration for Colm Tóibín's sprawling epic The Magician [335]. Beginning in the small German town where Mann grew up and covering the time period between World War I and the Cold War, this astounding novel of repression, desire, and the family of one of the greatest novelists of all time is the perfect marriage of fact and fiction.
Out Sept. 7
Major Detours by Zachary Sergi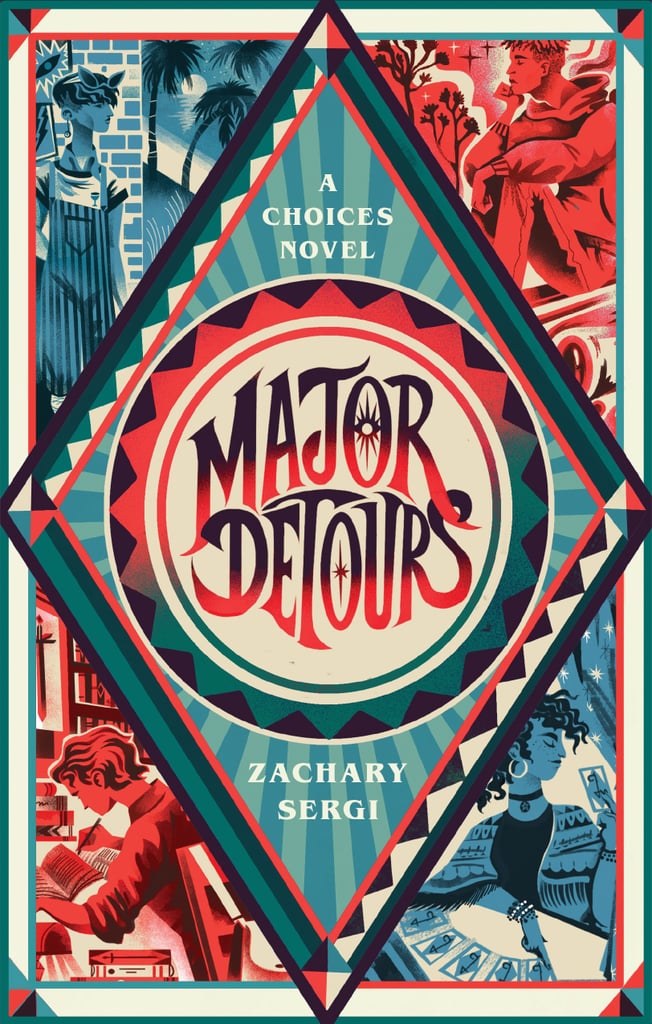 Choose your own adventure books get a much-needed modern update in Major Detours [336] by Zachary Sergi. Set during the summer before college, four friends embark on a road trip inspired by a Tarot Deck one of them inherited from their grandmother. Along the way, you get to make decisions for the friends, which will lead them to one of four different outcomes.
Out Sept. 7
Matrix by Lauren Groff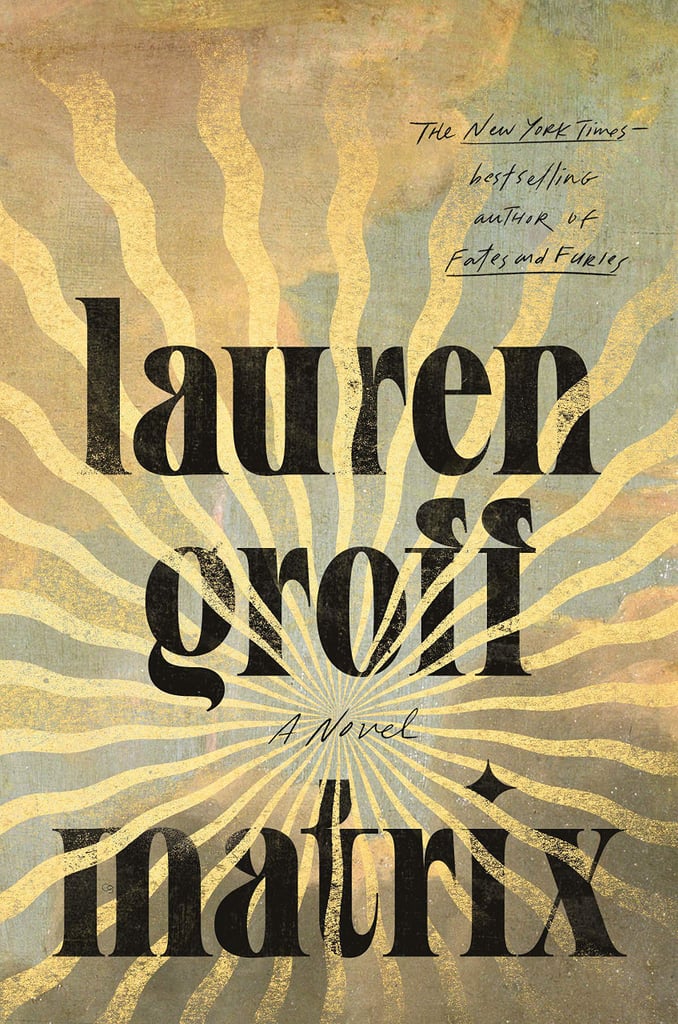 Matrix [337] is Lauren Groff's first novel since her bestselling Fates and Furies, and it's definitely well worth the wait. After being declared too uncouth for courtly life, Marie de France is sent to be the prioress of a crumbling abbey. It's there that she finds a new purpose as a champion for her sisters who welcome her into their home.
Out Sept. 7
Mom Jeans and Other Mistakes by Alexa Martin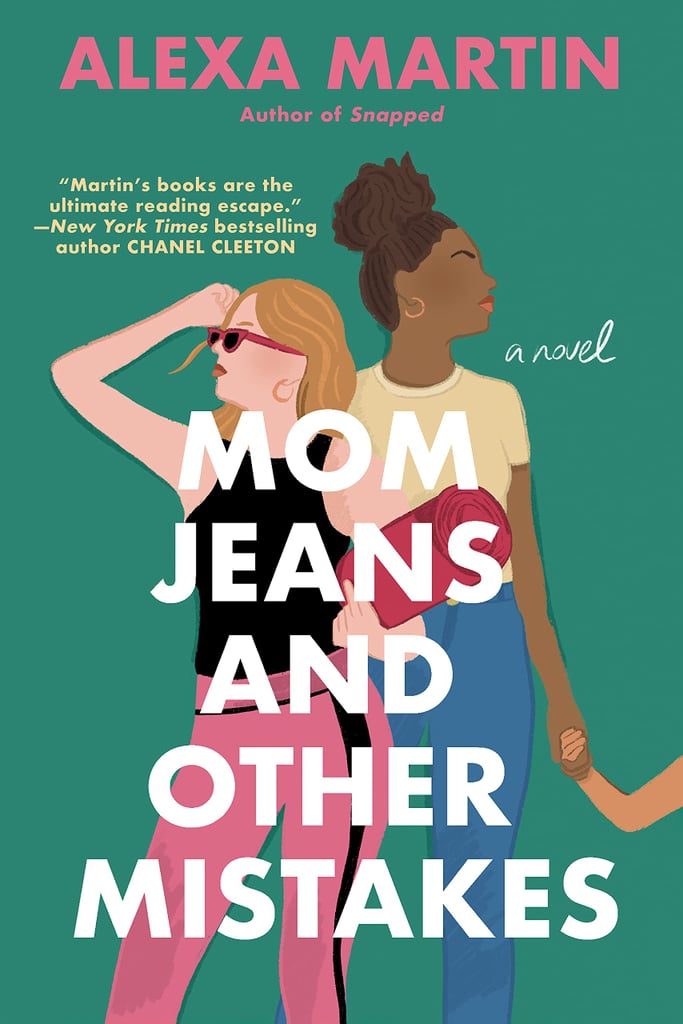 Mom Jeans and Other Mistakes [338] by Alexa Martin is the kind of book that's destined to be passed from friend to friend. When best friends since elementary school Jude and Lauren both fall on hard times, they decide to fulfill their life-long dream of moving in together — with Lauren's little girl along for the ride. And while their lives are far more complicated than they ever could have imagined when they were just kids, they discover it might just be easier to navigate adulthood together than trying to make it on their own.
Out Sept. 7
Never Saw Me Coming by Vera Kurian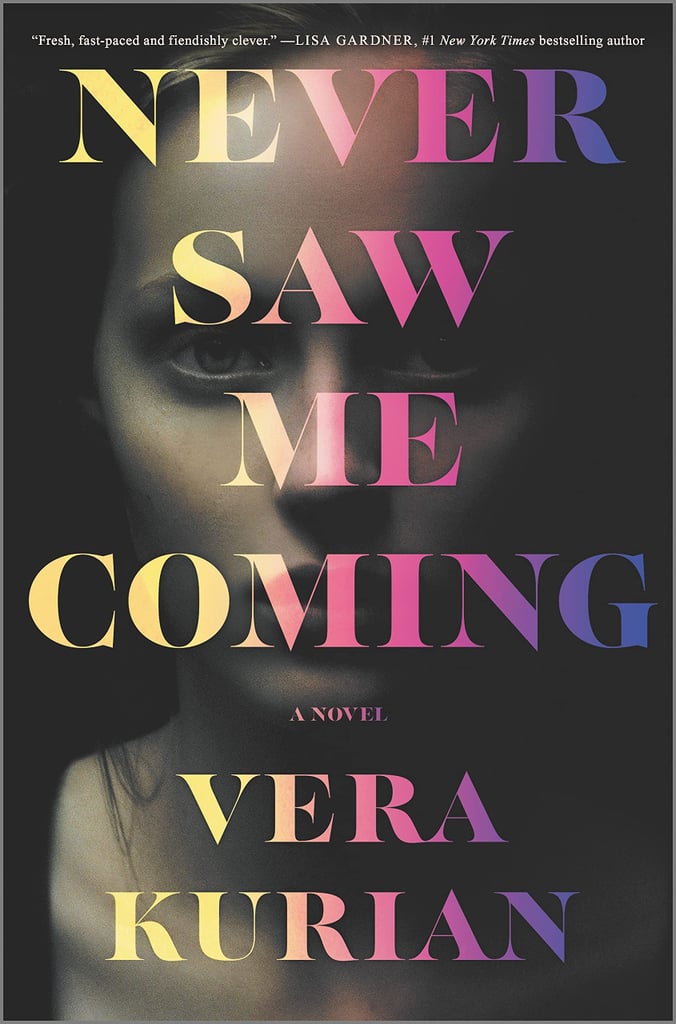 Vera Kurian asks readers to put themselves in the shoes of a psychopath in her eerie thriller Never Saw Me Coming [339]. Freshman student Chloe Sevre looks unassuming enough, but she's one of seven students participating in a clinical study of psychopaths. And when one of the other students turns up dead, Chloe takes it upon herself to find the killer using her unique perspective as an asset in the search.
Out Sept. 7
The Night She Disappeared by Lisa Jewell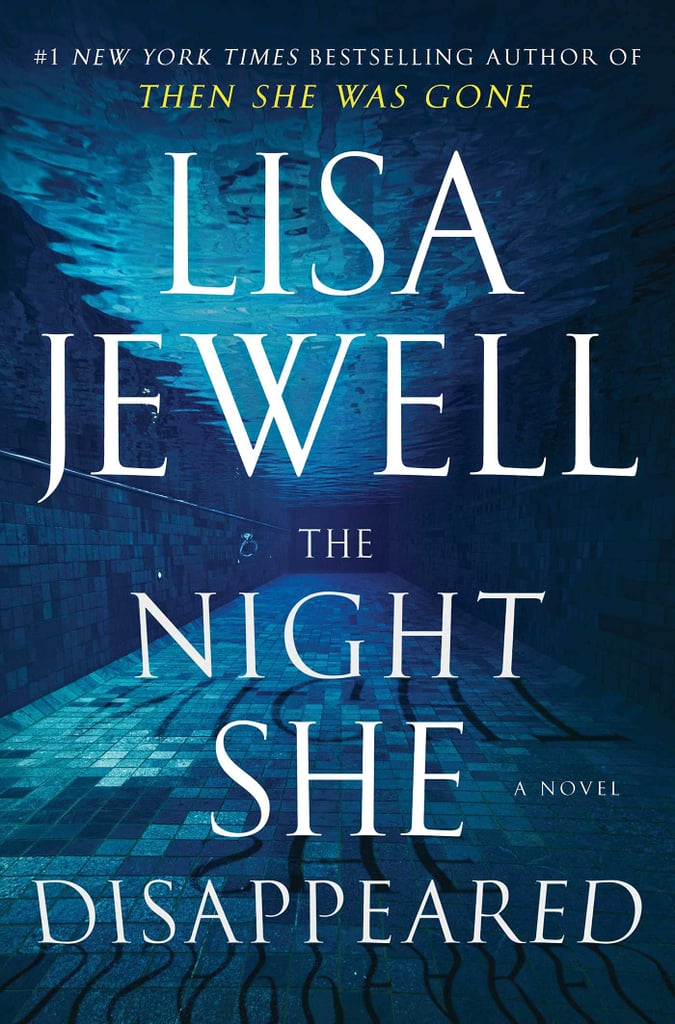 Thriller maestro Lisa Jewell is back with The Night She Disappeared [340]. One year after the disappearance of a young couple, a writer who recently moved into an English cottage discovers a sign that reads "Dig Here" in the foreboding woods that border her property. Soon, she can't stop wondering if the note is connected to the disappearances or if it's pointing her toward a different mystery entirely.
Out Sept. 7
Portrait of a Scotsman by Evie Dunmore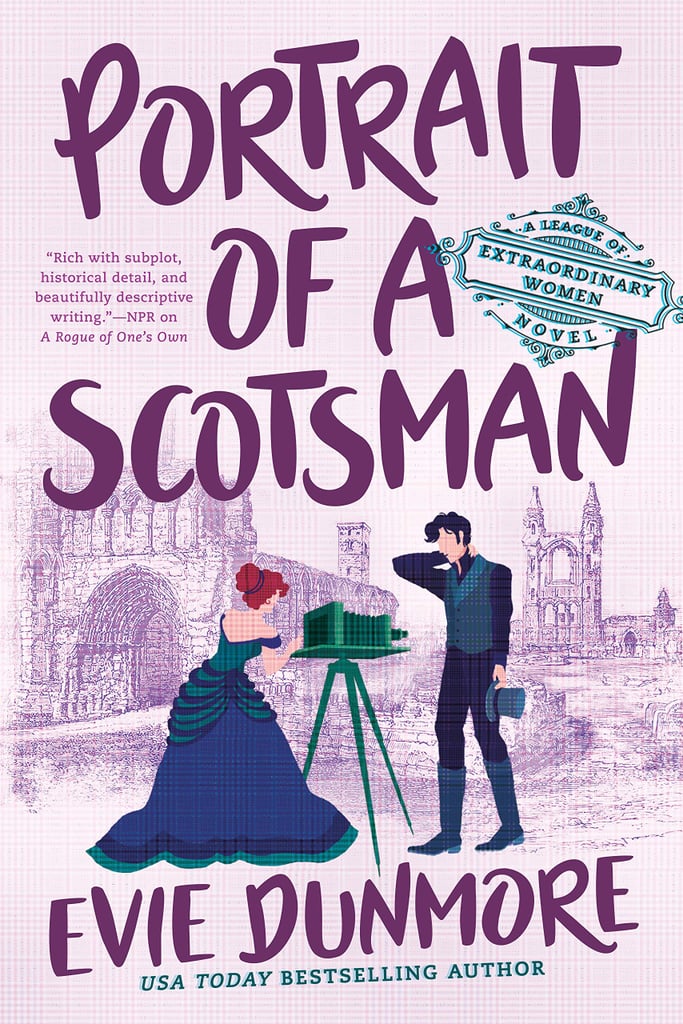 Evie Dunmore's historical rom-com series A League of Extraordinary Women continues with Portrait of a Scotsman [341]. This time around it's London heiress Hattie Greenfield's turn to find love, but things take an unexpected turn when she finds herself walking down the aisle with the last man she ever imagined marrying: the surly Lucian Blackstone.
Out Sept. 7
Rizzio by Denise Mina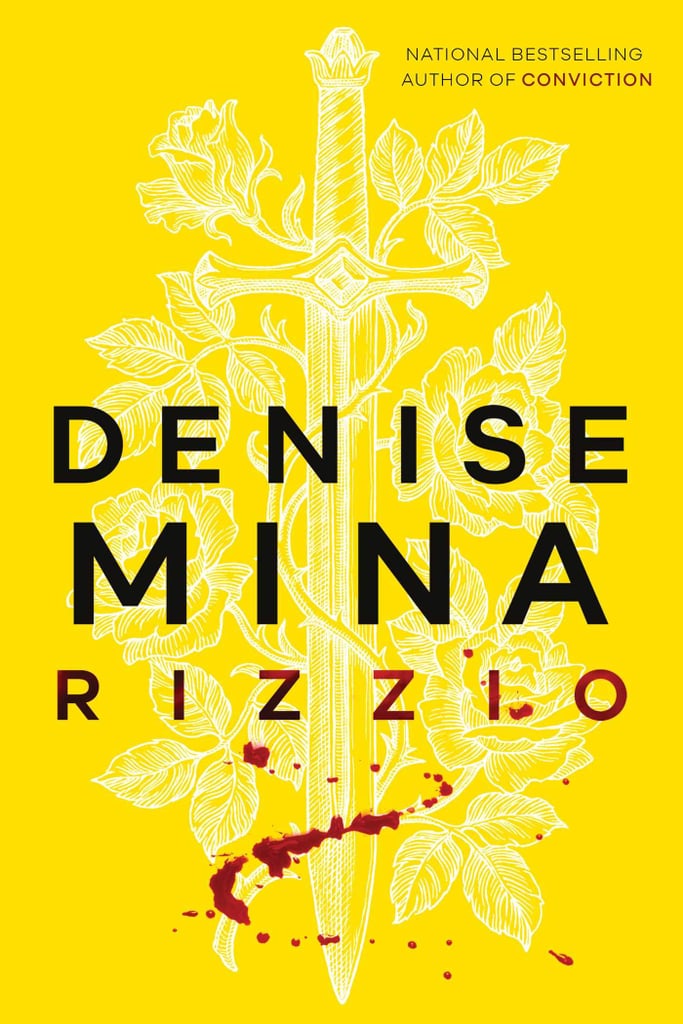 Rizzio [342] by Denise Mina is a short, but riveting historical mystery inspired by the real murder of David Rizzio, Mary, Queen of Scots's private secretary. This darkly clever novella dramatizes the days leading up to March 9th, 1566, when Rizzio was stabbed 56 times by a group of assassins.
Out Sept. 7
Rock Paper Scissors by Alice Feeney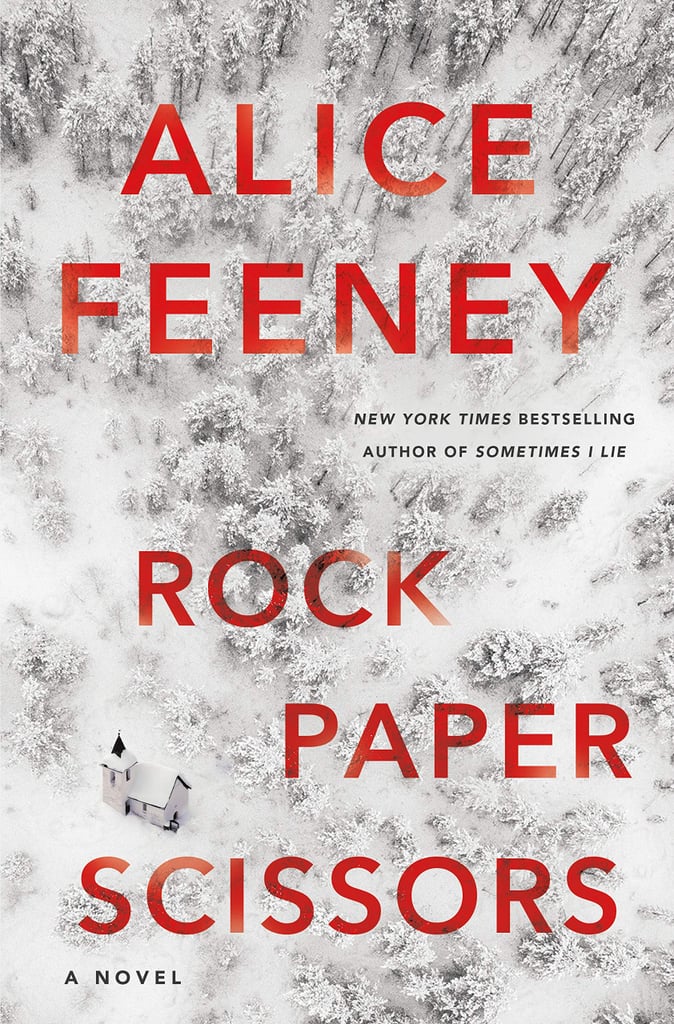 Looking for a domestic thriller that will leave you guessing until the final page? Then you need Rock Paper Scissors [343] by Alice Feeney in your life. On their 10th anniversary, Mr. and Mrs. Wright win a getaway to a secluded weekend away in Scotland, but it's not long before they realize something about their trip isn't quite right.
Out Sept. 7
The Shaadi Set-Up by Lillie Vale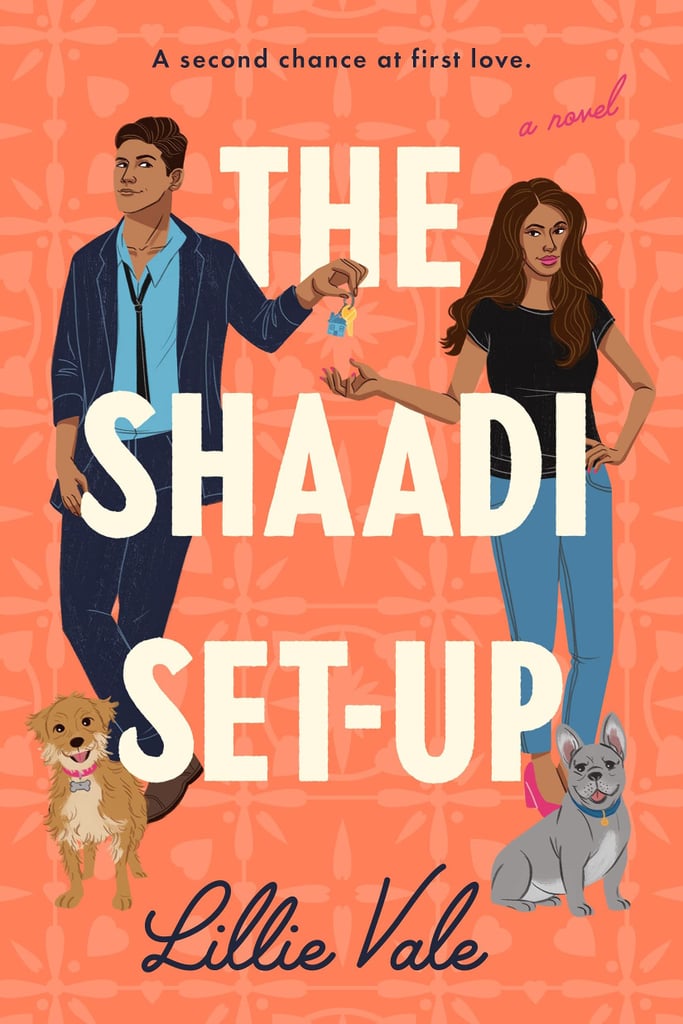 Lillie Vale's rom-com debut The Shaadi Set-Up [344] finds a successful woman named Rita Chitniss questioning all of her romantic choices. When her ex shows up in hopes that she'll help him flip a house, Rita makes profiles for herself and her boyfriend on a famed Desi matchmaking site in hopes of proving they're perfect for one another. Instead, she ends up matched with her troublesome ex and questioning whether her current relationship is as perfect as she thought.
Out Sept. 7
Tides of Mutiny by Rebecca Rode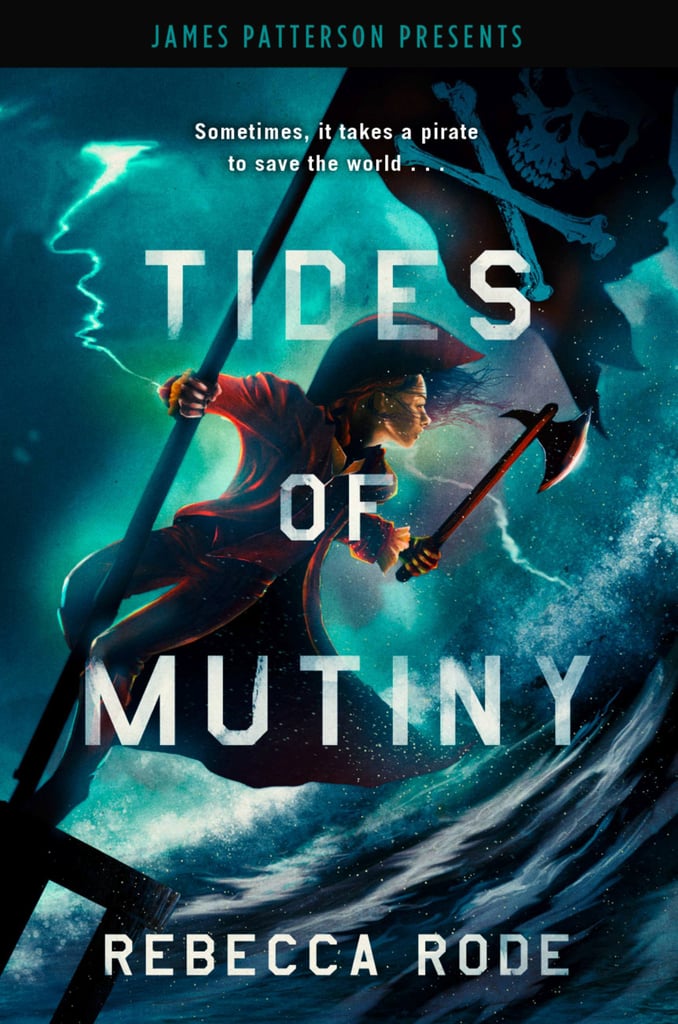 Tides of Mutiny [345] by Rebecca Rode is a high seas adventure full of swashbuckling goodness. At 16, Lane dreams of becoming a ship's captain like her father, even though she knows any woman found to be a sailor will be executed. As a result, she has lived her whole life as a boy. But the unexpected arrivals of a pirate and a prince might just lead Lane to find a way to change the system.
Out Sept. 7
Unfollow Me by Jill Louise Busby
In Unfollow Me [346], Jill Louise Busby serves up a collection of unflinching and insightful essays on complicity. After years of delivering lectures on race, power, and privilege to nonprofits across the country, Busby uploaded a fiery video about race and performative wokeness on Instagram. The video became an internet sensation leading to her collection of essays on white fragility, tokenism, and her own experiences with internet fame and speaking in predominantly white institutions.
Out Sept. 7
Apples Never Fall by Liane Moriarty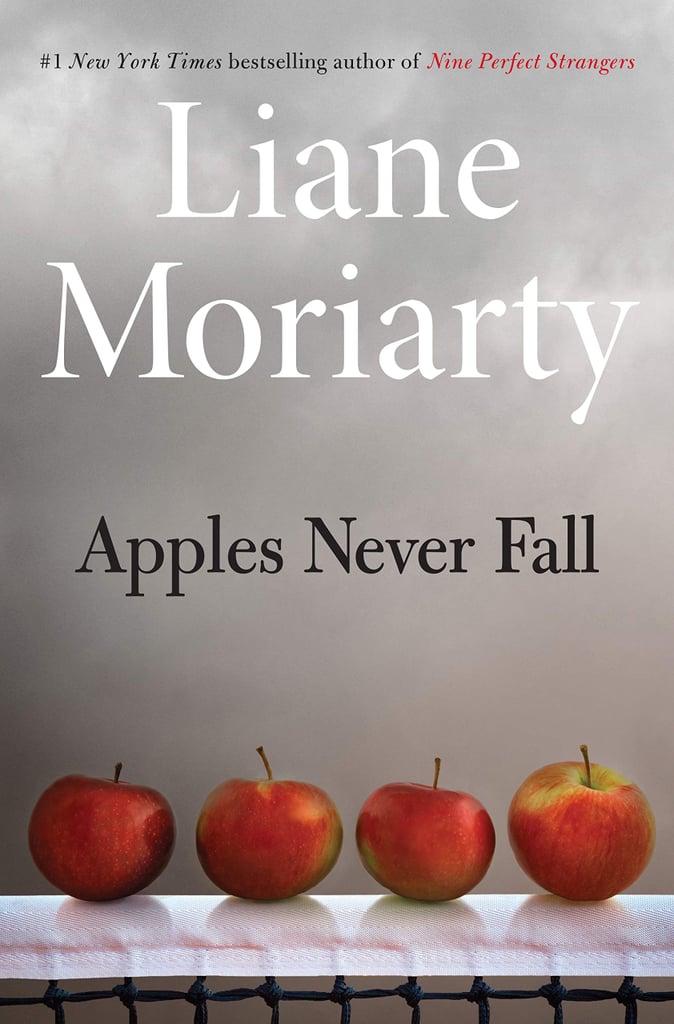 Liane Moriarty, the bestselling author of Big Little Lies, is back with another page-turning domestic thriller in Apples Never Fall [347]. This time around, the focus is on the Delaney family, a collection of privileged tennis enthusiasts whose world is rocked when their mother goes missing. The only trouble is the adult children are torn over whether or not to go to the police, because they suspect their father may be to blame.
Out Sept. 14
Assembly by Natasha Brown
There are shades of Mrs. Dalloway in Natasha Brown's searing Assembly [348], which is narrated by an unnamed Black woman as she prepares to spend the day at her boyfriend's parents' estate in the English countryside. But unlike the Virginia Woolf classic, this novel is about a woman who is about to burn an oppressive system to the ground — even if she has to take herself down with it.
Out Sept. 14
The Corpse Queen by Heather M. Herrman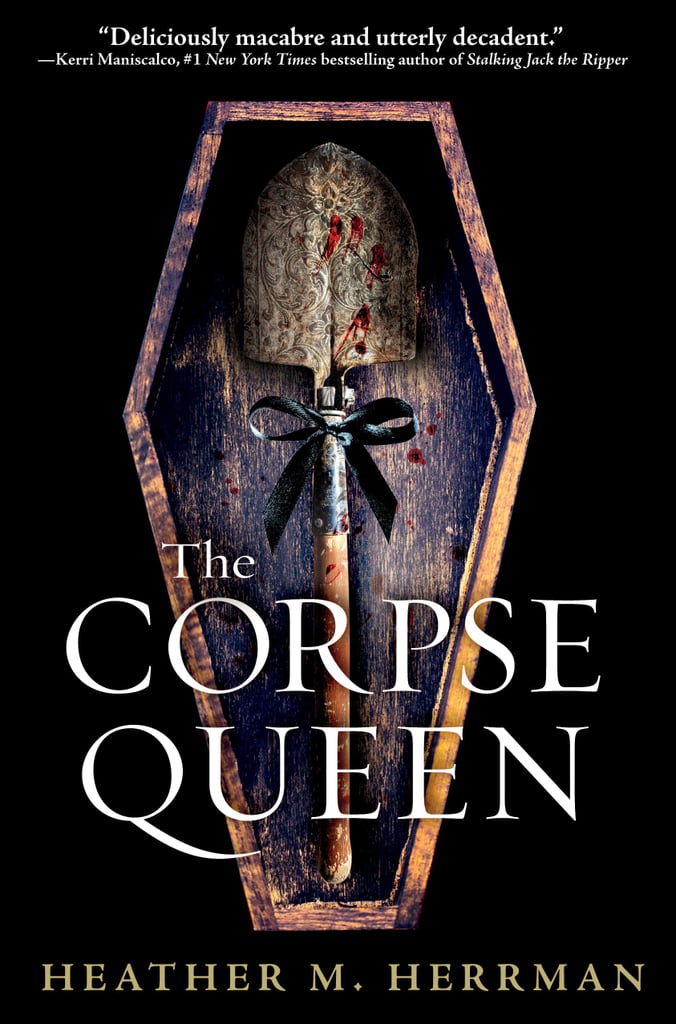 Full of haunting imagery and Gothic flourishes, The Corpse Queen [349] by Heather M. Herrman is a historical mystery that will give you goosebumps. At 17, orphan Molly is sent to live with an aunt she's never heard of who teaches her a new skill: grave robbing. Soon, Molly is digging up graves and sitting in on anatomy lessons, but with a killer lurking the streets of 1850s Philadelphia, there's no doubt danger is on the horizon.
Out Sept. 14
Dark Things I Adore by Katie Lattari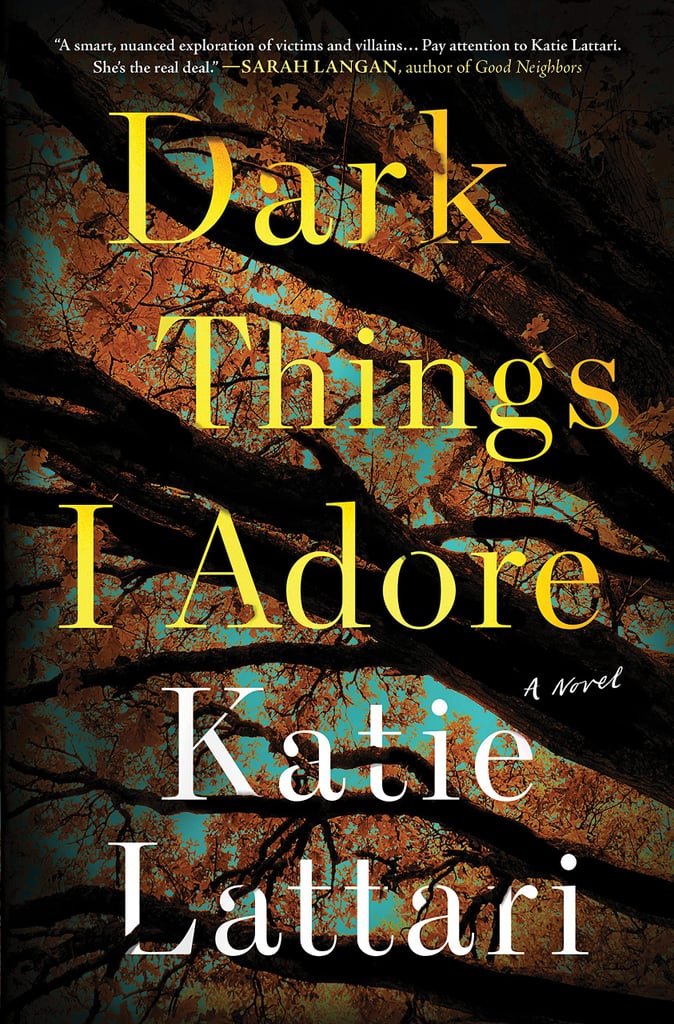 The genres of dark academia and revenge thrillers collide in Dark Things I Adore [350] by Katie Lattari. Audra is a bright and talented artist and graduate student, but she's also the only person who knows her teacher's terrible secret. And now it's time to make him pay for the sins he committed 20 years ago by springing her carefully constructed trap.
Out Sept. 14
Harlem Shuffle by Colson Whitehead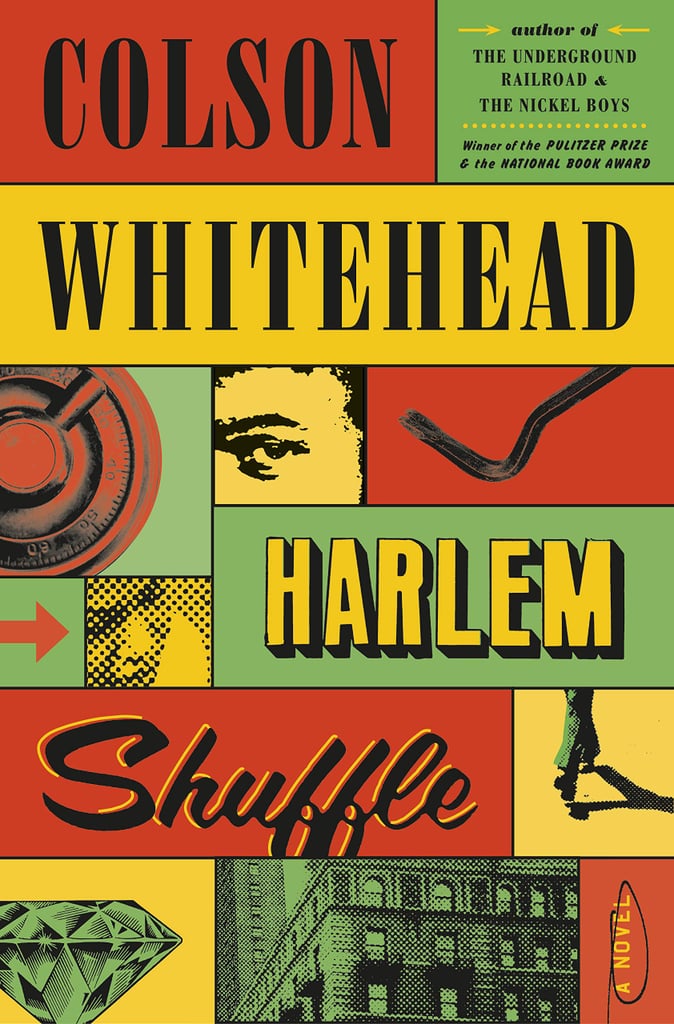 Two-time Pulitzer Prize-winning author Colson Whitehead's latest novel Harlem Shuffle [351] will transport readers to 1960s era Harlem. Ray Carney is a respectable furniture salesman and husband with a baby on the way, but every now and then he sells a piece of stolen jewelry procured by his cousin. His double life becomes more intense when he is drawn into a heist that upends his life, leaving Ray with a whole lot of problems on his hands.
Out Sept. 14
It All Comes Back to You by Farah Naz Rishi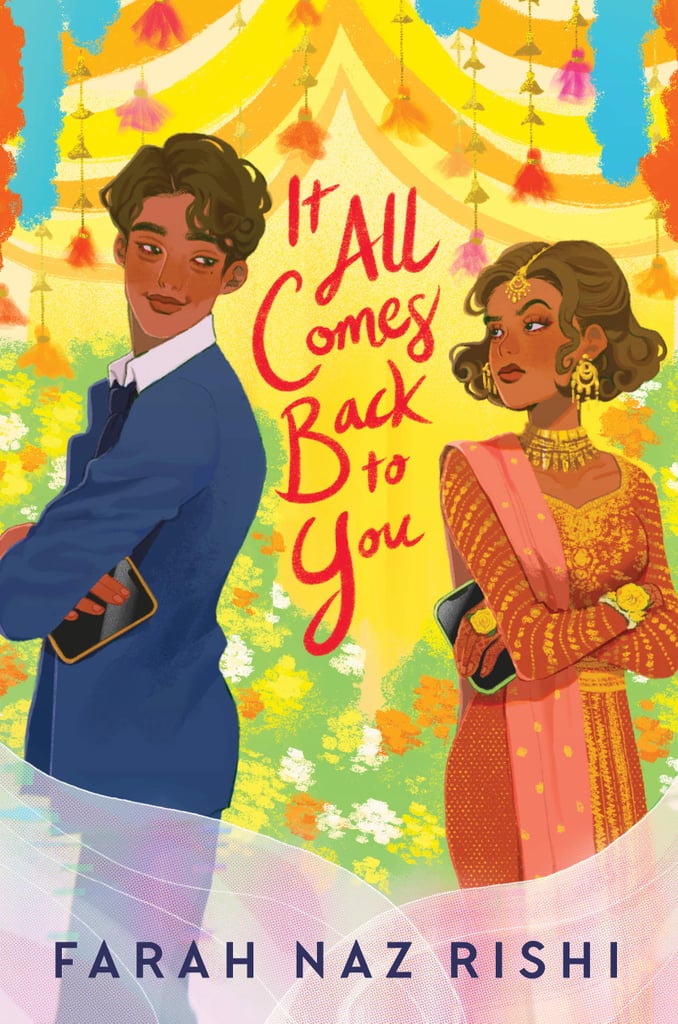 When their younger siblings announce they're dating, a pair of exes can't stop themselves from meddling in It All Comes Back to You [352] by Farah Naz Rishi. In the wake of her mother's death, Kiran has taken it upon herself to keep her little sister from getting hurt, so when she discovers her sister is dating her ex-boyfriend's little brother, she can't help but worry. After all, her ex ghosted her, and she's not about to let his brother hurt her sister — even it means facing him again.
Out Sept. 14
A Lot Like Adiós by Alexis Daria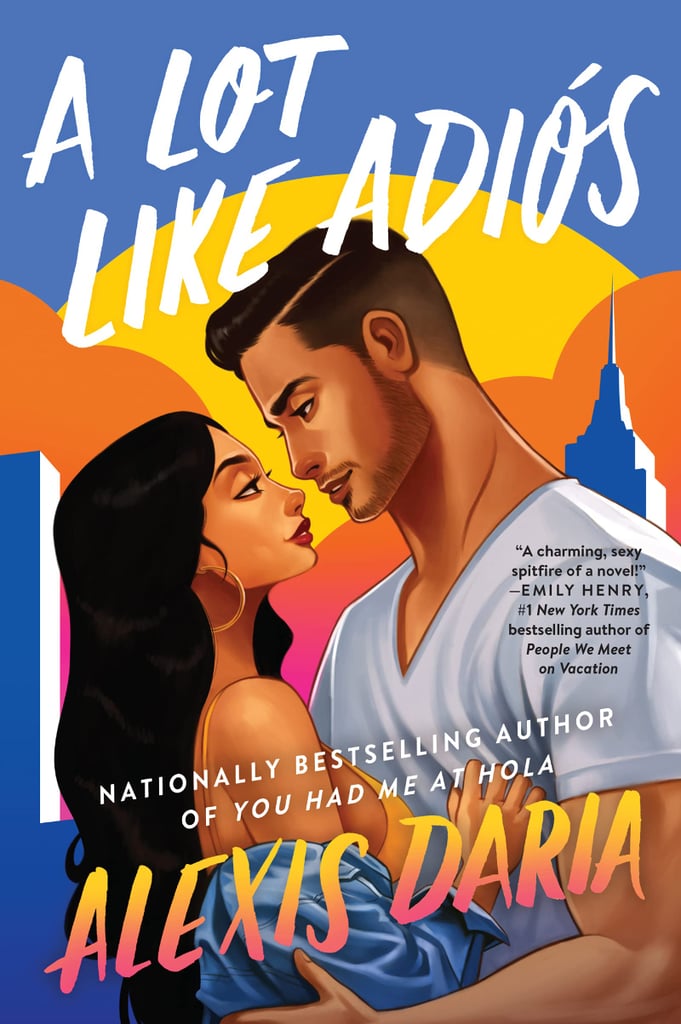 A Lot Like Adiós [353] by Alexis Daria is a sexy second chance romance designed to make you swoon. Michelle Amato doesn't have time for dating, much to her family's dismay, and she much prefers focusing on her freelance career anyway. But when a new project reunites her with her childhood best friend and crush, she may have to reevaluate her stance on love.
Out Sept. 14
The Love Hypothesis by Ali Hazelwood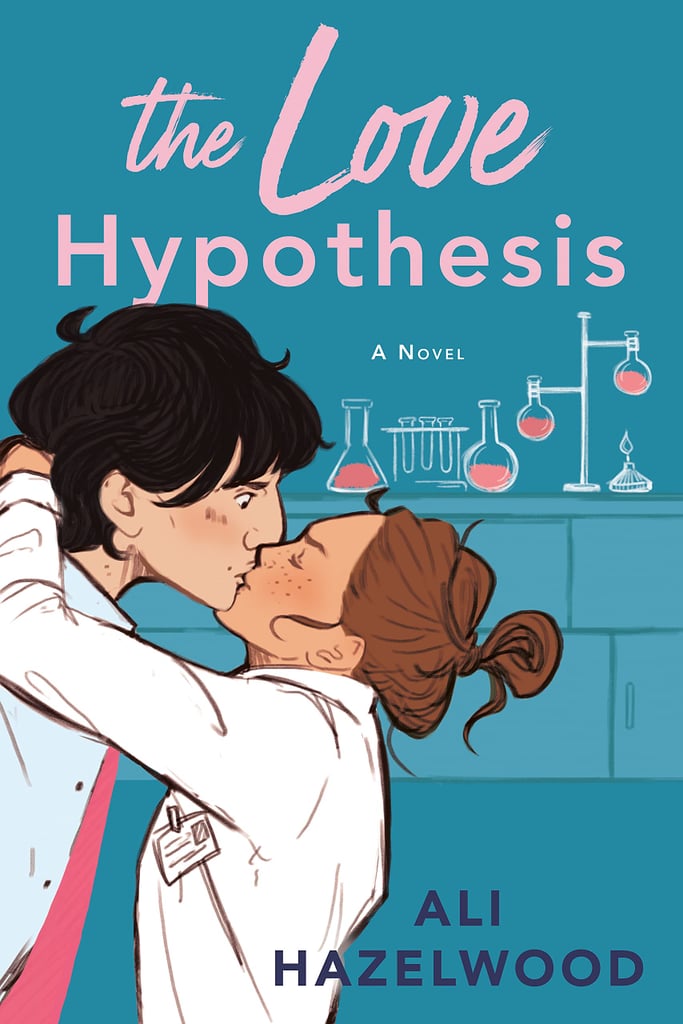 In order to keep from breaking her best friend's heart, scientist Olive fabricates a relationship so she can get back to focusing on her work in The Love Hypothesis [354] by Ali Hazelwood. Unfortunately, her highly unscientific methods involve kissing the first man she sees (an arrogant professor) and getting herself entangled in a complex fake dating plot.
Out Sept. 14
My Sweet Girl by Amanda Jayatissa
My Sweet Girl [355] by Amanda Jayatissa asks whether or not a person can ever truly outrun their past. It's been years since Paloma was adopted from a Sri Lankan orphanage by loving parents who gave her the best of everything. However, at the age of 30, she decides to sublet her apartment to a man who discovers the secret she would do anything to keep from coming out, and when he ends up dead, it's no surprise she's the number one suspect.
Out Sept. 14
Nice Girls by Catherine Dang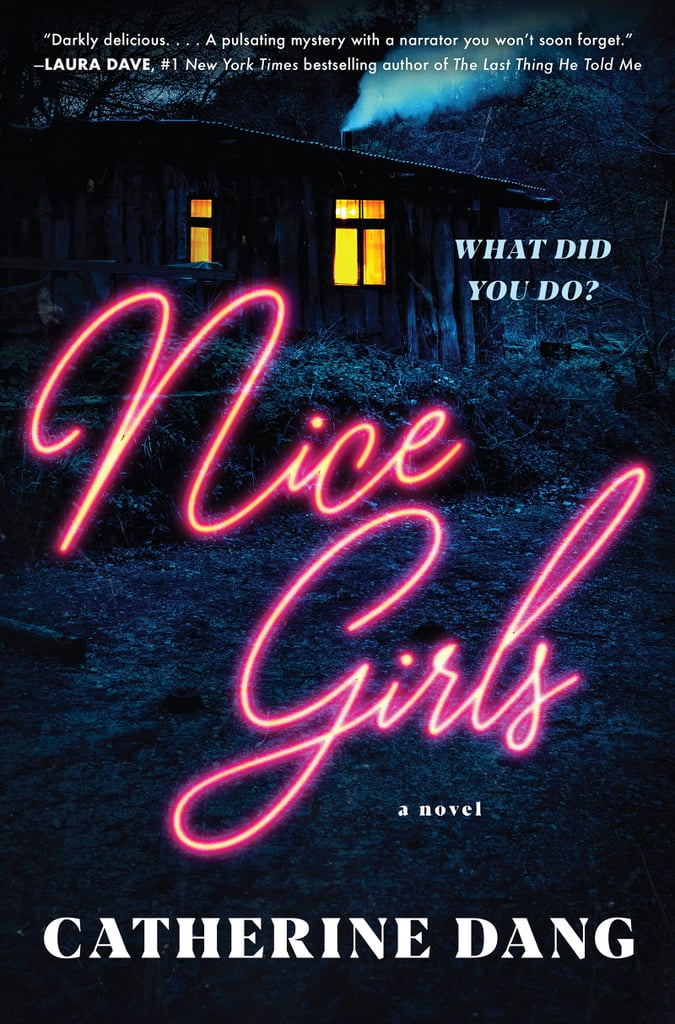 True crime fans, this one is for you. In Nice Girls [356] by Catherine Dang, Mary, who was recently kicked out of Cornell, returns home and begins working at a grocery store. It's there that she hears her old best friend has gone missing, leading Mary to wonder if her frenemy's disappearance could be connected to another missing person case in their small town.
Out Sept. 14
White Smoke by Tiffany D. Jackson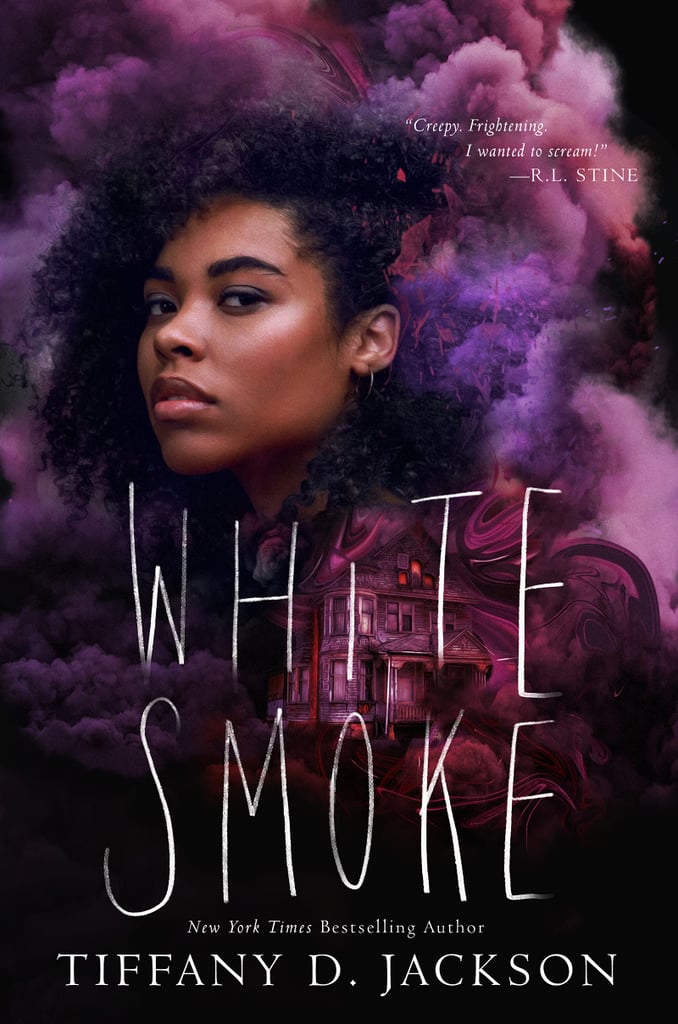 Bestselling author Tiffany D. Jackson's White Smoke [357] is a timely modern haunted house tale. When Marigold's family moves from California to the Midwest for a fresh start, the last thing she expects is to end up living in a haunted house. But between the mysterious occurrences and her stepsister's insistence that her new friend wants Marigold out of the house, it's clear something isn't right in her new home.
Out Sept. 14
With You Forever by Chloe Liese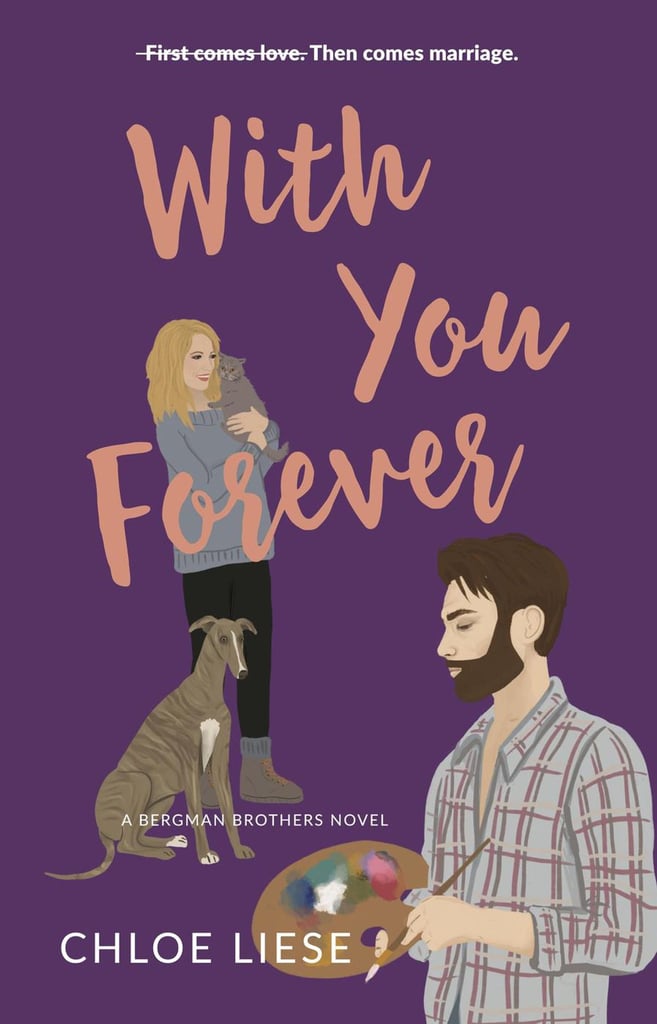 With You Forever [358] by Chloe Liese is a swoony #OwnVoices novel from an author with Autism Spectrum Disorder. The story follows grumpy artist Axel, who is on the autism spectrum, and sunshiny Rooney as they embark on a marriage of convenience that's definitely destined to become something more, whether they're ready for it or not.
Out Sept. 14
You Got Anything Stronger? by Gabrielle Union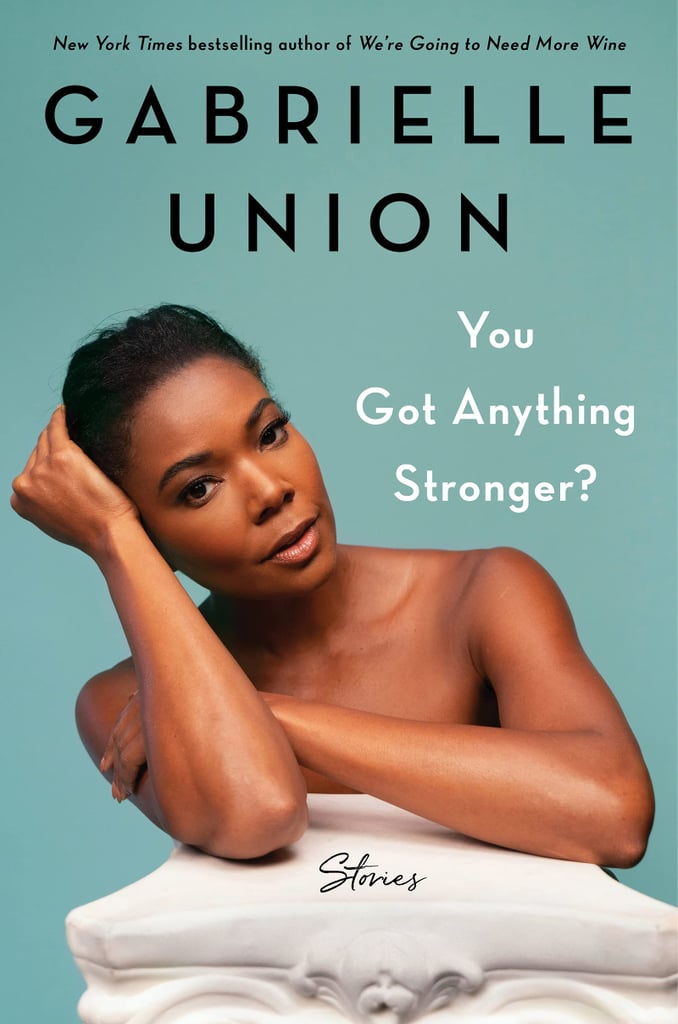 Gabrielle Union [359]'s second memoir You Got Anything Stronger? [360] is even more open and relatable than her first. This time around the actor and author is opening up about her surrogacy journey, fighting against racial inequality in Hollywood, and her iconic Bring It On [361] character, Isis. Grab a glass of your drink of choice and settle in, because reading Union's essays is every bit as satisfying as a nice, long chat with your best friend.
Out Sept. 14
All These Bodies by Kendare Blake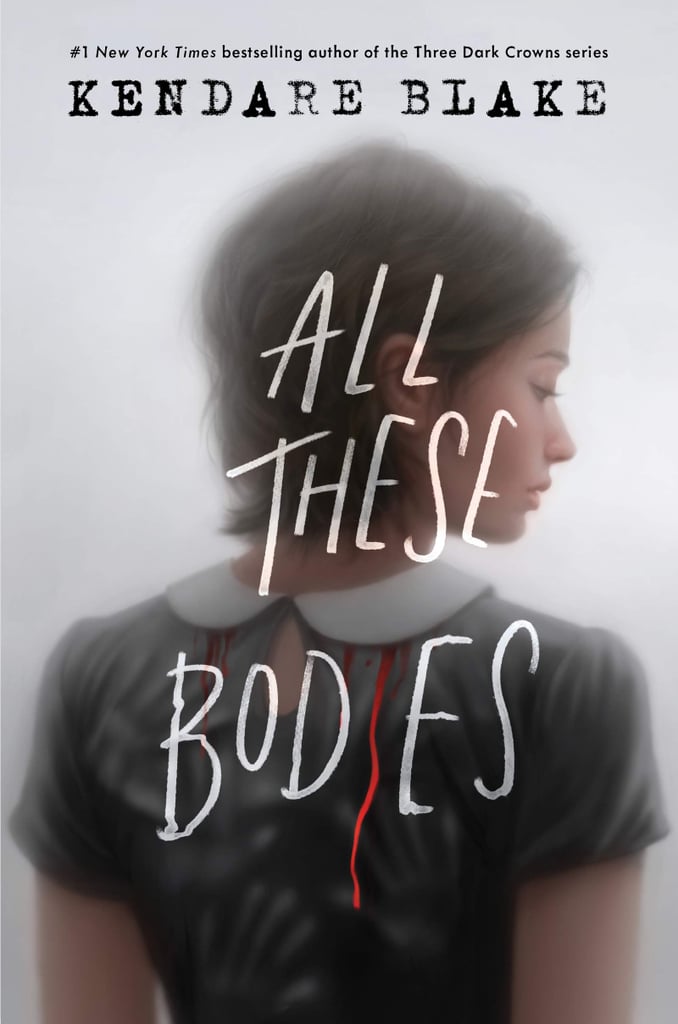 Clearly Halloween [362] has come early for YA fans this year, because we have yet another spooky must-read in All These Bodies [363] by Kendare Blake. Set in the summer of 1958, the prime suspect in a series of gruesome murders is a 15-year-old girl who was found surrounded by bodies drained of their blood. The girl, Marie, is only willing to talk to an up-and-coming journalist named Michael, who is about to hear a hair-raising tale.
Out Sept. 21
First Love, Take Two by Sajni Patel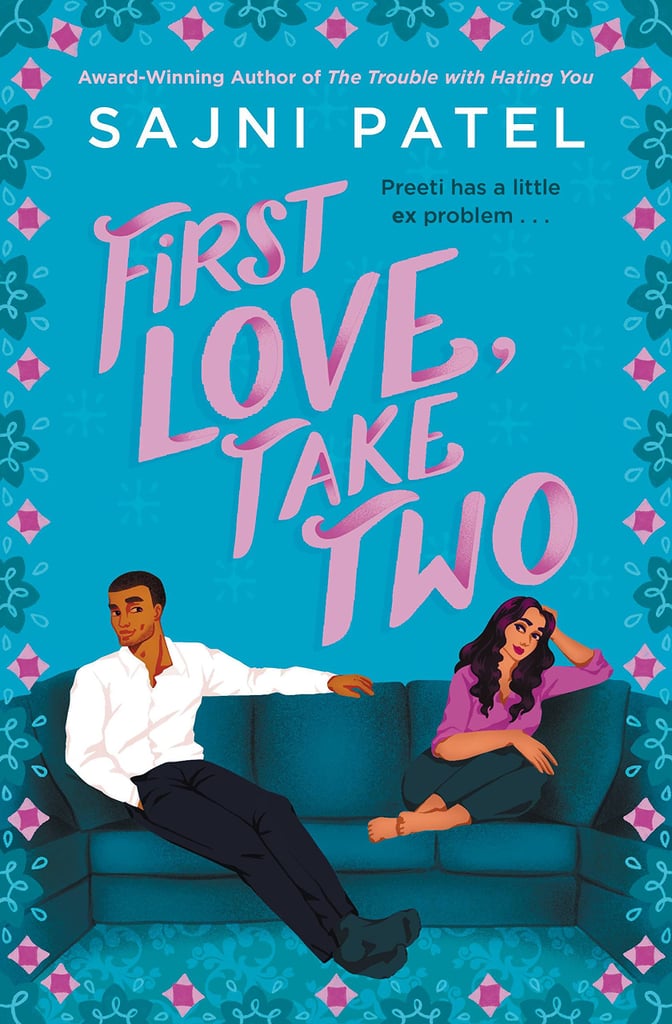 In First Love, Take Two [364] by Sajni Patel, Preeti Patel is dealing with major anxiety as her dream of becoming a doctor collides with her family's expectations and her job search. But Preeti soon finds some relief when she lands the perfect place to live — the only trouble is, the place is already inhabited by the ex she's never been able to get over.
Out Sept. 21
Love, Chai, and Other Four-Letter Words by Annika Sharma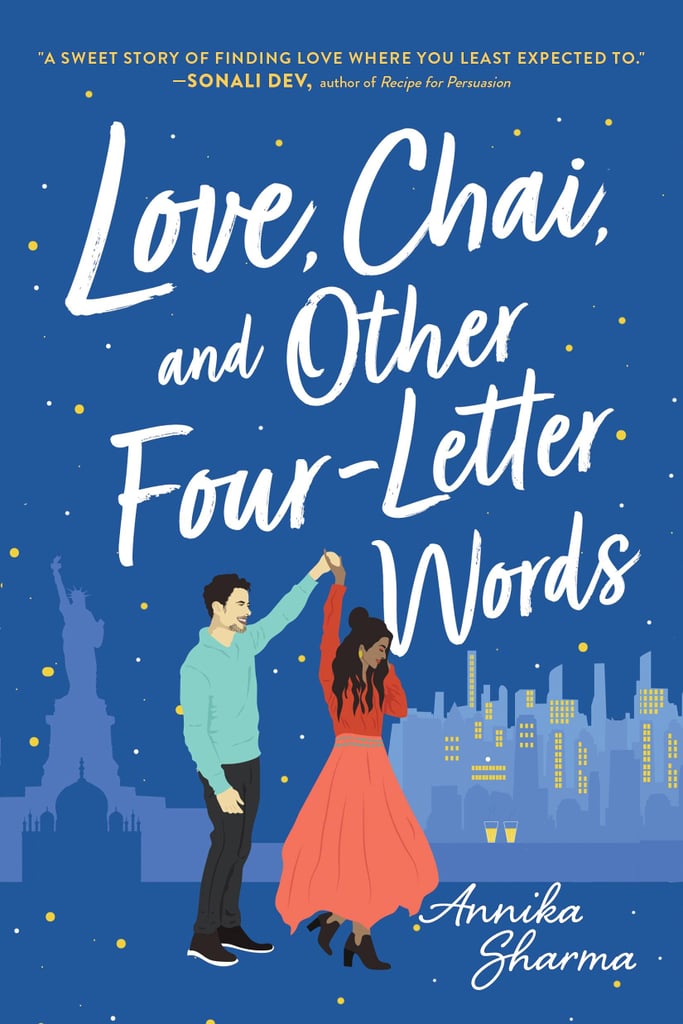 Love, Chai, and Other Four-Letter Words [365] by Annika Sharma is a love letter to New York City and following your heart. Ever since her sister defied their parents, Kiran has vowed to be the perfect Indian daughter and that includes marrying an Indian man. However, when she meets a closed off psychologist named Nash, she finds herself falling for the last person her parents would ever accept.
Out Sept. 21
Maybe We're Electric by Val Emmich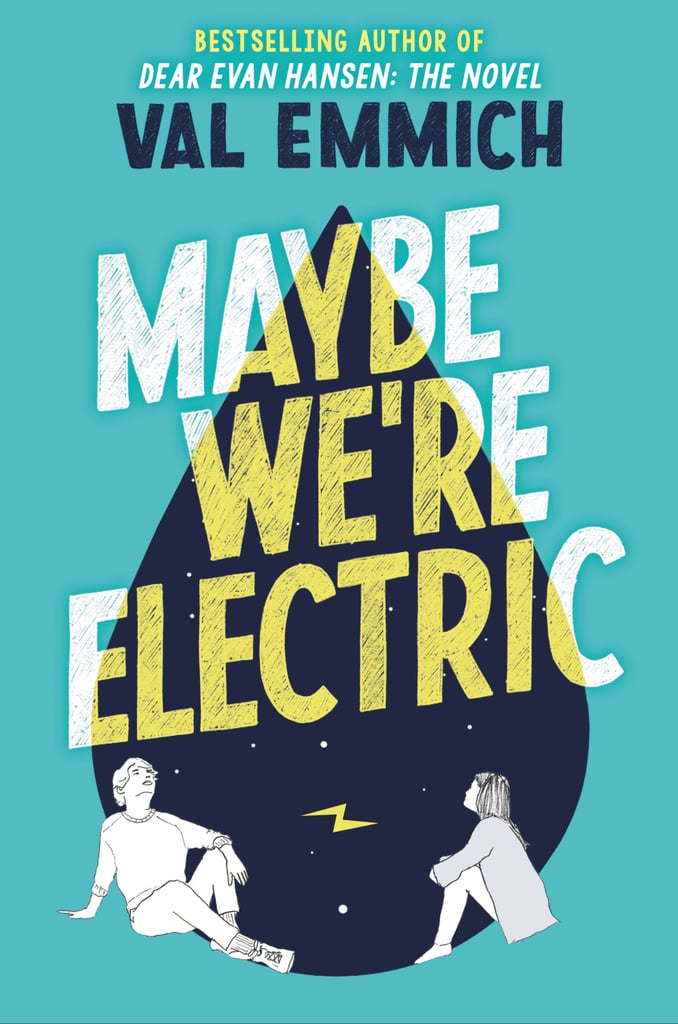 Set in a small museum over the course of one snowy night, Maybe We're Electric [366] by Val Emmich is a story about finding a connection in the most unexpected place. Both the deeply quiet Tegan and star athlete Mac are looking for an escape when they find themselves at the abandoned Thomas Edison Museum during a snowstorm, but as the night wears on, they'll find so much more.
Out Sept. 21
On Location by Sarah Echavarre Smith
Alia Dunn finally has a chance to produce the nature show of her dreams in Sarah Echavarre Smith's On Location [367], but her infuriating coworker might cause her career to come crashing down. Just days before her big break, Alia went on a first date with Drew, and then he promptly ghosted her. Now he's the newest member of her crew and a sexy distraction she doesn't need.
Out Sept. 21
Under the Whispering Door by TJ Klune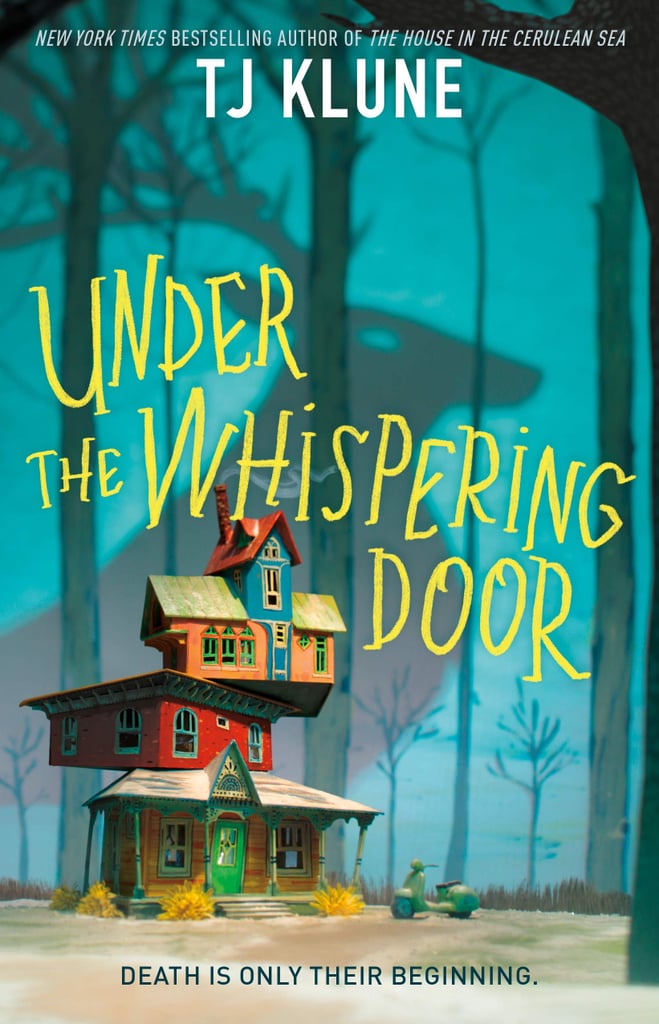 TJ Klune's Under the Whispering Door [368] is a warm hug of a book. It's at once a fantasy novel, a queer love story, and a book about second chances. When a reaper collects him from his funeral, Wallace wants nothing more than to have a second chance at life, and with a little help from a tea shop owner named Hugo, he is granted seven days to cram in a lifetime of experiences.
Out Sept. 21
When Sparks Fly by Helena Hunting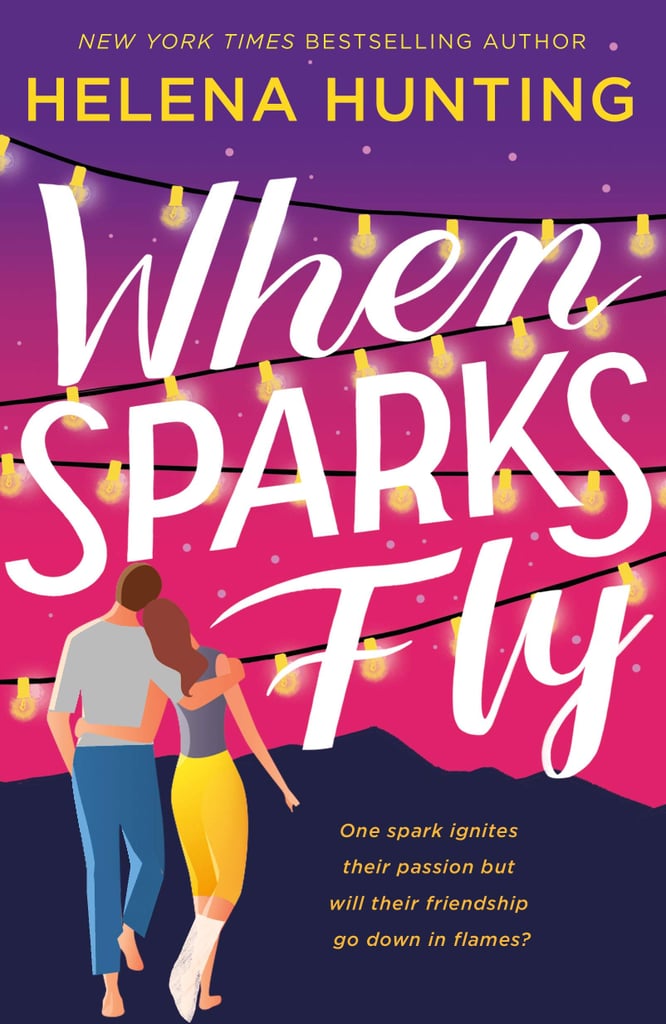 When Sparks Fly [369] by Helena Hunting will warm your heart and make you cry — sometimes at the same time. Avery has a perfect life: a great job, wonderful family, and a roommate she loves hanging out with. But when a car accident leaves her in need of someone to take care of her, her roomie and best friend Declan steps up. And in the process, he opens the door to their friendship becoming something more.
Out Sept. 21
Beasts of Prey by Ayana Gray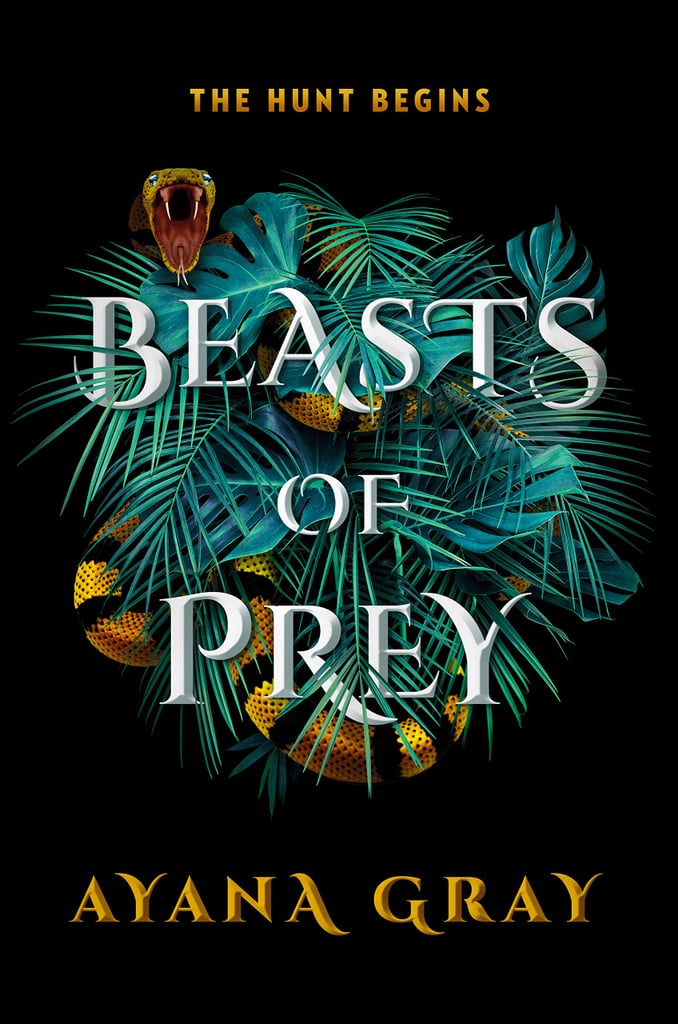 Beasts of Prey [370] by Ayana Gray is the first book in a new epic fantasy series about two Black teens on a collision course with destiny. Indentured at the Night Zoo, Koffi possesses a magic that could get her killed, but it also makes her capable of warding off a monster known as the Shetani. Meanwhile, Ekon dreams of becoming a warrior, something he believes will become a reality if he and Koffi can bring down the Shetani for good.
Out Sept. 28
Black Girls Must Die Exhausted by Jayne Allen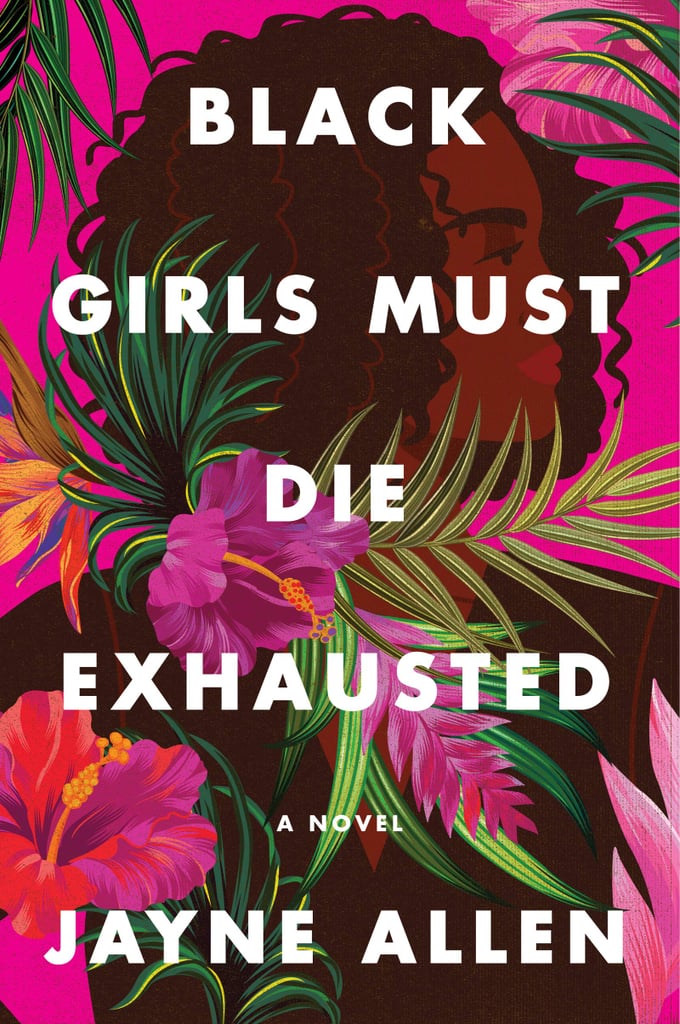 What does it mean for a modern woman to have it all? That's the question at the heart of Jayne Allen's emotional, funny, and heartbreakingly real Black Girls Must Die Exhausted [371]. Tabitha's checklist for her life is going to plan — she has the perfect boyfriend, the right job, and the best education. But when an unexpected diagnosis throws into doubt whether or not she'll ever have children, the women in Tabitha's life rally around her as she embarks on a journey she never planned on taking.
Out Sept. 28
Cloud Cuckoo Land by Anthony Doerr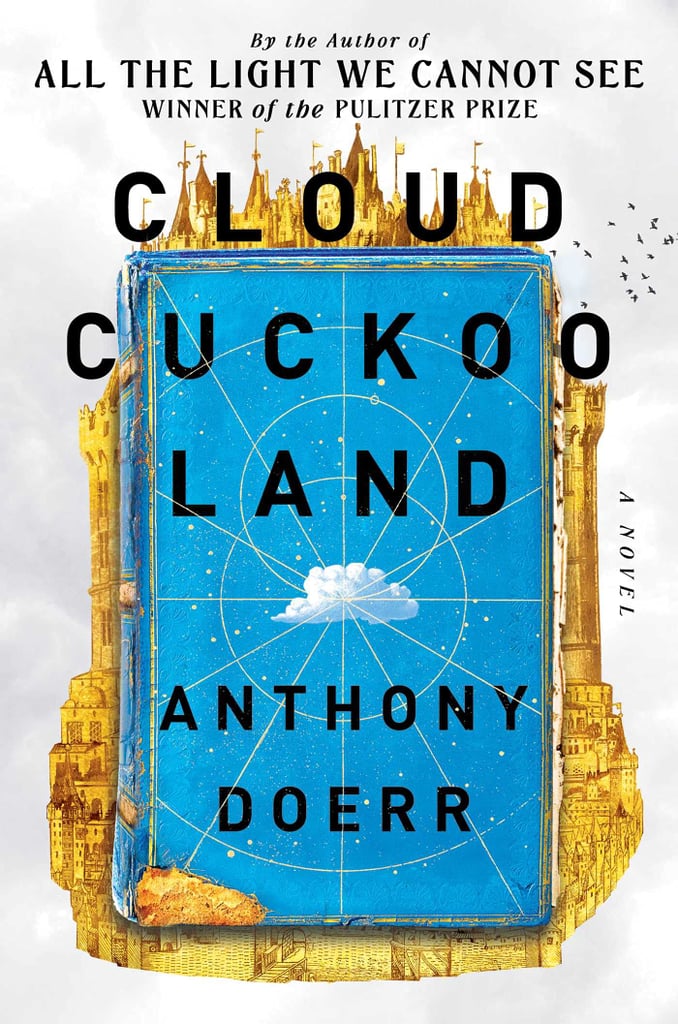 Pulitzer Prize-winning author Anthony Doerr's Cloud Cuckoo Land [372] spans hundreds of years to tell the story of a young girl in Constantinople, an octogenarian in Idaho, and a young woman in space. Each of them is touched by the story of Aethon, and although their paths can never cross, the power of literature transcends space and time.
Out Sept. 28
Dark Rise by C.S. Pacat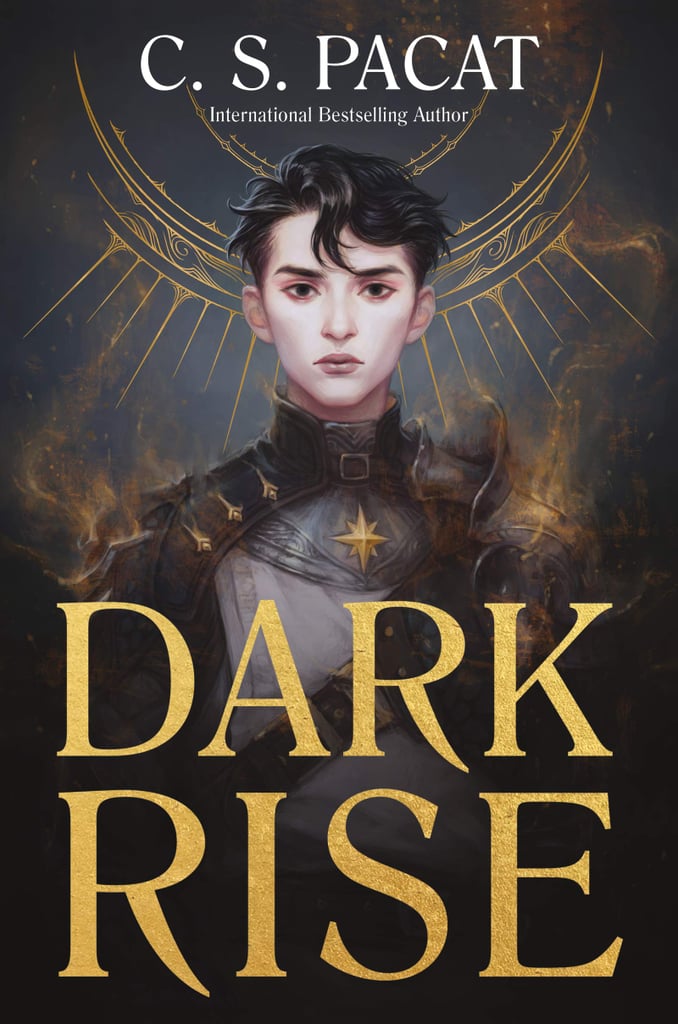 Set in 19th century London, this engrossing new fantasy novel draws readers into a world of intrigue, magic, and deadly battles for the fate of the world. In Dark Rise [373] by C.S. Pacat, Will is on the run from the men who killed his mother when he stumbles upon his own secret destiny. Now he'll join forces with a group known as the Stewards to save the world from a coming darkness.
Out Sept. 28
The Ex Hex by Erin Sterling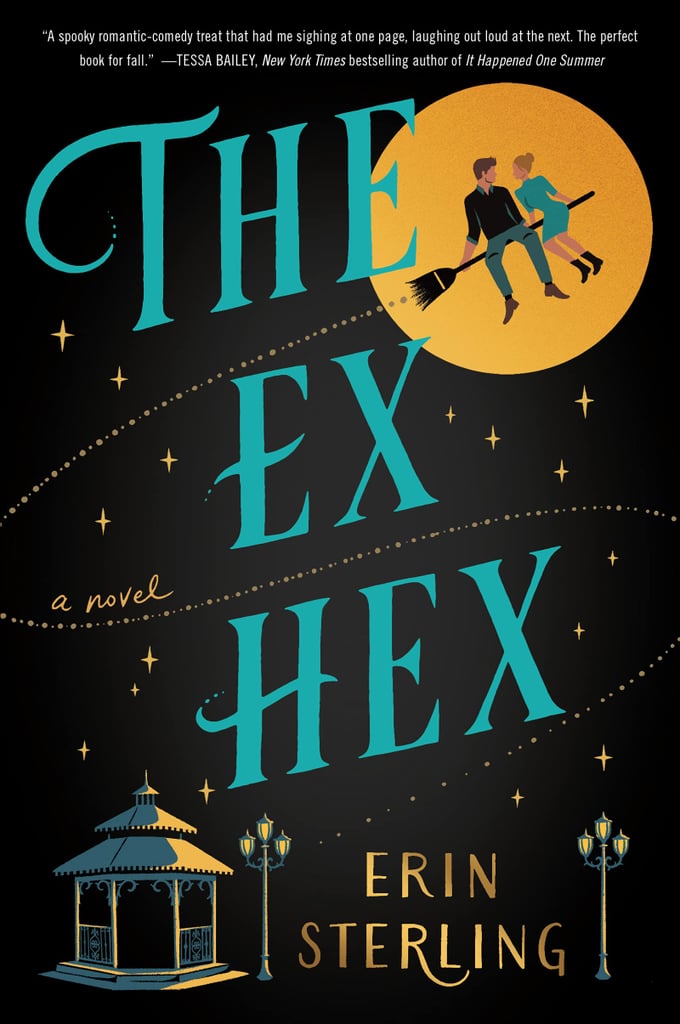 Writing under the pen name Erin Sterling, bestselling author Rachel Hawkins has penned the perfect autumnal read in The Ex Hex [374]. After Rhys Penhallow broke her heart, Vivienne Jones hexed her boyfriend, but she never imagined the trouble her late night magic session would wreak. When Rhys returns to town to recharge the ley lines and appear at the fall festival, it quickly becomes apparent that Vivienne's curse was far more powerful than she anticipated.
Out Sept. 28
As Good as Dead by Holly Jackson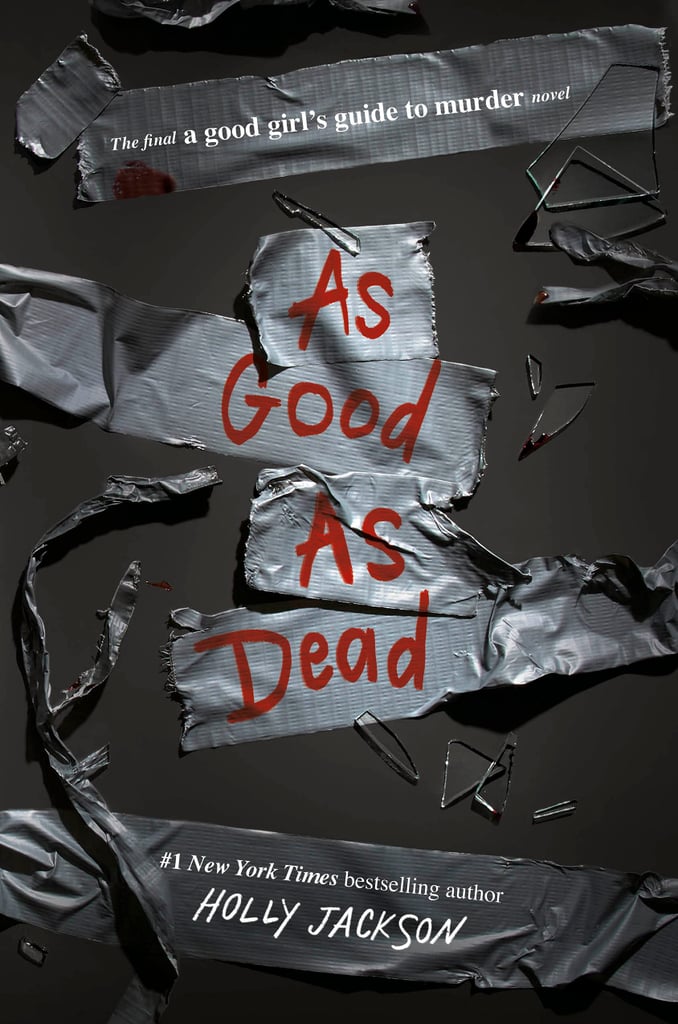 Holly Jackson's A Good Girl's Guide to Murder trilogy concludes this month with As Good as Dead [375]. This time around, Pip is heading off to college, but a series of threatening messages make it clear someone is watching her. Pip goes to the police, but they refuse to help, leaving her to solve the case before she becomes a victim.
Out Sept. 28
The Matzah Ball by Jean Meltzer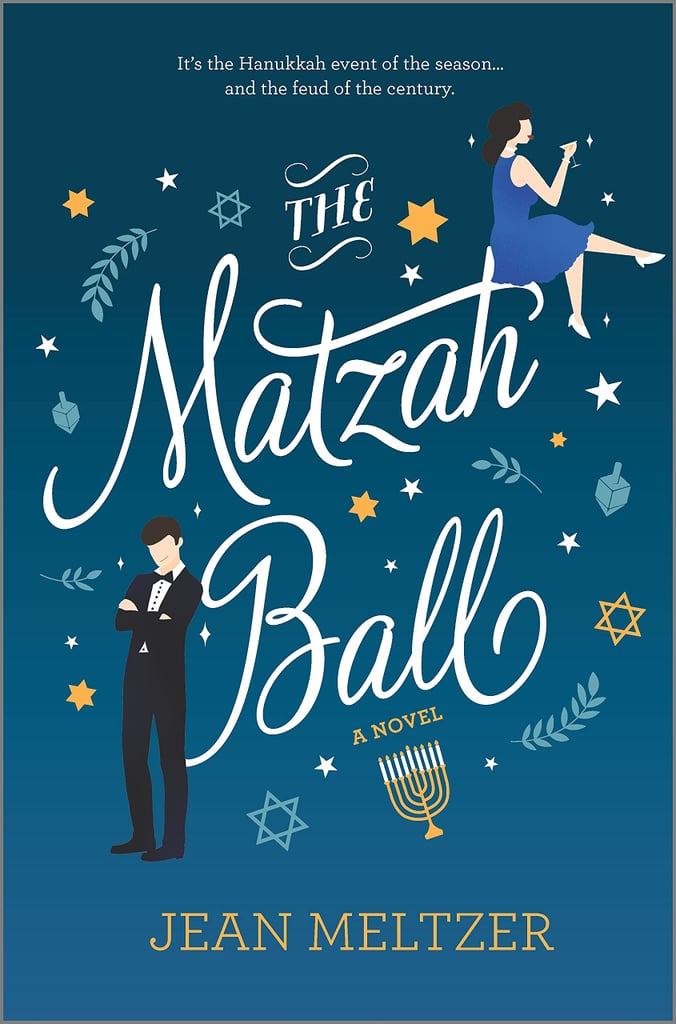 No, it's not too soon for holiday reads as the delightful The Matzah Ball [376] by Jean Meltzer proves. Rachel Rubenstein-Goldblatt has a secret: she loves Christmas so much she has a secret career as a Christmas romance novelist. But when her publisher asks her to write a Hanukkah romance, she needs inspiration fast . . . but what she definitely doesn't need is to run into her childhood enemy on a research trip.
Out Sept. 28
Please Don't Sit on My Bed in Your Outside Clothes by Phoebe Robinson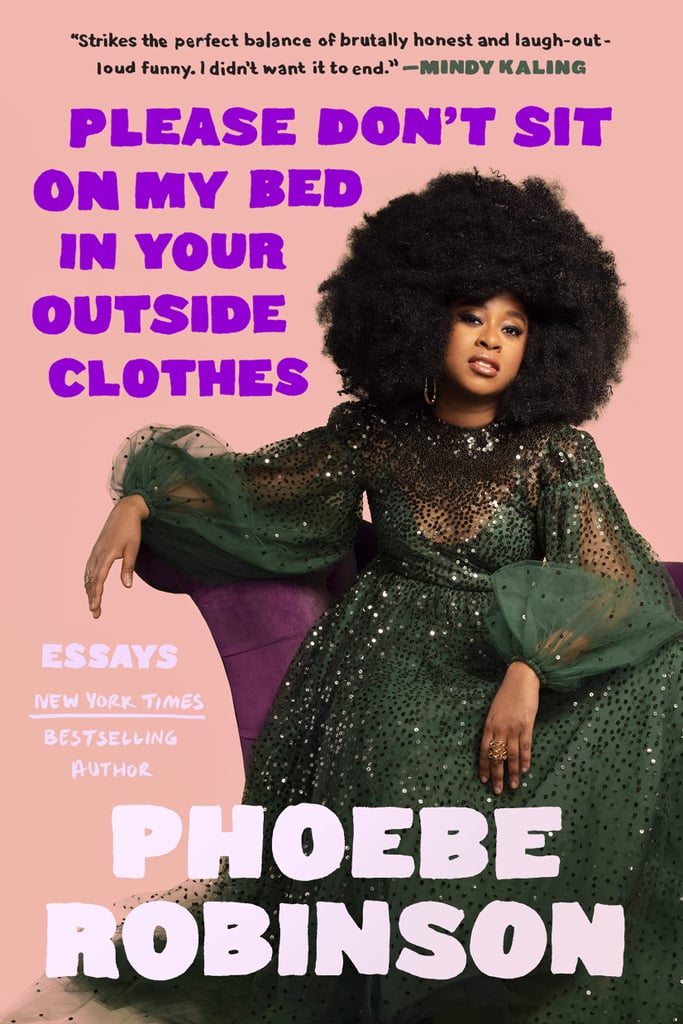 Phoebe Robinson knows the world is upside down right now, but she's going to give you plenty of reasons to laugh anyway in her latest essay collection Please Don't Sit on My Bed in Your Outside Clothes [377]. From the trials of quarantining with her boyfriend to the performative allyship she has witnessed in the wake of the Black Lives Matter movement, there's no topic Robinson is afraid to tackle with her trademark wit and incisive eye.
Out Sept. 28
It Started With a Dog by Julia London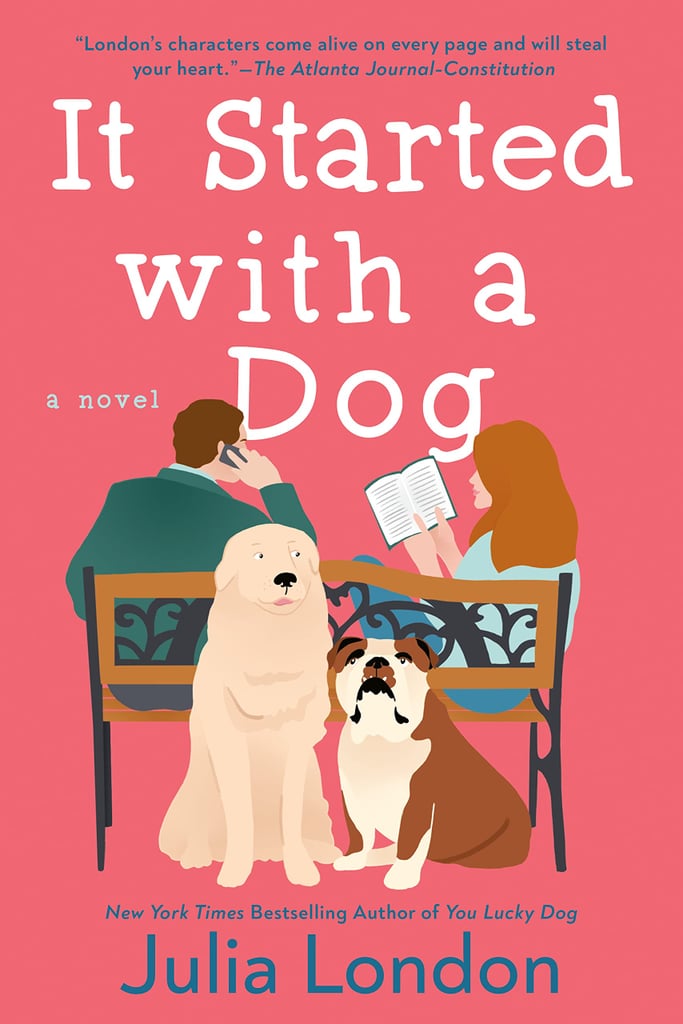 Dog lovers, rejoice! Julia London is back with another dog-centric romance in It Started With a Dog [378]. This time the story focuses on Harper and Jonah, who accidentally swap phones and discover they have lots in common, including a love for dogs and coffee. Unfortunately, Harper also happens to work for a coffee chain that's about to put Jonah's store out of business.
Out Sept. 28
The Sweetest Remedy by Jane Igharo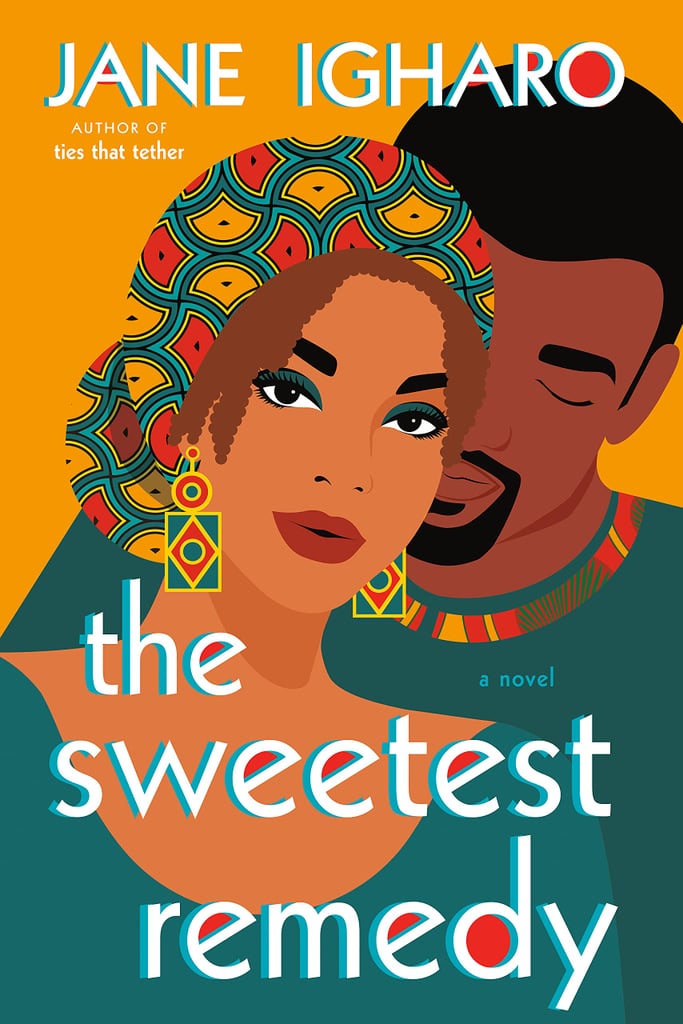 Part romance, part a story of self-discovery, The Sweetest Remedy [379] by Jane Igharo follows Hannah, who is traveling to Nigeria to attend the funeral of the father she never met. While her reception from her newfound family is mixed, Hannah meets a man who steals her heart and shows her the beauty of Nigeria even as she's struggling to connect with a part of herself she's never really gotten to know.
Out Sept. 28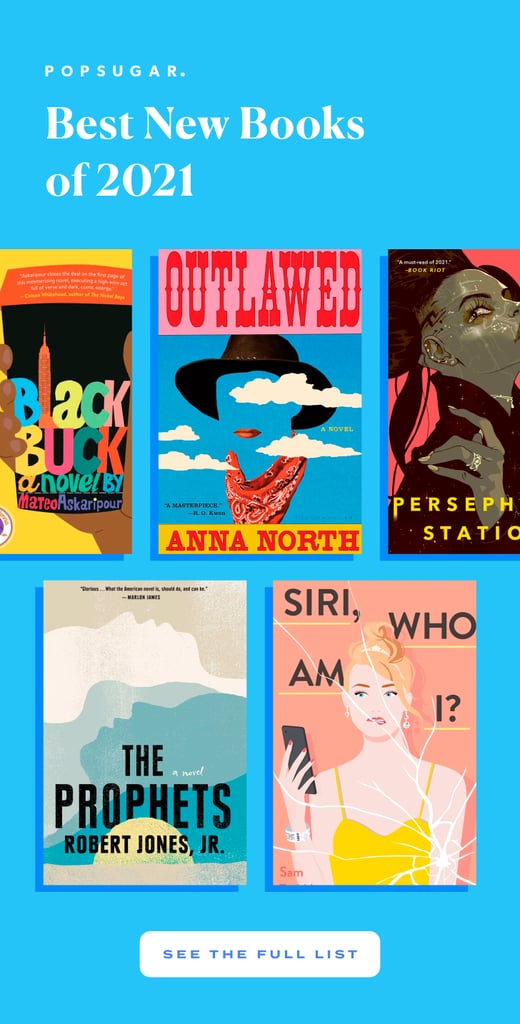 Love, Comment, Subscribe by Cathy Yardley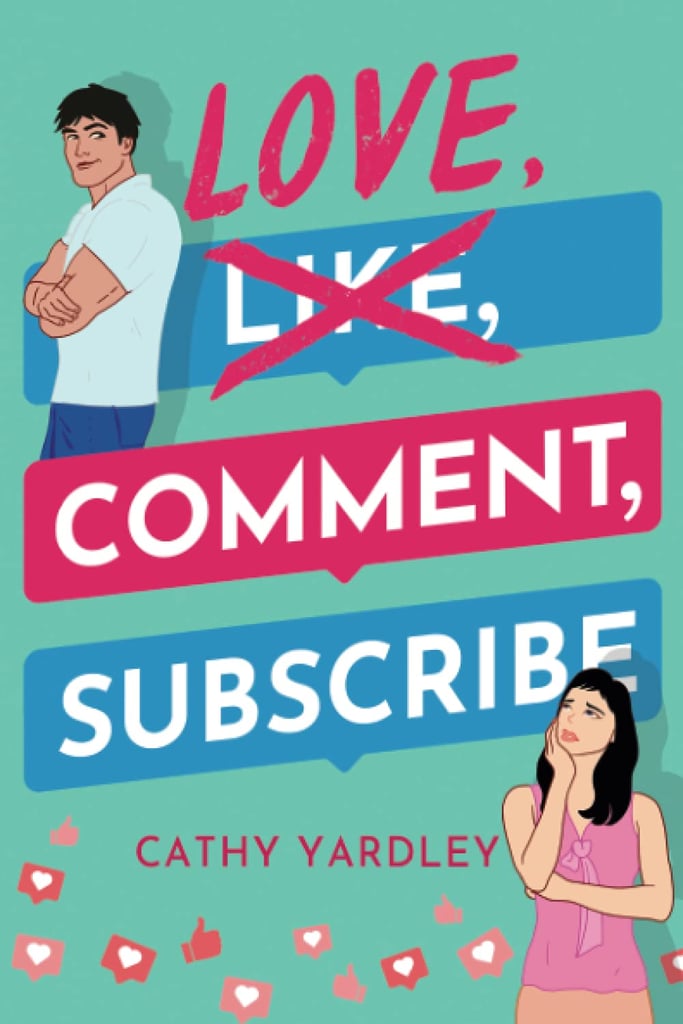 Love, Comment, Subscribe [380] by Cathy Yardley is a romance for the internet age. Former misfits and frenemies Lily Wang and Tobin Bui have both carved out careers for themselves online, but they're in need of a little push to reach superstar status. When it becomes clear their brands need a bit of a makeover, they reluctantly turn to each for a collaboration that could be the start of something more than just a career boost.
Out Oct. 1
Under Color of Law by Aaron Philip Clark
Aaron Philip Clark's Under Color of Law [381] tackles the debate surrounding police reform head on with a protagonist who hopes to change the system from the inside out. Unfortunately for Trevor "Finn" Finnegan, the corruption within the Los Angeles Police Department runs deeper than he ever imagined, and when a volatile case leads him deep within the city's underbelly, Finn's very life may be on the line.
Oct. 1
After Perfect by Maan Gabriel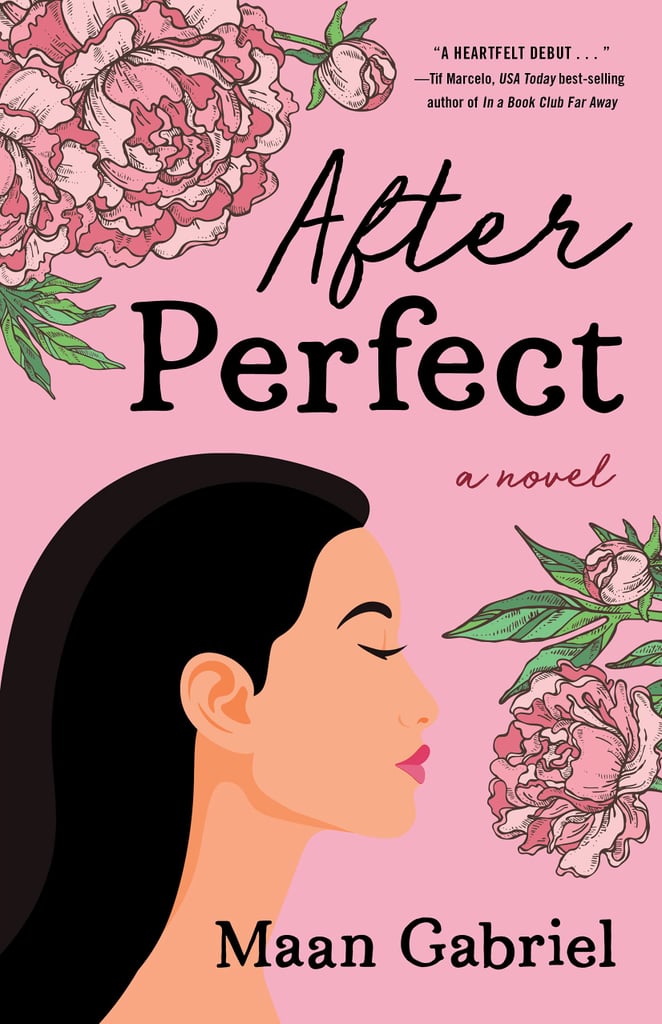 After 16 years of marriage, Gabriella Stevens's husband suddenly asks for a divorce in Maan Gabriel's After Perfect [382]. What seems like a tragedy at first opens the door for Gabriella to go back to school, start a career, and find a new love, who might just give her a real happily ever after this time.
Out Oct. 4
Bad Fat Black Girl by Sesali Bowen
Entertainment journalist Sesali Bowen covers everything from fatphobia to the trouble with mainstream feminism in her riveting and essential collection of essays, Bad Fat Black Girl [383]. Drawing from her experiences growing up as a Black, queer woman in Chicago, Bowen serves up insightful cultural commentary through the lens of hip-hop and race.
Out Oct. 5
Cackle by Rachel Harrison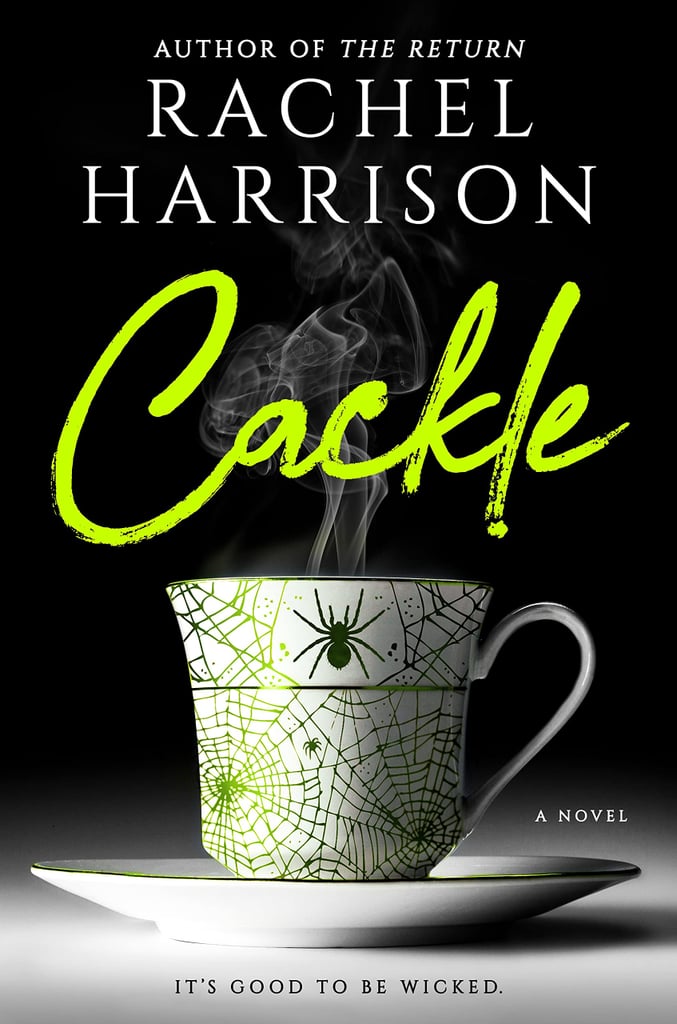 As funny as it is frightening, Cackle [384] by Rachel Harrison is the perfect book to cuddle up with on a crisp fall evening. After being dumped by her boyfriend, Annie moves to a picturesque small town in upstate New York where everything is perfect except for the spider infestation in her apartment. Soon, Annie meets the mysterious Sophie, a glamorous woman who inspires her to be her best self, even as the rest of the town appears to be terrified of the ageless resident.
Out Oct. 5
Crossroads by Jonathan Franzen
Jonathan Franzen serves up another American epic in Crossroads [385]. The famed author's latest novel follows the Hildebrandts, a family on the cusp of a seismic shift on the eve of Dec. 23, 1971, as their pastor patriarch prepares to ask his wife for a divorce — if his wife doesn't ask him first, that is.
Out Oct. 5
The Death of Jane Lawrence by Caitlin Starling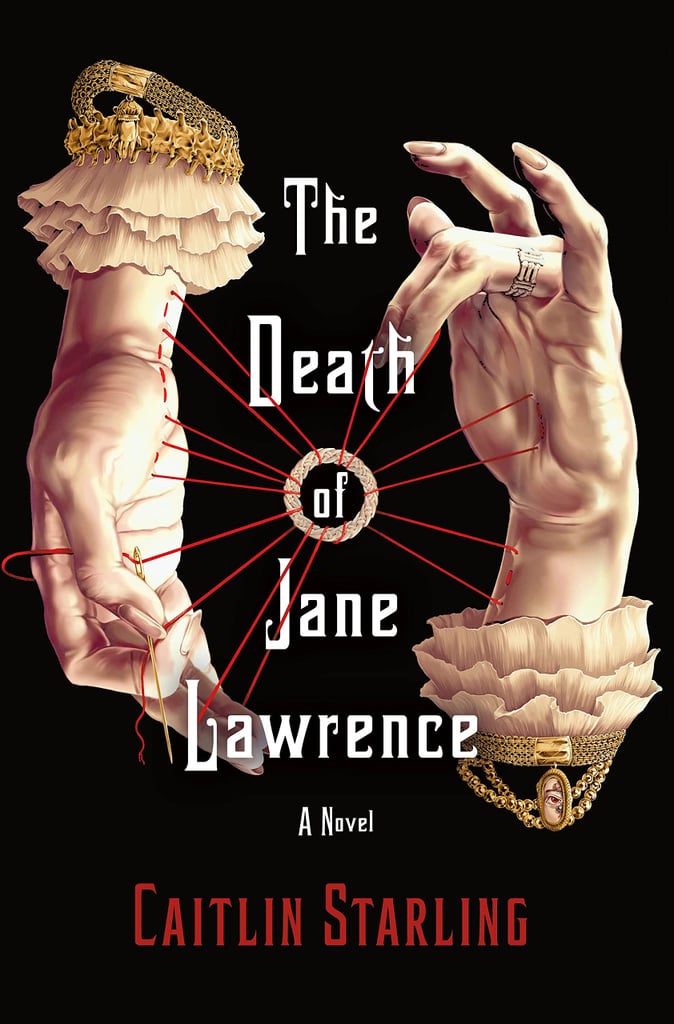 Set in dark alternate history version of post-war England, The Death of Jane Lawrence [386] by Caitlin Starling is a creeping, Gothic horror novel full of unforgettable twists. For Jane, a marriage of convenience to a suitable man who will let her maintain her independence seems like a practical arrangement to enter into. But when her new husband begins to act oddly in his crumbling family home, Jane realizes there's something very strange going on indeed.
Out Oct. 5
Everything Within and in Between by Nikki Barthelmess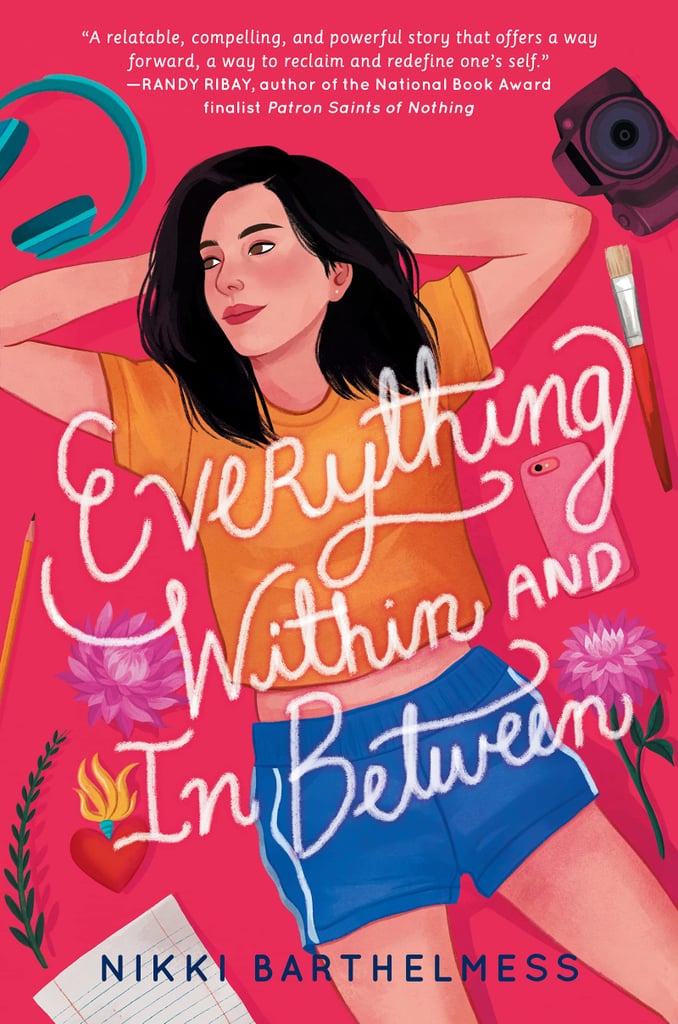 A teen named Ri Fernández struggles to find and claim her identity in Nikki Barthelmess's moving Everything Within and in Between [387]. Raised by her strict Mexican grandmother, Ri has been forbidden from learning Spanish in favor of chasing her grandma's version of the American dream. But Ri wants nothing more than to get in touch with her heritage, even if it means defying her grandmother's wishes and reaching out to the mother who left her so many years ago.
Out Oct. 5
The Falling Girls by Hayley Krischer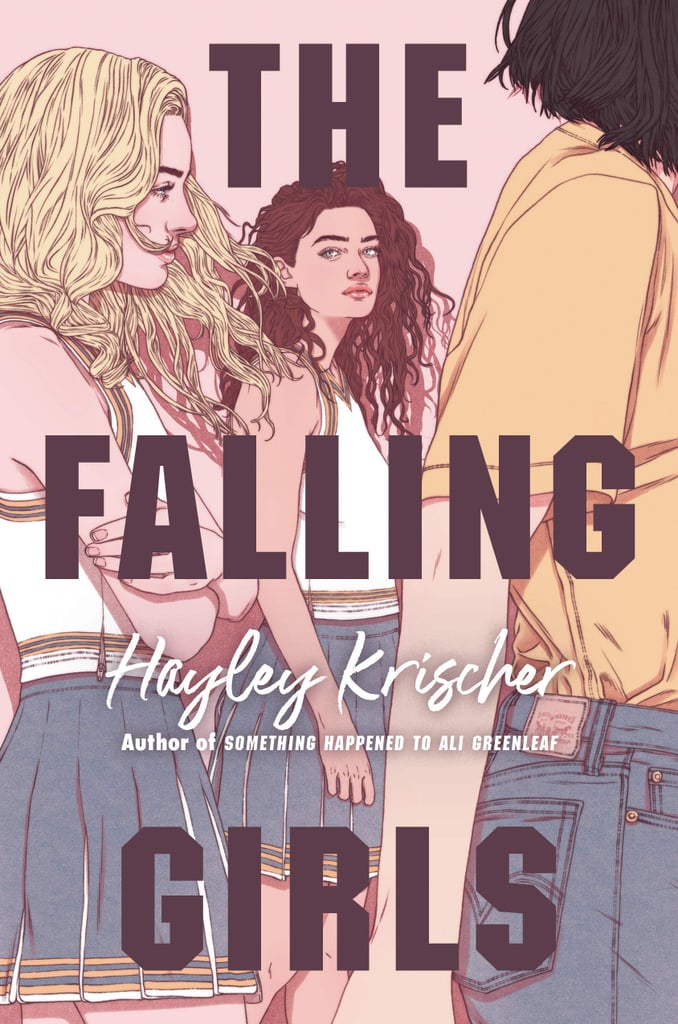 Two of October's best YA books focus on cheerleaders, but the stories couldn't be more different. Up first is The Falling Girls [388] by Hayley Krischer, a thriller that delves into toxic friendships and the complex relationships between teen girls. When Shade joins the cheerleading team, her best friend, Jadis, isn't happy about the idea of sharing her friend with a new group, but would that really drive her to commit murder?
Out Oct. 5
The Holiday Swap by Maggie Knox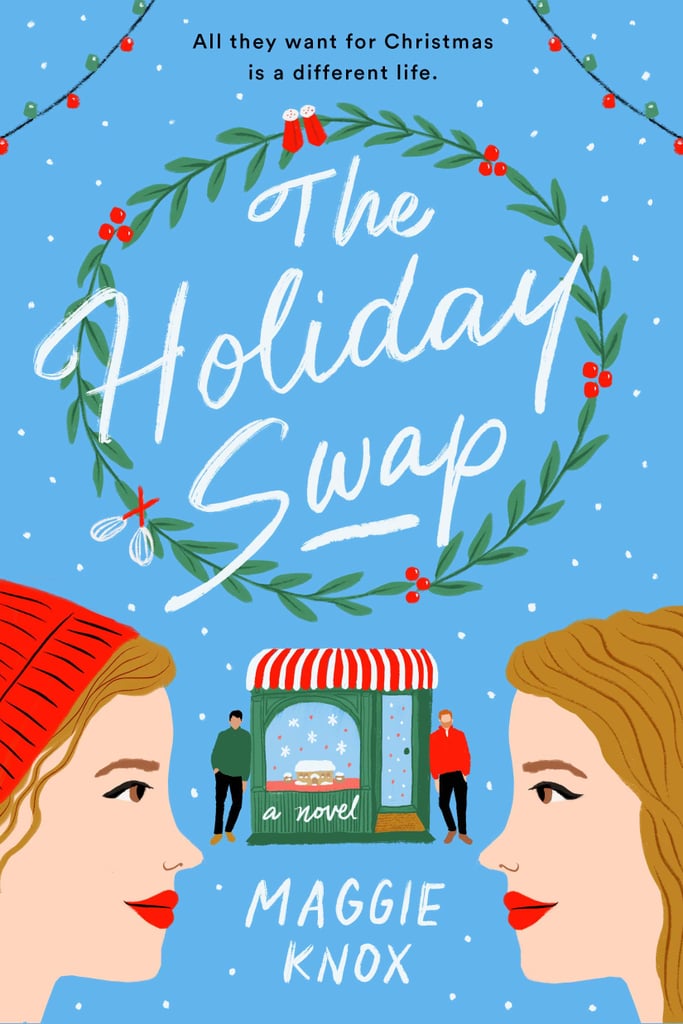 The Holiday Swap [389] by Maggie Knox is every bit as warm and cozy as a Hallmark Christmas movie. Just days before Christmas, twins Charlie and Cass switch places after an accident leaves baking show judge Charlie without her sense of taste or smell. However, the twins' simple deception quickly becomes complicated when two potential suitors enter the picture.
Out Oct. 5
A Holly Jolly Diwali by Sonya Lalli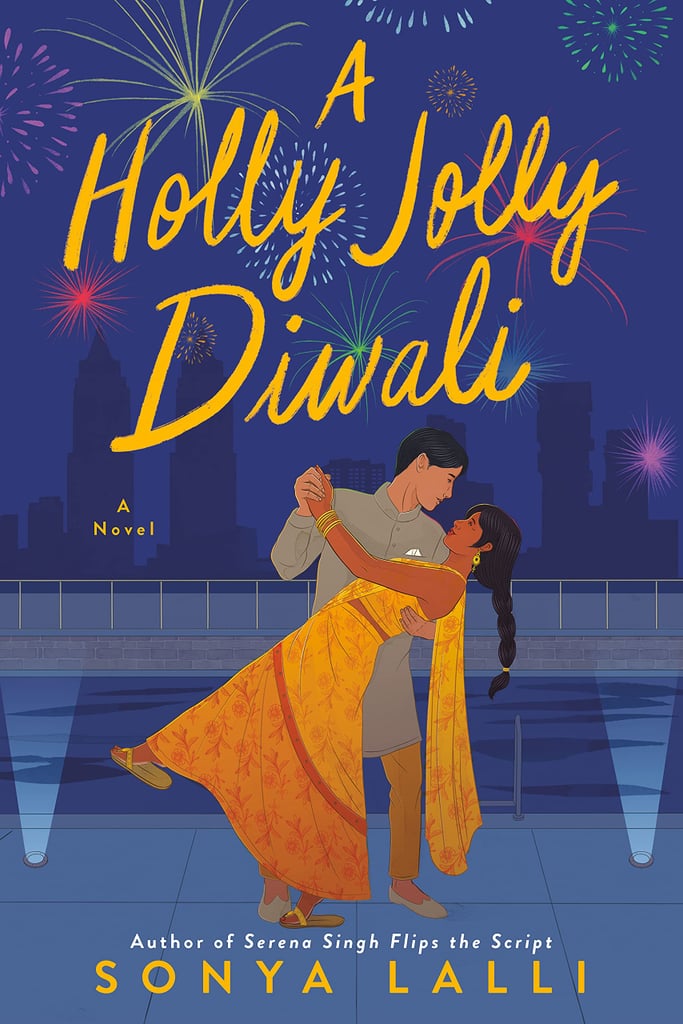 The ever practical Niki Randhawa finds an awfully handsome reason to throw caution to the wind in A Holly Jolly Diwali [390] by Sonya Lalli. While attending her friend's wedding [391] in Mumbai, Niki meets a man who encourages her to embrace her creative side, but her new romance is threatened when a job offer back home leaves her torn between listening to her heart or doing what she feels is best for her family.
Out Oct. 5
I Love You, but I've Chosen Darkness by Claire Vaye Watkins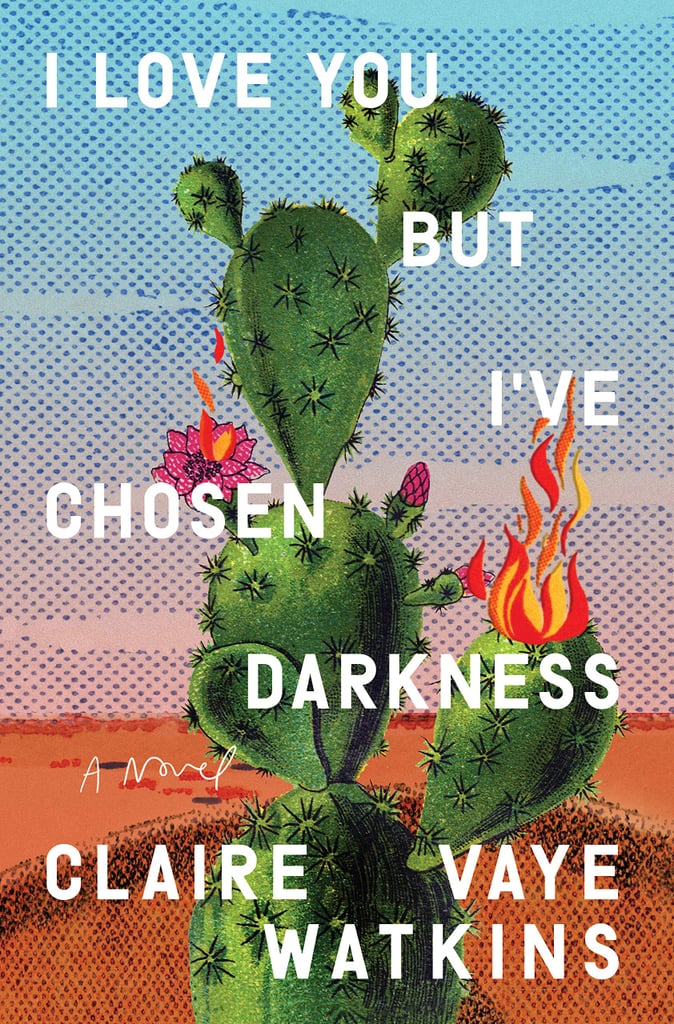 I Love You, but I've Chosen Darkness [392] by Claire Vaye Watkins is a knockout of a book. Alternately funny and heartbreaking, the story centers on a new mother's journey into her past as she struggles with postpartum depression and searches for the truest version of herself against the backdrop of the Mojave Desert.
Out Oct. 5
Last Girl Ghosted by Lisa Unger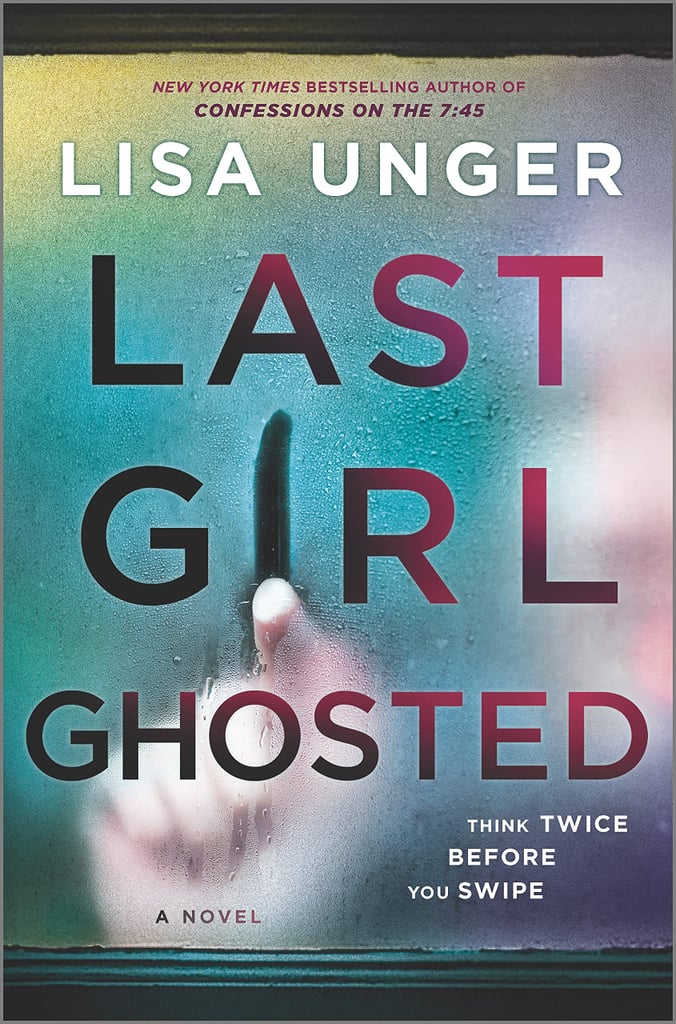 The world of online dating is even scarier than usual in Lisa Unger's intense Last Girl Ghosted [393]. After forming an instant connection with a man she matches with on a dating app, a woman is astonished when he completely ghosts her. But that's only the beginning — she soon realizes he's done this before, and the women in question have all disappeared.
Out Oct. 5
The Lighthouse Witches by C.J. Cooke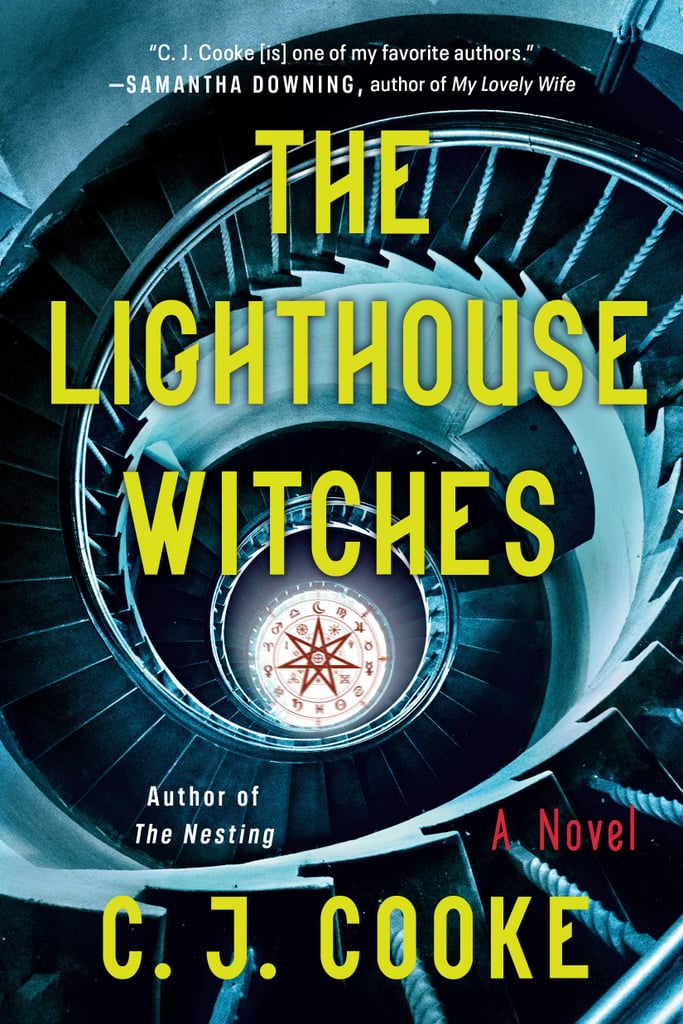 C.J. Cooke's The Lighthouse Witches [394] is an unnerving Gothic thriller designed to keep readers guessing. Twenty years after two sisters went missing on a Scottish island, one of them returns, but somehow, she's still a child. The third sister is skeptical, but she knows the only way to unravel the mystery is to return home and face the truth about what happened to her siblings.
Out Oct. 5
The Neighbor's Secret by L. Alison Heller
If you've been craving a Big Little Lies-esque thriller, then The Neighbor's Secret [395] by L. Alison Heller is sure to be one of your favorite reads this year. The story focuses on a book club populated by suburban moms who love to read mysteries and thrillers. But when increasingly violent acts of vandalism target the group's members, it becomes apparent their idyllic cul-de-sac isn't all that different from the dark stories they love reading so much.
Out Oct. 5
Once More Upon a Time by Roshani Chokshi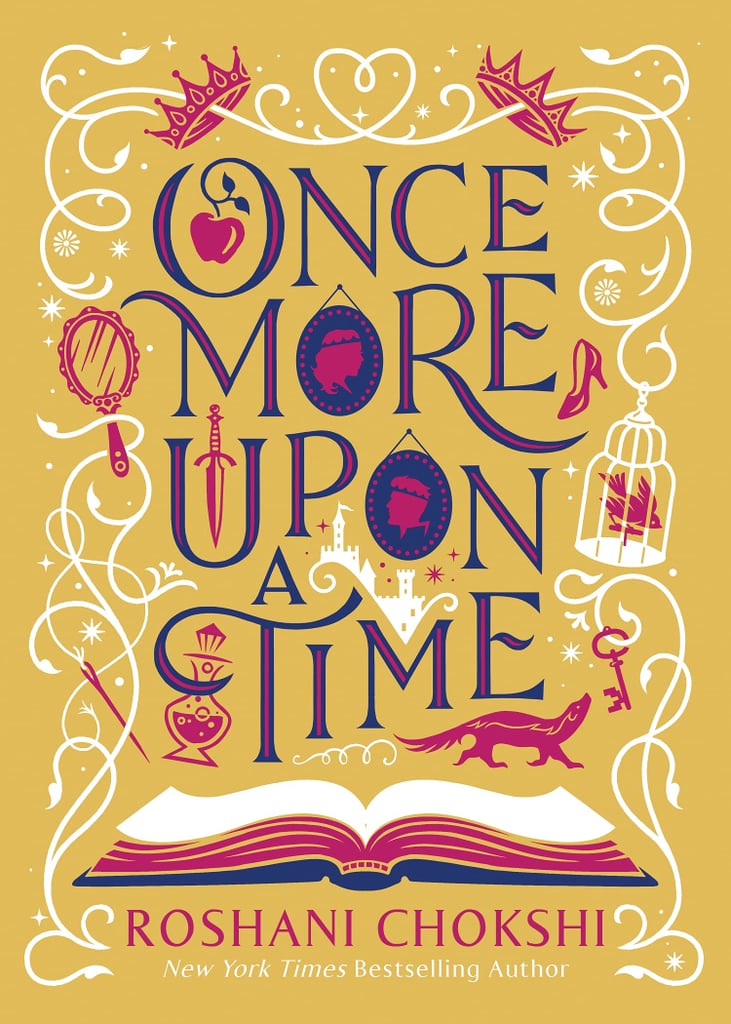 Once More Upon a Time [396] by Roshani Chokshi is a slight novella, but the beautifully written fairy tale is still a feast of a book. The story follows Imelda and Ambrose, a couple trapped in a loveless relationship who find a second chance at happiness in the most unexpected of places.
Out Oct. 5
Payback's a Witch by Lana Harper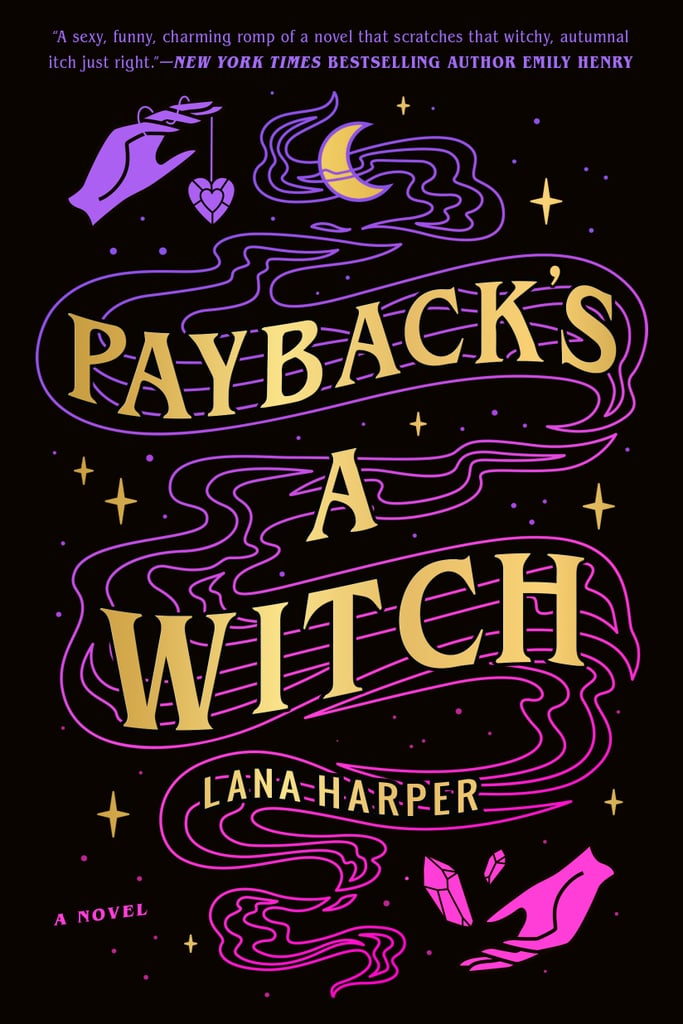 Once you visit the magical small town of Thistle Grove, you'll never want to leave. In Payback's a Witch [397], Lana Harper crafts a delicious tale of witchy fun, revenge, and romance as a witch named Emmy returns home just in time to team up with her ex's two most recent exes to teach him a lesson about playing with people's hearts.
Out Oct. 5
Reprieve by James Han Mattson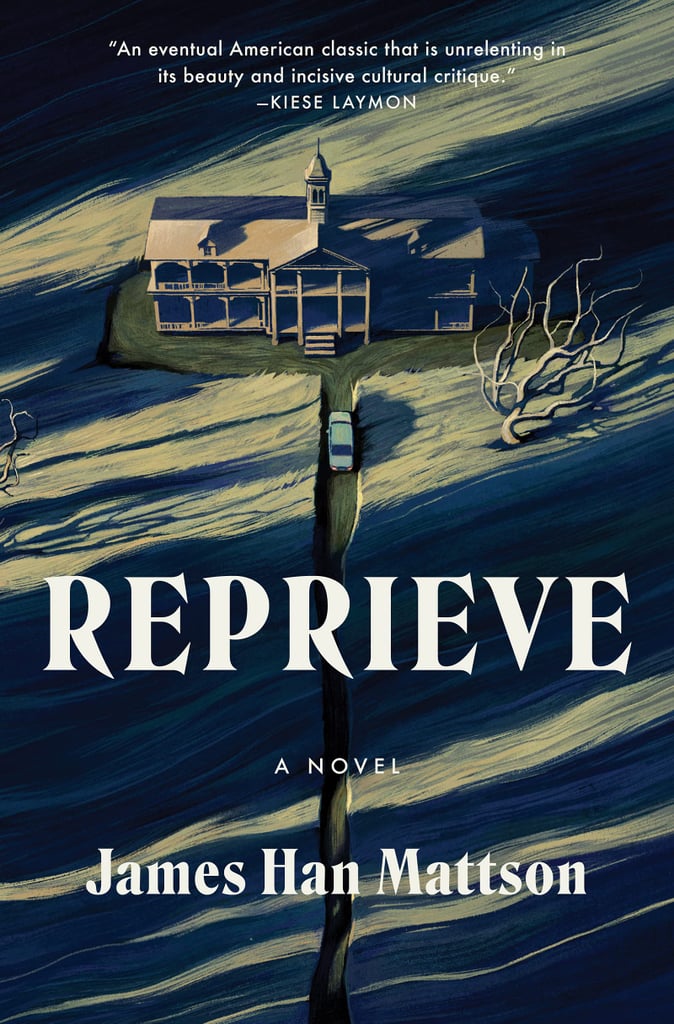 Destined to be one of the most talked about books of the year, Reprieve [398] by James Han Mattson is a searing novel of suspense, horror, and class politics. In 1997, a disparate group of people attempt to navigate a full-contact haunted escape room in hopes of winning a cash prize. What begins as a night of controlled fun spirals out of control when someone is murdered, leaving the rest of the group to contemplate their complicity in the heinous act.
Out Oct. 5
Sankofa by Chibundu Onuzo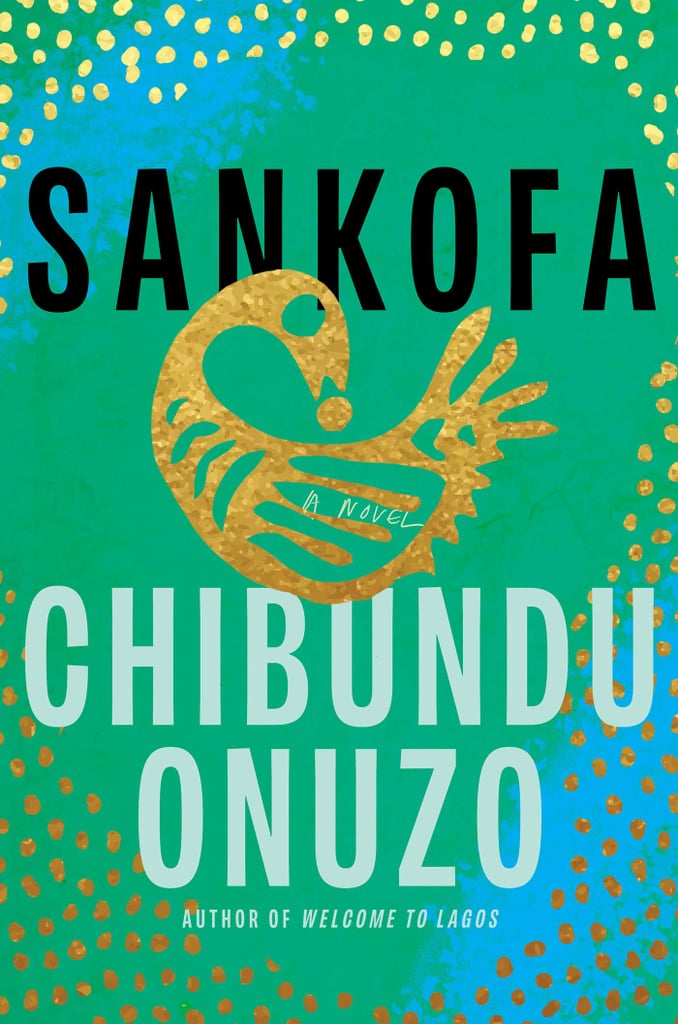 In the wake of her mother's death and the end of her marriage, a woman named Anna decides to seek out her father, a man she has never met, in Sankofa [399] by Chibundu Onuzo. What she doesn't expect to discover is that her biological father was once the dictator of a nation in West Africa — and he's still alive.
Out Oct. 5
Squad by Maggie Tokuda-Hall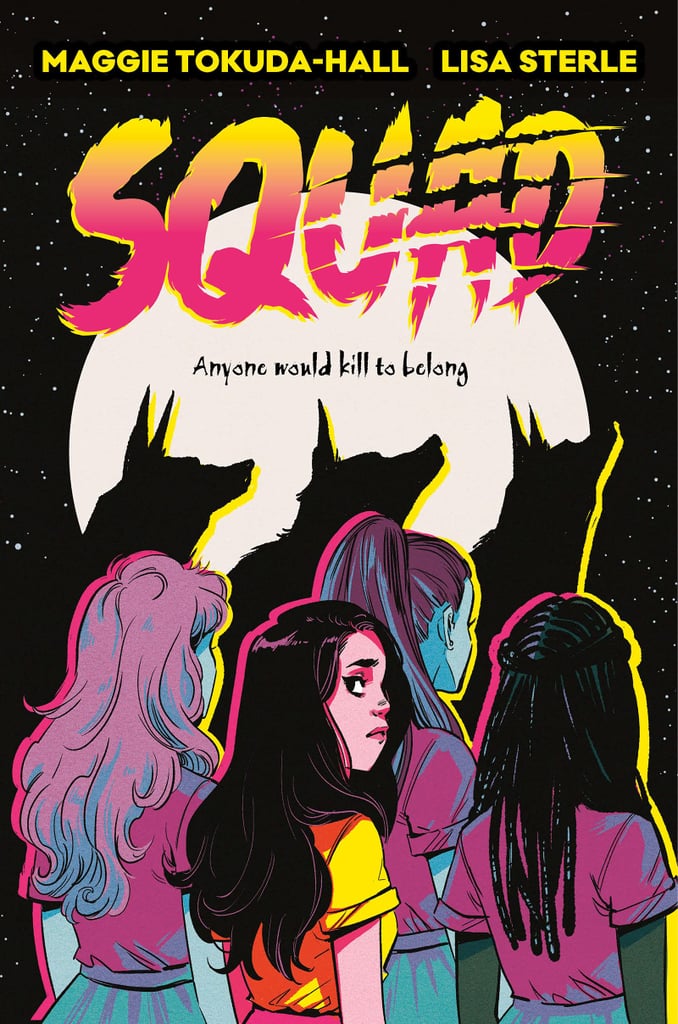 Written by Maggie Tokuda-Hall and illustrated by Lisa Sterle, Squad [400] is a graphic novel with bite. Even if you've never picked up a comic book before, this smart werewolf tale about a group of popular girls who use their supernatural secret to take down the school's most loathsome boys is a perfect Halloween [401] read.
Out Oct. 5
Taste by Stanley Tucci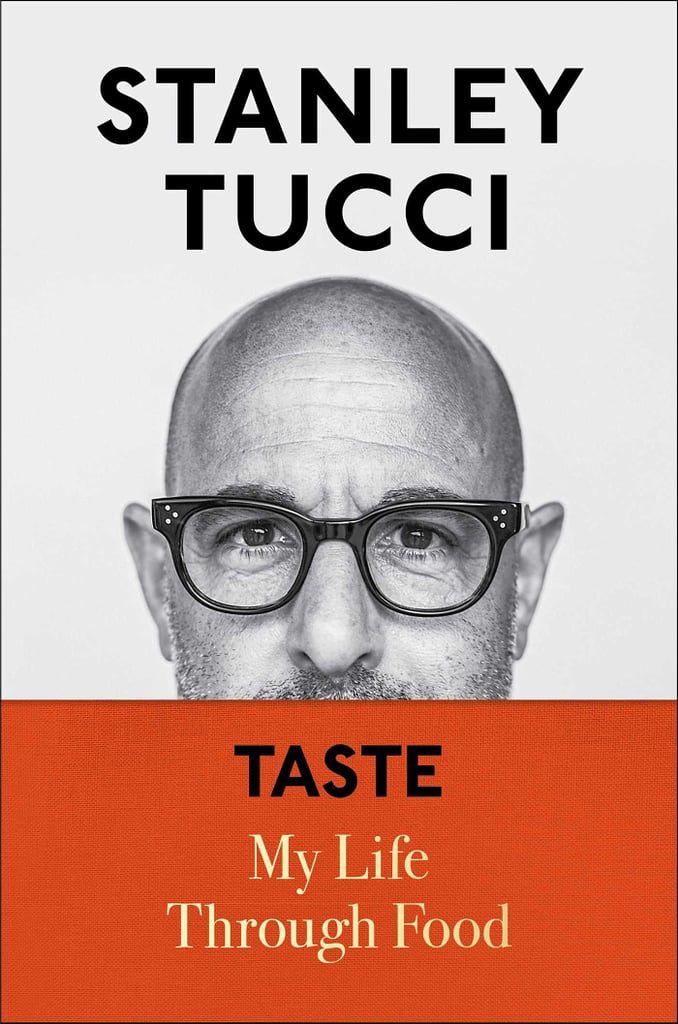 You may know actor Stanley Tucci best from films like The Devil Wears Prada and Julie and Julia, but he's also a passionate foodie and gifted writer. In Taste [402], Tucci takes readers on a journey through his life via the food he has eaten along the way. From falling in love over a memorable dinner to filming the foodie film Big Night, it seems delicious meals have always been at the center of his life story.
Out Oct. 5
We Are Not Like Them by Christine Pride and Jo Piazza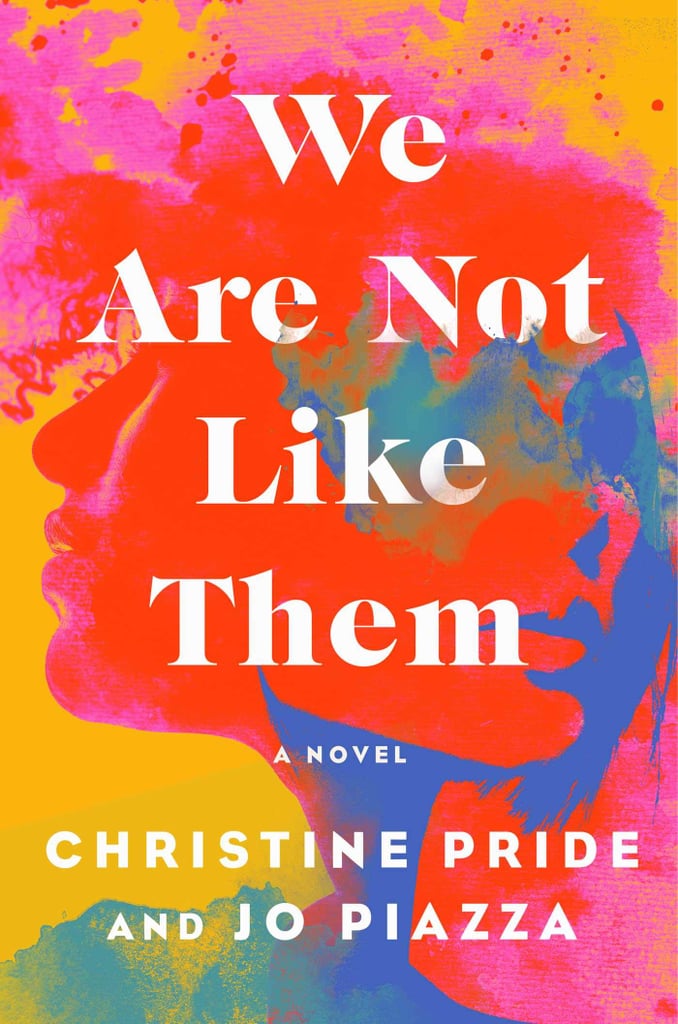 We Are Not Like Them [403] by Christine Pride and Jo Piazza is a stirring novel about the lifelong friendship between two women, Riley, who is Black, and Jen, who is white. Their relationship is rocked when Jen's police officer husband is involved in the shooting of an unarmed Black man, and journalist Riley is assigned to cover the story. For the first time, the friends are divided as they each grapple with the aftermath of the shooting and the impact it has on their lives.
Out Oct. 5
Why We Fly by Kimberly Jones and Gilly Segal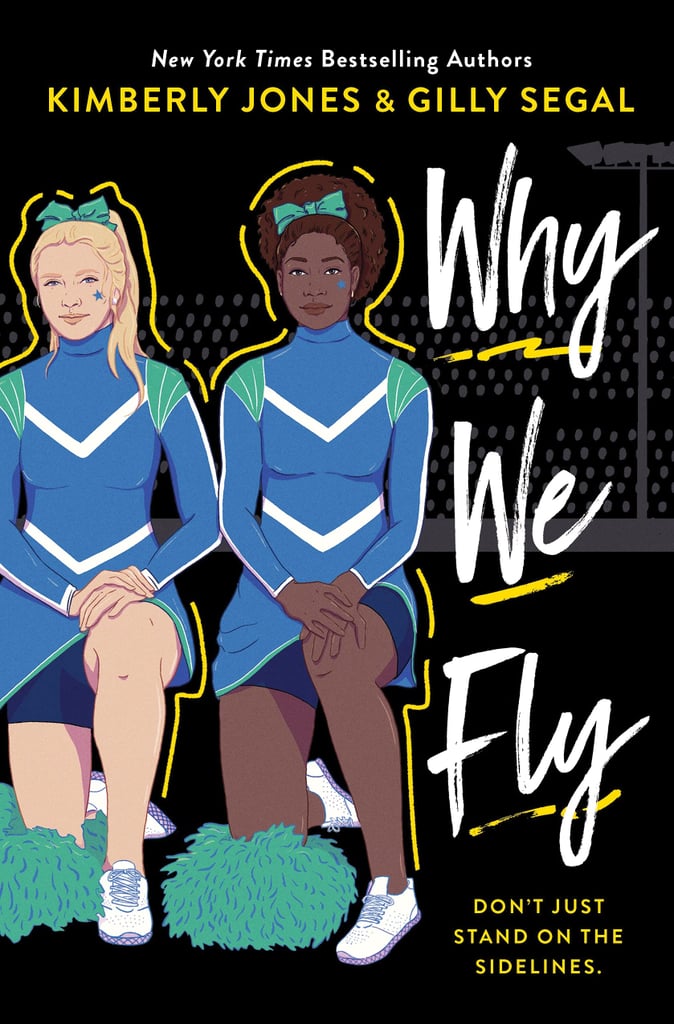 In Why We Fly [404], authors Kimberly Jones and Gilly Segal tackle the topics of social justice and female friendship with a sharp sincerity that's sure to resonate with readers of all ages. At the start of their senior year, cheerleaders and lifelong best friends Eleanor and Chanel are already feeling anxious about the changes coming their way, but when the cheerleading team takes a knee at a football game and enters the public spotlight, their friendship is put to the test.
Out Oct. 5
Aristotle and Dante Dive Into the Waters of the World by Benjamin Alire Sáenz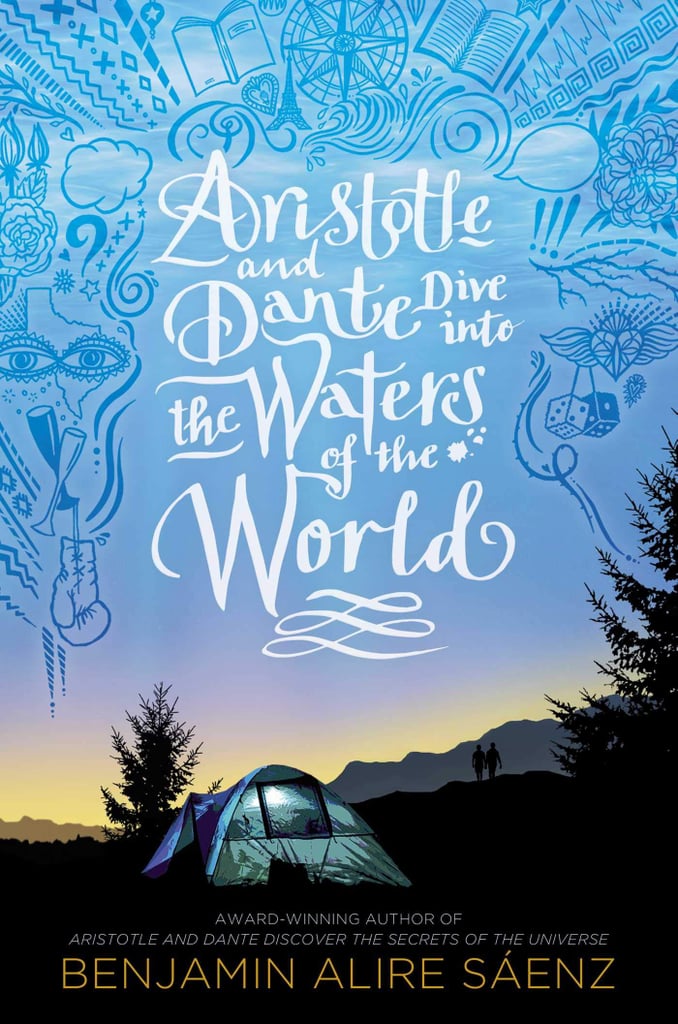 The long-awaited sequel to Benjamin Alire Sáenz's Aristotle and Dante Discover the Secrets of the Universe is finally here, and it is more than worth the wait. In Aristotle and Dante Dive Into the Waters of the World [405], Dante and Ari are still very much in love, but life is anything but easy for the couple. Things become even more complicated when a sudden loss leaves Ari searching for a way to live the life he truly wants.
Out Oct. 12
The Book of Magic by Alice Hoffman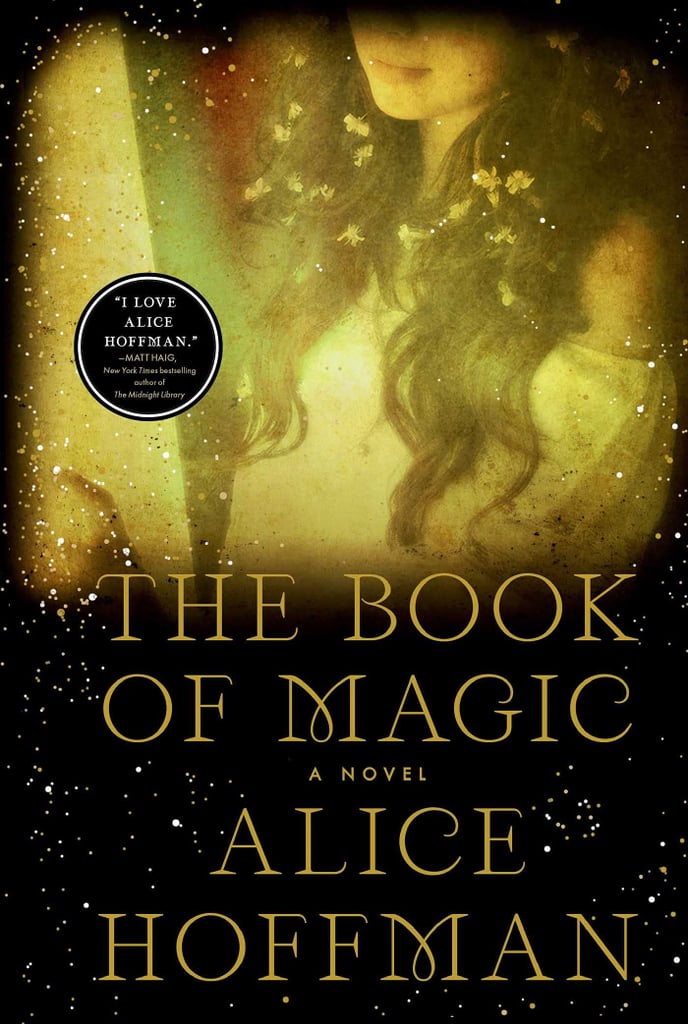 Alice Hoffman's Practical Magic series concludes with The Book of Magic [406], a gorgeous story of family ties and the power of love. When Jet Owens realizes she has just seven days left to live, she gathers her family together for a globe-trotting adventure to break their family's curse once and for all.
Out Oct. 12
The Brides of Maracoor by Gregory Maguire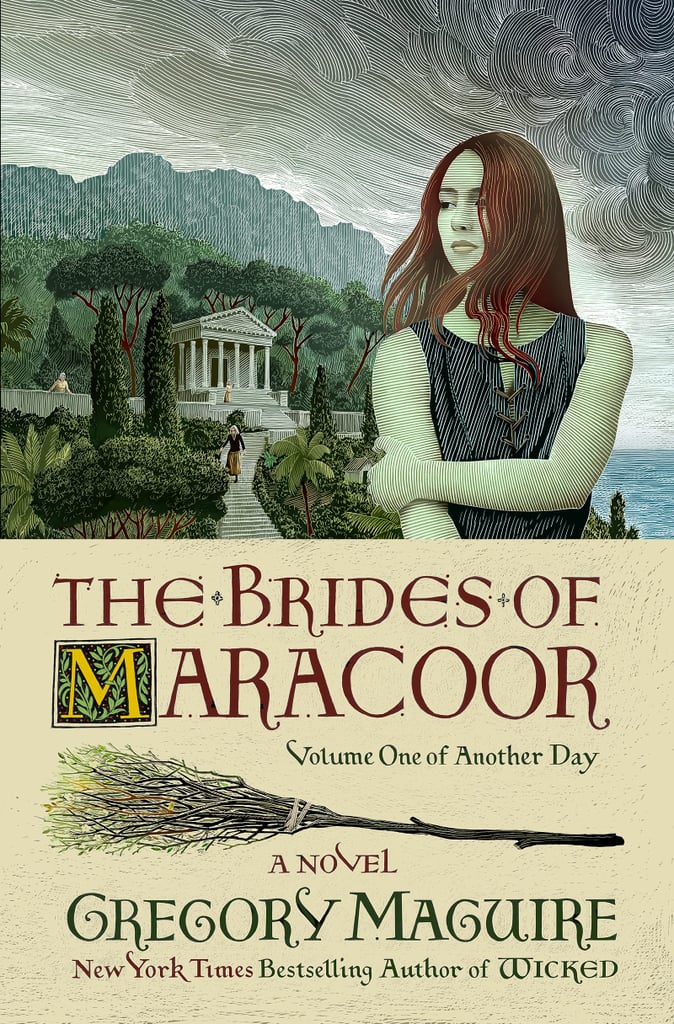 Gregory Maguire returns to the world of Wicked in his new spinoff series The Brides of Maracoor [407]. This time around, the focus is on Elphaba's granddaughter, Rain, who washes ashore on the island of Maracoor, and must begin a perilous journey that will eventually lead her back home to Oz.
Out Oct. 12
Capote's Women by Laurence Leamer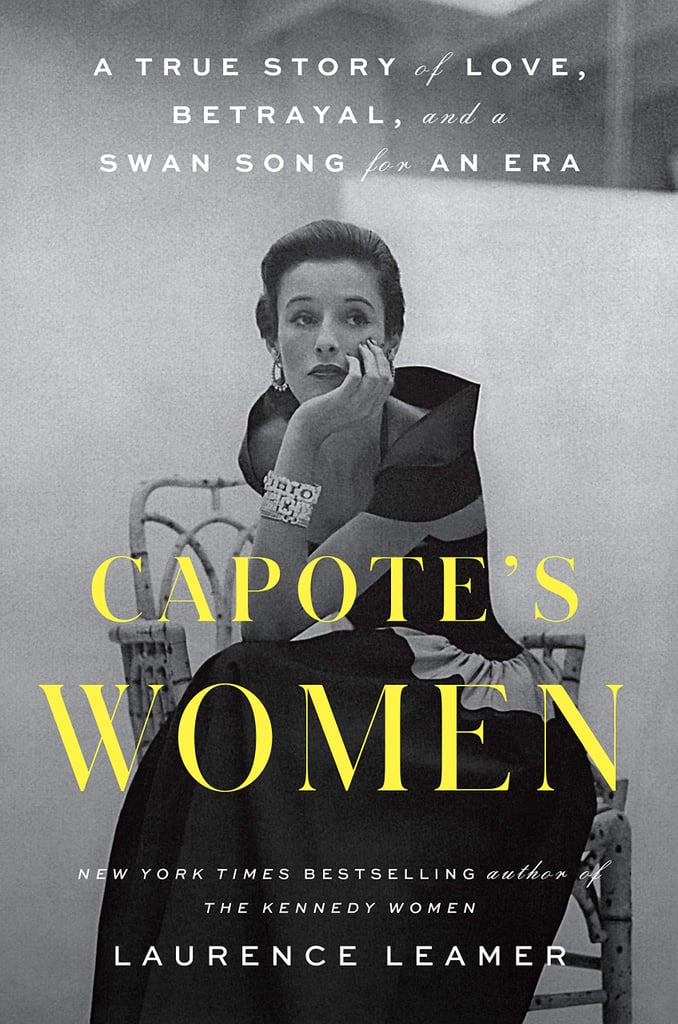 Capote's Women [408] by Laurence Leamer is a fascinating nonfiction book about the greatest American novel that was never published. Leamer delves into the years following famed author Truman Capote's success, which led to him becoming the confidante of the most vibrant women in New York's social scene. However, those relationships soured when the author turned the women's deepest secrets into fodder for his final, unpublished novel Answered Prayers.
Out Oct. 12
Jade Fire Gold by June CL Tan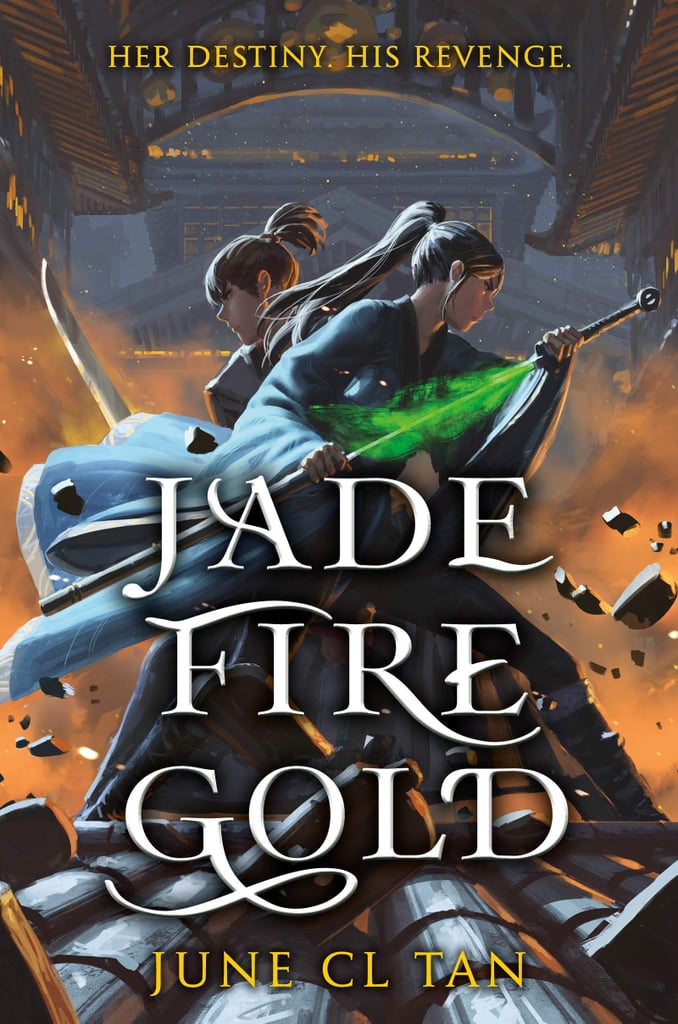 Looking to get lost in an epic fantasy novel this month? Then you need to read Jade Fire Gold [409] by June CL Tan as soon as possible. In this incredible debut, a lost heir teams up with a young woman with no past who may be the only person who can help him retake the throne that is rightfully his.
Out Oct. 12
No One Will Miss Her by Kat Rosenfield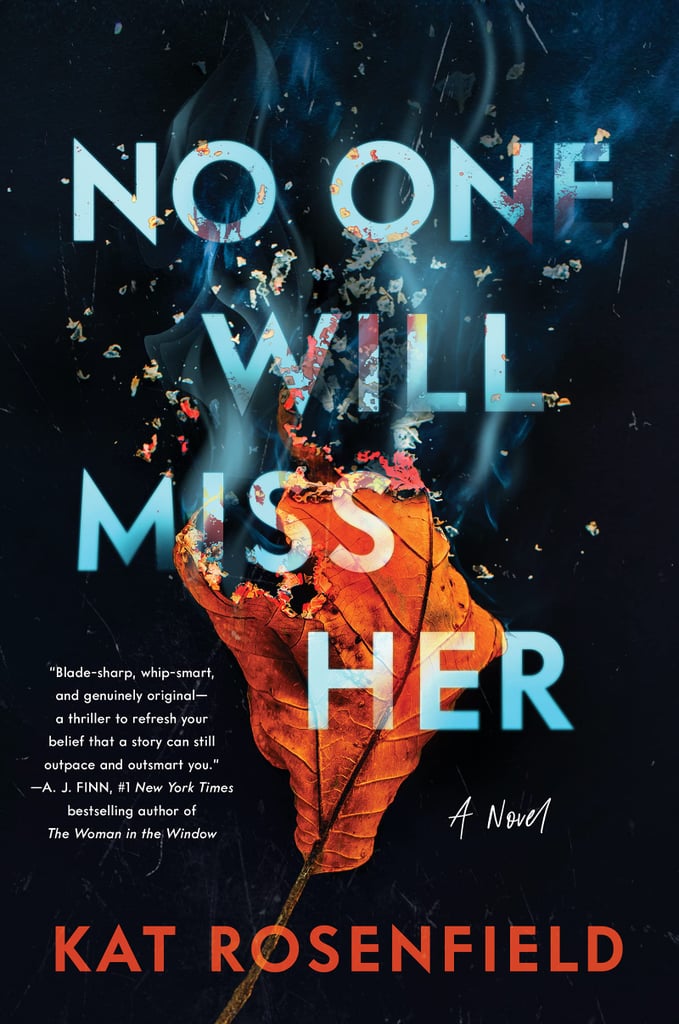 No One Will Miss Her [410] by Kat Rosenfield is a thriller for the digital age. Narrated from beyond the grave by Lizzie, the most hated person in her small town, she recounts how her life became entangled with a famous influencer's and how their fateful meeting led to her untimely demise.
Out Oct. 12
The Other Man by Farhad J. Dadyburjor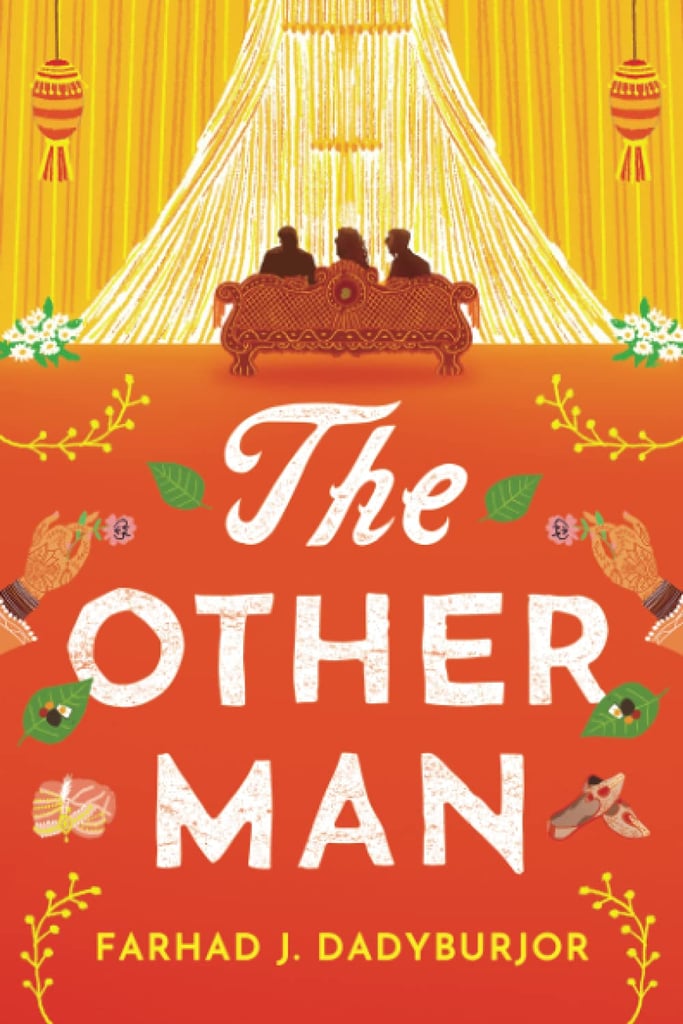 Farhad J. Dadyburjor's The Other Man [411] is all about living the life you want, not the one that is expected of you. At 38, Ved Mehra is the heir of a Mumbai business empire, who seems to be living a charmed life. But what his family doesn't know is that he's gay, and although he has finally agreed to an arranged marriage, he has also found the man of his dreams.
Out Oct. 12
Raver Girl by Samantha Durbin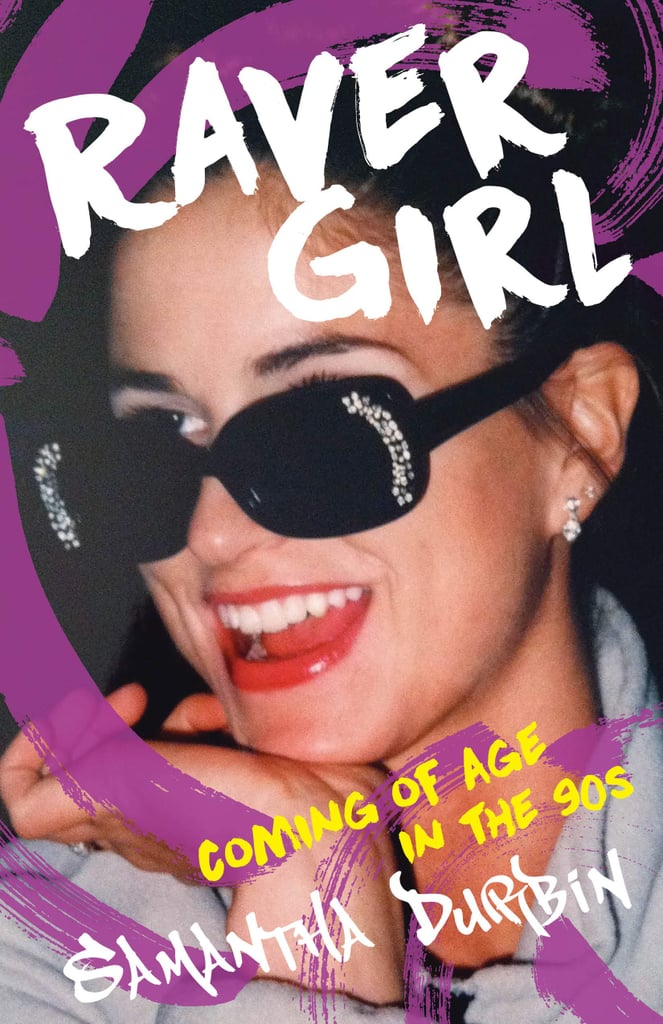 Raver Girl [412] by Samantha Durbin is a coming of age memoir about one woman's drug-fueled journey through high school in the '90s. Over the course of four years, Durbin attended 104 raves and tried a myriad of drugs as she teetered between total self-destruction and startling self-discovery.
Out Oct. 12
Silverview by John Le Carré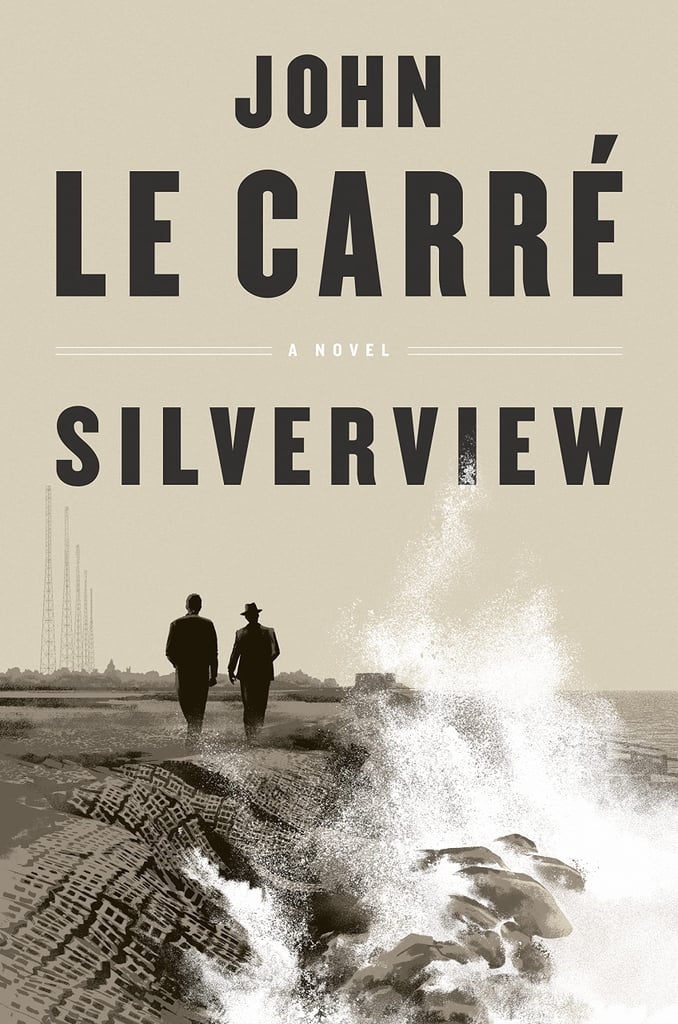 John Le Carré died in December 2020, but the prolific author left behind one final novel, Silverview [413]. Like so many of his most famous works, Silverview takes readers inside a world of espionage and mystery. This time the focus is on Julian Lawndsley, a man who leaves behind his career to run a small bookshop, only to find he can't outrun his past.
Out Oct. 12
State of Terror by Hillary Rodham Clinton and Louise Penny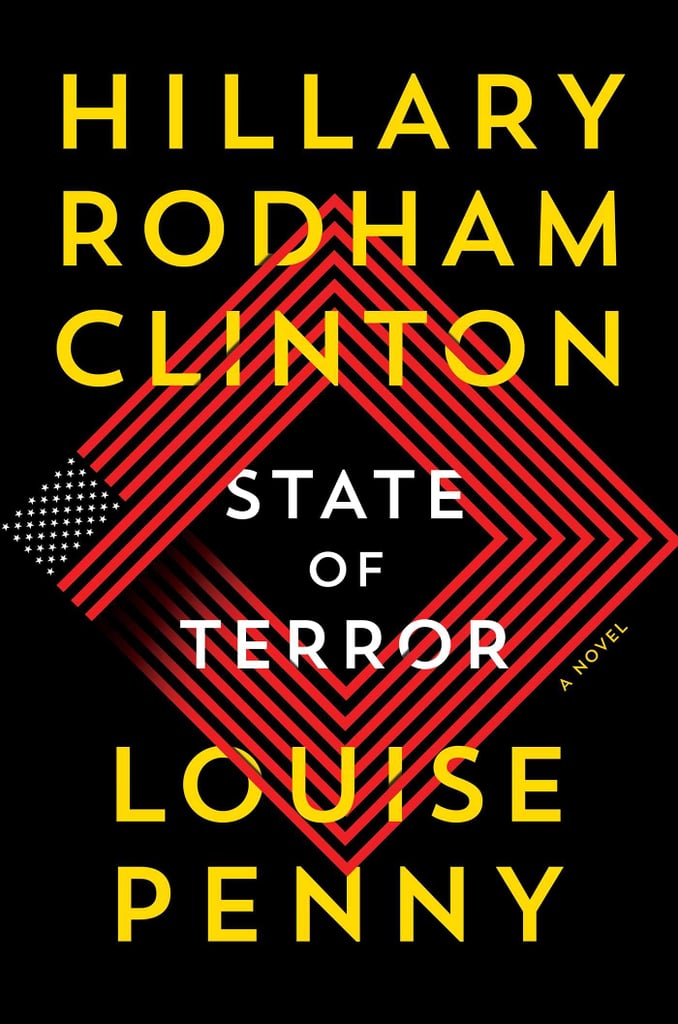 Bestselling authors Hillary Rodham Clinton and Louise Penny have combined their unique perspectives to serve up a Byzantine tale of political intrigue on a global scale in State of Terror [414]. When an untested secretary of state is confronted with an international conspiracy, she'll have to team up with a journalist and a foreign service officer to unravel the intricate plot that is unfolding around her.
Out Oct. 12
Where There's a Whisk by Sarah J. Schmitt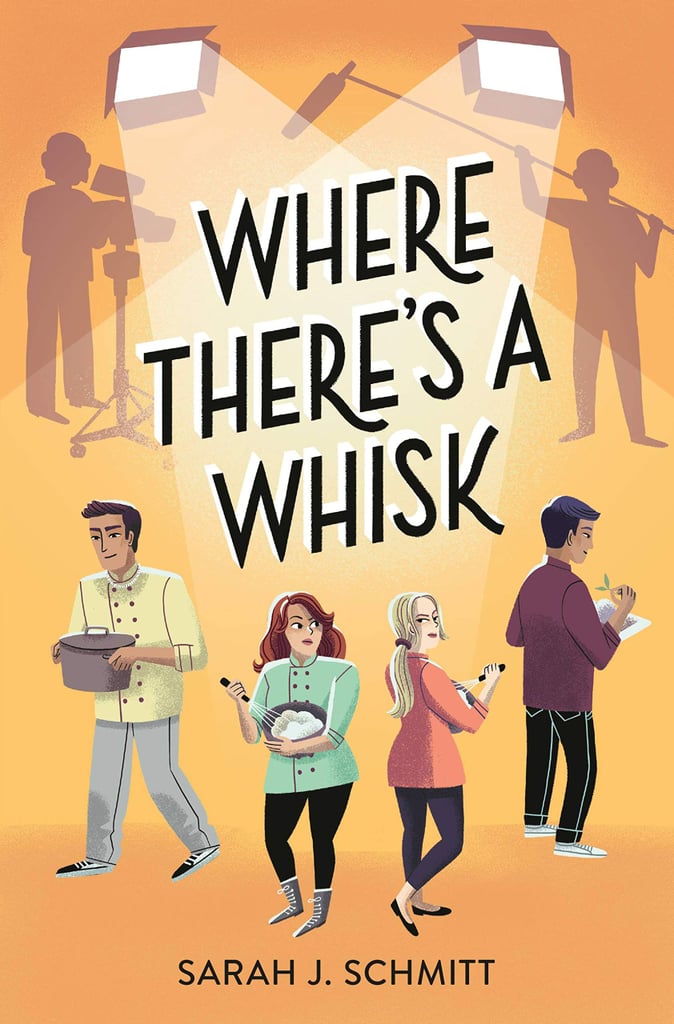 Where There's a Whisk [415] by Sarah J. Schmitt combines the joy of cooking competition shows with juicy teen drama, and it's definitely a recipe for success. In hopes of leaving her small town behind to attend culinary school, Peyton joins the reality show Top Teen Chef. However, she quickly learns that separating fact from fiction in the world of reality TV is no easy task.
Out Oct. 12
The Last Season by Jenny Judson and Danielle Mahfood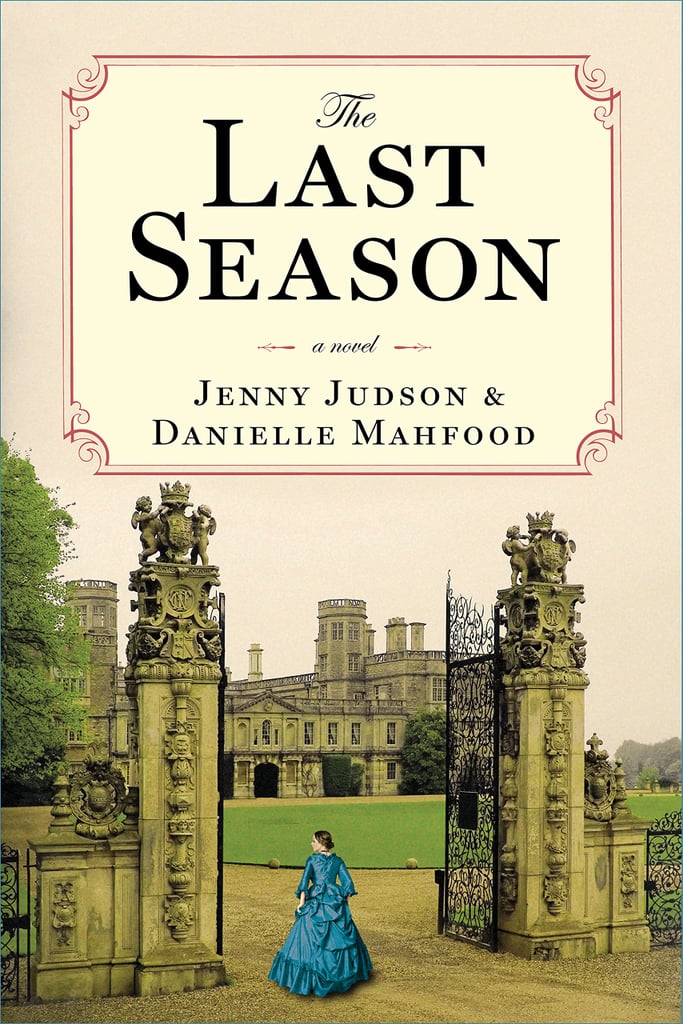 If you love a juicy, Victorian-era story of forbidden love, then The Last Season [416] by Jenny Judson and Danielle Mahfood deserves to be at the top of your TBR pile. High-society woman Cassandra Drayton knows she can never truly be with her childhood friend and former stable boy Crispin St. John, but when he sets off to make his own fortune, it seems destiny might draw them together after all.
Out Oct. 18
The Last Checkmate by Gabriella Saab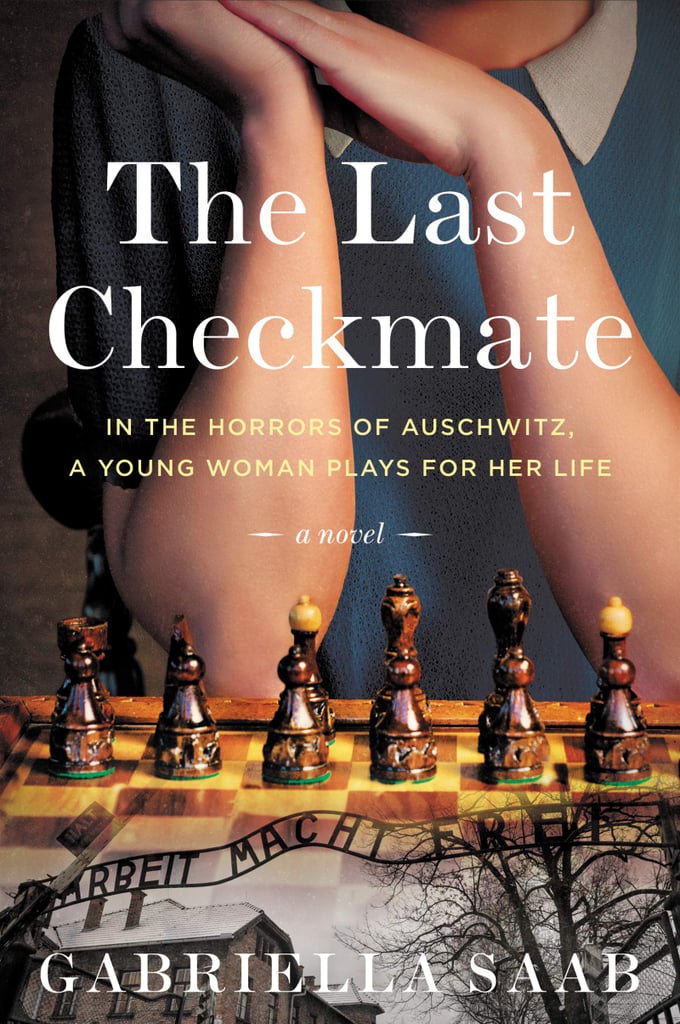 Still thinking about The Queen's Gambit? Then The Last Checkmate [417] by Gabrielle Saab is the book for you. When resistance fighter and chess player Maria Florkowska is imprisoned in Auschwitz, she uses her chess skills to save her life and plot the downfall of the camp deputy, Karl Fritzsch.
Out Oct. 19
Litani by Jess Lourey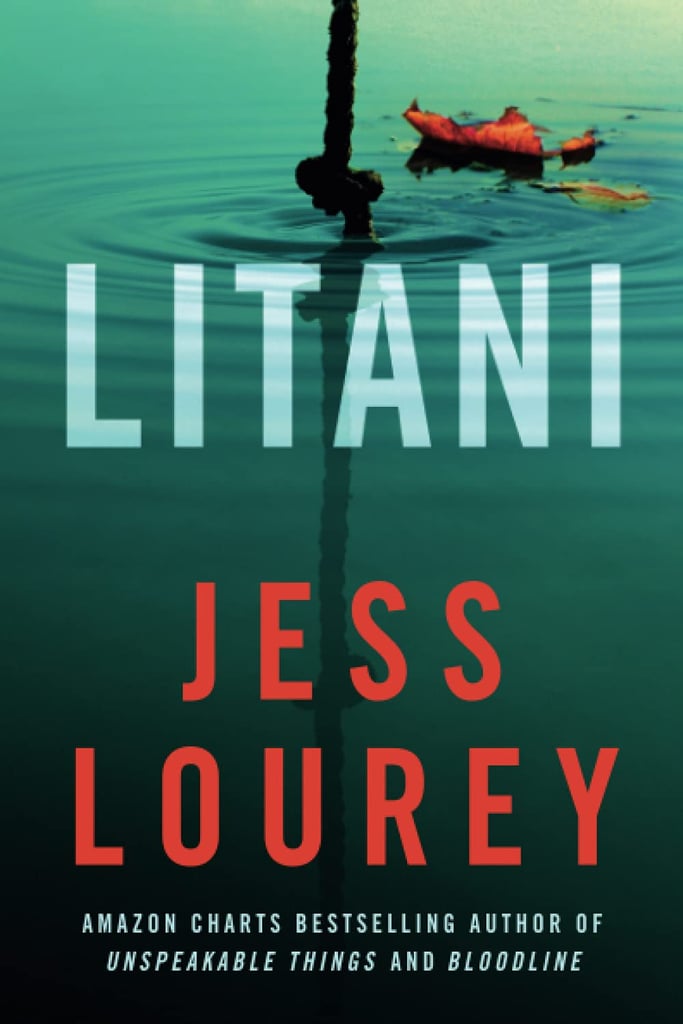 Inspired in part by the satanic panic of the '80s, Litani [418] by Jess Lourey is an eerie thriller about a 14-year-old girl named Frankie, who moves to a small town where whispers of an event called "The Game" hint at something dark going on just below the surface. After a group of bullies invite her to join the mysterious event, Frankie becomes determined to discover what's really going on in her new hometown.
Out Oct. 19
Little Thieves by Margaret Owen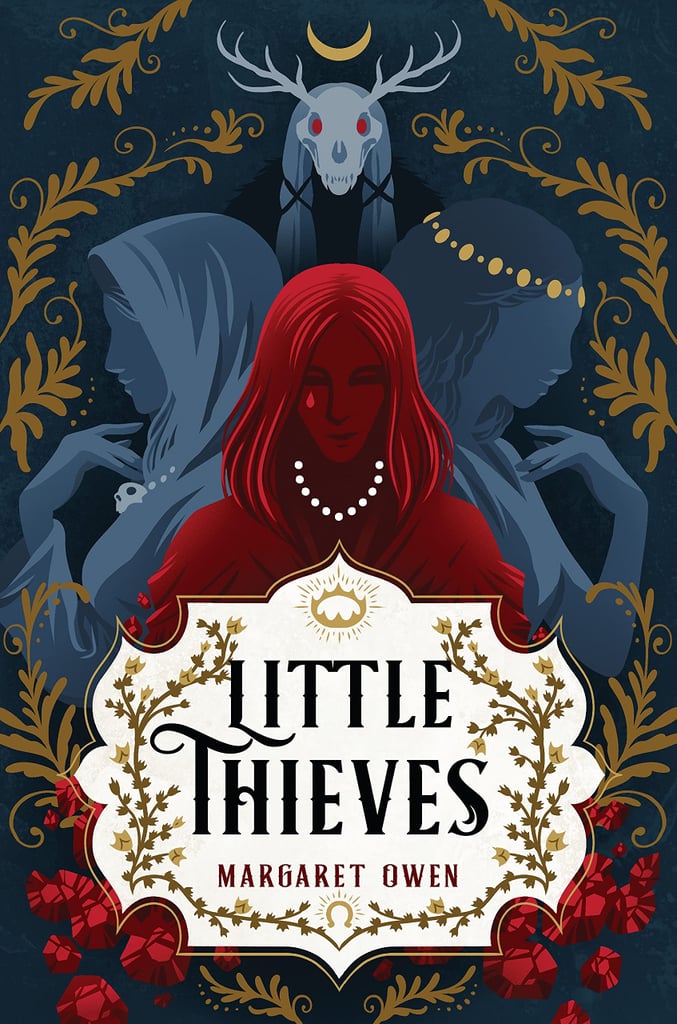 Margaret Owen has crafted an unputdownable heist novel in Little Thieves [419]. Former servant Vanja thought stealing the life of a princess would be easy, but when she angers the wrong god, she ends up in a race against time to keep her carefully crafted scheme from completely unravelling.
Out Oct. 19
Nothing But Blackened Teeth by Cassandra Khaw
Trust us, you're going to want to sleep with the lights on after reading Nothing But Blackened Teeth [420] by Cassandra Khaw. This haunted house story mixes Japanese folklore with heart-stopping scares as a group of women celebrate a bridal shower in a house that just so happens to be haunted by a ghost bride, who is hungry for company.
Out Oct. 19
Once Upon a Wardrobe by Patti Callahan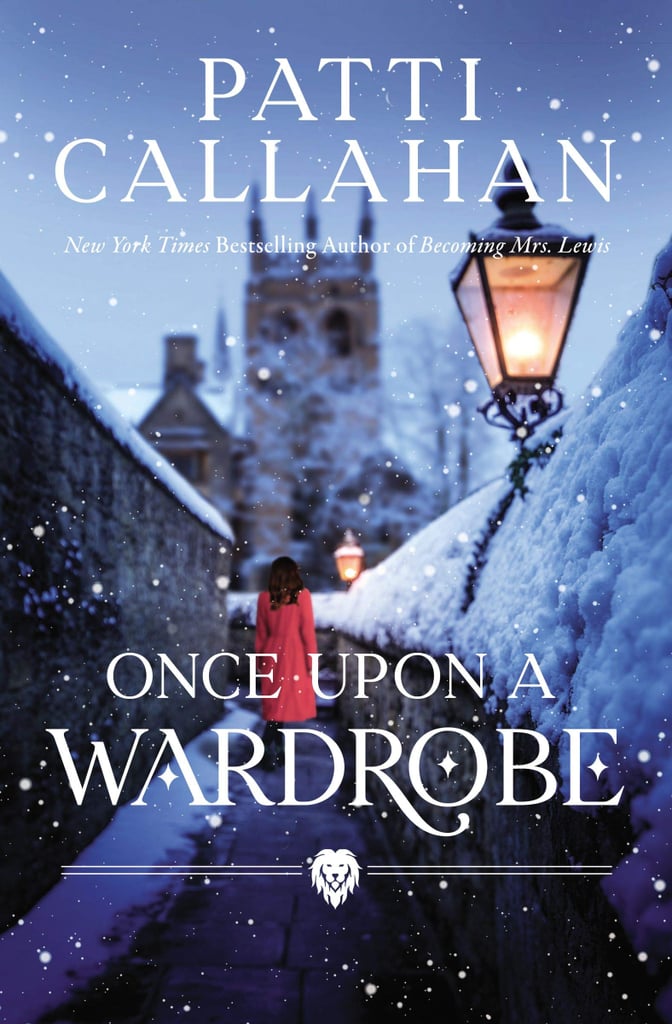 Fans of The Chronicles of Narnia are going to fall in love with Patti Callahan's heartwarming novel Once Upon a Wardrobe [421]. When Oxford student Megs Devonshire discovers her young brother doesn't have long to live, she sets out to answer his question of where Narnia comes from. But when she seeks out C. S. Lewis himself, she quickly finds the answer is more magical than she ever imagined.
Out Oct. 19
The Opposite of Butterfly Hunting by Evanna Lynch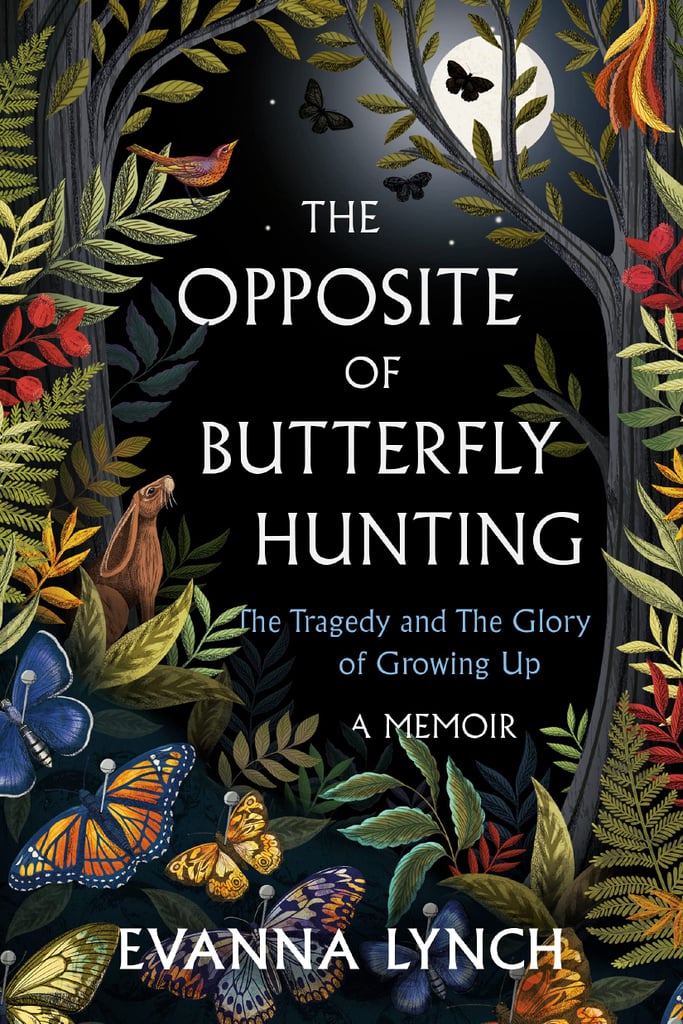 Actor and activist Evanna Lynch's The Opposite of Butterfly Hunting [422] is an unflinching look at her journey from starring in Harry Potter [423] to facing disordered eating. Along the way, Lynch found a sense of purpose in creativity that has sustained her in adulthood and helped her share her story with the world.
Oct. 19
Our Way Back to Always by Nina Moreno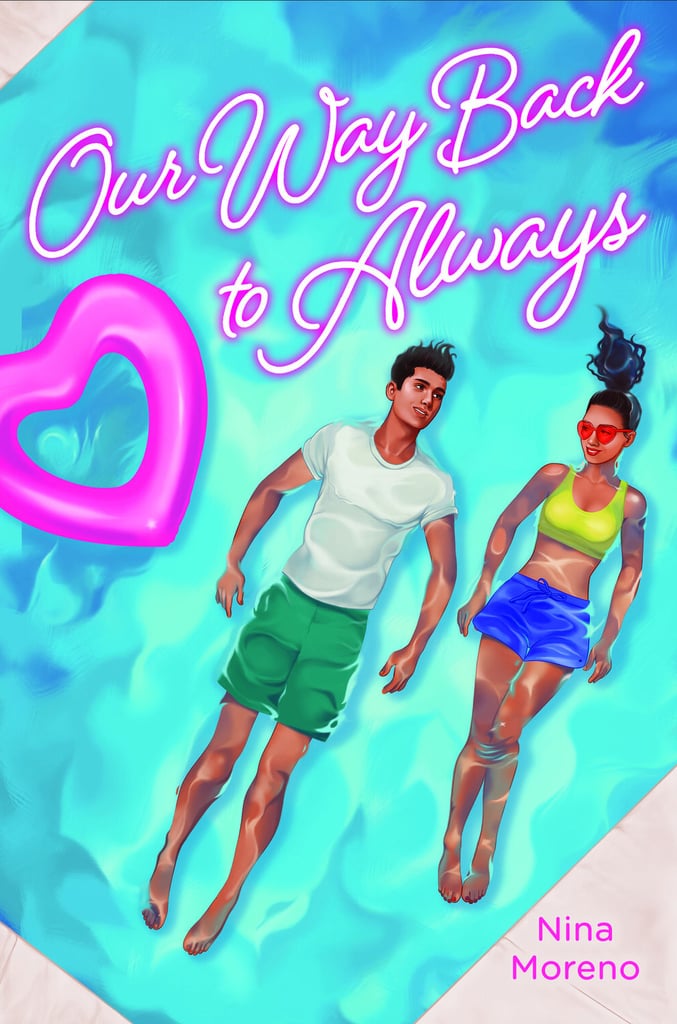 Set during those halcyon days of the last summer before senior year, Our Way Back to Always [424] by Nina Moreno is a beautiful second-chance romance about two teens who find their way back to each other via a forgotten bucket list. It has been four years since former best friends Lou and Sam spoke to one another, but with the pressures of senior year looming, they come together to check off all the items on the bucket list they made way back in middle school.
Out Oct. 19
A Season For Second Chances by Jenny Bayliss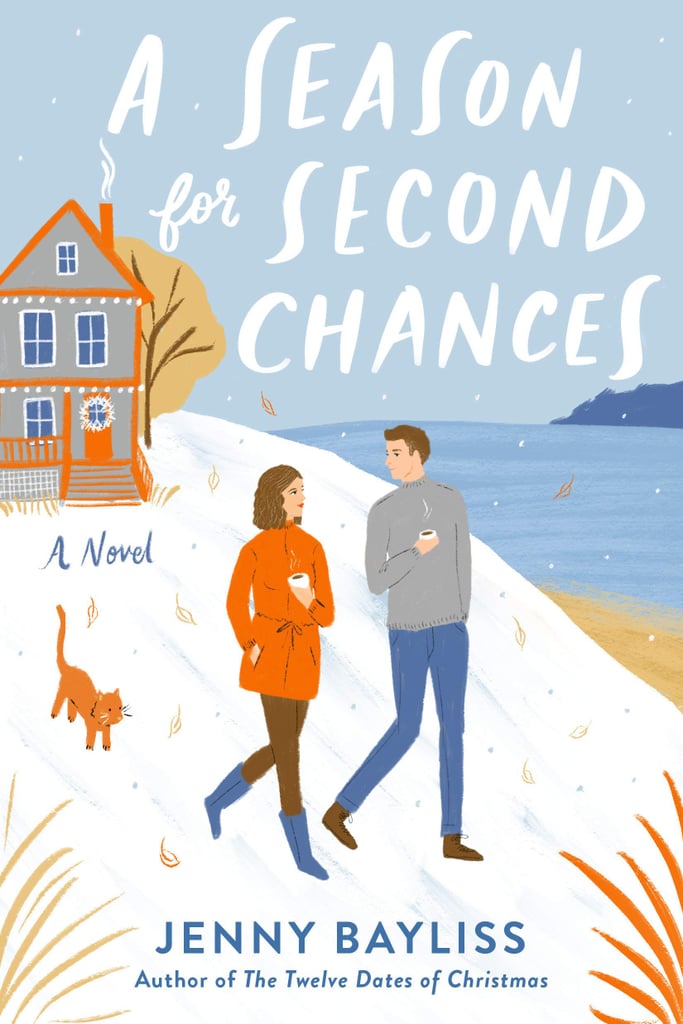 With her children grown and her 26-year marriage over, Annie Sharpe finds a new purpose as the caretaker of a seaside resort in A Season For Second Chances [425] by Jenny Bayliss. What she doesn't expect is for the owner's nephew to be so maddeningly annoyed by her presence in his family's business.
Out Oct. 19
Unprotected by Billy Porter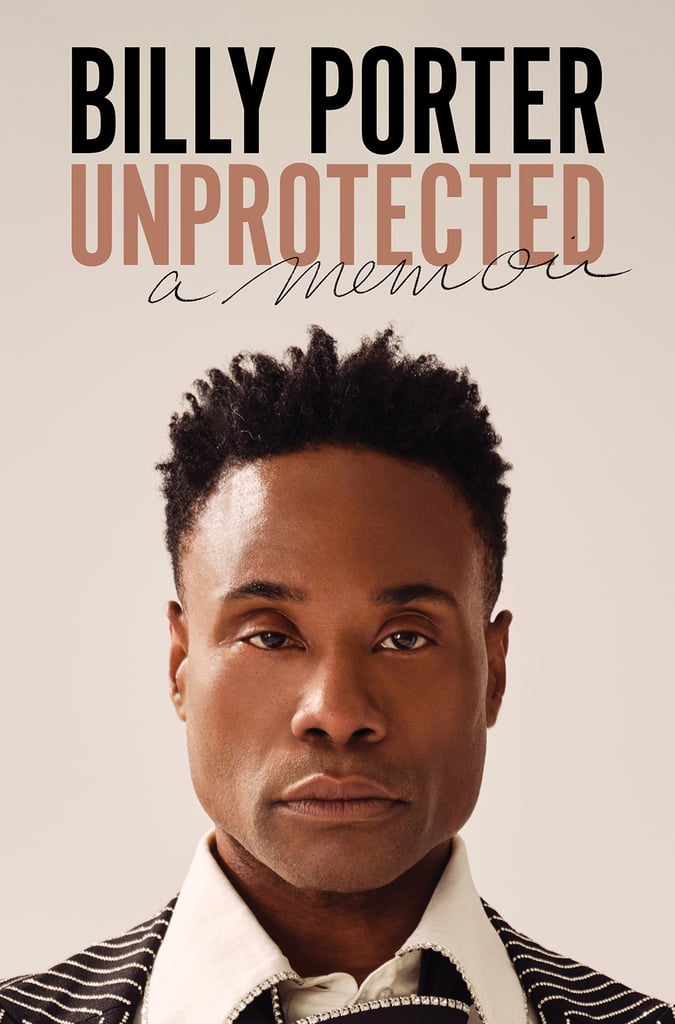 Emmy, Grammy, and Tony Award-winning actor Billy Porter shares his life story in his stunning memoir Unprotected [426]. While he's now a well-respected member of Hollywood and a style icon, Porter's early life was anything but charmed. In his memoir, he opens up about what it was like growing up as a gay, Black man in Pittsburgh and beyond.
Out Oct. 19
Well Matched by Jen DeLuca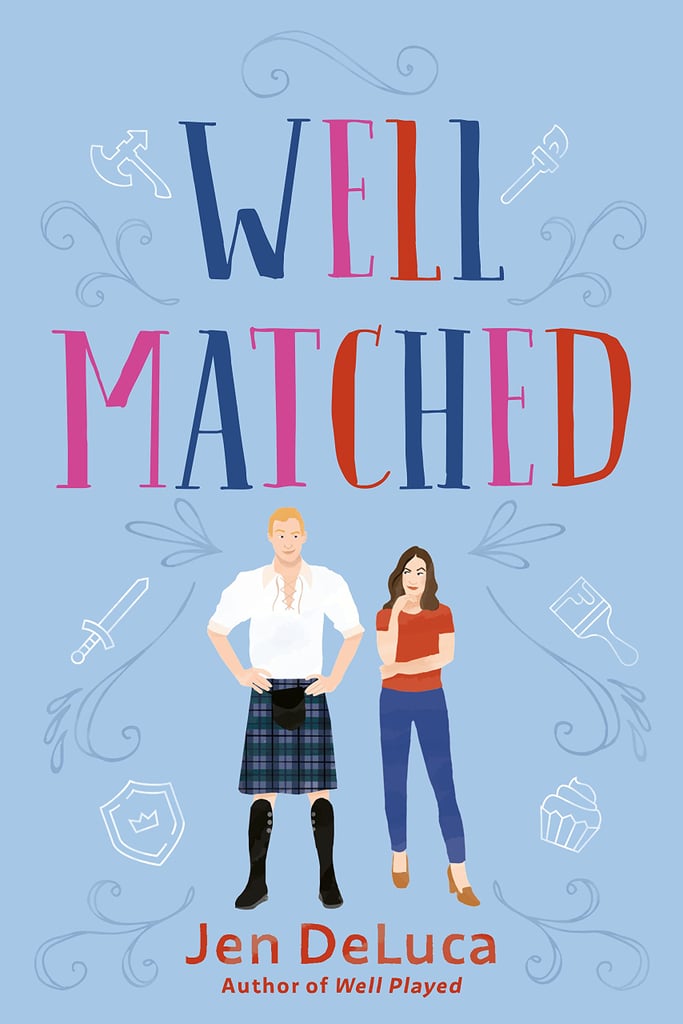 Jen DeLuca's renaissance faire series continues with Well Matched [427], which focuses on a single mom. April is on the verge of becoming an empty nester and leaving Willow Creek behind when Mitch comes barreling into her life, asking if she'll pose as his fake girlfriend. But what begins as a fake relationship quickly becomes something more for this adorable pair.
Out Oct. 19
Within These Wicked Walls by Lauren Blackwood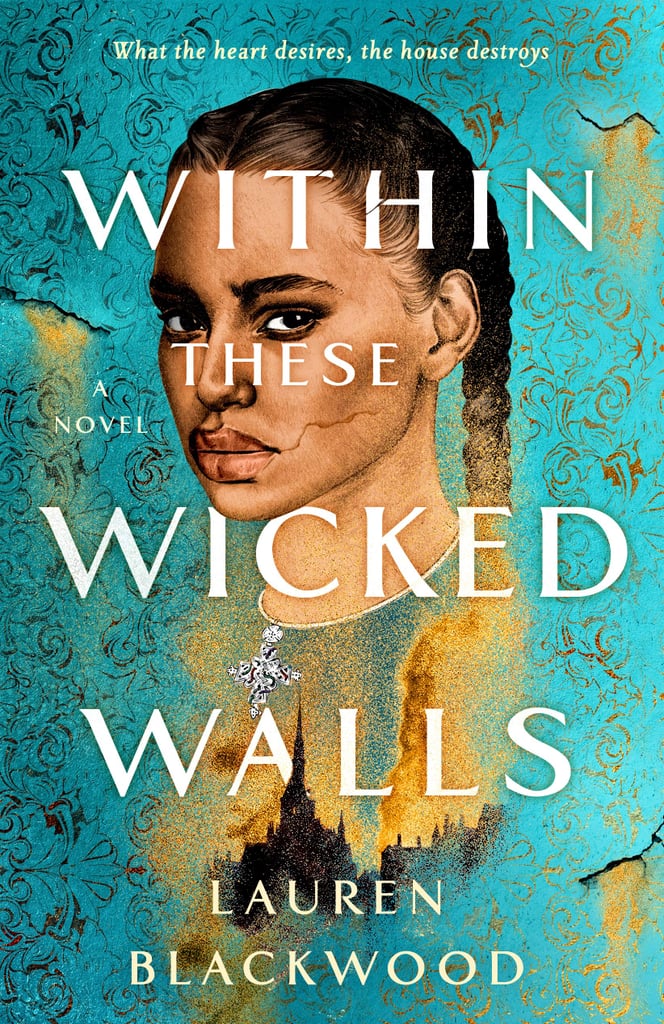 Within These Wicked Walls [428] by Lauren Blackwood is a clever reimagining of Jane Eyre. This version of Jane, named Andromeda, isn't a nanny — she's an exorcist, who is hired by an eccentric heir named Magnus Rochester to rid his home of the Evil Eye. Unfortunately, his sprawling manse is far more dangerous than anything Andromeda has ever faced before, but she's fallen too hard for her employer to turn back now.
Out Oct. 19
Before and After You by Hope Ellis
If you haven't read a Hope Ellis romance yet, then you're seriously missing out. The author's latest is Before and After You [429], the story of community hospital worker Leigh D'Alessandro and her best friend's brother, Walker Leffersbee, who she can't seem to resist falling for, even though she knows that she most definitely should.
Out Oct. 21
All the Feels by Olivia Dade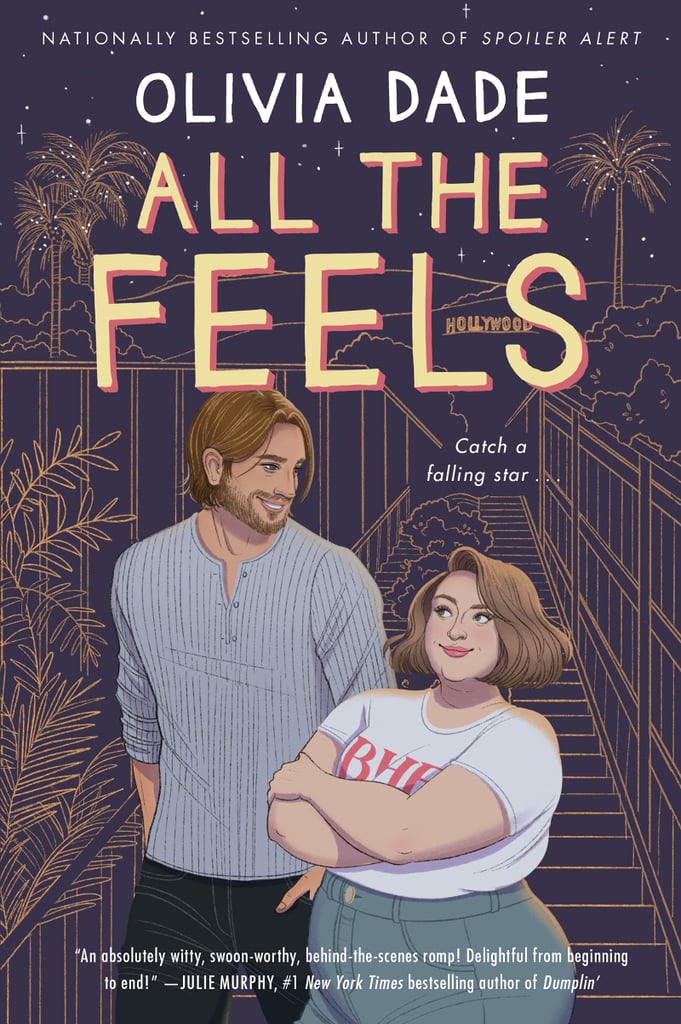 Olivia Dade follows up Spoiler Alert with another body positive romance set in the world of fandom in All the Feels [430]. After earning himself the wrong kind of media attention due to a bar fight, Gods of the Gates star Alex is assigned an official minder in the form of Lauren Clegg. And as you might have guessed, it doesn't take long for both of them to catch a serious case of feelings.
Out Oct. 26
As the Wicked Watch by Tamron Hall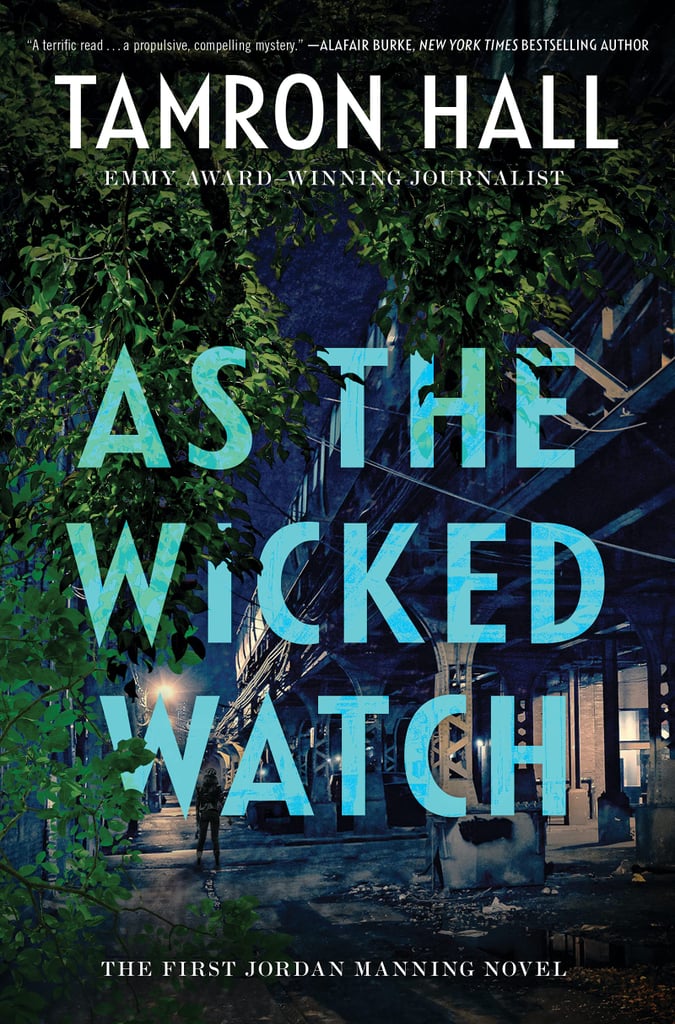 Emmy-Award-winning journalist Tamron Hall kicks off a new mystery series with As the Wicked Watch [431]. Crime reporter Jordan Manning's move to Chicago is meant to kick her career up a notch, but she soon becomes consumed with fighting for justice when she realizes the deaths of two Black women that most of the media would rather ignore are actually connected.
Out Oct. 26
Donut Fall in Love by Jackie Lau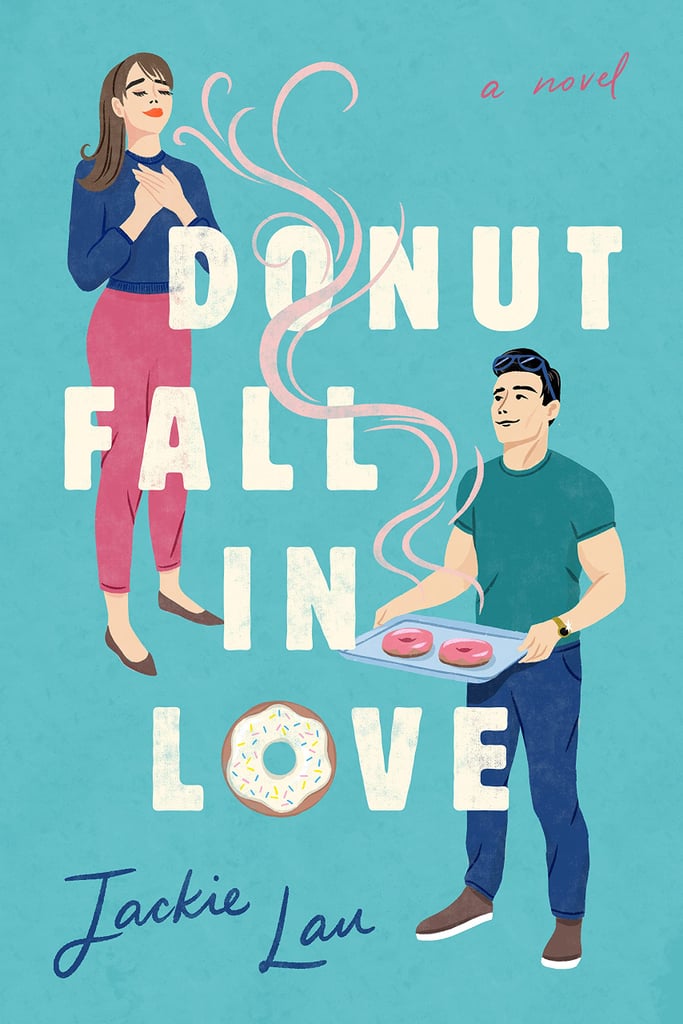 Donut Fall in Love [432] by Jackie Lau is a warmhearted romance about finding love in the midst of grief. After the death of his mother, actor Ryan Kwok is taking a break from Hollywood to focus on himself and his family. What he doesn't expect is for a local baker to steal his heart.
Out Oct. 26
Duke, Actually by Jenny Holiday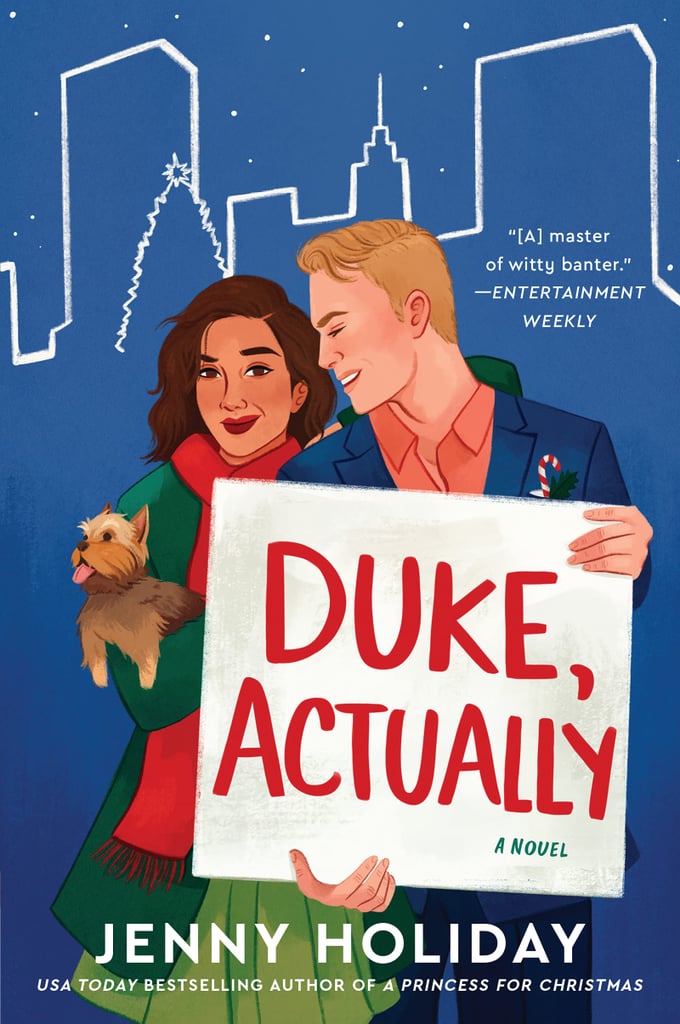 Christmas and royal romances are as perfect together as warm cookies and milk, as illustrated by Jenny Holiday's swoony new holiday read Duke, Actually [433]. Max is a duke who has recently been dumped, while Dani is still stinging from a breakup herself. However, there's no denying the sparks that fly between these two lonely hearts as the Christmas season approaches.
Out Oct. 26
Fan Club by Erin Mayer
Celebrity-obsession becomes deadly in Fan Club [434] by Erin Mayer. When a disillusioned millennial finds a sense of purpose within a group of fans devoted to tracking every move a famous pop star makes, she soon realizes there is something sinister lurking beneath the club's obsessive love for the celeb.
Out Oct. 26
Lemon by Kwon Yeo-sun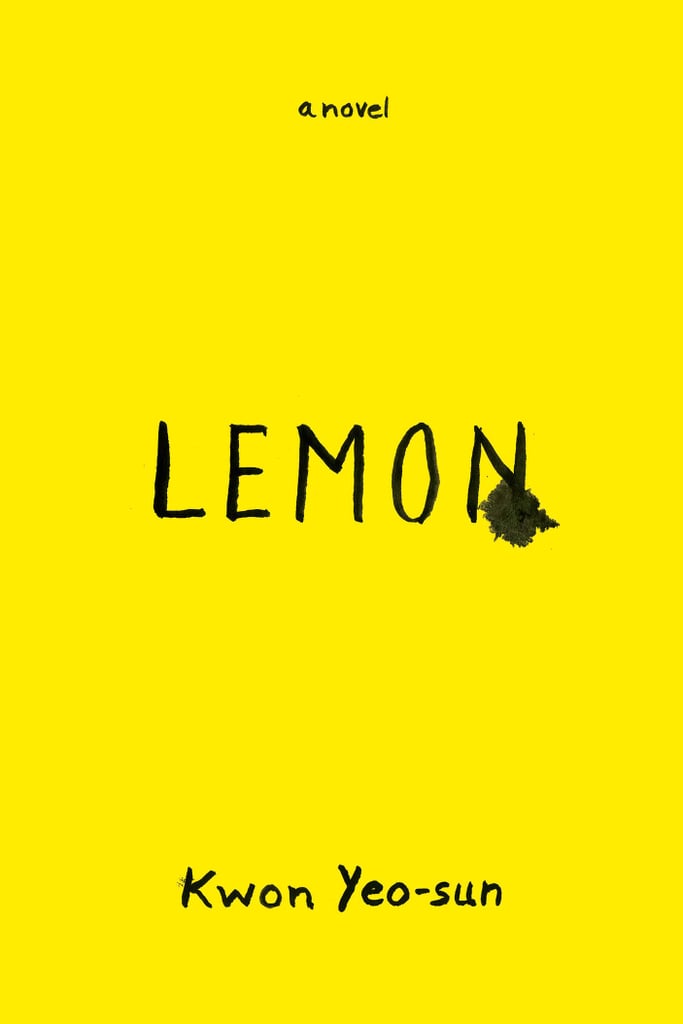 Lemon [435] by Kwon Yeo-sun is an evocative crime novel that's as much about exploring privilege and trauma as it as about solving the central mystery. Seventeen years after the death of high school student Kim Hae-on, the case has gone cold. But while the rest of the world has moved on, her younger sister can't stop searching for answers.
Out Oct. 26
These Silent Woods by Kimi Cunningham Grant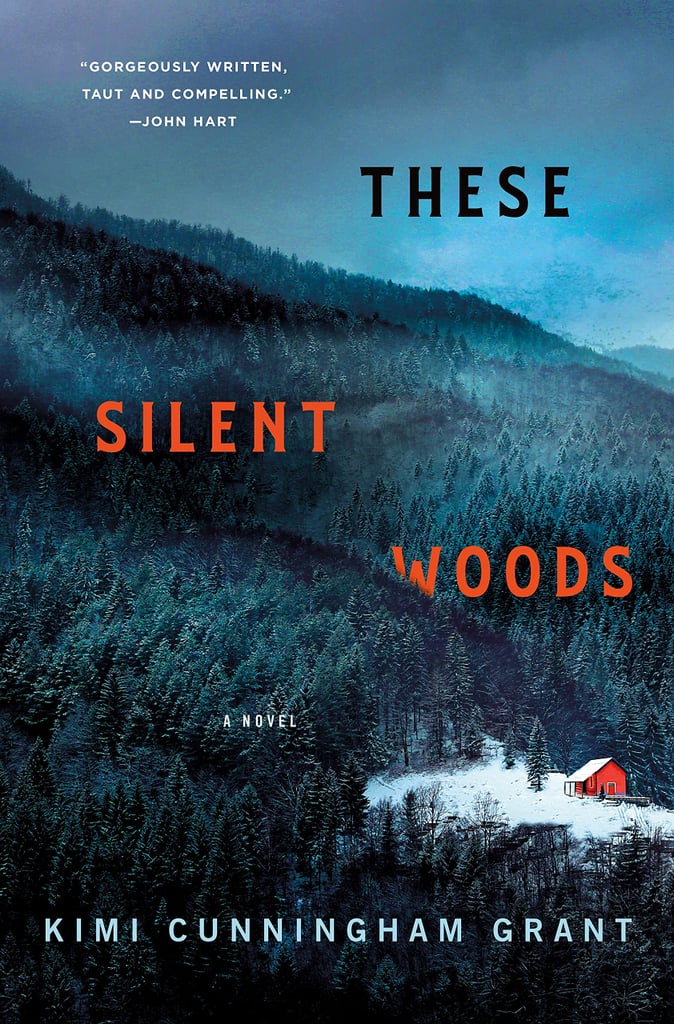 In These Silent Woods [436] by Kimi Cunningham Grant, a father will do anything to preserve his life with his daughter — even if it means they have to live in total isolation. For eight years, the father and daughter have lived in a house in the woods with no electricity and minimal interaction with the outside world, but when a new person shows up in the area, their carefully constructed life is in danger of falling apart.
Out Oct. 26
We Light Up the Sky by Lilliam Rivera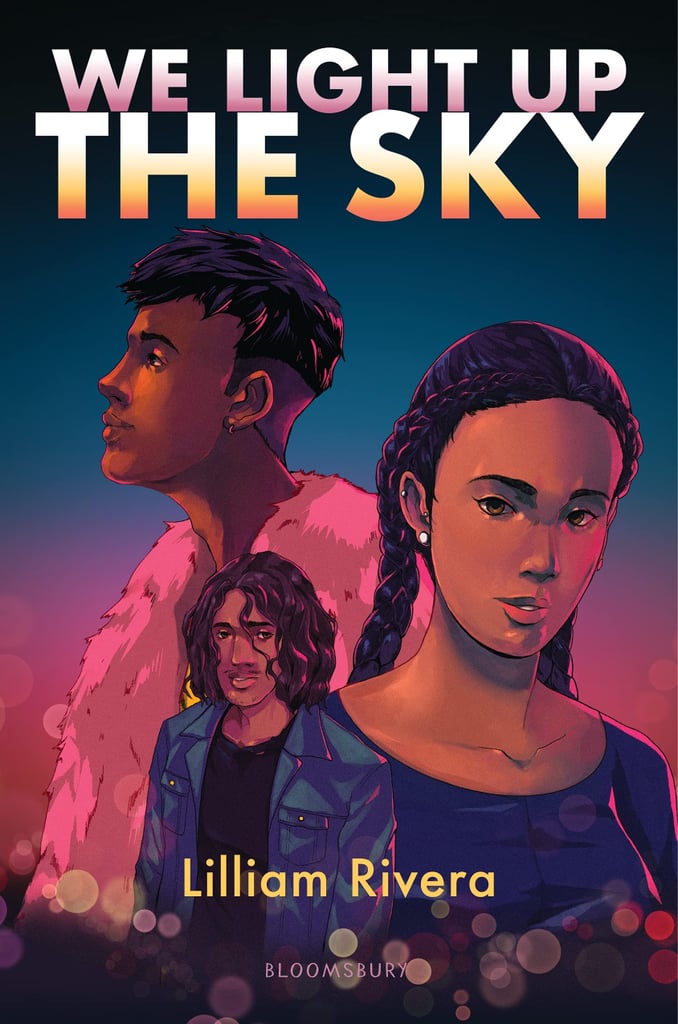 We Light Up the Sky [437] by Lilliam Rivera puts a refreshing new spin on the old alien invasion trope. The story follows three Latinx teens — Pedro, Luna, and Rafa — as they try to warn people about the arrival of extraterrestrials, but the more they try to tell people what's happening, the more they begin to wonder whether or not humans are more dangerous than the visitors from the sky.
Out Oct. 26