The New Queen of Movie Spoofs Is Parenthood's Sarah Ramos — Here Are Her Top 10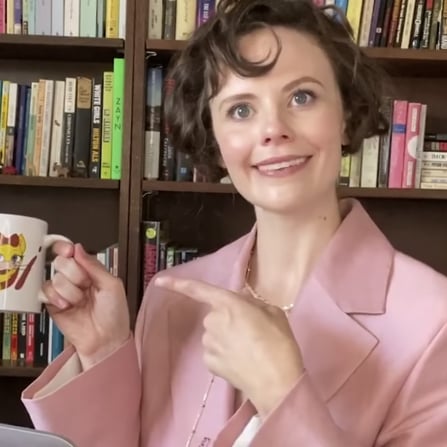 Since the coronavirus pandemic started, I've been watching more movies and TV shows than ever. From comforting classics to new shows I'd been too busy to stream before, staying home presented the perfect opportunity to catch up. But Sarah Ramos (aka Haddie on Parenthood) approached quarantine boredom a little differently: she took to acting out scenes from her favorite shows and movies instead of just watching them!
Ramos dubbed these hilarious little snippets "Quarantscenes," which feature her dressed up like different characters and re-creating iconic moments from popular movies and shows, including Bring It On, Legally Blonde, You, The Parent Trap, and so many more. Sometimes, she even gets her friends to come help act out the scenes! If you need a quick pick-me-up or are looking for a totally entertaining way to spend your evening, spend some time scrolling through Ramos's Instagram grid (@saraheramos), where she shares everything. In the meantime, check out a few of my favorite clips ahead!
Legally Blonde
Girl power, bold pink outfits, and blonde hair is prominent in Ramos's reenactment of the Legally Blonde scene where Elle (played by SNL's Chloe Fineman) realizes that Chutney is lying about getting a perm and gets her to confess to killing her father. It's pure comedy gold!
10 Things I Hate About You
Sitting in front of her computer in a pink blazer and pearls, Ramos nails Allison Janney's Ms. Perky from 10 Things I Hate About You. She is writing her erotica novel, trying to think of new words for "engorged" as Kat Stratford (also played by Ramos) walks in for a conversation about harassing students in class. It's just as hilarious as the actual movie.
Bring It On
The iconic 2000s film Bring It On is brought back to life when Ramos plays both Missy and Torrance, two cheerleaders who discover their squad's previous captain had been stealing routines from another school. The Clovers (played here by Laura Harrier, Vanessa Chester, and Meagan Holder) confront them and deliver the iconic line, "Because unlike them, we have class."
The Social Network
With her oversize headphones around her neck, sloppy hoodie, and curly wig, Ramos looks just like Jesse Eisenberg — playing Mark Zuckerberg — in this re-creation of The Social Network. In it, she tells Eduardo (played here by Dylan O'Brien) that he is no longer part of Facebook. O'Brien-as-Eduardo memorably responds, "You better lawyer up, a**hole."
My Best Friend's Wedding
Remember Julia Roberts in My Best Friend's Wedding? Ramos plays her character, Julianne, perfectly, as she confronts Kimberly (originally played by Cameron Diaz, now played by Elle Fanning) about not calling off the wedding. Ramos tells her she will never be Jell-O, while Fanning cries and tells her she is the only person she trusts. Perfection!
Showgirls
Who knew doggie chow could be so funny? Ramos acts out a classic scene from Showgirls where she plays Nomi, who is trying to make it as a Las Vegas dancer, alongside Aubrey Plaza, who plays star dancer Cristal. They are talking about eating doggie chow, life as a dancer, and their beautiful, um, anatomy — all while drinking champagne.
Big Little Lies
Ramos takes on Meryl Streep, Nicole Kidman, and the twin boys in this famous clip, featuring the famous "scream" from Big Little Lies. "We should scream and beat our breasts and tear our hair!" Yes!
The Parent Trap
When Lindsay Lohan meets her long-lost twin during a fencing lesson at summer camp, Hallie isn't a huge fan of Annie — especially when Annie says, "I have class and you don't." Ramos delivers the scene just as snarky and fun as Lohan did.
You
From one foot in the door, we were hooked! Ramos plays Beck, who walks into a bookstore and is noticed by stalker and murderer Joe, played by Max Minghella (who played Nick on The Handmaid's Tale). It's sexy and just a little creepy.
A Cinderella Story
Ramos plays both Sam (Hilary Duff) and Austin (Chad Michael Murray) in A Cinderella Story in this Quarantscene. She delivers, "Waiting for you is like waiting for rain in this drought. Useless and disappointing," just like Duff did 16 years ago. Female empowerment is the true magic of this movie — and we love Ramos for doing it so well!