Listen to Beyoncé's Lion King-Inspired Album, Featuring Kendrick Lamar, JAY-Z, and More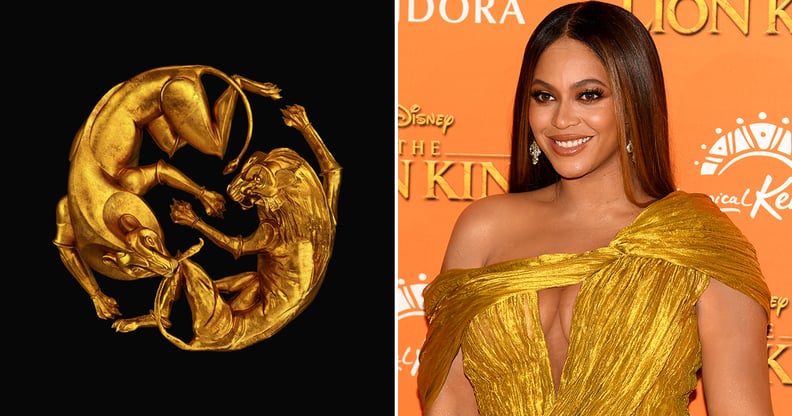 Columbia Records
Getty | Gareth Cattermole
Columbia Records
Getty | Gareth Cattermole
Not only does Beyoncé lend her voice-acting skills to the upcoming live-action remake of Disney's The Lion King, but she also released an entire album with music inspired by the film! On July 16, the 37-year-old musician — who voices Nala in the film — announced her latest musical masterpiece: The Lion King: The Gift, an album curated and produced by the singer herself. In an interview with ABC News, she revealed that the album is "a love letter to Africa" and a whole new musical genre inspired by the movie.
"This soundtrack is a love letter to Africa and I wanted to make sure we found the best talent from Africa, and not just use some of the sounds and did my interpretation of it," she told ABC News. "I wanted it to be authentic to what is beautiful about the music in Africa," she added of the album, which features drums and chants mixed with "incredible new sounds mixed with some of the producers from America . . . each song tells the story of the film."
The Lion King: The Gift features a plethora of global artists, such as Burna Boy, Kendrick Lamar, JAY-Z, Childish Gambino, Pharrell, Blue Ivy Carter (yes, Blue's discography is growing, people), Wiz Kid, Tiera Whack, 070 Shake, as well as several tracks with Beyoncé herself.
The singer described the album as "sonic cinema," saying that it was a new way to experience storytelling. "It is a mixture of genres and collaboration that isn't one sound. It is influenced by everything from R&B, pop, hip hop, and Afro Beat," she explained. "I wanted to put everyone on their own journey to link the storyline. Each song was written to reflect the film's storytelling that gives the listener a chance to imagine their own imagery, while listening to a new contemporary interpretation. It was important that the music was not only performed by the most interesting and talented artists but also produced by the best African producers. Authenticity and heart were important to me."
As the first single, "Spirit," promised, the entire project is incredible. Check out the full 14-track album (which dropped on Friday, July 19, the same day as The Lion King) ahead!
"Balance (Mufasa Interlude)"
"The Stars (Mufasa Interlude)"
"Find Your Way Back (Circle of Life)" by Beyoncé
"Uncle Scar (Scar Interlude)"
"Don't Jealous Me" by Tekno, Yemi Alade, and Mr. Eazi
"Danger (Young Simba & Young Nala Interlude)"
"Run Away (Scar & Young Simba Interlude)"
"Nile" by Beyoncé and Kendrick Lamar
"New Lesson (Timon, Pumbaa & Young Simba Interlude)"
"Mood 4 Eva" by Beyoncé, JAY-Z, and Childish Gambino
"Reunited (Nala & Simba Interlude)"
"Water" by Salatiel, Pharrell, and Beyoncé
"Brown Skin Girl" by Blue Ivy Carter, St. Jhn, Wiz Kid, and Beyoncé
"Come Home (Nala interlude)"
"Keys to the Kingdom" by Tiwa Savage and Mr. Eazi
"Follow Me (Rafiki Interlude)"
"Already" by Beyoncé and Shatta Wale
"Remember (Mufasa Interlude)"
"My Power" by Tierra Whack, Beyoncé, Busiswa, Yemi Alade, and Moonchild Sanelly
"Surrender (Simba & Scar Interlude)"
"Scar" by 070 Shake and Jessie Reyez
"I'm Home (Mufasa, Sarabi & Simba Interlude)"