Showtime's Billions Premiere Depicts Another Heart Attack After a Peloton Ride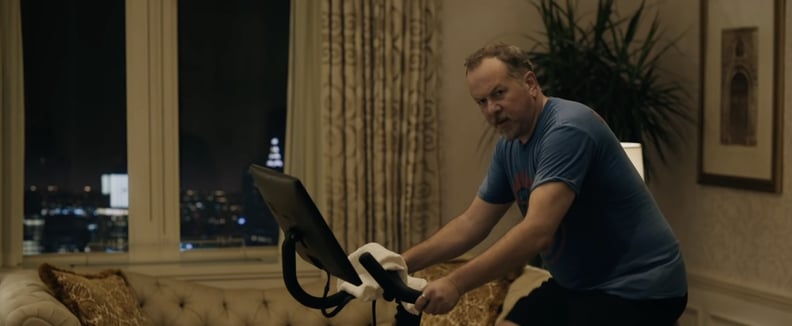 YouTube | Billions on Showtime
Image Source: Youtube user Billions on Showtime
Over a month ago, fans of the Sex and the City spinoff series, And Just Like That, couldn't stop talking about Mr. Big's shocking death in the premiere episode. The beloved character has a fatal heart attack during his 1,000th Peloton ride, which sent the company's stock prices plunging, but And Just Like That isn't the only show trolling the Peloton.
During the season six premiere of Showtime's Billions, the character Mike "Wags" Wagner is informed by EMTs that he's having a heart attack during a Peloton ride. Unlike Mr. Big, Wags survives the heart attack and he even references the now-infamous scene. "I'm not going out like Mr. Big!" he declares to his co-workers.
"We get TV shows want to include @onepeloton to get people talking, but to be clear, we did *not* agree for our brand or IP to be used on @SHO_Billions or provide any equipment," Peloton said in a statement shared on Jan. 23 via its official Twitter account. "As the show itself points out, cardio-vascular exercise helps people lead long, happy lives."
Forty-eight hours after Mr. Big's death on And Just Like That, Peloton playfully fired back with an ad showing Chris Noth, who plays Mr. Big, and real-life Peloton instructor Jess King getting cozy in front of a fireplace. "I feel great," Noth says. "Should we take another ride? Life's too short not to." Ryan Reynolds, who narrates the ad, is heard saying, "And just like that . . . the world is reminded that regular cycling stimulates and improves your heart, lungs, and circulation, reducing your risk of cardiovascular diseases."
No word yet if Peloton will respond to Billions with another tongue-in-cheek commercial, but in the meantime, check out the season six premiere below!