Peloton Responds to Shocking Death on And Just Like That...
And Just Like That, Peloton Has Something to Say About the Show's Unexpected Death
Watch out! This post contains spoilers.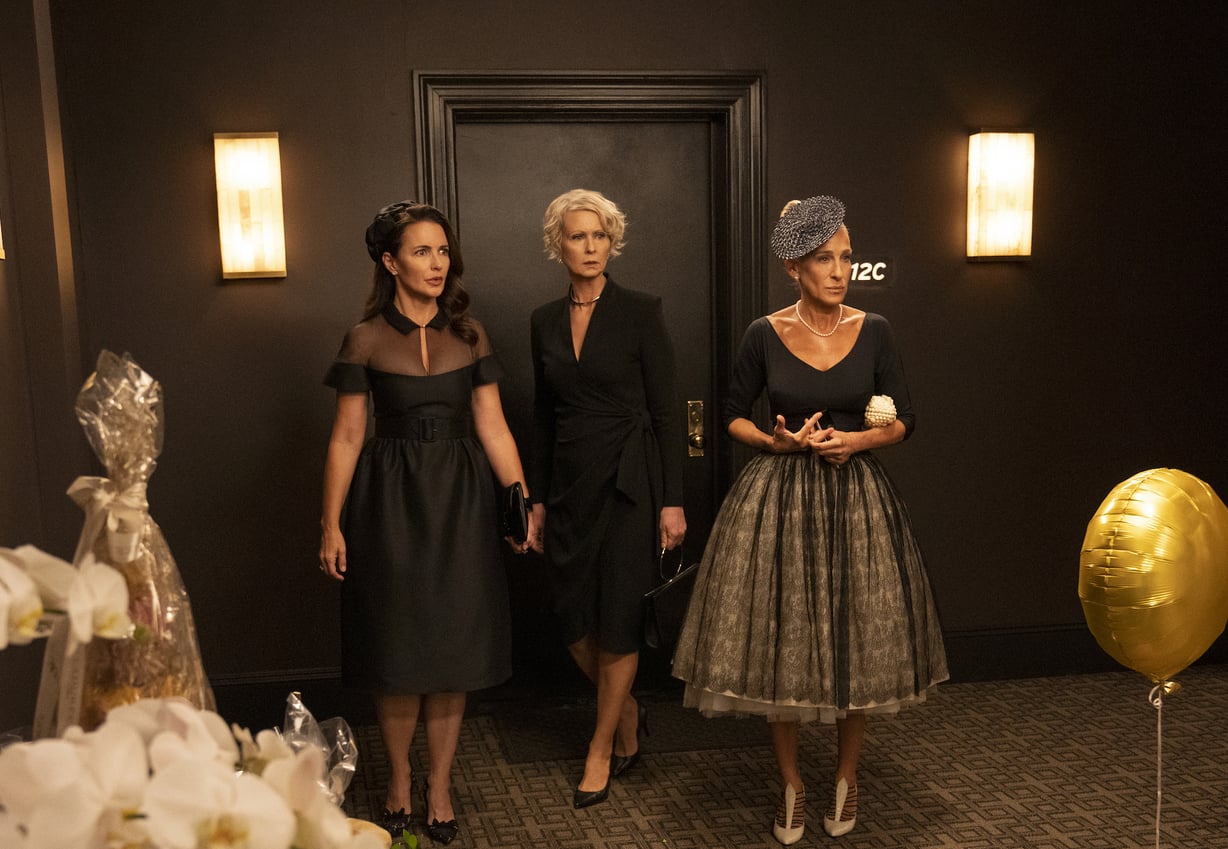 If you've been on the internet these past 24 hours, you've likely heard the buzz around And Just Like That..., HBO Max's new Sex and the City spinoff, killing off one of its central characters in the first 45 minutes. Yup, the series's premiere episode sees the sad death of Mr. Big (Chris Noth) after a heart attack following an intense Peloton bike session — his 1,000th ride, no less — while Carrie (Sarah Jessica Parker) is at Charlotte's (Kristin Davis) daughter's piano recital.
Big, who we knew to have a heart condition since the original series, is now an avid Peloton-er. As Miranda (Cynthia Nixon) mentions in the second episode, he was apparently cleared by his cardiologist for his bike sessions. Yet his death-by-Peloton, as the Twitterverse calls it, has taken the internet by storm — even causing Peloton's stock to dip — which prompted the company to respond to the scene and address people's concerns.
"Mr. Big lived what many would call an extravagant lifestyle — including cocktails, cigars, and big steaks — and was at serious risk as he had a previous cardiac event in Season 6."
"I'm sure SATC fans, like me, are saddened by the news that Mr. Big dies of a heart attack," said Dr. Suzanne Steinbaum, a preventative cardiologist and member of Peloton's health and wellness advisory council, in a statement. "Mr. Big lived what many would call an extravagant lifestyle — including cocktails, cigars, and big steaks — and was at serious risk as he had a previous cardiac event in Season 6. These lifestyle choices and perhaps even his family history, which often is a significant factor, were the likely cause of his death. Riding his Peloton Bike may have even helped delay his cardiac event."
She continued, offering additional context on the benefits of Peloton biking for people with cardiac issues. "More than 80 percent of all cardiac-related deaths are preventable through lifestyle, diet and exercise modifications," she said. "And while 25 percent of heart attacks each year are in patients who already had one (like Mr. Big), even then they are very, very treatable. The lesson here is, KNOW YOUR NUMBERS! It's always important to talk to your doctor, get tested, and have a healthy prevention strategy. The good news is Peloton helps you track heart rate while you ride, so you can do it safely."
Peloton further clarified to Slate that while HBO and the company coordinated on the bike placement, it was unaware of how exactly it was going to be used. The already, um, awkward situation is made even more comical by the fact that Big's favorite Peloton instructor, Allegra, whose class he takes right before his untimely death, is played by IRL instructor Jess King.
Days later, Peloton playfully fired back at the show, releasing a 30-second commercial in which King is seen getting cozy in front of a fireplace with Noth, aka Big. "I feel great," he says in the clip. "Should we take another ride? Life's too short not to." *chef's kiss* Ryan Reynolds, whose Maximum Effort marketing company produced the ad, narrates the short clip. "And just like that, the world is reminded that regular cycling stimulates and improves your heart, lungs, and circulation, reducing your risk of cardiovascular diseases," he says. "Cycling strengthens your heart muscles, resting pulse, and reduces blood-fat levels," he adds before quipping, "He's alive." So there you have it: Peloton claims innocence! Watch the genius ad below.