Bones and All Film Adaptation: Trailer, Cast, Release Date
Timothée Chalamet and Taylor Russell Say They "Talked About Eating Somebody" For "Bones and All"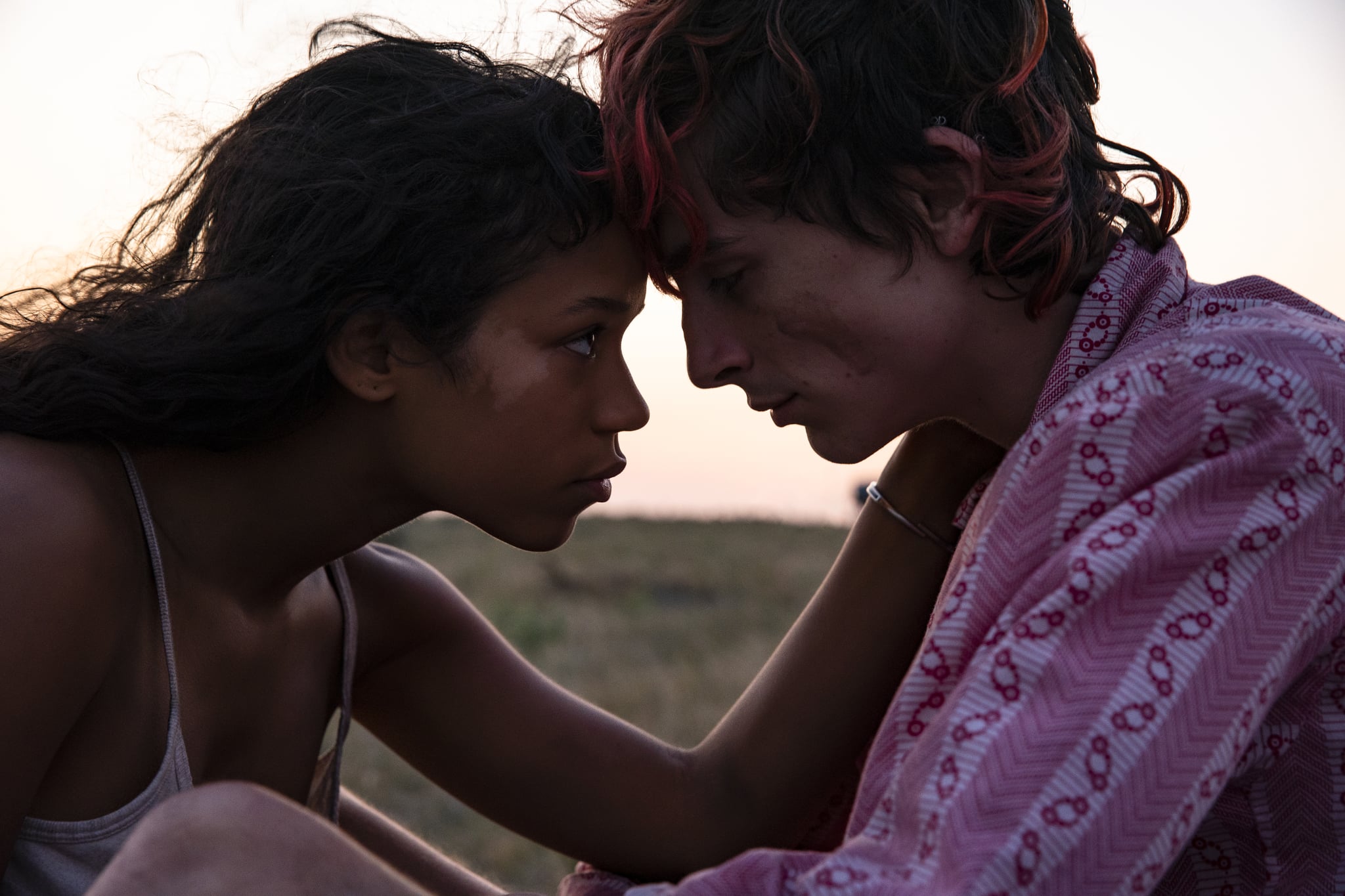 Image Source: MGM
Timothée Chalamet is returning to the big screen alongside "Waves" actor Taylor Russell, as the two find themselves at the center of an unusual cannibalism romance. "Bones and All," based on Camille DeAngelis's 2015 novel of the same name, is an indie coming-of-age tale about first loves Maren (Russell) and Lee (Chalamet), who embark on a thousand-mile-long journey as they're haunted by their terrifying pasts. Oh, and Maren's people-eating tendencies.
Per Deadline, the movie's producers describe the film as "a liberating road odyssey of two young people coming into their own, searching for identity and chasing beauty in a perilous world that cannot abide who they are." Director Luca Guadagnino adds that the "heart of the movie is tender and affectionate towards them."
On July 26, stills from "Bones and All" were unveiled with intense images of Russell and Chalamet transformed into their characters, and the movie's chilling, bloody trailer finally arrived on Sept. 29 to make sense of them. The highly anticipated film — which reunites Chalamet and Guadagnino after their 2017 Oscar-winning feature, "Call Me by Your Name" — made its world premiere at the 2022 Venice Film Festival competition.
In an interview with Variety, published Nov. 16, Chalamet and Russell opened up about their sexy cannibal movie and how they wanted to explore their characters' emotional relationship more than cannibalism. "[We] talked about eating somebody, eating anything, using your body, your hands, your mouth — it's so tactile, so physical, that, in some ways, it's simple," Russell told the outlet. Chalamet added: "That look that Maren and Lee have, I think it feeds the fable-like quality of the story, and of people that are living in extremes. As opposed to what the reality would be, perhaps: If you were consistently devouring entire human bodies, it would probably leave you with a bigger figure than they have.'"
Read ahead for everything we know about "Bones and All," including why Guadagnino calls it a "fairy tale."
"Bones and All" Trailer
A 28-second glimpse of the film's trailer dropped on Aug. 10 to give fans a peak of Chalamet and Russell's emotional performances.
"Bones and All" Clip
A clip from the film premiered at the 2022 Venice Film Festival on Aug. 31.
"Bones and All" Plot
According to The Hollywood Reporter, "Bones and All" follows the story of Maren, a young woman living on the margins of society who ends up falling in love with an "intense and disenfranchised drifter" named Lee (Chalamet).
Per an interview with Variety, Guadagnino elaborated on the movie's plot and said, "It's about two young people — a girl, in particular — roaming this world of darkness and dealing with the challenges within and without, finding love in the gaze of one another and trying to overcome impossibility." The director also shared that he created the movie — which he refers to as a "fairy tale" — to delve into the "intensity of desire" rather than "gratuitous gore" for shock value.
"Bones and All" Cast
Chalamet and Russell lead the cast, which also stars Michael Stuhlbarg, André Holland, Chloë Sevigny, David Gordon-Green, Jessica Harper, Jake Horowitz, and Mark Rylance.
"Bones and All" Release Date
The forthcoming adaptation will premiere exclusively in theaters on Nov. 23.
"Bones and All" Poster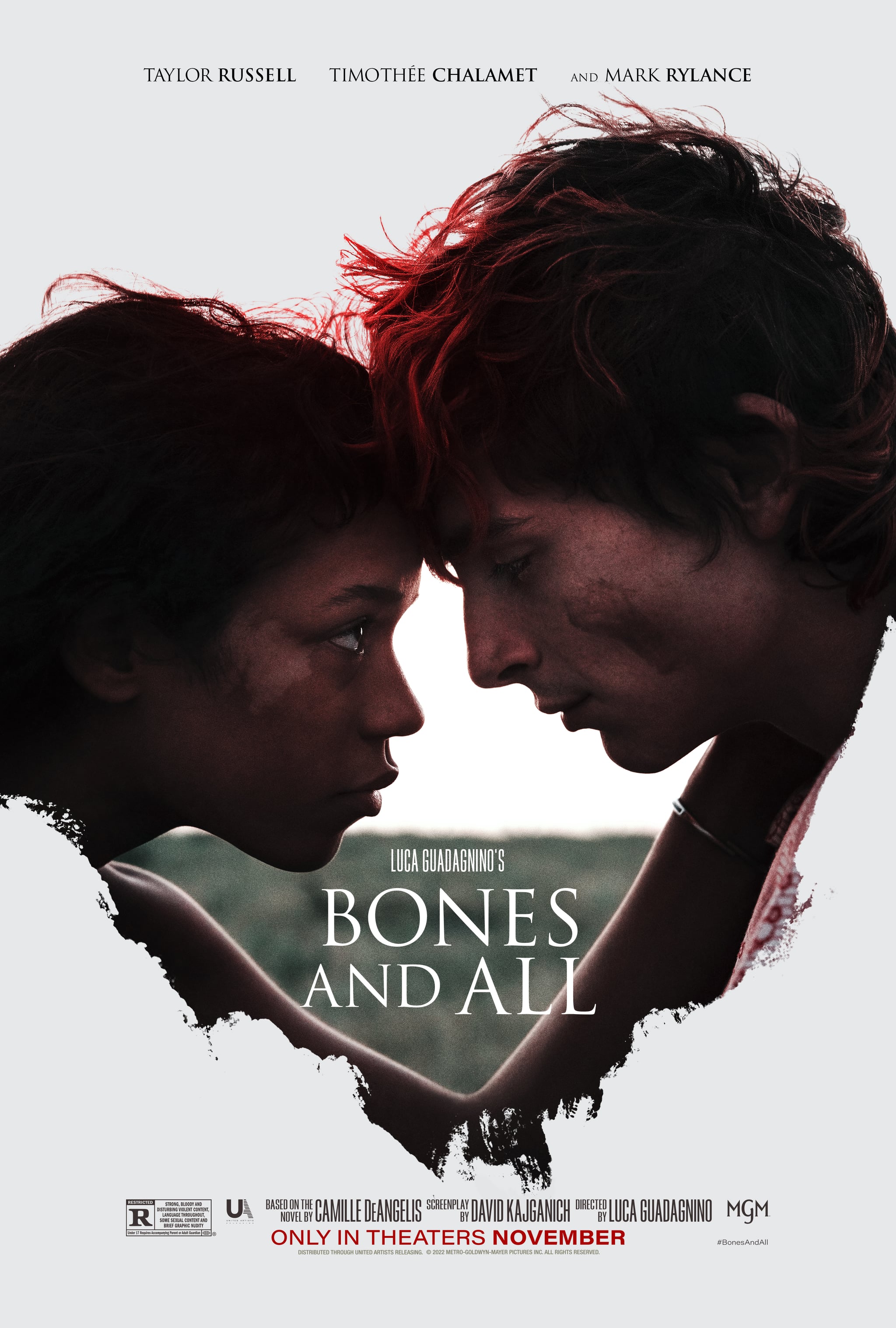 Image Source: MGM