Bridgerton: Who Is Edwina Sharma?
Prepare to Fall For Edwina Sharma on "Bridgerton" Season 2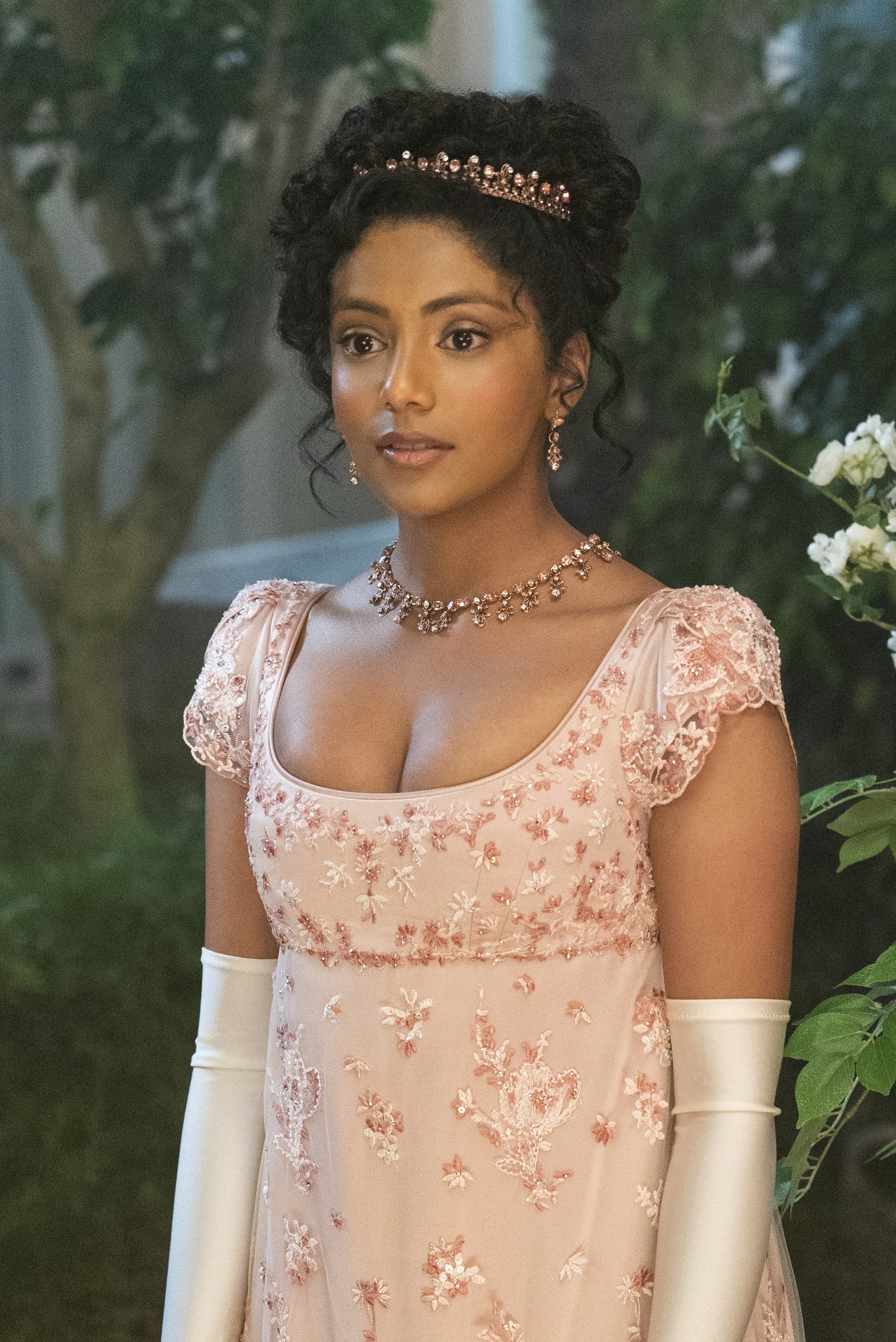 When "Bridgerton" returns for its second season on March 25, it will do so with a fabulous set of new characters joining the ton. Front and center are the Sharma sisters, Kate and Edwina. Though more of the attention may be on fiery, brilliant Kate, her sister Edwina is just as fascinating a character, and one you'll definitely love if you don't already adore her from the books.
Is Edwina Sharma in the
Bridgerton

Books?

Yes, Edwina Sheffield (renamed to Edwina Sharma for the Netflix adaptation) is first introduced in "The Viscount Who Loved Me," the second in the Bridgerton book series by Julia Quinn. Edwina is the younger half-sister of Kate, the romantic lead of the book. They share a father, who died before their story begins, and Edwina's mother, Mary, is Kate's not-at-all-wicked stepmother.

Young, beautiful, kind, and accomplished, Edwina makes her society debut and is quickly singled out as the "incomparable" of the season. Although Kate is older and still unmarried, she's more interested in ensuring that her romantic-at-heart sister Edwina makes a good match. Edwina draws the attention of Anthony, Viscount Bridgerton, who's finally in search of a wife. Anthony's quest for a suitable viscountess includes a long list of requirements, but the biggest one is that it be a marriage wholly without romantic love, for reasons of his own. Edwina has vowed not to marry anyone her sister doesn't approve of, and Kate very quickly decides that she does not approve of Anthony at all.

Anthony continues courting Edwina and trying to win Kate's approval. Although Anthony and Edwina like each other well enough, there's certainly no real, passionate connection between them. As much as Anthony tries to convince Kate that he's worthy of her romantic sister, he finds — much to his annoyance — that he's starting to develop real romantic feelings for Kate instead.
Who Is Edwina Sharma in the "Bridgerton" TV Show?
In the Netflix version of "Bridgerton," Kate and Edwina's last name is changed from "Sheffield" to "Sharma," with the casting of British Indian actors Charithra Chandran (as Edwina) and Simone Ashley (as Kate). According to Chandran, this Edwina is very much the character we know and love from the book, albeit with a little more time to explore her character.
"Edwina has grown up having people talk for her. She is confident in her own way; it's just she's never been able to express herself," she told Entertainment Weekly. "What sets her apart is an optimism and hopefulness. She truly loves to see the best in people and she's so emotionally generous. In such a tight-lipped society as the ton, she's a breath of fresh air. How much better would the world be if more people were like Edwina?"
Don't expect a vicious love triangle, either, Chandran says.
"For Edwina and Kate, although it is a love story, they are each other's soulmates," she told Entertainment Weekly. "We often try to focus on romance being the center of our love, but in most cases it's not. This relationship shows that. These two will always choose each other."
Who Plays Edwina Sharma in "Bridgerton"?
Chandran will play Edwina for the second season of "Bridgerton." Prior to "Bridgerton," Chandran's only screen acting credit was in the IMDb series "Alex Rider." We can't wait to see her shine as the jewel of the season!