A Breakdown of All of Daemon Targaryen's Complicated Relationships
As POPSUGAR editors, we independently select and write about stuff we love and think you'll like too. If you buy a product we have recommended, we may receive affiliate commission, which in turn supports our work.
"House of the Dragon" features a tangled web of characters all vying for political and familial power, and it only gets more complicated when romantic relationships are added to the mix. At the center of a lot of the drama is Prince Daemon Targaryen, brother to King Viserys. In both the TV show and "Fire & Blood" (George R.R. Martin's book that provides the basis for the TV adaptation), Daemon's romantic entanglements are a focus of plenty of scheming and whispering.
"House of the Dragon" has already established all of Daemon's notable relationships mentioned in the book. If you're curious about what still might be on the horizon — and you don't mind spoilers! — keep reading for an overview of Daemon's relationship history and how it might play out on screen.
Sign up for HBO Max now to watch "House of the Dragon."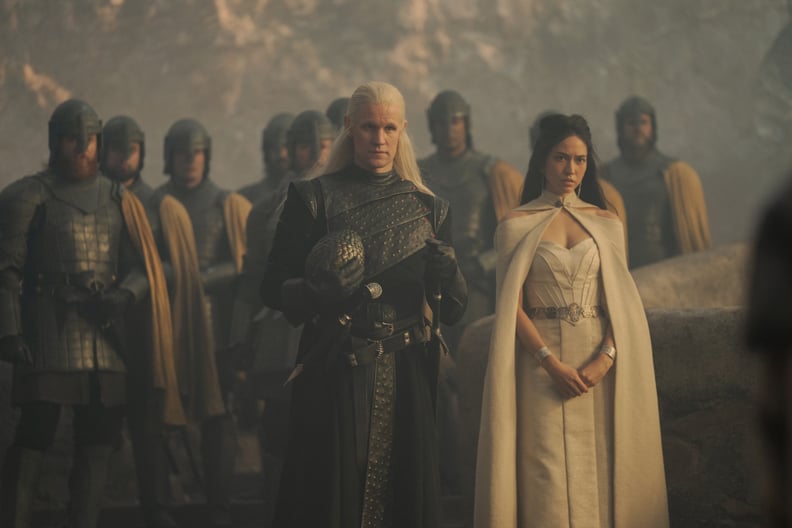 Lady Mysaria
The first relationship we see Daemon have is with Lady Mysaria, his "commoner" mistress. In the book, Mysaria does become pregnant, and Daemon attempts to steal a dragon egg for the child but is forced to return it — an episode which is also depicted on screen in "House of the Dragon." During a rough sea voyage back to the Free City of Lys, Mysaria miscarries.
Later on, Mysaria becomes a spymaster, and during the Dance of the Dragons, she sides with Daemon and Rhaenyra, even becoming the unofficial spymaster for Rhaenyra's cause. She reportedly carries on an affair with Daemon, rumored to even have Rhaenyra's approval at one point, and does not survive the war.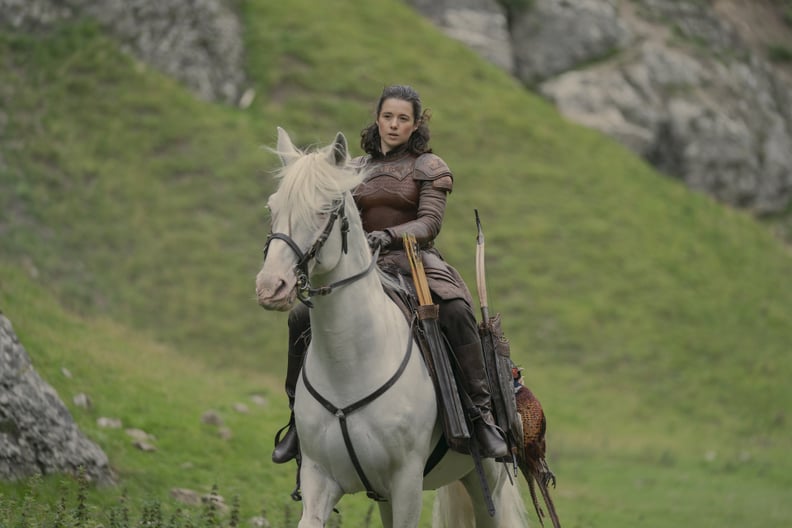 Lady Rhea Royce
Daemon's relationship with his first wife, Lady Rhea Royce, comes about as an arranged marriage at the behest of his grandmother Queen Alysanne when he is only 16 years old. Although the marriage is a good fit in terms of rank, with Rhea serving as the heiress of House Royce at the time, "Fire & Blood" describes the marriage as not a happy one.
According to the book, the couple have no children together, and they are soon bitterly estranged, but they remain married for nearly 20 years. Rhea dies after an apparent riding accident, and Daemon is unwelcome in her home of the Vale afterward. "House of the Dragon" gives more insight into Rhea's death.
At the beginning of episode five, Daemon visits Rhea at the Vale while she's hunting on horseback. As they converse, Rhea reveals they never consummated their marriage and berates him, establishing that they are, in fact, bitterly estranged. Daemon then purposely intimidates Rhea's horse, causing it to buck up and throw her off its back. Upon landing, she's unable to move, suggesting her spine was injured in the fall. Daemon then picks up a rock before we abruptly cut to the next scene, suggesting he bashes her head with the rock, killing her.
Why Did Daemon Kill Rhea?
Before Daemon intimidates Rhea's horse, she criticizes him for having been passed over as heir to the Iron Throne for Rhaenyra. At one point, she asks him, "What will you do now? Will you strike [Rhaenyra] down? Or . . ." She then trails off, coming to an unspoken realization before reaching for her bow. Unfortunately, Daemon intimidates her horse before she gets a chance to defend herself.
It's likely Rhea realized on her own that Daemon had no intention of striking Rhaenyra down, but instead had hoped to marry his niece — making Rhea an obstacle to his grand plans. It seems he killed her to clear the way for his next marriage, and the fact that he would inherit Runestone in the process sweetened the deal.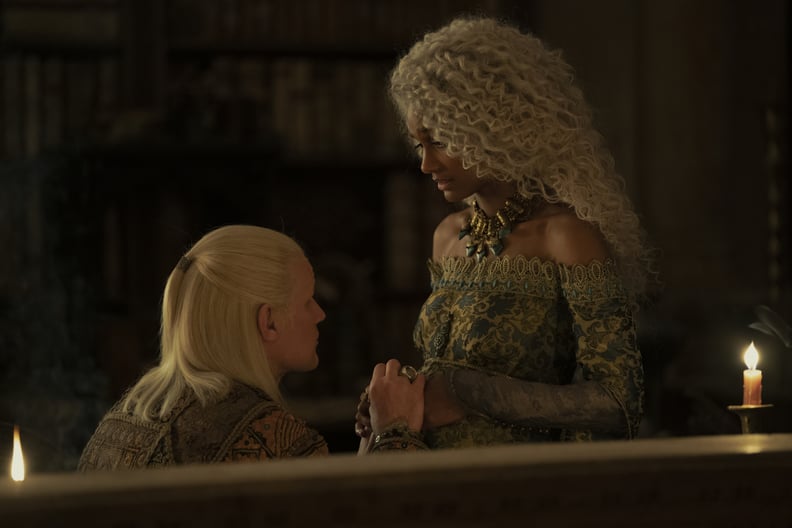 Lady Laena Velaryon
Daemon's second marriage is likewise to a lady of a noble house, though it causes a scandal because it takes place without the consent of his brother, King Viserys. This time, he marries Laena Velaryon, the daughter of his old ally Corlys Velaryon and the sister of his niece Rhaenyra's husband, Laenor. In the book, the couple flees to Essos and the Free Cities after their marriage, and Laena gives birth to twin daughters, Baela and Rhaena.
The marriage appears happy enough, and when they finally return to Westeros, Laena befriends Rhaenyra, and they even agree to betroth Laena's daughters to Rhaenyra's sons. However, just a few years later, Laena dies in childbirth, and Daemon is widowed with two young children.
Did Daemon Love Laena?
In the series, Daemon and Laena's relationship is portrayed somewhat differently in episode six. The pair do flee Westeros after their marriage, but they never return as they did in the book, nor is their marriage an entirely happy one. While Daemon is seemingly content to stay in self-inflicted exile in the Free Cities, Laena longs to return to Westeros to raise their twin daughters (and third unborn child) at Driftmark where she was raised.
When the pair discusses this desire, Laena implies Daemon is in love with someone else, saying, "Perhaps I too am not the wife you would have wished for yourself." When Daemon tries to protest (albeit weakly), she stops him, saying, "It does not pain me. I've made my peace." This interaction suggests Daemon still holds a flame for Rhaenyra all these years later.
While Daemon may not love Laena romantically, it is clear he holds her in high regard and has a tenderness for her. He kisses her pregnant belly at one point in the episode, and later, when she realizes she's not going to survive the birth of their third child, he unsuccessfully attempts to stop her when she goes outside to die by Vhagar's fire. Later, in episode seven, Daemon tells Rhaenyra that he and Laena were "happy enough" in their marriage. In that regard, there was far more love between Daemon and Laena than there ever was between him and Rhea, even if it wasn't entirely romantic.
Princess Rhaenyra Targaryen
In the book "Fire & Blood," rumors abound for many years about the exact nature of the relationship between Daemon and his niece Rhaenyra. Some believe that he was Rhaenyra's first lover, while others suggest that he simply taught her the art of seduction so she could pursue Ser Criston Cole.
"House of the Dragon" offers the "real" story behind it all, which combines a little bit of both major rumors. Daemon takes Rhaenyra to a brothel and kisses her but stops the encounter before they actually have sex. A frustrated Rhaenyra then returns home and sleeps with Criston, and when rumors about her and Daemon spread, Daemon offers to marry her but is instead banished by Viserys. In any case, their relationship goes on the back burner for many years, as both marry other people and have children with them.
After the death of Laena, as well as Rhaenyra's husband Laenor, Rhaenyra and Daemon quickly begin a relationship and marry just six months later. While Westrosi historians believe Laenor's lover, Ser Qarl, killed him after a quarrel, "House of the Dragon" episode seven reveals a major twist in Laenor's fate: Rhaenyra and Daemon actually plotted to fake Laenor's death so Rhaenyra and Daemon could marry and Laenor could live out his life in secret, free from the burdens of Targaryen nobility.
Rhaenyra and Daemon's marriage, once again, causes a scandal since it is performed without King Viserys's knowledge and approval. The couple have two sons, Aegon and Viserys, and Daemon becomes Rhaenyra's supporter during the Dance of the Dragons.
Although neither Daemon nor Rhaenyra survive the civil war, their legacy lives on in their descendants, who remain on the throne until the end of the Targaryen dynasty centuries later.