Debbie Allen Talks About Collaborating With Dolly Parton
Christmas on the Square Director Debbie Allen Talks Working With "Bundle of Joy" Dolly Parton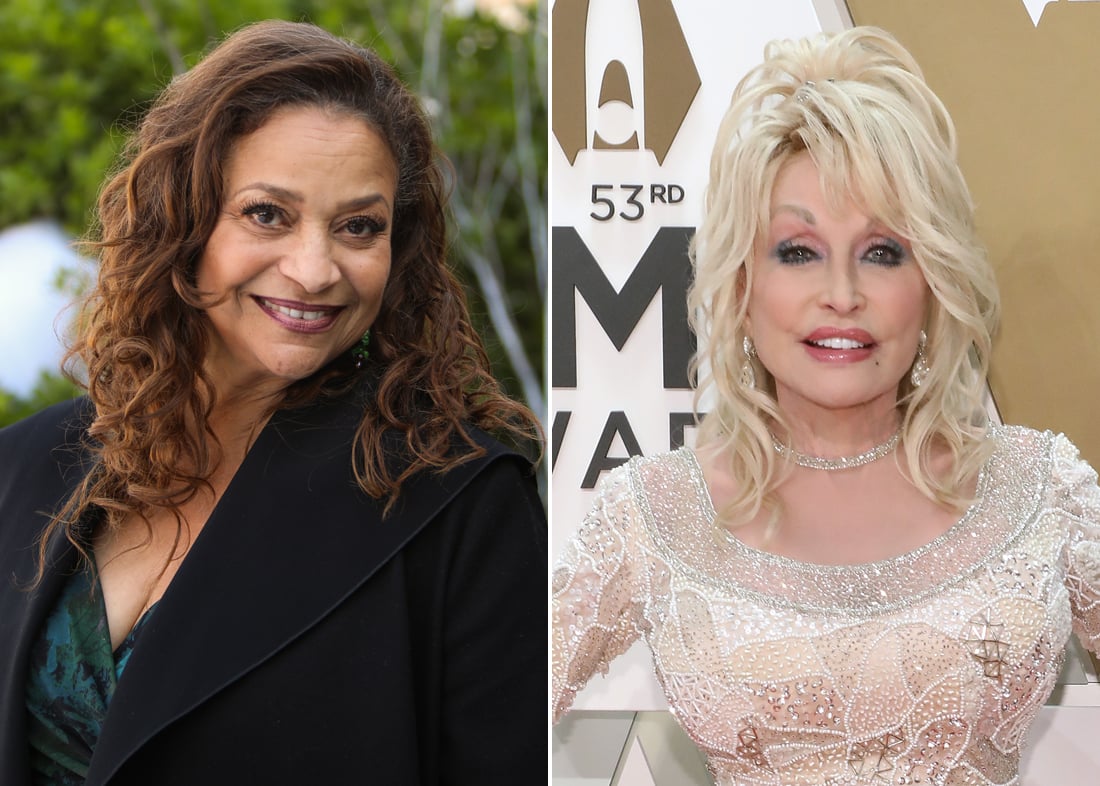 Image Source: Getty / Paul Archuleta / Taylor Hill
Whoever decided to have Dolly Parton play an angel in Netflix's Christmas on the Square knew exactly what they were doing. The musical, which dropped on Nov. 22, features Parton as a spirit guide who transforms a Scrooge-like woman named Regina Fuller (Christine Baranski). And, apparently, Parton's enthusiastic characterization isn't off beam — just ask Debbie Allen, the film's director and choreographer. "Dolly Parton is a bundle of joy, a creative genius, and a collaborative treasure," Allen told POPSUGAR. "Anything she writes, anything she does, she's willing to adapt, change, and try in different ways. As the angel, she was willing to try whatever it was that I was asking her to do. It was wonderful to work with her as a composer and as the director-choreographer."
"Dolly Parton is a bundle of joy, a creative genius, and a collaborative treasure."
The legendary dance instructor specifically attested to Parton's open-minded attitude when it came to working on the music. Although the "9 to 5" songstress is the main creative behind all 14 songs in the movie, she worked with Allen on fine-tuning certain tracks to better fit each scene. "Jenifer Lewis sings a song, 'Queen of Mean,' that needed to become more of a blues song — it didn't need to be a country, Western song," Allen said. "It needed to be what Jenifer would do, and so [Parton] loved that, and we did it. And we needed some new music for the portrayal of Regina Fuller as a young woman, so [Parton] happily wrote it and let it turn into a big dance moment."
Allen's commendation of Parton went beyond the screen as well. The director was recently moved by Parton's contributions to Moderna's COVID-19 vaccine. On Nov. 16, the biotechnology company announced that its vaccination proved to be 94.5 percent effective during its third phase of testing. It could become available to high-risk individuals as early as December and to the general public by spring 2021.
The news came seven months after Parton revealed that she donated $1 million to the Vanderbilt University Medical Center, where Moderna performed research and trials. The preliminary report published in The New England Journal of Medicine cited the Dolly Parton COVID-19 Research Fund as one of the sponsors. "It's no surprise to any of us that she contributed a million dollars to a company that is close to bringing a vaccine to the world," Allen said. "It's not a surprise. That's her generosity. That's who she is."