How Many People Did Christopher Duntsch, aka Dr. Death, Kill in Real Life?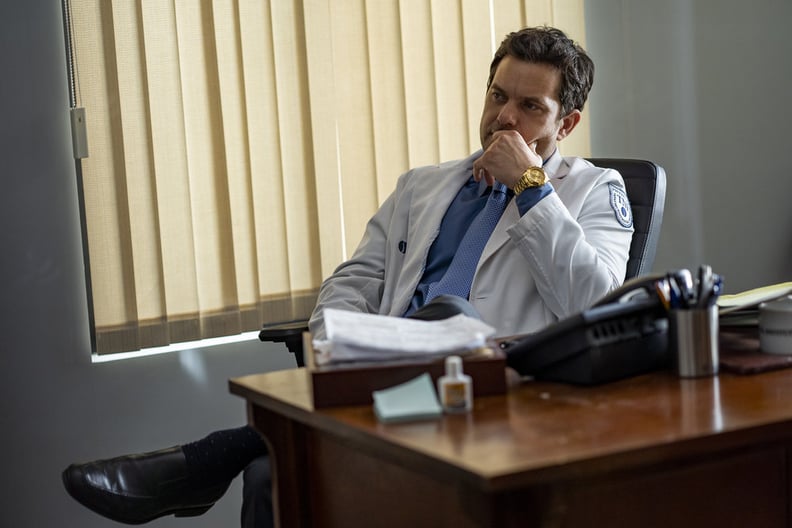 Scott McDermott | Peacock
Scott McDermott | Peacock
As a lifelong resident of Dallas County, Peacock's new show Dr. Death hits very close to home. The series tells the story of Christopher Duntsch, a doctor who maimed and killed people during surgeries at hospitals across Texas. This thrilling drama is based on a hit podcast of the same name, and stars Joshua Jackson, AnnaSophia Robb, Christian Slater, Jamie Dornan, Alec Bladwin, Grace Gummer, and others. Though Dr. Death is certainly a dramatized version of the terrifyingly real Duntsch, much of what happens in the show did occur in reality. So how many people did Duntsch kill in real life? Here's what we know.
Duntsch operated on 37 patients in the Dallas-Fort Worth area between 2011 and 2013, killing two of them and harming 31 others. Kellie Martin died from significant blood loss after a surgery, and Floella Brown died after a sliced vertebral artery triggered a stroke. Some of his patients were permanently paralyzed, and others experienced nerve damage, chronic pain, and other injuries that left them worse off than before their surgeries. One of those maimed was Duntsch's childhood friend, who woke up as a quadriplegic after Duntsch damaged his vertebral artery.
And these cases were no accidents, either. In 2011, Duntsch wrote in an email, "I am ready to leave the love and kindness and goodness and patience that I mix with everything else that I am and become a cold blooded killer." Despite having years of training and recommendations behind him, Duntsch took a clear turn and began to hurt the people he was supposed to help.
After bouncing around several Texas hospitals, he was arrested in July 2015 in Colorado and jailed in Dallas County on five counts of aggravated assault causing serious bodily injury and one count of injury to a child, elderly, or disabled person. He was sentenced to life in prison in 2017.
Though the real-life Dr. Death is in a place where he can no longer hurt innocent hospital patients, his monstrous legacy that's explored in Dr. Death will certainly linger in my mind, especially if I ever need a routine surgery.