Emily Hampshire on Life Before Schitt's Creek
Emily Hampshire on Her Schitt's Creek Audition, Breaking Character, and the Show's Legacy
Imagine Schitt's Creek without Emily Hampshire as Stevie Budd. The Canadian actress was practically made for the role, flawlessly portraying the plaid-wearing, always-sarcastic motel desk clerk turned co-owner with apparent ease, and yet Hampshire nearly shied away from auditioning.
"My pre-Schitt's life was sh*t — like, spelled correctly."
A storm of misfortunes coalesced and rained down on Hampshire the year leading up to her big mainstream break on Schitt's Creek. Her new agent in Los Angeles dropped her, she was going through a divorce, she only had $800 in the bank, she was on the brink of moving into her friend's walk-in closet, and though she'd been acting since age 12, she hadn't landed a single gig in a year. Oh, and to top it off, her body would break out in hives every time she walked into an audition room.
"My pre-Schitt's life was sh*t — like, spelled correctly," Hampshire told POPSUGAR during an interview about her Tide Power PODS Super Bowl commercials. After trying to convince her Canadian agent to let her submit a taped audition for Schitt's Creek due to her hives breakouts, she reluctantly delivered her best Stevie performance in person for the show's cocreator Dan Levy — though she doesn't remember any of it herself. "I really had no recollection of my audition," she told me, adding that Levy thoroughly enjoys sharing the story on press tours.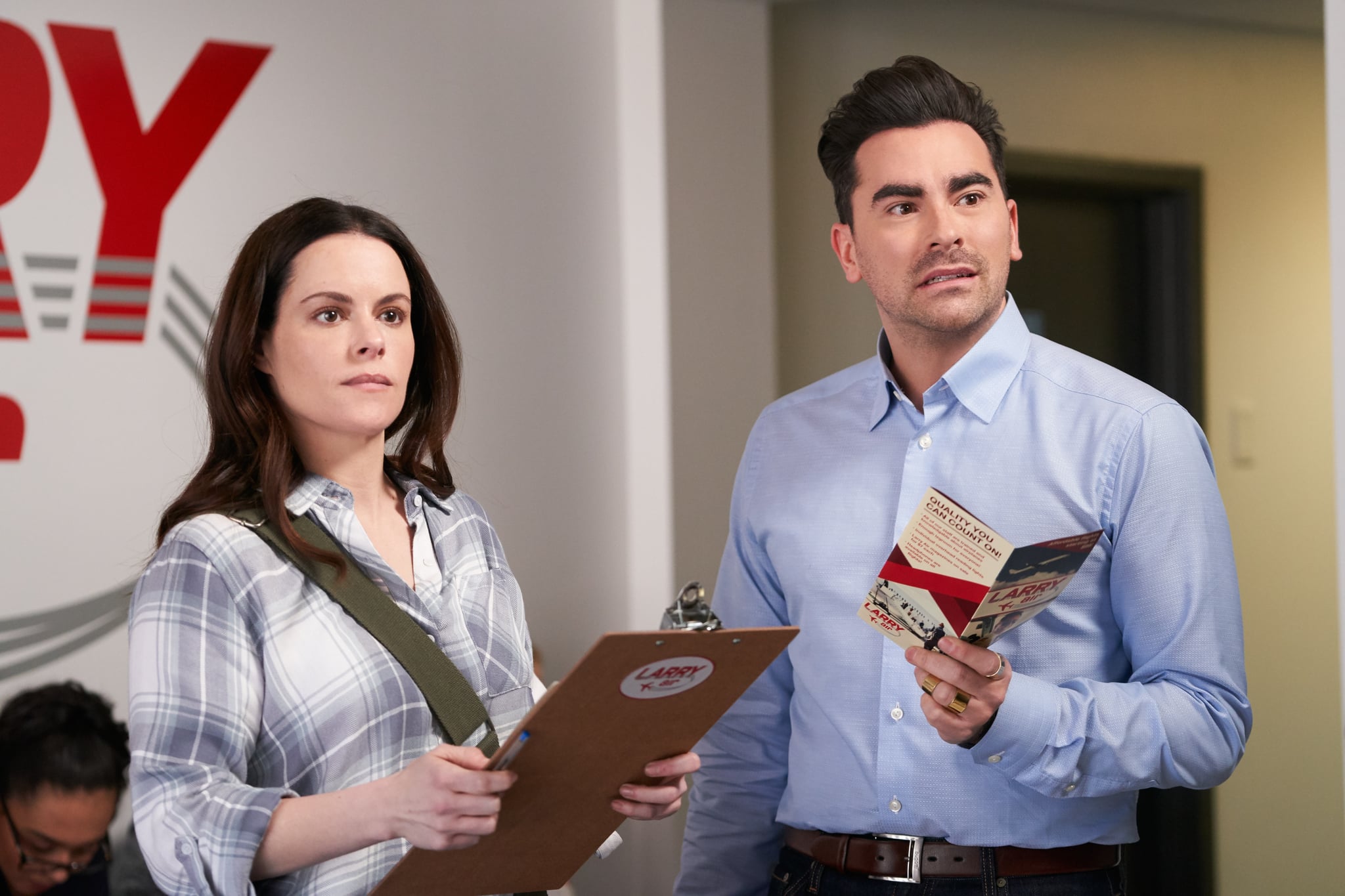 "I went in and I did the audition, and he says it was great, but then I proceeded to get on the couch where they were sitting, and lift my shirt over my head and hide my head in my shirt, and rock back and forth," she said. Although Levy later told her it was "charming," he added that "most people won't" because "actors out there don't do that."
"I think it's ironic that a show called Schitt's Creek is the show that really changed my life for the better."
Shirt-lifted-over-head situations aside, Hampshire landed the role, and a glorious six-season-long stint on the wildly entertaining sitcom ensued. "I think it's ironic that a show called Schitt's Creek is the show that really changed my life for the better," Hampshire said. Being recognized by fans in public has certainly been a thrill, but she knows her high-energy responses are a dead giveaway that she's pretty darn different from Stevie IRL. "When fans come up to me and call me Stevie and they're excited, I get way more excited, and then it kind of freaks them out, because they realize, 'Oh my God, you're not Stevie,'" she admitted.
Hampshire may nail Stevie's signature deadpan line delivery in every single episode, but staying in character on set was always a bit of a struggle thanks to Chris Elliott, who plays Roland Schitt in the series. Being the undisputed class clown of the close-knit Schitt's Creek cast, Elliott had a habit of repeating the same dad joke while filming scenes. "They would say, 'Rolling,' and he's like, 'Roland? They're saying my name.' But picture six years of [that] every single time they say, 'Rolling.' Or if we're on a set, he'll just eat all the food but in a disgusting way," Hampshire recalled.
On the topic of cracking jokes on set, Hampshire told me there was one particular scene that she couldn't help but laugh through while filming. Remember the seventh episode of the fifth season when Johnny Rose (Eugene Levy) is under the impression that Ted Mullens's mom is hitting on him? He eloquently refers to her perceived advances as a "whisper of desire," which he utters aloud alongside Stevie, placing a distinct emphasis on the "wh" sound in "whisper." Stevie later mocks Johnny by repeating back the phrase, and doing so made Hampshire lose her cool over and over because the expression was just so absurd.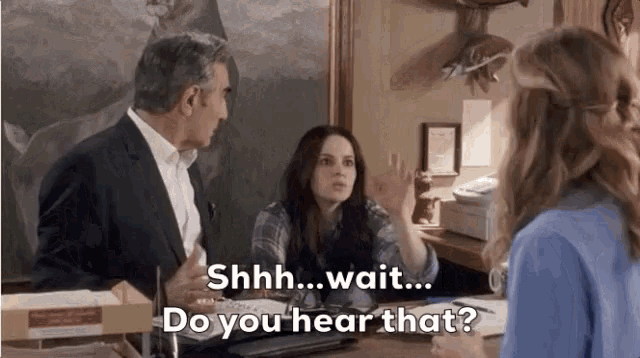 Image Source: Pop TV via GIPHY
Despite the plethora of behind-the-scenes shenanigans, the Schitt's Creek cast managed to deliver six quotable, laugh-out-loud-funny seasons over the course of six years, balancing humor with sincere character growth. "I love that the show doesn't try to teach any lessons, it just shows by example," Hampshire said. "I think it just flows. It doesn't sacrifice humor for its heart. It doesn't dumb things down just to be funny, and it'll be sincere and have a huge heart and be edgy and funny. And that's a hard thing to do."
"I think everybody would like a place like Schitt's Creek to live."
The show's legacy, according to the 38-year-old actress, will last a lifetime. "Dan [Levy] from the beginning had a mandate that there would be no homophobia on Schitt's Creek, and you would never have the town or the people be the butt of the joke," she said. "I think that's actually what's made the show become more popular in less amazing American political times, because I think everybody would like a place like Schitt's Creek to live . . . when we go to our shows, and the DMs we get from people [about] how the show has affected them, it always ends up being 'love is love.' That is the takeaway, and I think it's done it better than anything I've ever seen."
Image Source: Pop TV