It's Impossible Not to Listen to This Family's A Cappella Covers on Repeat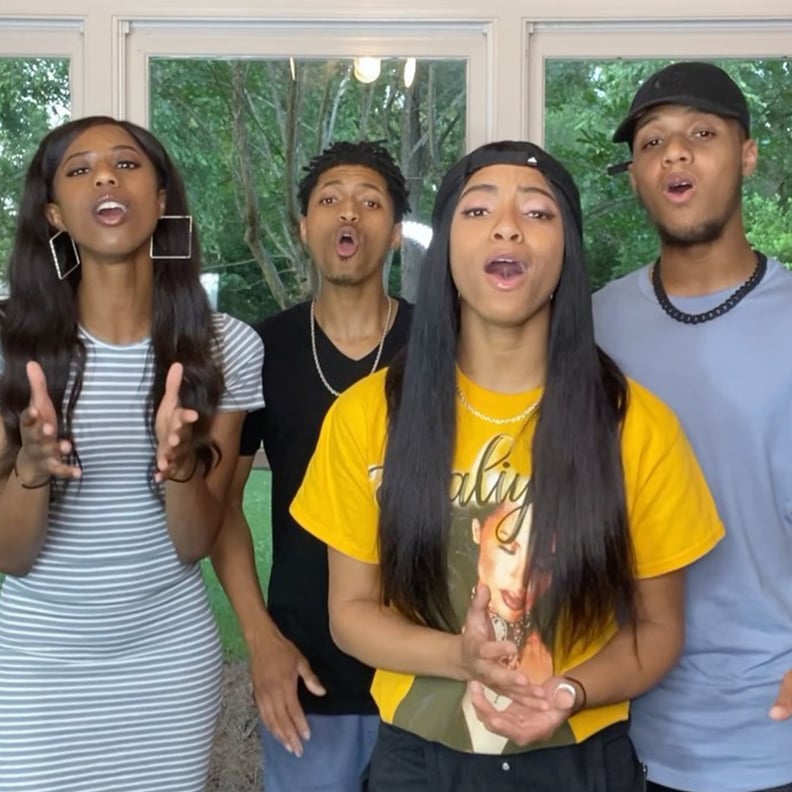 There's something about a family band that just hits different — it's almost like you can feel their bond through the music. Four Washington, a sibling singing group from Jackson, MS, that boasts over 500,000 followers on TikTok and almost 150,000 on Instagram, embodies exactly that. Siblings Cameron, Carmen, Reginald Jr., and Arrianna have pretty much been living on my TikTok For You page for the past few months, performing beautiful a cappella covers of popular songs so perfectly in sync.
Every time I come across a video of the group, I can't help but watch it on loop to soak in their incredible harmonies. And it's not just me who can't get enough — the quartet even landed on Rihanna's radar, who wrote "Y'all so 🔥" on their rendition of Faith Evans's "Never Gonna Let You Go." Ahead, check out some of our favorite covers and prepare for some goosebumps.
Four Washington Singing "Levitating" by Dua Lipa Feat. DaBaby
Four Washington Singing "Never Gonna Let You Go" by Faith Evans
Four Washington Singing "Freedom" by Beyoncé Feat. Kendrick Lamar
Four Washington Singing "Drivers License" by Olivia Rodrigo
Four Washington Singing "Fallin'" by Alicia Keys
Four Washington Singing "Mirrors" by Justin Timberlake
Four Washington Singing "We Going Crazy" by DJ Khaled Feat. H.E.R. and Migos
Four Washington Singing "End of the Road" by Boyz II Men
Four Washington Singing "End of Time" by Beyoncé
Four Washington Singing "Greedy" by Ariana Grande
Four Washington Singing "As Long as You Love Me" by Justin Bieber Feat. Big Sean