Oh, You're Not Already Obsessed With the Cimorelli Sisters? These Remixes Can Fix That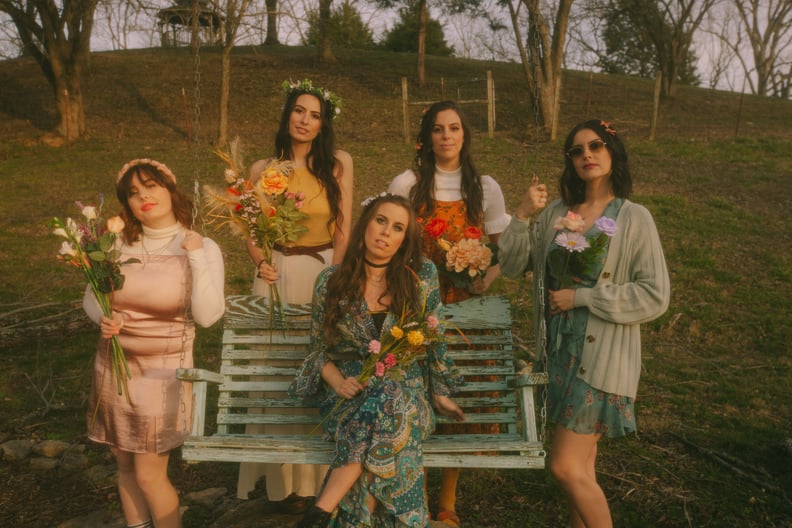 Acacia Evans
Acacia Evans
My sister and I have great memories of screeching singing our hearts out to the '80s station on family road trips and mouthing the words to every early 2000s song we could catch on the radio into the nearest hairbrush or remote. But our pitch was never exactly . . . on key. Sisters Christina, Katherine, Amy, Lisa, and Lauren Cimorelli, on the other hand, are so in sync that their a capella harmonies have earned them over 2.3 million TikTok followers and over 5.5 million YouTube subscribers.
The sisters — known mononymously as Cimorelli — grew up in El Dorado Hills, CA, with five brothers and their youngest sister Dani. With musicians on both sides of the family, the sisters grew up playing piano and learning to sing barbershop music, which relies on vocal harmony over the use of musical instruments. They first formed their band in 2007 with Christina, the oldest sister, at the helm. "I was really inspired by the Jonas Brothers to start a band," Christina told POPSUGAR. "And then we did it a capella — it was kind of by accident because it was the easiest thing to do for a video in the moment."
But, as anyone who's seen the Pitch Perfect movies knows, it's not always easy to get in tune. "Singing a capella is particularly difficult because if you have any kind of pitch issues, which means singing slightly off key or way off key, then it just doesn't work," Lisa added. "It's just like if one of the strings on a guitar is really out of tune, it's just not going to work. You have to stop and retune it."
"We're very much inspired by what we go through — falling in love, falling out of love, experiencing new things, having deep emotional pain and experiences."
With three albums and eight EPs under their belts now, the sisters have mastered the art of harmonizing. Before their professional music career took off, Cimorelli found their claim to fame in their music covers, which they still post on YouTube and TikTok on a weekly basis. Their first hit was an a capella cover of Miley Cyrus's "Party in the USA" in 2009, and the video now has over 8.8 million views on YouTube. Today, they cover artists from Ariana Grande and Shawn Mendes to Demi Lovato and Harry Styles, rehearsing each song for around three weeks at a time. While their voices are in perfect harmony, their music tastes are varied; each sister has a different dream musician they'd love to collaborate with: Ed Sheeran (Katherine), Taylor Swift (Lauren), Sam Hunt (Christina), the Jonas Brothers (Amy and Christina), and JoJo (Lisa).
In addition to recording a capella music, the sisters incorporate elements of guitar, drums, and bass into their original songs and covers. Much like their TikTok account, Cimorelli's original songs are a glimpse into their personal lives. "We're very much inspired by what we go through — falling in love, falling out of love, experiencing new things, having deep emotional pain and experiences," Christina said. For the band, and Amy, in particular, TikTok has also been a huge inspiration with its many duets and song challenges. "I love when people make major songs minor," Amy said. "There's such like such an interesting energy to TikTok and the musical side of TikTok, because it's so free-flowing, so creative . . . it's so incredibly inspiring and so fun, and so fresh, and so fierce."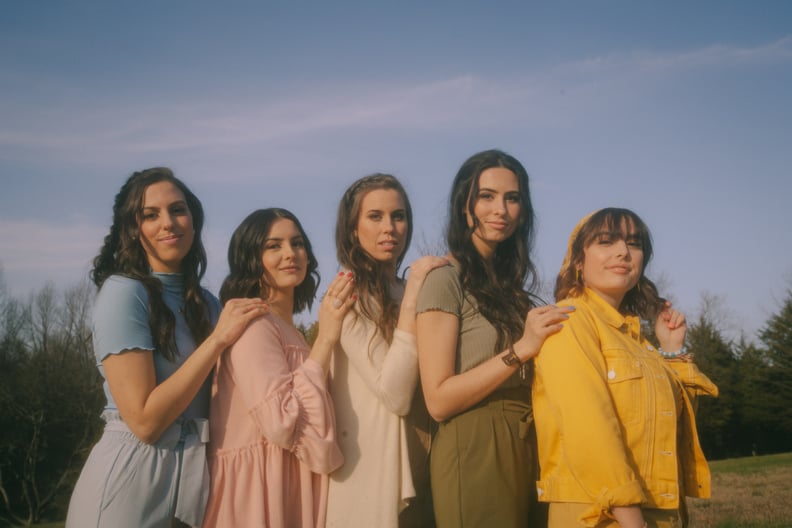 Being at home during the pandemic has only further fueled their creativity in songwriting, resulting in an at-home studio where they've been writing and producing new music. "Lately, our big messages have been just kind of showing people that . . . they can experience an amazing life as they are from where they are," Katherine said. "It doesn't have to be this Instagram-worthy, crazy celebrity thing for your life to be incredible and meaningful . . . no matter how dark things get in life, there's always something to hope for."
"To me it means being a part of something that really makes an impact on the world and being able to do that with people that I love."
As the band continues to evolve, Cimorelli plans to head back into the studio soon to create "a bunch of original music" and work on an exciting new secret project. "Here's a really bad hint, that we have never done anything like it before, except slightly on one random TikTok . . . There's actually a really big clue," Christina said. The sisters also host The Cimorelli Podcast, which is entering its sixth season, in which they reflect on past mistakes, share important life lessons, and funny moments from their everyday lives. "According to other members of the CimFam, it is a life changing podcast and it's also a lot of fun," Christina added.
At the heart of Cimorelli's music is the idea that sisterhood is not defined by blood but by the support system you have around you. "What [being in the band] means to me is being a part of a sisterhood," Katherine said. "But not only is it my every day, literal sisters' sisterhood, but also being part of a sisterhood that stretches across the world of people with all different backgrounds, who aren't sisters by blood, but are sisters by just community." Lauren added, "To me it means being a part of something that really makes an impact on the world and being able to do that with people that I love." See some of their best song covers — and a couple of their original songs — here.
Cimorelli Singing "Flashlight" From Pitch Perfect
Cimorelli Singing "Drivers License" by Olivia Rodrigo
Cimorelli Singing "Ocean Eyes" by Billie Eilish
Cimorelli Singing "Thank U, Next" by Ariana Grande
Cimorelli Singing "Ready or Not" by Bridgit Mendler
Cimorelli Singing "Dynamite" by BTS
Cimorelli Singing "Call Me Maybe" by Carly Rae Jepsen
Cimorelli Singing "Say So" by Doja Cat
Cimorelli Singing "When the Party's Over" by Billie Eilish
Cimorelli Singing "Kill This Love" by Black Pink
Cimorelli Singing "Old Town Road" by Lil Nas X
Cimorelli Singing "Good Enough"
Cimorelli Singing "Moral of the Story" by Ashe
Cimorelli Singing "Sad Girls Club"
Cimorelli Singing "Party in the USA" by Miley Cyrus