Celebrate 25 Years of Friends With a Special Anniversary Pop-Up Experience in New York City
If you're still hurting over the news that everyone's favorite '90s sitcom will be leaving Netflix come January 2020, we have some news that might be able to cheer you up. To celebrate the 25 years since we first met Rachel, Chandler, Monica, Phoebe, Joey, and Ross, Superfly, Warner Bros. Consumer Products, and Warner Bros. Television Group have teamed up to give fans a month-long Friends pop-up experience in New York City!
The pop-up will take place Sept. 7 through Oct. 6 in the heart of NYC's SoHo district. The immersive experience will give fans the chance to relive some of their favorite moments from the long-running TV series with several interactive activations featuring props, costumes, and more. Have you always wanted to lie back on Chandler and Joey's recliner after a rousing game of foosball? Or maybe you've been dying for a chance to stick a turkey on your head and do a little dance like Monica? (Though there's nothing stopping you from doing that already.) Now, you'll have everything you need to feel like one of the crew! And of course, fans can't miss out on the picture-perfect photo op on the famous Central Perk orange couch.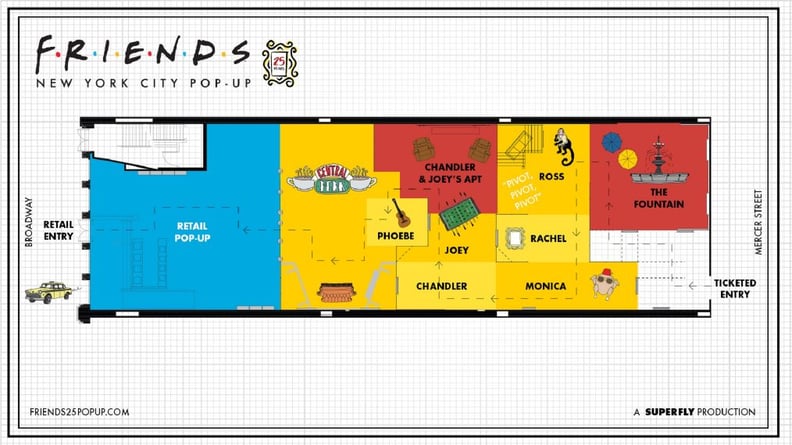 The nostalgia-packed space will be open seven days a week, from 10 a.m. to 10 p.m. Tickets will go on sale on Aug. 2, exclusively on www.friends25popup.com, and fans can reserve a time slot to visit for $29.50. The first day of the opening is dedicated exclusively for AT&T customers who can nab complimentary tickets through the AT&T Thanks appreciation program, but the rest of the month is totally up for grabs. Get ready to grab your ticket, watch out for pooping pigeons, and — as always — cross your fingers for a reunion!