Holy Sh*t, That Final Battle on Game of Thrones Is Way More Epic Than We Thought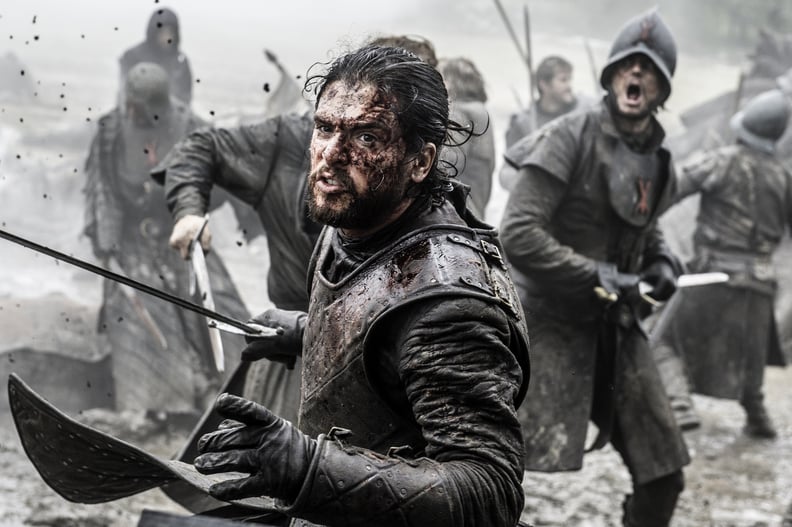 Hello, friends — it's time to PANIC about the final season of Game of Thrones! This week, after more than a calendar year of agonized waiting, Entertainment Weekly finally unveiled a first look at the end. Not only did we manage a glimpse at the opening moments of the season, but we also got a bit of insight into the show's epic final battle. This, of course, is referring to the battle we heard murmurs of in Spring 2018. As it turns out, though, we only really got half the story.
Back in April, rumor had it that Game of Thrones had wrapped filming on its biggest battle sequence to date. In case there's any confusion, it's the moment the armies of Westeros unite — we're talking multiple kingdoms coming together for one unified battlefront — and clash with the Army of the Dead. And yes, this whole ordeal is even bigger than the gargantuan "Battle of the Bastards" in season six. According to an official thank-you note, the cast and crew spent 55 days shooting the sequence, totaling almost two months. That's already pretty much unheard of, especially in the TV world.
Here's the kicker: EW has revealed that this time span was just phase one. Everyone spent 55 days working on the outdoor Winterfell sets before filming moved into the studio, where the same battle sequence continued for many more weeks. That's got to be almost three times as long as the 25-day shoot for "Battle of the Bastards." Peter Dinklage, who plays Tyrion Lannister, said it's brutal and makes the "Battle of the Bastards" look "like a theme park."
At this point, you might be wondering how we could possibly be interested in more than five minutes of swords clinking against one another. As it turns out, this battle is going to be so much more. Principal characters will be in grave danger. In fact, we'll witness multiple arcs, with our faves trying desperately not to die. EW says it "intercuts between multiple characters involved in their own survival storylines that each feels like its own genre." David Benioff, one of the show's creators, laid out the stakes. "Part of our challenge . . . is how to keep that compelling," he said. "We've been building toward this since the very beginning, it's the living against the dead, and you can't do that in a 12-minute sequence."
Damn. They're really going to have us pulling out our hair over this one, huh? Who will survive the battle against the White Walkers and The Night King? At this point, it sounds like no one is safe.