Spice Girl-Turned-Author Geri Halliwell-Horner's New Book Is All About Finding Courage
Geri Halliwell-Horner is finally ready to share the story of Rosie Frost with the world.
After seven years of working on the book, the Spice Girl-turned-author is releasing a new children's novel, "Rosie Frost and the Falcon Queen," on Oct. 3. While this certainly isn't her first book (she's written two autobiographies and the beloved Ugenia Lavender book series), it's one that is deeply personal to Halliwell-Horner, given her love for English literature, history, and conservation.
"It has been an epic journey," Halliwell-Horner tells POPSUGAR.
"Sometimes we need to find our power, we need to borrow each other's confidence to stand up to people or to situations."
"Rosie Frost and the Falcon Queen" is a modern-day girl-power story filled with family secrets, surprising betrayals, and a mysterious island. It centers on a 13-year-old girl named Rosie Frost, who suddenly finds herself orphaned and alone after the death of her mother. As a result, she's sent to Bloodstone Island, a school founded by Queen Elizabeth I for extraordinary teens and endangered species. Once there, Rosie encounters a group of mean girls and a deceiving headmaster, who puts the island under threat. In search of answers, Rosie joins the school's Falcon Queen Games and discovers the courage and power within herself to fight off the bad guys and save the island.
"Bloodstone Island is sort of Jurassic Park. Instead of dinosaurs, it's endangered animals. This school is built by Queen Elizabeth I, but it's in honor of her mother, Anne Boleyn, who was shamed by men for being smart," Halliwell-Horner explains. "Five hundred years later, Rosie Frost is like, 'Why am I here?'"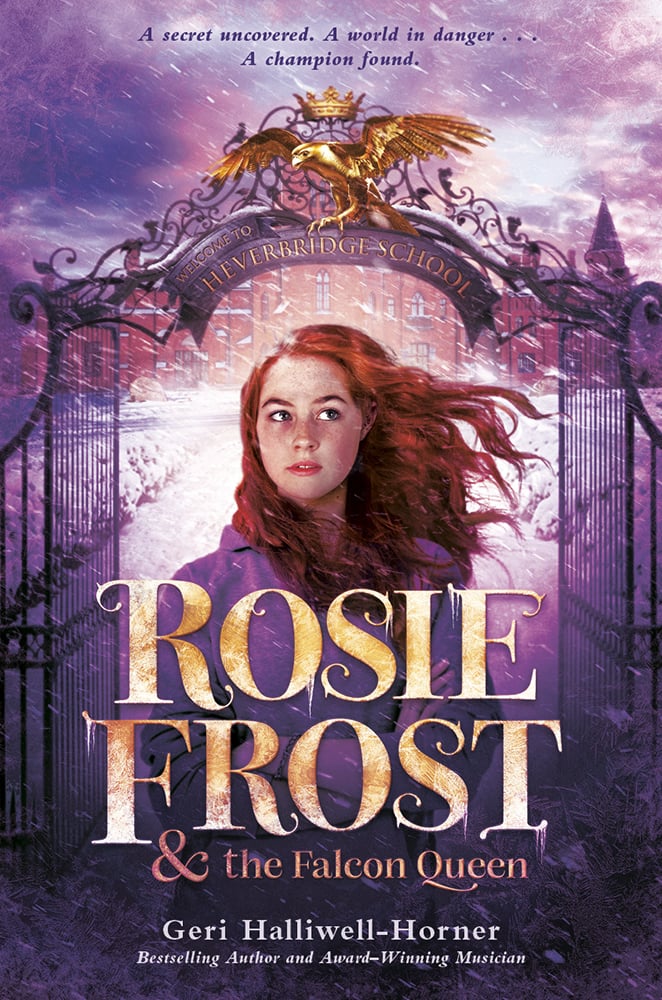 Halliwell-Horner calls the book a "massive adventure" and adds there are emotional stories interwoven throughout. "You can get what you need out of it," she says. "If you just want fast-paced entertainment, it's there. But then equally, there's sort of emotional things going on."
While bits and pieces of Rosie's story are inspired by Halliwell-Horner's own life experiences and those around her, ultimately, she says, "'Rosie' is about finding the courage you never knew you had." As she puts it, "Sometimes we need to find our power, we need to borrow each other's confidence to stand up to people or to situations."
To go along with the book's release, Halliwell-Horner recorded two brand-new songs, "Beautiful Life" and "Ghost in My House." Readers can access the tracks through an exclusive barcode in the book. Of channeling her emotions into writing and music, Halliwell-Horner compares the latter to "a perfume or an espresso coffee." "It's condensed of emotion," she explains. "Whereas with a story, it's an elongation of emotion. It's taking you to discover it in and out of intensity. You get a bigger range."
And in case you were wondering, yes, Halliwell-Horner is already working on a sequel. While she can't reveal much, she assures the second novel is going to be "a little bit darker" and "more intense." She teases, "There are a few surprises in it . . . somebody dies."
"Rosie Frost and the Falcon Queen" is available to purchase now wherever books are sold.