7 Major Things That Happen in GLOW's First Season
Netflix's half-hour dramedy GLOW, also known as the Gorgeous Ladies of Wrestling, arrived last year, and we have to say — the first season is surprisingly awesome.
For those of you who are confused, it's a scripted show about actresses who are playing wrestlers. Yes, GLOW was a real wrestling show in the '80s, but this is not the same. Even if you're not a fan of wrestling, by the end of the first season, you'll be completely obsessed with the characters and their journey into the faux fighting world. If you're into watching women being badasses, this show is definitely for you.
Alison Brie and Betty Gilpin play ex-best friends and actresses who are both cast in the first televised female wrestling show. The series follows them and 12 unconventional actresses who know nothing about the wrestling world as they are brought together by a has-been director (Marc Maron). With season two on our doorstep, here's your guide to season one — major spoilers ahead!
01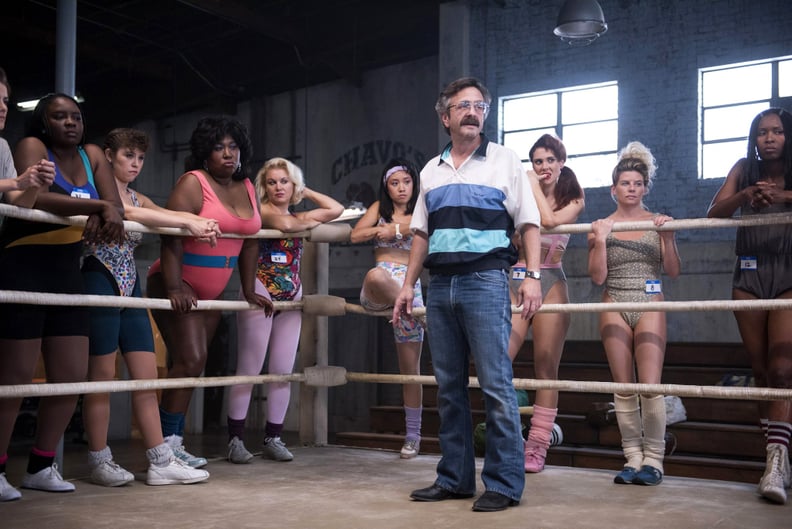 Who's Who?
There are a lot of characters to talk about when it comes to GLOW, because there are the women and then there are the alter egos in the ring. Let's break them down. Ruth (Brie) is the main character. We will talk more about her personal life later on, but Ruth decides to portray a stereotypical Russian villain named Zoya as her GLOW persona. Debbie (Gilpin) is a former soap opera actress with a new baby. She's accidentally cast in the show and becomes the all-American hero Liberty Belle. Sam Sylvia (Marc Maron) is the d-list director of GLOW, and Bash (Chris Lowell) is the spoiled young producer whose mother is bankrolling the show.
Debbie and Ruth are the two leads and need-to-know personas, but here are the rest! (Fair warning, the '80s was not worried about being politically correct.)
Jenny aka "Fortune Cookie"
Justine aka "Scab"
Cherry Bang aka "Junkchain"
Sheila the She Wolf aka "Sheila the She Wolf"
Stacey and Dawn aka "Ethel and Edna the Beatdown Biddies"
Tamee aka "Welfare Queen"
Melanie Rose aka "Melrose"
Reggie aka "Vicky the Viking"
Carmen aka "Machu Picchu"
Arthie aka "Beirut"
Rhonda aka "Britannica"
02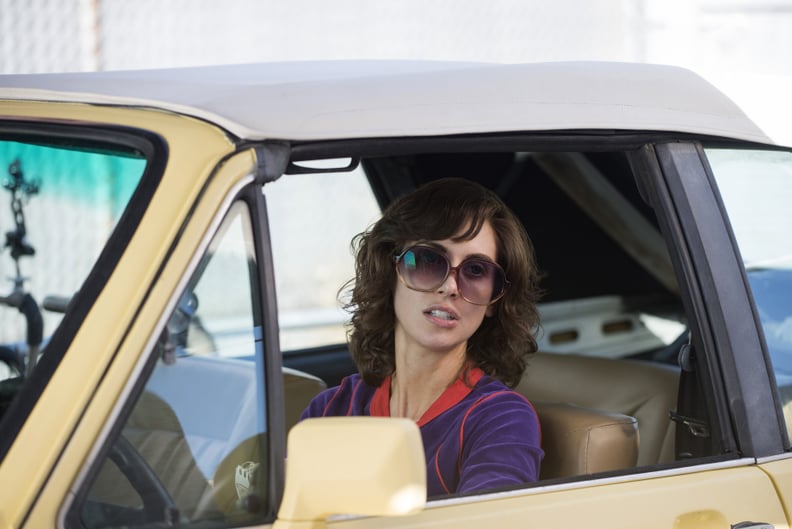 Ruth's Affair
One of the major plot points in the first season of GLOW is the big reveal that Ruth is having an affair with Debbie's husband, Mark. We find out they've had sex on multiple occasions, and Debbie finds out at the very end of the first episode, sparking a very real fist fight between the two women. The fight inspires Sam to hire Debbie as his lead actress. Throughout the season it's made very clear that Ruth had been in a rough spot in her life and has absolutely no feelings for Mark. It's made even more abundantly clear when Ruth finds out she's pregnant and Sam takes her to get an abortion. This is guaranteed to come out in season two, so remember it!
03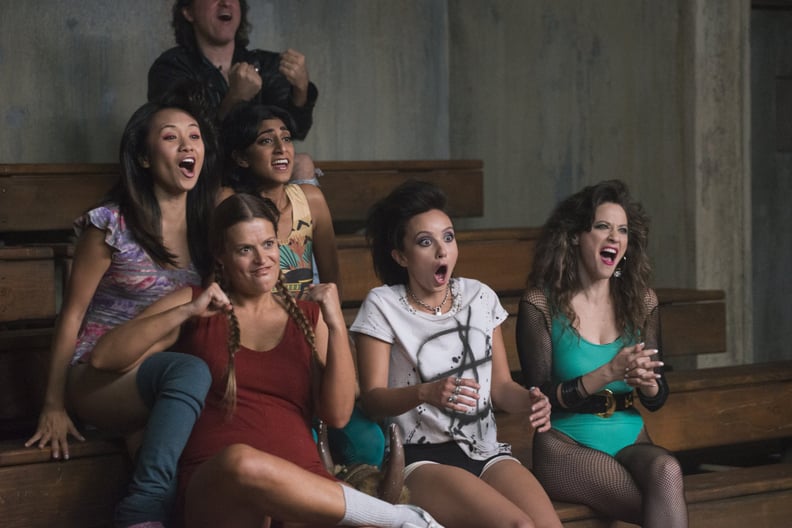 The Women of GLOW
Most of the season is dedicated to the girls learning how to wrestle and developing their characters on and off screen. While most of the personal drama is focused around Ruth and Debbie's relationship, there are some key things to know about the other ladies. By the end of the season, we learn that Cherry Bang has been offered a lead role in a different show and is unsure if she's going to leave GLOW behind. Rhonda and Sam break up after having a fling for a few episodes. Sheila the She Wolf has "species dysmorphia," in which she actually believes she's a wolf and gets offended that people think it's part of her act. And finally, Carmen is the only woman on the team with some background in wrestling. Her father is a famous wrestler and she works throughout the season to overcome her fears and be like the rest of her family.
04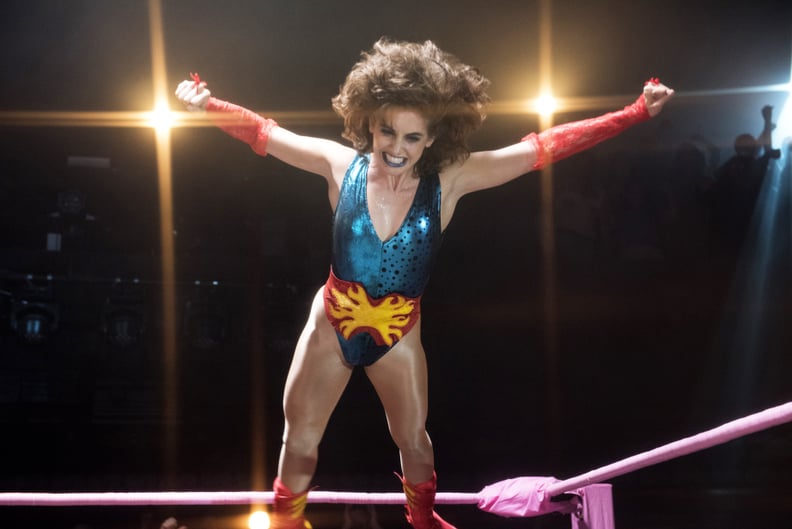 GLOW Might Get Cancelled
The women have to come to the rescue and save the show after Bash's mom cuts him off. They show up to a fancy fundraising dinner and pretend to be former crack addicts who have been saved by wrestling. Ruth stands up and talks about having an affair and losing her best friend and how GLOW is the only thing that's been helping her every day. It almost seems like her and Debbie can salvage things, but not quite yet. Bash's mom surprisingly moved by Ruth's story, she offers to help complete filming.
05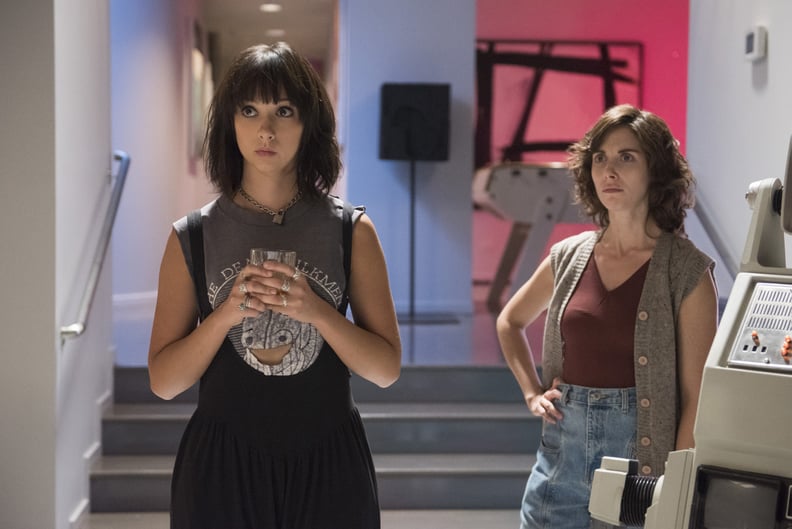 Sam's Daughter
Just when you thought the pregnancy plot twist would be the biggest one, we find out that Justine is actually Sam's daughter. She came and auditioned for his show to meet him and learn more about him. Instead of telling him the truth, he assumed she was a fan of his work and tries to hook up with her. Obviously the truth comes out and while he doesn't handle it so well, it seems like their relationship will continue to grow in season two.
06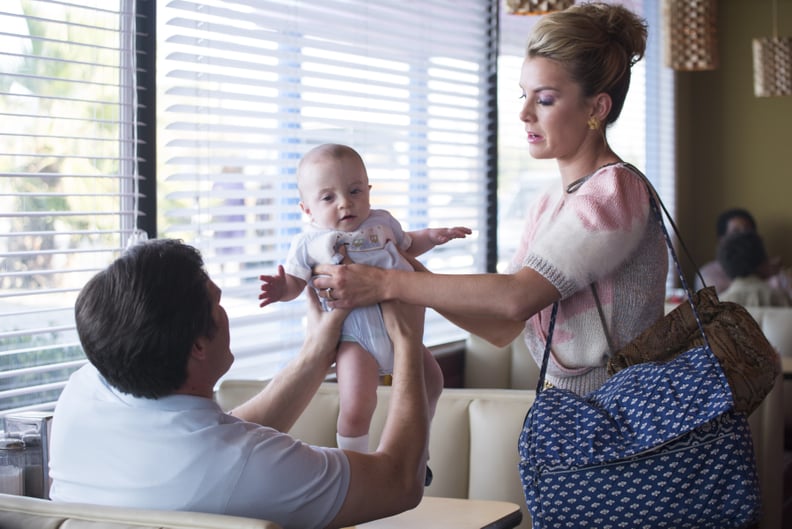 Debbie and Mark
I think everyone was secretly hoping that Debbie would leave Mark for good, and it seemed like that was the way it's heading when she has sex with a male wrestler she meets, but it looks like they will end up reconciling for a bit. In the finale, she tells Ruth that she needs to move home and see if she can make her marriage work. Honestly though, it's pretty obvious that if he doesn't get on board with GLOW, she's going to dump him for good.
07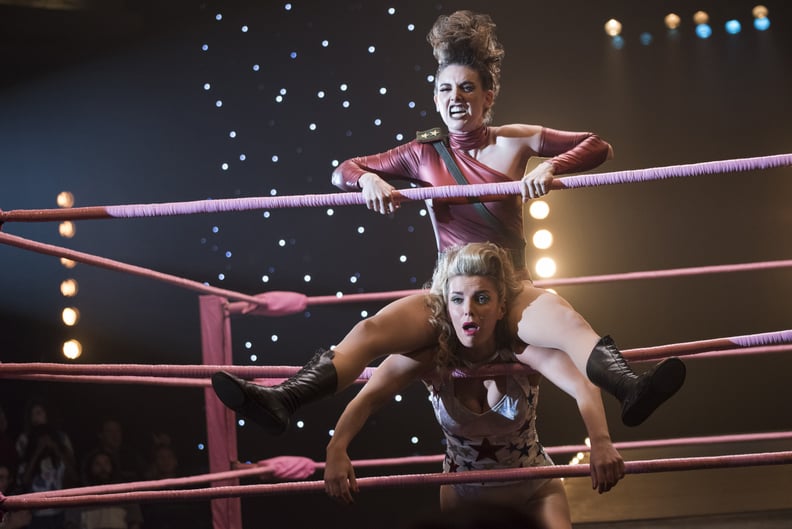 The Final Showdown
After weeks of rehearsal, the taping is here and the matchups are set — so we think. Since we're meant to think Debbie has quit to move home with Mark, Ruth (Zoya) and Jenny (Fortune Cookie) take on Stacey & Dawn (The Beatdown Biddies). Just when we think Russia and China have won the match, Debbie (Liberty Belle) stands up and challenges Zoya to a fight.
The crowd goes wild watching America take down Russia in the ring, and we finally get to see the moves they've been practicing together all season in action. However, Sam decides to throw a curveball and have Tamee (Welfare Queen) take the crown from Liberty Belle and have her win the match. Now we have to wait and see if Liberty Belle can win it back in season two.
The season ends with Ruth asking Debbie to get drinks and her responding, "We're not there." We sense a reconciliation in the near future — and we seriously can't wait.