Why Rachel Lindsay's Higher Learning Podcast Is Important
Why Everyone Should Be Listening to Rachel Lindsay's Higher Learning Podcast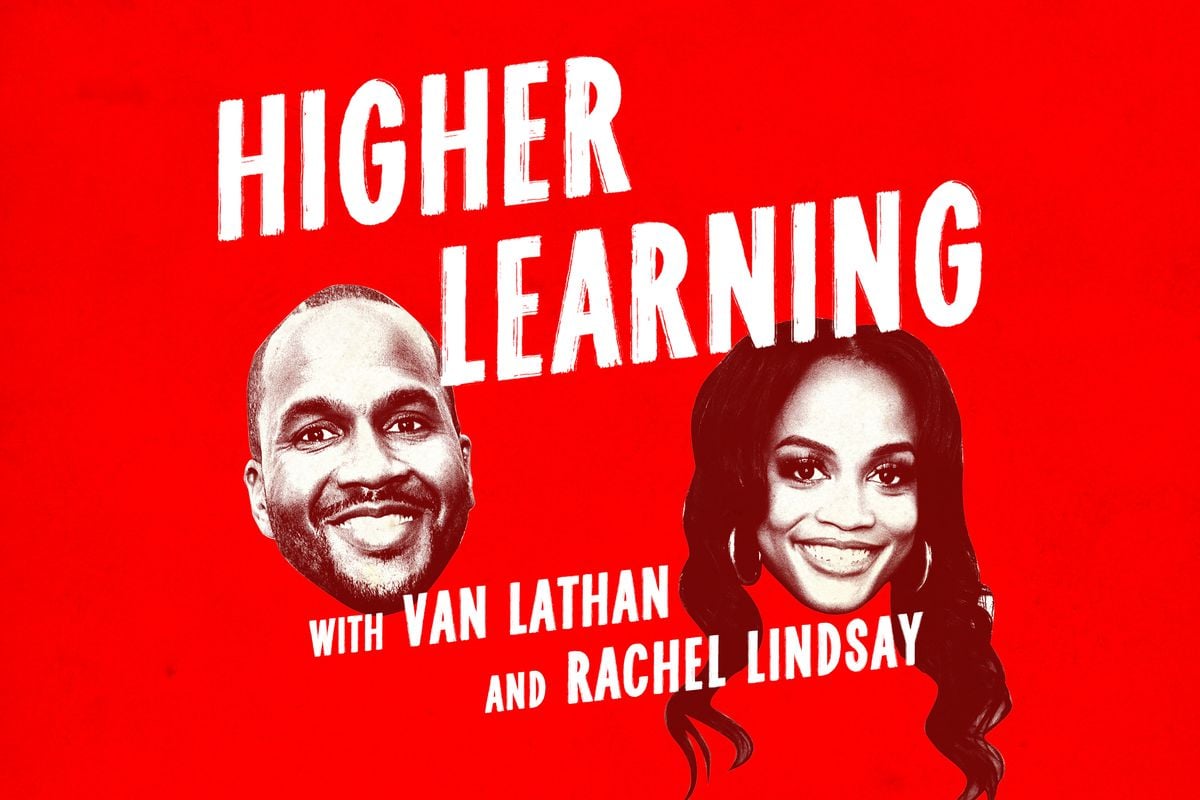 In between hosting the Bachelor Happy Hour podcast, MTV's Ghosted: Love Gone Missing, and numerous guest-hosting gigs for ExtraTV, ESPN, and SportsCenter (to name a few), The Bachelorette's Rachel Lindsay has a new project under her belt: the Higher Learning podcast.
As the first Black lead of the franchise, Lindsay is known for educating audiences about racism within the Bachelor shows, and in this podcast, she's completely in her element when discussing issues she and her cohost Van Lathan truly care about. From Black culture and news to politics and sports, the duo seems to cover every trending topic from the Black perspective in an entertaining way, often with opposing opinions that lead to refreshing and insightful discussions.
While Higher Learning is by no means a Bachelor podcast, Lindsay and Lathan do not shy away from the subject if it's relevant. In fact, Higher Learning is especially good for fans who only listen to Bachelor Nation podcasts like Off the Vine With Kaitlyn Bristowe or The Ben and Ashley I. Almost Famous Podcast; take this opportunity to listen to the Black perspective. Lindsay will occasionally bring up her experience as The Bachelorette with more insight and honesty than she ever has before.
In the recent "Jada Pinkett and Will Smith's Bizarre Red Table Talk" episode, Rachel revealed that she was "politely" told to change her hairstyle and remove her braids when doing press as The Bachelorette — something I'd never heard about before. She segued into discussing the narrative of the "angry Black woman," explaining that she hopes it's beginning to change as people are exposed to the issues we face every day.
"Now we can unapologetically release it," Lindsay said. "They aren't going to call us angry black females, they're gonna say 'I understand why she's upset and she should be angry.'"
I don't hear this often, and it's so important for all Black women to know — angry or not — that they are allowed and warranted to feel every emotion openly. More so, non-Black people giving them the safe spaces to do so is vital. These are the important conversations everyone needs to be a part of, and what makes this podcast great for people from all walks of life.
In another episode, Lindsay and Lathan pinpoint exactly why Joe Biden's comments about Black people were problematic and illustrate the importance of the Black Lives Matter protests while showing transparent support for it. This something I have yet to hear discussed in mainstream news and political podcasts. It takes listening to culture podcasts like this to hear my thoughts on news articulated in the public eye, and for others with opposing viewpoints to be able to sit in on the conversation and learn more from a new perspective.
"Black on Black crime is a myth," Lathan said in a recent episode. "It's not a real thing. It's just crime." They go on to explain this in rebuttal to people who use that argument against the Black Lives Matter movement and defunding the police. If you are not around people with varying viewpoints, you could easily miss these important conversations unless you're making an effort to be a part of them in other ways.
If you want to begin listening but don't know where to start (two new episodes a week can add up), I suggest starting from the very beginning. When Higher Learning first premiered on May 28, Lindsay and Lathan began with the most important topics of discussion that are still very relevant today. The first two episodes, "George Floyd, Doja Cat's Apology, and Joe Biden's Remarks" and "The Importance of the Nationwide Protests Over George Floyd's Death" are essential listening.
Be a part of the conversation and listen to Higher Learning now.