Here's How Gilmore Girls Ends, Since the Finale Aired Nearly a Decade Ago
With Netflix's impending revival and the Fall season upon us, Gilmore Girls is all we can think about right now. It's been so long since we last saw Stars Hollow — the finale aired in May 2007 — and frankly, it's OK if you've forgotten where Lorelei's and Rory's stories end. Before Gilmore Girls: A Year in the Life is released on Netflix on Friday, read up on the key plot points from the final episodes of season seven.
Rory breaks up with Logan. Rory and Logan are at a crossroads when season seven comes to a close. He proposes to her in front of all her friends and family, and she turns him down. He's moving to California to work in the tech industry, and she doesn't know what her future holds, but she knows it's too soon for her to commit to marriage.
Rory hits the campaign trail. After being rejected from the internship of her dreams, Rory finds an unexpected opportunity: covering Barack Obama's presidential campaign for the online magazine she's been writing for. She says goodbye to her mother and the entire town in the finale and goes out on her own.
Lorelei and Luke kiss and make up. Ah, the innkeeper and the diner owner. Lorelei breaks off her engagement to Luke in the sixth season when he continuously deprioritizes their wedding in order to get to know his daughter. She then goes back to Rory's torch-holding dad, Christopher, and the two get married in France. Christopher asks for a divorce when he realizes Lorelei will always have feelings for Luke, and in the series finale, Lorelei and Luke finally embrace. They're unsure of their future, but they know they belong together.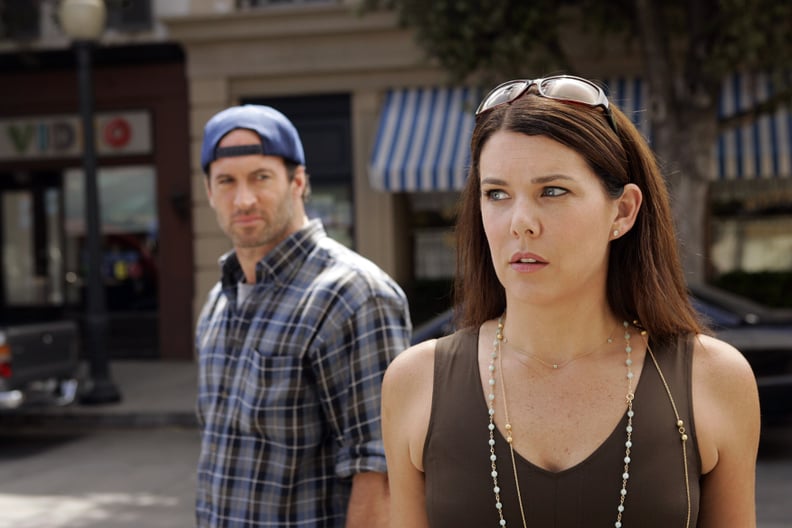 Lane has twins! Lane and Zack have their hands full with twins Steve and Kwan. Zack gets offered a tour gig playing guitar, and Lane encourages him to take it but decides that it's best for her to stay home with their babies.
Sookie is pregnant. Jackson agrees to get a vasectomy after their second child . . . but he doesn't. Instead, Sookie gets pregnant a third time. Though she's initially pissed, she eventually embraces the pregnancy. The season ends before she gives birth, so hopefully we'll get to meet him/her on the revival!
Paris and Doyle stay together. Paris gets into all the grad schools she has applied for but breaks up with Doyle so their relationship doesn't influence her choice. He fights for her, she chooses Harvard Medical School, and they live happily ever after (hopefully).
Jess is an author, and he's thriving. Jess makes a short but memorable appearance toward the end of season six. Rory and Luke both visit him when his Philadelphia publishing house has an open house. Rory leads him on slightly, kissing him at the end of the night, but when she confesses she's still with Logan, he tells her she's being unfair. Hopefully he's living a fruitful and artistic life somewhere.