Everything to Know About "Dead to Me" Season 3
Back in 2020, the second season of Netflix's "Dead to Me" tied up a few loose ends while creating a handful of new ones. Sure, we found out how Steve Wood (James Marsden) really died, and the stop sign Jen (Christina Applegate) has been fighting to get placed in Laguna Beach is finally up, but the impulsive decisions of Jen and Judy (Linda Cardellini) have opened up several boxes of chaos that everyone will have to deal with in the next installment — which is coming very soon!
On Nov. 2, Netflix released the full trailer for the third and final season of the Liz Feldman dramedy, and it teases way more laughs and, of course, even more drama surrounding Steve's death. Ready to risk their lives one last time in the name of friendship, Jen and Judy try to dodge the FBI and a murder investigation, all after yet another hit and run. Meanwhile, Judy has her own existential crisis to handle when her life is threatened by an unexpected force from her past.
If there's one guarantee this season, it's that no one's future is truly safe. Read ahead for everything we know about season three of "Dead to Me," from the release date to the episode titles.
"Dead to Me" Season 3 Trailer
"Dead to Me" Season 3 Teaser
"Dead to Me" Season 3 Plot
Thankfully, the show has already set up its next big drama: will Ben get caught for hitting Jen and Judy in the season two finale? In the last scene of episode 10, the two women are driving back home in a brand-new car when another vehicle slams into the driver's side at full speed, knocking Judy unconscious and hurting Jen. Ben is revealed to be the other driver, apparently driving under the influence — the camera pans to an empty bottle of whiskey beside him before he peels off. The next season will have to contend with the fallout from the hit, especially if either woman was able to see Ben's face amid the smoke.
Of course, there's also Steve's murder to be dealt with, which the finale also teases when a dog starts digging around where Jen and Judy buried him in the forest. If his body has been found, it will be pretty difficult for Detective Ana Perez to ignore Jen's confession as planned. We'll have to wait and see how the series wraps up all of these major stories.
"Dead to Me" Season 3 Release Date
"Dead to Me"'s final season hits Netflix on Nov. 17.
"Dead to Me" Season 3 Episode Titles
Dead to Me season three will be made up of 10 episodes. The title of each episode (via What's on Netflix) is:
Episode 1 – "We've Been Here Before"
Episode 2 – "We Need to Talk"
Episode 3 – "Look at What We Have Here"
Episode 4 – "Where Do We Go Now?"
Episode 5 – "We Didn't Think This Through"
Episode 6 – "We're Gonna Beat This Thing"
Episode 7 – "Can We Be Honest?"
Episode 8 – "We'll Find a Way"
Episode 9 – "We're Almost Out of Time"
Episode 10 – "We've Reached the End"
"Dead to Me" Season 3 Poster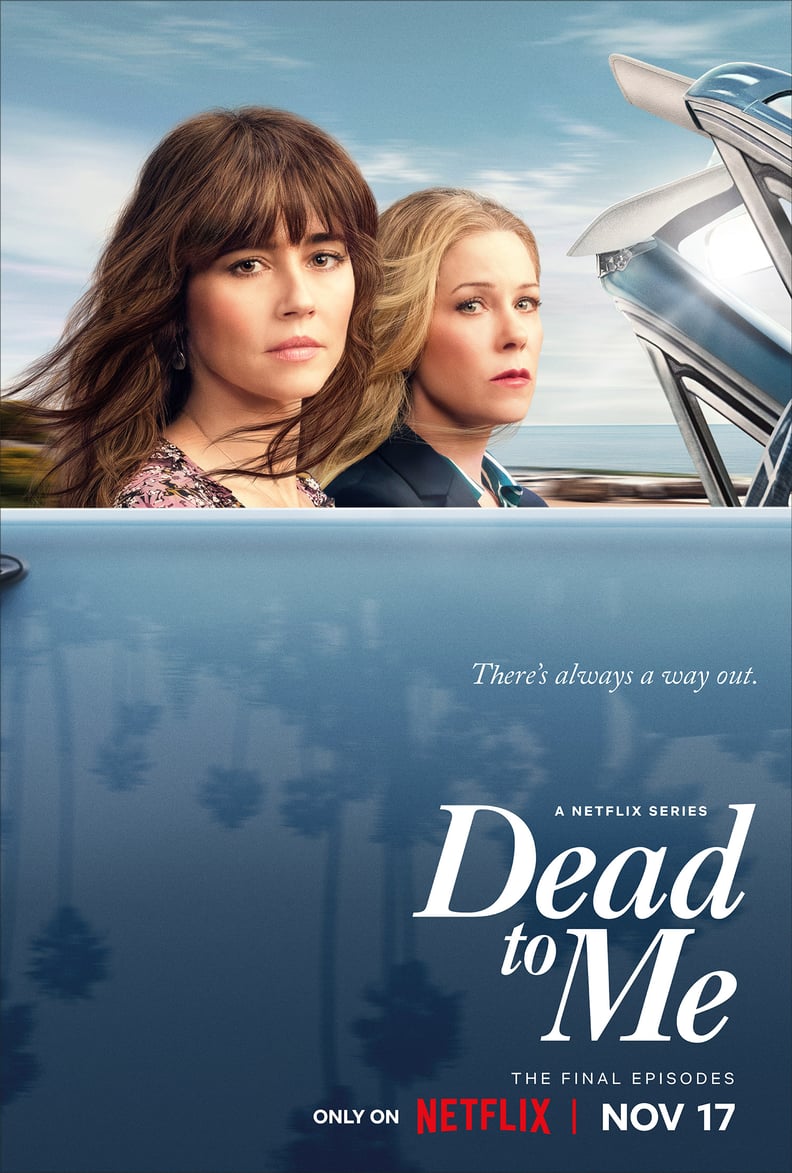 Why Is "Dead to Me" Ending After Season 3?
In an August 2020 interview with The Hollywood Reporter, Feldman said that she never envisioned "Dead to Me" as a show that would go on for an endless number of seasons. "I always had the sense that I wanted this show to be a relatively short-running one," she said. "Halfway through shooting season two, an idea came to me that felt very true to the show — and I realized that it could be a really great way to end it . . . Sometimes I think I'm making a mistake, letting go of this incredible alchemy we have with Christina and Linda, but it just feels right to me that this is how we should close out the story."