Jake Gyllenhaal Puts Being the Internet's Boyfriend on Hold to Play Spider-Man's Mysterio
Jake Gyllenhaal is making his superhero debut in Spider-Man: Far From Home, but don't get it twisted — the Stronger actor is playing a villain, which makes our decision to automatically root for him based on the scruff he's rocking in the trailer alone a little suspect, we admit.
In said teaser, which dropped on Jan. 15, Gyllenhaal can be seen at the very end of the nearly 3-minutes of new footage as he faces off against our web-slinging hero (Tom Holland) while a giant monster made of water rages nearby. Although we're used to seeing Gyllenhaal as the good guy, we already know from his chilling performance in Nightcrawler that he unquestionably has the range to play a villain. In this case, he'll be playing classic comic book villain Mysterio. While several characters have taken up the mantle of Mysterio over the years in the comics, the most high-profile incarnation of the villain is Quentin Beck, who Gyllenhaal will be portraying as he goes toe-to-toe with Holland's Peter Parker.
Mysterio, created by Stan Lee and Steve Ditko, first popped up in The Amazing Spider-Man #13 in 1964, where he made his debut as a special effects wizard, stunt man, and actor who longs to make a name for himself at a big Hollywood film studio, rather than toiling away at what he views as dead-end jobs. His time to shine comes when he realizes that despite lacking superhuman abilities, his expertise in illusions nonetheless lends itself well to supervillain-ry. Once he harnesses his new skills, he frames Spider-Man for robbing a museum in New York City, using things like gas and chemicals to fight back against Spider-Man's spidey sense and webbing. (He later becomes a considerable foe for Daredevil.)
As for Gyllenhaal's version of the character, it's hard to pin down exactly how Far From Home is interpreting his abilities. He can be seen shooting a bright green, gaseous substance out of the gloves of his supersuit (which looks like a mix between Iron Man and Thor, as Ned points out in the teaser), but it looks more like some sort of psychic, natural ability, rather than being the product of man-made genius. Mysterio also looks like he's able to fly by using the same green smoke, although it could all be an illusion to cover up a Green Goblin-esque hoverboard.
Until the full trailer drops and we get a better look at Gyllenhaal in action as Mysterio, see him in all his fishbowl-helmeted glory, ahead.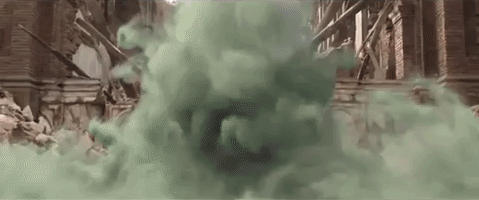 He shouts "You don't want any part of this," at Peter, which makes us think he might play the role of a tortured villain (read: one that doesn't make us feel entirely bad about finding him overwhelmingly attractive).
Watch the teaser trailer!