Ashley Park, Stephanie Hsu, and Sherry Cola Deliver Some Painful Slaps in Hilarious "Joy Ride" Clip
Flip cup, who? Ashley Park, Sherry Cola, and Stephanie Hsu get into a slap battle in an exclusive scene from upcoming comedy "Joy Ride," and no one leaves unscathed. This is not your mother's drinking game.
In "Joy Ride," Park and Cola are best friends Audrey and Lolo. They embark on a business trip to China, with a side goal of also finding Audrey's birth mother. Things go awry when Audrey, Lolo, Lolo's cousin Deadeye (Sabrina Wu), and Audrey's former roommate turned Chinese soap star Kat (Stephanie Hsu) get roped into a drug dealer's operation.
This clip finds the foursome in a nightclub with "The Daily Show" correspondent Ronny Chieng, who suggests the group play the aforementioned game, which is called "party slaps" via a translation. Before things kick off, Park asks, "Is this a drinking game? What are the rules?"
The game appears to be, simply put, rock paper scissors, with the loser receiving a slap and being forced to take a drink. Kat and Lolo face off first, with the former taunting, "You ready to lose to a celebrity?" Says Lolo in response, "I can't wait to slap the sh*t out of you." A tie means they both get in slaps — many of them.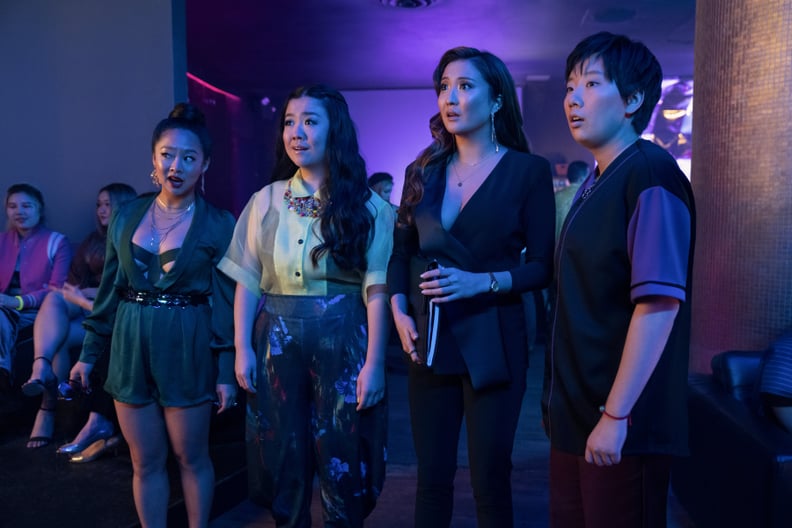 Then it's Park's character's turn, facing off against Chieng's onscreen counterpart. Audrey is victorious — but goes a little overboard in her victory moment, smacking Chieng so hard the clip ends with her simply stressing, "Sh*t."
Cola recently spoke to POPSUGAR about the "Joy Ride" cast's bond off screen, with the group creating true friendships. "It just felt so cohesive and telepathic to a point where the four of us had our own unspoken language, which was really beautiful," Cola said in May. "This was a match made in heaven." While there's plenty of funny moments guaranteed in the movie, Cola is hoping fans may get a peek at their antics when the cameras weren't rolling, as well. "I really hope there's a gag reel because we couldn't stop laughing," the actor said. "There are so many moments that I just remember, like, not keeping it together."
"Joy Ride" will premiere in theaters on July 7.
Image Source:

Lionsgate