Kelly Clarkson Brought Her Family to the Lucifer Set, and They Acted Exactly as We Would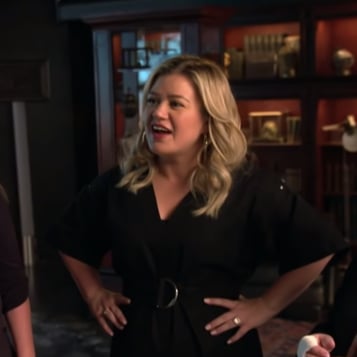 Kelly Clarkson has proven herself to be a musical jack of all trades time and time again on The Kelly Clarkson Show, but now she's showing how great a sister and daughter she is as well! The daytime show host took her mother Jeanie and her sister Alyssa on a trip to the set of Netflix's Lucifer, which the two are obviously huge fans of.
According to the singer, her sister is the one who introduced them all to the series and Alyssa's noticeably the most excited to meet the show's lead, Tom Ellis. "I read books — as my sister calls them, 'naughty books' — and Tom Ellis is the man I envision, so there you go," she revealed. And when Ellis posed for a photo with both Alyssa and Jeanie, the former could only describe the experience by stating that the actor is "so yummy. Delicious, yummy, and everything good." We totally relate.
The trio freaked out in the sweetest way when meeting the rest of the cast, which includes Lauren German, Lesley-Ann Brandt, Kevin Alejandro, Scarlett Estevez, D.B. Woodside, and Rachael Harris. In a digital extra, Clarkson explained that her favorite aspect of the series — which is currently shooting its fifth and final season and may premiere on Netflix sometime next year — is how it promotes the idea that anyone can be redeemed regardless of their past. "I love that the show brings together the most random characters and you make it work," she shared.
I think it's fair to say that the legion of Lucifer fans agree with you there, Kelly. Watch the adorable visit above and check out the digital extra with some more Lucifer fun, ahead!
Kelly Clarkson Hanging Out on Lucifer Set Digital Extra
Kelly Clarkson Visits the Lucifer Set With Her Mom and Sister