Reese Witherspoon and Kerry Washington Share a First Look at Little Fires Everywhere
How does Reese Witherspoon find time to breathe? Because the 43-year-old actress has so, so may projects in the works. In addition to starring in and executive producing Big Little Lies alongside Nicole Kidman, as well as an upcoming Apple TV series with Jennifer Aniston, the actress is teaming up with yet another powerhouse star: Kerry Washington. The women are currently shooting a limited series based on Celeste Ng's widely popular bestseller, Little Fires Everywhere. While a premiere date is likely still far, far in the future, here's what we know.
What Is Little Fires Everywhere About?
The novel takes place in a wealthy Ohio community in the '90s and hinges around a falling out between two families: the Warrens and the Richardsons. Witherspoon's character, Elena, is the uptight matriarch of the latter, which is a picture-perfect, all-American family that includes her lawyer husband and their four high school-age kids. Looks can be deceiving, however, as cracks in the Richardson family's flawless facade begin to show when artist and single mom Mia Warren (Washington) comes to town with her daughter, Pearl, and they take up residence in a property that Elena manages.
As their families begin to become wrapped up in each others' lives in varying ways — friendships and romances blossom, as does heartbreak and tragedy — a controversy in their town erupts when a white family adopts a Chinese-American baby and her birth mother comes forward to claim her.
Who Is in the Little Fires Everywhere Cast?
In addition to Washington and Witherspoon, Joshua Jackson is on board as Elena's husband and Rosemarie DeWitt has signed on to play Linda, the adoptive mother of the baby that sparks a bitter custody battle. The Good Doctor actress Lexi Underwood will play Pearl Warren, while Elena's brood will be portrayed by Jordan Elsass (Tripp), Gavin Lewis (Moody), Jade Pettyjohn (Lexie), and Megan Stott (Izzy).
Where Can You Watch Little Fires Everywhere?
The project, which comes from Reese's Hello Sunshine and Kerry's Simpson Street and ABC Signature Studios, has landed an eight-episode deal with Hulu. "Celeste wove a beautiful, riveting story that spoke to all of us, and when we heard the vision Reese, Kerry and Liz have for the series, we knew immediately that we had to bring it to Hulu," Hulu chief content officer Joel Stillerman said in a statement. "We're honored to bring this powerful story to the screen with Hello Sunshine, in their first studio project. This is exactly the type of compelling and culturally relevant content that embodies our Hulu Originals brand." Liz Tigelaar (Casual) will write the script and serve as showrunner.
The First Photo From Little Fires Everywhere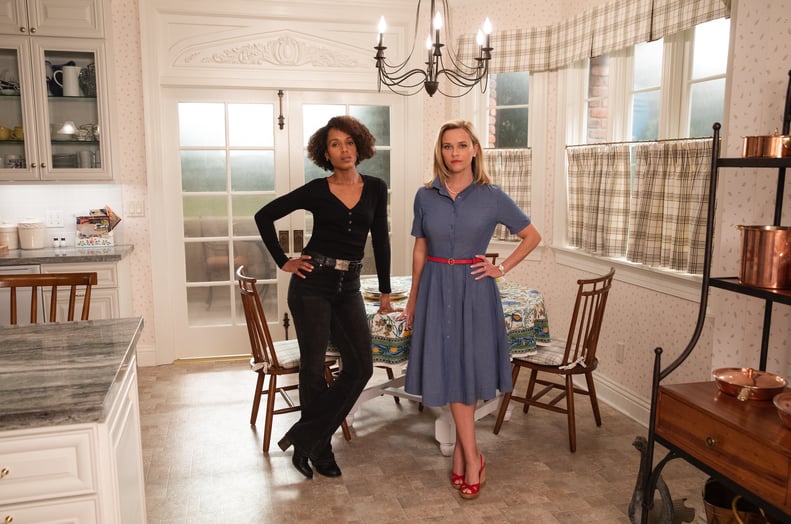 Washington and Witherspoon each shared a behind-the-scenes photo of their characters, Mia and Elena, on Instagram in June 2019. "Bringing it back to the '90s! Meet Mia Warren and Elena Richardson," Witherspoon wrote, while her costar captioned the shot, "Yup. The 🔥 just got LIT at @LittleFiresHulu. Meet Elena Richardson and Mia Warren."
When Does Little Fires Everywhere Premiere on Hulu?
An exact premiere date is still up in the air, but Hulu revealed in June that we can expect the series to arrive at some point in 2020.