Lizzo Surprised by Coldplay's Chris Martin During Interview
Lizzo Wants to Get in the Studio With Coldplay's Chris Martin: "We Just Gotta Do It"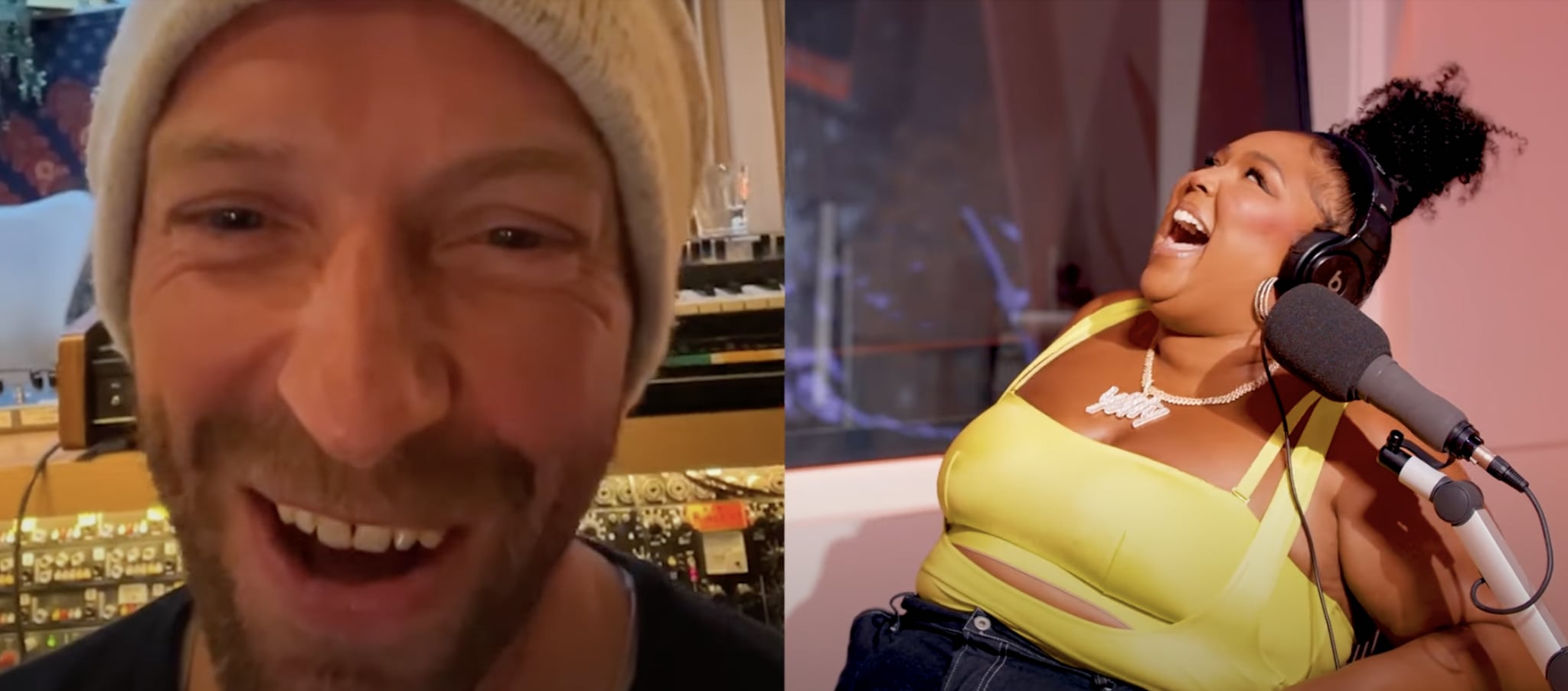 Image Source: YouTube user Lizzo Music
Lizzo and Chris Martin might be each other's biggest fans. The "About Damn Time" singer released her "Special" album on July 15, which includes a Coldplay-sampled song named after the band as a tribute to their breakout 2000 hit "Yellow." Ahead of the album's release, Lizzo sat down for an interview with Apple Music 1's Zane Lowe, which Martin interrupted with a surprise FaceTime call to praise the singer for her ode to his group.
"Listen, the song don't gotta come out with me and you, we just gotta do it."
"This is what I wanted to do because the song is so beautiful, and Chris is so beautiful, and you're so beautiful, I thought we'd have a beautiful moment," Lowe told Lizzo of the surprise. Recalling a conversation between him and the host, Martin told an excited Lizzo "of course" he'd call in because "I love you and you're wonderful." "You're doing so great and taking over," he added. "It's wonderful."
The Emmy-nominated star returned Martin's kind words by asking him what comes next for them. "You writing me a song?" she asked, also proposing that they team up to record a track together. "Listen, the song don't gotta come out with me and you, we just gotta do it," she said. "If we sat in the studio and we just worked — you play the piano, I'll sing . . . Don't nobody gotta know, Chris." The Coldplay singer said, "I don't mind people knowing," so it's possible that a Lizzo and Coldplay collaboration could become a reality one day!
During her interview, Lizzo also thanked Martin for "giving me the blessing to sample you and name a song after your band." Lowe noted that he had a feeling Martin had been waiting for some artist to "do that kind of Kanye, speed up the vocal production technique" on one of his songs, and Lizzo confirmed that she wanted to take on that challenge. "I just wanted to. That song, 'Look at the stars, look how they shine for you,'" she sang of "Yellow"'s lyrics. "I was with somebody and I was just looking at the stars . . . I was singing it, and tears just were coming to my eyes. You have such an incredible ability to move people with the poetry of your lyricism," she told Martin. "Thank you so, so much."
Martin asked Lizzo about her "guy friend"'s reaction to her serenade and the singer said with a laugh, "He likes it when I sing Coldplay to him." Martin added, "If someone had told me 22 years ago, you know, one day Lizzo's gonna make out to this song sped up, I'd be like, 'OK, great,'" he said. "It's become Lizzo's hookup song. That's good."
See more of Lizzo and Martin's sweet encounter ahead.