I Still Have Shivers Down My Spine From Mickey Guyton's Powerful Grammys Performance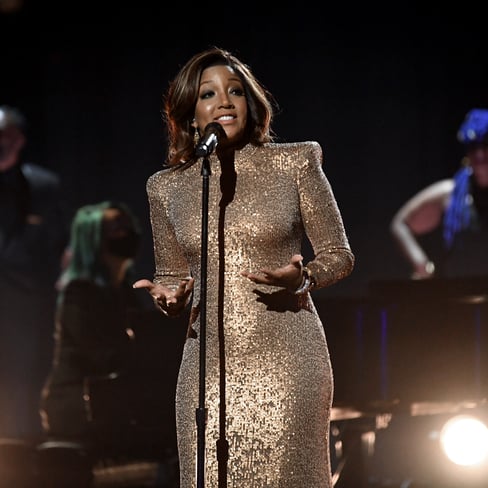 Mickey Guyton is putting the soul in country music. The singer made her Grammys debut on Sunday night, giving viewers a soul-stirring rendition of her hit song "Black Like Me." Guyton made history as the first Black female solo artist to earn a Grammy nomination in a country category, although the award eventually went to Vince Gill for "When My Amy Prays." Wearing a gorgeously gold floor-length gown, Guyton belted out her country ballad accompanied by a choir, cellist, pedal steel player, and pianist. The critically acclaimed song draws from the singer's childhood and her life as the only Black woman signed to a major label in Nashville.
"A lot of hurt had to happen to get me to that point," Guyton told NPR about writing the track. "I did Nashville the Nashville way for so long, and I had seen so many women do Nashville the Nashville way, with very little results, and that's kind of how I felt within my own life as being a Black woman." She explained that she wrote the song in response to how she's been treated by the country music industry and to share her hopes of protecting those who will come after her. Watch Guyton's powerful performance of "Black Like Me" ahead.