Mindy Kaling Talks The Sex Lives of College Girls
Mindy Kaling and Justin Noble Say The Sex Lives of College Girls Is a "Love Letter to Young Women"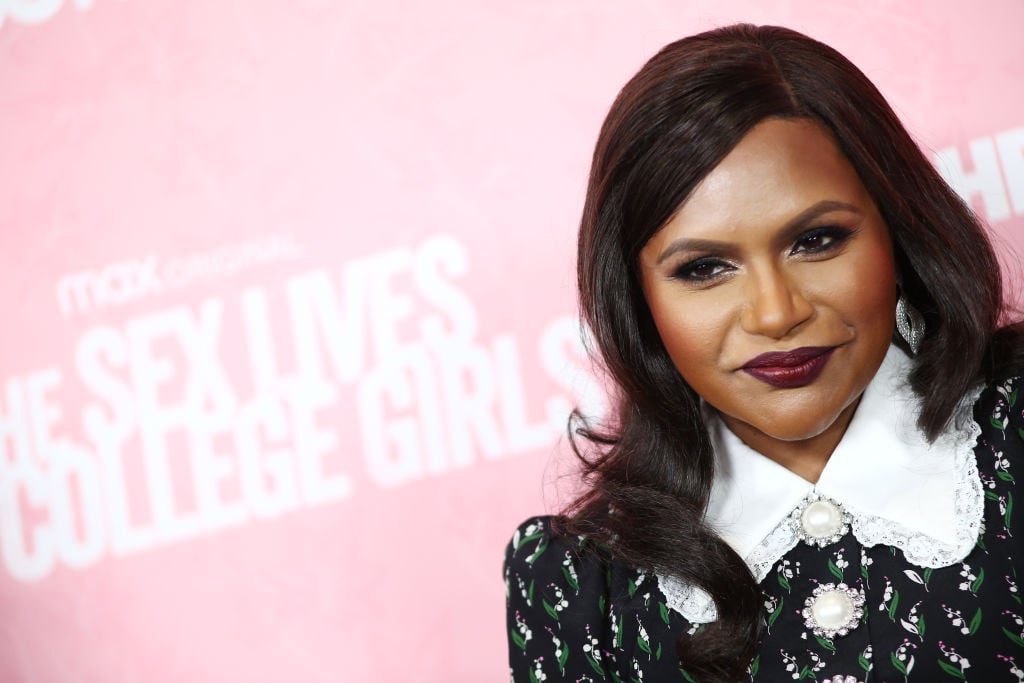 Image Source: Getty / Tommaso Boddi / Stringer
Mindy Kaling knows how to give us characters we love to love and television shows we'd never dare to skip. And her latest project is another hilarious, empowering addition to her canon.
The Sex Lives of College Girls, cocreated by Kaling and writer/producer Justin Noble, feels like the raunchier older sister of Kaling's hit Netflix series, Never Have I Ever. The HBO Max original series follows an overly eager yet incredibly endearing foursome as they navigate their first year at a prestigious New England university.
The cast includes Bela (Amrit Kaur), who is ready to lose her V-card and study comedy; Kimberly (Pauline Chalamet), whose cultural blunders get her into trouble; soccer star Whitney (Alyah Chanelle Scott), who finds herself in a complicated love triangle; and Leighton (Reneé Rapp), who wants to do anything but live with her new roommates. Yes, these roommates are a little bit messy, but that's so relatable — you can't help but fall in love with them.
"I think our show is a little bit of a love letter to these young women who are going into college," Noble tells POPSUGAR. "If you watch the show in its entirety, you find that the moments where the characters thrive are the moments where they feel comfortable, unabashedly being themselves. And it's something I certainly wish I emulated in my college years, and I hope people do the same as they enter the most tumultuous four years of their lives."
While The Sex Lives of College Girls aims to give an accurate portrayal of college life — and the success and the mess of it all — Noble wanted to infuse the moments that previous college grads wish they had. "So much of this show is like wish fulfillment in my reimagination of what college could have been," he says. Even though Noble says no character is based on his college persona, he wished he could have had the fun the girls of Sex Lives have. "I [would have been] an offscreen character you wouldn't want to see in the show, which is the closeted boy who lived downstairs who was at brunch being like, 'Melinda, you did what with Brett?' No part of me really lived to the loudness and brashness and fun-ness that these girls had. I wish I had."
"I think our show is a little bit of a love letter to these young women who are going into college."
Kaling also shares that her college experience was different from The Sex Lives of College Girls cast. "All the characters are way sexier and cooler than I ever was." But although Kaling had a different experience at Dartmouth, there's one roommate she can see a bit of herself in. "It's going to be surprising, but Leighton's judgmental nature," Kaling shares. "I was so harsh on everything when I was that age. It took years and having children and just being in the world to develop a little bit more patience and kindness. And I think that the way that she is just very judgmental and blunt about her feelings and things like that does resonate for me because I'm also very impatient."
Times have changed, and The Sex Lives of College Girls shows how dating and even making friends in college now can depend on your social media status. A TikTok follower count can make or break a co-ed in ways older millennials couldn't imagine. Conversations with the writing staff, as well as tried and true research, helped Kaling and Noble get it right. Noble says, "Mindy and I are very research-oriented. We did a research trip before we made this show to talk with students at college, which was a real trip in every sense of the word. And then our writing staff was our ever-present voice to be like, this feels relatable, this feels like it was pitched by someone in their late 30s, no offense, we need to age it down a little bit. It was just like making sure that we made the show that would feel real enough to a 2021-2022 audience while still feeling universal enough that the audience who wants to live nostalgically through their own experience can still understand all the tropes and the plot moves."
College grads from any decade can relate to the horror of one universal event that happens on campus: Parents' Weekend. One of the series' standout scenes is the moment the roommates' parents join them for dinner. It's when the intersections of class, race, and the age-old issue of hiding the truth from your parents all clash to make for TV hilarity. After all, what's a college experience without hiding a bit of the truth from your parents? Noble told us that the whole scene was "Mindy's brilliant idea from the jump." Mindy shares, "What I love is that they're all telling each other to lie about all the things they're doing in college, and they have to corroborate each other's lies. 'Secrets and lies' is so much a part of that episode, so that's always really fun to write something that takes place in one room, but you know all these secrets are going to come out."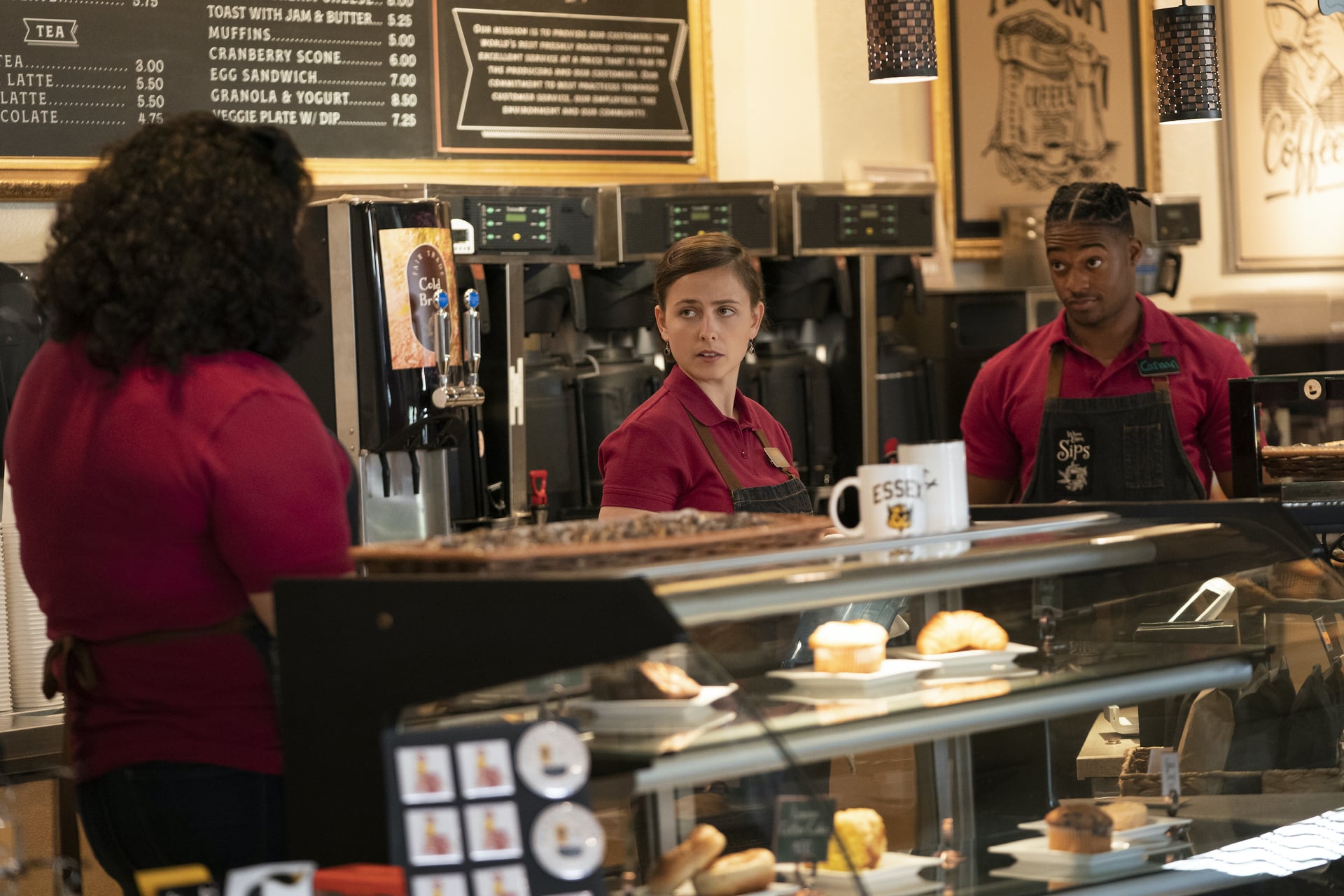 Image Source: HBO Max
The Sex Lives of College Girls also doesn't shy away from poking fun at some college campus tropes. At the start of the season, Kimberly is completely tone-deaf — she plagues her coffee shop coworkers with microaggressive comments — but the writing leaves room for her to grow. Episodes later, we find Kimberly to be lovable as she's unlearning the beliefs she learned in her small hometown. She's not one-dimensional, and therefore not so easy to cancel. Mindy says that approach to Kimberly's character was intentional. "We approach all of our characters with an incredible amount of empathy," Mindy tells us. "We really love them, and we never want to make caricatures of anything. With her in that particular storyline . . . she's actually probably the most politically aware of all of them. She idolizes Ruth Ginsburg . . . She's just a little bit too eager to make diverse friends . . . I think the outdated version of that is a person who's just offensive because they don't know anything."

While watching The Sex Lives of College Girls, it's easy to relive some of your heinous college moments and think of the advice you'd give not only the cast but also your younger self. For Mindy, it's to make wise decisions during those late-night cram sessions. "I'm often asked to give honest advice," Mindy says. "But then my practical advice from my college experience is, don't wait until 11 p.m. and then consume 3,000 calories. I don't think that's a real healthy way to be and makes you ready to tackle your academic workload."
The Sex Lives of College Girls introduces us to four dynamic women, but we still have one young Devi Vishwakumar on our minds. What can we expect from the third season of the Netflix series, Never Have I Ever? And most importantly, is Kaling Team Paxton or Team Ben? "I am 42," Mindy laughs. "So me being on either team Ben or team Paxton would be so weird." Although Never Have I Ever fans are counting down to the start of the third season, we'll just have to wait just a bit longer. "We were doing the table read for episode two today," Mindy says. "Justin worked on the show as well, and we really ended the season not knowing where it's going to go. We like to tie ourselves up in narrative knots and then figure out. I wish I had more info, but we know that it's going to be juicy and dramatic, that I can promise for sure."
For now, The Sex Lives of College Girls will keep viewers heated up with sex, drama, and irresistible belly laughs.
The Sex Lives of College Girls premieres Nov. 18 on HBO Max.