Why Netflix Is Suing Barlow & Bear Over Their "Bridgerton" Musical
Since its debut on Netflix in December 2020, "Bridgerton" has taken the world by storm. Based on the bestselling book series by Julia Quinn, the acclaimed show broke records on the streaming giant by becoming the most-viewed series in its first 28 days, with over 627 million hours of viewing (breaking the show's own season on record). "Bridgerton" shows no signs of slowing down, either. Following a dramatic season two, Netflix renewed the Shondaland series for both a third and fourth season. Production for season three is already officially underway as of July 20.
"Bridgerton"'s sheer popularity has inspired countless social media offshoots, ranging from fan edits to TikTok videos and even musicals. While most fans have made their "Bridgerton"-focused content for their own fun and amusement, others, like musicians Abigail Barlow and Emily Bear, better known as Barlow & Bear, have taken their love of the series to a different level. In September 2021, the pair released their own "Bridgerton"-inspired album titled "The Unofficial Bridgerton Musical," which earned Barlow & Bear a Grammy Award for best musical theater album in 2022.
In a sudden twist for the fans of the series and the musical duo, however, Netflix filed a lawsuit against Barlow & Bear on July 29 for infringement of intellectual-property rights, according to NPR. Buckle up, "Bridgerton" fans, because the legal situation between Netflix and Barlow & Bear is enough to ruffle even Lady Whistledown's feathers.
How Did Barlow & Bear Meet?
Barlow and Bear met while working on an artistic project, according to an interview with On Stage Blog. While Barlow has experience in writing pop music, Bear has an educational background in music, and their two fields of expertise made them a strong collaborating team.
How Did Barlow & Bear's "The Unofficial Bridgerton Musical" Start?
Approximately one year into the COVID-19 pandemic, the two decided to channel their love of both "Bridgerton" and musical composition into a TikTok video posted on Jan. 10, 2021, "What If Bridgerton Was a Musical?" The TikTok features Barlow singing a song called "Daphne's Song," inspired by the events of "Bridgerton" season one. The post immediately went viral and, to date, has 2.4 million views, 290,800 likes, and over 20,000 shares.
The popularity of the TikTok inspired Barlow & Bear to create even more songs based on the series, and their next song, "Burn For You," was viewed over 6.4 million times and liked by over 928,600 people on TikTok. Nearly eight months after going viral, the pair officially released their Grammy-winning "The Unofficial Bridgerton Musical" album on Sept. 10, 2021, which features 15 original songs based on the characters and storylines of the series.
How Did Netflix Originally React to "The Unofficial Bridgerton Musical"?
In the beginning, Netflix was receptive to Barlow & Bear's musical. "Absolutely blown away by the Bridgerton musical playing out on TikTok," the official Netflix account tweeted on Jan. 13, 2021, adding that it was giving a "Standing ovation for @abigailbarloww & @nick_t_daly."
Additionally, Netflix acknowledged in its court filing that in March 2021, Barlow & Bear's counsel asked for Netflix's blessing to record an album and single for a UK-based charity promotion that would involve West End performers who had been furloughed amid the COVID-19 pandemic. While Netflix didn't explicitly approve the performance, it told Barlow & Bear it would not be "standing in the way . . . in the spirit of supporting what Barlow & Bear represented as two 'Bridgerton' fans' expression of their appreciation for the series."

So what changed between then and now?
Why Is Netflix Suing Barlow & Bear?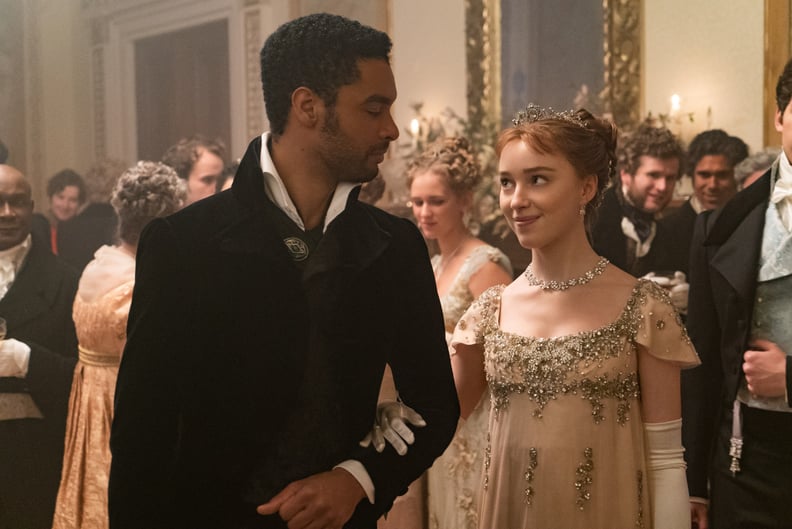 Image Source: Everett Collection
Barlow & Bear's "Bridgerton"-inspired venture took a turn into possible-intellectual-property-infringement territory when they performed a live, for-profit show, "The Unofficial Bridgerton Musical Live in Concert," which premiered at Washington DC's Kennedy Center on July 26.
Just three days after the premiere of the live musical, Netflix filed a lawsuit against Barlow & Bear, alleging the pair blatantly infringed upon the streamer's intellectual-property rights, having "taken valuable intellectual property from the Netflix original series 'Bridgerton' to build an international brand for themselves," according to court documents obtained by NPR. The lawsuit alleges the live show "featured over a dozen songs that copied the verbatim dialogue, character traits and expression, and other elements of the Bridgerton series."
In the court filing, Netflix claims that, before their scheduled live performance in July, the streamer offered Barlow & Bear a license to legally perform their "Bridgerton"-inspired songs on multiple occasions. Netflix claims the duo did not take them up on its offer and continued on with the show without a license. Netflix took particular issue with Barlow & Bear's use of the "Bridgerton" branding on their "Unofficial Bridgerton Musical" merchandise, creating the implication it was associated with the official "Bridgerton" brand. It believes the pair's unauthorized use of its branding created "confusion and false association with the 'Bridgerton' brand" and interfered with Netflix's own live Bridgerton Experience in Washington, DC by attracting "Bridgerton" fans who might have otherwise attended the Bridgerton Experience.
Netflix also claims Barlow & Bear misrepresented to their "The Unofficial Bridgerton Musical Live in Concert" audience that they were using Netflix's trademark "with Permission," despite Netflix's vehement and consistent objections. Making matters worse, the duo also planned a London live show of the musical, making it a tour.
Simply put, Netflix is not cool with Barlow & Bear profiting off its intellectual property "in whatever way they see fit."
Barlow & Bear have yet to comment publicly on the lawsuit, but given the popularity of their music and the TikTok scandal surrounding Netflix's lawsuit, they will likely address the situation soon.