Netflix's Outer Banks Show Is Like The O.C. With a Southern Twist
If you're looking for a teen drama that will make you nostalgic about your teenage days of summer fun, look no further than Netflix's Outer Banks. The series — which hit the streaming platform on April 15 — follows a group of friends who call themselves the "Pogues" as they go on an adventure to uncover a hidden treasure in their town. With a gorgeous cast and a sunny backdrop, the show is basically the perfect mashup of The O.C. and 90210, but with a southern twist.
Though filming actually took place in South Carolina, the show still features the charm of its namesake, thanks to its creators Jonas Pate and Josh Pate. The brothers are both North Carolina natives, which helped inspire the heart of the story: the ongoing war between the "Pogues" and "Kooks." "A lot of these characters are based off some people they knew," Jonathan Daviss, who plays Pope, told POPSUGAR.
Madison Bailey, who plays Kiara on the series, added that the two groups portray a real social dynamic in the Outer Banks area. "Pogues and Kooks are real, they're just not called that," she said. "The root of [the rivalry] would be the privilege aspect of it. Of seeing somebody who gets to be born into this life as an enemy. That's real. You see people that have more than you that didn't even have to work for it and it's frustrating. It's frustrating when you have to try so hard. It's stressful too. You can be a superior Pogue and you'll never be as a mediocre Kook."
"You see that with Pope's character who is this brilliant science kid who should be able to go to any college he wants, but have to fight for a scholarship just to be able to get off the island," Daviss said. "He doesn't have the same opportunities. So, [he's] constantly having to fight. You care about all these characters, so when something happens, you feel for them."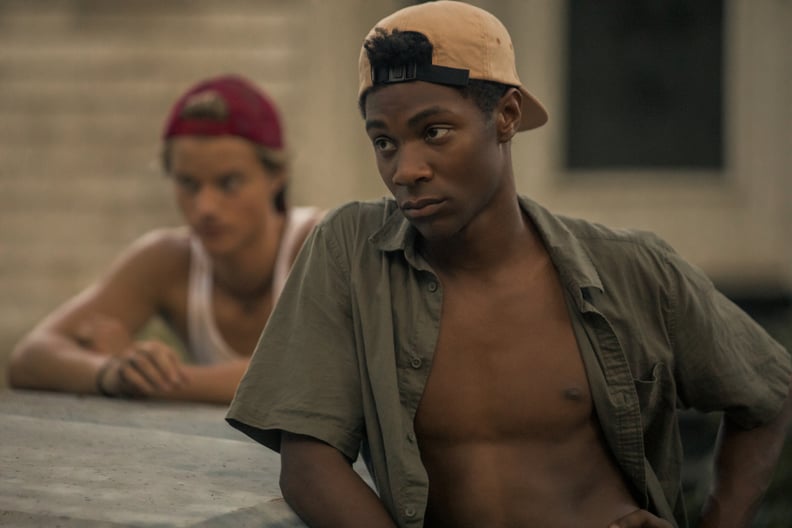 Tensions between the two groups continue to rise throughout the season as the leader of the Pogues, John B (Chase Stokes), grows close with a Kook named Sarah Cameron (Madelyn Cline). "[The Pogues] see her as the enemy, especially Kiara," Bailey said. "We're so hesitant with Sarah because we want to protect each other so badly and we feel as though bringing in the one demographic that we're constantly protecting each other from is a little frustrating. It's him choosing between what he wants to do, and his best friends. Eventually, in the end, loyal friends are going to support you no matter what."
Through Sarah teaming up with the Kooks, Daviss and Bailey tease that we'll eventually see the two groups merge in an interesting way. "She does eventually melt into the group. So it does force us to change the way we view Kooks and Pogues," Daviss said. "It humanizes both sides and is this cool world where we can blend and we can drop the labels, because they're not as important."