Olivia Rodrigo Dropped 9 of Her Favorite Songs (Taylor Swift's Discography Not Included)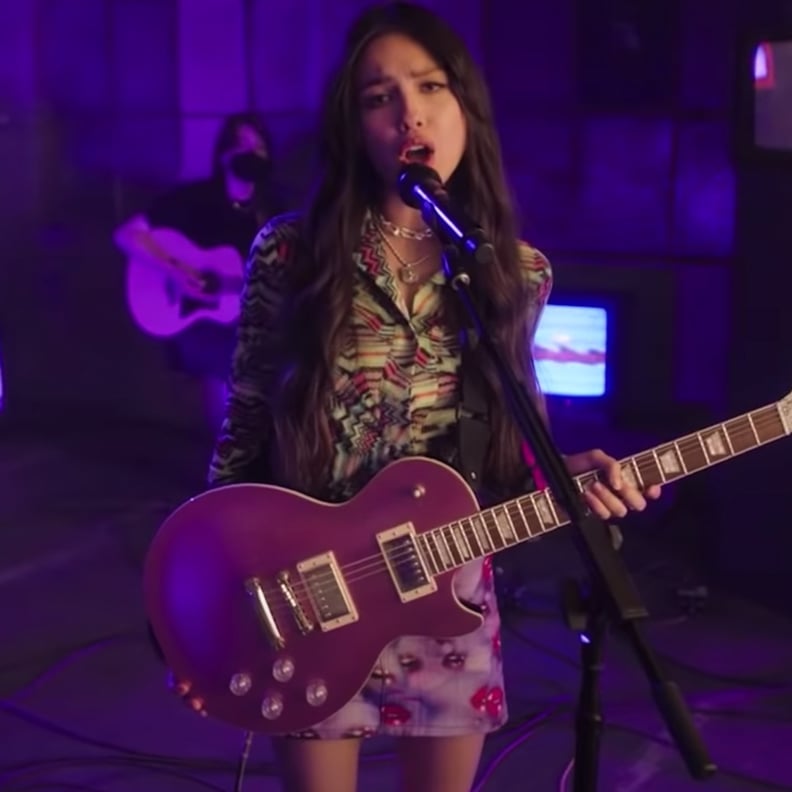 If you've ever wondered what Olivia Rodrigo listens to on the radio while cruising through the suburbs, the "Deja Vu" singer just gave us a taste of her favorite songs — noticeably absent, though, was Taylor Swift's entire discography. During an interview as artist of the month for MTV Push, Rodrigo shared nine of her favorite songs tied to different moods, including her top breakup song, a song to get up and dance to, and her go-to karaoke hit.
"That song is so powerful," Rodrigo said of Kesha's "Praying," aka the song she wishes she'd written herself. "I absolutely cannot listen to it without having a little frog in my throat and tearing up. It's fantastic." Given that her debut album Sour is set to drop on May 21, we're confident she has some great original lyrics of her own. "I blast that song in the car by myself all the time and I like cry and contemplate death an my existence all alone in the car," Rodrigo added while laughing, referencing Frank Sinatra's "My Way." "That is one of the greatest songs of all time."
Watch the full video above to see Rodrigo talk about her love for Robert Pattinson, the best mac 'n' cheese she's ever had, and the inspiration behind her two hit singles. And catch her stripped down version of "Drivers License" and electric guitar-version of "Deja Vu" here.
Song That Reminds Olivia Rodrigo of Her Childhood: "Blown Away" by Carrie Underwood
Song Olivia Rodrigo Plays Before a Big Night Out: "Up" by Cardi B
Song Olivia Rodrigo Wishes She'd Written: "Praying" by Kesha
Song Olivia Rodrigo Listens to When She's in Love: "Wouldn't It Be Nice" by The Beach Boys
Song Olivia Rodrigo Listens to After a Breakup: "Falling" by Harry Styles
Song Olivia Rodrigo Can't Stop Listening To: "Montero (Call Me By Your Name)" by Lil Nas X
Song Olivia Rodrigo Can Get Up and Dance To: "Rude Boy" by Rihanna
Song Olivia Rodrigo Listens to Loudly in the Car: "My Way" by Frank Sinatra
Olivia Rodrigo's Go-To Karaoke Song: "What Makes You Beautiful" by One Direction
Olivia Rodrigo Performs "Drivers License" and "Deja Vu" For MTV Push