The Most Iconic Selena Quintanilla Music Videos of All Time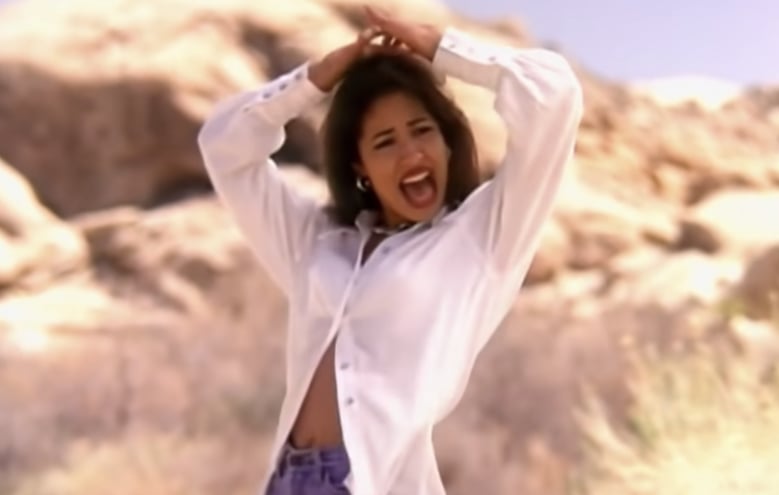 YouTube | Selena OFFICIAL
YouTube | Selena OFFICIAL
Selena Quintanilla will forever be a music icon. At just 12 years old, the late Tejano singer recorded her first song, "Se Acabó Aquel Amor," as the lead singer of Selena y Los Dinos in 1983. The song was produced by Selena's dad, Abraham Quintanilla Jr., and her older brother, A.B. Quintanilla III, and she later followed it up with massive hits like "Amor Prohibido," "Como La Flor," and "Bidi Bidi Bom Bom." In honor of the part-two release of Netflix's Selena: The Series on May 4, we're taking a walk down memory lane and looking back at some of Quintanilla's best videos of all time.
"La Llamada"
In the 1993 track, Quintanilla sings about catching her boyfriend cheating on her with another woman. Despite the dramatic lyrics, the video is a lot more laid back with Quintanilla dancing at a beach house party.
"No Me Queda Mas"
The visual for "No Me Queda Mas" was shot in San Antonio's Amtrak station and won regional Mexican video of the year at the 1995 Latin Billboard Awards.
"La Carcacha"
This was the first music video for Selena y Los Dinos. In true Selena fashion, there is a lot of dancing.
"Donde Quiera Que Estes" feat. Barrio Boyz
Clad in matching black-and-white outfits, the visual features Quintanilla and the Barrio Boyz showing off some smooth moves while dancing around the streets of New York City.
"Amor Prohibido"
"Amor Prohibido" sees Quintanilla dancing in Joshua Tree, CA, as she passionately sings about a forbidden love. However, by the end of the video, things take a turn and she and her crush are shown walking out of a self-standing door frame together.
"Bidi Bidi Bom Bom"
"Bidi Bidi Bom Bom" is one of Quintanilla's most famous hits. It was originally written about fish (yes, you read that right), but after a few revisions, she turned it into a love song. "It's the sound the heart makes when you see a man pass by," Quintanilla previously explained. "It sounds like bidi bidi bom bom."
"I Could Fall in Love"
The video for "I Could Fall in Love" was released after Quintanilla's death in 1995. It features a montage of personal photos, concert footage, and career clips taken over the years.