Orange Is the New Black's Kate Mulgrew on Season 6: "There's a Price to Pay"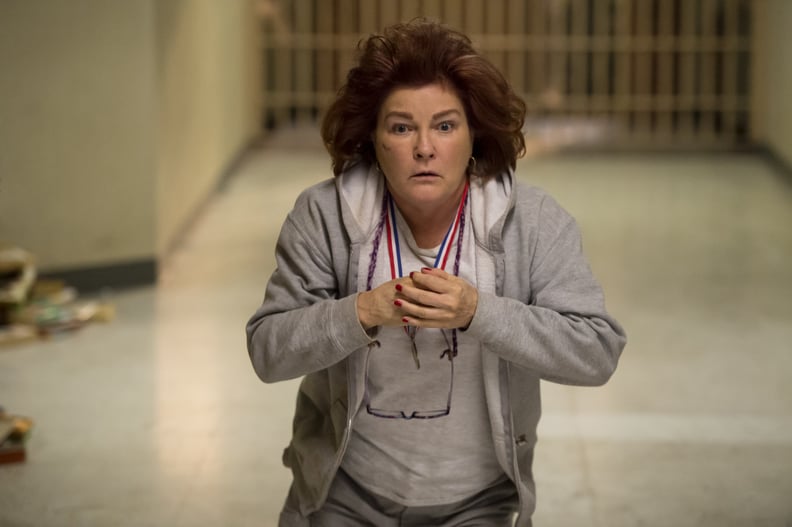 Kate Mulgrew
Suffice it to say, Kate Mulgrew's Red goes through a hellish, traumatic arc in season five thanks to CO Piscatella. It's a change that the actress doesn't think her character will recover from anytime soon, which will make for an interesting storyline moving forward in season six. "There is no question that it is an irreparable kind of change," she told The Hollywood Reporter of what happens to Red. "We are altered by trauma, the best among us are altered by it. It remains to be seen. Red is strong, multi-dimensional and quite capable, but I've been hurt now in a way that I hadn't before . . . So I think going forward it will be fascinating to see how the writers deal with it, and how I deal with it in the dance with them. And I hope that born out of this are the terrible shadows that follow us when we have been badly, badly devastated."
Mulgrew further noted that she hopes the writers will embrace the complexities of Red's PTSD, saying, "Let's see it, emotionally." The real question, though, is if Red will even live to deal with her issues. In the season five finale, she and the rest of the characters are left standing hand in hand as an explosion rings out and the riot police storm the Litchfield pool. Will someone die?
"I know in that moment — Red's not a fool — that the riot has decimated the reality of Litchfield, but what I don't know is, will we all survive, the 10 of us holding hands in that empty pool flanked by Blanca Florez and Freida Berlin, are we all going to survive this?" she said to THR. "What will this mean going forward? We're all culpable and complicit in many, many interwoven plots, murder not the least among them. There has to be a price to pay, I don't know how it will be made manifest, I don't know what [creator] Jenji [Kohan] will choose. She is absolutely a master of the unexpected so for me to speculate would be silly because I would be 100 percent wrong."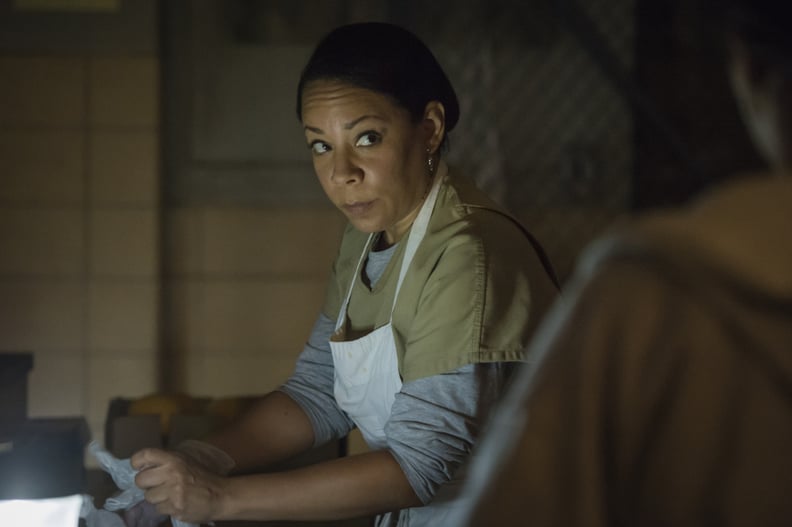 Selenis Leyva
What's in store for Gloria in season six? Selenis Leyva doesn't know for sure, but she has a feeling her character will be out for blood. "Someone [Maria, played by Jessica Pimentel] betrayed Gloria and I would like to see Gloria get a little tough," she said during a chat with THR. "We can't forget that these women are tough and there's something about loyalty that's huge. I'm hoping they'll give her a little mean streak, I have a feeling."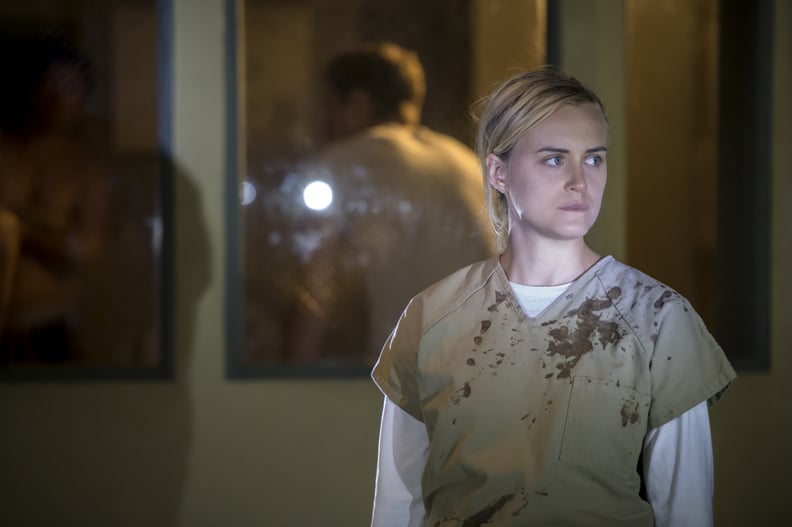 Taylor Schilling
We have a feeling Orange Is the New Black creator Jenji Kohan will continue weaving politically charged themes into season six, a theory that was corroborated by Taylor Schilling (aka Piper Chapman). "It's not looking good!" Schilling said of the cliffhanger during an interview with THR, before noting how important OITNB's storylines are in the real world. "Jenji talks about how her intention isn't to be a politician or an activist, but to tell honest stories about individuals and that then the individual becomes universal. Then, in seeing yourself in someone you previously deemed as 'other,' it's an inherently political act. By relating to something that you thought was apart from you. So I think that is, particularly now, really important."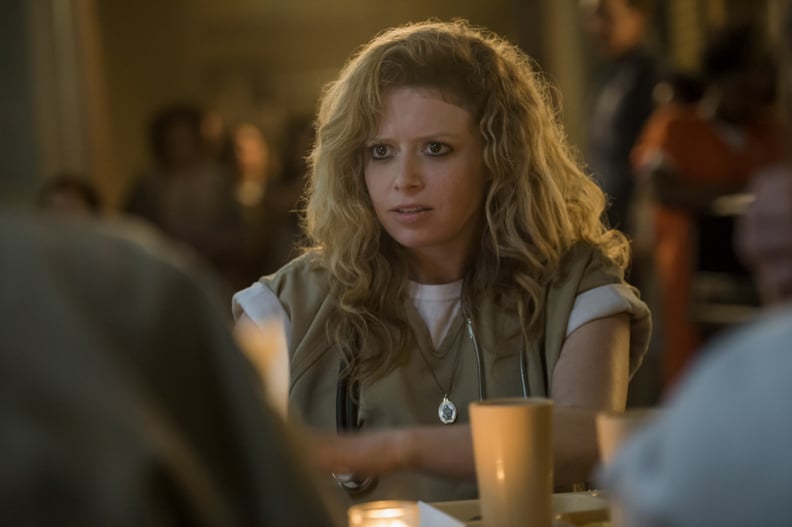 Natasha Lyonne
Nicky Nichols, played by Natasha Lyonne, is one of the 10 inmates left standing in season five's cliffhanger finale, which is jam-packed with emotion. While speaking with The Hollywood Reporter, Lyonne discussed what that scene might mean for season six. "It was very easy to feel the believability of not knowing what was coming through that door while holding hands with these people who I've been with for the last five years," she said. "We don't have the next script, so we genuinely don't know. We don't know if all of our characters die. If some of us die. We don't know if we kill everybody that walks through that door."
"I think we always feel like [anyone could die at any time]," she continued. "Across the board, I think we're always sort of weirdly ready, on some strange level. And if the show is mirroring the truth of society in any way, the reality is that insane things do happen on a constant basis. And often, consequence-free. Ultimately, it's true to the nature of the kind of storytelling that Jenji's doing to be truthful in her reflection of the world."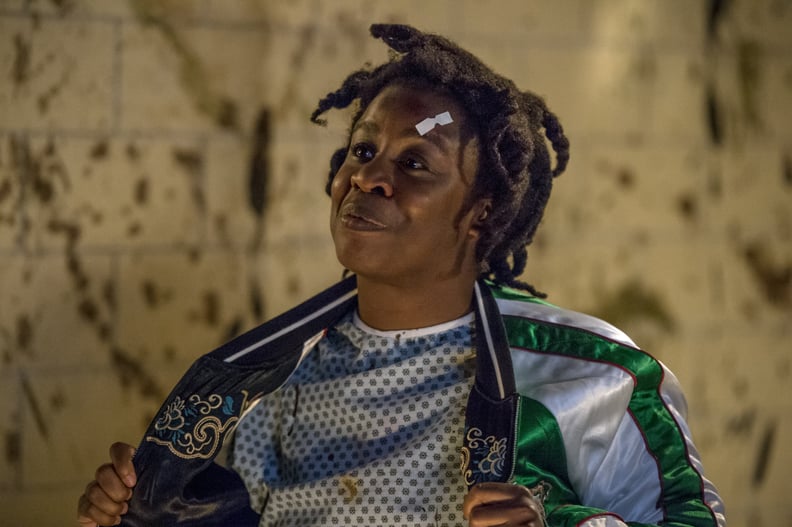 Uzo Aduba
The finale, with its swelling music and dramatic cliffhanger, certainly makes it seem like things aren't going to end so well for some of our favorite characters. Luckily, Uzo Aduba has a positive outlook on what's to come for her character, Suzanne "Crazy Eyes" Warren, next season: "I'm interested to see how Suzanne survives in the new world. It almost feels like we're setting sail."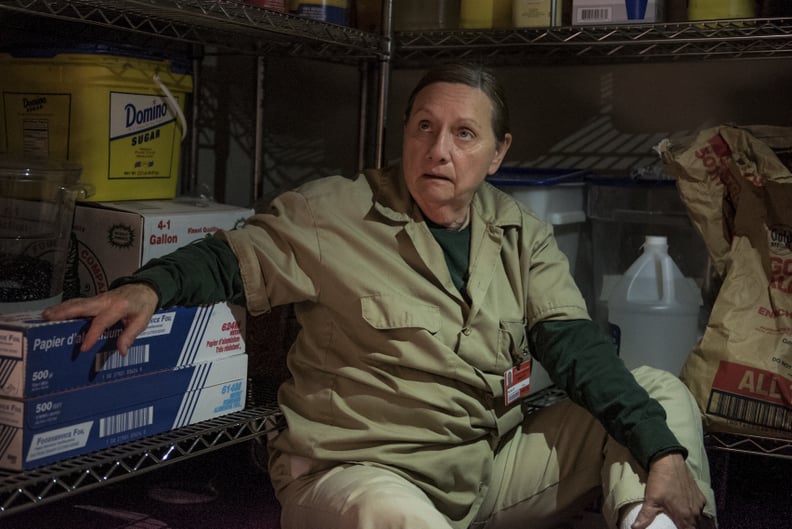 Dale Soules
Like Aduba, Dale Soules can't help but keep her fingers crossed that the Litchfield inmates finally get a chance to relax, even though she said she and the rest of the cast "just don't know what's going to happen." "I hope we're put into a beautiful facility with lots of room and working toilets!" said the actress, who plays Frieda Berlin. "Something that's relatively comfortable and where they let Red cook."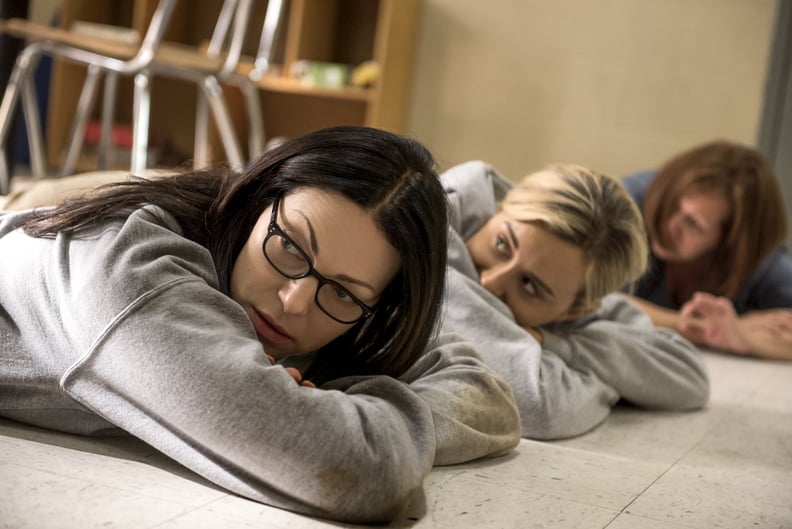 Laura Prepon
Let's say the newly engaged Alex (Laura Prepon) and Piper (Schilling) both survive the riot police's charge into Litchfield — can their roller coaster of a relationship survive as well? "We have no idea what's going to happen. I don't know [if Alex and Piper could make it if they were separated]," Prepon said while speaking with The Hollywood Reporter."Even if they both got out the same day, would they make it in the world? Who knows. But that's what's so great about the relationship, is that they bring out the best and the worst in each other."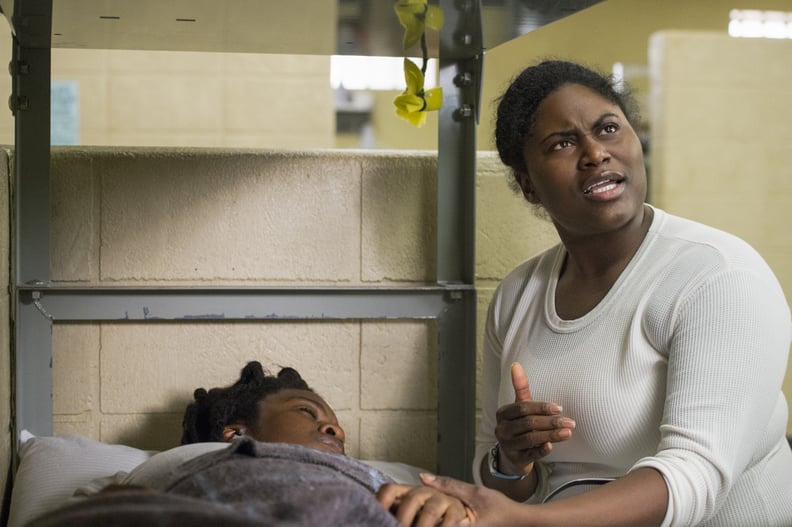 Danielle Brooks
Danielle Brooks is undeniably the lead of season five, tirelessly fighting for justice in the name of her fallen friend, Poussey (Samira Wiley), who gets suffocated by a guard in season four. Will her role as the prison's mouthpiece during the riot come back to bite her in the form of a harsher punishment or being separated from her friends? "I really couldn't tell you," she explained to THR. "At this point, I think Taystee would strive so much more being with those women, but I don't know who is going to be isolated. I don't know if Taystee will be isolated from everybody and what affect that will have on her feeling like she spun this whole thing and started it. She set off the grenade and now she's alone. If anything, I would pray for my character to at least still have Crazy Eyes or Black Cindy or somebody, even Piper. I think she's going to need to have someone to take the next step with."
Brooks also sees a correlation between Taystee's need to spread awareness for the injustice that happened to Poussey on the show and what black Americans face every day in the real world:
"When Poussey's death happened, I posted a picture of Samira and I and it got hundreds of thousands of likes. But when Sandra Bland or Philando Castile's deaths happen — and the list goes on — I only get a third of the likes, and a bunch of arguing in the comments. That's what reminds me that we have a long way to go. People get so invested in these fictional characters but forget that the whole reason we're talking about this is that it's actually happening. But I do feel like it's opening peoples' eyes. People all around the world are seeing the things that really matter to us in America and what we're dealing with as a society. The thing about all of this, as we have seen in the past five years, is that when you're incarcerated and not even seen as human, things can turn really quickly. People can blame people and point fingers and do all sorts of things, so I'm not sure how it's going to play out for Taystee, nor am I quite sure how she's going to take it."