"Our Flag Means Death'''s Costume Designer on How to Make the Perfect Pirate Halloween Outfit
"Our Flag Means Death" costume designer Gypsy Taylor really wants you to dress up as one of the show's many lovable, complicated pirates for Halloween. Taylor, who led the costumes for season two, tells POPSUGAR, "My favorite Halloween costumes are always just made from scraps around the house" — so the show's costumes are perhaps the perfect candidates for that DIY ethos.
That's because as Taylor was putting together the looks for the season, she tried to think pretty realistically about what Stede (Rhys Darby), Blackbeard (Taika Waititi), and their pirate crews would have actually gotten their hands on. If they have a new, flashy costume, it's because, she says, "They've stolen it." Otherwise, it's something the pirates made on their own.
Plus, in season two, Wee John (Kristian Nairn) becomes something like the crew's go-to seamstress. Taylor explains: "If there were any new clothes, we decided he'd made it, and so they're a little bit badly sewn and scrappy or terrible stitching."
This is to say if you don't feel like you're a good sewer or costume maker, that makes you an ideal fit to make one of these costumes on your own. Taylor really encourages thinking outside of the box. "What can you make in a tin foil, or you know, crappy things around the house?" she notes. If your own wardrobe won't do, Taylor's all about thrifting items for a base look and then DIYing details on top to make something truly special. "I really like reusing and recycling wherever we can, and I think you actually get better and more original looks," she says.
The main thing Taylor wants "Our Flag Means Death" fans to remember when they start working on their Halloween costumes? "Just have fun with it." She adds, "I know that also people really want to be totally exact, but don't put that pressure on yourself."
Ahead, find more of Taylor's tips for the perfect DIY "Our Flag Means Death" Halloween costume.
New episodes of "Our Flag Means Death" premiere on Thursdays on Max.
01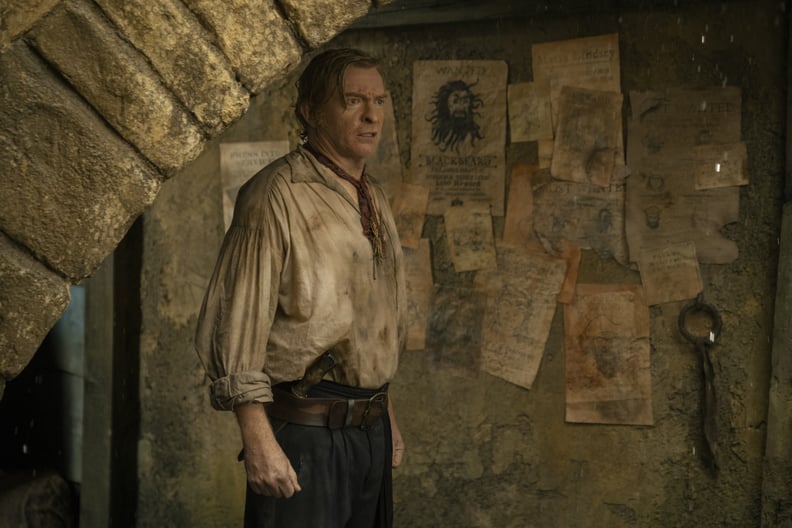 "Our Flag Means Death" Halloween Costumes: Stede Bonnet
In season two, Stede has turned in his more over-the-top pirate looks for something a bit more practical. "Stede is getting sexy, that's what's happening," Taylor says of the character's costuming this season. As for re-creating his very low-neckline shirt at home, Taylor suggests taking a white men's shirt and cutting out the neckline you want. Then, it's time to get crafty with some tricks that will give it that worn-in, messy look.
Taylor suggests using tea or coffee to dip-dye clothes to make them look "crappy." But another huge part is texture. "We love sandpaper," she says, and will often rub it on parts of outfits to wear them down. "Sometimes I will get something scratchy and sharp, like a fork, and just rip into it because then you get those organic shapes." A trick she often uses on film sets? Running over clothes with a car. "That makes them beautifully creased, and if you've got any puddles nearby, even better."
If you're going for fake blood, don't forget that blood gets dark when it's exposed to the air, so it should never be bright red. "If you don't want to buy the fake blood stuff, I've often used chocolate sauce and strawberry sauce mixed together, and it tastes really good."
02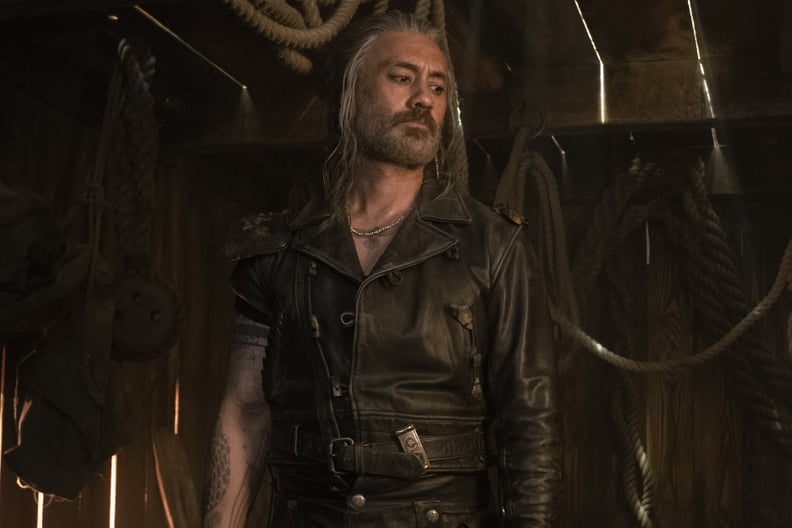 "Our Flag Means Death" Halloween Costumes: Blackbeard
Taylor jokes that being Blackbeard — aka Ed Teach — for Halloween is "80 percent attitude," adding, "You just gotta hone in Blackbeard's little smartass ways, and you're set." But for his costume at the start of the season, Taylor says they went with this "real beautiful ode to 'Mad Max' in his look" and in the look of his crew.
To make his costume, Taylor says, "if you are lucky enough to find a leather jacket, leather pants, you're winning." However, anything all-black will do, too, since wet leather doesn't even look like leather. The important part is to get the silhouette, and then you can add hardware, rings, and belts to make it look more intense. Taylor suggests that you could also make the collar, shoulder pads, or other parts of Blackbeard's jacket using cardboard or EVA foam.
03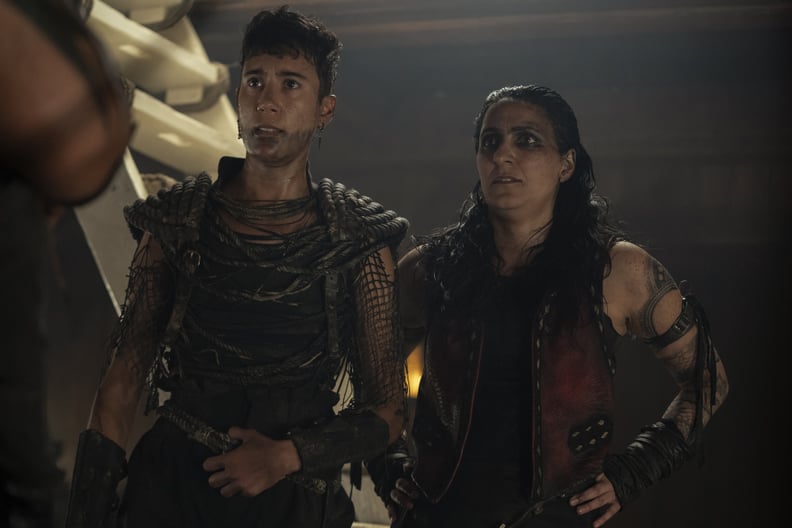 "Our Flag Means Death" Halloween Costumes: Blackbeard's Crew
"They've changed. They've seen some sh*t," Taylor says of the crew's journey before the new season begins. Creator David Jenkins told her the crew had already been with Blackbeard for a few months when the new season picked up, so their transformation needed to be apparent in the costumes.
For the crew, Taylor imagined all their new outfits were made from stuff they found on the ship. Jim (Vico Ortiz), for example, she says, "They've found a whole lot of ropes on the ship and fishing hooks and scraps of leather and pieced together this 'Mad Max' look based on their own concept of what a badass pirate might look like."
Also for Jim, who's nonbinary, Taylor used the same ethos of found objects to create a binder that felt "kickass cool" for the character. "And then we built the costume over that," she explains. "I wanted to make a real point of that to be open and accepting of all of our queerness and our beautiful, beautiful cast."
If you want to copy Fang's necklace of teeth (which Taylor says are also fake in the show), she recommends using FIMO or similar modeling clay, then stringing the teeth together with hemp rope. In the show, the teeth are based on sperm whale and walrus teeth.
"The key with Blackbeard's crew is to make sure that you're just head-to-toe black," she says. The only exception is hardware, which could be silver or gold. If you're looking for embellishments at Goodwill, Taylor says, "Don't just look in the clothes section." The kitchen section especially has lots of odd bits that can be repurposed in unique ways as long as you think outside of the box.
As for makeup, Taylor suggests, "Any sort of makeup that they used would have been from the ship, so they've just used gunpowder." Feel free to go wild with some black eyeshadow to mimic it.
04
"Our Flag Means Death" Halloween Costumes: Anne Bonny
Minnie Driver joins "Our Flag Means Death" as Anne Bonny in season two, and Taylor says she's already been impressed at the ways fans have DIYed the pirate's look, including her buckled brown corset. Though Taylor doesn't recommend trying to make an actual corset at home — "if you can make a corset at home, you are a very talented seamstress." Instead, try to copy the general shape of the outfit.
For the corset, she suggests getting some brown leather totes, handbags, and belts at the thrift store and gluing them together to create something corset-like. "Handbags are great to make clothes out of because you've got all this hardware," Taylor says. "You've got rings and snaps and hooks and zips and all these things that you could take apart."
05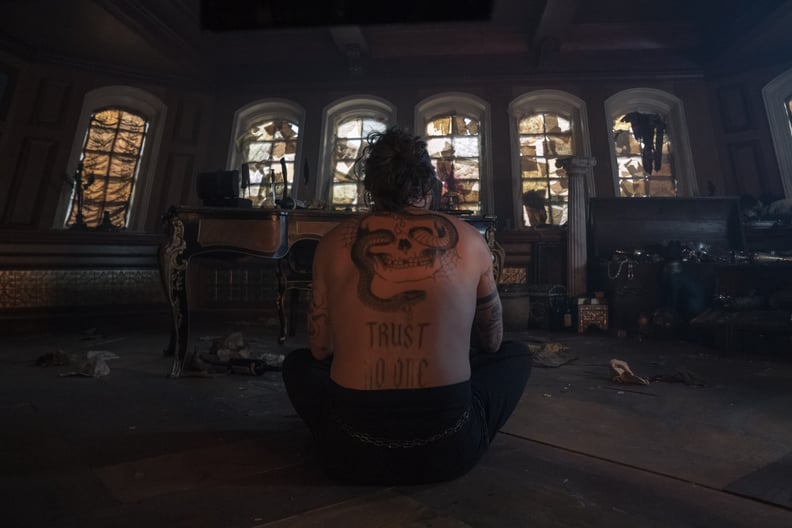 "Our Flag Means Death" Halloween Costumes: Fake Tattoos
Taylor shares with POPSUGAR her "really easy, fun technique" for creating custom fake tattoos, like the many that Blackbeard and other pirates sport in the show. "You can either find an image online of snakes and skulls, or you could draw something, which I prefer because all the tattoos in our show are like prison tattoos. They're all just a little messed up," she says. Then, you print the image out on regular paper using an inkjet printer. Next, spray the drawing on both sides with something alcohol-based, like a mix of vodka and water or even perfume. Then take the paper and put it in cold water for about three minutes.
"When you pull it out, really gently, you've got this frail little piece of paper, you place it on your skin, and then you peel back that paper ever so slightly, and you get the most perfect imprint," Taylor says. For Blackbeard specifically, she notes that a lot of his tattoos lie on top of each other as if he's constantly changing his mind. "I think our printing technique would work really well for that because you could just layer them up."