Outer Banks: Are Sarah Cameron and JJ Related? Theory
Madelyn Cline Just Melted My Brain With This Outer Banks Theory About Sarah and JJ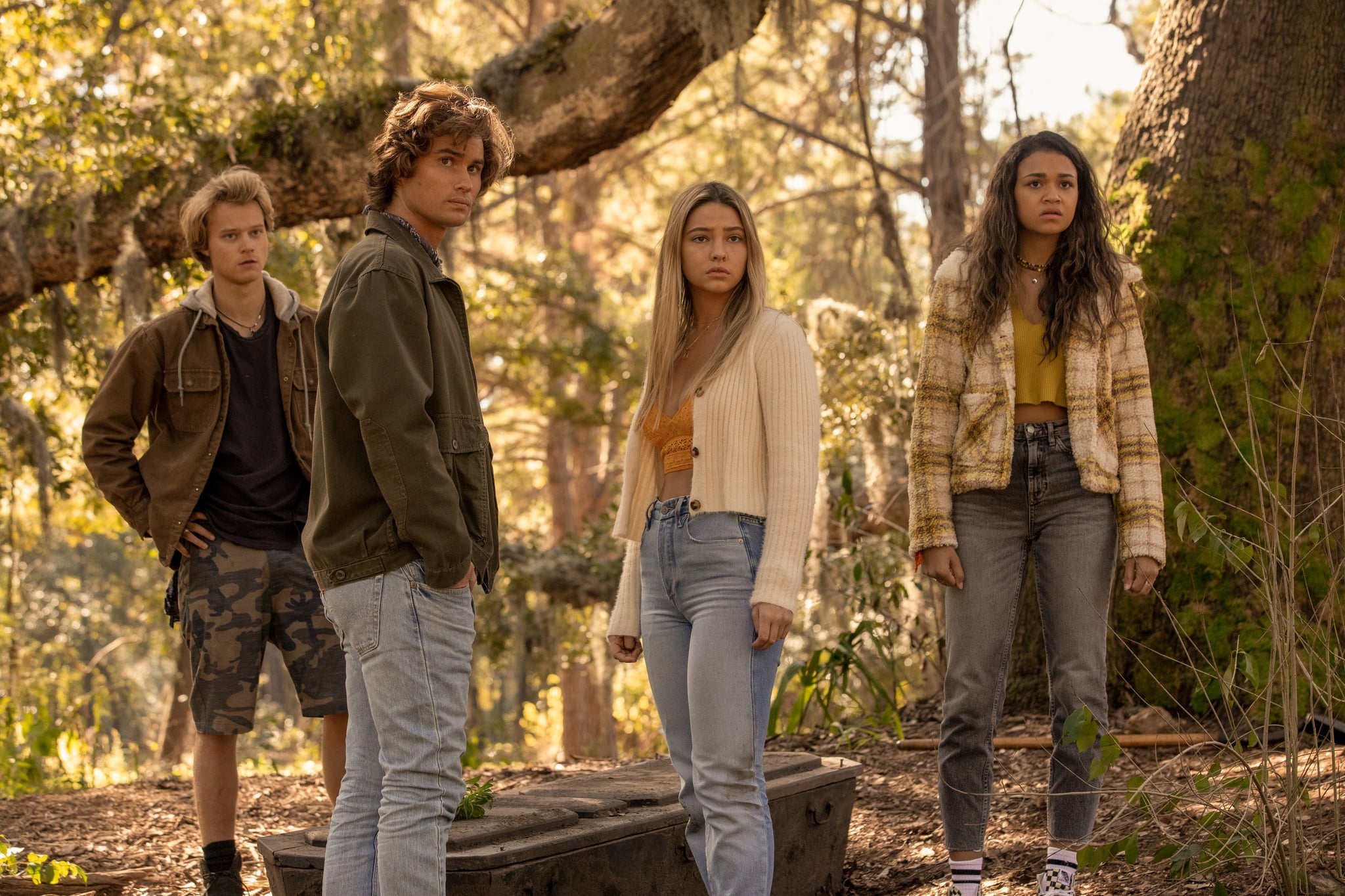 Image Source: Netflix
Looks like it's time to start lurking on the Outer Banks subreddit more often, because apparently I've been missing out on some wild theories. Madelyn Cline delved into one such fan-made hypothesis during an appearance on The Tonight Show Starring Jimmy Fallon, and now it's all I can think about. After discussing her upcoming role in the Knives Out sequel, Cline launched into an explanation about a theory that's been floating around the interwebs since Outer Banks debuted last summer: that her character, Sarah Cameron, and JJ Maybank, portrayed by Rudy Pankow, are related. If you just audibly gasped, I did too at first, but it could very well check out. Let's dive in, shall we?
As fans of the Netflix series know, neither JJ nor Sarah's biological mother is in the picture, and there are no explicit mentions of their whereabouts or past, so viewers are left to assume they both died or left town . . . or, in this case, that they're actually the same person. "The whole thing behind it is that JJ and Sarah's mom was having an affair with Ward or Luke, and either because Ward was greedy or Luke has addiction issues, she just left," Cline told Fallon. Yep, that means JJ and Sarah would technically be half-siblings. She added, "I feel like that would be very juicy to play out, to see JJ and Sarah's reactions to being like, 'Oh . . . oh!'" Very juicy indeed.
The affair aspect would certainly make sense. Remember when Luke angrily tells JJ how much he resembles his mom in season two? Their resemblance could tick him off because it reminds him of JJ's mom cheating on him with Ward. Yes, it's a bit of a stretch, but as nuts as that may sound, some Redditors have even taken the theory one step further to speculate that JJ and Sarah could actually be twins. I mean, the mutual blond hair helps the case, and considering the show's track record with jaw-dropping plot twists, I wouldn't put it past 'em. Guess we'll have to wait until the potential third season to see how things shake out.