TIDAL's Jesus Triviño Built a Career Around Reggaeton and Latinx Storytelling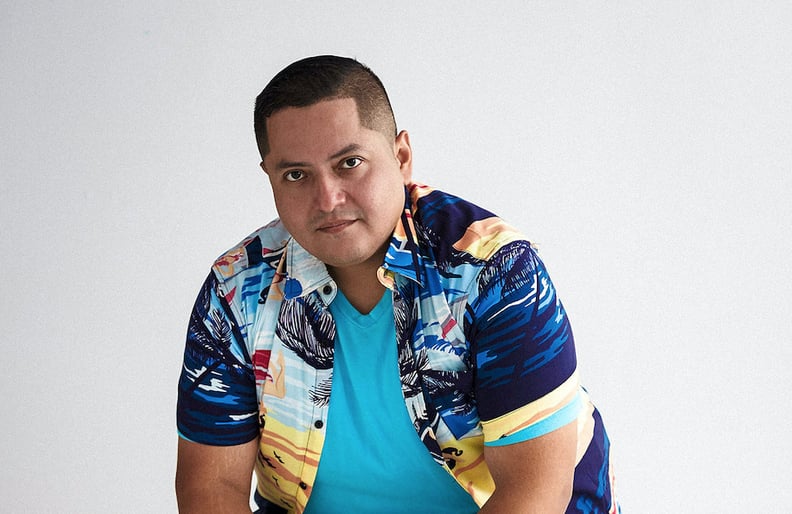 Eric Espino
Eric Espino
Many of us were stunned and filled with emotions when we learned that our beloved Daddy Yankee had announced his retirement. TIDAL's Senior Director of Latin Global, Jesús Triviño, refers to him as "the unquestioned GOAT of reggaeton" and even penned a piece about Daddy Yankee and his role in bringing the genre to the mainstream. Triviño doesn't take this retirement lightly. In fact, in many ways, it's a full circle moment for him. He's interviewed the Puerto Rican artists probably more times than he can count. And it's because of journalists like him that Yankee started receiving English-language press relatively early in his rise to fame.
While Yankee's career technically started in the mid-'90s, it was in 2004 that he began to gain recognition on a global scale and all thanks to his megahit song "Gasolina," off of his "Barrio Fino" album produced by Luny Tunes. But it was also around this time that Triviño was starting his career as a music journalist. Triviño was one of the very few hip-hop writers in NYC who was also fluent in Spanish. As a result, he was given the opportunity to interview Daddy Yankee at the peak of his career for one of the artist's first-ever English-language magazine features.
"In the English language market, it was me and I would say five or maybe seven other writers [who covered hip-hop and spoke Spanish] — maybe. But, consistently, it was like Angie Romero [who is at Amazon Music now] and Celia San Miguel who's also a good friend," Triviño tells POPSUGAR. "I was a hungry writer. I was into music, and I knew the language. So as soon as an editor assigned it to me, I said 'yeah, sure, let's go.' But I was also at the time doing interviews with US rappers like 50 Cent and Kanye."
The interview was with a magazine that no longer exists today titled Fuego magazine, under Harris Publications. It was an English-language magazine targeting Latinx male readers. At the time, nothing like it existed. The interview happened in 2003, but the issue didn't come out until 2004. Triviño had just started dabbling in writing about reggaeton. The year before, he did a story for The Source on the reggaeton movement happening in Puerto Rico and what set it apart from Rap en Español. When he started freelancing for Latina magazine, his first piece was an interview with Ivy Queen in 2007. Before he knew it, Triviño was writing regularly for Latina and even had his own reggaeton blog on a hip-hop site where he was interviewing some of the reggaetoneros coming up at the time like Calle 13's Residente. This is where he really got to know artists, their publicists, and their managers. It literally changed the trajectory of his career.
"I was always kind of gearing that way just because there wasn't that much opportunity on the Latin side. But I was always doing both (covering US hip-hop and Latinx reggaetoneros), I would say from the beginning," Triviño says. "I switched over full-time as I was nearing my end at Scratch magazine . . . I just looked at the hip-hop landscape and I wasn't inspired by it anymore. I just couldn't go to a job and have to think of ideas for creating articles or what have you because I just wasn't inspired, and I didn't like the music anymore."
To be clear: Triviño was and still remains a hip-hop kid. But after deciding to no longer report on it, he found himself exploring and really enjoying what Latin music had to offer at the time. "It was an easy transition, because obviously, it's my culture. I'm knowledgeable in the music," he says. "The hip-hop lane was so congested with hip-hop experts. So, I was like maybe I should switch onto another lane, and I was [technically] already doing it." And just like that, his focus became Latin music. But he'll be the first to say that reggaeton hitting the mainstream and going global definitely didn't happen overnight.
"For Daddy Yankee to come in, Tego Calderon, Don Omar, and Ivy Queen — all those figures totally changed the perception of what Latin music can be and the potential that it has . . . those artists made reggaeton not only profitable but respectable."
"It was not immediately, the change it took to the Latin music industry . . . It's social-political music, it's from the streets, and it's created by disenfranchised people. Black and brown people mainly, especially then. And they didn't see its value," Triviño shares. "For Daddy Yankee to come in, Tego Calderon, Don Omar, and Ivy Queen — all those figures totally changed the perception of what Latin music can be and the potential that it has . . . those artists made reggaeton not only profitable but respectable."
After years at Latina magazine, Triviño was ready to spread his wings and try something new and landed his role at TIDAL. His current job includes a little bit of everything. "It's a mix of curation with playlists; when we have concerts, I book the Latin artists," he says. "It's a lot of A&R, which is constant communication with managers, artists, publicists, and labels. I'm also an editor and journalist. When I get to write, I do. So it's a lot of things in one." In his role with TIDAL, Triviño found himself able to blend his passion for storytelling of Latinx communities with his dedicated love for music. This Latinx Heritage Month, TIDAL is spotlighting female Latinx music artists who have impacted the genre with an emphasis on rising stars. But today, he also finds himself reflecting on the legacy and impact Yankee has had not just on reggaeton but on the musical landscape overall.
"Even if you don't know anything about reggaeton, you know Daddy Yankee. His impact you can measure."
"Even if you don't know anything about reggaeton, you know Daddy Yankee. His impact you can measure," Triviño says. "It doesn't matter that I've talked to him many times over the almost 20 years; he will go down in the pantheon of like the Celia Cruz and Hector Lavoes [of the world]. And just global music, because before K-pop, before anything else, Latin was the first global music, and he was one of the people that helped it get to that point."
Over the years, Triviño has observed what reggaeton has ultimately done for the culture. And he believes it's a lot more than it's given credit for. "It's caused a lot of unity in a good way amongst us that I never really felt like we had before," he says. Things have really come full circle for Triviño since his first days interviewing Yankee. In many ways, both of their careers started coming up around the same time. And while Triviño is not looking at retirement any time soon, the announcement of Yankee's retirement and final tour couldn't come at a more aligned time.
"Jesús is a trailblazer. He was one of the first journalists in general market to cover reggaeton and even before the "Gasolina" boom," says Mayna Nevarez, CEO of Nevarez Communications. "At the time, Hispanic media didn't cover reggaeton, since they thought it was 'ghetto.' Jesús understood the culture and opened the doors for many artists like Daddy Yankee while working for Vibe magazine and later for Latina. He was key in communicating how reggaeton was part of a culture. He definitely was a culture changer and a true believer."
You can almost argue that where Triviño is at in his career today is karma. After years of opening the doors for many artists like Daddy Yankee to be the stars they are today, Triviño is finally getting the flowers he deserves for his rich contributions not just to music media but to the culture.