Regina King Tearfully Accepts Her First-Ever Oscar, Thanking Her Mom and "Sisters in Art"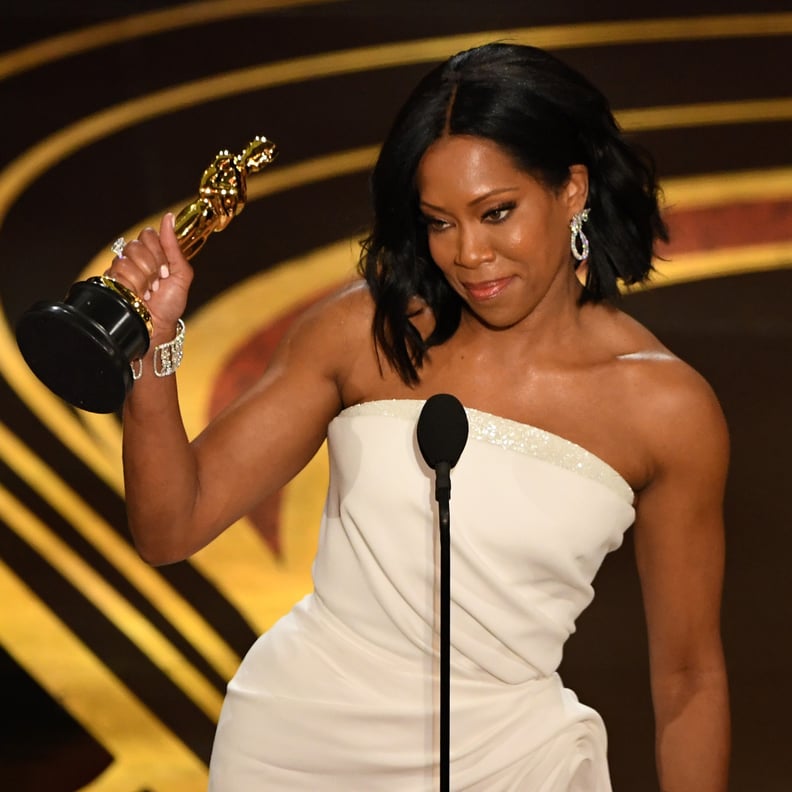 Regina King is no stranger to powerful performances, but her role as Sharon Rivers in If Beale Street Could Talk has been especially noteworthy throughout the 2019 award season. Not only has it earned her a Golden Globe award, but now, an Oscar! Nabbing the statuette for outstanding actress in a supporting role, the first-time nominee and winner gave thanks to author James Baldwin and director Barry Jenkins, admitting it's "a little surreal" to be accepting the award.
"James Baldwin birthed this baby and Barry, you nurtured her, surrounded her with so much love and support. So it's appropriate for me to be standing here because I'm an example of what it looks like when support and love is poured into someone," she said before turning to her mother, Gloria King (who was understandably in tears already), in the audience. "Mom, I love you so much."
Though she was also getting choked up, King made sure to call out her "sisters in art" and fellow nominees Marina de Tavira, Amy Adams, Emma Stone, and Rachel Weisz. "It's an honor to have my name said with yours every step of the way."
She also gave a sweet shout-out to the rest of the Beale Street cast, ending her speech with a heartfelt, "God is good all the time." Watch the moving speech above!