Why FP and Alice Are the OG Jughead and Betty on Riverdale
When it comes to relationships on Riverdale, none can hold a candle to Betty and Jughead's. They're insanely adorable, they support each other through difficult times, and they're the perfect mix of dark and light. As my OTP, I would never want anything to jeopardize their relationship, but even I can't deny the insane chemistry between their parents.
I know it's crazy to ship FP and Alice (Falice?), but isn't crazy what this show is all about? Trust me, I tried my best not to when watching them partake in playful batter after Jughead's birthday party and when they give each other death stares from across the table before the homecoming dance, but the final straw was when actress Mädchen Amick posted a selfie of her and Skeet Ulrich filming season two, writing, "#Riverdale fans, be careful what you wish for 😘." Seriously, who can resist that?
FP and Alice's sexual tension aside, it's clear their characters have a past that will only be explored more in coming episodes. Honestly, I wouldn't be surprised if the father of Alice's mysterious son is actually FP, but that's a completely different story. Sure, it would be awkward for Bughead to have their parents date, but if Dan and Serena can make it work, why can't they? Look back at these FP and Alice moments from last season and get ready to set sail with this ship.
01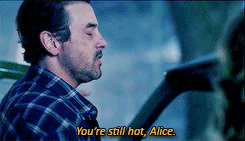 When He Calls Her Hot
02
And the Sexual Tension Is So Heavy She Has to Avert Her Gaze
03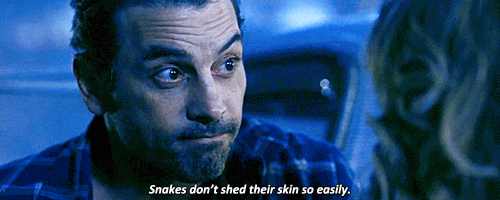 When He Reveals the Truth About Their Dark Past
04
When He Gets a Cheap Thrill Over Her Vengeful Side
05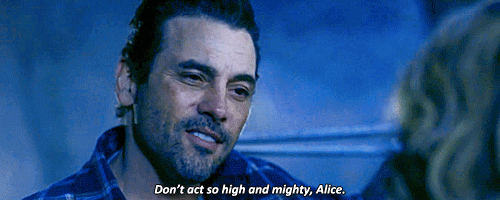 When He Knocks Her Off Her High Horse
06
And She Gladly Returns the Favor
07
When She Gives Him a Look That Could Kill
08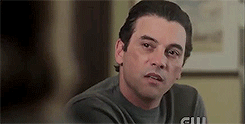 And He Doesn't Even Bat an Eye