Once Upon a Time: Sean Maguire Can't Wait to Reunite With Colin O'Donoghue
Once Upon a Time may be a show based on fairy tales, but it has certainly had its fair share of unhappy endings from time to time. Last season, fans practically lost it when Robin Hood was killed off, and rightfully so. Not only was he a fan favorite, but the character's ending seemed unjust. After much rallying by fans (or Hoodies, as they like to call themselves) on social media, though, it seems like there is finally light at the end of the tunnel. Everyone's favorite bandit is set to return in season six, and we are already highly emotional. We had the opportunity to sit down with the actor behind the beloved character, Sean Maguire, and he gave us a little insight about what's in store.
PS: What has the fan support meant to you?
Sean Maguire: It's crazy! I don't think there would be any Robin Hood coming back if it wasn't for them. It's their response to the character's death that has prompted this return, because I certainly didn't imagine — I thought it was done and we were finished. So, I was quite surprised to get the call and I was told that it was as a result of people being very, very kind and very supportive and making their feelings heard.
PS: After Robin Hood died, you didn't sound very hopeful about reprising your character. Would you say that the fan support changed your mind?
SM: Yes, absolutely. I was a little disappointed when it happened because it felt out of nowhere, kind of abrupt. There were a lot of things that we thought we were going to see with his character that we didn't. So, like the fans, I was disappointed and thought, "Well, that's that," but that was before this strong response from people on social media and really just making their feelings heard. The guys [Adam Horowitz and Edward Kitsis] have responded to that because they are very smart and listen to their audience. I guess they maybe didn't think it would have been that big of a deal when Robin died.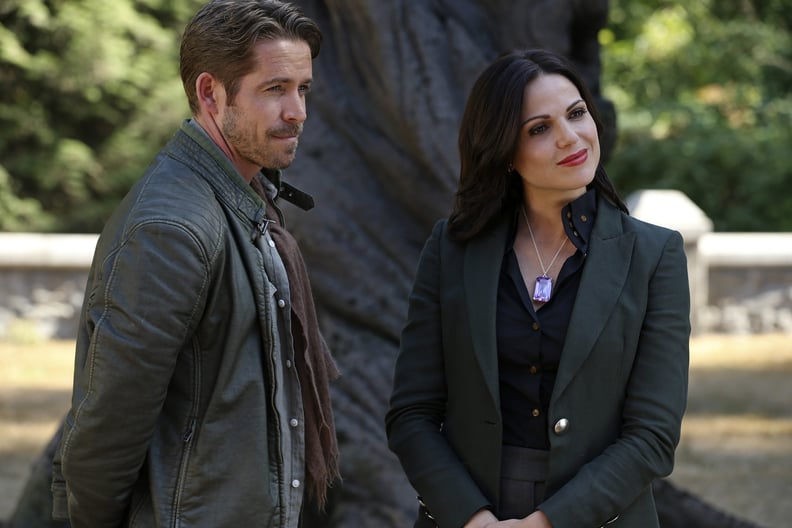 PS: Which cast members are you most looking forward to reuniting with on set?
SM: Oh, I mean, all of them. There's not one that I don't love. That's one of the other really strong motivations to go back. I certainly wouldn't be rushing back to a show when I felt like I was already finished on it if it wasn't for a cast that I loved beyond words. But Colin is like family to me and Lana and I have such a great relationship, and Bex [Rebecca Mader]. I feel remiss if I don't mention all of them now. It's that kind of a cast. So, I'm really excited to get back up and have some fun with them.
PS: How would you want Robin Hood's story to end when he returns?
SM: Well, given that it's a show about fairy tales, I guess what everyone wants from a fairy tale is a happy ending. That might mean different things to different people, but for fans of Robin and Regina, a better sense of closure might be something they're grateful of.
PS: Other than Outlaw Queen, who is your favorite couple on the show?
SM: You know, it's one of those things if I say that — I've learned from the show and its very passionate fans — if I say, "I love Captain Swan," they'll be like, "Oh, well, why don't you like Rumbelle? Or what about the dwarves?" So, I'll just leave the shipping to the fans, and I'll just do what's on the page.