Small Axe: The True Stories Behind Steve McQueen's Series
Take a Closer Look at the Stories That Inspired Steve McQueen's Small Axe Anthology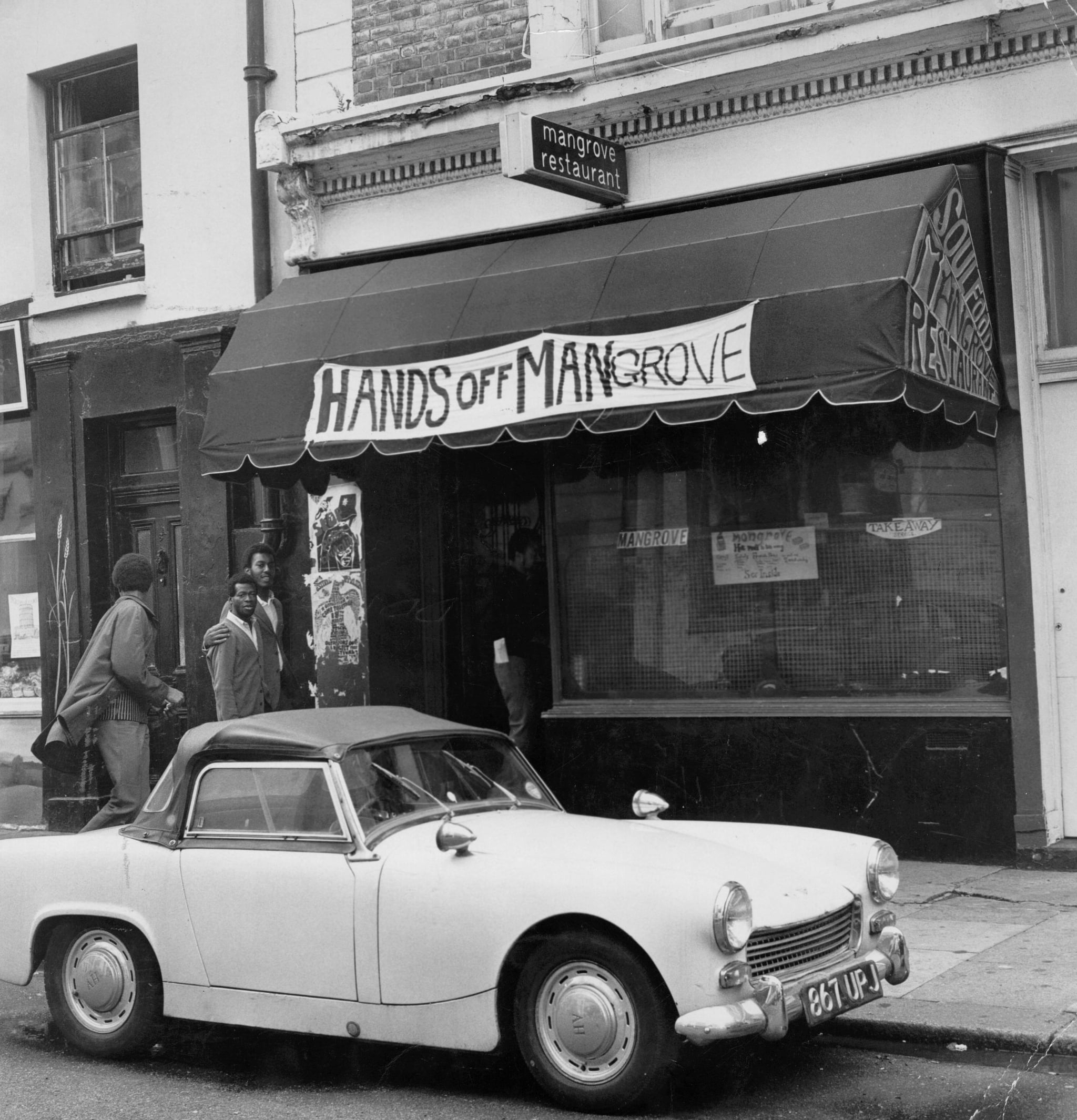 Steve McQueen's critically acclaimed Amazon Prime anthology series Small Axe emerges as a set of five films that detail Black life in the UK from the '60s through the '80s, starring A-listers such as John Boyega and Letitia Wright. The installations directly take inspiration from real political and social accounts during a time when discrimination was prevalent, blending drama with actual history. So, what are the real stories? Here's a breakdown of how each episode taps into actual Black British life from decades ago.
1. "Mangrove"
"Mangrove," the first episode, follows the trial of Black activists accused of inciting riots in 1970. Protestors had been standing up against police harassment of patrons at The Mangrove, a Caribbean restaurant in Notting Hill that was frequented by Black intellectuals and artists. The nine activists accused, known as the Mangrove Nine, successfully pushed for judicial acknowledgment of racism from the Metropolitan police force. Among those standing trial were Altheia Jones-LeCointe, a scientist and a Black Panther Party leader. Jones-LeCointe is portrayed by none other than Wright, who herself starred in Marvel's Black Panther as Shuri.
2. "Lovers Rock"
"Lovers Rock," the second episode, follows a house party in London in the 1980s. House parties known as "blues parties" were common in the '80s in the Black community because of racism in the club scene. According to The Guardian, "Lovers Rock" is based on the experiences of McQueen's aunt and his screenwriter's (Courttia Newland) mother.
3. "Red, White and Blue"
The third episode follows Leroy Logan, a Black man who abandoned his career in research science and joined the London police force after his father, Kenneth, a lorry driver, was beaten by the police. Boyega (who notably demonstrated against police brutality) portrays Logan, who believed that reform could happen from within the police force. Logan eventually became a Metropolitan police superintendent and a chair of the Black Police Association.
4. "Alex Wheatle"
Episode four follows the life of Alex Wheatle, an award-winning British novelist who spent his childhood mostly in the Shirley Oaks children's home. Later on, he moved to Brixton, where he was incarcerated for six months for his participation in the Brixton uprising in April 1981. Wheatle had joined protesters who demonstrated against systemic racism and police abuse of the Black community. His experiences later inspired him to write the 1999 novel Brixton Rock, which is set during the Brixton riots.
5. "Education"
"Education" tells the story of Kingsley, a young Black boy who ends up in a school for children with special needs in the '70s. His overworked parents are unaware of the unofficial segregation policy at play, which keeps Black children from receiving an equal education as their white peers. The episode is based on the real (and underreported) de facto school segregation in the borough of Haringey in north London. Administrators often labeled young Black children as "problematic" or "disruptive," then sent them to special-needs schools.
See how McQueen delves into each of these stories for yourself — the first two Small Axe films will be available on Amazon Prime Video on Nov. 20.